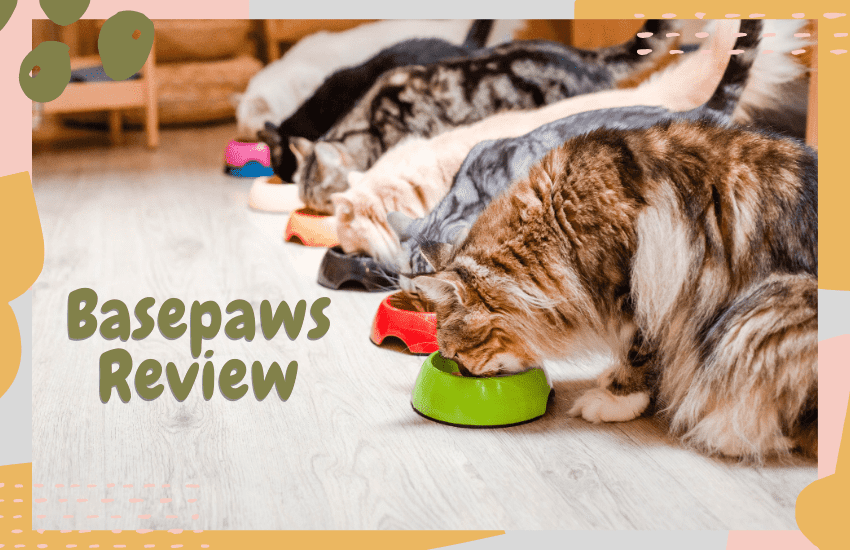 Like millions of animal lovers across the world, I adopted a stray. I walked through an industrial part of my hometown, and Miss Stripes came bouncing out of an abandoned building, ready for love and a new home. It was love at first scratch, and the tortoise shell-colored kitten promptly marked me with a few scrapes before snuggling into my jacket and enjoying the walk home with me.
After a few weeks, my Miss Stripes settled in nicely, and with good feeding, I began to notice some strange changes in her appearance and behavior. This got me thinking as to what exact breed of cat my dearest tail-twitching feline was. The vet had a few opinions, as did everyone else, but it wasn't definitive, and that's when I discovered Basepaws.
Basepaws is a cat DNA testing service. Essentially, you provide them with a DNA sample, and they provide you with a full analysis, telling you what cat breeds are present in your cat's genome. Perfect, right?
I was so impressed by the idea, I had to give their services a try, and this is my experience.
How Basepaws Services Work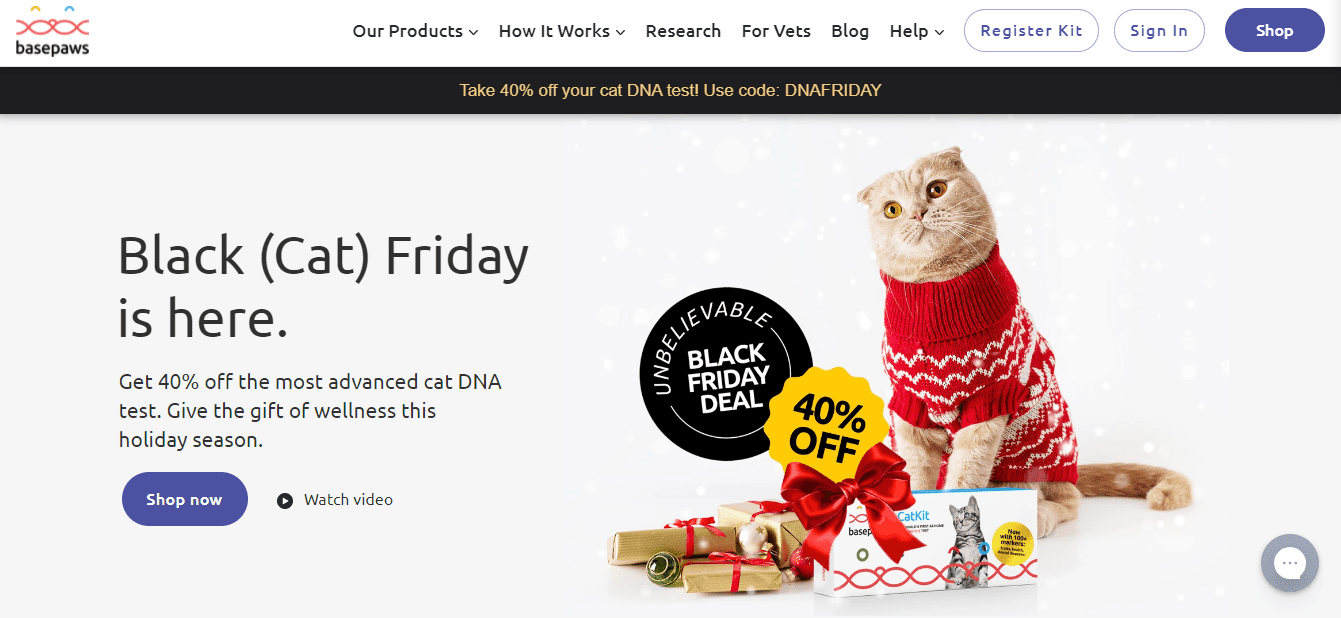 I was quite wowed when I clicked my way onto the Basepaws site and learned all about feline genomes and genetic markers. It is very sciency, and I'm not the scientific type—I took home economics in high school, not science. But even I could understand what Basepaws does.
Essentially, you purchase a DNA testing kit, which allows you to take swabs and samples that you send to the lab in Los Angeles. These swabs are scanned by advanced equipment to extract your cat's unique genome, which is a staggering 20,000 genes.
The information in the DNA report is really useful as it guides you in the discovery journey of your cat's lineage. When you know what your cat's genetic markers are, you will also know which disease markers are present. This can help you prepare for any health challenges your cat may have.
By using Basepaws services, you can predict which, if any, genetic diseases your cat may have. Diabetes, polycystic kidney disease (PKD), hypertrophic cardiomyopathy (HCM), and retinal degeneration are all examples of genetic diseases your cat may be predisposed toward.
Knowledge is power, and when you know your cat may have certain health challenges in the future, you can prepare for them in the present. Appropriate feeding and supplementation can help sway the odds in your cat's favor.
A Basepaws test can also check your cat's dental health, mapping their dental biome, which helps predict dental issues such as periodontal disease, tooth resorption, and halitosis. Knowing your cat is prone to these, you can make changes to their diet early on and schedule regular dental checkups with your vet, maintaining your cat's teeth for longer.
How to Use the Basepaws Swab Test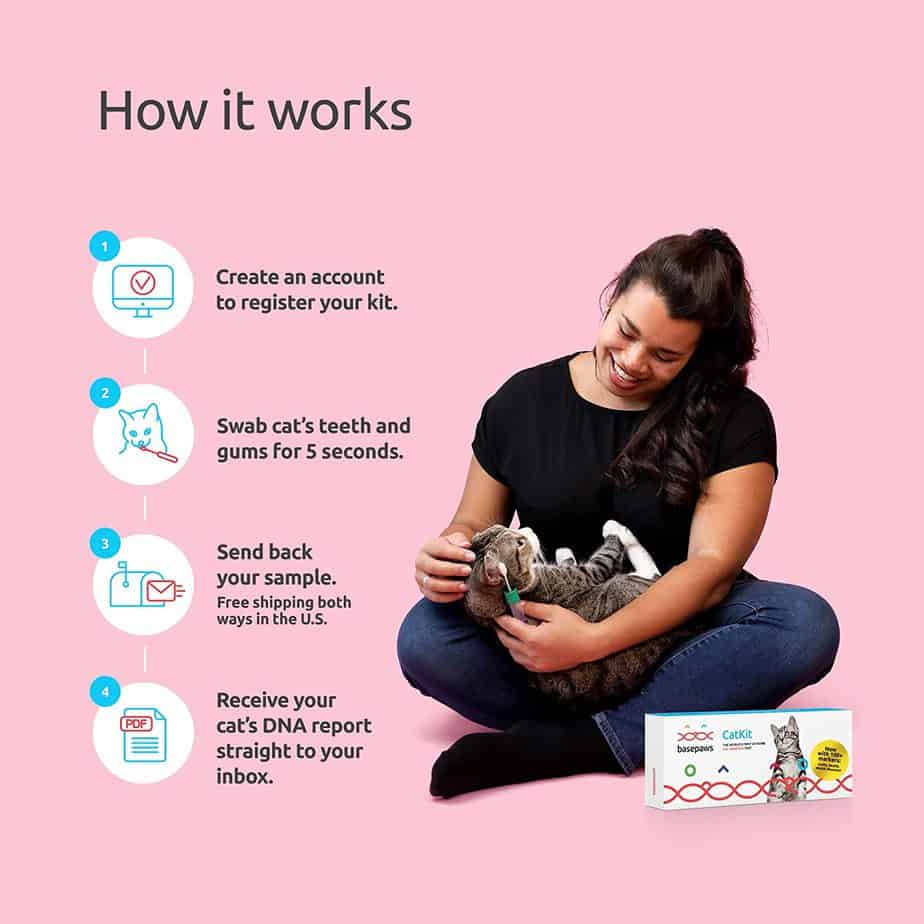 To obtain the genetic material to run the advanced genetic tests on, you need to use the swab kit. The Q-tip type collector is inserted into the side of your cat's mouth, swabbing the inside of the cat's epithelial cells. Be sure to wait until your cat has not eaten in the last hour or two, as food particles can void the test results.
Simply seal the swab container, mail it to the lab (free mail applies), and wait for your cat's genome to do the talking at the lab. Test results are sent to you via email within 4-6 weeks (according to the Basepaws website).
Basepaws Products
There are three Basepaws products available. A quick comparison may help you choose the product that is best suited to your cat-related query.
Dental Cat Health Test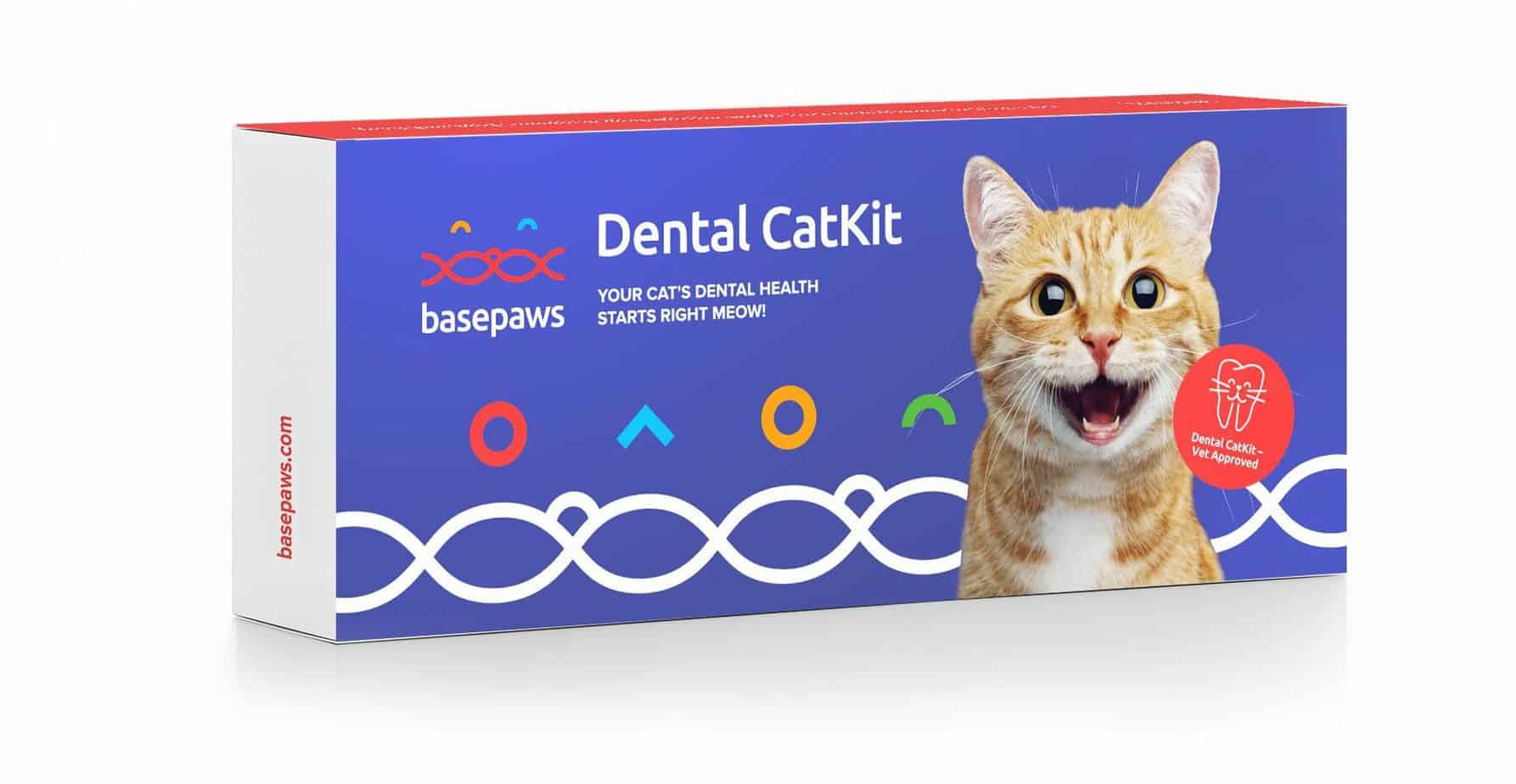 This test exclusively screens bacteria and genetic markers that are found in your cat's mouth, informing you about your cat's anticipated dental health. Spot disease markers, take steps, and save your cat from painful medical conditions soon. With 50-90% of all adult cats having some form of dental disease, it is important to ensure your cat has a healthy mouth. Genetic testing can help you achieve this.
Assess the risk of periodontal disease, tooth resorption, and halitosis
Get recommendations for home and clinical care to maintain good oral health
Trace DNA markers
Breed + Health DNA Test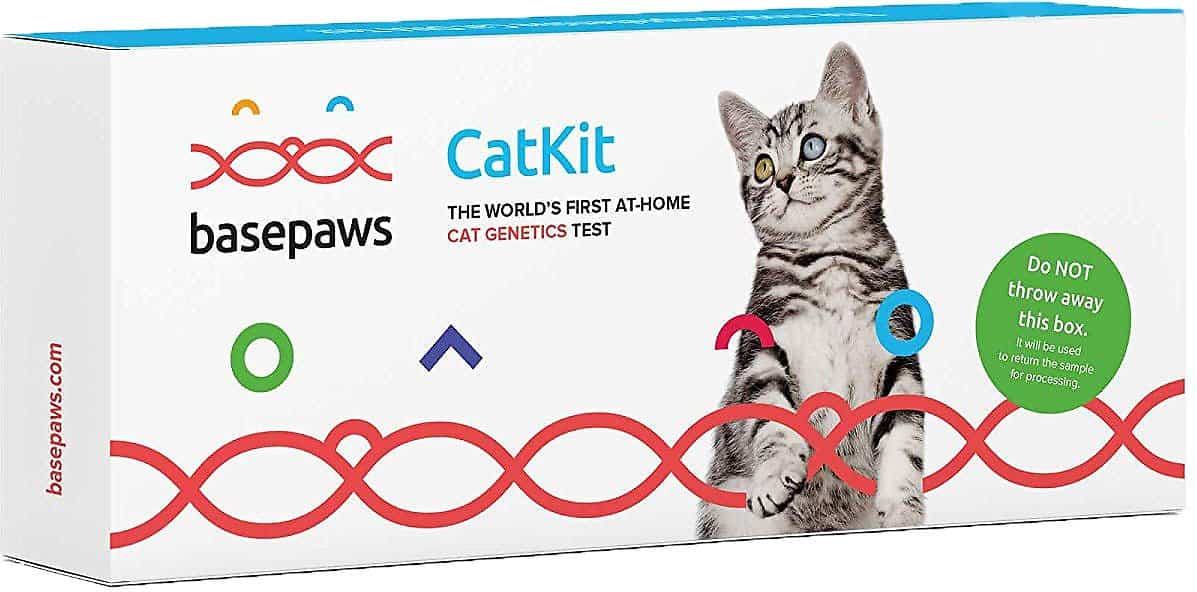 With this test, you can learn about your cat's genome makeup, discover the why behind some of their strange behavior, and also identify health markers that you may need to manage. By knowing your cat may be prone to diabetes or other genetic diseases, you can ensure they have the best possible care before it even becomes necessary. Remember, your cat can't speak up and tell you they have an autoimmune disease.
Assess breed groups
Map chromosomes
Breed report is updated as new information becomes available
Whole Genome Test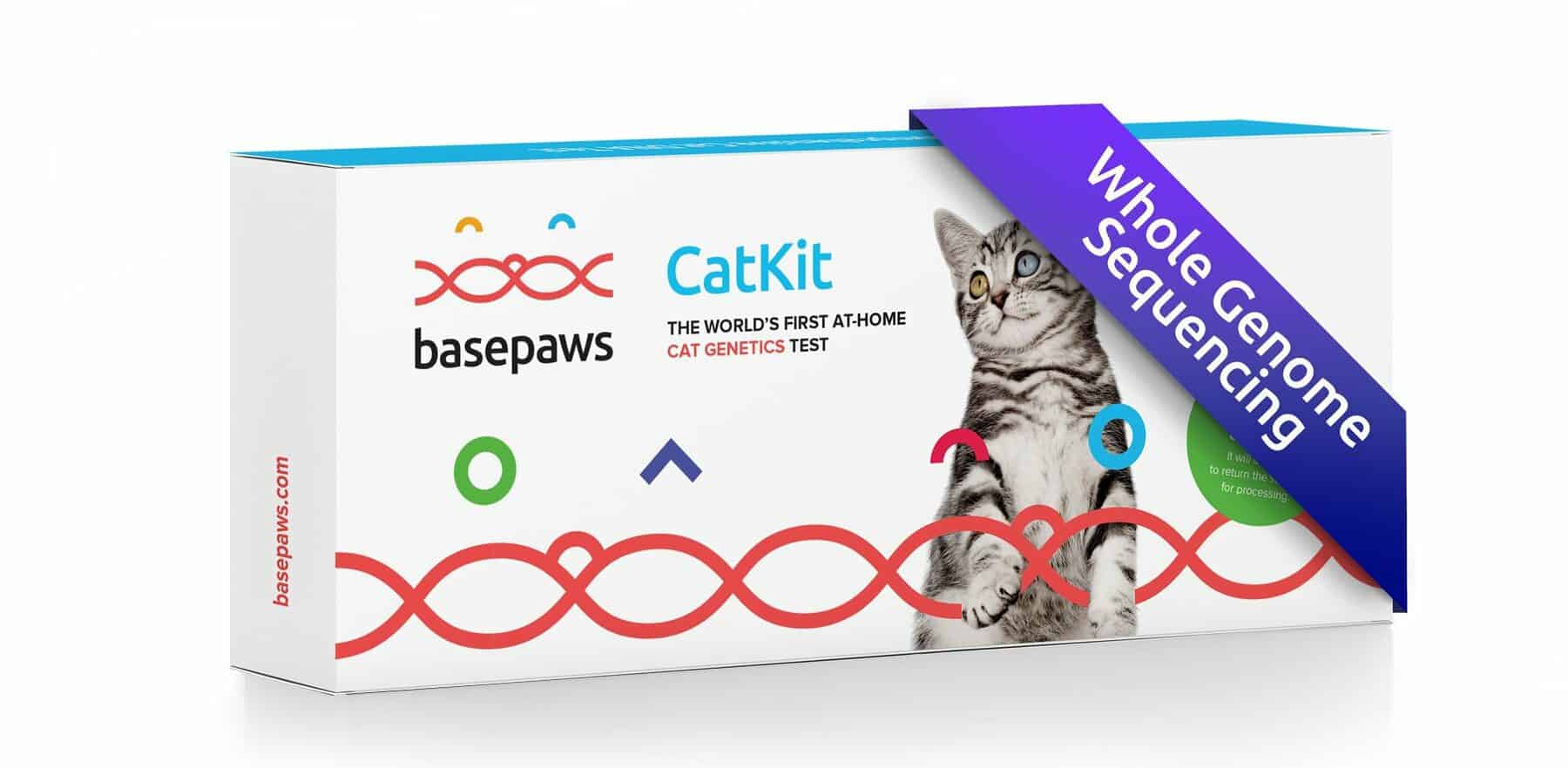 This is the deluxe product in Basepaws' range. With this test, you can map your cat's dental health, their full genome makeup and identify health conditions they may be prone to. The package also includes an hour's consultation with a specialist trained genetics coach.
During this consultation, you will be advised on what steps you can take to ensure your cat has a long and pain-free life based on its genetic results.
What is exciting about Basepaws' tests is the lifetime membership. As research becomes available, you will receive updated feedback on your kitty, based on what their previous blood tests said.
Contains all of the information from the Dental Cat Health Test and the Breed + Health DNA Test
Raw data is delivered on a USB
Lifetime update on breed and health as research becomes available
Basepaws Overview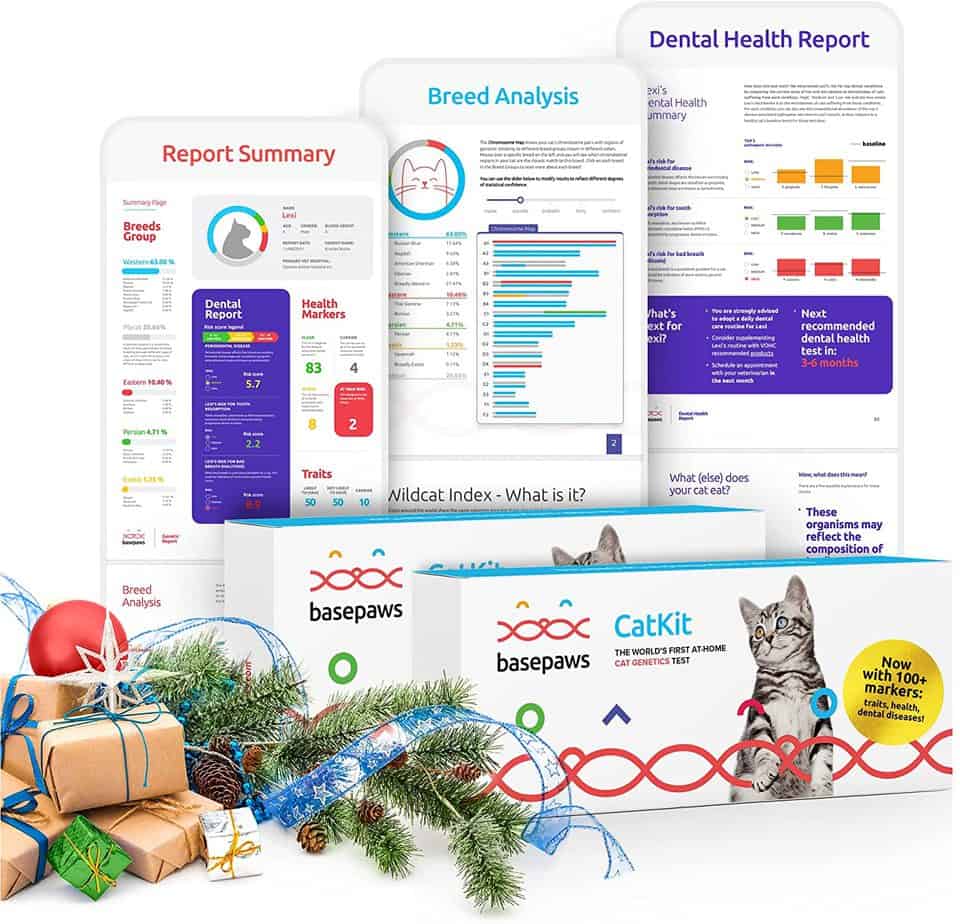 There are three products in the Basepaws stable, with the whole genome test being their flagship product. The dental cat health test focuses on genetic preconditions that could affect the cat's health and well-being.
The breed and health DNA test will help keep you up to date on your cat's genetic makeup even after the initial tests are done. This is because the company automatically updates you when there are changes in your cat's genome.
With Basepaws' main product, the whole genome test is designed to help map and interpret your cat's genome while also helping you understand why cats behave the way they do.
Pros
Test works with an easy-to-do oral swab test.
Reliable, state-of-the-art scientific laboratory in Los Angeles tests, maps, and interprets your cat's unique biological makeup.
Be informed of genetic weaknesses your cat may have.
Consult with industry experts on what is appropriate feedback results.
Can save money on vet consultations for conditions that require genetic testing to verify.
Cons
Not all cats can be accurately mapped as not all genomes have been scanned yet.
Not all cat breeds have been mapped yet, leaving gaps in the analysis.
Some users reported their cats being incorrectly screened, with mismatched behavior traits given that don't match the actual cat.
Contradictory results between multiple tests on the same cats were reported.
A Guide for Genetic Screening of Cats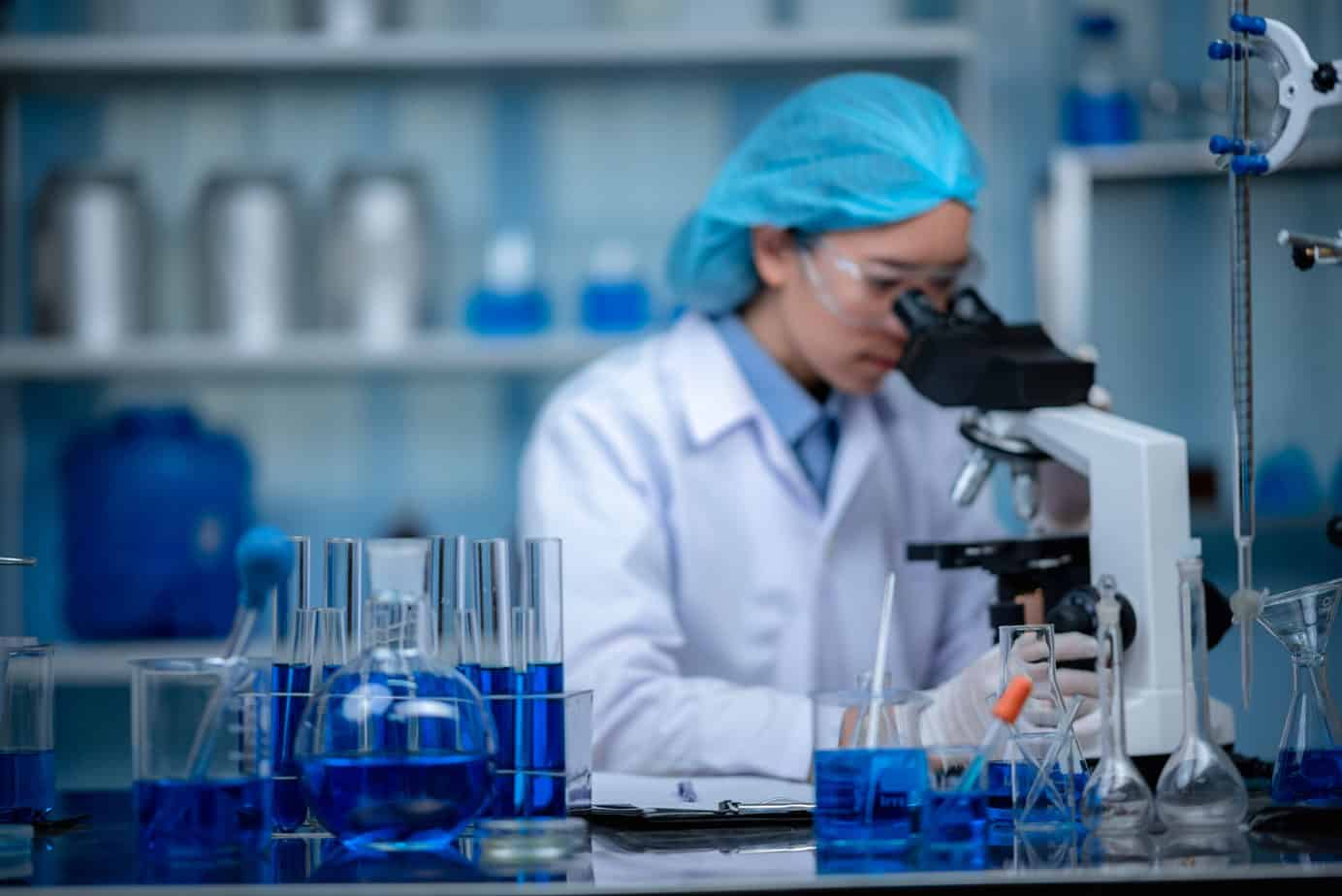 Okay, so I was feeling somewhat skeptical at this point. But then again, science isn't an exact … well, science. Many variations can crop up, which can easily corrupt results and lead to disputes. Just like some kids don't look much like one or both of their parents, cats don't always look like their genetic profile.
It seems genetic testing is still a bit of a hit-and-miss scenario.
The real value in genetically screening your cat lies perhaps not solely in determining their breed (or breeds), but rather in the implications of their breeding on their health. This is why I opted for the Basepaws Breed + Health Cat DNA Test. This test could inform me of my cat's major breed markers, what this could mean for their health, and help inform my future decisions regarding my cat's health.
Deciding on a cat DNA test has several considerations to keep in mind:
Consideration One: Desired Outcomes
Be clear about what you want to achieve. If you are merely curious about what cat breeds could have contributed to your cat's genetic marker, then you can approach the testing process with an air of fun. However, if you need serious confirmation of your cat's breeding, be aware that the test may be unclear.
The best use of genetic testing is to monitor your cat's health, predict possible future health concerns, and take appropriate action to ensure your cat remains healthy.
Consideration Two: Health Implications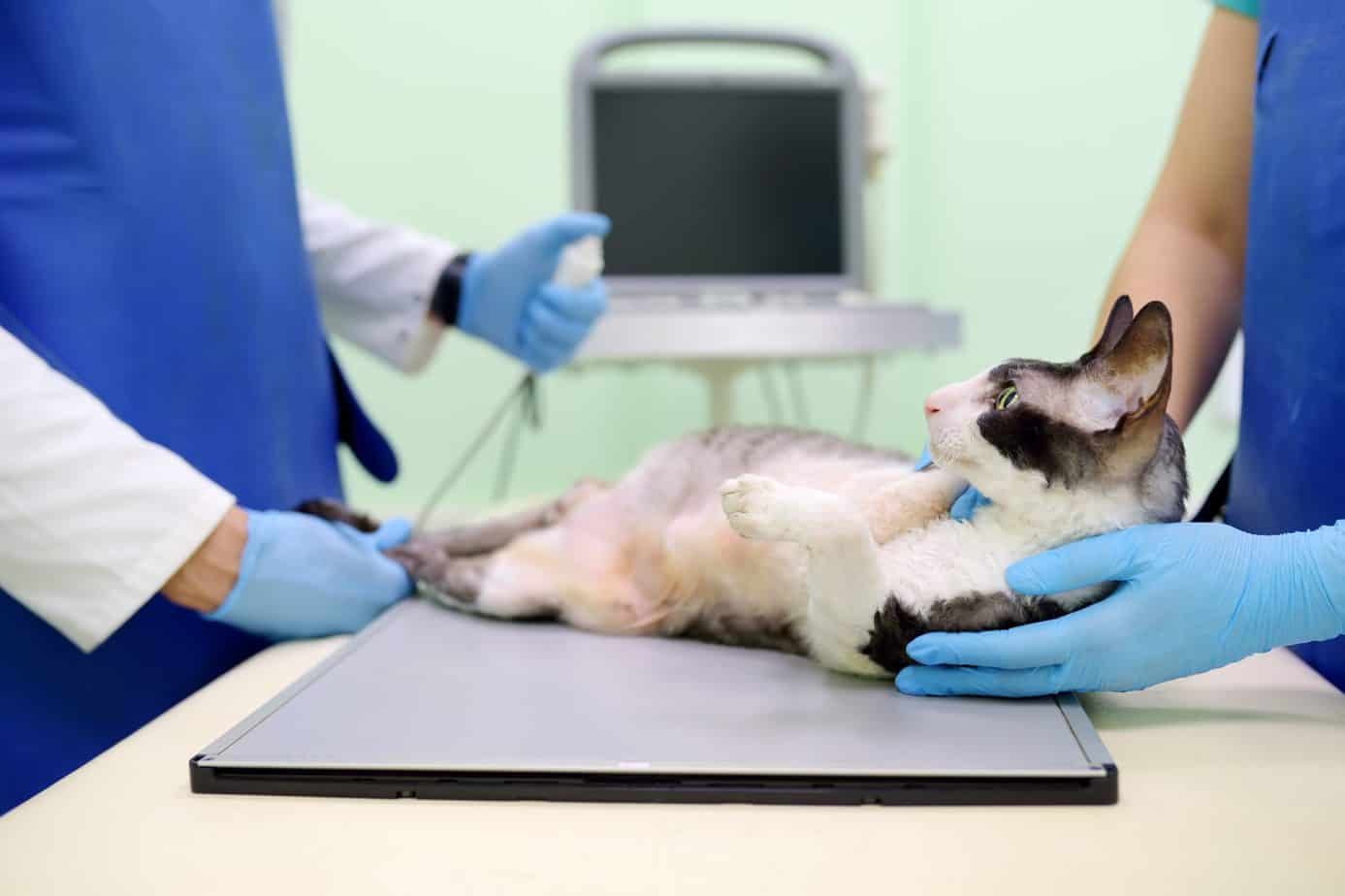 By reading your cat's genes, you can head off health concerns such as Maine Coon hypertrophic cardiomyopathy, progressive retinal atrophy, and episodic hypokalemic polymyopathy to name but a few. Knowing your cat may suffer from these conditions due to their genetic predisposition toward them may also inform your decision to neuter or spay them or not.
A responsible cat owner would want to know all the facts about their cat's genetic potential before simply breeding them or "letting nature take its course."
Consideration Three: Cost
Official genetic testing through a more high-end laboratory can cost thousands of dollars. While this may be necessary, you would want to start with a more affordable option such as Basepaws Basepaws Breed + Health Cat DNA Test, which can point you in the right direction before you break the bank.
While their database is not conclusive, they can offer you some insight into different genetic breeds, health conditions, and some behavioral issues that you may have been misunderstanding until now.
Alternatives to Basepaws Genetic Testing of Your Cat
If you feel like Basepaws isn't the company for you, but you still want to try a genetic test for your cat, then you might try the following alternative companies:
Wisdom Panel Complete Cat DNA Test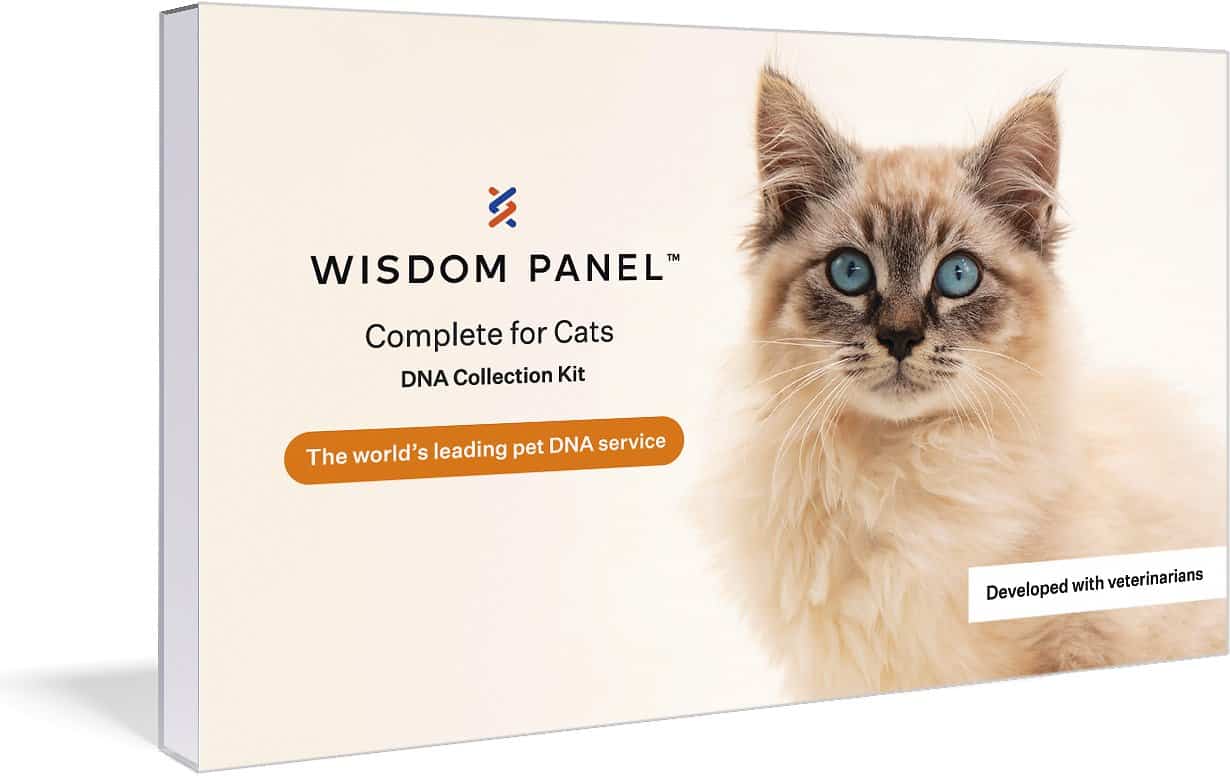 Available through Chewy, the Wisdom Panel DNA test comes highly recommended. The test will run and report on over 45 health tests and your cat will be typed according to the 70 cat breeds on record with the company. Over 25 traits are also matched and explained in the report.
Additionally, the test will also help you understand your cat's blood type and explain any blood transfusion risks if they should need surgery in the future. The wait time for results is 2-3 weeks, making this a faster option than Basepaws.
5 Strands Pet Food Intolerance & Environment Sensitivity Test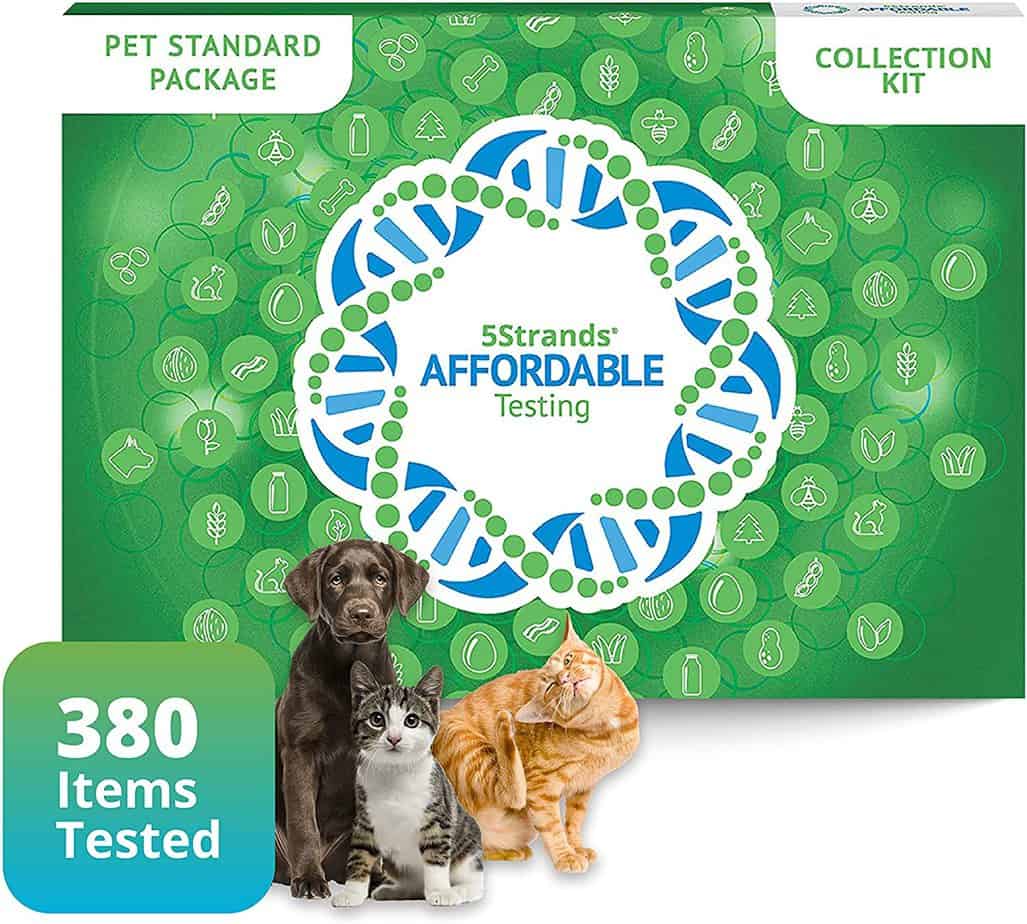 This is perhaps one of the quickest tests available, and the bonus is that it is more applicable to your cat's actual health. You can also test your dog with this test. Simply send 10-15 strands of your pet's hair to the lab, and within 5-7 days, you will receive the report via email. This is ideal for assessing your pet's allergies and other health risks.
This test kit won't tell you your pet's breed, but it can potentially save their life or improve their quality of life.
ORIVET Cat DNA Test Kit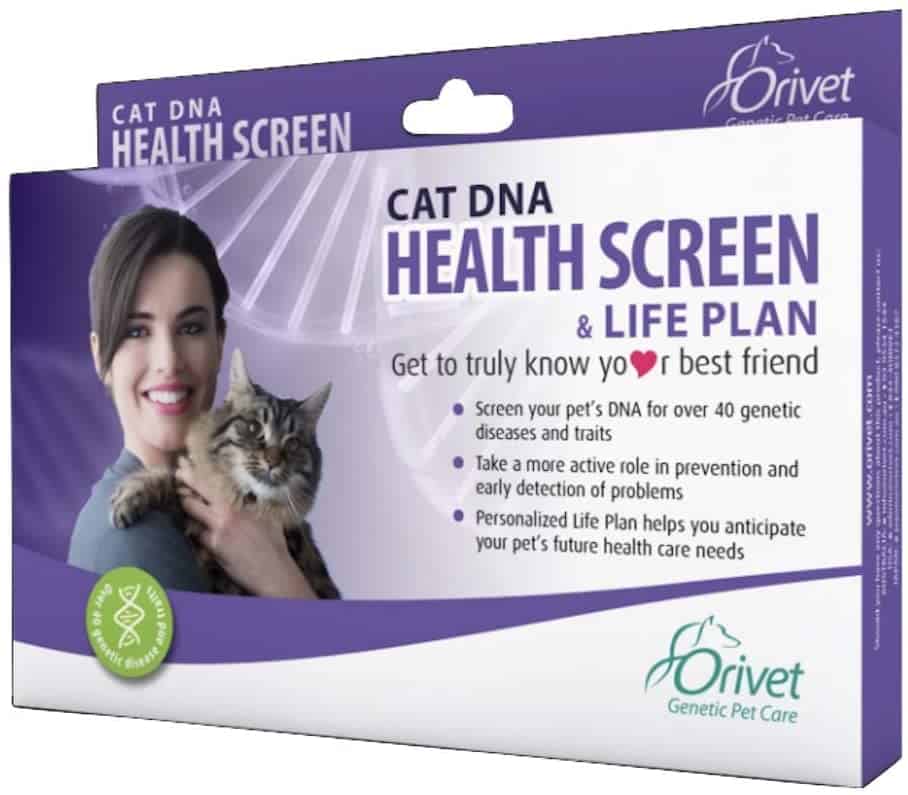 This test screens your cat for over 40 genetic diseases, and it allows you to play an active role in managing your cat's health. Simply collect a cheek swab with the collector device, which resembles a mascara brush. One downside is that you need to already know your cat's breeding to order this test.
Basepaws FAQs
Question: What does Basepaws test for?
Answer: Basepaws is a company that offers home sample kits that test cats for genetic markers, breed characteristics, and disease risks. Reports are sent to the owner, who can then make informed decisions regarding their cat's health.
Question: Are cat DNA tests accurate?
Answer: Cat and dog DNA tests are not standardized or regulated by any medical authority, which can influence their authenticity. Additionally, not all of the cat genome or breed spectrum has been fully mapped, which leaves gaps that have to be interpreted when evaluating the results.
Question: How long is Basepaws processing?
Answer: Basepaws advertises that their results take 4-6 weeks to process and send you results. Online comments from users rate this as being closer to 8 weeks before the results are received.
Question: What are domestic cats' ancestors?
Answer: There are two historic ancestors to the domestic cat that is found across the world today. While there are different breeds, most cats are directly descended from North African/Southwest Asian wildcats (Felis silvestris lybica). Different breed characteristics have been created by breeding for specific breed characteristics.
Question: How much does it cost to get a cat DNA test?
Answer: Basepaws is still the cheapest cat DNA testing service available, with tests starting at $69 for the Basepaws Dental Cat Health Test, $89 for the Basepaws Breed + Health Cat DNA Test, and $399 for the Basepaws Whole Genome Sequencing (WGS).
The Basepaws Verdict
As a whole, I would recommend the Basepaws genetic testing kit as it is one of the most affordable on the market, offering the most comprehensive analysis and information reporting. The update feature also means that as scientists know more about the feline genome, you will also know more since your results are automatically updated.
Be sure you know what you wish to test for and why. You also don't need to spring for the full house package with Basepaws as you can already greatly improve your cat's health with the dental health kit.
As with any type of experimental testing, what you want to get out of the test determines how happy you are with the results. With the Basepaws tests, I found that it is best to keep an open mind, assess the data, and, if necessary, discuss with their helpful call center. If nothing else, these genetic tests will help you understand your cat better.
Continue reading:
What you Need to Know about Cat Leukemia
How to Prevent and Treat Worms in Your Cat
How to Stop Cats from Scratching the Carpet