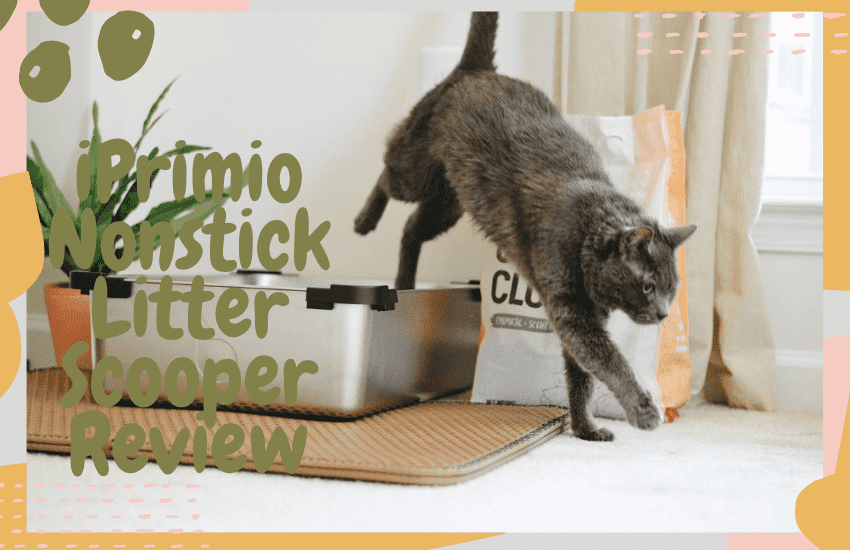 iPrimio Nonstick Litter Scooper Review (Contact for Free Product)
You wouldn't think it, but there's a notable difference between a flimsy little scooper and one meant to take on daily cleaning. But when I decided to review iPrimio's nonstick litter scooper, I wasn't sure if it would live up to its hype.
I knew it was time for a litter scooper upgrade after days of cleaning my cat's litter box– only to have to scoop twice as long and even contend with sticking wet litter. Under the watchful eyes of my choosey cat, Asher, I knew that I wasn't getting his litter box quite as clean as he likes. 
That's why the iPrimio Nonstick Litter Scooper captured my attention. Acclaimed by outlets as varied as Business Insider, reviewers on Amazon, and Chewy.com, I was interested to see if the upgrade was worth it. 
Take it from me: a litter scooper has a lot to its design. And the cheapest one isn't the one that'll last you the longest or keep you and your cat the happiest. At the same time, many cat owners are trying to balance saving money and keeping their cats happy. And that can be a tricky balance. 
To help you make that decision, I'll tell you how to select the best litter scooper possible– so you don't end up buying one that barely does the job. Then, I'll tell you my honest, personal experiences with iPrimio Nonstick Litter Scooper– and give you the bottom line whether it's worth your money or not. 
What is a Litter Scooper?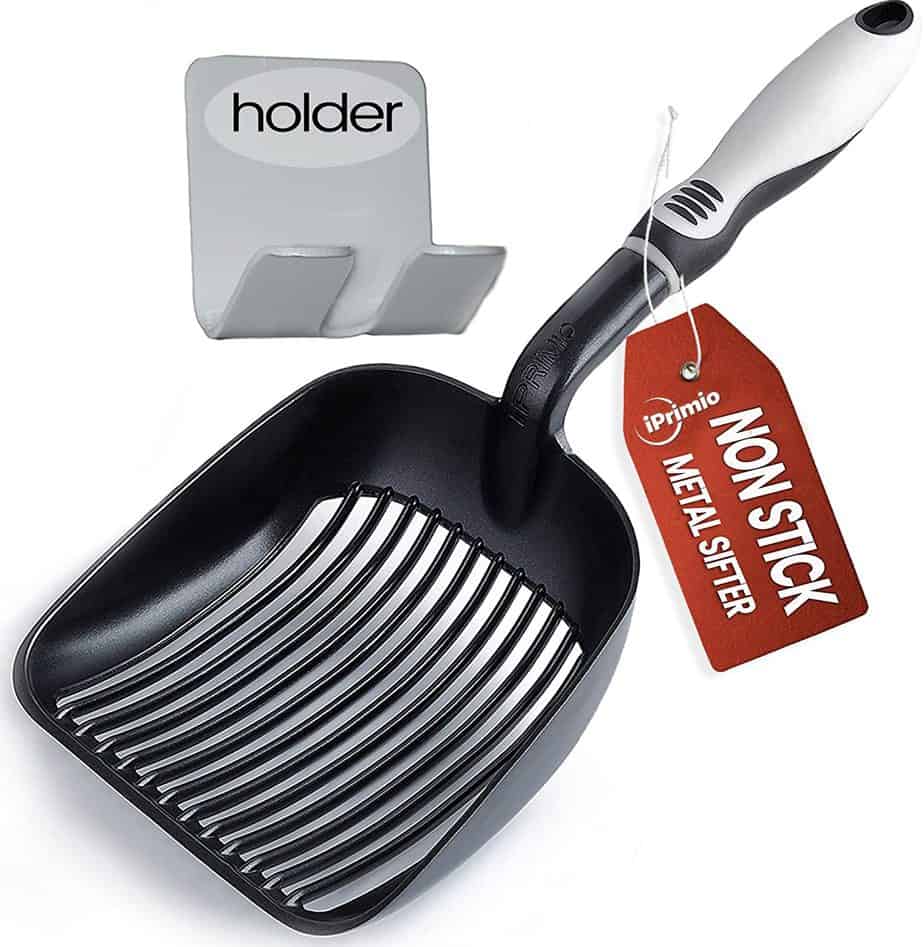 If you're a new cat owner, it's hard to imagine how a litter scooper could make a big difference in your day– but it really can. A litter scooper is nearly as essential as other cat basics– including a litter box, excellent kitten or cat food, and comfortable places for them to relax and play. A litter scooper is designed to clean waste from a litter box and keep it clean. Without it, it's nearly impossible to dispose of waste in a safe, healthy manner that keeps you and your car well. However, knowing how to dispose of litter is highly important, no matter what litter scooper you choose. 
How do I Dispose of Cat Poop?
There are many mistakes made when disposing of cat poop. It can be tempting to flush it down the toilet, for instance. But you must handle it safely and dispose of it practically. The general rule of thumb is to dispose of cat poop in a garbage bag. I would keep your garbage bag away from your kitchen and other common living spaces as much as possible. Use gloves for extra protection, but washing your hands thoroughly may be sufficient. Even when you're using a scooper, you must wash your hands to ensure you don't contract an illness. Don't place cat litter or your scooper near anywhere you eat, shower or sleep. If you have young kids, I highly recommend finding a secluded area to introduce your cat and take precautions so that kids cannot get into or play with the litter box. 
Should you Scoop Cat Pee?
Cat pee should also be scooped. If you're having trouble scooping cat pee, you likely have one of two issues. Either you don't have a great scooper, or you don't have the best litter. For some boxes, a clumping litter may be helpful. Clumping litter makes scooping all waste, including uring, easier. Scooping cat pee regularly is important for keeping your cat happy and healthy. 
How do you get Little Pieces Out of the Litter Box?
Sometimes, it's difficult to entirely clean your litter box. If you have a plastic litter box and scoop– as I did for a while– things can be prone to adhere and be stubborn. You may need to scrape wet litter or entirely clean out the box. A great litter scooper is slotted and allows you to filter litter. By shaking your scoop sideways, you can filter out unused litter– this works when you don't need to clean the entire box. 
Can I put Used Cat Litter in the Garden?
This is a tricky question. Many cat owners hate simply scooping and throwing litter away, and I understand that. You can indeed place used cat litter in a garden– but in limited circumstances. Some cat litter isn't suitable for gardens because it isn't biodegradable. This is critical, as the goal would be to help plants grow rather than harm them. Your cat litter must primarily be made out of plant-based material. Examples include corn, wheat, or even pine. The great part about this type of cat litter is that it can be mixed to enrich the soil, especially for potted plants. 
That said, keep in mind that this should be limited to your garden– and everyone who lives with you should agree to it. Not everyone will love the idea. 
How Often Should you Scoop Litter?
There's also how often you need to scoop litter. Some cats are messier than others and won't mind a messy litter box for longer. Others, like my particular cat, Asher, will be quite vocal when they aren't happy. That said, you should scoop out litter at least once a day per cat. Up to two times, a day may work for some cats. If you have multiple cats, twice a day likely will be a minimum. A good rule of thumb is simply checking the litter box twice a day. Don't leave a messy litter box for many hours– this can even discourage litter box use in some cats. 
How do I Find the Best Litter Scooper?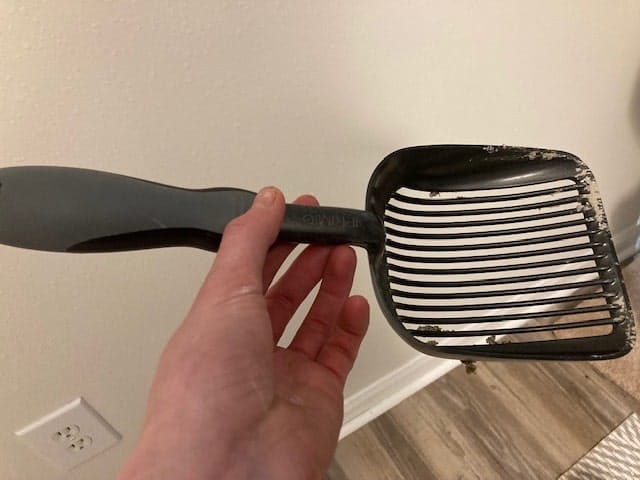 Of course, even the best techniques can't make up for a flimsy litter scooper. While a budget litter scooper works for a while, you'll find poorly made litter scoopers will be a pain in the long run. Not only will you spend more time scooping, but you'll also find it far more difficult to clean your litter box to your cat's satisfaction. The good news is that the best and most durable litter scoopers aren't that much more expensive than other litter scoopers. You just have to know what features to look for. 
Is a Metal Litter Scoop Better Than Plastic?
The most common materials used for litter scoopers are plastic or some type of metal. I had a plastic scooper for a while, and I know firsthand the disadvantages. A plastic scooper is cheaper and lighter. But it also has the disadvantage of litter sticking to its surface. This happens on a fairly regular basis and can make scooping urine difficult. With heavy use, a plastic litter scooper can also crack or entirely break. 
Aluminum is an excellent alternative to plastic. It's nearly as cheap and lightweight– but far more practical. Unlike plastic, aluminum will not easily break or crack. It provides a sturdier grip as you scoop– it's also rust-resistant and strong. 
Why Does Litter Scooper Have Holes?
The litter scooper should have not so many holes as slots. These slots are designed to allow you to filter out unused from used litter. This is done by shifting the scoop back and forth sideways. Look for slats that are uniform and narrow. The closer the slats, the better they are for filtering fine chunks of litter. This is helpful if you have one cat or a smaller cat and are struggling to pick up fine pieces. 
Does the Litter Scooper Handle the Matter?
Just as you want the shovel portion of your litter scooper to be firm and stable, you also want your litter scooper handle to provide a firm grip. A special grip, or even an ergonomic design, allows for more comfortable scooping and greater control over your scooping. Also, pay attention to how long the handle is. A shorter handle will allow for a closer grip, and more control, though a longer handle may prove more comfortable for taller people. 
What Other Features Should I Look For?

Other nice features to have included a place to hand your scooper if that's something you plan on doing, grips or reinforced edges on the scoop itself; easy to clean materials, and excellent customer reviews.
iPrimio Nonstick Litter Scooper: Worth the Hype?
With my criteria in mind, I decided to give the iPrimio Nonstick Litter Scooper a try. This is a popular scooper, and you can buy it on a few websites, from pet supply sites like Chewy.com to wholesale retailers. Eager to try it as soon as possible, I decided to order the product from Amazon. 
What are the different styles of the iPrimio Nonstick Litter Scooper? 
You have three main options. The difference between the two of them is largely cosmetic; the most expensive option presents a larger size. I purchased the IPRIMIO Cat Litter Scooper with a Black  Super Solid Handle (Buy Here). 
iPrimio Cat Litter Scooper with Black or Silver Handle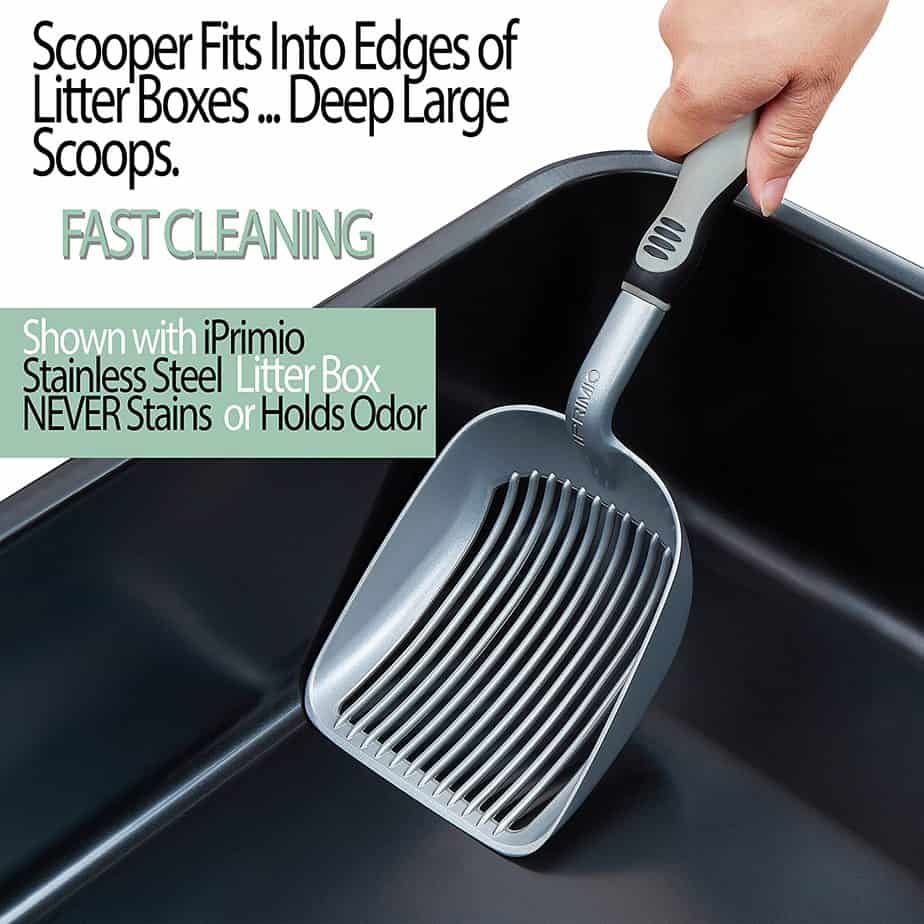 Both of these options offer the same features and relatively similar reviews. They're both nonstick, plated aluminum. You pay an extra dollar for the Silver Handle iPrimio Scooper, but you're not going to notice a difference in performance. 
iPrimio Scoop Monster Cat Litter Scooper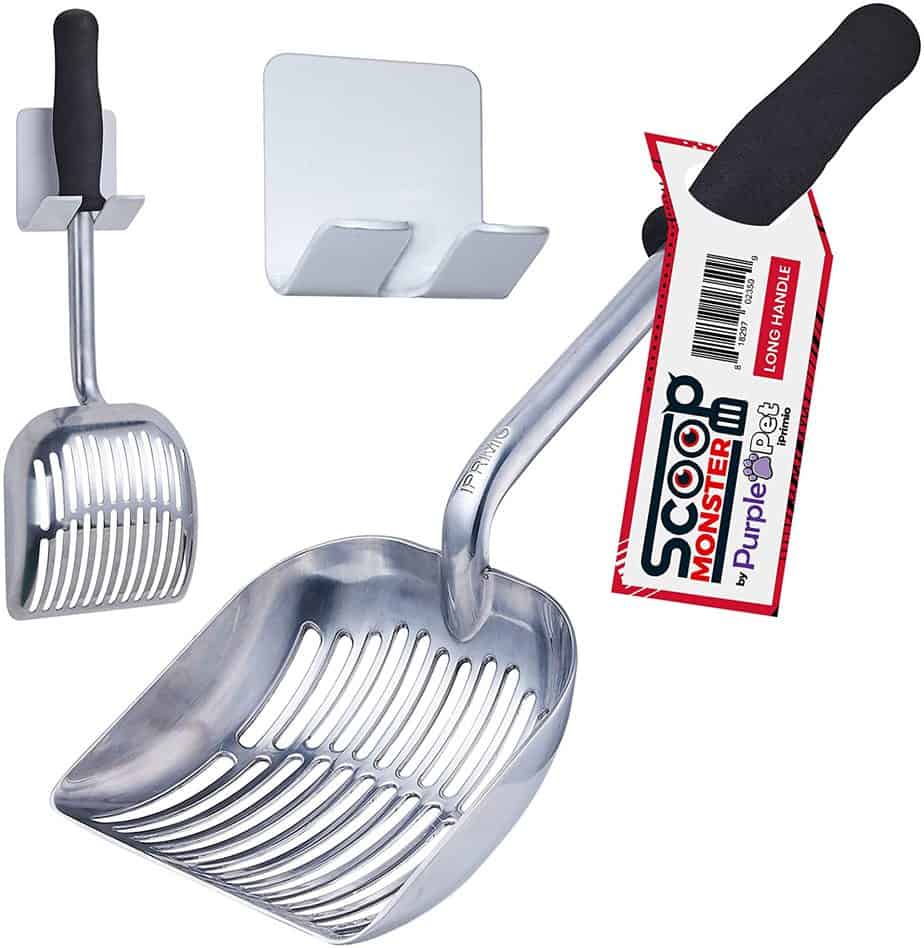 While I won't be reviewing this scooper, it's another option to consider. Equipped with many of the same general features and the same materials, the monster scooper features an extra-long 17-inch handle. This would be ideal for someone who can't easily bend over to scoop and suffers from sore arms or a sore back. The larger design also is more targeted for removing larger quantities of litter at once, vs fine litter for a smaller litter box. Buy Here. 
Does the iPrimio Nonstick Litter Scooper work?
I received the package in just a few days and was excited to see everything in great condition. The scooper was as great looking as it was on Amazon's website, and I already could tell this was an upgrade from my plastic litter scooper. Here's what I noticed.
Strong, Ergonomic Handle
The handle was exactly as advertised and comfortable for even the most difficult scooping. I waited until the litter box needed cleaning to put it to the test. Just as promised, the handle is comfortable, with a grip that makes the scoop also easier.
Strategic Scooping and Shifting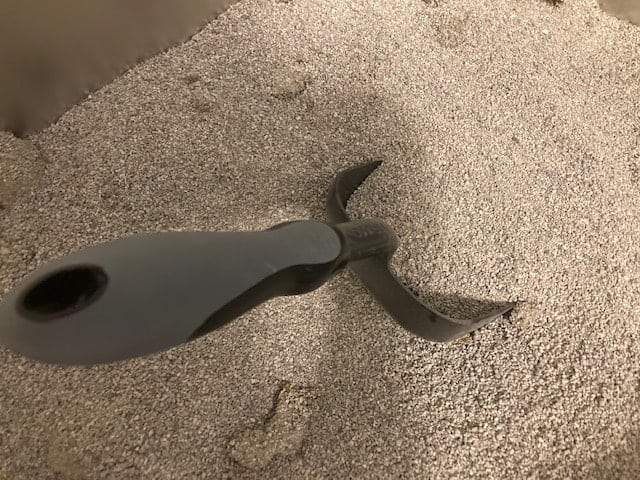 While it did take decent scoops, however, I wouldn't say the scoops were "large" as claimed, but about what I'd expect. The shovel was just about right for a large litter box, getting up enough at a time to be productive but not an impressive amount. It's the shifting feature that I found more impressive than scooping. Compared with other litter scoopers I've tried, the slats were more effective at filtering out smaller clumps of litter. This made deeper cleaning easier than usual. So while it may not get your litter box cleaner faster, I do think it will get your litter box cleaner than your average litter scooper daily. I might also add that it doesn't take much: a simple shake filters litter for you. 
Nonstick?
I'm happy to report that the litter scooper does live up to its nonstick name. With my previous scooper, I was constantly battling wet litter getting on the sides of my scooper. Not only does that make scooping less pleasant, but also less efficient. The iPrimio Nonstick Litter Scooper can scoop about litter clumps with limited debris left behind. While not 100 percent perfect, it lives up to its reputation– and makes scooping that much easier. The nonstick coating (which is also used for cooking pans) did make a difference. 
Cleaning Corners
The other advertised feature was a design meant for cleaning in corners. A problem so many litter scoopers tend to have is that they can clean the rest of the box just fine, but cleaning corners is quite challenging. I wasn't sure what to expect; the design does feature a nice curve to it. Those curved corners are thin but curved in a way where getting into corners is easier than scoopers with a slightly flatter design. While I wouldn't say that it wowed me, I will say that it's more than adequate for cleaning tricky corners.
Frequently Asked Questions 
Question: Can I flush cat poop?
Answer: Disposing of cat food appropriately is essential in so many ways. Many people assume they can flush cat litter, but this is a mistake. The problem is that cat litter can take a toll on your toilet and pipes. Litter can become logged in pipes and cause problems with even just one flush. If you want to avoid a hefty plumber's bill, never flush any cat litter down the toilet. Your best bet is to simply throw it out. 
Question: Why does my cat watch me clean his litter?
Answer: Not all cats watch as you clean their litter, but if your cat's anything like mine, they're curious. That is usually what it comes down to, curiosity. For some cats, it may be a way to take note of how their environment is changing. There's no reason to be worried about your cat watching you clean their litter box. As most cats are quite observant and mindful of their surroundings, it's a way for them to keep tabs on what's happening. And don't be surprised if your cat comes over to inspect the litter box after. Again, not all cats do this, but if yours, rest assured that this is 100 percent normal behavior. 
Question: Do cats get mad when their litter box is dirty?
Answer: Cats all have unique responses to a dirty litter box. Some get angry and lash out. Others become timider and may even refuse to use the litter box. Still, others may simply be insistent on reminding you to meow or doing other things to get your attention. No matter how your cat responds, the message is simple. A dirty litter box isn't a healthy environment for any cat. Dirty litter boxes can discourage healthy litter box use, impact your cat's physical and mental health– and that's not to mention that they're unpleasant to be around. Even if you have just one cat, litter boxes need to be cleaned 1 to 2 times daily. Every once in a while– every few weeks or months– it's wise to switch out the litter completely, rather than just daily scooping, to ensure a healthy environment for you and your cat. 
Final Decision: iPrimio Nonstick Litter Scooper is Worth Your Money
I wasn't sure what to expect when I purchased the iPrimio Nontick Litter Scooper, but I noticed a notable upgrade from other scoopers. Litter is easier to filter, doesn't stick, and you get a great study grip. Scooping litter is comfortable and effective. While it may not scoop tons of litter at once, it's really handy for getting a deeper clean– and I'm confident that it will last. 
The extra money you pay is worth it– and the scooper even comes with a feature that allows you to hang it on a wall. While not perfect in every aspect, the scooper delivers and is suited for one and two cat households. If that sounds like your speed, Buy the iPrimio Litter Scooper Here. 
Continue reading:
iPrimio Stainless Steel Litter Box Review
7 Best Litter Boxes for Senior Cats | Older Cat Litter Boxes
Is Your Cat Allergic to Its Litter?