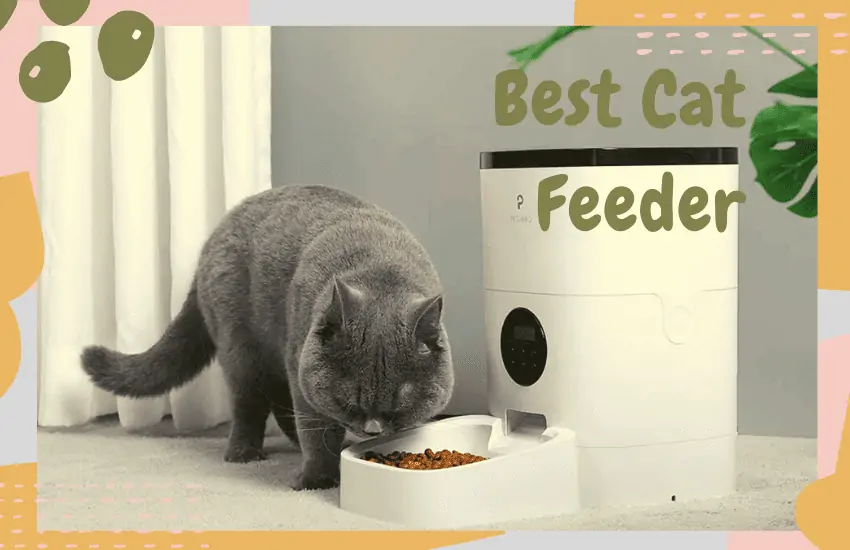 As much as we might want to be, we can't always be there for our fur babies. That might be during working hours, when you have to be away from the house, or when it's time to take a vacation or visit family and friends.
There are always options for feeding a cat when you're away. Perhaps you have a kindly neighbor who will come over to check on your pet. You might even choose to take your pet on a vacation to cat kennels. But both those options can be stressful for you and your cat. Probably the simplest way to make sure that your pet gets fed even when you're not around is to buy a cat feeder.
Automated Feeders
Today, we're going to look at the features of some of the best cat feeders on the market and make our recommendation for the best one. If you're in a hurry and you just want to know our top pick now, it's the PortionPro RX. If you're here for the detail, read on!
Free for All Feeders
The simplest and cheapest kind of cat feeder is a 'free for all' style. This allows you to load up the feeder with kibble, and your cat can chow down whenever it feels like it. The upside of that is that it keeps things simple, and that means that the feeders are a fraction of the price of a more complicated feeder.
The downside is that free feeding isn't great for your cat's health. While cat's do eat small meals throughout the day naturally, they have to hunt to get the food so it's coming after a burst of activity. Their bodies are set up for that pattern, sleep, hunt, eat. Free feeding disrupts that, taking out the exercise, and that can lead to weight problems, diabetes, and other health concerns. So, free-feeders might be fine for the occasional weekend away, but not for every day.
Ancaixin Gravity Dispenser

 

All the plastics in this feeder are BPA free, protecting your pet's health. It can hold up to 12lbs of pet food at any one time and can also be used for water.

 

 

Petmate Pet Cafe

 

Another BPA free plastic solution, the pet café comes in a range of sizes so you can choose the right one for you. The feeder uses a gravity feed system, but one that delays refill to discourage binge eating.
If you're only looking for a feeder to dispense kibble while you're out at work, there are other solutions you could consider. These feeders have been designed to slow your cat down when eating, letting a sensible portion of kibble keep them entertained for much longer, and making sure they work for their food.
Doc & Phoebe's Indoor Hunting Feeder

 

Load up these cute mice with a day's supply of Kibble and hide them around the house. Your cat will have a blast hunting and wrestling with the critters, then enjoying the tasty food.

Catit Senses Food Tree

 

Each piece of kibble is hard won with this feeder, that encourages your cat to seek them out with its paws. Relieve boredom and make sure that your cat doesn't just gorge on their food.
Timed Dispensers
The next step up from a gravity feeder, a timed dispenser will issue a set amount of kibble at times that you set. Most also offer you the option of spreading that meal out over several portions, which helps keep your pet's blood sugar stable. It's useful for a cat who has issues with diabetes.
These feeders need a supply of electricity, and most are battery operated however, some do give you the added option of using an adaptor and plugging them into the mains.
Homdox Automatic Pet Feeder

 

This feeder can be set in advance to dispense up to 4 meals day for over 5 days. It lets you set a message to call your cat to it's food, and has a wide opening which will take many different kinds of kibble.

Arf Pets Automatic Feeder

 

This feeder will dispense up to 10 portions for each meal, and 4 meals a day which are set up with a timer.

It operates on batteries, but can also be plugged into the mains for longer-term use.
Wi-Fi Dispensers
Cat feeding has joined the Internet of Things! These feeders make changing the settings on your automatic feeder just that little bit easier, using an app on your smartphone or tablet. Most have options for when meals are dispensed, as well as how much and how many portions that you let your cat have.
Like the timed feeders, these need a power supply but they are more likely to come with a DC adaptor. Notifications from the app will let you know when your pet has eaten, or if you need to refill the hopper. The only downside to these feeders is that they are only as reliable as your wi-fi: if your router goes down, kitty won't get fed.
PetSafe SmartFeed

 

This feeder works with both Android and Apple iPhones (iOS 9 or later) to let you customize your cat's feeding. It can dispense up to 12 meals a day and will spread those out over time in up to 15 portions.

You can choose to get alerts from your phone when a meal is dispensed, and the unique conveyor design means it can cope with most sizes and shapes of kibble.

Petnet Smart Feeder

 

This feeder takes connectivity to the next level. It doesn't just connect to your smartphone, but can also interact with Alexa, Google Assistant and Nest Cam.

The app asks you to input the breed, age and size of your pet and will calculate portion size from that. It will drop you an alert when your cat gets fed, and when you need to top it.
Portion Control Feeders
These feeders address the issue of over-eating that the gravity feeders have. This is especially important if you have a pet who needs to lose weight or has a condition like diabetes. If you have a multi-cat household then the PortionPro is an ideal solution, by using RFID technology it knows which cat has come for a meal and will make sure they get the right amount of food for them, at the right times of the day.
PortionPro RX

 

This feeder claims to be the only one recommended by veterinarians. It has all the bells and whistles, giving out a precise amount of food to your pet. And if you have multiple cats who need different amounts? The Portionpro can handle that for you. Just clip an RFID tag to each cat's collar and you'll know they're getting the right amount of food for them.

Westlink Automatic Pet Feeder

 

This feeder will dispense up to 6 meals a day, but it breaks them down into portions – up to 39 of them. This stops your cat getting an insulin spike from eating too much in one go.

This model has a voice recorder, so you can call your cat to its meal and it works for any kibble that is less than 0.4" in diameter.
Wet or Dry Feeders
The feeders we've talked about so far are great for cats that eat dry food, but what if you like to feed your cat wet food? Don't worry, there's a solution for you too. These feeders are designed for shorter periods, any longer and your cat's food would start to go off. They all work on the same basic design, a rotating bowl that offers a fresh portion at the next timer.
I have one of these for my cats, who have wet food for breakfast. It means their routine goes uninterrupted if I go away overnight, but cleaning the feeder when I get back is not my favorite job!
PetSafe 5-meal Feeder

 

Put a portion of food in each of the compartments and set the timer. A motor will rotate the dish at the right time, delivering a fresh meal to your cat.

Made of BPA-free plastic, this feeder runs on batteries so make sure they have plenty of charge in them before you go away.

CatMate Automatic Cat Feeder

 

Another rotating feeder, the cat mate has space for ice packs so you can keep your food chilled and fresh while you're away.

This model is also made from BPA free plastic, and the digital display shows when the feeder will rotate so you can easily check you have set it up correctly.
Choosing your Cat Feeder
As with all choices for your cat, the best feeder will be the one that best suits both you and your pet's needs. If you just need to make sure your pet eats while you're out at work, you don't need a complex solution so something like the Doc & Phoebe's Indoor Hunting Feeder could be perfect.
But if you go away frequently, or for longer periods of time, then we really don't think you can beat the PortionPro RX. Not only does it have all the flexibility you need to take care of a single cat, but if you share your life with more than one fur baby it's got your back. What more can you ask of a cat feeder?
Continue reading: 
The Best Kitten Toys for Your Furball