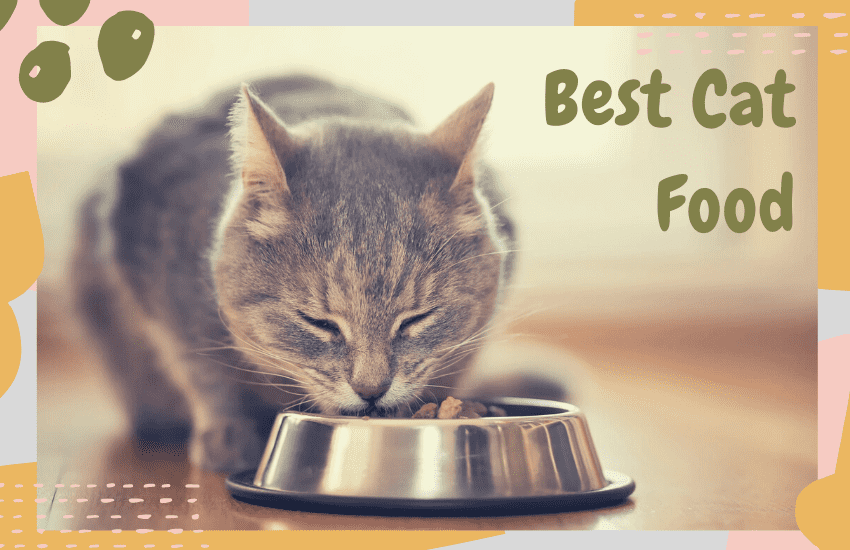 "You are what you eat," is a proverb that's been in use for nearly 200 years. The advice of experts is to eat a healthy diet with a good balance of protein, carbohydrate, and vitamins to stay as healthy as we can. If we eat too much or choose 'junk food' rather than whole foods we can gain weight and develop health conditions such as diabetes or joint problems.
Exactly the same is true for cats. Ensuring that they get a balanced diet, with all the vitamins and minerals they need to stay healthy is the single most important thing we can do for our cats. But just like human health, the advice as to what you should feed your cat can be confusing. There's a wide array of different food products available, so how do you choose which is right for your cat?
In this article we're going to answer exactly that question, looking at all the different types of food available to help you choose what's best for you and your fur baby.
What Should a Cat's Diet Contain?
While your cat may spend its days battling catnip mice and sleeping on a sunny window sill, the best diet for your fur baby is the one that is closest to what they would eat if they were hunting for themselves in the wild.
Cats are obligate carnivores, that means that they have to eat meat. They need a diet that is high in moisture, protein and contains the amino acid, Taurine, which is only found in meat and its by-products. While many cats love fish, it isn't the best thing to feed them on a daily basis because it contains high levels of fatty acids, which can cause problems with Vitamin E absorption in cats, so save it for an occasional treat.
The Right Food for Their Age
Cat food comes in three different age brackets, kitten, adult cat, and senior. Because cats have different nutritional needs during these phases of their lives, its important to choose the right food for them. Kittens are growing fast, so need a higher calorie count than adult cats. Seniors, on the other hand, are slowing down but need more support for their organs and joints.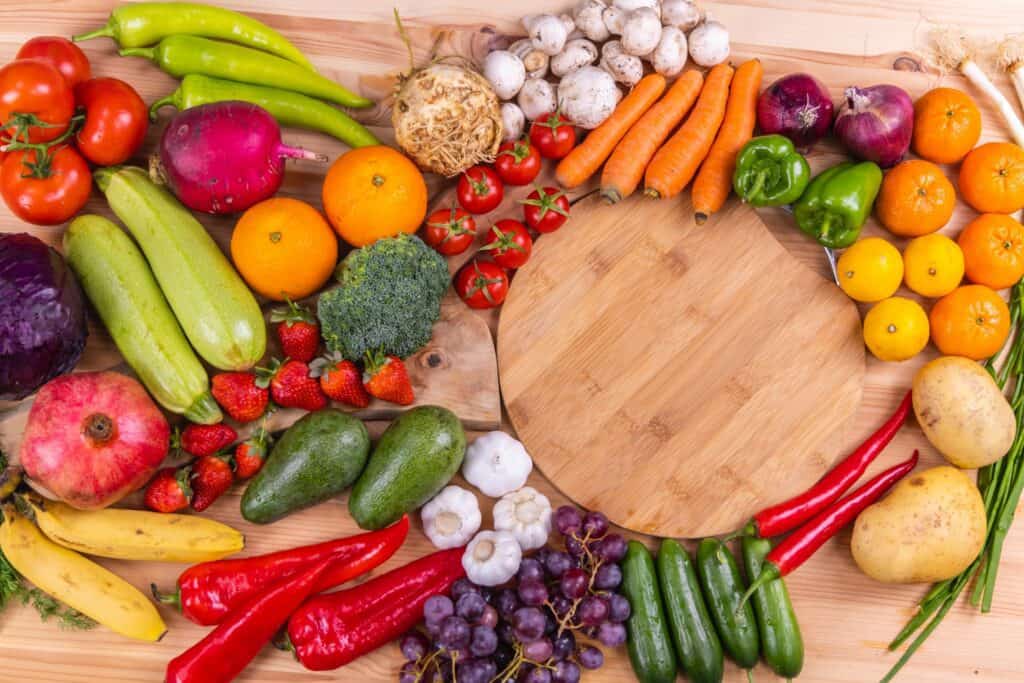 Read more:
Understanding the Label
You'll probably have already noticed that the prices of cat foods can vary considerably; the best way to find out if you are getting value for money is to check the label. While the information can seem confusing at first, here are a few things to look for:
Read More:
Complete or Complementary?
You might notice that some foods call themselves, 'Complete' whereas others use the label, 'Complementary.' A complete food is one that meets all your cat's nutritional needs by itself, it has everything in that one product.
A complementary food doesn't have all the ingredients, it's one that needs to be fed alongside another product to make sure that your cat gets all the goodness it needs. If you do choose a complementary food, either feed it alongside a complete one or read labels to ensure that you have covered everything your cat needs between the products you are feeding them.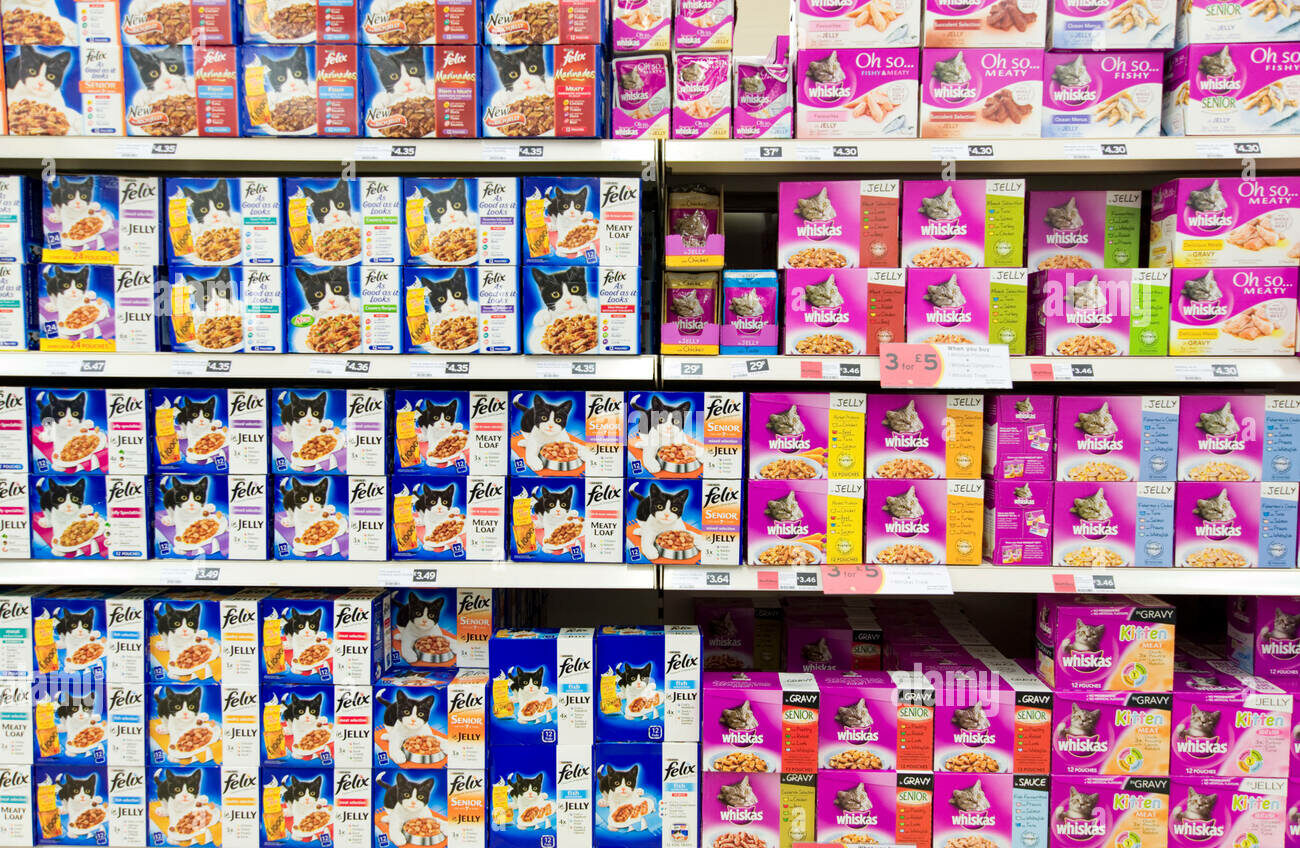 A wet (canned) food is closest to what a cat would eat in nature. It has high water content, as well as all the nutrients your pet needs to stay healthy. Wet foods come in a pate or mousse form, or as chunks of meaty food in jelly or gravy. These foods can be up to 75% water, which means that your cat is getting more of its liquid intake from each meal.
There are a couple of downsides to wet food, though. One is that it isn't as good for your cat's teeth as dry food, which will help remove plaque as they chew. The other issue is one of freshness. Cats tend to prefer to eat several small meals rather than a large one, which can leave bowls of cat food to dry out or attract flies. If you're not around to clean out dirty bowls that can lead to an unpleasant smell when you return home on a warm day!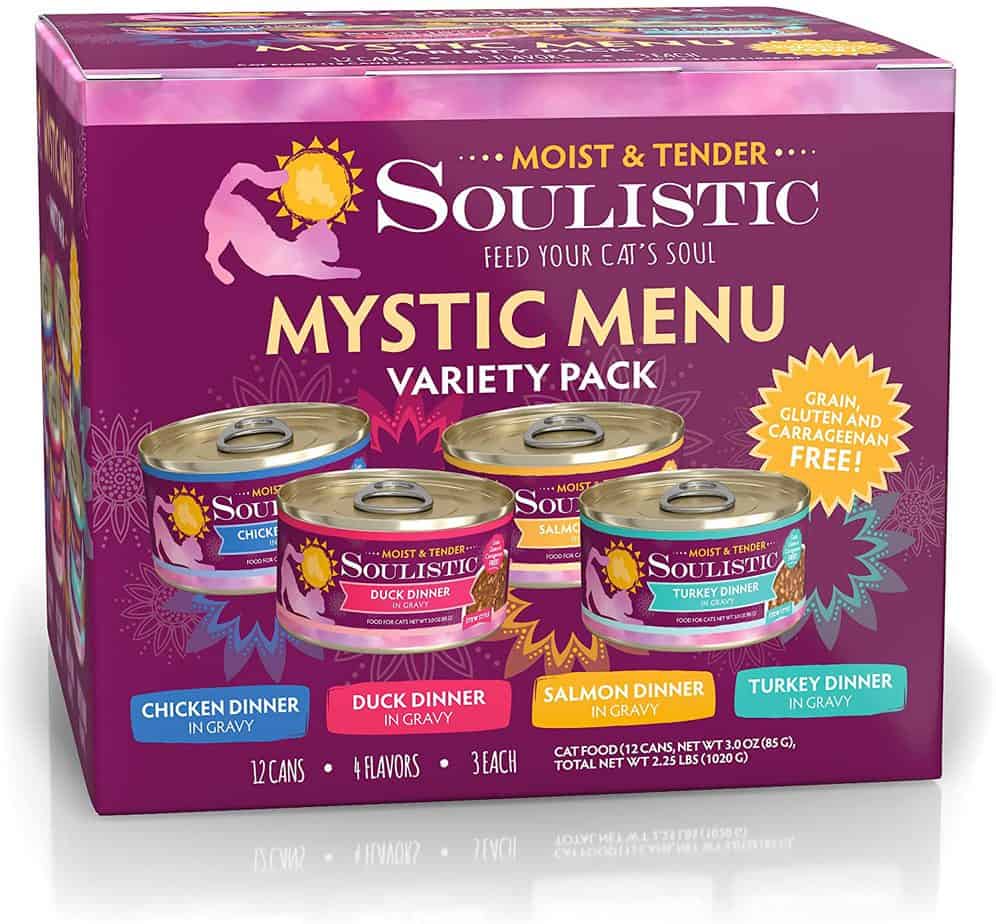 No additives, preservatives, grain or gluten! All the fish in this range are wild caught, and the poultry is cage-free.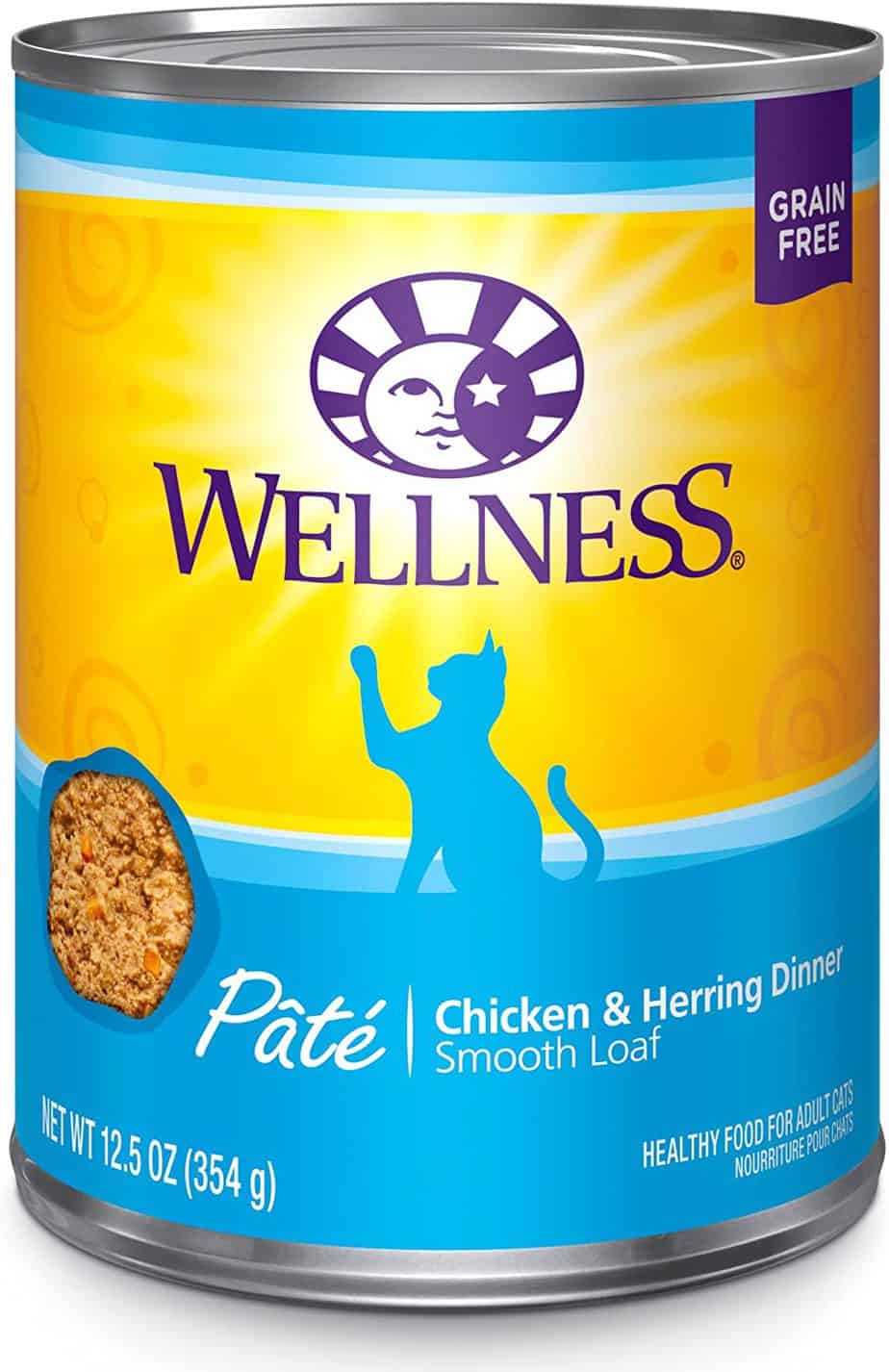 Made in North America, this recipe contains both chicken and herring to give a complete nutritional profile.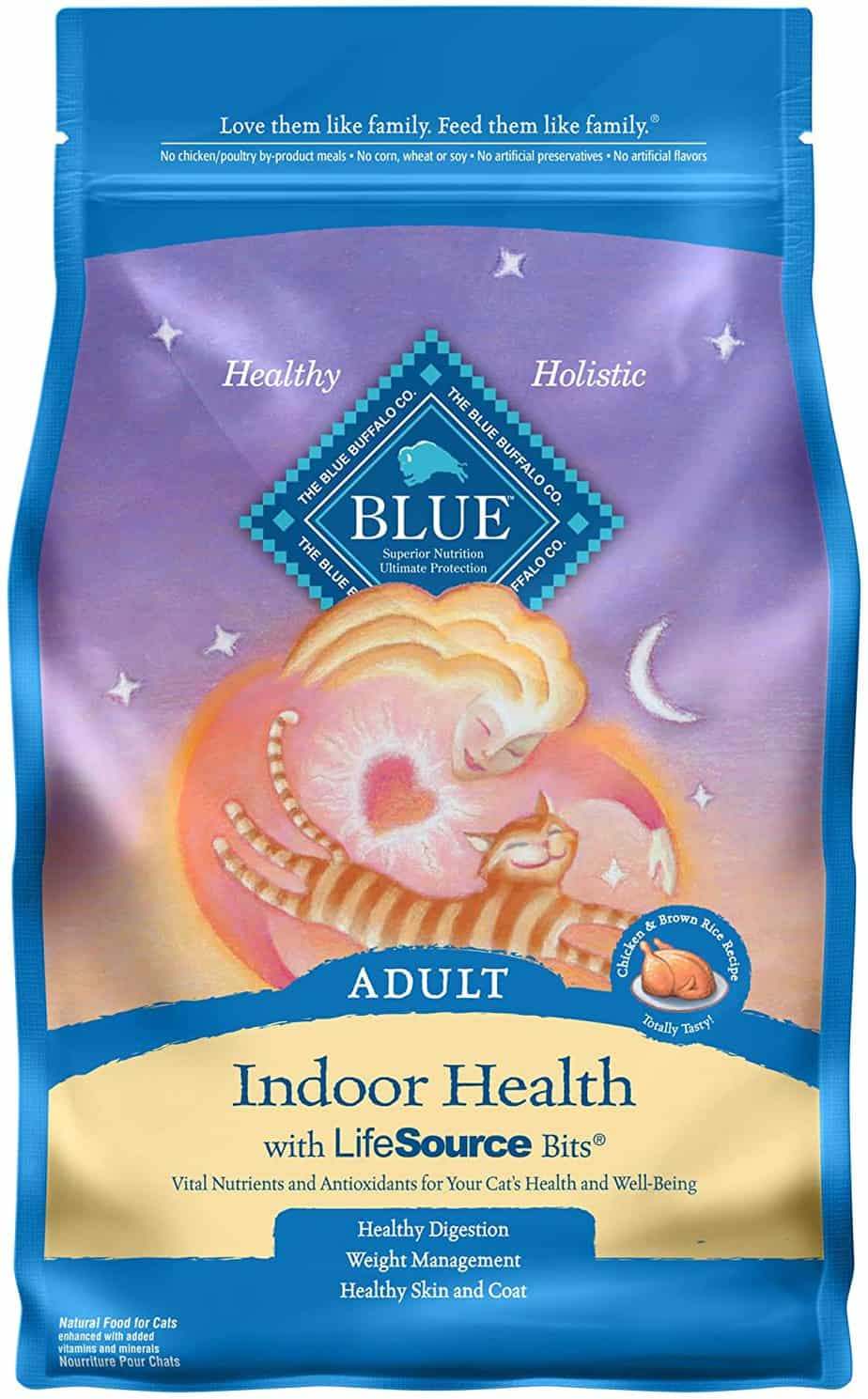 This food has been specially formulated to meet the calorie needs of indoor cats. It's made in the USA, and the company prides themselves on the quality of their ingredients and their holistic approach.
Blue Buffalo Indoor Health Dry Cat Food | Chewy
Specially crafted for adult indoor cats, this recipe purr-vides balanced calories from protein and fat to promote a healthy weight, and omega-3 and omega-6 fatty acids to help promote healthy skin and a lustrous coat.
Check Price
Buy at Amazon.com
We earn a commission if you click this link and make a purchase at no additional cost to you.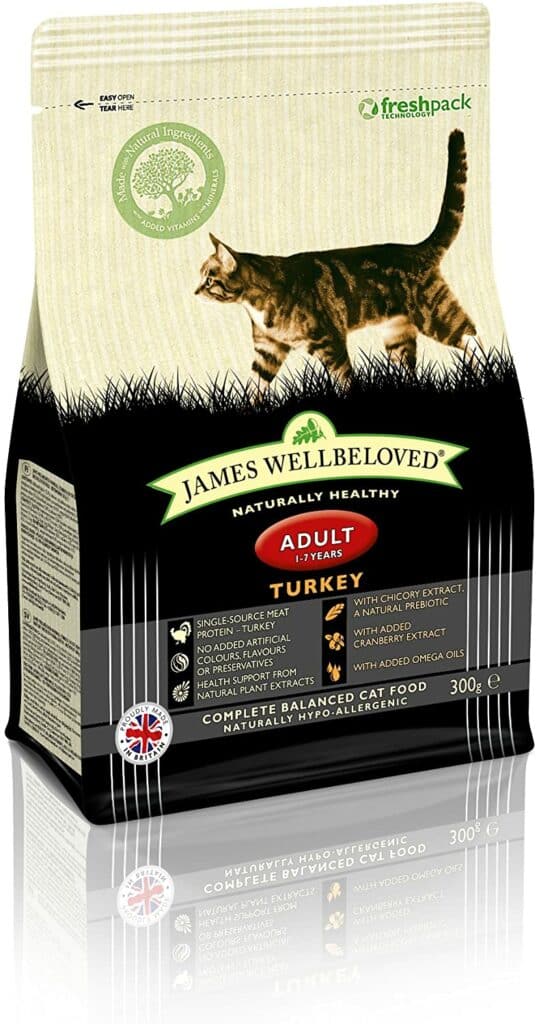 This is the brand my own cats love when I feed them kibble. It's a complete food with a small, round kibble that gets them running for the food bowl every time.
As both wet and dry foods have their pros and cons, there isn't really a 'right' way to feed your cat. Choose whichever fits in best with your lifestyle.That's why many cat parents who work outside the home choose to leave dry food out for their cats. Unfortunately, that isn't without its downsides either; if you let your cats 'free feed', that is eating whenever they want to, they can overeat and gain weight. The solution to that problem is to choose an automatic feeder which will dish out small portions to your cats over the course of the day. You can find our top picks for automatic pet feeders here.
Read More:
Specialist Diets
Cat food manufacturers are always looking for a way they can improve the quality of their products, and also increase their sales. That's why, if you walk into a pet store today, you'll see a wide array of different types of cat food. Here's a quick guide to some of the foods you can expect to see and an explanation of what makes them different.
In a move to make pet food more similar to a cat's natural diet, more manufacturers are creating 'raw' cat food. You might also see this called BARF, which stands for Bones and Raw Food, or Biologically-appropriate Raw Food. Obviously, cats don't usually build a fire and cook their meals, so it stands to reason that their digestive system is better suited to eating raw meat.
While you can make your own raw food, feeding raw meat is not without its risks. Raw food can contain Salmonella or E. Coli which can make your cat very ill. Most 'raw' products available in the shops have been treated to ensure they are bacteria free, and often freeze-dried to improve their shelf life.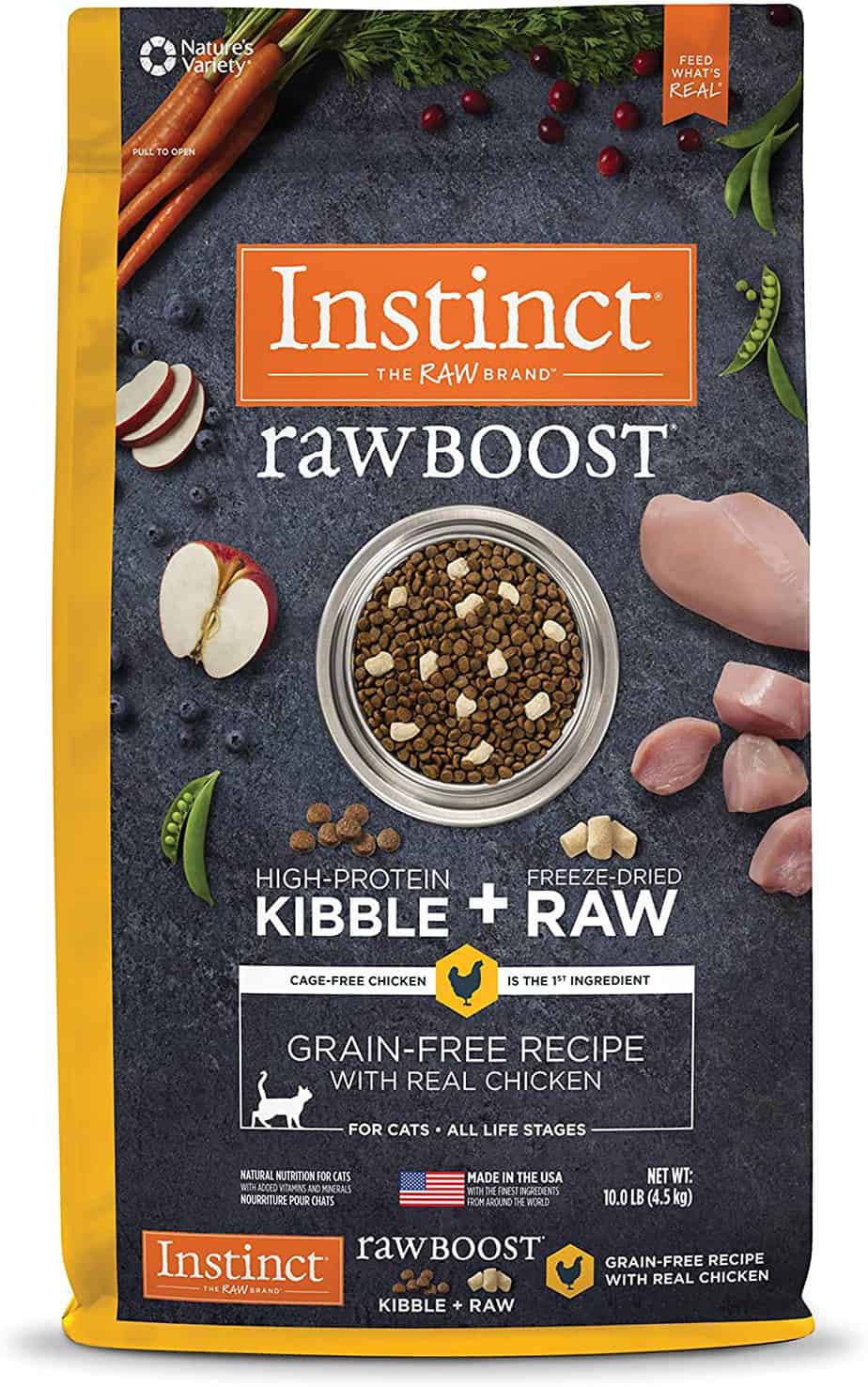 If you want to give your cat the benefit of raw food without changing to a different brand, then this food topper might be the answer. Just sprinkle over the top of your cat's regular meal.
Alternatively, you could choose the Instinct Raw Boost, which is kibble with the raw topping mixed in.
Know Better for Cats - Beef Recipe | Amazon
Premix for making Raw or Cooked Cat Food - Know Better for Cats is a premix for preparing a raw meat diet for cats. This diet is ideal for all life stages and is made with 100% human grade ingredients.
Buy at Amazon.com
We earn a commission if you click this link and make a purchase at no additional cost to you.
10/03/2023 12:05 am GMT
If you want to make your own raw cat food, then this supplement ensures your fur baby will get all its nutritional needs met. Simply add it to water and raw meat, mix and freeze in portion sizes. Defrost thoroughly before feeding to your pet.
Vegetarian/Vegan Diets
As the vegan lifestyle has increased in popularity amongst humans, so some cat owners have wanted to feed their cat on a plant-based diet. The problem with that is that, as we have said, cats are obligate carnivores; they need meat to survive. There are vegetarian cat foods available, but it is not recommended to feed your cat in this way. If you have personal ethical concerns about the meat industry, then you should look into purchasing from a brand that respects animal welfare or chooses another pet.
Grain Free Food
As we mentioned previously, cat foods which have high levels of wheat, corn or other grains tend to be lower in quality. Wheat can also cause sickness or diarrhea in cats with sensitive stomachs. This is what has caused a rise in the availability of grain-free recipes.
But just because a recipe says 'grain free' it doesn't necessarily mean high quality. You will still need to read the label to make sure that the food contains everything your fur baby needs and isn't just filled with other ingredients that are really just fillers, like chickpeas.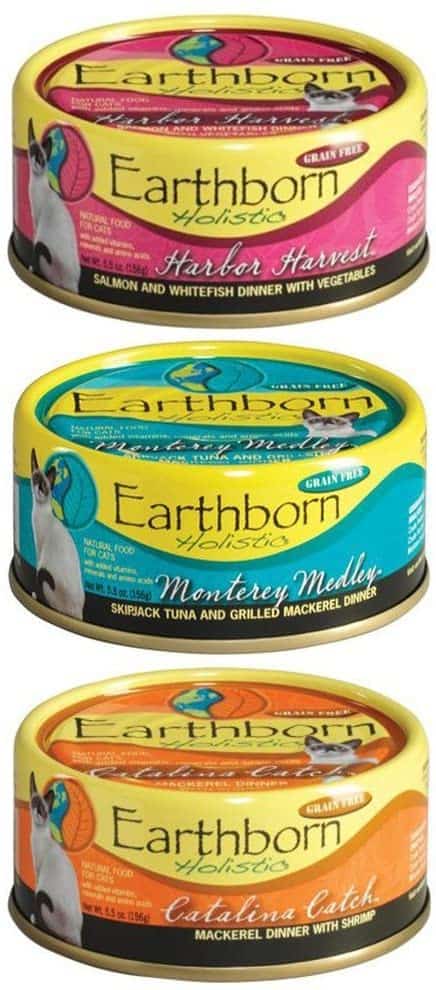 Available in four flavors, this grain-free wet food comes with a handy plastic lid to keep the contents of your cans fresh. Earthborn is another manufacturer that wild catches all its fish.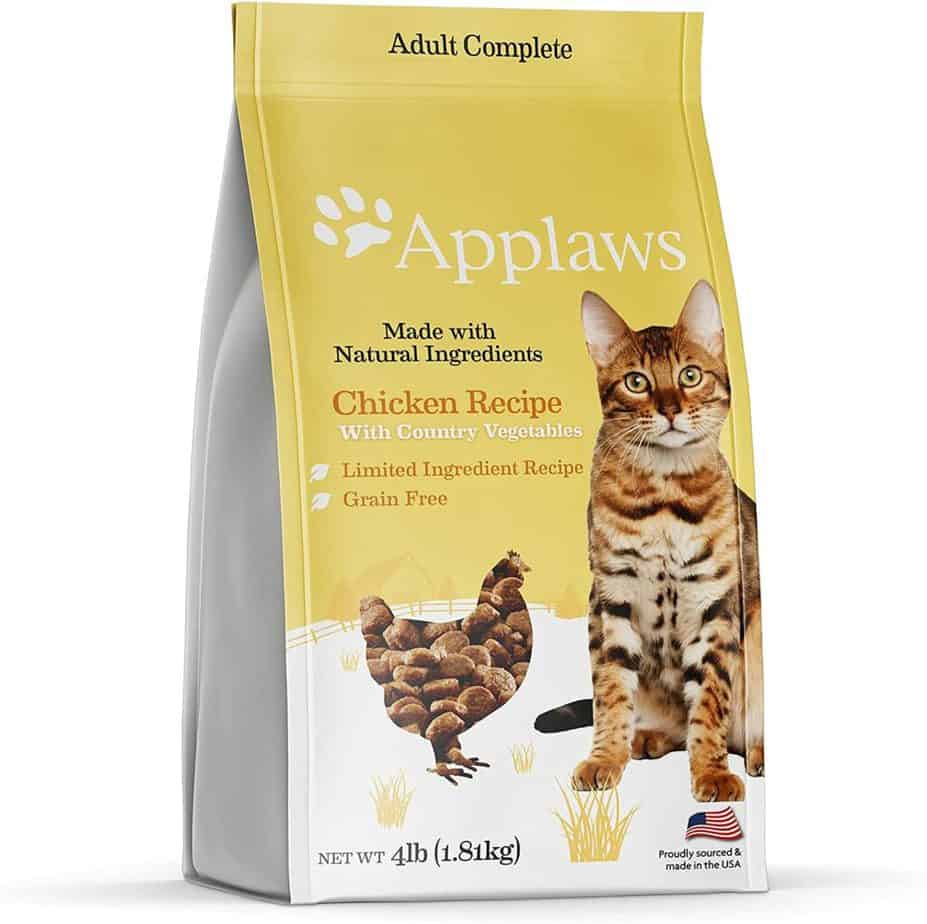 Applaws isn't just a grain-free recipe, it also contains no potatoes, which not only lowers carbs but can also be helpful for cats with joint problems. Made from chicken and chicken meal, it includes added fiber, vitamins and minerals to complete the recipe.
Breed Specific Food
If your moggy is a domestic short or long hair, this isn't the section for you. This one is for you owners of Bengal, Maine Coon, Siamese, and other pure breeds. If you browse the shelves of your pet store, you might see specialist food products aimed at your cat's breed – should you buy them?
This recipe has been designed with the high-muscle physique of the Siamese cat in mind. Even the kibble has been shaped to be perfect for their jaws!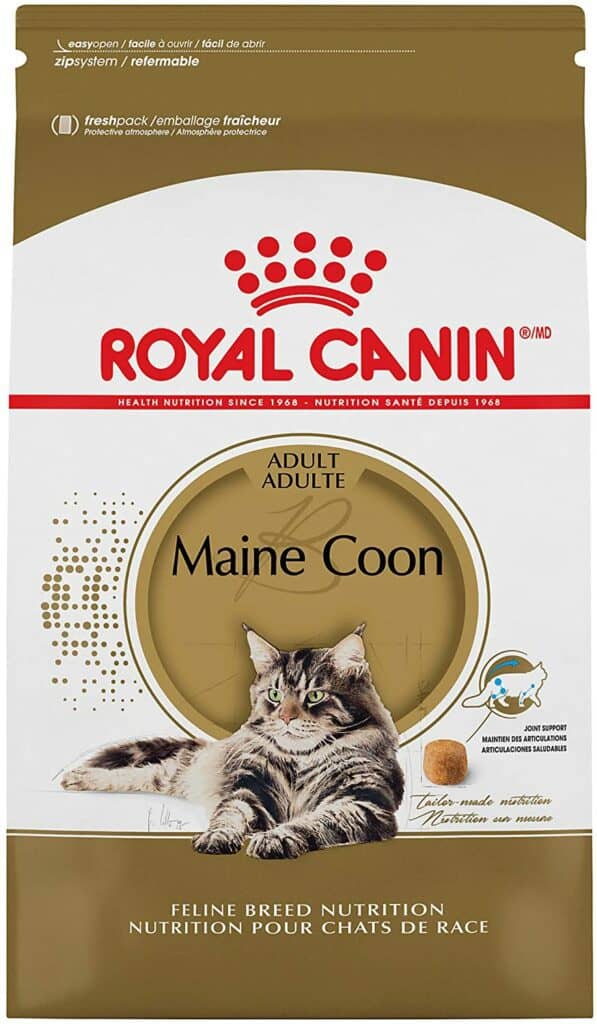 Another recipe with kibble designed for the jaws of the cat, this time big enough to slow down your Maine Coon as it eats! It also contains herbal extracts to support heart and kidney function.
Well, not necessarily. A healthy cat of any breed only needs a generally good diet. Where these specialist foods have a place is that they will include ingredients which can help with health concerns for your breed. You might find added fiber to help ease furballs in a long-haired breed, or added herbal extracts to reinforce the kidneys if the breed is prone to polycystic kidney disease, for example. These foods do tend to be more expensive, so it's really your decision whether you think your cat will benefit from a targeted approach.
Read More:
Do Cat's Need Variety?
If you ask a vet, they'll say no. Cats don't choose their food on the basis of flavor, they go on the scent, and how the food makes them feel after they've eaten it. You might find that your cat just wants to eat the same old thing, day in, day out and will never turn its nose up.
But there are some cats who haven't read this veterinary opinion, and they like to have a variety. If you find that a once favorite food is now being left in the bowl, try changing it out for a different flavor. If you do want to change the brand altogether, make the change slowly adding a little more of the new food every day to avoid upset stomachs.
Your Cat Has The Final Say
As with all things feline related, it will be your cat who decides whether they are going to eat what you offer. It doesn't matter if the food you've chosen is raw, grain-free, 100% pure chicken breast or the cheapest food the shop had to offer – if that's all your cat will eat, then that's what you'll have to feed them! We do hope, though, that this article helps you to feel a little more confident when you're faced with those imposing labels on your cat food tins or packets.
Read More: