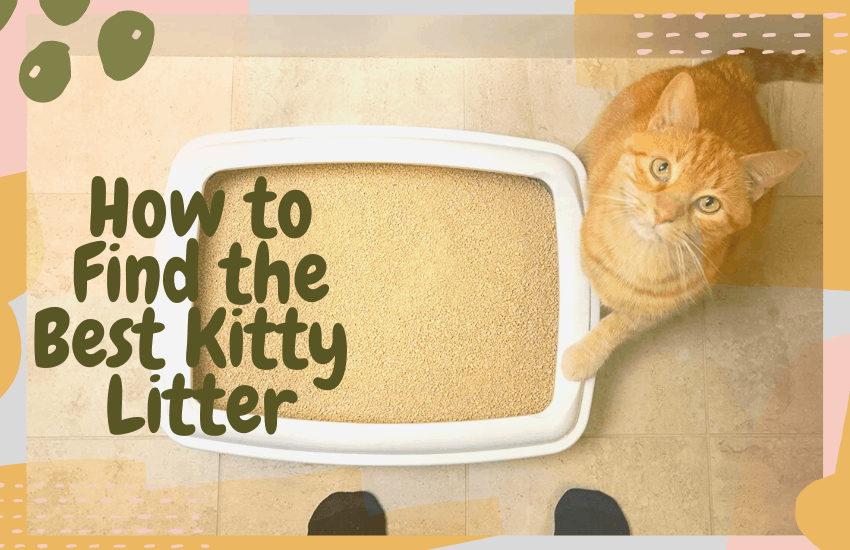 We might prefer to focus on the cute side of cat ownership; the snuggles and strokes, the contented purring after a good meal. But there is a less pleasant side to looking after your cat, and that's their bathroom habits. Cats need to pee and poop, and that means that they need a litter tray to use.
When it comes to choosing what goes into that tray, there are a variety of options available. But what's best for your fur baby, and for you? Should you choose clay or paper based? Odor control or scented? Something that doesn't track? If you're asking yourself these questions, then this article is for you. Read on to learn everything you need to know about choosing cat litter.
Features of Cat Litter
Even if you have an outdoor cat, you will want at least one litter tray in your home. The advice is that for each cat that you have, you should add another litter tray to make sure that there isn't any competition between your pets for who gets to use them.
Choosing the right kind of litter can make the experience of emptying your litter tray a pleasure or a pain. Here are some of the more common features you'll find on the labels of cat litter bags and the pros and cons of each of these.
Clumping/Non-clumping
It wasn't until the 1940s that people started having house cats before that pets went outside to do their business in the yard. When cat guardians started to keep their pet's indoors, they needed a toilet solution and started putting down pans of sand or ash for their pets to dig in.
Of course, this made a lot of mess, and it didn't take long for housewives to get fed up of cleaning up after their cats. That's when Ed Lowe suggested that a neighbor use a kind of clay that had been used in WWII for mopping up oil spills. Owners found that when pets did their business in the tray, it was much easier to clean up, and so clumping cat litter was born.
Clumping litter, usually made from clay, is still popular today. It enables you to neatly extra clumps of urine or feces and dispose of them without having to change the whole tray. You can go as long as a fortnight between complete changes, using this technique.
The downside of clumping litter is that it can stick to your cat and get walked around the house on their paws; especially with long-haired cats. There can also be a problem with cats, especially kittens, trying to eat the lumps.
Read our full article on best litters for training cats here.
Non-clumping litters are those who don't have this property, while some are made from clay others are made from other materials, often eco-friendly.
World's Best Cat Litter

 

You have to admire the confidence behind the product name on this one! It does have many of the features you would look for in a clumping litter; it's low dust, flushable and lasts up to 120 days between changes with a single cat.

While many clumping litters are made from clay, this one comes from a renewable source; it's made from corn!
Odor Control
Where there's a waste, there's a smell. It's one of those unfortunate facts of life, particularly for owners of tomcats whose urine has a stronger smell. For that reason, many brands of litter will focus on trying to control the odor from your cat's waste. While the simplest way to control the smell is to remove waste as soon as possible, this isn't always practical if you work outside the home or go away for the weekend, for example. In that case, an odor-control litter is what you're looking for.
The ingredients that help keep the litter pong-free depend on the brand, but they can include baking soda, activated carbon and enzymes.
Fresh Step with Febreze

 

This litter takes a three-step approach to control smells. Firstly, it's a clumping litter which locks in smells and makes the tray easier to clean. Secondly, it contains activated carbon neutralizes unpleasant odors. Lastly, it releases Febreze when your cat stands on it.
Scented
Going one step beyond an odor control litter is to choose one that has its own scent which helps mask the less pleasant smells your cat leaves behind. While this is a plus side for the owners, you may find that your cat simply won't use it. Cat's like a clean litter tray and some can mistake the perfume for a previously used tray.
Dr. Elsey's Scented Ultra Litter

 

This is a clay litter, sodium benzoate to be precise, that has a reputation for superior clumping and easy clean-up. The scent is moisture activated, so whenever your fur baby uses their tray, you'll smell something fresh and pleasant.
Types of Litter
As we've already discussed, cat litter can be made from a variety of different substances. If you have concerns about the environment, then you might prefer to stay away from the clay varieties and choose something made from a renewable material that is plant-based or recycled. You'll find litter made from the following materials.
Clay
Sometimes known as Fuller's Earth, clay-based litters are made from clay that has been fired into small pellets. When they get wet, they clump together, so this is one option if you want to choose a clumping litter.
Because they are such a dry product, these litters can make dust. That isn't just a pain to clean up, it can also be detrimental to your pet's health, particularly if you have a fur baby with asthma or a similar condition.
Purina Tidy Cats Clumping Litter

 

If you're looking for a clay product, then Purina Tidy Cats is a high-performance litter. With a focus on odor control, it has a good clumping ability but cannot be flushed or used on the garden. This litter needs to be disposed of with your garbage.
Wood
Wood makes a good choice for a cat litter because it is so absorbent. These litters are usually made from pellets formed from sawdust, which swell when they get wet so make sure that you leave space for them to expand in the tray. Wooden cat litter is made from a renewable resource, and it has a natural perfume that gets released when it gets wet. It's also flushable, so you can quickly and easily dispose of used litter.
ÖKOCAT Super Soft Natural Wood Clumping Litter

 

This wooden litter has been specially designed to clump, giving it all the benefits of both wood and clay! It's made from reclaimed wood and has a small granule size, so it's useful for the most sensitive of paws.
Recycled Paper
If the environment is one of your concerns, then recycled paper cat litter will be of interest. As the name implies, the pellets are made of previously used paper. This means that the litter is low dust and that it is naturally biodegradable. You can use this litter (minus the solids) as a garden dressing or add it to your compost heap.
Hartz Clumping Paper Litter

 

Hartz has developed a paper litter that clumps, letting you scoop out the solids and let the baking soda deal with odor control. Just over 4lbs of paper litter is equivalent to 16lbs of clay litter so that you will be saving your back an effort, too.
Crystals
Have you ever found a sachet of silica gel in the box with a new pair of shoes? The water-absorbing crystals inside that little packet are what is used in crystal cat litter. This type of litter is longer lasting than other types, as the crystals can absorb up to 40 times their weight in water and naturally control odors. If you remove solids, your litter box can stay fresh for far longer between changes.
The downside of crystals is that some cats, and particularly kittens, may decide to eat them. Because they are so water absorbent, that can cause serious health problems for any cat who tries it. And cats with sensitive paws, or declawed kitties, may not like the sharper feel of the crystals when they walk on it.
 
Ultra Micro Crystals

 

This brand of crystal litter has been specially designed to be soft on paws, helping even sensitive cats to use their trays. It has a great reputation for odor control, with the makers promising no need to change for a month if you have a single cat.
Cereal Products
Plant Cat Litter

 

Like the paper-based litters, plant-based products have great eco credentials. This litter is made from the by-products of bean farming, which makes the litter non-toxic and harmless if swallowed.

It's also dust-free and hard-clumping, making for easy cleanup.
Read our full article on dust free litter options here.
Multi-Cat
If you have more than one fur baby in your household, you might find changing the litter tray to be a chore. More cats equal more waste, and it can feel as though you are permanently cleaning or living with the smell. But litter manufacturers feel your pain, and many have developed litter especially for multi-cat households like yours.
Scoop Away Multi-Cat

 

The makers of this litter claim that it's so good at odor control that you only need to scoop, never dump! It's clumping, so both liquid and solid waste can be removed and the pan topped up when needed in even the busiest of litter boxes.
Health Concerns
For most cats, a litter of any type is unlikely to give them a health problem. There are a few exceptions to this, which you should be aware of even if your cat is healthy now, as they may help you in the future.
Traditional clay litters were known for being dusty; this was noticeable when you filled or emptied the litter tray. This could lead to some cats developing a cough or having difficulty in breathing. If you have a cat with asthma or some other breathing problem, ensure that you buy a low-dust product. Many brands make this a product feature.
If you notice that your cat is showing any of the following symptoms or behaviors, then it's possible that they have a litter allergy: Sneezing, Irritated or watery eyes, Runny nose, scratching, swelling around the face, acne, avoiding the litter box, toileting outside the litter box. Speak to your veterinarian to rule out other causes and get your cat some relief, and change your litter type to something hypoallergenic, like crystal litter.
Read our full article on litter allergy here.
While it might be hard for us to imagine, some cats will eat cat litter – even the clumps! This does tend to be kittens, in their early weeks before they have realized what litter is really for but it can also be cats who have developed a condition called Pica.
With new cats, or when you change your brand of litter, monitor the litter box for a while to ensure you cats aren't showing signs of interest in eating it. If they are, quickly remove them from the box each time they appear to try and bite, and they should soon get the message.
If you believe your cat has eaten cat litter, take them to a veterinarian as soon as possible.
Read More:
Litter Accessories
We understand that cleaning out the litter tray isn't the best job in the world, and so do cat suppliers. That's why they've developed these products, which help make the nasty side of cat ownership just a little easier.
Litter Genie

 

From the makers of Nappy Genie, this product makes scooping litter less of a chore. Rather than taking a trip to the trash can each time you scoop, you can now deposit the clumps into the genie, and any odors will be trapped inside. The Litter Genie comes in three different sizes and will hold litter for up to three weeks before needing emptying.

Pawkin Litter Mat

 

Do your cats track litter all over your home? If so, then this mat is your answer. The patented design traps litter, keeping kitty's paws clean. Just place it at the exit to the litter tray and enjoy not having to clean up so often!

Litter Box Liners

 

To make litter tray cleaning really easy, use a liner. These heavy-duty plastic bags are used to line the tray, with fresh litter placed inside. When the time comes to change, just pull the drawstring handles and take the whole mess to the trash in one easy move.

AmazonBasic Litter Pads

 

These pads can be used in the place of litter, and need replacing every 2-3 days. They can also be useful when traveling with a cat, or to put in places your cat likes to pee that isn't the litter tray!
Clean and Fresh!
As with most cat products, the real test for any choice you make is whether your cat uses their litter box or not. If you find that they are doing their business outside a clean box, then they are showing their disapproval of your choice of the litter! If that happens, we hope that this article gives you plenty of options to explore in finding the perfect litter tray experience for you and your fur baby!