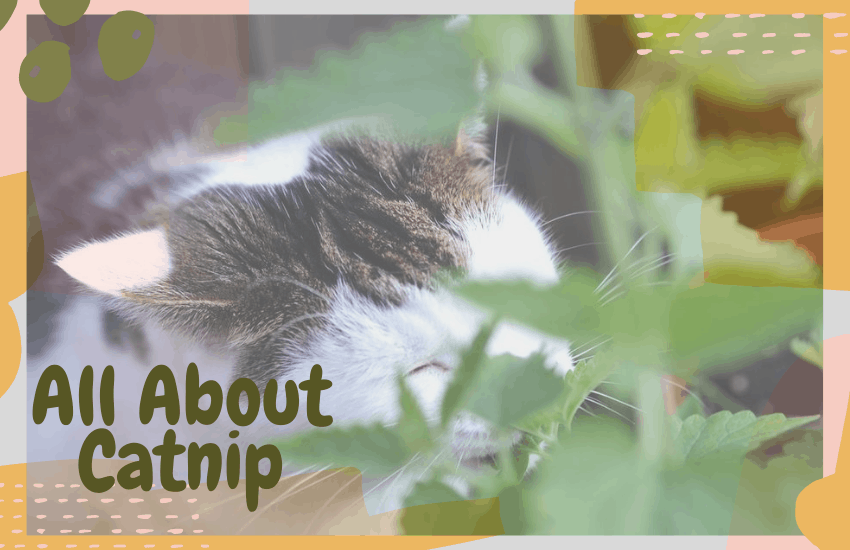 Any cat owner has considered giving their cat catnip at some point. It's right there in the name! It has a reputation for driving cats wild. But what exactly is catnip? How can it affect your cat? And how can you give it to your cat? Should you give it to your cat? You want to understand what to expect when you give your cat catnip before choosing the best form to try with your cat.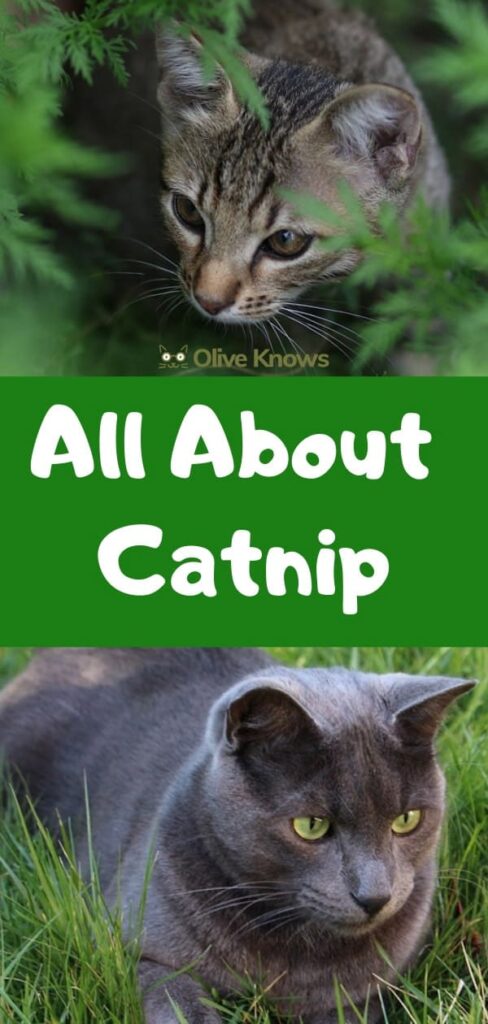 What Is Catnip?
Nepeta cataria—commonly called catnip in the U.S. and catmint in the U.K.—is a perennial herb in the mint family. Catnip is a native plant to Europe and Asia, and has been naturalized in North America.
Of course, it's best known for the effect it has on cats.
How Does Catnip Work?
Catnip contains a volatile oil called nepetalactone that enters the cat's nasal passage. It artificially creates a cat pheromone and triggers a hallucinogenic effect that mimics a mating response.
How Can Catnip Affect My Cat?
Catnip can affect your cat in a variety of ways. It can even seem to not have any effect on your cat at all!
While a cat's tendency to have a reaction to catnip is hereditary, you can't predict how your cat might respond. The only way you will know how your cat will react is by giving your cat exposure to catnip and observing what happens.
How Do Cats React to Catnip?
How cats respond to catnip varies from cat to cat. The response can be strong, mild, or even non-existent.
Normal responses to catnip include:
Sniffing, licking, and eating the catnip
Rolling around
Acting extremely affectionate
Some male cats become too aggressive. It's suggested that if you have multiple cats, to introduce catnip to your male cat for the first time in a separate room. This gives you a chance to observe how he reacts without disturbing your other cats.
Why Isn't My Cat Reacting?
Kittens and older cats don't seem to be affected by catnip. And some cats just don't seem to react to catnip at all.
Around 30% of all cats have no observable reaction, so don't feel bad if your cat ignores what you thought would be a treat. The trait is hereditary, so if your cat's parents love catnip, chances are good your cat will, too.
The quality and potency of your catnip could also be causing your cat's apparent non-reaction. Try getting a toy with a pouch to fill with good quality catnip instead of a pre-stuffed catnip toy.
Is Catnip Safe For Cats?
Catnip is completely safe for cats. It's non-toxic and non-addictive. So there's no reason to not try catnip and see if your cat enjoys it. If your cat eats too much catnip, they may experience vomiting or diarrhea. In this case, limit your cat's future exposure to catnip. Or at least make sure your cat doesn't eat it.
How Long Does the Reaction Last?
The "high" your cat experiences from catnip will last only around 10-15 minutes. After that, your cat will ignore it and wander off. For an hour or two afterward, your cat will seem to have no reaction to catnip, even if they had an extreme reaction at first.
Can My Cat Build a Tolerance to Catnip?
It only takes an hour or two for your cat's system to reset. However, to prevent your cat from building a tolerance to catnip, it is recommended to only let your cat have it about once a week.
Can I Use Catnip to Train My Cat?
Catnip can be used to train your cat by making certain objects more appealing. You can try sprinkling some loose catnip in your cat's carrier, or spritzing it lightly with a catnip spray. If your cat likes catnip, it may help your cat be willing to get in the carrier. You can also use the same method to make your cat more drawn to the scratching post instead of your furniture.
How to Give Your Cat Catnip
You shouldn't let your cat have catnip unsupervised. This is especially true for the first time. You also want to make sure your cat doesn't eat too much catnip to prevent any adverse reactions like vomiting and diarrhea.
Catnip comes in many forms that you can buy or you can purchase seeds or plants and grow it yourself!
Dried
Dried catnip is probably the easiest form to buy and store. Look for good quality, organic catnip with no fillers. It can be offered loose or stuffed in a toy for your cat to play with.
Loose Form
Loose catnip is the most common form of commercial catnip. It can be offered as is, just give your cat a pinch of catnip and watch the reaction. Or let your cat get a sniff from the container.
It can also be stuffed in a toy for your cat to play with. Refillable toys are better than single-use catnip toys. Non-refillable toys are usually filled with lower quality catnip, and lose their potency quickly.
Compressed Form
Another version of the dried form of catnip is compressed catnip. This can come in the form of pellets or balls. It's far less messy if the idea of having catnip flakes everywhere makes you scream.
Pellets can be added to your cat's refillable toys. Balls can be offered whole for your cat to play with.
Fresh
It's really easy to grow your own catnip. It's also the best way to keep you and your cat in constant supply if it turns out your cat really likes it.
It's recommended to grow catnip from a plant although you can grow it from seed but it's a hardy perennial that requires only minimal care.
You can give your cat fresh catnip harvested from the plants you grow, dry it for later use, or give your cat free access to the plants themselves.
Grown Outdoors
Catnip grows well outdoors, so well that it is sometimes considered more an invasive weed than the desirable plant!
Catnip does well in flower beds. It loves the sun and is fairly drought-tolerant, so don't worry if you forget to water it occasionally.
A couple of precautions may be needed to keep your catnip plants from being destroyed. If you want to keep the neighborhood cats out of your catnip plants, you may need to fence it off. And if your cat likes to roll all over the plants, a few small stakes-placed strategically among the plants will help deter your cat from crushing the favored plant.
Grown Indoors
Catnip can also be grown in pots as an indoor plant. It is slightly less potent than catnip grown outdoors. You may want to grow a plant for one season and replace it yearly to help maintain the potency or your houseplant.
Harvesting and Storing
While you can harvest from your catnip plants at any point of the growing season, it is most potent for your cat's enjoyment when the plant is flowering.
It's also recommended to cut whole stems from the plant's base rather than removing leaves at random. The plant replaces stems faster than leaves, extending the plant's usefulness.
Fresh cuttings may be kept in the refrigerator for a few days to extend their shelf life, or you can easily dry them for future use. You can:
Hang dry your catnip
Dry your catnip in the oven
Dry your catnip using a dehydrator
Once your catnip is completely dry, simply remove the leaves from the stems and keep them in an airtight container away from sunlight.
Other Forms
Dried and fresh catnip are the two most common forms you can give your cat. But there are other forms of catnip that you could also use that are more convenient or possibly more fun!
Oil
Cats are particularly susceptible to adverse effects of essential oils. If you want to use catnip essential oil, proceed with extreme caution.
Essential oils should never be used around cats undiluted, so make sure that you dilute catnip oil with water before use.
Catnip oil is also not recommended for children or pregnant women, so keep that in mind when using it with your cat.
Spray
While catnip sprays are commercially available, it is thought that they don't contain enough of the volatile oil to cause much of a reaction. However, if you still wish to try them, they are a convenient way to add catnip to your cat's furniture. Spritz your cat's bed or scratching post to make them more appealing.
Bubbles
Some cats are fascinated by bubbles, so why not add a little something exciting to them? Catnip bubbles are available for purchase, but you must take care that the ingredients are safe for your cat. Many essential oils are potentially toxic to your cat and must be avoided.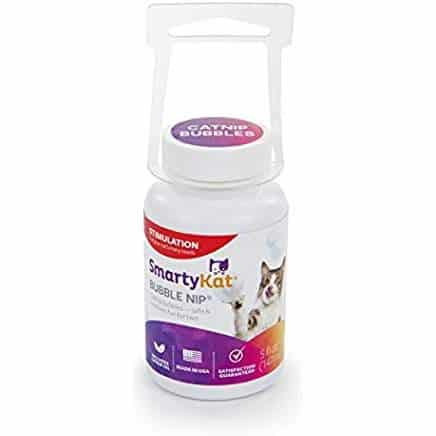 You can also make your own with water, a detergent that is non-toxic for cats and a drop or two of catnip essential oil. Just remember that even if a particular essential oil is safe for your cat, it still needs to be highly diluted when using with your cat.
Catnip can be a fun way to play with your cat. It can help with training and help your cat be a little more active. But remember that not all cats will react, and if your cat is one of those, there's nothing wrong with your cat. Try some good quality catnip with your cat and see how they like it!
Recommended Reads