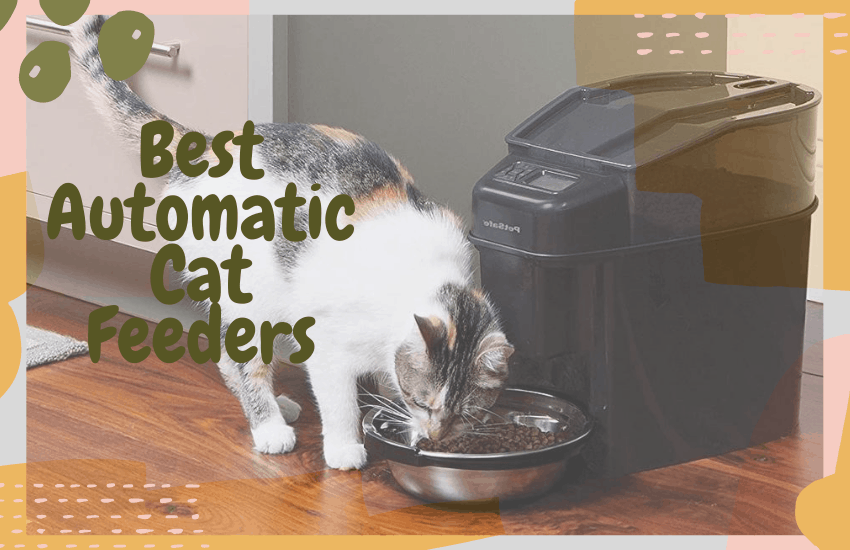 As cat parents, the health and well-being of our beloved fur babies are of utmost importance to us. When we are away, we are constantly worrying about them, aren't we? Are they doing ok? Do they have enough food and water? Are they lonely? These are questions that run through my head on a daily basis, whenever I am away from my beloved kitty.
As times change and technology advances, we are fortunate to have access to innovative products that help us make the lives of our feline friends better. Automatic feeders are one of those amazing products that take the guesswork out of feeding time.
These are ideal for those who travel often or if you have to leave your kitty in the care of someone else who is not familiar with their feeding schedule. Most automatic feeders are programmable.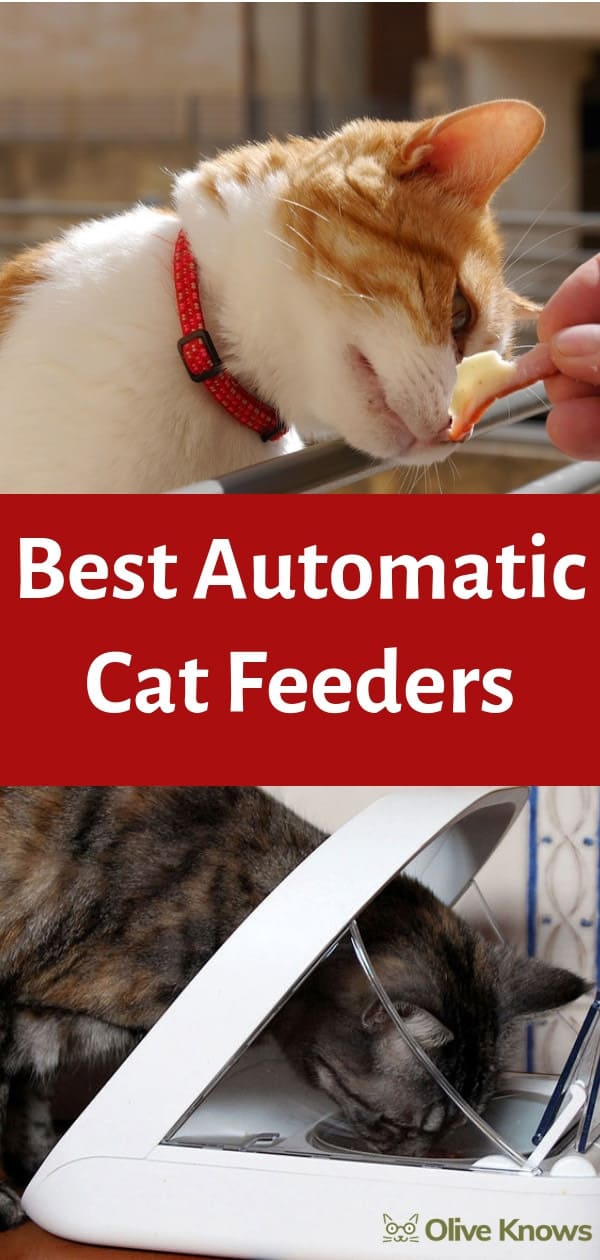 We will be exploring the features of some popular automatic feeders as well as get some feedback from pet parents who have been using them in their homes.
PetSafe Healthy Pet Simply Feed Automatic Feeder
This is one of the most popular automatic feeders on the market right now. It allows for portion control and preset meals which can be dispensed up to 12 times a day. It also holds a larger quantity of food which is ideal for multi-cat households.
PetSafe Healthy Pet Simply Feed has unique features such as Slow Feed, Pause Feed, and Immediate Feed, all great options that allow you to customize meals as you see fit.
Features
You can program up to 12 meals a day with flexible portion controls from? cup to 4 cups.
The hopper holds 24 cups of dry food and the bowl can hold about 5 cups of food.
It has an anti-jam conveyor system which allows it to dispense dry and semi-moist food of many different shapes and sizes.
The Slow Feed Mode aids to dispense meals that are larger than? cup over a 15 minute period which greatly reduces vomiting and gulping.
The Immediate Feed Mode instantly dispenses the next scheduled meal while the Pause Feed Mode stops feeding temporarily without losing the programmed schedule.
The dispenser is pet proof and the locking lid keeps the food fresh.
Removable stainless steel bowl allows for easy cleaning.
It can be disassembled for easy cleanup with some parts being dishwasher safe.
What Do Pet Parents Say?
Rebecca, cat mom of 1:
"I use this to keep my cat on a schedule. It has a plug-in for electricity but I also keep the batteries full for backup power. I like the fact that you can adjust the food quantity and it really helps that you can space out frequent small feedings.
When I am traveling, it really helps the caretaker feel more at ease about portions and feeding times. The only downside is that it doesn't have wireless or Bluetooth capabilities. It would also be great if it had a feature which would allow me to check it's levels while I am away to see if she has eaten"
Feed and Go Smart Pet Feeder
Feed and Go smart feeder prides itself on being the smartest pet feeder in the world. It is built to allow pet parents to set one time or regular feedings using the apps or via their website. You can also control what you feed your pet, whether it be wet or dry food, treats or even medications.
If you have more than one pet, you can control multiple feeders from just one profile which allows you to switch between feeders with just one click. One of the best parts of this smart feeder is the fact that you can see your pet(s) via the webcam when you are away from home. How cool is that?
Features
The only smart feeder for wet/dry food and medication (Do not leave wet food for longer than 24 hours!)
Connects to your home network via WiFi.
New Android and iOS apps allow you to schedule feedings and view your pets via the webcam. You can also control multiple feeders from one profile.
Each of the 6 compartments in the feeder can hold up to 8 oz so you can customize what goes into each one.
What Do Pet Parents Say?
Abby (cat mom of 2)
"I got 2 of these feeders for my two cats. I was in need of something more sturdy after my cats broke into other auto feeders. This works quite well and my cats have been eating out of it every night while they were getting used to it. Now, I mainly use it when I am out of town"
Cat Mate C3000 Automatic Dry Food Pet Feeder
The Cat Mate C3000 Automatic Dry Food Feeder is designed to minimize over-feeding and allows you to program up to three meals a day. It also lets you set portion sizes from two teaspoons upward.
This feeder allows meals to be served in advance or on demand. The 'frequent feeder' mode allows you to set up many small meals throughout the day which is ideal for pets with specific dietary needs.
Features
Easy to use LCD control which allows you to program individual meals.
Pet-proof, snap lock lid which keeps prying paws from getting into it.
Patented self-closing nozzle so your pet can't get into it before feeding time.
Large 6.6-pound capacity hopper which can hold enough food for an averaged size cat for a month.
Uses 4 C cell batteries which could give you 6-9 months of continuous use.
What Do Pet Parents Say?
Michael (cat dad of 1)
"This comes in very handy when feeding my cat while I am at work. Once you figure out how to set it up, it works really well. It has a very good sized holder to put the food in. I put 5 cups in and it will last my cat about 10 days which is great!"
CSF-3 Cat Super Feeder Digital Timer
The CSF-3 automatic cat feeder is designed to spread kibble to the outer edge for better food distribution. The special dishwasher safe bowl is made with high-grade kitchenware material. The weekly digital timer can be set to provide up to 8 meals a day. You can also program in between snacks. The digital timer also allows you to adjust length and frequency for each meal.
Features
Internal electronic timer with micro adjustment controller that lets you set up the feeder to provide small, in between snacks.
Tough polycarbonate chute cover to keep away any prying paws.
The feeder can be used with Alexa, Google or other systems using WiFi.
Holds nearly 5 cups of dry food and has the capacity to increase it with the 1.5-gallon hopper.
Parts are removable and dishwasher safe and they can all be replaced.
The digital timer features a minimum setting of one second and eight on-off cycles for meals with a backup battery.
The feeder has a protection system that helps avoid any random overfeed.
What Do Pet Parents Say?
Ryan (cat dad of 1)
"This feeder has saved me from 5 am wake-up calls from my cat! It's easy to put together and the directions are straightforward. You need to make sure to take time to set the roller spacing and timer so it dispenses the right amount of food. I practiced on dry white beans before adding dry food. My cat figured out how to get the top cover off so I just reset it the next day and there were no issues"
Amzdeal Automatic Cat Feeder
The Amzdeal automatic cat feeder allows you to record your voice so that your pet won't feel lonely. You can also set your meals from 1-39 portions per meal and allows four meals a day. It is also made from food grade materials that are safe to use for your pet.
Features
Holds up to 4.4lbs of dry food which is enough food to last a few weeks.
The cat feeder has equal sized small grids so you can decide how much food you want dispensing at each meal. Each grid can hold 5g so you can give between 1 – 39 portions!
Advanced infrared detection technology to prevent unnecessary spilling.
Sound recording function so you can call out to your pet at every meal.
High quality LED screen program panel with many functions.
The feeder is powered by an adapter however you can also use 3 'D' cell alkaline batteries (not included) as a backup.
What Do Pet Parents Say?
Holly (cat mom of 1)
"I'm extremely happy with this feeder! My cat is on her own during the daytime on weekdays. Since I only feed her once in the morning and evening, there is an 11-hour gap in between the feedings.
Now the problem is solved! I can set up meals 4 times a day and I do like the voice recording function so she recognizes my voice! The feeder is quite easy to assemble too which is a bonus!'
It is important to keep in mind that no automatic feeder can replace the love and affection of a devoted pet parent. While these products are made to make our lives easier, all pets need plenty of attention and love on a daily basis so don't forget to give your kitties extra hugs and kisses every day!
Continue reading:
How to Find the Best Cat Feeder
Best Food and Water Dishes for Cats