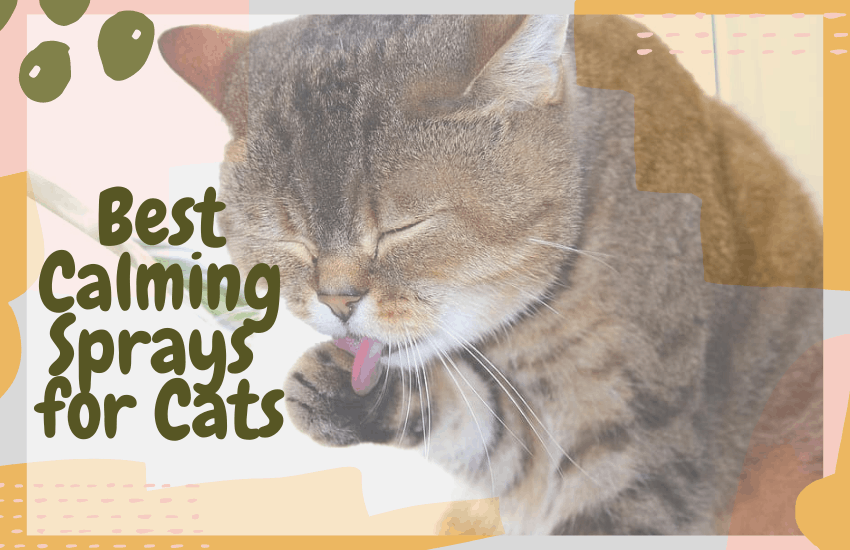 Cat parents know when it comes to putting our pal in her cat carrier for a trip to the vet, the struggle is real. Take my cat, Lou. As a calico, she definitely has a contradictory personality.
She's what I like to call, "selectively needy." She's either in my face demanding attention or she's aloof and completely immune to my cries of, "let me love you!" She also likes to pretend she's super brave, but she'll take off in a terror at a sudden movement.
Our Top Choice at a Glance
Cat Spray Brand
Features
Price
Helps against stress-related behaviors
Reduces Scratching
Reduces Pee Spraying
Reduces Anxiety
Helps Your Cat Adapt to New Environment
Lasts up to 5 Hours
Per Bottle (60ml) $12.22
Limits scratching
Great for spots that your cat targets for destruction
Ideal to use before vet trips
Drug free - unscented
Safe to use on Fabrics
Per Bottle (60ml) $15.44
Soothing lavender chamomile fragrance
Creates comfort when traveling
Creates calming sleeping environment
Boosts cats behavior
Safe and Effective
Per Bottle (30ml) $16.19
Every day with her is an adventure because I never know what I'm going to get. That being said, there is one personality trait that never seems to waver. Lou suffers from cat anxiety.
Trips to the vet have always been stressful for both of us and by the time we would get back home, we would both be emotionally drained and a little on edge. From the moment her cat carrier would make an appearance, her anxiety would be through the roof.
By the time I would get her into the car, her fear would be palpable, and I would feel like the worst cat mom ever.
This went on for the longest time and only seemed to get worse after every trip to the vet. Eventually, I ended up taking her to a new veterinary clinic and that one decision had a huge impact on her cat anxiety because our new vet told me about a calming product that had the potential to combat her anxiety. That was the day I learned about cat calming pheromone sprays.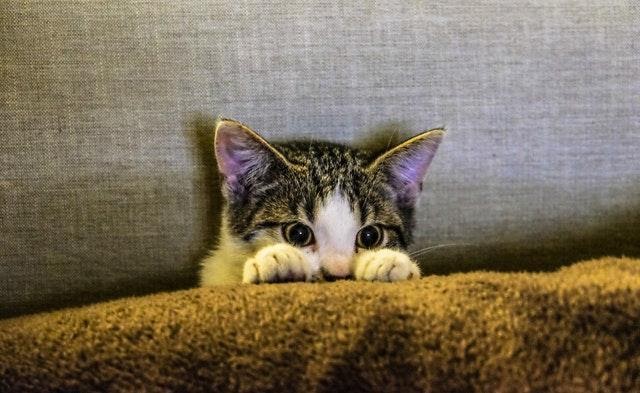 The Basics of Cat Calming Sprays
The calming cat spray was introduced right around 2001 and have begun to pick up steam since then. Most cat parents turn to calming sprays to deal with stress caused by things such as traveling, vet visits, separation anxiety, a new environment, and thunderstorms.
These stressors can cause extensive and bothersome behavioral problems down the road. An aggressive cat – may start showing aggression or acting out by scratching furniture, to urine outside of the litter box, or over the top vocalization.
Cat calming aids offer a natural remedy to these problems, which is great for cat parents because they're relatively inexpensive, easy to use, and can take effect rather quickly. There is also the added benefit of not needing a prescription from a veterinarian, unlike more extreme feline anxiety treatments.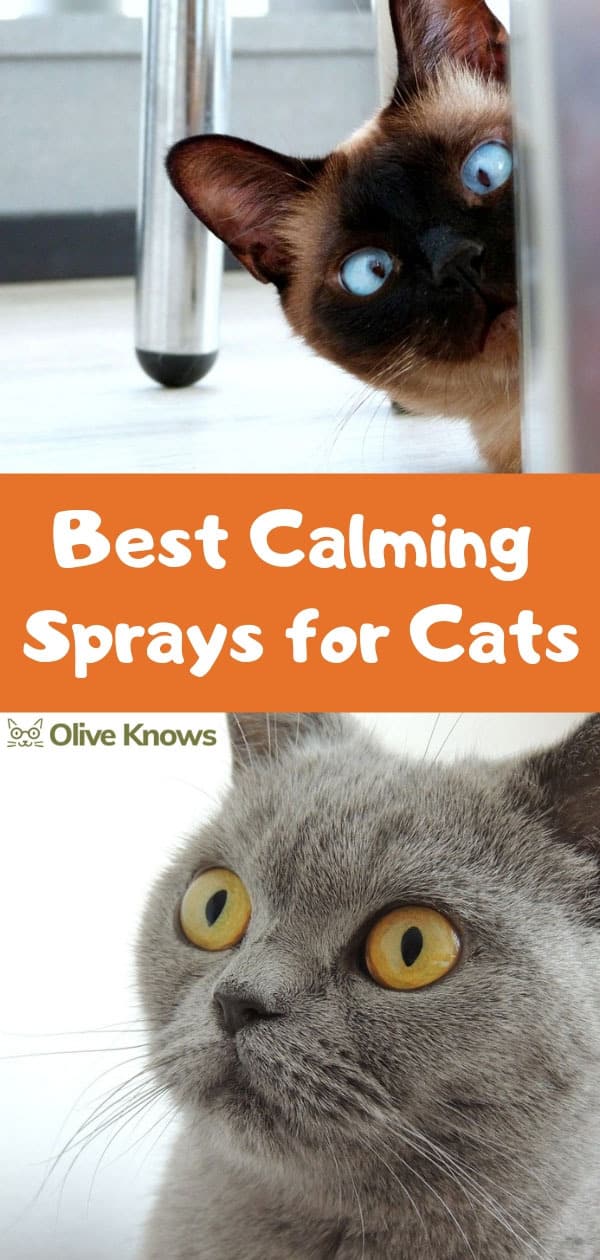 The Key Ingredient of Cat Calming Sprays
The exact ingredients of cat calming aids can vary from brand to brand, but most contain pheromones. Pheromones are a chemical substance that acts as a form of communication between animals within a specific species.
Pheromones are released into the environment to send a message or elicit a response from one animal to another. For example, when a cat is in heat, she will produce a pheromone that male cats will react to. While feline pheromones play a large part in reproduction, they exist on a larger scale.
Mother cats will produce a pheromone specifically for their nursing kittens. The cat pheromone is released from her nipples and aids in helping her kittens feel safe as well as helping them locate her should they stray too far. Likewise, all cats secrete pheromones when they urinate. Other cats are then able to determine several factors from that pheromone.
In fact, they are able to tell where the cat falls on the hierarchy and lower-ranking cats will often leave the area rather than risk a run-in with that cat.
Pheromones are received by the vomeronasal organ, which is located between the nose and the mouth. Certain pheromones produced by animals are referred to as calming or appeasing pheromones, meaning they help reduce anxiety and stress in cats.
In cats, one of these types of pheromones is the feline facial pheromone. This particular chemical substance is used to mark a surface or object with their scent by rubbing the sides of their face. Most calming aids for cats mimic this particular pheromone as a key ingredient.
How Cat Calming Sprays Work
As mentioned, calming sprays are made by mimicking the calming or appeasing pheromones a cat gives off, with one of the most popular being the feline facial pheromone. When a cat rubs her cheeks against an object, she deposits the F3 feline pheromone on it which then acts as a reminder it has been deemed "safe."
Because a calming spray mimics appeasing pheromones, they can be used to treat most of the stressors that cause anxiety. It's important to read the directions on the calming spray you choose, but the way they are used is pretty universal.
There are two different ways to use most calming sprays. The first is to spray it directly on something whether it be directly inside her cat carrier, on a blanket or cat bed, or in a particular room. The second way is to spray a small amount into your hands and gently rub it on her fur.
Are Cats Calming Sprays Effective?
There are a lot of mixed reviews on whether or not cat calm sprays really work. People that are pro calming cat spray absolutely love them, whereas others say to save your money. One important fact to consider is not all cats react to a certain calming product the exact same way, so what works for some may not work for all.
Cat calming sprays don't have long-term effects either. Just like when a cat leaves pheromones on an object naturally, over time the "mark" will fade.
For that reason, cat parents should be prepared to use the spray more than once, but don't overdo it! Simply pay attention to how she behaves and if you notice she seems stressed, it may be time to reach for the calming spray again.
Another important fact to note is that calming sprays work to reduce cat's anxiety, but they do not address or treat underlying behavioral issues. So, while a calming spray may provide temporary relief your cat may require training or a deeper look at determining what the root of the problem is.
How to Pick a Cat Calming Spray
Like with all things, it is important to do your research when selecting a cat calming spray. Stay away from sprays that have harsh chemicals in them because they can have adverse effects on your cat's overall health.
Instead, look for sprays with natural ingredients. It's natural that there will be ingredients you may not know much about, so be prepared to do a little digging before selecting a cat calming spray.
As always, consult your vet when making a decision regarding the health of your cat. She will be able to tell you if a calming spray is the right choice of cat pheromone spray products or if your cat needs a different type of treatment.
Plus, she will more than likely have a recommendation regarding which calming spray to purchase. There's a good chance she will recommend one of the three most popular brands.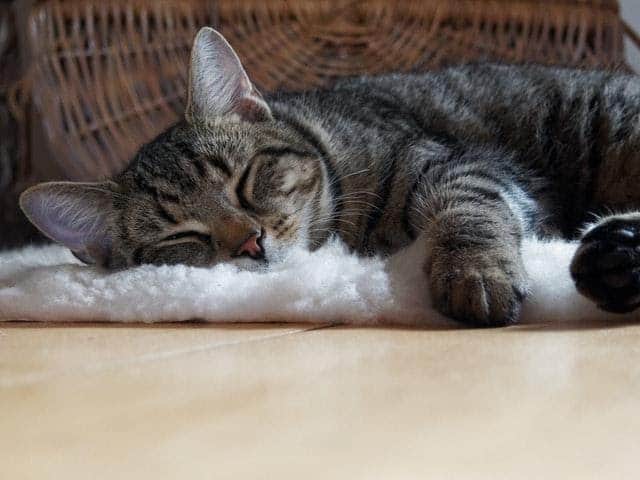 The Top Brands of Cat Calming Products
Feliway
Feliway sprais widely recommended brands known to be one of the best cat calming spray options out there. It is budget-friendly, has great reviews, and comes in a wide variety of formulas. Just a few of the choices include the spray, a Feliway calming diffuser, and a collar infused with the Feliway spray formula.
Comfort Zone
A slightly more expensive cats calming spray option is the Comfort Zone cat calming spray. Like the Feliway spray, the Comfort Zone formula also comes in a calming diffuser format which is great for cats suffering from separation cat's anxiety because provides a general sense of calm to the room.
Comfort Zone is said to directly address issues with destructive scratching and urine marking.
Sentry
Sentry Calming Pheromone Spray rounds out the top three best cat calm spray recommended brands. In terms of pricing, this brand is smack dab in the middle of the three brands, making it a favorite among cat parents. Like Comfort Zone, Sentry markets their spray as a solution to inappropriate marking and destructive behaviors.
Other Cat Calming Sprays Worth Looking Into Include:
The day Lou's vet introduced me to cat calming sprays was a game changer for Lou and me. While I can't speak for cat parents every, I have to say incorporating a cat calming spray into our daily lives has made a big difference for us, but more importantly, it has made trips to the vet much less stressful situations.
Reducing her anxiety is as simple as spraying her favorite blanket with the calming spray bottle ten to fifteen minutes before leaving the house. It's simple, inexpensive, and effective. What could be better than that?
Frequently Asked Questions
Does calming spray work for cats?
Yes, many reports suggest that cat calming sprays really work to reduce stress levels and calm your cats in a safe and harmless way. However, this doesn't provide a permanent solution to your cat's behavioral issues.
How long do calming sprays last?
Typically a calming spray should start taking calming effect within 10 to 20 minutes and that should last for approximately six hours.
Does lavender calm cats?
Lavender much like other household plants can be calming for your cats. Keep in mind that you need to use fresh lavender scent, essential oils derived from lavender can be toxic to your cat
Should I use cat calming spray or cat calming collar?
Calming collars have similar effects to sprays but they could last significantly longer, up to 2-3 weeks longer than calming sprays but the calming effect could be diminishing over time.
Recommended Reads