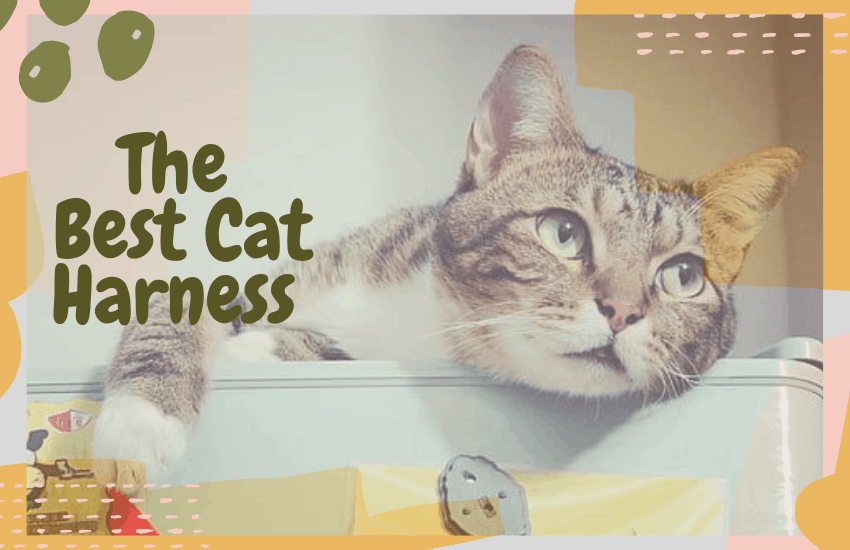 Have you ever come home from work, only to see your furry friend sitting in the window, contemplating the outside world? Chances are that you have at least once or twice. It probably even made you ponder the idea of taking her outside to frolic in the grass and feel the breeze ruffle her fur as the birds chirp.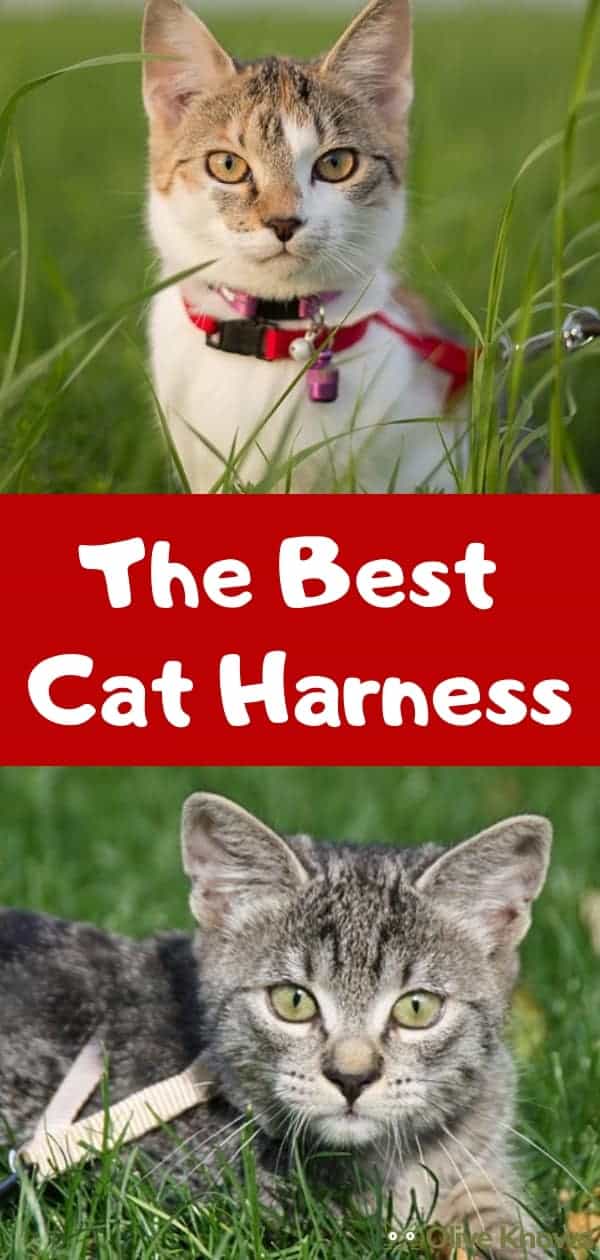 The Benefits of Taking Your Cat Outside
Taking your cat on an adventure outdoors has many benefits. While inside, the noises cats hear are limited to the gentle whir of appliances or the footsteps of your upstairs neighbor. If the weather is nice, you may have the window open, and she is able to faintly hear the sound of cars passing by on the street or the chirping of birds in a nearby tree. Being outside offers a different kind of mental and physical stimulation than she gets from being inside.
Being outside together also helps her bond with you. Experiencing new sights and smells requires trust from both of you. She may be nervous as she gets used to these new things and having you nearby will be a source of comfort for her.
A way to ensure that she stays safe and to ease your nerves is to use a harness that is reliable and secure. However, buying a harness can be an intimidating task because there are so many on the market. How do you choose the right one for you and your cat?
Why We Recommend Buying a Cat Harness
When you decide to walk your cat, it's very important to keep an eye on them to ensure that they don't wander out of your visible line of sight. While leashes have long been a great way to maintain control of your cat while walking them, cats are known to chew through cords and cables.
Due to this, a leash may not always be a reliable option especially if you're repeatedly using the same one. By repeatedly using the same leash, you run the risk of losing your cat while walking them which can potentially put them in dangerous situations.
A great way to solve this problem is by using a cat harness in addition to a leash. Cat harnesses are safety devices which cover the entirety of your cat's body in order to prevent them from accidentally getting loose. There are various types of cat harnesses available on the market, some offer protection from the weather and other potentially harmful elements while some put an emphasis on safety and control.
Benefits of Having a Cat Harness
There are a lot of great benefits to purchasing and regularly using a cat harness for your pet. Cat harnesses can also help you maintain a strict workout regime for your cat because you can have total control over how long and how far they take their activities.
Cat harnesses can also be very useful in training your cat on when to eat, by fastening them to a post or other stationary item and deciding when they eat you have the ability to curve bad eating habits or unhealthy habits in general.
Ensure that the cat harness you use is made from a very durable material so that you can avoid your cat escaping or tearing through its harness. There is plenty of great cat harnesses available on the market for you to purchase, take into consideration your intended usage and your cat's activity regimen prior to purchasing a cat harness to make sure that you're choosing the right option.
How to Choose the Right Cat Harness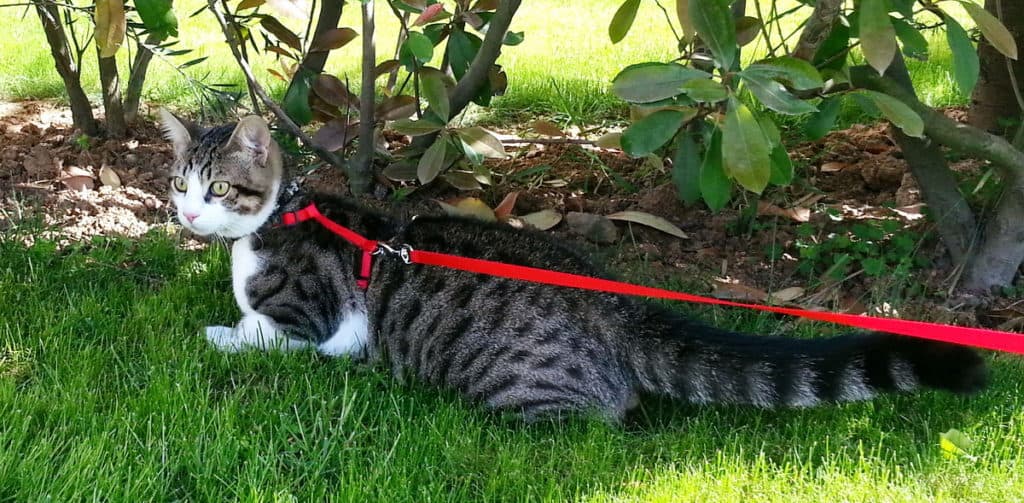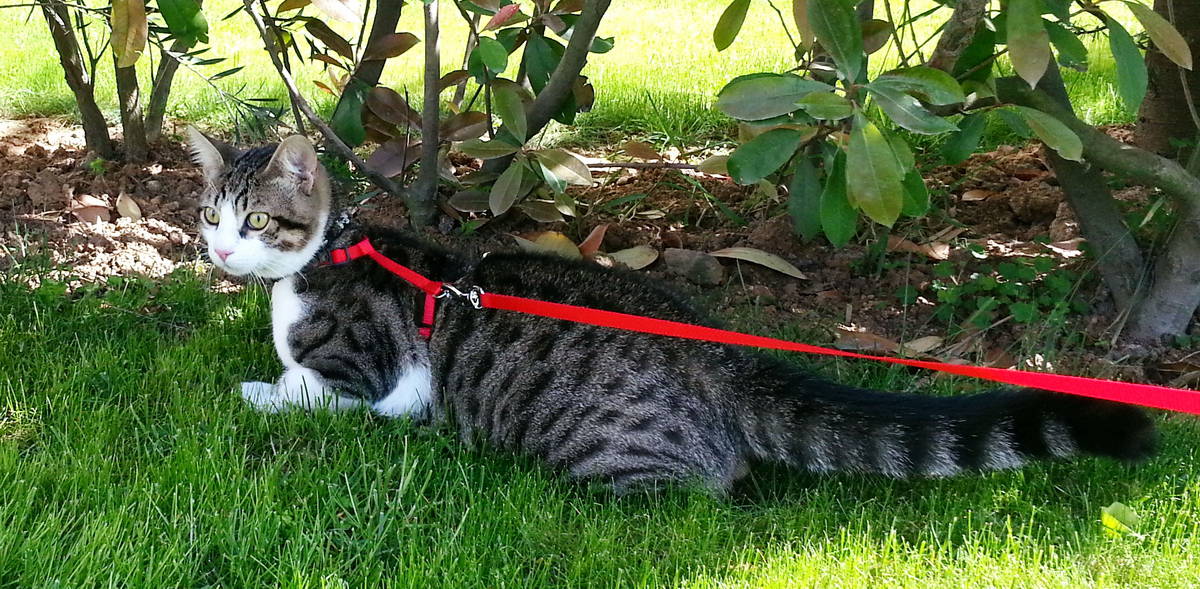 Size
Before purchasing a cat harness, you need to take into consideration the size and power of your cat. Larger cats will require harnesses that cover a larger surface area as opposed to smaller cats.
The type of material used in the construction of the cat harness that you choose will also play a major factor in how safe your chosen harness is. Certain materials provide less resistance for cats with high amounts of muscle as opposed to cats that have high amounts of fat concentration.
Luckily for you, there are several high-quality cat harnesses available on the market for you to purchase. You want to find the right harness that successfully combines security and comfort, this will ensure that you have ultimate control over your cat's movements and safety.
Model
There are two main types of cat harnesses available on the market, vests, and leads. Leads provide flexibility and security however they fail to cover the entire body of your cat which can still leave them susceptible to the threat of getting loose.
Vests provide more all-around protection for your cats and often times cover their entire body running from their stomach to their upper chest area. Vest harnesses are known to provide a more secure fit for your cat and allow you to protect them in a more complete manner without the risk of them getting loose.
Material
Cat harnesses come in various material options also, some of the most common cat harness materials are polyester and leather. Leather provides a strong barrier of protection against tearing and escape which is why most cat harnesses are made using leather. Polyester is also another very durable material that provides a solid layer of protection against escape while your cat is inside the harness.
Polyester can also commonly be found in many cat harnesses due to its affordable manufacturing price and longevity. Regardless of the material used in the construction of your cat harness, making sure that it is the right configuration for your pet is an essential part in ensuring that your cat can't get loose from its grips.
Choosing the Right Size for Your Cat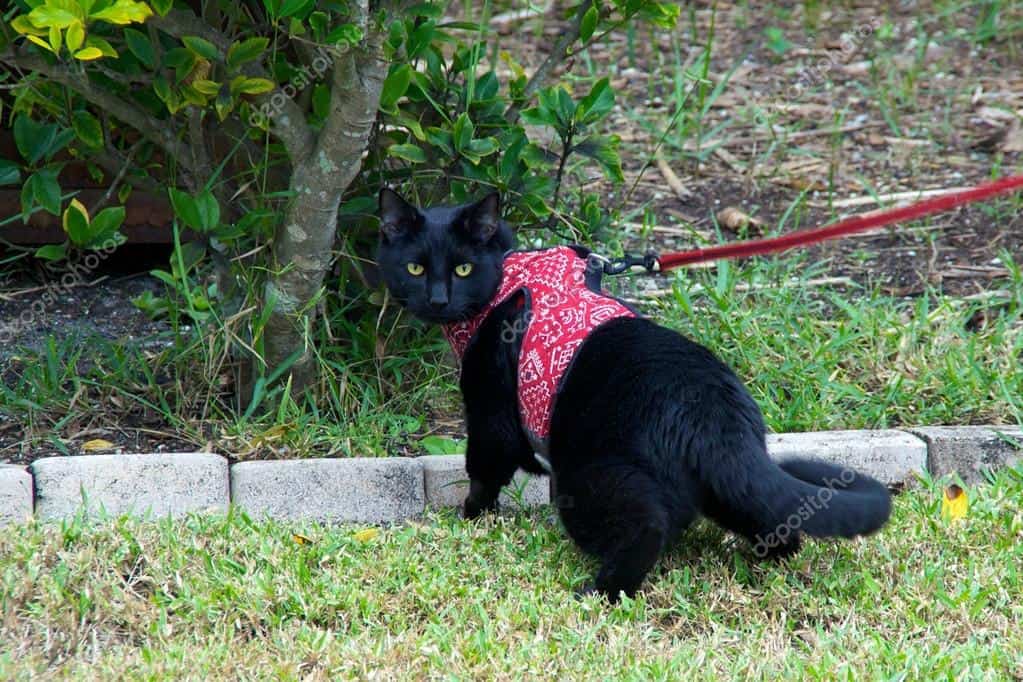 Choosing the right size harness is a crucial aspect of picking out a harness for your cat. Ensuring that it fits correctly will help with your cat's comfort level while wearing the harness, as well as keeping her secure and preventing her from easily escaping. If you need help figuring out how to measure your cat for her harness, check out this great guide that gives you step by step instructions.
Choosing a harness that is adjustable is also a great way to ensure that it will fit your cat, especially if she has measurements that make finding the perfect size difficult, or if the fit doesn't quite match the size chart. This is also helpful when buying a harness for a younger cat that may still grow. The harness will be easy to loosen as she gets bigger, rather than having to purchase a new one.
Where to Find Great Cat Harnesses
Now that you have all the information necessary to make a smart decision about what kind of harness to buy for your cat, you can begin looking at some different options. A great place to start is on Amazon because they have a plethora of harnesses to choose from. You also have the added bonus of being able to read customer reviews when making your decision.
Take into consideration the overall rating of the harness and make a note of what customers loved or didn't love about the harness they purchased. If multiple customers have had the same issue, it would be a good idea to avoid that particular harness. Seeing customer photos is also beneficial because you can get a better idea of how the harness fits different cats. Check out some of these options below.
Voyager Step-In Air Dog Harness | Amazon
Two reflective bands on the sides of this harness enhance your pet's visibility for those early morning and late evening strolls.
Buy at Amazon.com
We earn a commission if you click this link and make a purchase at no additional cost to you.
10/03/2023 12:05 am GMT
The Voyager All-Weather No Pull Step-in Mesh Harness is crafted using high-quality plush mesh material that is very lightweight yet extremely durable. The Voyager All-Weather No Pull Step-in Mesh Harness features an escape-proof design that incorporates a very durable plastic buckle that fastens along the length of your cat's back for ultimate protection and security. The
Voyager All-Weather No Pull Step-in Mesh Harness comes with an adjustable Velcro strap which allows you to get the perfect fit for your cat regardless of size or power. The Voyager All-Weather No Pull Step-in Mesh Harness is very easy to put on your cat and it features a "step-in" design that allows your cat to simply walk into the harness for maximum coverage.
The Voyager All-Weather No Pull Step-in Mesh Harness provides a tight fit without putting unnecessary strain or pressure on the body of your cat. These features combine into a very flexible harness that is made from breathable fabric combined with padding for extra protection. The Voyager All-Weather No Pull Step-in Mesh Harness is a great option for those cat owners who are serious about security and control over the movements and behavior of their cat.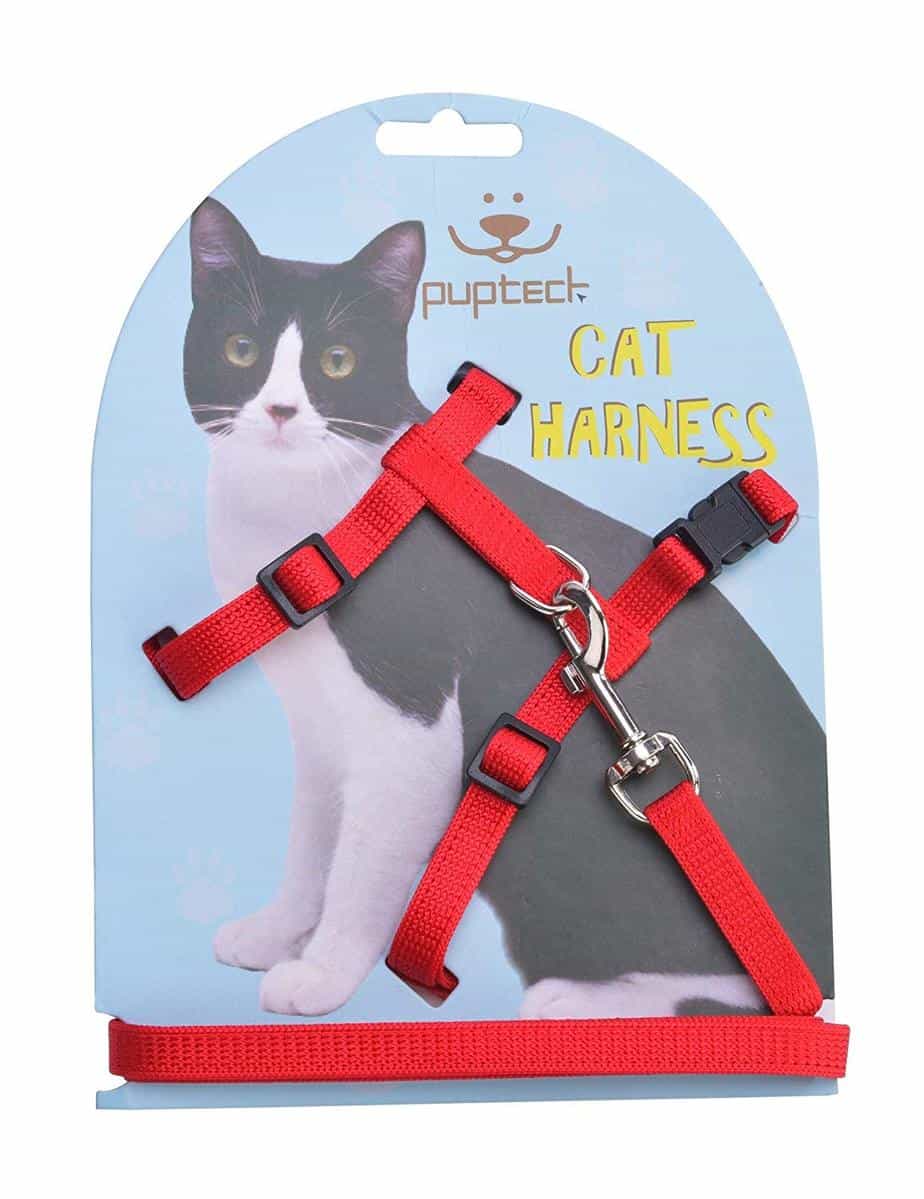 The PUPTECK Adjustable Cat Harness Nylon Strap Collar with Leash features a more conventional harness design that is simple yet effective. The PUPTECK Adjustable Cat Harness Nylon Strap Collar with Leash gives you the ability to adjust the straps at both the waist and neck areas for ultimate flexibility.
The PUPTECK Adjustable Cat Harness Nylon Strap Collar with Leash is constructed using very durable nylon material which is tear-resistant and known for resisting material degradation over time. The result is a very versatile harness system that is reliable and long-lasting.
The PUPTECK Adjustable Cat Harness Nylon Strap Collar with Leash features D-ring back straps that naturally balance weight distribution over the shoulder area of your cat, this provides a comfortable fit that is easy for your cat to deal with while giving you ultimate control over its movements. The PUPTECK Adjustable Cat Harness Nylon Strap Collar with Leash is fastened using a strong metal buckle that will keep your cat secure and safe from the potential threat of getting free of its harness.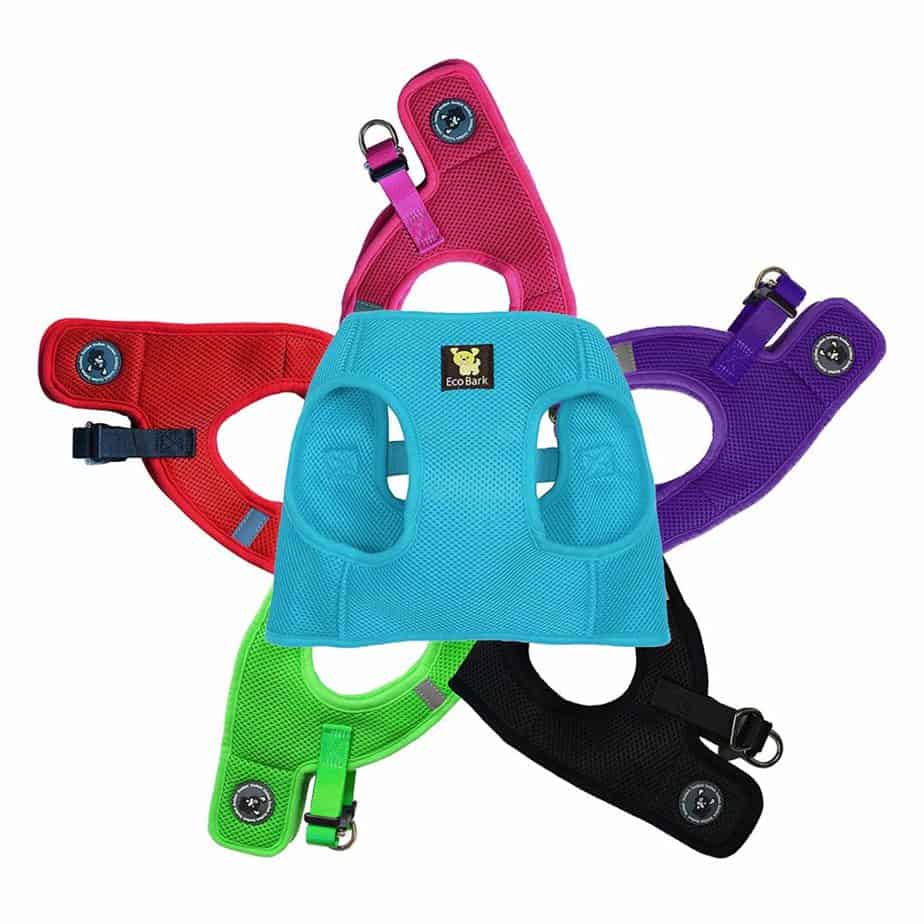 The EcoBark Rapid Fastener Super Comfort Fully Adjustable Double Padded Step-in Harness is probably one of the most versatile vests harnesses available on the market. The EcoBark Rapid Fastener Super Comfort Fully Adjustable Double Padded Step in Harness Is constructed using very high-quality mesh material in combination with Velcro strips on multiple sides that attach to the top for maximum flexibility.
The EcoBark Rapid Fastener Super Comfort Fully Adjustable Double Padded Step in Harness also features padding so that your cat is protected from potential danger, the design of the EcoBark Rapid Fastener Super Comfort Fully Adjustable Double Padded Step-in Harness is very breathable and uses recycled material for eco-friendly product initiatives which simply make you feel good for buying the product.
The PUPTECK Escape Proof Cat Harness with Leash is a very durable harness option that uses a vest-style design that puts an emphasis on being escape proof. The PUPTECK Escape Proof Cat Harness with Leash is designed using very plush Velcro material and comes with a plastic closure that tightens at the neck for maximum protection.
The PUPTECK Escape Proof Cat Harness with Leash also comes with dual heavy-duty-D-rings on the backside that connects to a five-foot-long nylon leash so that you can adequately control the movements of your cat. The intricate design of the PUPTECK Escape Proof Cat Harness with Leash allows for maximum versatility at all areas on the body.
The Coastal Pet Mesh Cat Harness is an affordable harness option for those cat owners who want serious protection. The Coastal Pet Mesh Cat Harness features a very breathable mesh material that is highly adjustable, and it also is constructed using a vest-style design for ultimate versatility.
The Coastal Pet Mesh Cat Harness fastens at the belly of your cat via the sides, it is a very flexible harness that is perfect for cats between the weight of 8-12 pounds. The Coastal Pet Mesh Cat Harness comes with a unique design that makes it very difficult for your cat to escape.
Comfort Soft Mesh Cat Harness | Chewy
The design distributes leash pressure evenly across her chest and shoulders to prevent neck strain or discomfort. Placing a harness on your cat is also a great idea any time you're taking her to an unfamiliar place, like the vet or groomer, to make sure you can safely maintain control if she attempts a daring escape.
Check Price
We earn a commission if you click this link and make a purchase at no additional cost to you.
Other Brands to Consider
If your kitty is a bit trouble maker, it is always good to have one as a spare. This is when Avolare Cat Harness can come handy to you. It comes in a package of two (orange and blue). It has durable straps that are easy to put on and take off.
The Mihachi Adjustable Cat Harness is really a solid option to go for, especially if you want your cat to look fancy. It comes with a bowtie, and is available in two colors, beige and black with an interesting and a bit unusual pattern in comparison with other cat harnesses on the market.
The Juvale Cat Harness is a really great choice to go for. It is 55 inches long and really comfortable for even chubbier cats. It is available in two colors – blue and pink and it is quite easy to put on and take off.
More Fashionable Cat Harnesses and Wear
If you are a person with a perkier personality and you love colors and more unusual wear for your cat, there are quite a few options to consider. These vests and harnesses will definitely make your ball of fur the center of the attention while providing ultimate comfort for indoors and outdoors.
The Ruri's Jeans and Harness Set is quite fancy if you like taking long walks with your pet. The set is available in four different dimensions and there is an extra chart that will make your decision even easier. The Ruri's set comes only in one color (faded jeans) and it is an excellent outfit for special occasions or even for the park.

If your cat is a little trouble maker and loves getting into dirt and water ponds, then we recommend this waterproof harness that comes in five different colors (black, pink, red, yellow, and blue). The harness is great for every season and weather and we believe you could not go wrong sticking with it.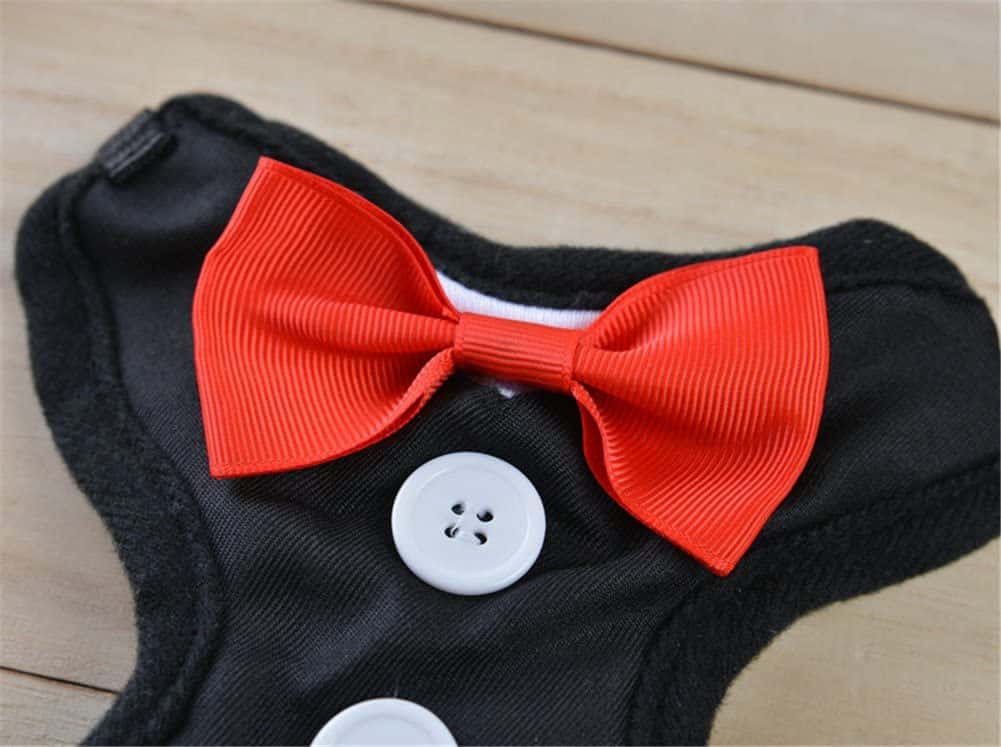 We believe that you cannot find a fancier harness than the Delifur Cat Harness that is perfect for male cats if you want them to feel like a gentleman. The harness is available in three different sizes and are made of 100% polyester which provides great comfort.
Tips to Train Your Cat to Wear a Harness

Once you've found the perfect harness for your cat, it is time to get her used to it. Here are some tips to help you train her to wear the harness and prepare for your first adventure outside. Keep in mind that it may take some time for her to adjust to the feel of the harness but with patience and the help of these tips, the two of you will be able to master it in no time.
Tip #1 – Teach Her How to Wear It
Giving your cat some time to adjust to wearing a harness is important. Once you've found one that she will be comfortable in, put it on her and let her roam around the house. This will give her time to adjust and get used to the way it feels. You can find more tips on getting her used to the harness here.
Tip #2 – Teach Her How to Walk on a Leash
Once she is used to wearing the harness and seems to be walking around the house normally, it is time to get her used to walking with the leash attached. Gently hold onto the leash as she walks around the house so that she can adapt to you following closely behind her as she explores. Do this for an hour or so for a few days before you take her outside. This will also allow you to address any issues that may come up.
Tip #3 – Prevent Her from Escaping
If your cat isn't used to wearing a harness, she will probably spend some time trying to escape from it. This is one of the most nerve inducing things that pet parents worry about when taking their cat outside, so it is important to try to address the issue prior to going outdoors.
If she tries to escape by pulling against the leash, which would allow her to slip her head out of the neck hole, give the leash some slack so she has nothing to strain against. She will more than likely try to do this a few times, so make sure you are prepared to repeat this exercise. Eventually, she will stop trying to escape.
Tip #4 – Reward Her for Good Behavior
Don't forget to reward her good behavior, too! If she allows the harness to be put on without any major trouble, offer her a head scratch and a piece of treat, so she knows that she is doing well. Continue to praise her and offer portions of a treat each time she walks around with the harness and the leash. When she stops pulling against the leash in an effort to slip out of the harness, praise her and offer a treat, so that she will learn to not react that way.
Tip #5 – Know Her Personality
Not all cats are going to be the outdoorsy type. A good way to know if your cat will thrive while outside for a walk is to know her personality. If she is an outgoing cat, she will probably be excited to spend time outside but if your cat is naturally shy, she may not enjoy it. You can learn more about the different personalities of cats here. If you're on the fence, it is okay to test the waters by bringing her outside to see how she reacts, but make sure to do it in a quiet, less stressful environment.
Go Forth and Explore
Now that you've got the knowledge necessary to find the perfect harness for you and your cat, you can finally make your daydream a reality and take her outside to frolic in the grass. Just remember that going outside for the first time will be a new experience for her, so be patient and go slow. She may not be ready to chase the leaves blowing across the lawn quite yet, but give her a little time and she will surely look forward to your adventures outside.