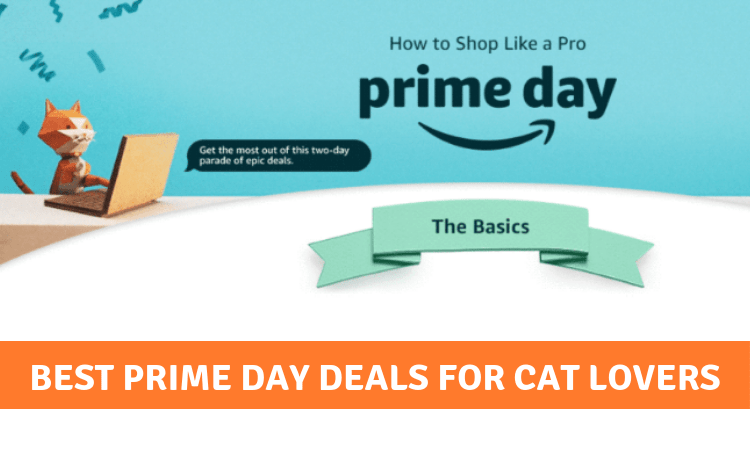 This year it will be kicking off on October 13th and running through until October 14th (48 hours total). Exact times TBD!  We'll keep you posted on these purrfect deals so you can get all the amazing stuff!
Don't forget to check this page for the top Prime Day deals on cat items so you don't miss anything. Last year there was plenty of cat gear, cat food, and accessories deals to be had! If you can anticipate needing to buy something in the next 6-12 months, this IS the time to stock up.
Below you will find the full list of our Prime Day Cat deals (including when they went live). We will be updating this page as we get the deals, so make sure you bookmark it!
Prime Day Early Launch Cat Lovers Deals
Amazon is promising to "launch" specific products exclusive to Amazon for all the cat lovers out there. I've curated some of the best deals I'm watching below:
The Olive Knows Top Prime Day Deals NOW (We'll Update Soon!)
We have the full list below, but this is our absolute FAVORITE DEAL going on SOON / ACTIVE NOW:
Some may say that having a litter disposal system is a necessity for every household with cat or cats. The Litter Genie XL Pail, Ultimate Cat Litter Disposal System as such, may be one of the best in the branch! It is now available for an astonishing 26% off here!
The Pet Magasin Hard Cover Collapsible Cat Carrier carrier has sturdy sides and a soft roof and base to give your cat a more comfortable ride. Coming in a range of fabrics, there's something for every taste. It is now listed on a 40% discount here!
Your cat is going to shed, maybe a little, maybe a lot. The fact is, you are going to love the #1 Ranked, Award Winning Handson Gloves for Shedding because you are going to have to groom your cat one way or another and to do that you need the right kind of equipment. You can find these gloves on a special discount here on Amazon.
The GoPets Premium Cat Scratcher, Infinity Lounge Corrugated Cardboard is great to leave around in your living room or another area where your cat likes to hang out. Since it is extra-wide, your cat can have enough room to do its business. Place it in a convenient location and your cat will come to it again and again. Find this deal on Amazon here.
Having a cat that sheds excessively can always be challenging for cat parents. Luckily, the GoPets Professional Slicker Brush is now on available on a special discount here.
The BarksBar Original Pet Seat Cover for Cars is the easiest way to protect the backseat of your vehicles from unwanted hair, scratches and spills. You can now find it on a 20% discount here.
Playing with our furry friends is always a pleasure, but there is some dirty work that follows which can be tough to handle. The Nature's Miracle Non-Stick Advanced Jaw Scoop For Pet Waste works to provide you with all the tools you need make the pet parenting much easier. Find it with a 24% discount.
Wellness Complete Health Pate will win your cat´s heart, and yours with an amazing 51% discount NOW live! Check their store for more amazing sales.
Keep your cat protected from flees with the Bayer Animal Health Advantage II Flea Prevention and Treatment, now in sale with a 33% discount.
The Yvelife Cat Laser Toy will be your new cat´s favorite. Find it with a 20% discount for Prime Day! 
Keep your little one amused by the window with the NOYAL Cat Resting Seat Perch Window with a 75% discount lightning deal!!  
Enjoy the Veken Cat Water Fountain with a lightning deal of 67% LIVE NOW!
BlackHole Litter Mat Interactive Swimming Robot Fish Toy for Cat will keeo your cat entertained for hours! NOW LIVE with a 39% discount.
Travel with your favorite companion with the X-ZONE PET Airline Approved Soft-Sided Pet Travel Carrier. Now with a 15% discount.  
Prodigen Pet Carrier Airline Approved will keep your small one comfortable during any trip. Find it with a Lightning deal LIVE NOW!
isYoung Cat Fountain LED Pet Water Fountain will keep your car hydrated with a great lightning deal! 
Find here a bunch of great AmazonBasics, Solimo, and Wag pet products with up to 40% discount LIVE NOW!
Full Running List of Cat Prime Day Deals
NOTE : If you are interested in any of these "TBA" deals; 1) click the link and 2) "watch" the listing on Amazon to get notified (otherwise easy to miss these deals):
Looking for something specific? Check out the category deal trackers below:

The Best Prime Day Cat Gear Deals
It's time to stock up on cat gear. Here are my favorite cat gear deals. This section will be updated as deals in the cat gear category, including cat feeders, cat litter, water systems, scratching posts, cat furniture, and of course cat toys too! Below, you can see listings for the specific types of cat deals you are looking for, but these are my top picks!
Prime Day Cat Feeder Deals
Prime Day Cat Litter Boxes Deals
Prime Day Cat Water System Deals
Prime Day Cat Furniture Deals
Prime Day Cat Toy Deals
Best Prime Day Cat Food and Supplements Deals
Prime Day is a great day to stock up on cat food and supplements. There will be many cat food deals with the best brands. Check here for the latest deals.
Early Prime Day Deals for 2020!
While the full deals haven't hit yet, but there are some early teaser deals that I've curated below:
Lightning Deals vs Daily Deals
One thing to keep in mind is that there are a variety of different deal types for Prime Day.
Amazon Cat Gear Lightning Deals are limited time duration + limited supplies.  They might sell out well before the allocated time has expired. Some deals might come back, but some are one and done.
There are ALSO daily deals (called "Spotlight" deals) that will be live for as long as the Prime event is going on. Be sure that you know which deals you are interested in.
Talk to Alexa?
Last year, Amazon rolled out some exclusive deals only on Alexa. Typically these deals are limited to one per account.
Are the Deals Really Worth it?
I'll caveat by saying that not ALL the deals are great, particularly from non-generic brands. The #PrimeDayFails is a well-documented hashtag.
Generally speaking, the brand name deals ARE legit. Particularly for lightning deals, Amazon has negotiated with brands to ensure they offer the lowest prices this year.
Plus, that's why we have this page! This page curates and tracks the BEST deals (not the junk).
Recommended Reads: