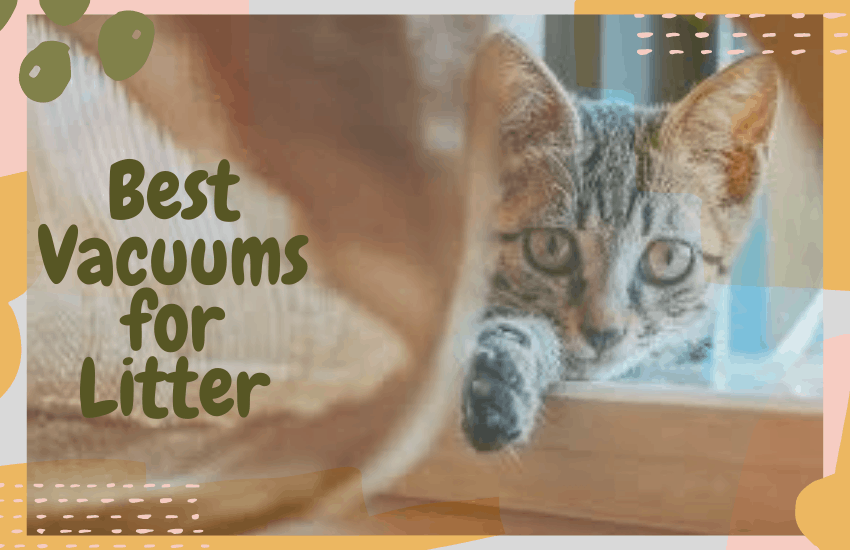 You love having a feline family member. You know how to have a clean smelling house in spite of the litter antics of your cat, but how do you clean up the constant trail of kitty litter? It gets stuck to your slippers, feet, chairs, and more.
If you have to take out your broom more than once a day, as well as vacuum and mop, you are having to do too much. There must be a good vacuum out there that can really help with this litter crunching nightmare. Yes, there is, and you have more than one choice.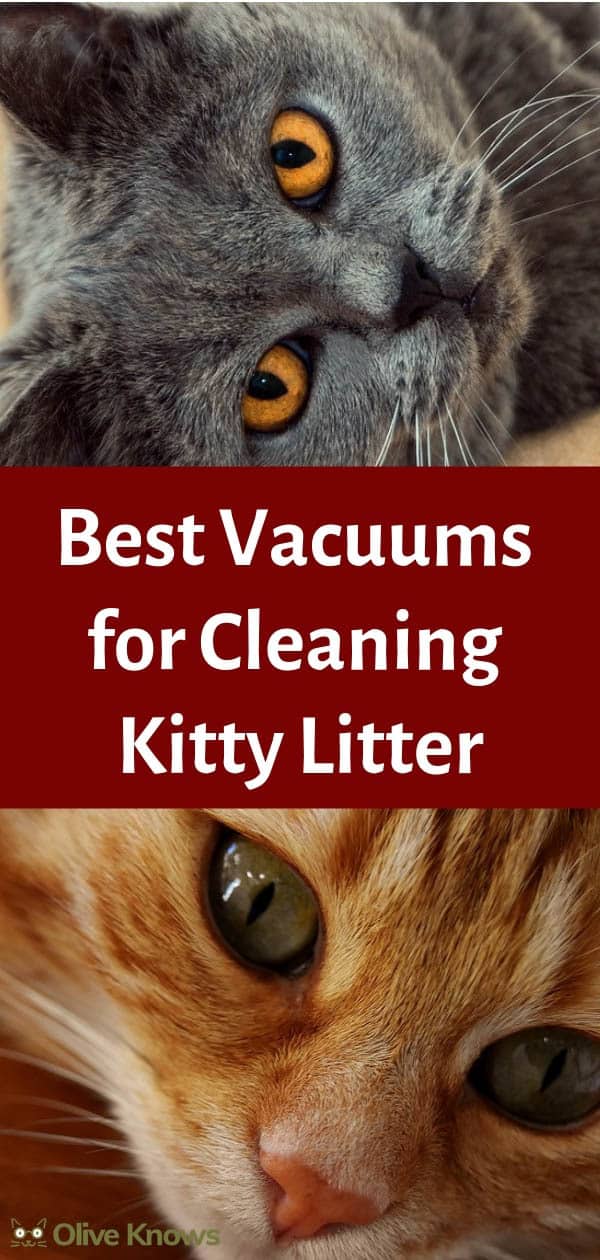 There are a number of vacuums on the market that are recommended when it comes to vacuuming up your cat's litter trail. There are different brands and price points. In addition, many vets and cat lovers offer their recommendations about how to help with taking care of unwanted kitty litter and cat hair.
There are quite a few highly recommended vacuums available for purchase. One of the most endorsed models is the: Shark Rotator Powered Lift-Away TruePet Upright Vacuum.
Pros
2-in-1 ability to be an upright and canister vacuum.
Includes helpful pet cleaning attachments.
Not an overly expensive model.
Good reviews on how it handles hardwood floors and carpeting.
Cons
It is heavier than most upright vacuums.
About Kitty Litter
There are three types of cat litter on the market.
Clay
The oldest absorbent clay known as Fuller's Earth hit the market in the 1950s. Thank you, Edward Lowe, for beginning to sell this product. There are some good reasons for using this type of litter and some major reasons to consider alternatives:
Pros
The cheapest litter to purchase.
Some natural odor absorption means less unpleasant cat urine and feces odors.
Absorbs its weight in cat urine.
Cons
Needs to be completely changed every week.
Natural odor absorption does not last long.
Does not clump, not easily removable with litter scoopers.
Very dusty and heavy.
Dangerous if your cat eats it.
Clumping Cat Litter
This cat litter improvement was invented in the 1980s when another form of clay, known as Bentonite, was added to the regular clay litter. This allowed for a huge help with the litter box messes as it would now form clumps and could be scooped out.
Please note that there are medical concerns regarding this cat litter, as well as silica gel litters. Take the time to know the facts.
Pros
This litter clumps when it is wet with urine and surrounds the fecal matter.
It is easy to scoop out in clumps.
Once the litter is removed in the clumps, can be refilled with more and not fully cleaned each week.
Cons
Comes from strip mines– not environmentally friendly.
Very dusty and heavy.
Harmful if a lot is swallowed.
If the litter box is not aerated, the dust build-up can lead to asthma and other respiratory problems in cats.
Silica Gel/ Crystal Litter
This is a crystallized form of silicon dioxide which is procured from sand. This litter is very much like the material in the little packets found in medicines and other products to keep them dry.
Pros
Much lighter than clay.
Easiest litter to use.
Clean out once a day and stir the granules twice a day, or more.
Much less dust than clay litter.
Cons
Expensive.
Not as hygienic as clay litter.
Some cats do not like the crunch sound that the litter granules make.
Comes from a non-renewable environmental source.
Can be harmful if a lot is swallowed.
Biodegradable Cat Litters
Biodegradable cat litters are not only eco-friendly, "green" products, they also don't cause any poisoning worries if ingested.
These cat litters can be made of: wood shavings, sawdust, newspapers, and plant products, including whole kernel corn, modified maize, pine, and wheat. For really environmentally passionate cat owners, you can make your own litter.
Pros
Much less dust.
Can be used as mulch on plants not being grown for food.
Eco-friendly and does not add to landfills.
Can be composted.
Cons
Not as easy to find as regular cat litter.
The most expensive to purchase.
Veterinarian Recommended Vacuums
Most veterinarians do not offer a recommendation for the best cleaning vacuum to take care of messy kitty litter, but they have chosen some top models for cat hair and overall pet cleaning. They also strongly suggest the tools you should invest in that enhance your vacuum including:
Investing in a high-quality vacuum with powerful suction.
Making sure you have a staircase attachment. This can be used for curtains, small decorative carpets, and some furniture.
Brush attachment. Make sure it is a soft bristle brush. It can be helpful for baseboards and shelves.
Crevice and rectangle attachments. These can be used for all the hard to reach places, like between the stove and cupboards.
Scrubbing attachment. This is a brush attachment with harder bristles. You can use this for your cat's bedding and any area that needs more work than the soft brush can offer.
A HEPA (high-efficiency particulate arresting) filter. This is very important to have as part of your vacuum if you have any allergy sufferers in your home or frequent guests. It makes sure that the dander, dust, and dirt do not blow right back out of the vacuum and into the air. This is a recommendation added by the ASPCA.
Rainbow Canister Vacuum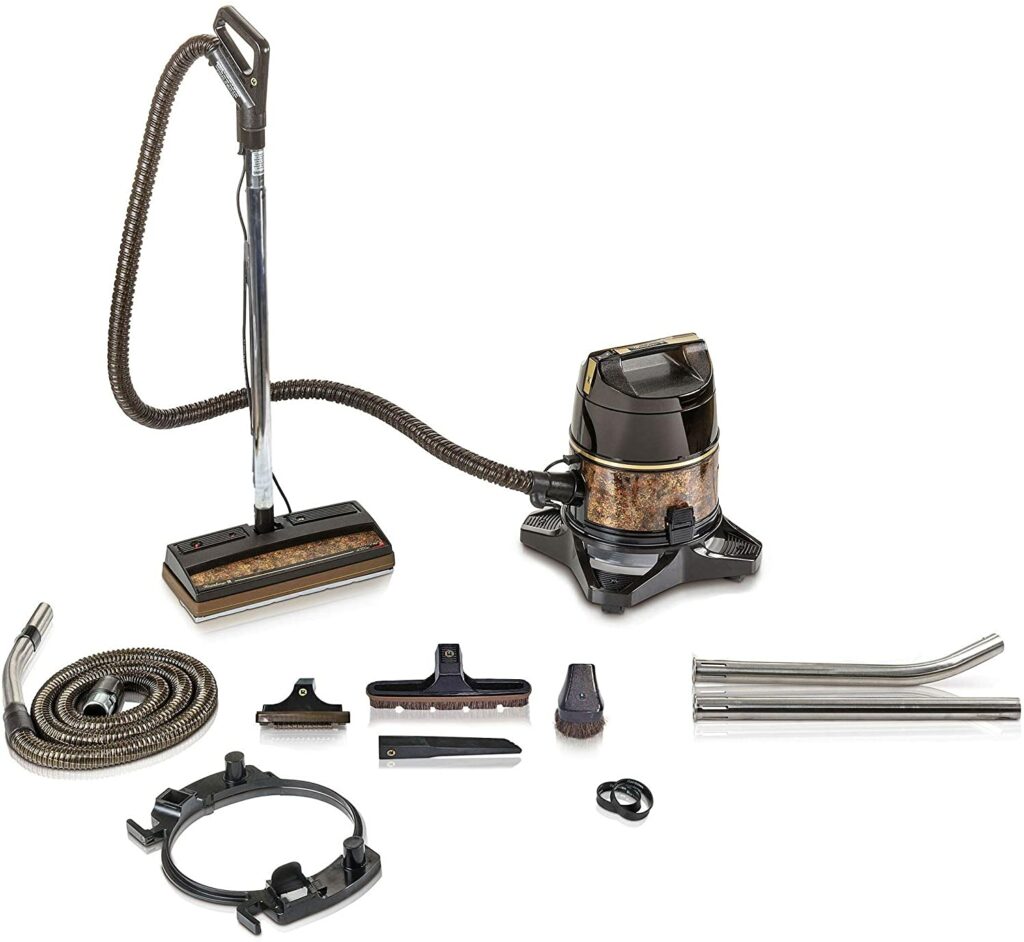 There is one veterinarian who does do an endorsement of a vacuum for all pet problems. Dr. Dwight Alleyne runs The Animal Doctor Blog online. His practice is in Georgia. He recommends the Rainbow Canister Vacuum. This very expensive vacuum is available as a used product on Amazon. There are many substantial reasons why he likes this model and his extensive review gives all the details. The benefits include powerful suction, no clogged hoses after years of use, and the ability to pick up all animal messes.
Vacuums Recommended by Pet Lovers
There are already countless articles on the best vacuums for cat hair pick up, as well as for kitty litter, but many of them endorse the same models. What they all offer is helpful additional advice to make the choice of vacuums easier. These tips include:
Never use any vacuum except a Wet/Dry Vacuum to pick up wet kitty litter. That would be a death sentence for a standard vacuum.
Clay litter expands and can cause real problems for any vacuum that picks up even slightly damp litter or large amounts of dry litter.
If your cat leaves mountains of litter outside the box, sweep up the bulk of it with a broom first and then vacuum.
Canister vacuums are considered by some to be the best for picking up kitty litter.
Empty your vacuum often if cleaning up cat litter is part of your weekly or daily ritual.
Clean out your vacuum regularly to avoid any buildup of bad litter smells and to get rid of dust inside the unit.
There were brands that came to the forefront of all the articles. The brand most recommended is Shark. One of the main reasons for this could be the affordable price point of these machines.
Shark Rotator Powered Lift-Away TruePet Upright Vacuum

The Shark Rotator Powered Lift-Away TruePet Upright Vacuum was noted at the top of this article, but there are other Shark models that received high praise.
Shark Navigator Lift-Away Professional Upright Vacuum
The Shark Navigator Lift-Away Professional Upright Vacuum, White and Silver is another recommended vacuum. There are many different model numbers, but you are looking for the words Lift-Away and Professional to get the benefits. They include:
Swivel head.
Pet hair attachments.
2-in-1 capability, meaning it can work as an upright, or as a lift away
HEPA filter model.
The Hoover brand has been a household staple for decades. There are a few models that were high on the list of taking care of pet messes.
HOOVER T-Series WindTunnel Pet Rewind Bagless Corded Upright Vacuum
The HOOVER T-Series WindTunnel Pet Rewind Bagless Corded Upright Vacuum is noted for:
An air powered hand tool to get rid of pet hair.
Five different carpet cleaning levels.
A 25-foot cord that rewinds with a touch.
HOOVER Hardwood Floor Cleaner FloorMate SpinScrub
The HOOVER Hardwood Floor Cleaner FloorMate SpinScrub has a very long name but includes some very interesting features. It is only for bare and hardwood floors. Some of its highlights are:
A bagless, 3-in-1 vacuum.
Its SpinScrub brushes wash and scrub floors at the same time.
Has a long cord for large rooms.
HOOVER Vacuum Cleaner WindTunnel 3 Pro Pet Bagless Corded Upright Vacuum
Last but not least, the HOOVER Vacuum Cleaner WindTunnel 3 Pro Pet Bagless Corded Upright Vacuum offers many of the recommended features a good pet vacuum should have.
Three channels of cyclonic technology.
A dual cyclonic air stage, great for separating the dirt from the air in the vacuum.
A Pet Turbo tool and Pet Upholstery tool.
A 27-foot long cord.
Bissell vacuums were also often mentioned for their pet messes cleaning ability. Some of the models with high praise include the Bissell Cleanview Upright Bagless Vacuum Cleaner and Carpet Cleaner and the Bissell PowerEdge Pet Hardwood Floor Bagless Stick Vacuum Cleaner.
Bissell PowerGlide Pet Bagless Upright Vacuum with Lift-Off Technology
The Bissell PowerGlide Pet Bagless Upright Vacuum with Lift-Off Technology offers many commendable features:
Swivel steering.
A Pet TurboEraser tool and other helpful attachments.
A claim of no loss of suction.
Multi-levels of filtration to aid those with allergies.
An upright vacuum that has Lift-Off technology for help when doing stairs and more.
There were a number of recommendation for other brands such as Panasonic and Dyson.  Each of them offers a vacuum with a pet cleaning advantage. The Panasonic Upright Vacuum Cleaner MC-UG383 Pet Edition and the Dyson Ball Animal 2 Upright Vacuum are the best examples of these enhancements.
Miele Blizzard CX1 Cat & Dog Bagless Canister Vacuum
Another brand that had multiple recommendations is Miele. They are expensive vacuums but last for many years. The Miele Blizzard CX1 Cat & Dog Bagless Canister Vacuum is not only endorsed by online articles, but by cat lovers that this writer has personally met. Their benefits include:
Made-in-Germany canisters.
Known for great suction strength.
HEPA AirClean lifetime filter.
Three top-of-the-line accessories.
Ability to work well on hardwood and carpeting.
Bagless vacuums.
Conclusion
There is a cornucopia of vacuum brands to choose from that offer great help when cleaning up cat litter and other pet messes. Your personal choice will depend on many factors, from how much you want to spend on your vacuum to what kind of cat litter you are cleaning up. Some cat owners have a handheld vacuum right by the litter box and then use their full vacuum for weekly cleaning, but that will be decided by how messy your cat is and how clean you want your home.
No matter which vacuum you purchase, consider all the pointers found in this article and then get what you feel will work best with your family, the human and feline members.
Continue reading: