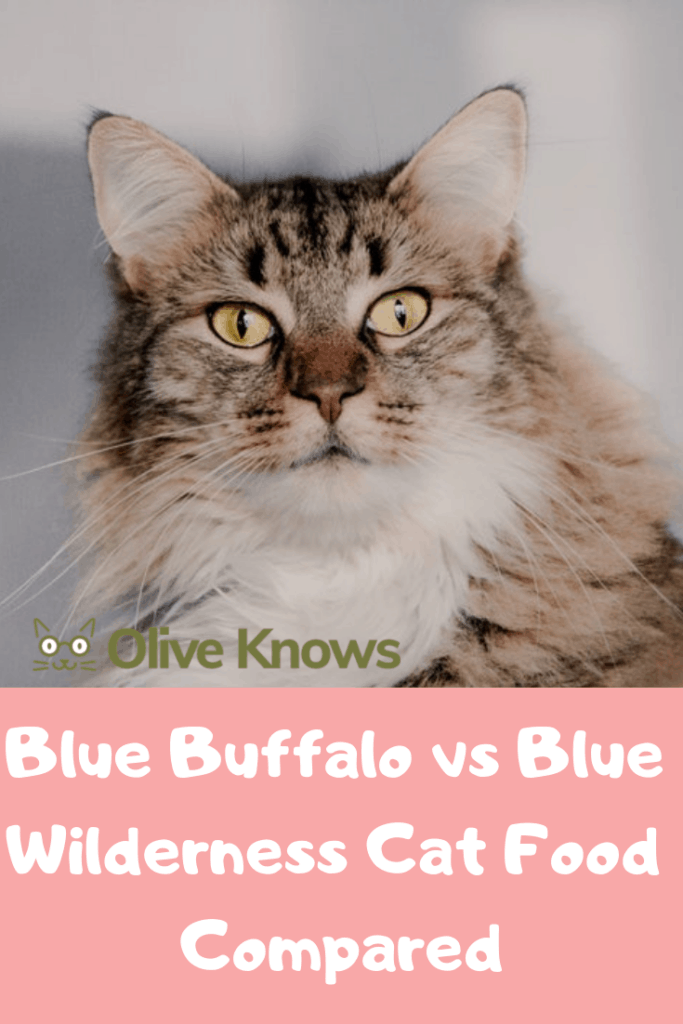 Finding the perfect cat food for your pet is likely to be of utmost importance to you. You want a food that is not only going to meet all of your cat's needs, but also one that you can feel good about feeding to your pet. There are some foods out there that have so many ingredients and so many things that you probably have never even heard of. When you see those on the labels, it is shocking and can lead you to wonder whether or not the food is really good for your pet.
Two of the most popular types of pet food are Blue Buffalo and Blue Wilderness. Both of these brands make cat food. We thought that we would take a look at both and give you our impressions of them as well as help you to determine which one is going to better meet your cat's needs.
A Look at Blue Buffalo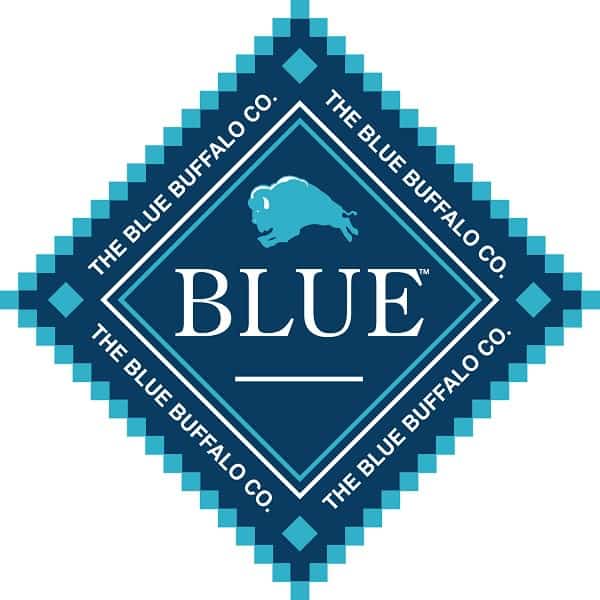 Blue Buffalo has long been considered one of the best brands of cat food on the market. However, their advertising campaigns might be primarily to blame for this as most vets do not choose to recommend Blue Buffalo to cat owners. There could be some reasons why or it just might not be the preferred brand, thankfully you will no longer have to wonder as you can read the information that we have gathered. You can make your own decision on whether this is the best choice for your cat or not.
Blue Buffalo — About the Company
The Blue Buffalo brand was introduced in 2002 by Bill Bishop. Bill graduated from Ohio Wesleyan University in 1961. From there went on to have a long career in the advertising and marketing of consumer products. He was the main driving force behind advertising for some of the United States' most well recognized and loved brands. Some of the brands that he worked with include American Express, Perrier, Tropicana, and Nabisco. After working in advertising for a while, he actually co-founded SoBe and remained involved serving as the COO until Pepsi bought them out in 2001.
It was after the sale of SoBe to Pepsi when Bill started working on his next project, Blue Buffalo. The goal of this company was to start in the natural pet food market. Bill chose to name the company after Blue, his Airedale terrier who was 9 years old at the time. He wanted to have a high-quality natural food for his dog and wanted to make that food available for people who were looking to feed their pets natural foods as well. He would continue to run the company for sixteen years but then sold it to General Mills for $8 billion. Today Blue Buffalo has become one of the most recognized pet food brands and has maintained its role as a leader in the natural pet food industry.
A Look at Blue Buffalo Recalls, Controversies, and Lawsuits
While no company can be perfect, Blue Buffalo has seen its fair share of negative media attention. This is related to the recalls, controversies, and lawsuits that have taken place. Of course, we can start with the recalls to see what types of contamination and problems could potentially be faced when you are feeding their foods to your cats.
Recalls
One of the things that have really hurt Blue Buffalo has been that they have a lot of recalls on their cat food in recent years. There are so many, in fact, that we felt that we needed to share them with you in this review so that you had this crucial piece of background information when you were choosing which cat food is best for your pet.
The first recall that Blue Buffalo was involved in happened in 2007. This was during the time that there was a nationwide recall of melamine. The rice protein concentrate that was used in Blue Buffalo foods at the time had melamine in it. The FDA actually confirmed this. The recall affected the Spa Select line of canned cat foods, all of the canned dog food lines, Blue Buffalo Select Kitten dry food, and all dog treats. Blue Buffalo took action against American Nutrition, Inc. and severed their relationship with them. American Nutrition Inc. was the manufacturer that they used at the time.
The second recall happened a few years later in 2010. This recall was on several different products. It was a voluntary recall from the company when they realized that their food was contaminated with excess levels of vitamin D because of a problem that they referred to as a "sequencing error." The next five years were recall free. However, in 2015 Blue Buffalo actually had two recalls. The first of these two recalls was with a variety of different Blue Kitty Yum cat treats. This recall happened when the treats were discovered to have propylene glycol in them. This is actually prohibited by guidelines put in place by the FDA. Later that year one batch of chewing bones were discovered to potentially have been contaminated by salmonella and were recalled.
In 2016 the company again had a recall. This time it was announced that some of the dog food could have mold contamination. This was due to excess moisture that was present in the food. Finally, in 2017 there was a problem with Blue Buffalo dog food cups. This packaging problem was the first of three different recalls that were each unique. When they discovered the packaging problem there was a possibility of aluminum contamination in several cans of Homestyle Recipe dog food. Later there was an issue with high levels of beef thyroid hormones in Blue Buffalo dog food.
On top of these recalls, there have been a number of additional things that have happened with Blue Buffalo. These include both lawsuits and controversies. Let's take a look at the lawsuits next.
Lawsuits
One of the first lawsuits that Blue Buffalo was involved in happened when their products tested positive for animal by-products. In this lawsuit, Purina accused Blue Buffalo of false advertising. Blue Buffalo has claimed that there are never any by-products present in their foods. Blue Buffalo responded to these accusations that they had no knowledge of this and that it was the fault of the supplier. The supplier that was involved in these claims was the same supplier, Wilbur-Ellis, who was associated with the melamine-tainted protein that was associated with the 2007 recall on pet food.
The second lawsuit against Blue Buffalo was actually a class action lawsuit. This lawsuit happened when a dog named Coco died from kidney failure. It was determined that kidney failure was caused by chronic levels of lead poisoning. The class action suit was over the levels of lead in the food that could potentially be toxic. The case claimed that Blue Buffalo dog food varieties were contaminated with excess lead levels. The food was even sent to an independent lab which found the presence of lead in a variety of different types of dog food. However, the claim was later dismissed.
Controversies
There have been controversies over Blue Buffalo. The main ones have been centered around the issues that were present in the lawsuits and recalls. However, others have claimed that the company was unethical and that it knew about some of these problems but did nothing to resolve them. These claims have not been proven right or wrong at this time.
Blue Buffalo Manufacturing and Sourcing
One of the things that people do not always understand about the companies where they get their food is that many of the things contained within their food are manufactured or sourced elsewhere. This is the same in the pet food industry. The Whole Dog Journal actually published a brand profile of Blue Buffalo in 2012. At this time the company was working with a wide variety of different manufacturers.
They included: Tuffy's Pet Foods, ProPet, ANI/Vita-Line Products, Triple T Foods, CJ Foods, and Ainsworth Pet Nutrition. In addition to these partners, Blue Buffalo actually manufacturers some of their own products. There are two manufacturing facilities for Blue Buffalo. They are located in Richmond, Indiana and Joplin, Missouri.
A Look at the Many Types of Cat Food from Blue Buffalo
Blue Buffalo actually has five different lines of cat food available. The five lines are:
BLUE Freedom
Original BLUE
BLUE Wilderness
BLUE Basics
BLUE Natural Veterinary Diet
Here is a little bit of information and a more detailed look at each of these lines.
BLUE Freedom
The BLUE Freedom line of cat foods is a full line of grain free cat foods and products.
Original BLUE
Original BLUE is the original formula of cat food that was developed when the company first launched.
BLUE Wilderness
BLUE Wilderness is a line of cat food that is meat rich. There are fewer grains, fruits, vegetables, or fillers in these products.
BLUE Basics
BLUE Basics is the more natural line of cat foods that are available. These products have a list of ingredients that is limited.
BLUE Natural Veterinary Diet
The BLUE Natural Veterinary Diet is a special line of Blue Buffalo products that are only available through your veterinarian's office.
An In-Depth Look at a Blue Buffalo Top Seller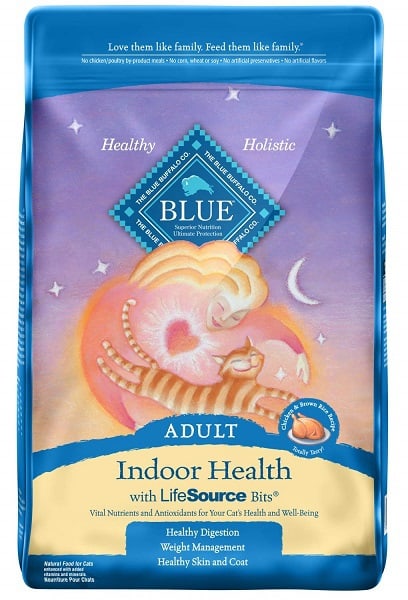 The Blue Buffalo Indoor Health Chicken and Brown Rice Cat Food is a line of cat food that is marketed to owners of indoor cats. The claim with this cat food is that it offers to meet the special dietary needs of indoor cats that are not met with standard cat foods. Some of the issues that the formula is supposed to help with include urinary tract disease, the tendency to develop hairballs, and obesity. The food has special ingredients that are meant to combat these issues that indoor-only cats face. These include additional fiber, a moderate calorie count, and the addition of cranberries.
In addition to all of these things, the food actually features Blue Buffalo's signature bits that are called LifeSource. LifeSource bits are special chunks of kibble that are enriched with a concentration of minerals, vitamins, and amino acids. This food is a dry cat food that is plant based and has a higher carbohydrate content. It offers a moderate fat content and a moderate to high protein content.
Top 15 Ingredients
Instead of sharing all of the ingredients in this cat food, we decided that we would share the top 15 ingredients with you.
Deboned Chicken
Chicken Meal
Menhaden Fish Meal (This is a great source of Omega 3 Fatty Acids.)
Brown Rice
Barley
Oatmeal
Peas
Pea Protein
Dried Egg Product
Chicken Fat (The fat is preserved with mixed tocopherols.)
Potato Starch
Powdered Cellulose
Natural Flavor
Flaxseed (Flaxseed is a source of Omega 6 Fatty Acids.)
Choline Chloride
Ingredients that we were happy to see included the deboned chicken. This is important because we want to make sure that our pets are getting healthy proteins and that they are actually getting the best parts of these proteins. However, there were the ingredients that we were not so happy to see. These included some of the ingredients that were in the top 15 ingredient list above and some that were not. They are barley, pea protein, oatmeal, brown rice, and potatoes. It is important to note that the common cat allergens that are found in this formula of cat food are fish and chicken.
A Food Breakdown
Protein — Minimum of 32%
Fat — Minimum of 15%
Crude Fiber — Maximum of 6%
Moisture — Maximum of 9%
Ash — 8.12%
Calories — Each cup contains 402 calories.
Pros
Cons
The food contained several different sources of plant protein rather than containing only animal proteins.
The food had a high carbohydrate content.
This food does not have a high enough hydration level for your cat's dietary needs.
A Look at Blue Wilderness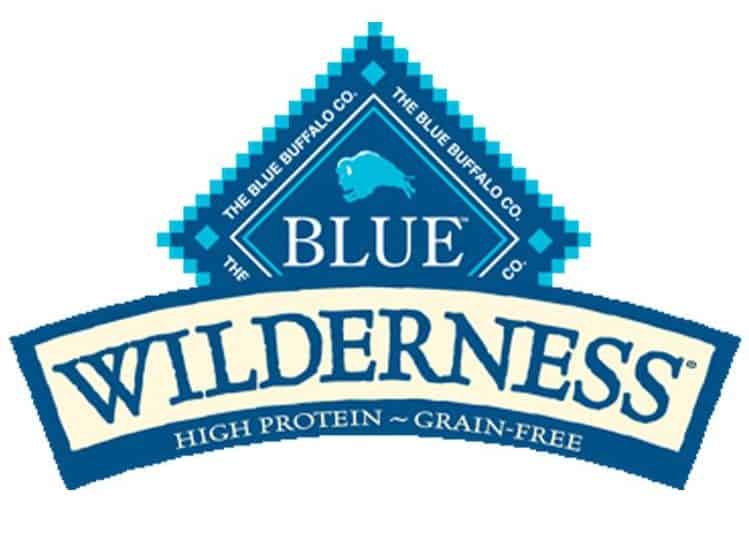 Blue Wilderness is a company that is actually part of the Blue Buffalo family. Therefore some of the information about the companies is the same. The Blue Wilderness line of cat foods is a special line that is geared more towards the high protein and natural foods than towards the grain-heavy cat foods that are available under other labels within the company.
An In-Depth Look at a Blue Wilderness Best Seller
One of the things that we love about the Blue Wilderness line of cat foods is that they are grain free. Therefore, we know that this product does not have grains which are noted by many professionals as not being the right choice for cats. This food does not have grains like wheat, corn, or rice. Instead, those calories come from products like peas, tapioca starch, and pea protein. However, we like to note that none of these are nourishing to a cat so we are not quite sure why Blue Buffalo felt the need to replace the grain products with other plant-based products that our cat does not need.
This food also has Blue Buffalo's signature Life Source Bits. These are the special pieces of kibble that have additional nutrients that your cats need in concentrated forms. They contain vitamins, minerals, and antioxidants. The claims of Blue Wilderness products are that they are high in protein, but we found that this is just not the truth. In fact, while the food does have below average carbohydrate content, it has moderate fat and moderate protein, not the expected increase in protein.
Top 15 Ingredients
We like for you to be aware of the main ingredients in your cat's food. The top fifteen are the main ingredients that make up the majority of the food.
Deboned Chicken
Chicken Meal
Pea Protein
Tapioca Starch
Peas
Menhaden Fish Meal (This is a good source of Omega 3 Fatty Acids.)
Chicken Fat (The chicken fat is preserved with mixed tocopherols.)
Dried Egg Product
Pea Fiber
Natural Flavor
Flaxseed (This is a source of Omega 6 Fatty Acids.)
Calcium Chloride
Potassium Sulfate
DL-Methionine
Choline Chloride
The ingredient that we were happy to see in this cat food was deboned chicken. We like that the chicken was not bone in because it would have increased the weight of the cat food without adding vital nutrients and minerals. That being said, there were quite a few ingredients (some of which were not in the top 15 ingredients) that we were not so happy to see. These included: potatoes, pea protein, dehydrated alfalfa meal, and tapioca starch. The food contains three common allergens that you will want to note if your cat has allergies. These are chicken, fish, and eggs.
A Food Breakdown
Protein — Minimum of 40%
Fat — Minimum of 18%
Crude Fiber — Maximum of 4%
Moisture — Maximum of 9%
Calories — This food contains 443 calories per cup.
Pros
The food has a relatively low amount of carbohydrates when compared to other comparable dry foods.
The price point on this one is not bad, but definitely not good. Check out the latest prices on Amazon.
My cat really loved eating this one. I even set out a few types of cat food a few different times and each time this was the first one that he picked.
Cons
This formula contains a concentrated plant-based protein that is not necessarily the best option for a cat.
This food has a higher amount of carbohydrates that are not needed for cats who are natural carnivores.
Like other dry foods, your cat can not get enough hydration with this food.
Blue Buffalo vs Blue Wilderness — A Quick Look at Which One You Should Pick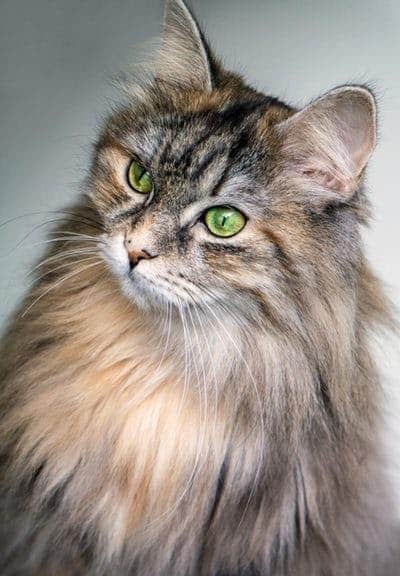 It can be so hard to know which of these two brands (that are owned by the same company) you should pick from. Personally, I recommend the Blue Wilderness line because it takes the grains out of the food and your cats do not need grains. In fact, some research states that cats who consume grains are more likely to deal with certain medical problems and conditions.
So, this line seems like it would be a better option overall for all cats for that reason alone. However, the Blue Buffalo line is more affordable and at a price point that is more accessible to people. Therefore, if you cannot afford the Blue Wilderness foods there is no reason to feel bad about this. You can still pick up a cat food that is high in quality and standards without going broke.
Of course, some cats have special needs and different foods work better for them. We decided that we would break down the Blue Buffalo and Blue Wilderness cat foods that are great for specific breeds of cats and that we would share these foods with you in our review.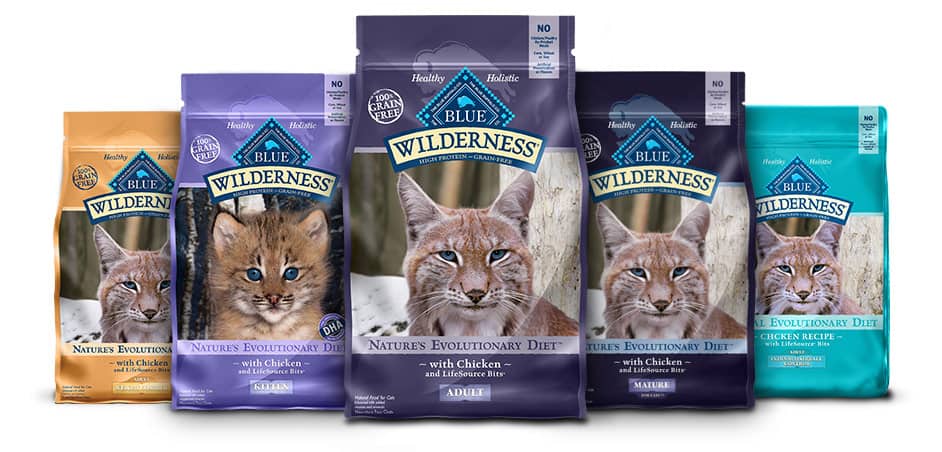 One of the things that you should know about the Russian Blue cat is that they have a problem with shedding. By choosing the Blue Wilderness High Protein Adult Cat Food you are making a choice for your cat to help them stop shedding. The recipe that is created by Blue Wilderness uses easily digested protein and is a grain-free formula. This is something that actually helps your cat to stop shedding.
Keep in mind that Blue Wilderness is made in the U.S. The company uses the strictest quality standards and sanitary standards in the process of creating their cat food. It is also backed by the Blue Wilderness guarantee.
Pros
This is an all-natural cat food that is grain free and perfect for cats of all ages.
There are a wide variety of flavors available with this food.
This food provides balanced nutrition on a daily basis for your cat.
The ingredients that are in this cat food include sweet potatoes which are a healthy complex carbohydrate for cats.
Cons
If you do not mix this cat food with wet cat food, you might find that your cat does not have enough moisture in their diet. This can lead to a higher risk of bladder stones.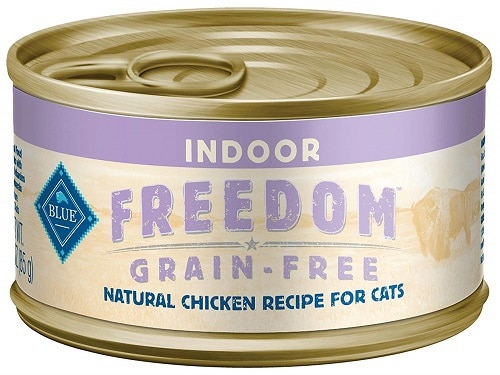 One of the best things about the Blue Buffalo Freedom Indoor Adult Chicken Recipe Grain-Free Canned Cat Food is that it can help to solve problems that are common for indoor cats. If you have a Burmese cat some of the problems that you probably worry about are hairballs and weight management.
Thankfully this cat food can help you with both of these. It offers this through being a high protein food that features natural fiber to aid in smooth and easy digestion. The foods top ingredients are chicken, chicken broth, and chicken liver. If you know anything about what cats need, this will make you happy as you see ingredients that are good for your cat and none that are bad for them.
Pros
This food is lower in calories and higher in protein which makes it a great choice for cats who are going to be raised indoors only.
This food is grain free. There is no soy, corn, or wheat in the food.
The food does not have any filler ingredients.
Cons
While the food is gain free, it is not carb free. The food has carbs from the sweet potatoes. This could cause some weight control issues in a cat that is not as active as it should be.


Many people do not realize just what an Oriental cat might need. The Oriental is actually one of the distinct cats within the Siamese breed. There are two coat lengths that you can find with Oriental cats. There is an Oriental Longhair and an Oriental Shorthair.
As a general rule of thumb, the Oriental cat should have a diet that is similar to other cats. However, this does not mean that you will want to feed your Oriental any cat food. In fact, quite the opposite. You still want to ensure that your Oriental is able to have a high-quality diet that is void of the things that they do not need while providing them with everything that they do need.
It is very important that Oriental cats get the food that reminds them of the meat that they would get in the wild. Your Oriental cat will need food that is high in protein, features minerals, amino acids, carbohydrates, and vitamins. The Blue Wilderness line of wet cat foods is a favorite because they do not contain add-ins like soy and wheat, which typically acts as filler.
Pros
The food does not contain any grain.
The food is gluten free and free from meat by-products.
Blue Wilderness wet cat foods are protein rich and do not have any of the preservatives. They are made with deboned chicken.
They offer special formulas that are appropriate for kittens.
You will not have to give your cat any type of supplement as this is a whole nutrition food.
Cons
The only bad thing that we can say about this food is that the odor is strong and it does not smell appealing to humans.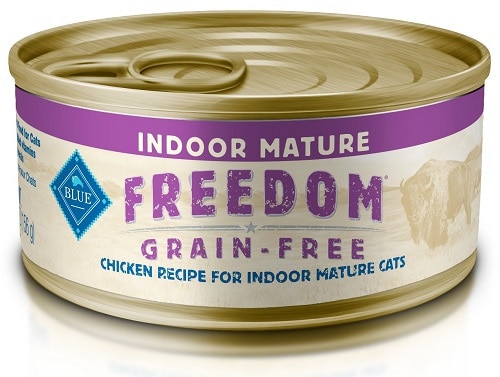 The Blue Buffalo Freedom Indoor Mature Chicken Wet Cat Food is a great choice for senior cats because it is made in a soft pate style. It features high protein ingredients like chicken liver, chicken meat, and chicken broth. There are not many plant-based ingredients and the food does feature the supplements that your mature cat needs. In addition to these, you can be assured that your cat will have a healthy coat and skin thanks to the Omega-6 and Omega-3 fatty acids that are provided.
This food has some plant-based ingredients including sweet potatoes and carrots. It is grain free. However, there is some additional dietary fiber which helps mature cats to remain constipation free. This food is also full of moisture and helps your cat get all of the moisture that they need.
Pros
The food is rich in moisture which leads to a healthy urinary tract and offers support to your kidney function.
The ingredients are mainly animal based.
The food is grain free and is made with only the highest quality ingredients.
This food is made in the U.S.
Cons
This food contains some plant-based ingredients.
The food was sweet potato which is higher in carbohydrates.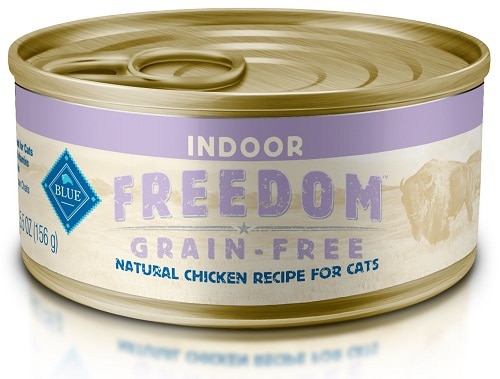 Blue Buffalo Freedom Indoor Adult Chicken Recipe Grain-Free Canned Cat Food is a food that really helps indoor cats to be able to maintain their healthy weight and stay free from hairballs. It features a high protein diet with the addition of natural fiber which aids in the cat's digestion. It also helps to reduce the number of hairballs that your cat has.
The food is made with chicken, chicken liver, and chicken broth as the first three ingredients which shows how much attention Blue Buffalo put into ensuring that your cat would have a healthy diet. The idea behind the addition of the sweet potatoes is that they are suspected as being able to help aid in digestion and actually reduce the number of hairballs that your cat has.
Pros
This cat food is packed full of protein and is lower in calories which makes it a great choice for indoor cats.
The food does not contain wheat, soy, or corn and is 100% grain free.
The food does not contain any filler ingredients.
All ingredients in the food seem to serve a purpose.
Cons
This food might not be the best for weight management as it does feature sweet potatoes which might add weight to the cat if they are not moving much.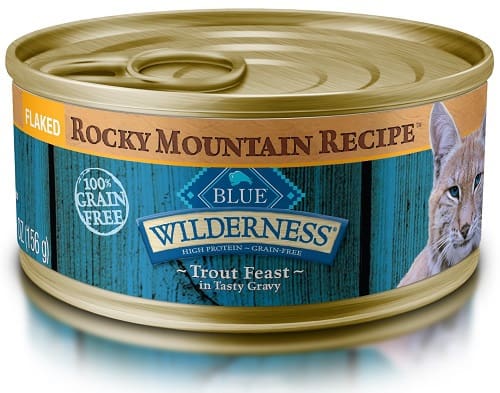 Blue Wilderness High Protein Flaked Wet Cat Food is unique. It offers all of the nutrients your cat needs in a protein dense wet cat food. The food is also low in carbohydrates. This means that it is perfect for cats. There are many vitamins and minerals that your cat needs to maintain their health and this food helps to ensure that they have them all.
The food has full chunks of chicken and flakes of trout. The protein that is used is guaranteed to be easily digested. In addition to the protein, there are amino acids that are essential to your cat's health and Vitamin D3 included. This helps to ensure that your cat does not have a Vitamin D deficiency.
Pros
The ingredients that are found in this cat food are all natural and blended together. There are no additives, animal by-products, or fillers.
The food is made with the highest quality ingredients and meets high-quality standards.
The food offers your cat a balanced diet and has complete nutrition.
The food features high-quality cuts of meat and seafood.
There are nine different flavor selections to choose from.
There are some things that Blue Buffalo does with some of their cat foods that are completely unique. One of these is seen in the Blue Buffalo Blue Basics Limited Ingredient Grain-Free Dry Cat Food. This food is perfect for all of your cats because it is made to work well with cats who have sensitive stomachs or allergen issues. The food is great for all cats though, even those who do not have these problems. The food features a high amount of nutrients, vitamins, and minerals that your cat needs. These help them to have that nice healthy fur that is going to look glossy and thick.
Additionally, the meat that is used is a single protein source. It features meat that you do not have to worry about it being low quality or spoiled. Blue Buffalo is very particular in how they source the ingredients for their Blue Basics line in order to ensure that your cat is not going to have any health concerns because of the foods that they are eating.
Pros
The cat food offers a single source protein.
There are no additives or any type of artificial flavors in this food.
The food is specially formulated to ensure that your cat has their dietary needs met.
Cons
Our cat has always had high-quality foods, but natural food was new to him. He did not seem to like it at first and still does not choose it if offered more than one food.
Overall Impression
There are a few points that I want to make.
Blue Buffalo has had its fair share of recalls and controversies. They offer a wide variety of choices for cat owners to choose the food that is going to be right for their cat. This makes the company a top contender for me personally when I am choosing food for my cat. One thing that I like about the food is that I know that he is getting adequate nutrition, even if he is getting some stuff that he does not necessarily need.
While Blue Wilderness is a high-quality cat food brand. I would personally fo with Blue Buffalo for my furry buddy.
What kind of food do you feed your cat? We would love to hear from you!
You might also like: