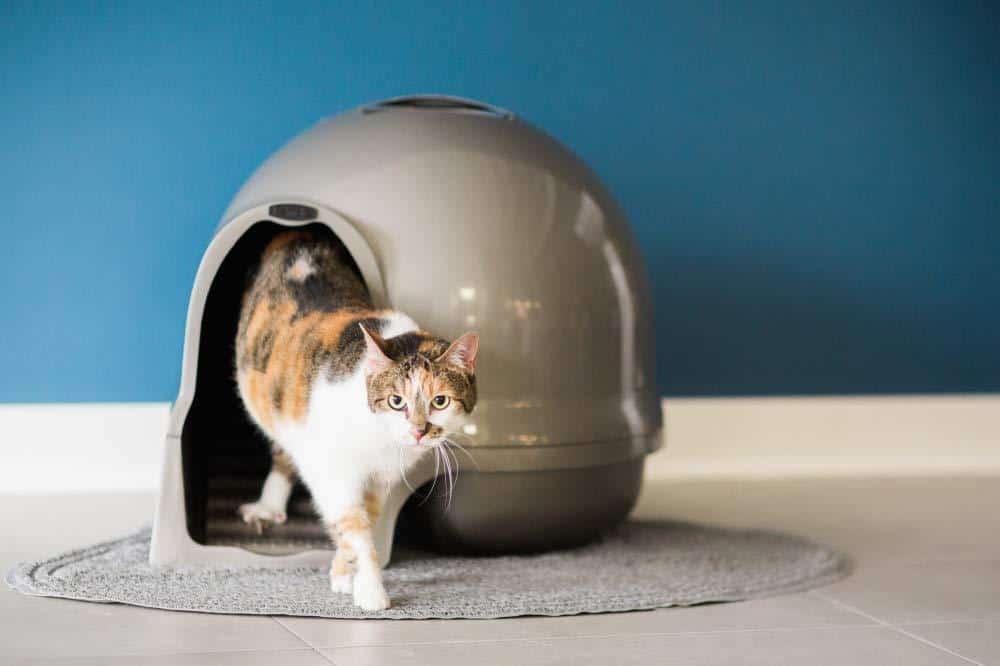 If your cat has been a well-behaved housemate for years and now they're constantly having accidents, at best, it can be puzzling. At worst, it can be frustrating and can chip away at the companionable relationship you've had with your cat through the years.
But cats experience the process of aging the same as humans do, and your senior cat needs to be given allowances when they undergo bodily changes that impact their behavior.
Fortunately, there are a number of clever strategies that help you and your feline friend adjust to this new phase in his life and minimize stress. One of them is simply swapping out their litter box for a special litter box designed for senior cats! Read on to find out how to choose the best litter box for your senior cat.
Why do senior cats need a change in a litter box?
1 – They find it difficult to climb in and out of a regular litter box
The main reason senior cats need a change in the litter box is arthritis, which affects more than 70% of senior cats. Arthritis causes inflammation, stiffness, and pain in your senior cat's joints, decreasing their range of motion. This prevents your cat from being as spry as he used to be when he was younger and makes it hard for him to jump in and out of things – including the litter box.
As a result, your senior cat may dislike going through the bother of using a regular litter box and relieve himself somewhere that causes him less pain.
Solution: Replace your old litter box with a litter box specially-designed for senior cats. It should feature lower sides (if uncovered) or a low entrance (if covered) to decrease the effort of climbing in and out. Ideally, the litter box should also be wide enough so your senior cat can turn around inside it without touching the walls, which can cause pain in arthritic cats.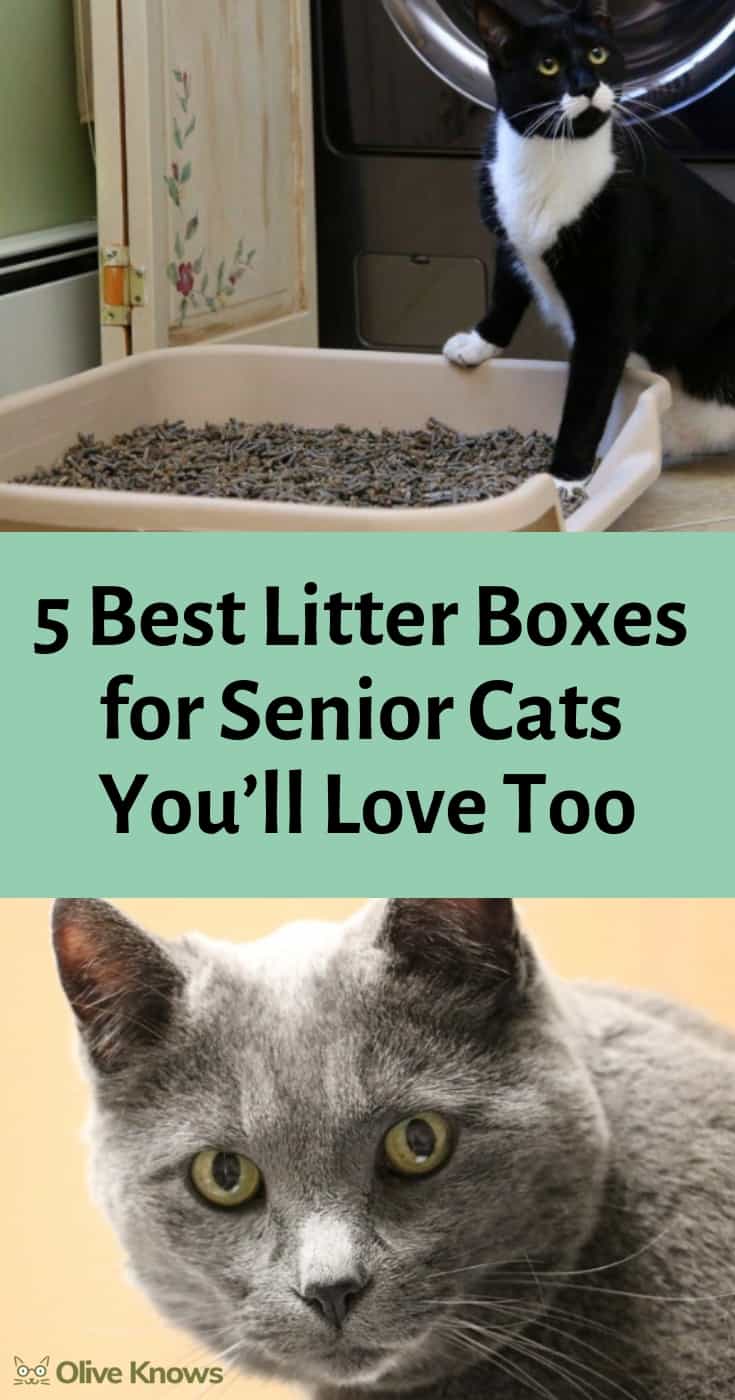 2 – They may not make it to the litter box in time
Given their aching joints, senior cats move more slowly than they used to. Sometimes they simply can't walk or run to the litter box fast enough before they let it go (chalk that up to decreased bladder tone due to aging as well!).
If you have multiple cats, the younger ones might begin to get aggressive now that the oldest cat is laying low. This can sometimes lead to confrontations and tussles over the litter box. Your senior cat may not make it inside the litter box if the younger ones are harassing him at the entrance, or he may just give up on the litter box altogether and find somewhere else to do his business in peace.
Solution: Set up multiple litter boxes around the home, especially in the area or floor of the house that your senior cat frequents. It's easier for your senior cat to do his business in the right place when there are more chances of winning.
3 – They may have trouble finding their way to the litter box
Finally, some senior cats suffer from impaired vision or hearing, as well as memory loss or other cognitive problems. Changing the location of the litter box or rearranging your furniture frequently may disorient your senior cat and make it hard for him to find his way to the litter box consistently.
Solution: Keep the litter box (as well as other necessities like the food and water bowls, or the kitty bed) in the same place to prevent your senior cat from getting lost or confused. If you're orienting your senior cat to a new litter box, don't clean out their soiled litter straightaway. Leave a bit of it in the box so your cat can smell his way to its location – at least until he gets used to the new routine.
The Five Best Litter Boxes for Senior Cats
We've rounded up six of the best litter boxes for senior cats. Read through to find litter boxes in a variety of shapes and sizes – the better to help you choose the one that best fits your home!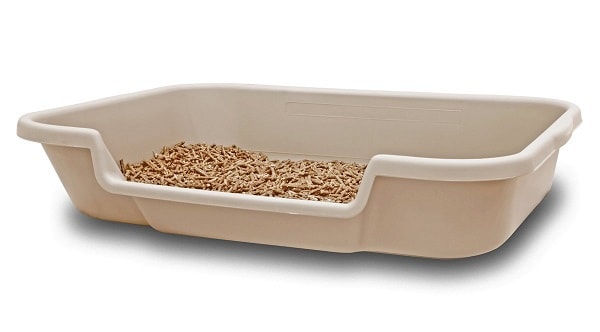 A low entrance, low sides, lots of room, and affordable enough to have multiple pieces of it in the house? The KittyGoHere Senior Cat Litter Box ticks all the boxes for the ideal litter box!
This senior cat litter box's entrance is only three inches from the floor, easy enough to clear even with your cat's arthritic joints. Meanwhile, the sides stand at a low five inches if they prefer not to use the door to hop in and out. The KittyGoHere Senior Cat Litter Box is left uncovered and has lots of space inside to allow your cat to move about as he does his business.
With its unobtrusive design and affordable price point, you can install multiple litter boxes around the house to make life significantly easier for your senior cat!
Features:
Dimensions: Comes in 24 x 20 x 5 inches and 20 x 15 x 5 inches
Entry height: 3 inches
Weight: 2.2 pounds
Colors: Sand, Apple Green
Pros:
The box is large enough to allow arthritic cats to turn around without bumping against the sides of the box
Cons:
The litter box has no cover
The sides are low; urine might spray over the sides of the litter box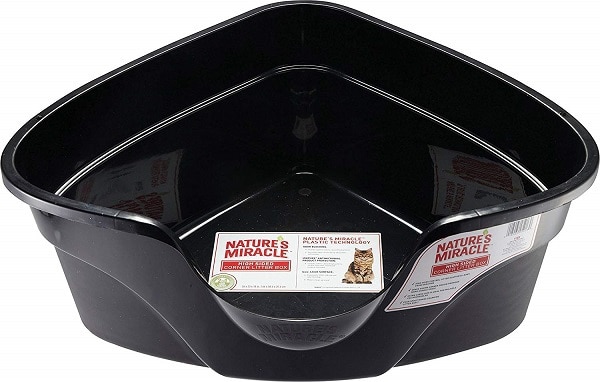 Nature's Miracle has prided itself on 30 years of inventive ways to remove the hassle from pet mess cleanup, and this Advanced High-Sided Corner Litter Box is one such innovation! Designed for use in corners, this litter box will be a space-saving choice for small apartments. Even so, it's roomy enough to prevent your senior cat's body from hitting the sides. It has a low entry, but with high 10-inch sides to prevent your cat's pee from spraying over the sides.
Nature's Miracle Advanced High-Sided Corner Litter Box is also a breeze to clean, with an easy-pour spout that allows you to dispose of your cat's excrement without having to reach into the litter box. It also features a non-stick plastic surface, and odor-blocking and antimicrobial technology.
Features:
Non-stick surface
Odor-blocking technology
Antimicrobial protection
Easy-pour spout
Dimensions: 26 x 23 x 10 inches
Weight: 2.3 pounds
Color: Graphite with glitter
Pros:
The sides of the litter box are high enough to prevent cats from peeing or kicking litter outside
Cons:
User-reported issues of leaking urine when there isn't enough litter
Aging causes cognitive and behavioral changes in cats; that means senior cats get more picky with their litter box, and sometimes they won't go in it if it isn't clean. But you won't always be around to clean out the litter box as soon as they go in it, so what are you to do?
Enter Nature's Miracle Self-Cleaning Litter Box! It automatically scoops soiled litter out after every use, ensuring a clean box for your senior cat every time he needs to go. The entrance is ramped to facilitate your cat's entry and has paw-cleaning grooves to remove litter from his paws as he leaves. The inside of the litter box is spacious because it's designed for use by multiple cats, but that also means your senior cat will have more room to himself. High walls prevent pee from leaving the box. It's also equipped with a night light setting to make finding the litter box easier for your cat in the dark.
Nature's Miracle Self-Cleaning Litter Box features a smart-detection motion sensor that alerts the box to your cat's presence and readies it to clear itself once your cat is gone. Odor-control receptacles and carbon filters reduce the kitty mess smell. The automatic rake is easily removable once it's time to clean the box.
It may take some adjustment if this is your cat's first automatic litter box, but Nature's Miracle Self-Cleaning Litter Box will make this whole business much more convenient for you and your senior cat both!
Features:
Smart-detection motion sensor for automatic cleanup after cat leaves
Paw-cleaning ramped entrance prevent litter scatters
Odor-control receptacles and carbon filter lessen the smell
LED night lights
Easy-lift handles for facilitating cleanup
Power source: Electrical Cord
Dimensions: 28.1 x 10.1 x 17.6 inches
Weight: 16.88 pounds
Pros:
One of the largest automatic litter boxes you'll find out there – gives adequate space for senior cats
Cons:
You might need to change your brand of cat litter to one that doesn't cling to the litter box, to facilitate easy sweeping and clearing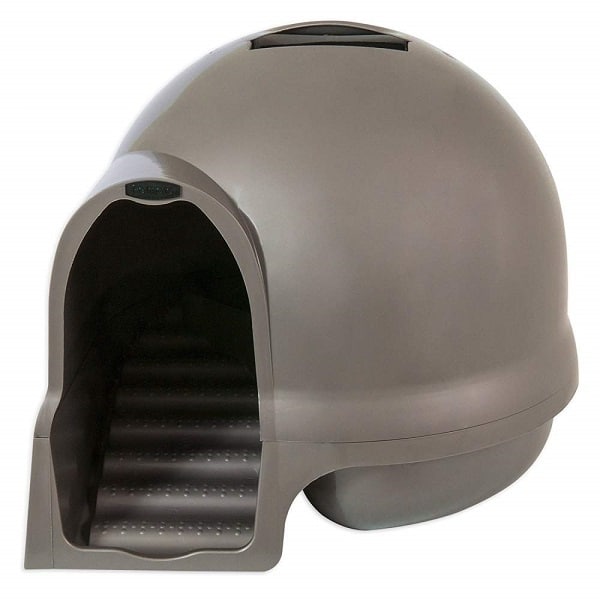 If you're a fan of uniquely-designed pet paraphernalia, the Petmate Booda Dome Cleanstep Cat Litter Box will probably be right up your alley. This litter box features a set of curved stairs leading to a covered litter box – no more hopping in and out for your senior cat! The steps of the stairs have little-raised nubs that clean your cat's paws as he exits, preventing him from tracking litter all over the floor. The litter box itself is spacious enough to allow your cat room to move.
The Petmate Booda Dome Cleanstep Litter Box doesn't look at all like a litter box and comes in neutral colors to boot, so it's attractive enough to be placed in any room of the house. The covered dome keeps the litter from view and can be easily lifted on and off for cleaning. A replaceable odor-trapping charcoal filter fits into the dome to minimize unpleasant smells.
On the inside, the litter box is made of non-stick plastic. A round pan removes the problem of litter stuck in stubborn corners. Finally, this litter box is compatible with Petmate's Litter Dome Liners so that you can remove all your cat's used litter in one go. Everything about the Petmate Booda Dome Cleanstep Litter Box has been thoughtfully designed for both aesthetic value and ease of use.
Features:
Top handle for lifting the domed cover
Non-stick plastic walls
A Round-shaped litter box for easy cleaning (no more stubborn corners!)
Clean-step entrance cleans cat's paws before they exit the litter box
Includes odor-eliminating charcoal filters
Dimensions: 22.5 x 22.5 x 19 inches
Weight: 10.3 pounds
Colors: Brushed Nickel, Pearl White, Titanium, and Linen
Pros:
Gives cats privacy when they do their business
Its covered design allows for placement anywhere in the house
Cons:
While the domed cover lines up with the base, it doesn't lock in; can be knocked aside if members of the household aren't careful
It may be awkward to scoop dirty litter out given the shape of the litter box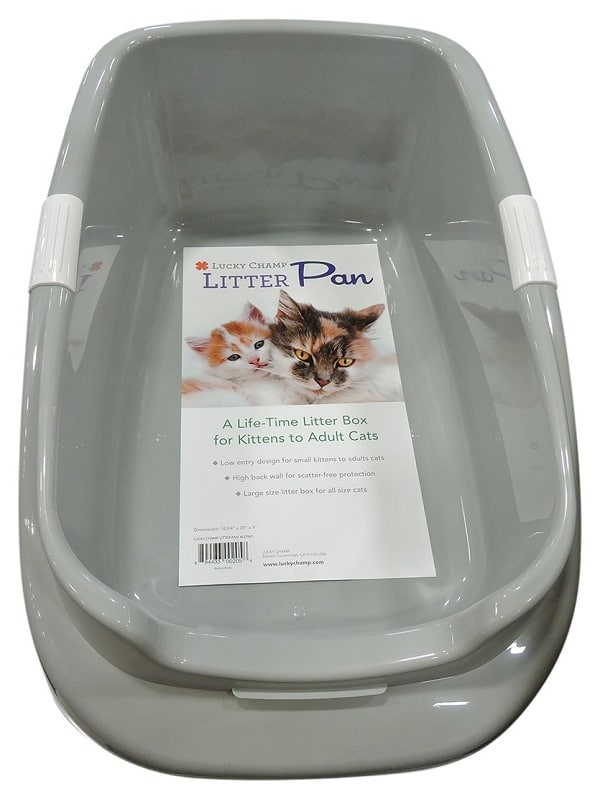 The Lucky Champ Litter Pan takes the comfort of a low entrance and sides, and the need for high walls, and puts them together in one convenient litter box design! The low entry towards the front of the pan makes it easy for your senior cat to get inside, but the walls slope upwards to form a high back wall that prevents his pee from leaving the pan.
As with the other litter boxes, the Lucky Champ Litter Pan is big enough to give your cat room to move comfortably inside. It also features a removable handle to make this large pan more maneuverable during cleaning time.
Features:
Dimensions: 25 x 16.8 x 9.5 inches
Weight: 2.2 pounds
Pros:
A well-distributed weight of the box prevents it from being toppled over despite its low design
Handles allow for easy dumping of soiled litter
Cons:
The design may be a bit bulky for some homes
Best Dispossable Cat Litter Boxes
As a side note, there are some instances where you may just need a dispossable box, whether for travel or just in case.
My top recommended dispossable kitty litter boxes are the Kitty's WonderBox brand available here at Chewy.
Less mess, less stress
Be patient with your senior cat's litter box accidents – cats are innately fastidious creatures, and they can't enjoy creating messes any more than you do cleaning them!
At the end of the day, remember to give a little extra love to your senior cat. In addition to feeling bad that they're missing the litter box, they may just feel lonely too. Their decreased mobility and the fact that they sleep more means they're roaming around the house less often, and they can feel forgotten if you don't take the time to seek them out and remind them of your friendship.
This guide to litter boxes for senior cats was written to help you make your senior cat's twilight years as easy and comfortable as possible so that1 they can grow old with you with less mess and stress.
Related Reads That Might Interest You: