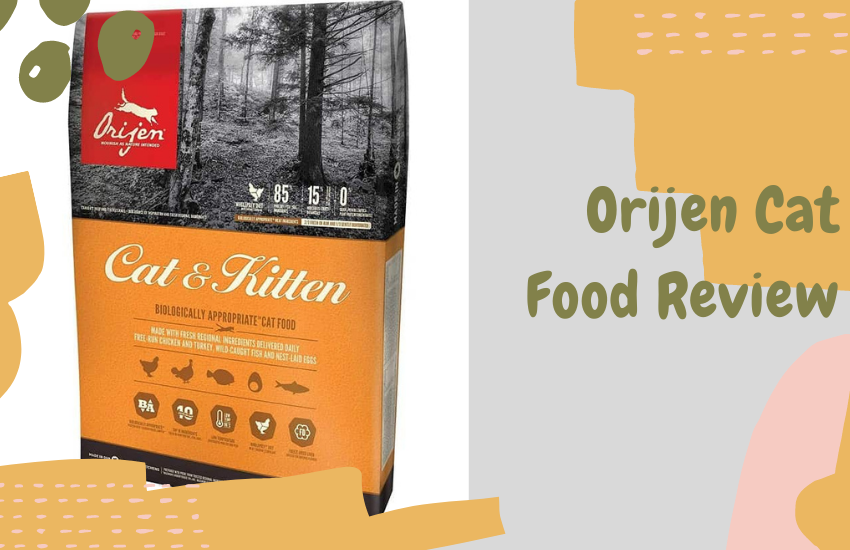 Caption: This post will review the Orijen Cat & Kitten formula.
If you've read our post on how to choose the right cat food, you know that not all commercial cat diets come equal. Some contain higher quality ingredients and are better at providing optimal and balanced nutrition for your pal.
In this post, we'll review Orijen's cat food, but will spoil the culmination a bit by telling you right from the start that this is one of the best cat food brands on the market.
You'll find why's that in a bit. First, a little about the label.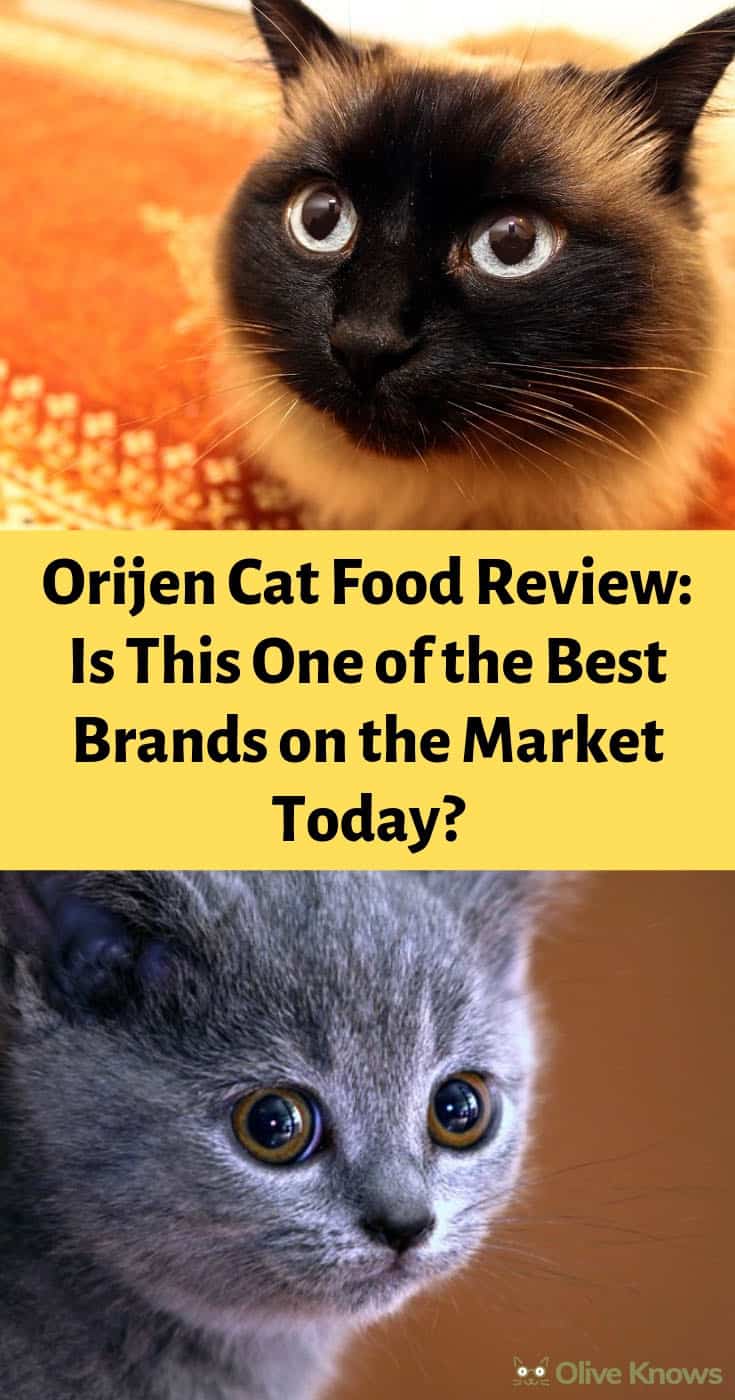 About Orijen
Orijen is a premium pet food brand belonging to Canadian firm Champion Petfoods LP which also owns Acana—another premium pet food line.
Until several years ago all Champion Petfood's products were manufactured at their NorthStar kitchen in Alberta, Canada from Canada-sourced products.
Then in 2016, the company opened its DogStar manufacturing facility in Alberta, KY, the USA which also prompted new, better formulas.
Now, the Kentucky DogStar facility produces Orijen food meant to be sold in the U.S. and Central and Latin America and treats for all the markets where they are available. The Canadian NorthStar kitchens produce food meant to be sold in Canada and abroad (except the countries south of Canada) and the Tundra cat food formula.
The Kentucky kitchens use U.S.-sourced ingredients, while the Canadian ones use Canada-sourced ones. Because of this, the formulas produced in the two places vary in their ingredients as they are subject to local availability.
Also, the U.S.-made formulas contain 90% meat products, while the Canadian ones—85%. Nevertheless, both places maintain the same quality standards.
For this post, we will consider the Kentucky-made formulas.
Now, let's get to the meat of Orijen's cat food nutritional information.
Ingredients
Orijen prides itself on offering "Biologically Appropriate" cat food made from "WholePrey" ingredients. In other words, the company is creating its formulas in a way that mimics what cats would eat in the wild—a variety of prey that felines consume almost whole (organs and all).
The Orijen Cat Food comes in six formulas with self-explanatory names: Cat & Kitten, Six Fish, Regional Red, Tundra, and Fit & Trim. The brand also offers six products in the cat treats category—Original, Six Fish, Regional Red, Tundra, Grass-Fed Lamb, and Wild Boar.
Let's take a look at the ingredient list of the all-life-stages Cat & Kitten food formula.
Deboned chicken, deboned turkey, whole eggs, Atlantic flounder, whole Atlantic mackerel, chicken liver, turkey liver, whole Atlantic herring, chicken heart, turkey heart, dehydrated chicken, dehydrated turkey, dehydrated mackerel, dehydrated chicken liver, dehydrated egg, whole red lentils, whole pinto beans, chicken fat, chicken necks, chicken kidney, whole green peas, whole green lentils, whole navy beans, whole chickpeas, natural chicken flavor, pollock oil, ground chicken bone, chicken cartilage, lentil fiber, choline chloride, whole pumpkin, whole butternut squash, mixed tocopherols (preservative), dried kelp, zinc proteinate, freeze-dried chicken liver, kale, spinach, mustard greens, collard greens, turnip greens, whole carrots, apples, pears, pumpkin seeds, sunflower seeds, thiamine mononitrate, copper proteinate, chicory root, turmeric, sarsaparilla root, althea root, rosehips, juniper berries, dried Lactobacillus acidophilus fermentation product, dried bifidobacterium Animalis fermentation product, Dried Lactobacillus Casei fermentation product.
What do you Notice Here?
The first fifteen ingredients are animal-sourced, and the first four out of five ingredients are meats. As for the rest of the list, it continues with more animal-derived ingredients and vitamin and mineral-rich fruits and veggies. Also—no grains.
So, how do these ingredients combine to make a balanced and nutritious meal for your cat? Let's find out with Orijen Cat & Kitten's nutritional information.
Nutritional Analysis
Orijen's nutritional analysis runs quite long because the company lists more than it is required by regulations.
To make it easy, let's focus on the main nutrients and then convert them to a dry matter basis (DMB).
Crude protein (min.)

40 %

Crude fat (min.)

20 %

Crude ash (max.)

9 %

Crude fiber (max.)

3 %

Moisture (max.)

10 %

Calcium (min.)

1.4 %

Phosphorus (min.)

1 %

Magnesium (min.)

0.1 %

Taurine (min.)

0.2 %

DHA (min.)

0.2 %

EPA (min.)

0.2 %

Omega-6 fatty acids* (min.)

3.5 %

Omega-3 fatty acids* (min.)

0.8 %

Total Microorganisms* (min.)

(Lactobacillus acidophilus, Bifidobacterium animalis, Lactobacillus Casei)

100MM CFU/lb
*Not recognized as an essential nutrient by the AAFCO Cat Food Nutrient Profiles.
Accounting for moisture and ash, this leaves the following profile: 49% protein, 25% fat, and an estimated 22% of carbs.
From our post on how to choose the right cat food, we know that if given a choice, cats would pick a diet that consists of 50% proteins, 40% fats, and 10% carbs.
On a different note, Orijen's formula does come with more carbs at the expense of fats. It's debatable whether this is a problem.
Both carbs and fats have received a bad rap throughout the past decades especially when it comes to human diets. However, there's still no consensus among scientists on what makes a healthy diet for people—one high in carbs and low in fats or vice-versa.
Last year a team of researchers from a variety of fields from several respected institutions pulled forces together to try to shine some light on the topic. Their conclusion, published in Science magazine, was that research on the subject of carbs vs. fats is too limited to come up with definitive conclusions but generally agreed that the source of macros is more important than their ratio.
When it comes to pets, research is even more limited—some vets say that because of their evolution as domesticated pets cats are fine with eating carbs. Others say that carbs are unnatural and mostly unnecessary to a cat's diet and should be avoided.
In any case, carbs are the organism's first source of energy. Thus a higher-carb count at the expense of fewer fats (within limits, of course) might not be harmful to your companion provided it gets enough exercise to burn them off.
What's more, in Orijen's formulas, the carbs come from fruits and vegetables and not from fillers such as corn and wheat. Anyway, what's more, important for a cat to thrive is that it gets adequate amounts of protein—Orijen's Cat and Kitten does provide it.
Feeding Amounts
Orijen suggests the following feeding ratios based on an 8-ounce measuring cup.
Cat Weight

Lean Cat

Overweight

Senior Cat

LBS

KG

Cups/Day

gr/Day

Cups/Day

gr/Day

Cups/Day

gr/Day

4 ½

2

½

38

–

–

¼

29

6 ?

3

½

57

–

–

?

38

8 ¾

4

½

57

–

–

?

43

11

5

?

76

½

57

½

57

13

6

¾

86

½

57

?

71

18

8

?

100

?

76

¾

86

22

10

1

114

¾

86

1

114
These are only general guidelines based on what Orijen considers to be an average cat.
How much you need to feed your pal depends on several factors— among them are age, weight, daily activity level and any special dietary needs if an illness is present. It's best to talk to a vet to determine the optimal feeding amount and schedule for your cat.
Recalls
Orijen's cat food hasn't been recalled in Canada or the U.S.
All Orijen cat food formulas were voluntarily recalled in November 2008 in Australia due to issues related to the country's irradiation laws.
Pros of Orijen Cat Food
No Fillers
Grain-free
Variety of meats
AAFCO-approved nutrient profile
U.S.-sourced, human-grade ingredients
Contains mostly meat or meat-derived ingredients
Cons
Expensive
No wet options
Might be harder to find in stores
Giving up on Chewy
In 2017, Champion Foods stopped distributing its products through chewy.com after the latter was acquired by PetSmart. The Canadian company stated on Facebook:
"Pet Lovers in the United States:
Unfortunately, it's true – our foods are no longer available through Chewy.
On May 31, PetSmart acquired Chewy.
For more than 25 years, we've been committed to the pet specialty channel. We choose to work exclusively with pet specialists who have intimate knowledge of our foods and are committed to providing expert advice to Pet Lovers.
Chewy has been a longtime retail partner and we've enjoyed our association with them. However, due to their recent acquisition, Chewy no longer meets our pet specialty requirement to be an Approved ACANA and ORIJEN Retailer."
Rumors About Nestle Aquisition
In 2018, a number of news outlets, including the Wall Street Journal, reported that Nestle is about to acquire for $2 bln. Orijen's owner Champion Foods. The Canadian company denied the information, again on Facebook:
"Rumours about Champion being sold have been circulating over the past few years and will continue for as long we deliver on our promise to make the world's best pet food under our ACANA and ORIJEN brands.
Champion Petfoods continues to be privately held with investment from our Canadian partner, Bedford Capital, and our vision remains—build trust with Pet Lovers everywhere. We are focused every day on delivering on our commitment to provide our customers with the world's best pet food and the highest quality service."
Class Action Lawsuit
Last year consumers filed a class action lawsuit against Champion Petfoods.
The plaintiffs complained against the company for "intentional practice of misrepresenting and failing to fully disclose the presence of heavy metals and toxins [arsenic, mercury, lead, cadmium, and BPA] in their pet food sold throughout the United States" among several other allegations.
This February a federal judge in Wisconsin dismissed the lawsuit. The judge reasoned that the presence of heavy metals in the food manufactured by Champion Petfoods is way lower than the maximum presence prescribed by the National Research Council and that their presence is naturally occurring.
Bottom Line
So, is Orijen cat food worth it? If you can afford the price, yes, it is.
Orijen's cat formulas are made from quality ingredients, don't include grains and fillers, and provide a balanced and nutritional dietary profile.
Orijen's cousin—Acana, is also a high-quality product coming at a slightly lower price. There are three notable differences between the two—Acana has 50%-75% meat, 1/2 of it is fresh, and is made of up to 5 meats, whereas for Orijen the numbers are as follows: 85%-90%, 2/3, up to 10.
Recommended Reads