Cats have very sensitive digestive systems that require that they are fed a special diet of carefully chosen the best cat foods. Many cat foods out on the market today claim to offer high-quality food ingredients that are naturally sourced and additive-free however numerous studies have been conducted over the years which proves that not all cat foods contain the chemical-free products that they claim they do.
Whether you have a large cat or a small cat, paying attention to how their body reacts to various types of food is critical in maintaining optimal health for your pet.
Cats of all sizes come with different medical conditions and diagnosis which strictly limit and monitor what food products they intake, one of the most common problems that cats suffer from is digestive problems.
When cats ingest food that is not compatible with their body, they can potentially develop a number of digestive issues relating to their intestinal tract.
These issues can range from acute internal bleeding to bowel movement problems if your cat experiences issues like this it can be very challenging trying to find a solution that will instantly relieve them of their pain and discomfort.
The wrong cat food can also trigger problems such as immune vulnerabilities, bacterial infection, heart problems, cognitive impairment, and more.
The various chemicals used during the production process of many cat foods available on the market have the potential to create a very dangerous situation when ingested by cats with food sensitivities intestines.
The best way to ensure that you're feeding your cat quality food that will not only not harm them but actually provides a substantial health benefit is by closely paying attention to all of the labels on cat food packages.
The label on every cat food product will give you a very detailed glimpse at exactly what went into making the final product that you're purchasing. These labels contain very important warnings and tips that can help you avoid feeding your cat a food product that their body will reject or adversely react to.
Many companies state clearly on their packaging what triggers chemicals or substances may cause a reaction in some cats and which ones are most beneficial to your feline.
By reading the labels and taking some time to do your own independent research, you can avoid potentially feeding your cat a food product that will cause a severe negative reaction.
One of the most trusted brand name cat products on the market that emphasizes producing healthy and all-natural cat food solutions is Acana food.
Acana food offers a wide range of cat products that are made using fresh and all-natural ingredients from their fresh regional ingredients suppliers. Acana makes all of their cat food products in the united states, and they use cutting-edge manufacturing facilities to produce the quality cat food that many feline owners trust and love.
In this acana cat food review, we're going to give you an in-depth view of the cat food producer Acana so that you can see everything involved with the manufacturing of their high-quality cat food options.
Acana offers a range of quality sourced cat foods that are designed to meet the nutritional and health needs of cats of all sizes and ages. Acana produces four main product variants all of which we will go over further in this guide, continue reading below in order to find out everything you need to know about Acana cat food products so that you can decide whether or not it's the right cat food for your feline friend.
A Look at Acana Cat Food
Acana is one of the most organic ingredients focused pet food producers out; they dedicated an immense amount of time into thoroughly producing cat food that is crafted to provide maximum benefit while reducing the harsh and abrasive chemicals used in processed cat products.
Acana has a vast network of farmers and other ingredient vendors who are all located in the region of their manufacturing plants.
Acana provides very diverse cat food options which support the healthy maintenance and function of your cat's digestive system amongst other vital bodily functions.
Acana cat food is biologically appropriate for cats of various ages and size which makes their cat food products available to all pet owners who are serious about caring for their feline companion.
Acana cat food products use real ranch-raised meat that is free of harmful chemicals and infection. All production of Acana cat food products takes place in privately owned manufacturing facilities and plants strictly located in the United States, so you never have to worry about feeding your cat an outsourced food product.
Keep reading further to get a deeper glimpse into the values and story that power the various Acana cat food products today.
About the Company: Acana Cat Food
Acana was started in 1994 by Reinhard Muhlenfeld who is the owner of Orijen pet foods which was started in 1985. Acana is essentially a subsidiary of the Orijen pet foods company.
However, they own and operate all of their facilities in-house. Although Acana cat food provides locally U.S. native-grown and farmed ingredients, their pet food products are available in over 70 countries worldwide which make them a powerhouse in the pet food industry.
Acana provides pet food products that are crafted based on the natural evolution of cats to a meat-based diet which is how their appetites would naturally progress in nature.
The goal behind this process is to allow cats to grow and extract nutrients in a way that is biologically natural and most beneficial to their overall development.
Acana cat food is separated from other manufacturers due to how their values encompass every aspect of what they do from start to finish.
Acana is able to deliver such high-quality pet food products due to its proprietary manufacturing kitchens that lead the pet food industry in efficiency and quality control standards.
Acana cat food is produced with sustainable ingredients that come from local suppliers who deliver the ingredients to Acana while they are either fresh for plants or raw for meat. This entire process ensures that your cat receives their optimal amount of protein nutrition requirements every time they digest a meal.
A Look at Company Ethics: Acana Cat Food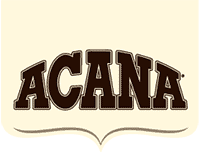 Acana has been able to maintain a solid reputation of providing trusted whole purity cat food products that pet owners vouge for. This success hasn't come entirely without any blockages along the road, however, as recent as 2018 Acana pet foods and their parent companies Champion Pet Foods and Orijen have faced multiple class action lawsuits from angry pet owners who claim that their products may contain potentially harmful ingredients and chemicals.
Many of these lawsuits claim that Acana pet food products contain harmful levels of BPA and arsenic just to name a few. Let's dive deeper into this lawsuit and other controversies surrounding the company to get to the bottom of the truth about whether or not you should trust feeding your cat Acana pet food products.
Recalls
Despite the company coming under fire as of recently, Acana has never directly faced any threat of or actual recall which is very impressive when compared to other pet food manufacturers.
Lawsuits
Acana cat food has been under fire ever since the filing of a class action lawsuit in 2018 claiming that the company was engaging in reckless and negligent practices on top of false advertisement.
The lawsuit alleges that Acana pet foods failed to disclose important information about the potential presence of toxins and heavy metal substances inside of their various pet food products.
The lawsuit is being filed primarily by residents of California, Florida, and Minnesota who claim that the presence of heavy metals in Acana pet foods which was not disclosed is in direct violation of local "feed laws" which strictly prohibit pet food manufacturers from making products available that have the potential for metal and toxin contamination.
The lawsuit also claims that Acana pet foods contain dangerous levels of mercury, lead, arsenic, and cadmium which are all metals that have been proven to cause serious adverse health effects to not only pets but also humans.
Another factor in the lawsuit is that there has been BPA found in Acana pet food products as well which poses a completely different set of challenges and health risks.
Acana has responded to these claims by stating that the lawsuit has been filed under baseless accusations and they are still fighting this battle in court.
While we wait to see what the outcome of the lawsuit will be, the only good advice would be to conduct your own experiments and tests on any Acana pet food products you buy to see if there are any potential health risks present.
Until the lawsuit is finally concluded, make sure to take extra precaution when feeding your pet however Acana has a very pristine reputation besides this one incident, so it's not like this is something that happens regularly with the company.
Controversies
Acana pet foods is a respectably clean company that offer some of the best cat foods in the industry enjoyed by many pet lovers in terms of scandals, lawsuits, and controversies. Besides a recently filed 2018 lawsuit, Acana has maintained a reputation of providing high-quality pet foods that owners can trust.
Acana Pet Foods Manufacturing & Sourcing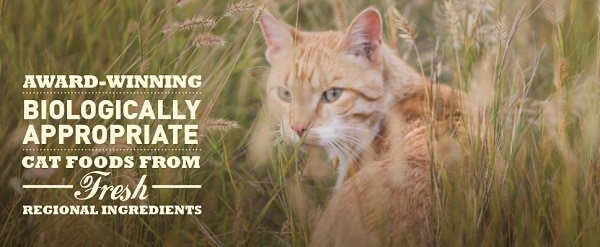 Acana puts an extraordinary amount of time and effort to ensure that all of their pet food products meet the highest quality standards.
They're all-natural biologically appropriate pet food options are sourced from regional farms and suppliers who deliver fresh ingredients to the various Acana cat food production facilities across the Kentucky region.
Acana pet foods use DogStar kitchens to produce both cat and dog food products that use ingredients harvested from the local Kentucky food culture.
Acana manufacturing facilities are located in the middle of a rich agricultural community which provides a solid base for the company to source high-quality local ingredients that are fresh and safe for the consumption of cats and dogs.
Acana pet foods go to great lengths to ensure that their pet food products meet the AAFCO standard for refrigeration temperature as the sole way to preserve the quality of the ingredients.
That means that there are no weird chemical preservatives added to Acana pet foods which result in safe and biologically appropriate feeding options for your pet.
Acana Regional Cat Food Selections
Acana Regionals is the product line of cat foods offered by Acana, Acana produces four distinctive types of Acana Regional cat feeds all of which are designed to meet the nutritional requirements for cats of all ages and size.
Acana Regionals cat food selections are made in Acana's cutting-edge pet food production facilities known as DogStar kitchens. We're going to go in-depth about the various Acana cat food options that are available and what benefits each of them brings to the table in terms of nutrition and health.
Acana cat food products consist of the following options:
Acana Wild Atlantic
Acana Grasslands
Acana Appalachian
Acana Meadowland
Acana's Wild Atlantic cat feed is specially formulated to support the natural development of your cat by providing your feline with a combination of high-quality naturally sourced fish. This Acana cat food is made using a rich combination of fresh saltwater fish up to 75% to be exact.
Acana Wild Atlantic cat feed contains 9lbs of pure Atlantic wild-caught fish ingredients that provide essential oils to your cat's diet.
Grasslands Acana cat food is the perfect combination of fresh wild ingredients that naturally help to support and sustain the growth of your cat. Acana Grasslands cat food contains rich amounts of natural game, fish, and meat protein that will help your cat perform at optimal levels.
Acana Grasslands cat food contains up to 9lbs of high-quality animal ingredients including lamb meat and goat meat. Acana Grasslands cat food is perfect for senior cats, overweight cats, and lean cats which makes it easy for you to customize feeding amounts to your cat's specific needs.
Acana Regional Appalachian cat feed provides a comprehensive diet base for any cat. Acana Fresh Regional Ingredients cat feed contains a serious amount of raw naturally sourced protein sources that consist of liver, kidney, cartilage, tripe, and more. These meat-based protein sources give your cat the essential nutrients that it needs in order to regulate healthy bodily function properly.
This food does not contain any forms of additives or artificial supplements which makes for a 100% clean feeding option anytime your cat's stomach begins to growl. Acana Regional Appalachian Ranch cat feed was formulated to replicate the natural sources of protein that wild cats find in nature.
By providing your cat with daily nutritional standards that closely resemble that of a cat's natural diet in the wild, you provide a boost to their development with biologically appropriate food that their body accepts.
Additionally, it contains meat from whole prey animals which are protein sources that cats can digest without having to tear them apart.
All components of whole prey protein sources can be digested by your cat's digestive system which helps them maintain regular function. Acana Regional Appalachian supplies cats with critical sources of vitamins and minerals such as calcium to support all-around health.
Acana fresh regional ingredients cat feed delivers protein to your cat's body in a naturally sustainable way which allows them to grow while avoiding artificial enhancement supplements.
Acana Fresh Regional Ingredients:
Acana Regional Appalachian Ranch contains many great sources for essential vitamins and protein. The following section is going to list the top 20 ingredients contained in Acana Fresh Regional Ingredients cat food so that you can decide on whether or not it's right for your cat.
American Bison
Yorkshire Pork
Suffolk Lamb Meal
Blue Catfish
Beef Liver
Beef Kidney
Deboned Pork
Freshwater Catfish Meal
Yellow Peas
Pork Liver
Pork Cartilage
Lamb Meal
Beef Meal Tripe
Pork Kidney
Whole Butternut Squash
Whole Pumpkin
Dried Kelp
Mustard Greens
Lamb Trip
Turnip Greens
All of these ingredients contain high amounts of naturally enriched protein, minerals, and vitamins which help to support a healthy life for your cat. It supports your cat's biological meat-based diet with a wide array of raw meat protein sources included.
The Appalachian only contains whole prey sources of meat protein which provide your cat with critical minerals and amino acids that areas such as the heart and skin need to thrive. It's also rich in whole meat protein, carbohydrates, and more which are all sourced from local farms in Kentucky.
When you want to feed your cat a highly sustainable diet that will help them grow and maintain optimal health, Acana Foods Regional Appalachian is a great option.
Acana Foods Regional Appalachian: Nutrition Breakdown
Crude fat- 20% Minimum
Crude Protein- 35% Minimum
Crude fiber- 4% Maximum
Moisture- 10% Maximum
Calcium- 1.8% Minimum
Phosphorus- 1.3% Minimum
Omega-6 fatty acids 1.8% Minimum
Vitamin A- 23 KIU/kg
Vitamin E- 200 IU/kg
Vitamin D3- 2,510 IU/kg
Vitamin B1 (Thiamine)- 31 mg/kg
Vitamin B2 (Riboflavin)- 36 mg/kg
Vitamin B3 (Niacin)- 210 mg/kg
Vitamin B5 (Pan. Acid)- 45 mg/kg
Sodium- 0.35%
Chloride- 0.34%
Potassium- 0.70%
Magnesium- 0.10%
Iron- 260 mg/kg
Zinc- 280 mg/kg
Copper- 40 mg/kg
Iodine- 2.5 mg/kg
Chicory Root- 200 mg/kg
Turmeric- 200 mg/kg
Sarsaparilla Root- 150 mg/kg
Althea Root- 150 mg/kg
Rosehips- 150 mg/kg
Juniper Berries- 150 mg/kg
Pros
Comes packed with natural sources of high-quality protein that closely resemble the diet of a cat in the wild.
Rich in essential minerals and vitamins which help support immune health among other things.
Contains 75% of fish and red meat ingredients to provide maximum nutrients to your feline.
Contains 25% Fruit Botanical and Vegetable fiber for a healthy digestive system and overall performance.
Locally sourced ingredients that come from natural U.S. based farms.
Free from all forms of preservatives and other additive chemicals which can cause adverse health effects in humans.
WholePrey meat formula contains protein sources that are completely digestible by cats and also provide critical amino acid content.
Cons
Does not contain a lot of poultry contents which is also another great source of protein for cats.
Comes in 12lbs bags as standard size which can make it quite expensive for small cat owners.
Acana Fresh Regional Ingredients cat food provides your pet with a power-filled whole meat diet source that helps them maintain proper health and optimal activity levels. Acana Regional Appalachian cat food is formulated to mimic the natural protein consumption levels found in cats who live in nature.
This powerful formula allows your cat to grow as naturally as possible without the addition of unnecessary additives and other chemical products. Acana Regional Appalachian cat food is the perfect option for any pet owner who wants to ensure their cat gets the nutrition they need.
ACANA Regionals Dry Cat Food Appalachian Ranch | Amazon
ACANA Regionals Appalachian Ranch cat food is nutrient-dense and high in protein, nourishing cats completely with whole ranch-raised beef, Yorkshire pork, grass-fed lamb, ranch-raised bison, and freshwater catfish.
Buy at Amazon.com
We earn a commission if you click this link and make a purchase at no additional cost to you.
Acana Meadowland cat food is an all-natural chicken meal & fish-based cat feed that is designed to provide maximum support to your cat's growth and overall development. Acana Meadowland cat food contains free-run chicken, nest-laid eggs, and rainbow trout just to name a few of the high-quality ingredients.
Acana Meadowland contains up to 75% of raw naturally sourced poultry protein which is higher than many leading brands on the market. Acana Meadowland is the perfect cat food option for those owners who are serious about feeding their cat with protein that is nourishing and healthy.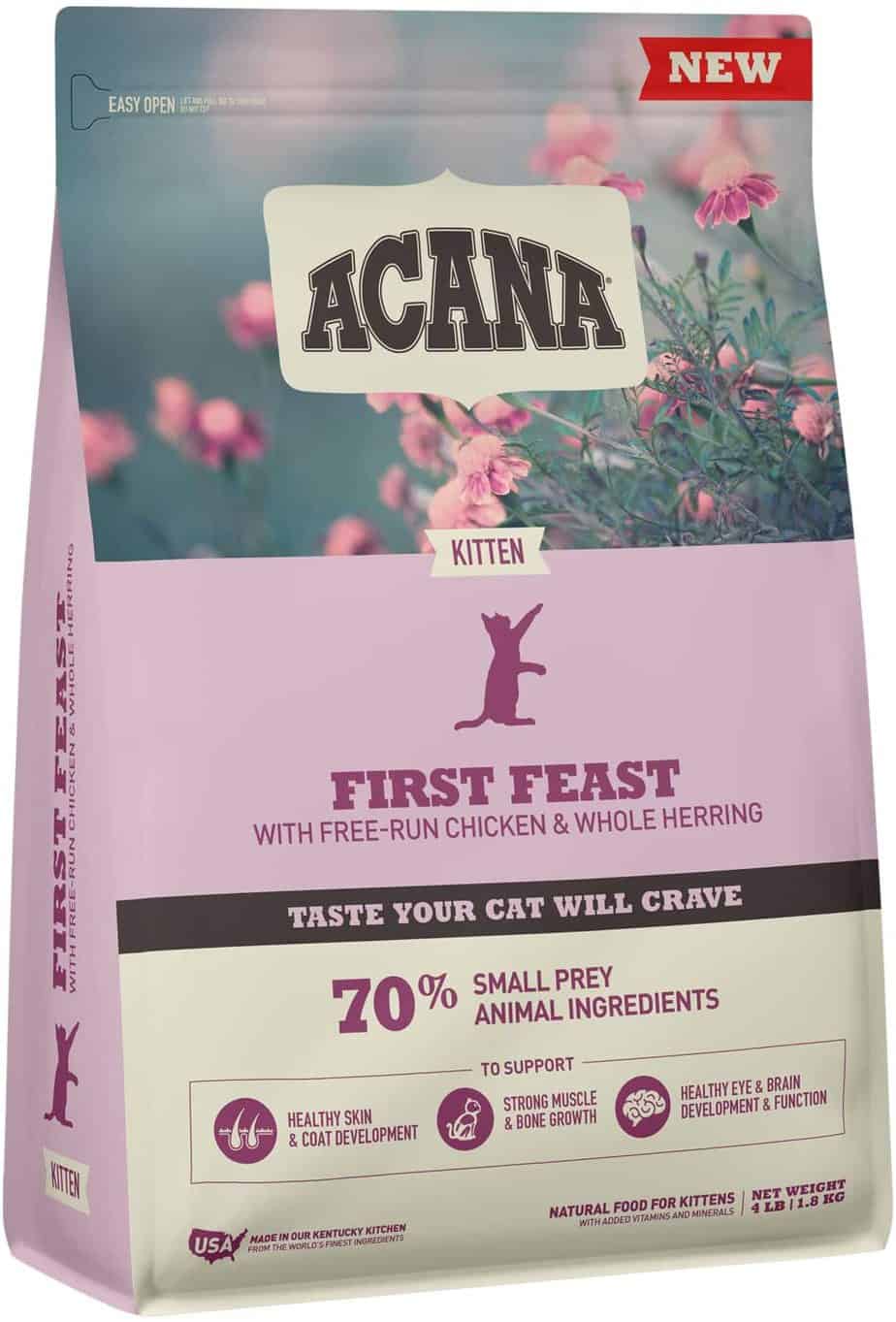 The Acana First Feast dry cat food is above-average cat food, due to its ingredient list and the nutritional value it brings to your cat. It contains a bunch of outstanding ingredients, such as:
Dehydrated herring
Dehydrated turkey
Dehydrated chicken
Fresh quail
Fresh chicken gibblet
Fresh chicken
The only downside to this list of ingredients is that there's a potential your cat could have allergies to some of the ingredients. If your cat isn't able to eat fish or seafood, there's a potential they could have an allergic reaction to some of the ingredients in the Acana First Feast dry cat food. I also love that there aren't any filler ingredients added into this formula, which would significantly bring down the quality of the food.
ACANA First Feast High-Protein Kitten Dry Cat Food | Chewy
First Feast includes 70%* quality animal ingredients like free-run chicken and whole herring, delivered fresh or raw and completely free from any flavors, preservatives, or colors.
Check Price
We earn a commission if you click this link and make a purchase at no additional cost to you.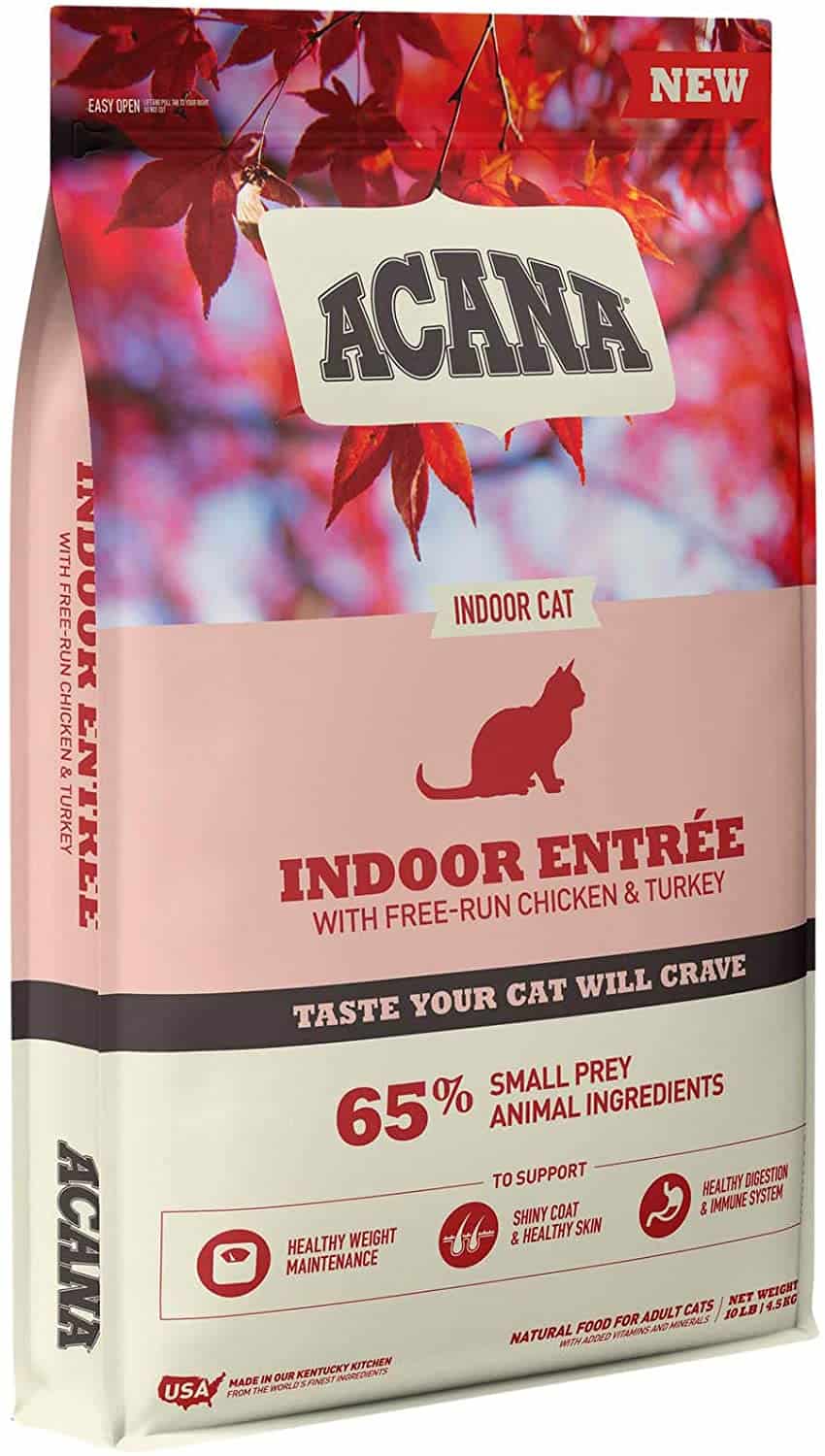 When you take a look at the first five ingredients listed for the Acana Indoor Entree cat food, you'll find deboned chicken, chicken meal, deboned turkey, whole herring, and deboned rabbit. In addition, you'll also see there's chicken heart and chicken liver added into the mix for this dry cat food too. As you're taking a peek over the ingredient list, you won't be surprised by any chemicals or mysterious ingredients thrown into the mixture.
This formula is jam-packed with protein, but it does have a considerable amount of carbs too. However, the higher carb count is balanced out with having less fat than the average cat food contains. If your cat was recommended to follow a specific diet, the Acana Indoor Entree is here to deliver tasty and high-quality food to your feline.
ACANA Indoor Entrée Adult Dry Cat Food | Chewy
With 65% nutrient-dense, quality animal ingredients such as turkey, whole herring, and rabbit sourced from a curated group of farmers, this award-winning recipe is sure to please even the pickiest of eaters.
Check Price
Buy at Amazon.com
We earn a commission if you click this link and make a purchase at no additional cost to you.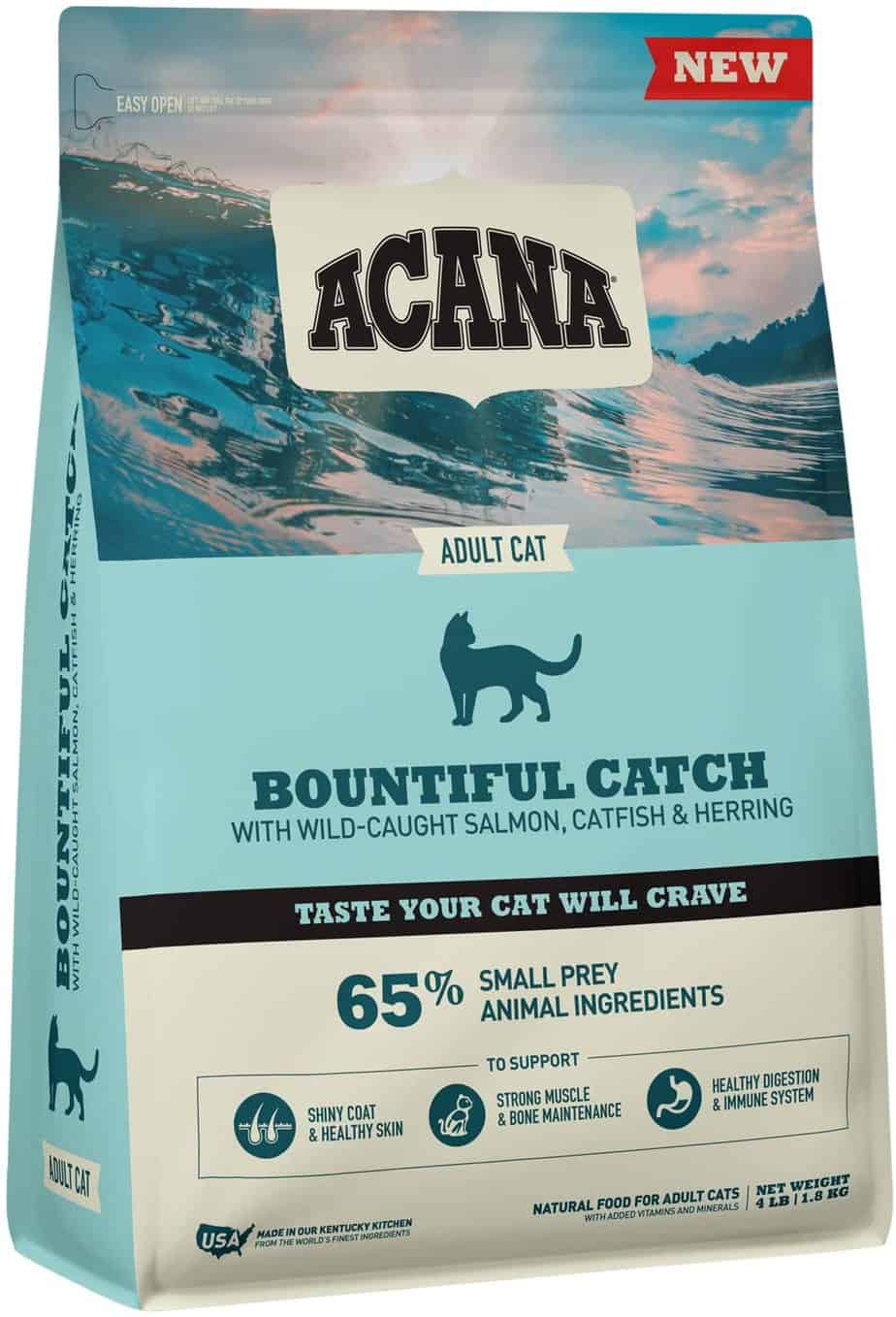 The Acana Bountiful Catch is another wonderful option to consider, but maybe something you want to look at if your cat prefers fish. You'll find salmon, salmon meal, catfish, catfish meal, and whole herring in the mixture. The quality of fish included in this dry cat food has this option filled to the brim with protein. Plus, there isn't any filler or by-products to be found inside of this formula.
Questions & Answers
What are some ways that I can help my cat process their meal more efficiently to extract maximum protein?
A great way to ensure that your cat is receiving their daily recommended value of protein is by implementing a rotational diet into their feeding schedule. A rotational diet consists of changing your cat's feed on a daily or every other day basis so that their body can adapt to absorbing nutrient contents from a wide source of meats, fish, and more.
What does the word "WholePrey" mean?
WholePrey refers to the naturally matched protein sources created in the real world that cats are designed to consume from birth. Instead of creating artificial sources of protein, Acana Regionals cat food uses ingredients that your cat would eat in nature if released from domestication.
Why do Acana Regionals cat food products contain botanical sources?
When in nature cats naturally chew and bite on plants in their surrounding environment, Acana Regionals cat food is designed to resemble this process which is why natural botanical sources are added to the feed which helps maintain optimal conditioning and health standards.
Are the sources of amino acids and minerals in Acana Regionals cat food real or artificial?
All of the vitamins and minerals contained in Acana Regionals cat food products come from the naturally sourced meat that makes up a large portion of the feed contents. Acana Regionals cat food products do not contain any form of artificial amino acids, minerals, or vitamins.
Where does Acana Regionals get their ingredients for cat food?
Acana Regionals cat food ingredients are sourced from local suppliers and farms located in Kentucky. Acana Regionals cat food has established a strong relationship with local fishermen, ranchers and farmers in the are which allow them to provide tabletop quality ingredients in all of their cat food products.
How does Acana Regionals cat food preserve their fresh meats and protein sources?
Unlike traditional methods, Acana Regionals cat food uses refrigeration as their only preservation method to ensure that your cat's food is never contaminated with any potentially harmful chemicals or additives. Acana Regionals cat food also uses flash freeze methods in order to preserve the flavor and quality of their various naturally sourced protein options like meat and fish.
Other High-Rated Acana Regional Cat Food Products
Acana Regionals cat food comes in four distinctive meal options and the most popular one, Acana Regionals Appalachian , was mentioned earlier in this guide.
Below, you'll find out more information about the three other cat food options offered by Acana Regional so that you can decide on which feed is the best cat food for your feline friend.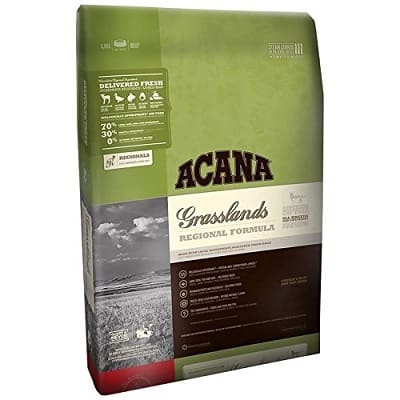 Acana Regional Grasslands cat food contains a rich mixture of fresh local lamb meat, whole eggs, freshwater fish, and free-run duck to provide your cat with a tasty meal that is packed with tons of beneficial nutrients. It is packed with 75% of game and fish protein which help to support vital functions such as the heart and lungs.
The Regional Grasslands cat food does not contain any synthetic chemicals or additives which makes for an all-natural feeding option that you can trust.
Acana Regional Grasslands cat food contains the following ingredients: lamb meal, whole eggs, deboned lamb, deboned duck, catfish meal, whole green peas, whole pinto beans, herring oil, goat meat, lamb tripe, lamb liver, lamb kidney, duck giblets, duck cartilage, whole pumpkin, dried kelp, and more. It is the perfect option for pet owners who are seeking a natural protein-rich feeding formula for their feline.
Acana Grasslands for Cats | Amazon
The ultimate food mimics the one that Mother Nature intended your cat to eat. Acana Cat Regionals Grasslands is loaded with 70% of lamb, duck, fish, and eggs. Acana matches your cat's evolutionary adaptation to a meat and protein rich diet. Acana's rich variety of fresh meats mirrors the diversity and freshness Nature intended.
Buy at Amazon.com
Buy at Chewy.com
We earn a commission if you click this link and make a purchase at no additional cost to you.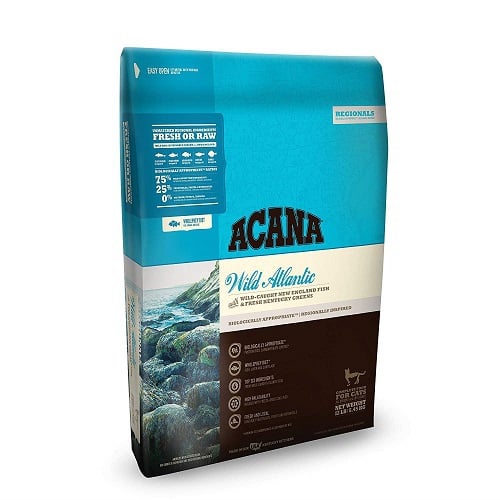 Acana Regional Wild Atlantic cat feed is produced using a high protein filled fish-based protein from high-quality sources. It provides your feline with a fresh taste of nutrient-rich fiber, vitamins, minerals, and more so that they can remain healthy and active regardless of their age or size.
The Regional Wild Atlantic contains 75% of wild-caught fish protein sources which closely resemble the natural feline diet of cats in nature. It is free from all forms of plant concentrate proteins so that your cat only receives fresh ingredients that support total health.
In addition, the Regional Wild Atlantic cat food has protein derived from sources such as Atlantic herring, Acadian redfish, silver hake, yellowtail flounder, Mackerel, and more. It contains the following ingredients: whole redfish, whole herring, whole mackerel, whole yellow peas, collard greens, pollock meal, catfish oil, mackerel meal, dried kelp, sunflower seeds, turmeric, red lentils, whole green lentils, juniper berries, whole butternut squash, whole pumpkin, and more.
Acana Regional Wild Atlantic cat food is the perfect combination of naturally-caught fish sources that provide a protein-rich diet to maximize the health benefits your cat receives from feeding. It also contains omega-6 fatty acids and vitamins such as Vitamin E, Vitamin A, Vitamin, B5, Vitamin B12, Vitamin K, Vitamin D3, Vitamin B6, Vitamin B2, and more.
ACANA Regionals Dry Cat Food | Amazon
Packed with 75% quality fish ingredients from five unique sources, this regionally inspired recipe delivers more than twice as much protein as some specialty pet foods.
Buy at Amazon.com
We earn a commission if you click this link and make a purchase at no additional cost to you.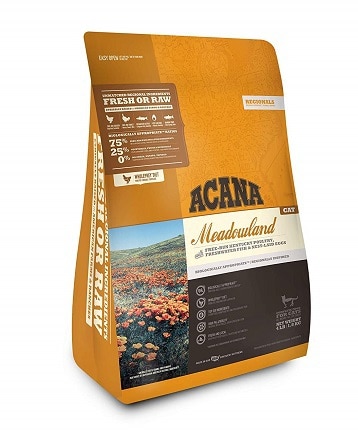 Acana Regional Meadowland cat food is a high-quality cat feed product that contains freshwater fish, whole nest-laid eggs, and free-run poultry as natural sources of fiber and essential nutrients. It is specially formulated to mirror the protein and nutrients ratio found in cat food sources that are available in nature.
Acana Regional Meadowland cat food feeds your cat the critical amount of protein they need in order to develop naturally and free from any potentially harmful preservatives or added chemicals. It contains rainbow trout, blue catfish, nest-laid eggs, and free-run turkey and chicken meat which form the base of a powerful feline feeding option.
Many of the essential ingredients included in Acana Regional Meadowland support all-around total health including skin, heart, liver, eyes, and more.
Acana Regional Meadowland cat food contains the following ingredients: deboned turkey, deboned chicken, chicken meal, catfish meal, pollock meal, whole pinto beans, whole butternut squash, whole chickpeas, whole red lentils, chicken fat, turkey giblets, chicken liver, turkey cartilage, whole blue catfish, whole green peas, chicken cartilage, sunflower seeds, pumpkin seeds, freeze-dried chicken liver, freeze-dried turkey liver, dried kelp, and more.
The Meadowland cat food is a wonderful comprehensive feline feeding option that will provide your cat with the essential vitamins and nutrients that they need. It works to emulate the natural occurring diet of cats in the wild so that your feline has maximum support for all of their daily functions and activities.
Acana Regional Meadowland cat food also contains healthy amounts of essential vitamins such as Vitamin D3, Vitamin E, Vitamin A, Vitamin B1, Vitamin B12, Vitamin B6, Vitamin B3, Folic Acid, Choline, and more.
Furthermore, it also contains vital minerals including potassium, iron, zinc, copper, chloride, iodine, selenium, magnesium, and more. If you're serious about providing your cat with the right nutritional standards that they need to thrive, Acana Regional Meadowland cat food is a great selection.
ACANA Regionals Meadowland Dry Cat Food | Amazon
Brimming with 75% quality animal ingredients, these recipes are protein-rich and nutrient-dense so your cat is getting everything they need to look and feel their best.
Buy at Amazon.com
We earn a commission if you click this link and make a purchase at no additional cost to you.
Final Word
Acana Regional cat foods are one of the most dedicated pet food manufacturers on the market providing an array of high-quality feed options that are designed to be sustainably beneficial to your cat and biologically appropriate to their natural feline diet.
Acana Regional cat foods sources all of their premium ingredients from local farms and suppliers in the Kentucky area which allows them to produce pet food products that are a step above the rest in many ways. The clever way that Acana Regional cat foods came up with their feed combinations is brilliant.
Every cat feed option offered by Acana Regional cat food is formulated to meet the dietary needs of cats of all ages and sizes. The protein-packed cat feed formulas and high-quality naturally sourced ingredients are only the tip of the iceberg when talking about Acana Regional cat foods.
Their company puts an insane amount of time into ensuring that your cat will not only benefit from using their feed options but also feel great while doing so.
Acana Regional cat food produces some of the most organic, raw, and fresh products available. To support your cat's natural development process and growth cycle you need to feed them with meats and other protein-rich sources like fresh fish to ensure they will thrive and live a long healthy life.
Acana Regional cat products make it easy for cat owners everywhere to feed their feline friends the right diet choice that assists their bodies in maintaining pristine condition.
Further Reads