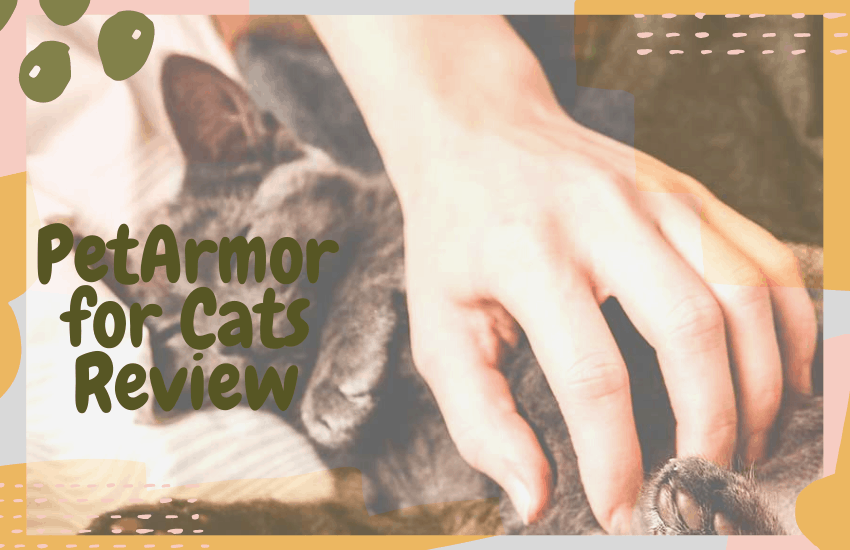 PetArmor has a rich line of products covering flea, skin & coat, and home care. Here's our take on their solutions.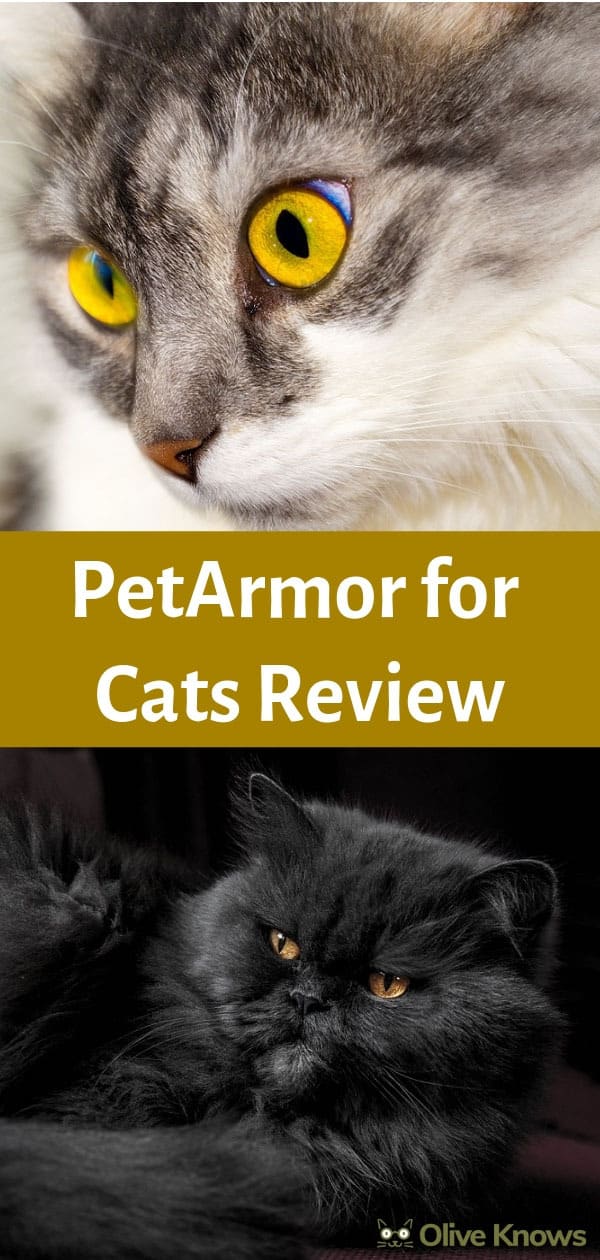 Flea & Tick Treatments
Plus Flea and Tick Treatment for Cats
This topical flea treatment by PetArmor kills existing ticks and fleas in all life stages and works for up to 30 days on eliminating reinfestation.
The active ingredients in this solution are fipronil – an insecticide, and s-methoprene – a substance that messes with the growth of insects, thus preventing flea larvae from metamorphosing into adults.
Fipronil is a controversial substance, marked by US Environmental Protection Agency (EPA) as a "possible human carcinogen." While at least one study suggests that fipronil is generally safe for people and cats when applied topically, it can cause side effects. Follow the instructions and call your vet if you notice that your cat is developing side effects.
FastCaps® (Nitenpyram) for Dogs and Cats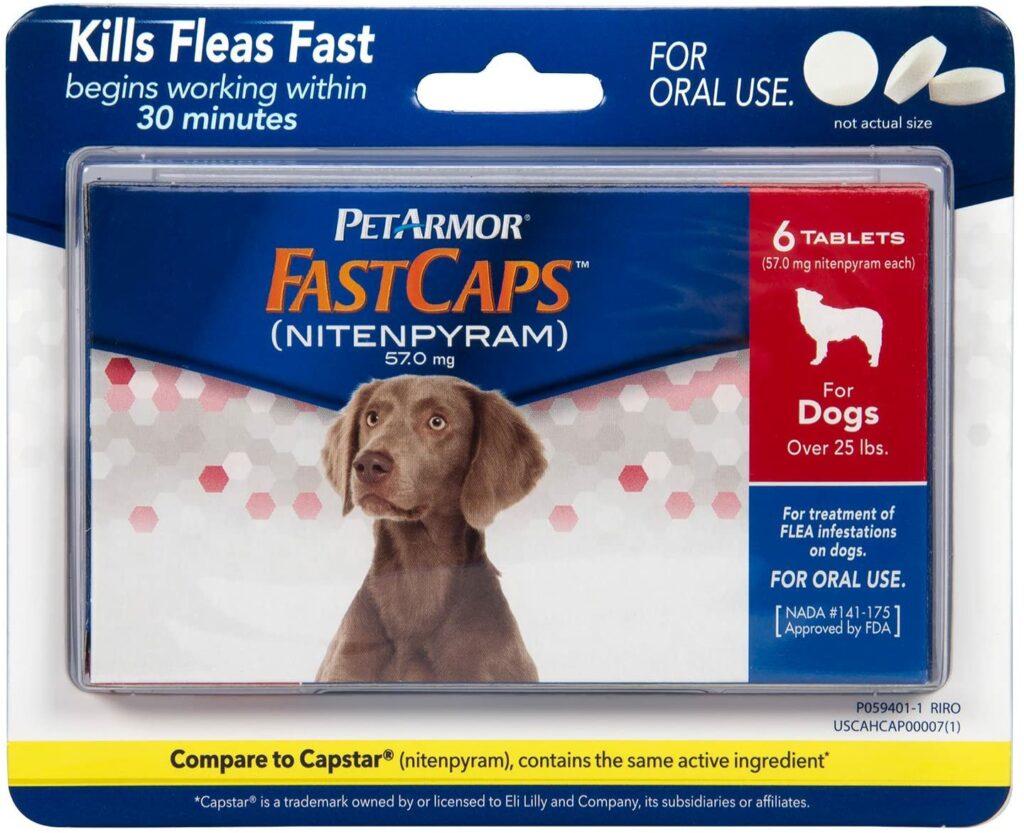 This treatment comes in the form of OTC tablets and works after the harm has been done – i. e. your cat has already gotten fleas.
The active ingredient in this medicine is nitenpyram – an insecticide indicated for a quick elimination of fleas. A study found that within 6 hours after taking the medicine 95.2% of the fleas on tested cats were dead. However, there are several things we'd like to note.
First, nitenpyram doesn't work on flea egg, only on adult fleas. Thus, if your cat has been suffering from fleas for enough time for them to lay eggs, this solution won't take care of the problem until all eggs have hatched and morphed into adults.
Our second caution is that for nitenpyram to work, fleas need to ingest it. This means that they need to bite your cat and suck blood (unpleasant experience for her), thereby also ingesting the nitenpyram.
Overall, we do not find this flea control product to be an ideal option for a flea treatment.
Advanced 2 Flea Treatment for Cats
This topical flea treatment is indicated only for use against fleas; it won't work on ticks.
The active ingredients are imidacloprid – an insecticide that kills fleas in all life stages, and pyriproxyfen which acts on the growth of insects, preventing them from growing and reproducing. The use of imidacloprid is generally regarded as safe, though this is disputed by the environmental advocacy group NRDC. The use of pyriproxyfen is also considered safe, though research is limited.
Flea and Tick Treatment for Cats
This is a topical treatment indicated for the treatment of fleas, ticks, and chewing lice. A single application is effective for up to one month.
The active ingredient is finopril, meaning that this solution will only work for adult parasites but not on their eggs or flea larvae.
We already mentioned finopril above, but here is an additional resource on this pesticide.
Naturals Flea and Tick Topical Treatment for Cats
If you are looking for a natural flea and tick solution, this is PetArmor's answer. This flea control product is indicated for flea prevention and treatment of adult fleas, ticks, and mosquitoes.
The main ingredients in the formula are oils from lemongrass, peppermint, cloves, and canola. The solution also includes citric acid and vanillin.
Follow the instructions that come with the product. Even though this solution contains natural ingredients, essential oils are potent substances so overapplication can lead to health issues.
Naturals Spray Flea and Tick for Cats
This solution is similar to the former one, but it comes in a spray form.
The main ingredients are oils from lemongrass, peppermint, cloves, cinnamon, and thyme. It also includes castor oil and vanillin. What makes this solution better than the topical flea drops is that with the flea spray you can be more liberal in the application. The manufacturer has indicated that when applying this solution, you can "Repeat as necessary."
Yet, we advise you not to overdo so you avoid reactions in your cat due to oversensitivity. If you are looking for something natural that kills and prevents adult fleas, ticks, and mosquitos you can give this solution a try.
LongLast™ Fipronil Flea and Tick Spray
A potent flea spray that kills fleas and ticks for up to 30 days after application. It begins killing nasties within five minutes of application.
The active ingredient if fipronil: Note that this spray is only effective for adult fleas and ticks.
A plus of this solution is that it is waterproof, meaning that you can bathe your cat after using it, but not before 24 hours have passed after application.
Fastact Plus Flea and Tick Spray for Dogs and Cats
This one acts on fleas in all life stages and on ticks as well. A single application is good for up to 30 days.
The active ingredients are pyriproxyfen – discussed above, pyrethrins – a natural insecticide, piperonyl butoxide – a potency booster, and MGK 264 – another potency booster.
There are conflicting reports about the safety of pyrethrin. Despite it being a natural ingredient, exposure to this substance can be harmful to both humans and cats. This substance can be especially dangerous to people or animals who suffer from respiratory issues. Pyrethrin is a popular ingredient in flea care solutions, but we advise that you stay away from it, just to be on the safe side.
Piperonyl butoxide is also a controversial substance, marked by EPA as a possible carcinogen. We must note that the carcinogenic effect of piperonyl butoxide is not confirmed with certainty. Nevertheless, this substance boosts the potency of pyrethrin which as discussed is not harmless in the first place.
There is also controversy around MGK 264. The substance is classified as a "possible carcinogen," and long-term exposure to it has been linked to other diseases as well.
Due to the several controversial ingredients, we do not recommend that you use this product.
Skin & Coat Care
Anti-Itch Spray for Dogs and Cats
Fleas, ticks, and allergies can cause your cat annoying itchiness. This is not only uncomfortable to your pal, but the constant scratching can lead to painful sores.
To alleviate the itchiness, Pet Armor offers a spray that helps with irritation and dermatitis. It contains benzalkonium chloride – an antibacterial agent, benzyl alcohol – inhibits bacteria growth, allantoin – a soothing agent, FD&C Blue #1 – a colorant, hamamelis virgiana water – helps with itching, propylene glycol – serves a variety of technical functions, and sucrose octaacetate – a bittering agent that discourages cats from licking their sores.
A note on some of the ingredients – benzalkonium chloride is toxic to humans and cats when ingested and can irritate the skin; there have been mixed conclusion as of the safety of FD&C Blue #1 especially concerning its ingestion; propylene glycol is a controversial substance, albeit widely used in the food, chemical, and pharmaceutical industries.
Due to the presence of several contentious ingredients, we do not recommend the use of this product.
Hydrocortisone Spray for Dogs and Cats
If your cat's skin irritation is especially bad, she'll need something strong to fight off the swelling and itchiness. High-potency sprays for skin conditions in cats usually contain hydrocortisone as one of the active ingredients.
Hydrocortisone is a hydrolyzed form of the steroid hormone cortisone which acts as an anti-inflammatory agent. Thus, solutions that contain hydrocortisone shouldn't be used for trivial injuries such as minor scratches. The application of hydrocortisone medicines also shouldn't happen without vet approval.
The other ingredients in this product are chloroxylenol – a disinfectant, denatured alcohol – also a disinfectant, FD&C Blue #1, Hamamelis extract, lactic acid – an exfoliant, menthol, and propylene glycol.
Due to the presence of chloroxylenol and denatured alcohol, which are highly toxic if ingested, we do not recommend the use of this product without consulting a vet.
Ear care
Ear Mite and Tick Treatment
Fleas and ticks can also affect cats' ears. In such case, you'd need a solution that kills not only these parasites but also their flea egg which can be quite resistant to some insecticides.
PetArmor's ear mite and tick OTC solution contain pyrethrins and piperonyl butoxide both of which we discussed above in the Fastact Spray section. Apart from the toxicity issues of pyrethrins, another caveat with this substance is that it only acts on adult mites, leaving the eggs to hatch.
This means that with such a product you'll need to apply it for weeks until all the eggs have hatched and turned into adult pesticides. Doing so will be a pain for both you and your cat. In the case of your pet, the pain will be literal because she'll need to live for weeks with the buggers biting and scratching her ears.
If your cat has ear mites or ticks, you should visit your vet who will suggest the proper course of action. Plus, vets can give you a prescription for a prescription ear mite solution which works fast and kills mites in all life stages.
Medicated Ear Rinse for Dogs and Cats
Other common problems with cat ears come from yeast and bacterial infection. Wax buildup is another issue as it leads to irritation, itchiness, and ear canal blockage. If you need to clean your cat's ears due to one of these problems you'll likely need an ear cleaning solution.
The one from PetArmor works on two fronts – it eliminates yeast and bacteria and also cleans gunk.
Here are the ingredients: ketoconazole – an antifungal agent, salicylic acid – helps with skin issues, propylene glycol – discussed in the anti-itch spray, glycerine – used for skin care, polysorbate-20 – an emulsifier, aloe vera leaf juice – to soothe itchiness and deal with microbes, fragrance, methylisothiazolinone – a preservative with antimicrobial properties, nonoxynol-9 – helps with penetration of the medicine and sodium hydroxide (caustic soda) – adjusts pH.
So, would we recommend the use of this spray? No. There are several ingredients that concern us, such as ketoconazole, methylisothiazolinone and sodium hydroxide (lye) for which there are mixed results about their safety. Also, there are other well-working products made from natural ingredients which you can find in our post on best ear cleaners.
Note that not all cleaners are effective for ear bacterial or yeast infection. If you need something more than a general cleaner consult with a vet.
PetArmor® Home
Home and Carpet Spray
If you are dealing with parasite or flea infestation in your cat, you'll also need to decontaminate your home. Fleas, ticks, and mites can settle in all sorts of places – carpets, furniture, bedding, to name a few, and procreate there.
The Pet Armor Home and Carpet Spray is indicated for the elimination of fleas in all life stages, ticks, lice, and dust mites. The spray allows for easy reach into various surfaces and is supposed to stay effective for flea eggs and larvae for up to seven months. Regarding ticks and adult fleas, the spray will keep eliminating them for 14-30 days after application.
What about the ingredients list? Naturally, this type of products contains potent and toxic substances. People and pets should stay away from sprayed rooms for at least two hours. This is especially important for kids and pets who are more susceptible to inhaling or ingesting the toxic substances.
Since this product is supposed to dry out, in theory, it shouldn't pose a health risk to people or pets if it was allowed enough time to dry. Yet, there is a possibility for your cat to lick the treated area and ingest some of the solutions.
Our advice is to contact your vet before choosing a decontaminating product.
Home Carpet Powder
This solution for carpet treatment comes in a powder form. The idea is that you sprinkle the powder on the carpet, leave it to do its job and then vacuum the powder.
The manufacturer claims that once the powder has been vacuumed, the carpet will be safe for kids and pets. Yet, PetArmor also claims that the powder will keep eliminating adult fleas and ticks for up to 30 days, and flea eggs for up to a year. Thus, some of the powder will obviously remain on the carpet.
We do not consider this to be safe for pets or small children who are prone to exploring the world with their tongues. On top of that, this product contains fragrance which is an allergen.
Home Household Spray
This spray acts on several fronts – it eliminates odors, deodorizes, kills fleas in all life stages and ticks, and protects the home from reinfestation for 14-30 days after use.
The active ingredients are pyriproxyfen, permethrin, and MGK-264. The first two are insecticides, while we mentioned the controversy surrounding MGK-264 in the Fastact Plus Flea and Tick Spray section. We would be wary of using this product.
Frequently Asked Questions
Are fleas common in cats?
Fleas are more common in kittens, but rare in adult cats. Cat fleas or pet fleas are very similar to human fleas and usually have the same lifestyle.
What smells do fleas hate?
Fleas can't stand smells like lavender, garlic, eucalyptus, etc. You can also use essential oils and add a few drops in your bath or even add a boost a sprayer bottle with essential drops and spray your carpets/ floor.
Can cats get fleas during cold weather?
Fleas die in a cold weather on temperatures below 36 Fahrenheit/ 2 Celsius. However, during the cold winter time, you may encounter flea infestation in your home as they look to run away from the cold weather outside.
Is PetArmor safe for nursing cats?
Yes. PetArmor is safe to use for any cat or kitten regarding if they are pregnant, nursing, breeding, etc.
How often can you apply PetArmor for cats?
For ultimate and most safe results PetArmor should be applied once a month and it should NOT be reapplied during that time.
How do you know if your cat has a tick?
You can usually spot ticks on your cat easily because they are big. Simply run your hands through your cats hair and check for lumps as a tick may feel exactly like a small bump on your cat's skin.
Recommended Reads