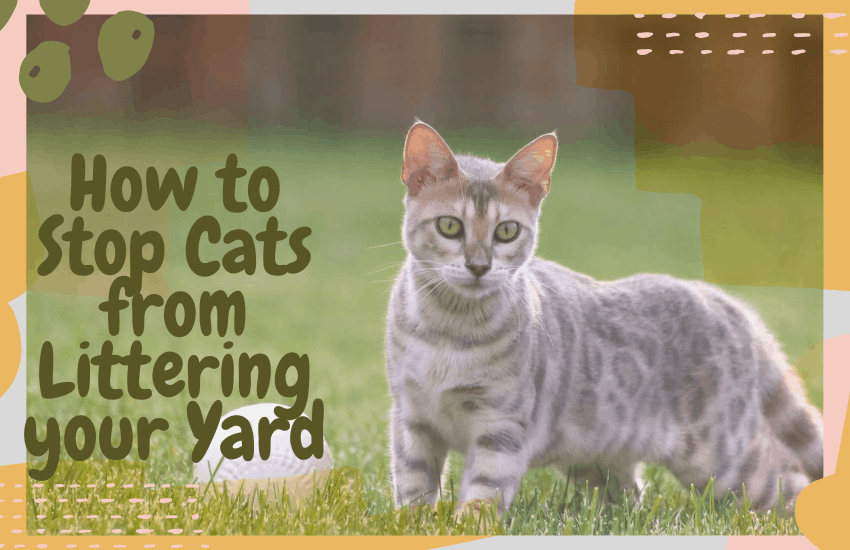 Whether domesticated or feral, cats are natural-born explorers. Their curiosity often leads them to new places, beyond their homes. With this, some people encounter problems with cats using their yards as litter boxes. Sometimes, it's their own cats, sometimes it's the neighbors', and at times, stray cats in the neighborhood.
Not everyone appreciates a cat staying on their premises and especially using their yard as its toilet. Over time, this can cause unwanted odor. For houses with gardens, cats might unintentionally ruin the garden and can end up killing the plants. There are also houses with resident pets, wherein seeing a new cat in the yard can cause distress and aggression.
The good news is that there are various ways one can discourage cats from using their yards as a litter box. From installing motion detector alarms, encouraging a change of behavior in the cat, to making the yard less inviting, below are some recommended ways to stop cats from turning your garden into their litter box.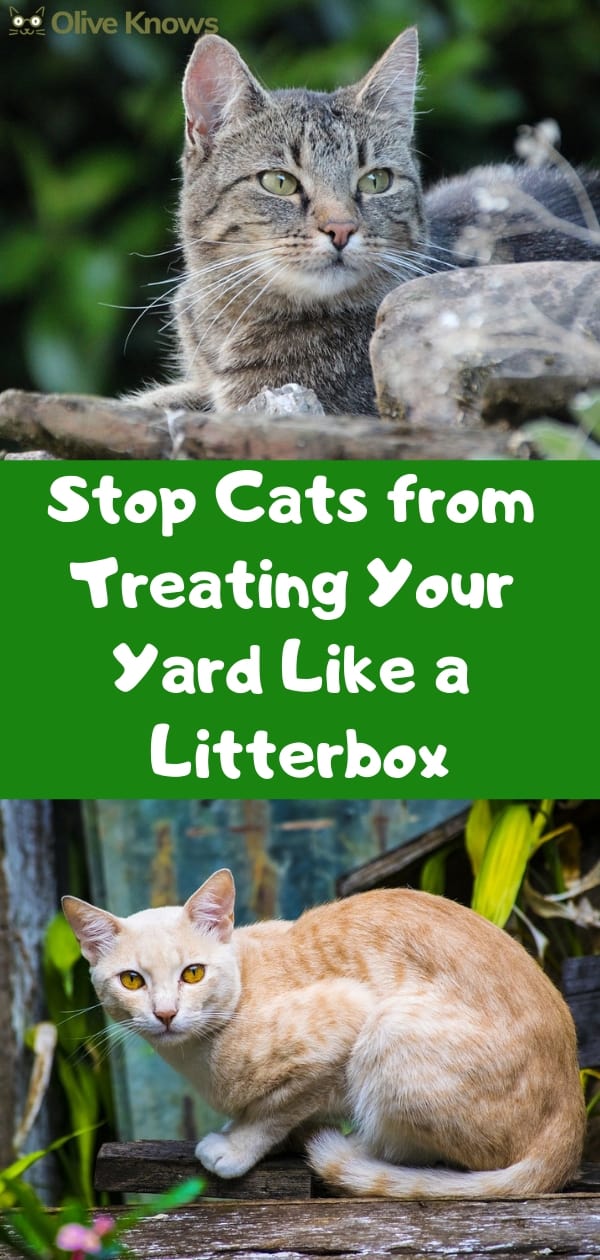 Cat Repellents
Make your yard less inviting for cats to discourage them from doing their business within your home. With different products and strategies, you can stop cats from turning your yard into a giant litter box.
Chicken Wire

It's no secret that cats like digging. By laying the chicken wire on top of the soil, cats will have to deal with an unfamiliar feeling on their paws – something that they don't like. For homes with a garden, it is recommended to install chicken wire all over your garden and open up pockets for your plants.
Mesh Bags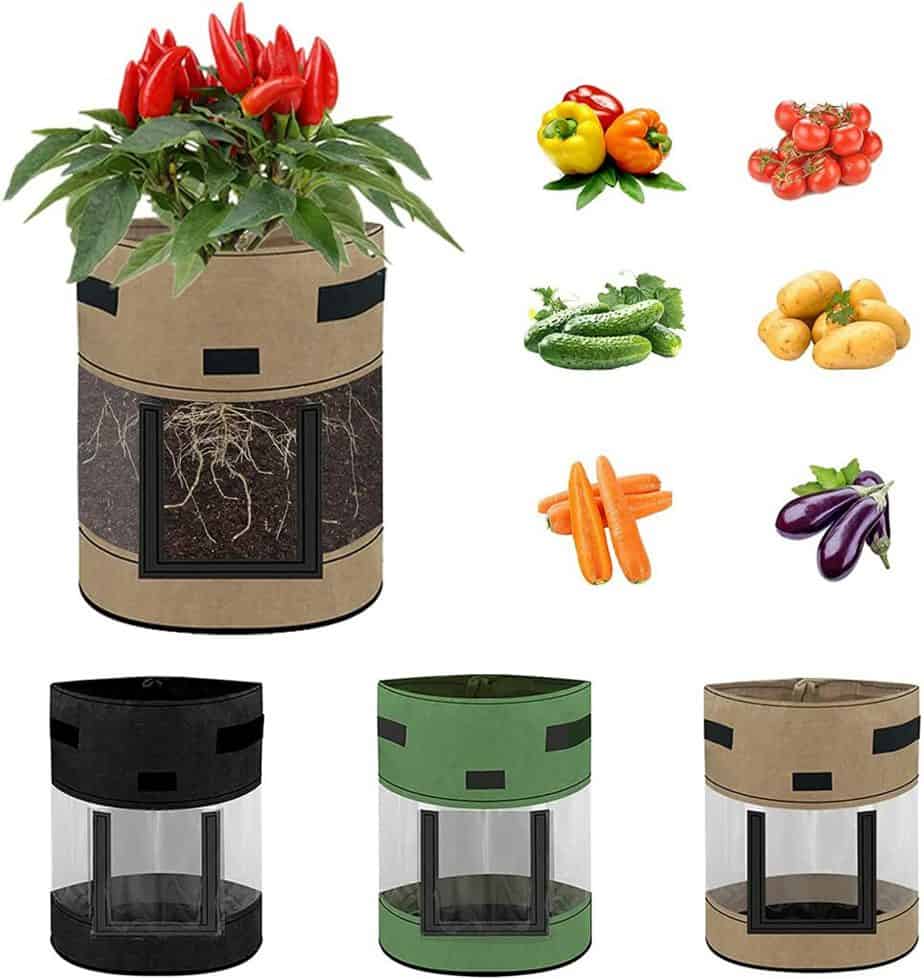 Ever wondered how you can recycle those mesh bags produce from the supermarket or the farmers market? Spread these on the garden soil and use twigs to keep them in place. Similar to chicken wire, cats are not very fond of this texture as they walk.
Bristly Mats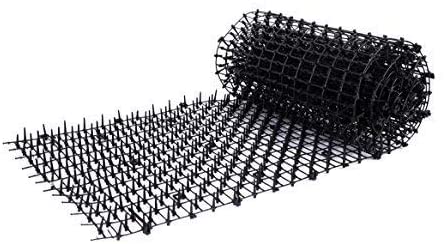 Cats like loose soil, it is here that they can do their business with pleasure and dig afterward With textured products such as egg shells, stone mulch, or rubber carpets with 'spikes,' cats will surely be discouraged. There is also no need to worry about the spikes, as these are just plastic nubs that are harmless to cats.
Wall Spikes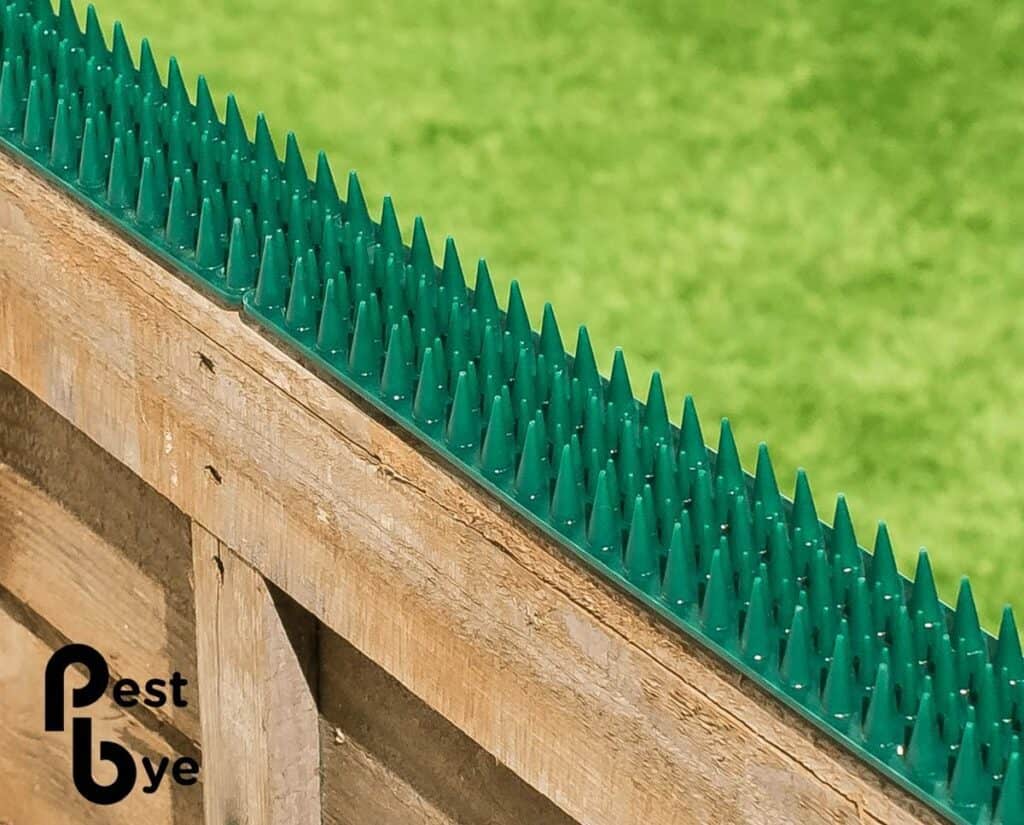 Similar to the anti-cat mat, these wall spikes are very effective as well in keeping stray cats out of your yard. These spikes are safe for cats, compared with the usual sharp and dangerous wires. The spikes are made of polypropylene material, designed to cause discomfort but not to harm.  These wall spikes are also waterproof, making it a reliable wild animal repeller no matter what the season or weather is. It comes in different colors depending on what suits your home best.
Powder Repellents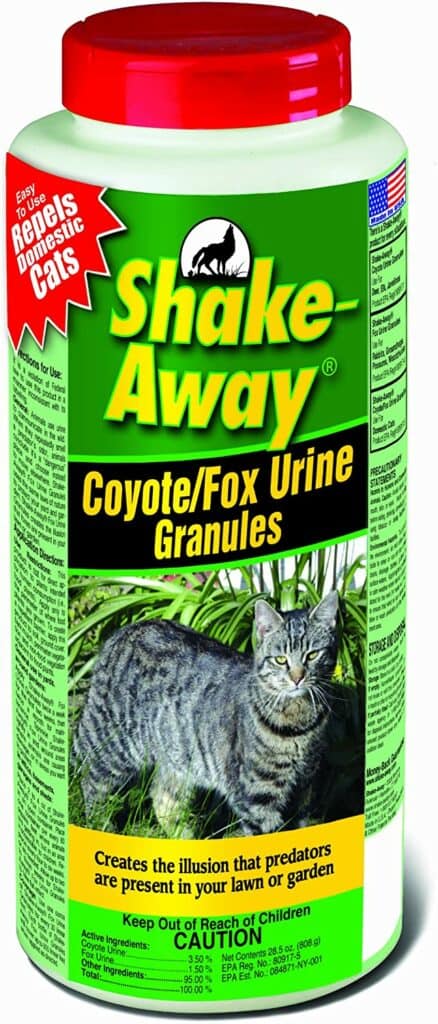 These are granular powders are created especially to keep cats away. It is infused with the unique urine scent of cat predators such as bobcat, fox, and coyotes, making cats think that these predators are around. As a result, cats avoid the area. Using this product around plants and children is also safe, as the powder is non-toxic.
Spray Repellents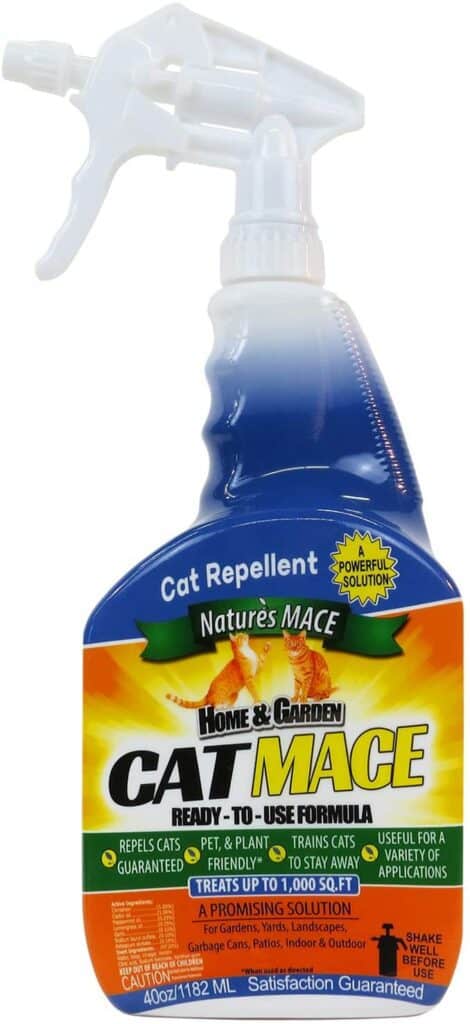 An easy way of driving cats away from your yard is by grabbing a bottle of a cat repellent spray. These are specifically designed to stop cats from going into places where they are not supposed to be, including flower bed, shrubs, trees, furniture, and more. It is important to look for non-toxic, organic sprays that can be used safely around plants, domestic pets, and children.
Cat repellent sprays such as Nature's Cat MACE also features rain-resistant technology, making it effective no matter what the season is. In addition to the liquid formula, this is also available as a granular repellent.
Water Guns
Homeowners who often catch cats in the act can use water guns. Once stray cats are spotted, fire some water on them to discourage them from doing their business within your yard. Remember that this is just to discourage the cats, do not overdo it.
Clip-on Repellent
A safe and convenient way to stop cats from doing their business in your yard, these clips can either be clipped to plants or simply laid on the ground. These repellents come in plastic clips that contain safe and effective cat repellent formula such as garlic oil, cinnamon, citronella, and lemongrass, making it safe to use on garden plants and around pets. The product also has its own unique slow-release system, with the formula being released once it comes to contact with air.
Human Hair
Cats can determine the scent of human hair and marking your territory with this just might work. Regularly clean your hairbrush in the garden and leave the hair strands on the ground.
Flickering Light Reflections
An old trick in the book, one way of stopping cats from using your lawn as their litter box is to scare them away with random light reflections. Cats are easily spooked, so an unexpected flicker of light can either make them curious enough to investigate it or send them running away.
One way to do this is by hanging old CDs at a cat's eye level. Some people also recommend filling water bottles halfway for light to reflect and lining them around the yard.  In addition, cats dislike sudden noise and reflection, as well as the unusual feeling when they step on aluminum foil. With this, lining the ground with sheets of aluminum foil might help deter cats from your garden.
Natural Repellents
Some of the things that may be able to keep cats away from your yard are just sitting at home. These repellents don't require purchasing and do not use any kind of technology.
Plants
Homeowners looking to use natural ways of keeping cats away can get specific plants to deter cats. Included in these are Coleus Canina, popularly known as "scaredy cat plant." This plant gives off a smell that cats truly hate. Cats dislike this plant so much, it can just be the opposite of catnip. Other plants include rue, pennyroyal, lemon thyme, and lavender. Not only with these add more color to your garden, but these plants will also discourage cats from doing their business in your yard.
Lemon Peels
Cats do not like the strong smell of citrus, so leaving peels directly on the soil can help keep cats away. Lemon peel can also be mixed in compost to make it more discreet. In addition, a solution of lemon or orange juice with equal parts water is an effective cat repellent.
Coffee Grounds
Do you have leftover coffee grounds that is just sitting in the kitchen cupboard? It's time to take them out and sprinkle them in your yard. The strong smell of coffee is often off-putting to cats.
Crushed Pepper
In the same way that crushed pepper makes humans suddenly sneeze, it is the same for cats. Sprinkle crushed pepper in the area that cats frequent, as well as the fences that they climb over to get inside. Eventually, the cat will associate this unpleasant experience with your yard, making them avoid it.
Sound and Motion-Detector Devices
This is a modern take on keeping cats away from the yard. Once the cat steps foot within the premises, these devices can either create an alarming sound or spray water to the cat.
Ultrasonic Device
This ultrasonic device covers the yard with an infrared field. Once motion is detected, this product emits a high-frequency alarm designed to startle cats. The sound, however, is inaudible to humans. Most of these ultrasonic devices are weather-proof as well, so leaving them outdoors shouldn't be a problem. They are battery-operated, so it is important to check once in a while. There are also solar-powered ultrasonic devices, for those who don't want to worry about changing batteries.
Motion Activated Sound Repellent Device
Contrary to the sound of ultrasonic devices that humans can't hear, there are some sound repellent devices that can startle both humans and cats alike. This is especially useful for homeowners who want to know when cats are visiting their yard. There are also repellents that use both sound and spray. For DIY enthusiasts, a tin can with marbles or pebbles tied to a string can also work once a cat touches it.
Water Sprinklers
Some yards and gardens already have water sprinklers installed on them, these should be keeping cats away. However, for yards that are still missing these, a motion-detection water sprinkler can work as well. Once it detects the presence of a cat this will spray a blast of water toward them.
Changing Cat Behavior and Environment
There are different ways one can encourage a change of behavior in cats. Most of the time, cats react to their environment. Humans may not realize it but at times, their actions may also be the cause of the unwanted behavior of their feline friends and neighborhood creatures.
Remove Outdoor Food and Water
Some people leave food and water for their pets outdoors. While this is for the benefit of the resident pet, strays will be able to smell this and get attracted to it. Make it a habit to feed your pets indoors and do not leave food outdoors unattended.
For yards with bird feeders, the cats may be hunting for birds. Elevate it to a level that cats can't reach to discourage them. Once the cat associates the yard as a place for feeding, they might also be comfortable enough to do their business on the premises.  The same goes for trash, make sure that it is secured and there is no food spilling out of it.
Enzyme-based Odor Neutraliser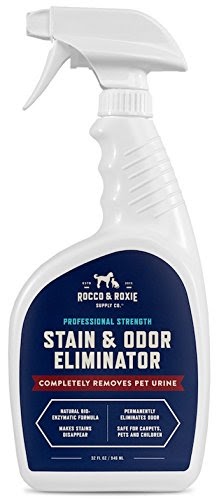 Cats often spray urine on walls, doors, or balcony to mark their territory. If this is discovered, use an enzyme-based odor neutralizer to discourage cats from repeating it. These sprays are also chlorine-free, making it safe to use around humans and pets.
Provide a Cat-Friendly Area
Homeowners who don't mind having cats on their property, but worries about their garden can provide a cat-friendly area, in another part of the yard. Start with planting catnip to attract cats to the new location. It also helps to have a sandbox especially for them that can work as a litter box. Once the cats use it, it must also be cleaned regularly. The good thing is that it's not all over the garden and the plants are safe. It is also important to note that several cats might get attracted to the catnip. To avoid aggressive fights and unwanted reproduction, a Trap-Neuter-Return (TNR) is recommended. Contact local animal organizations in your area for assistance.
Block Holes
Unknown to the homeowner, stayl cats may already be living on their property. Check the whole house and make sure there are no holes wherein cats can crawl in and reside. This might also be the reason why they feel comfortable to use the yard as their litter box. Make sure that there are no kittens inside before blocking all entrances. This can either be done with wood, chicken wire, mesh, or lattice. This is especially common in storage rooms, sheds, and garage, during spring and summer.
For homeowners worried about cats having nowhere safe to go, they can also provide shelters for feral cats. These could just be regular plastic boxes modified to resemble something close to a dog house. These can keep stray cats warm and dry during cold evenings and unfavorable weather conditions. Just be sure not to feed them, as these visitors might consider staying for good.
There are many reasons why cats are attracted to a yard and feel compelled to do their business there, such as food left outside or they may have been living within the premises. Fortunately, there are multitudes of ways of stop cats from turning your yard into a litter box. From regular household products to natural preventive measures, and even ultrasonic devices – it's just a matter of time before cats will no longer see your yard as their litter box.
Have you tried any of the tricks mentioned above? Let us know what works best for you!