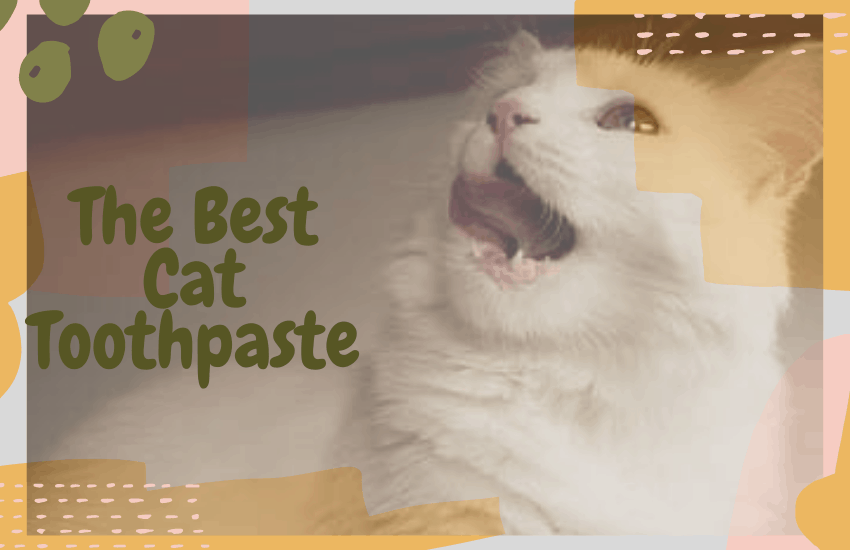 You love to snuggle up to your cat, but sometimes there is a problem and it's hard not to notice it once it has made an appearance. Your furry friend has bad breath. Really bad breath– and sometimes that means pushing that cat away even if we really don't want to, just because of the smell.
Our Top Choices
Brand
Type
Features
Price
Dental Kit
Reduces plaque and tartar
Doesn't foam - NO RINSE
Developed by Vegeterians
Soft bristle toothbrush
$10.05
Dental Kit
Convenient oral cat care
Promotes healthy teeth & gums
Soft Nylon Tip Toothbrush
Made With Denta-C
$11.72
Toothpaste
Natural Antibacterial Action
Stops and Treats Plaque
Eliminates Mouth Odors
No foaming agents

$13.31
Yet what can be done? You may think that the answer is nothing; after all, cats out in the wild won't have their teeth brushed so that couldn't possibly be a solution… could it? Well, in fact, it is. There are toothpastes and brushes made just for cats so that their teeth can be made healthy and their breath much more pleasant when they get up close and personal with us.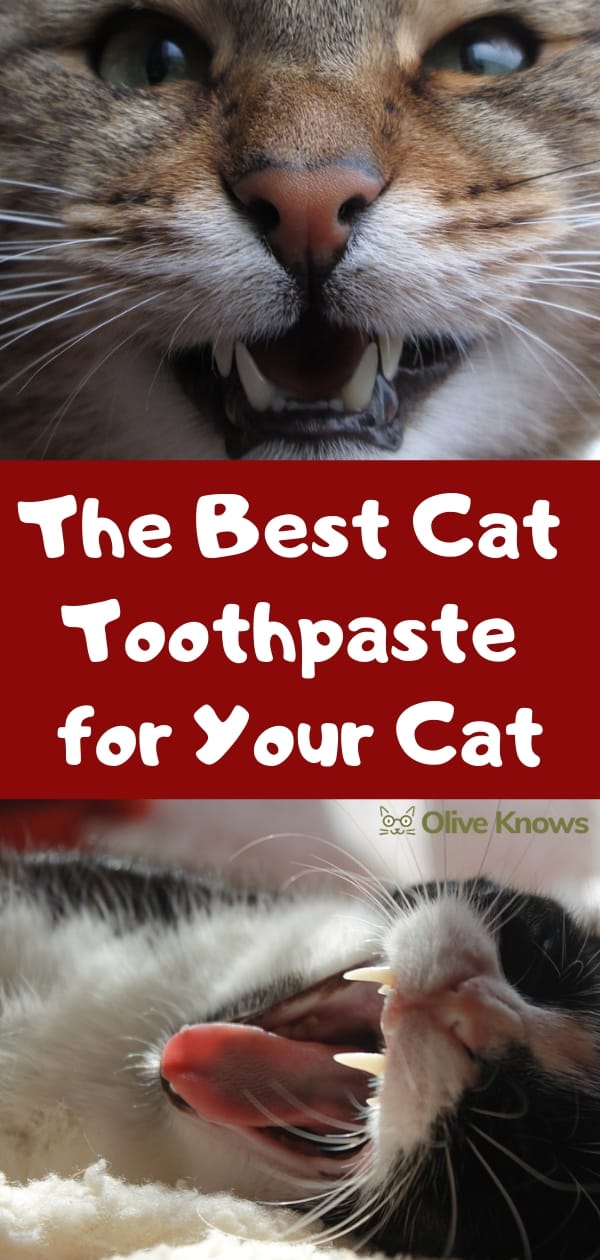 What's important to remember is that it's perfectly fine for your cat's breath to smell. It's normal. Humans get bad breath too, after all – it depends on what your cat has eaten and how much it has managed to dislodge from between its teeth by drinking. Sometimes bits of food get stuck and start to rot, and this is a major reason for bad breath. Cat toothpaste isn't minty (your cat probably wouldn't like it) and instead tastes like malt, poultry, or perhaps fish, and it will keep things fresh for you and for them.
Foul breath might not just be because of stuck food or dirty mouths. It could be a sign of a much more serious problem, so if it gets worse or there is any other change, don't hesitate in going to the vet immediately.
When Is Bad Breath Serious?
As mentioned above, there are some situations in which bad breath in a cat is a symptom of something much more serious. It's important to watch out for drooling, bleeding, swollen gums, and any unusual odor. If you spot any of these signs, it is time to book an appointment with the vet. Your cat may not be displaying any signs of pain, but that could be because cats tend to have an extremely high pain threshold and so it might not be until they are in serious pain that they start to react.
Do You Need To Brush Your Cat's Teeth?
The answer is a resounding yes. Even though it might be hard (introducing an adult cat to the wonders of teeth brushing is potentially going to be extremely difficult – but perseverance is important here), it is crucial to the health and vitality of your pet.
As with their human counterparts, cats' teeth tend to induce plaque formation and oral bacteria– lots of bacteria. Bacteria is a major dental issue because it can lead to inflamed gums and even gingivitis. Gingivitis is a serious gum infection that can cause sepsis and other complications – teeth may need to be removed, and in extreme cases, it can cause death.
Periodontal disease is the most common reasons why owners have to take their pets to the veterinarian. Since around 70 percent of adult cats have some form of gum disease by the time they are three years old, it just makes sense to do something about it before it becomes a problem. Otherwise, the older your cat gets with poorly maintained teeth, the more chance there is that they will cause problems or even fall out. If that happens, your pet won't be able to eat properly, resulting in serious weight loss. Nor will he or she be able to hunt so that they won't be getting a good amount of exercise either. It is imperative, therefore, that teeth are well maintained throughout your cat's life, starting as early as possible.
It is possible to book your feline into the vet regularly to have their teeth cleaned and for the vet to check for any signs of decay. However, although this is a good way to combat the problems, it will become extremely expensive over time. This is yet another reason why learning how to brush your cat's teeth yourself is a much better option.
You should brush your cat's teeth as often as you can, and ideally every day. This isn't always possible and will depend on your schedule and how happy your feline is to let you near their mouth. Even so, try to do it as much as you can for the best possible results.
Is Human Oral Care Toothpaste Okay To Use?
If there is one rule that needs to be taken into account when it comes to brushing your cat's teeth, it is that you should never use toothpaste made for humans. Human toothpaste is not meant to be swallowed – that goes for humans as well as cats – because it contains foaming detergents and abrasive ingredients which can harm you. However, at least with a human, you can remember to spit the toothpaste out when you need to. A cat cannot be taught this, and no matter how docile they are when you clean their teeth, they are going to swallow the toothpaste.
Not only that, but the amount of fluoride found in human grade toothpaste is far too high for a cat and would be poisonous for them. Even the smallest amounts could be fatal. If your feline accidentally ingests any toothpaste made for a human you must immediately take them to the vet.
Many human kinds of toothpaste now come made with natural ingredients, and you may think that these toothpaste options are fine to be used on cats, but this is not the case. Baking soda, one of the main ingredients in natural cat toothpaste, can cause heart failure in cats if they have too much because their muscles will go into spasm.
What Toothpaste Ingredients Are Safe?
Cat toothpaste is made from entirely different ingredients to human toothpaste, and for a good reason. They usually contain enzymatic ingredients which are biological substances. These enzymes can break down the tartar control and plaque on your cat's teeth but won't hard them in any way. Some of the most common ingredients include:
Ethanol (don't worry – although toxic to cats in large doses, the small amount used in cat toothpaste is perfectly safe)
Dicalcium phosphate (this strengthens the teeth)
Silica (this is the abrasive element, but even so it is safe for a cat to swallow)
Magnesium aluminum silicate
Sodium benzoate
Potassium sorbate
Sorbitol (this has a laxative effect on cats so if your pet has a digestive issue or sensitive stomach it may be best to search for toothpaste without this ingredient)
Sodium phosphates
Titanium dioxide
Xanthan gum
The Best Cat Toothpastes
Now that we know why cats need toothpaste and what to do with it (and what to look out for in case things are more serious than just bad breath) it's time to look at the different toothpastes that are available. There are a variety of brands, but these are the best of the best.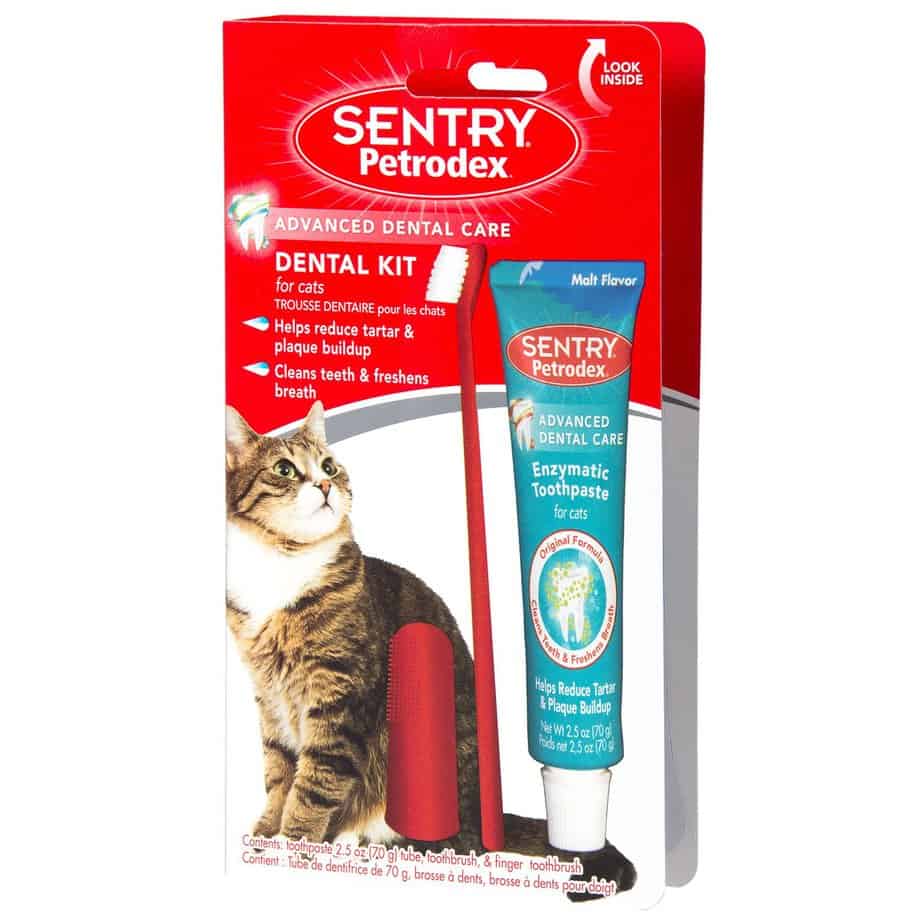 The Petrodex Dental Kit for Cats is a great way to keep your cat's teeth nice and clean. It comes with malt flavored toothpaste as well as a cat-sized toothbrush and a finger toothbrush too in case that is easier. Since the toothpaste doesn't have foaming agents it isn't going to irritate your cat's mouth and there is no need to rinse either.

Virbac C.E.T Poultry Toothpaste is specially formulated to be safe for cats and dogs, so if you have more than one type of pet they can share this great toothpaste. It uses enzymes to inhibit plaque growth when used regularly, and the flavor is something that pets are happy to accept making the oral cleaning and brushing procedure easy.

The C.E.T. Tartar Control Toothpaste is a great choice for pet owners whose cats are rapid plaque formers and is prone to reduce tartar. This natural antibacterial toothpaste contains a strengthened enzyme system and is more coarse than normal kinds of toothpaste.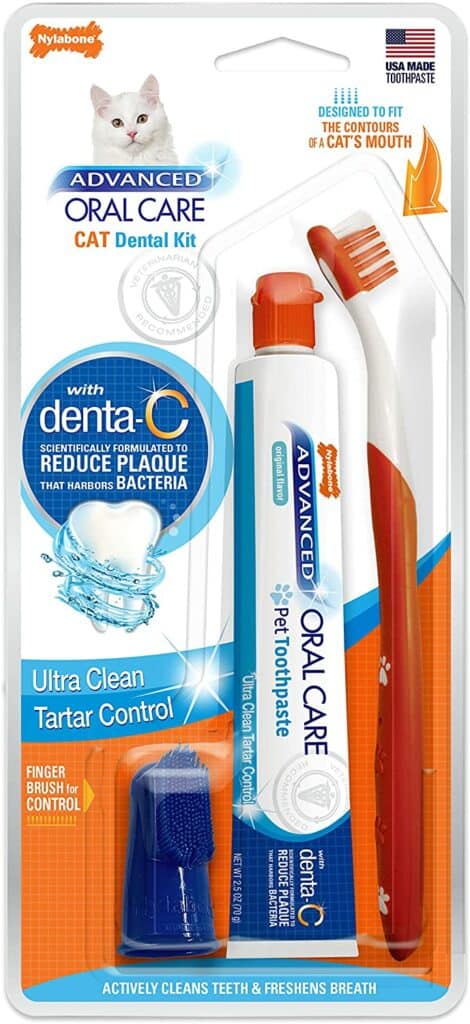 The Nylabone Advanced Oral Hygiene Care Dental Kit has a formula that leaves your cat's breath fresh whilst also protecting his or her teeth and gums. The kit comes with a toothbrush that is angled and ideal for tiny mouths so your cat won't feel uncomfortable during the tooth brushing procedure.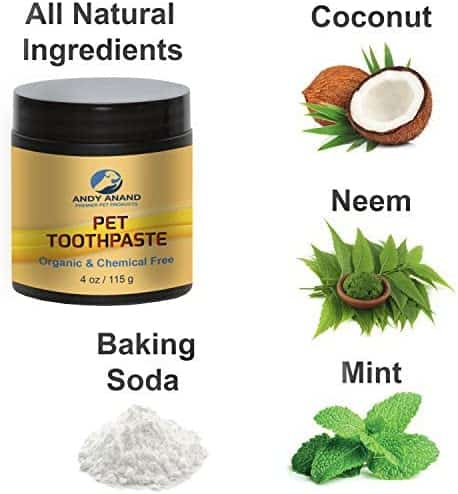 The name of this fabulous cat toothpaste promises to freshen breath and fight plaque. It's natural, organic, and chemical-free. It contains neem oil, coconut oil, and peppermint oil which, when combined with your cat's own saliva, combine to break down the plaque that fixes itself to teeth.
Do you have a favorite cat toothpaste not listed here? Let us know.
Further Reads