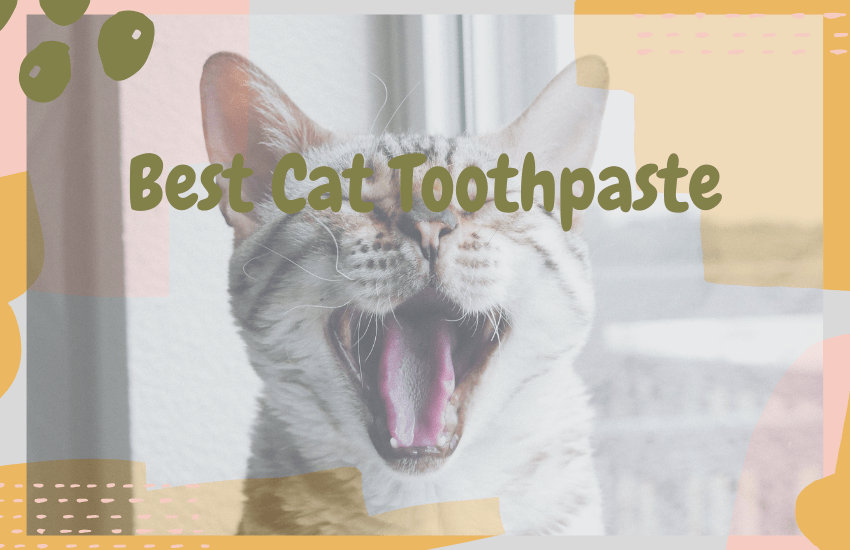 This year, I adopted a kitten– and while I knew about the best kitten food for Asher's needs, and even bought the best cat gear to keep him busy, I also knew how important his dental health was. And when it comes to dental health, selecting the best cat or kitten toothpaste can make a big difference.
While you'd think cat essentials, like kitty litter and the best litter boxes, may top a new pet owner's list, it turns out that taking care of your cat's teeth is just as important.
But it also turns out that most pet owners don't think enough about it. While an estimated 95 percent of pet owners brush their own teeth daily, just 8 percent brush their dog's teeth. That percentage gets worse for cats. A mere 4 percent of cat owners brush their cat's teeth.
As a concerned cat owner myself, I want to give you a guide for cat dental health, from if you need to clean your cat's teeth; how often, and how to find the best cat toothpaste on the market.
Top Products at a Glance
| | |
| --- | --- |
| Best Overall: Virbac C.E.T. Enzymatic Toothpaste | Check Price |
| Most Affordable: Arm & Hammer Fresh Breath Kit | Check Price |
| Best for Hesitant Brushers: Oxyfresh Pet Toothpaste  | Check Price |
| Best for Kittens: Petrodex Dental Kit Toothpaste | Check Price |
| Vetoquinol Vet Solutions Toothpaste | Check Price |
What Happens if you Don't Brush Your Cat's Teeth?
First, I want to dispel some myths about cat dental health. If you have a cat but have never brushed your cat's teeth, you'll need to consider their dental health.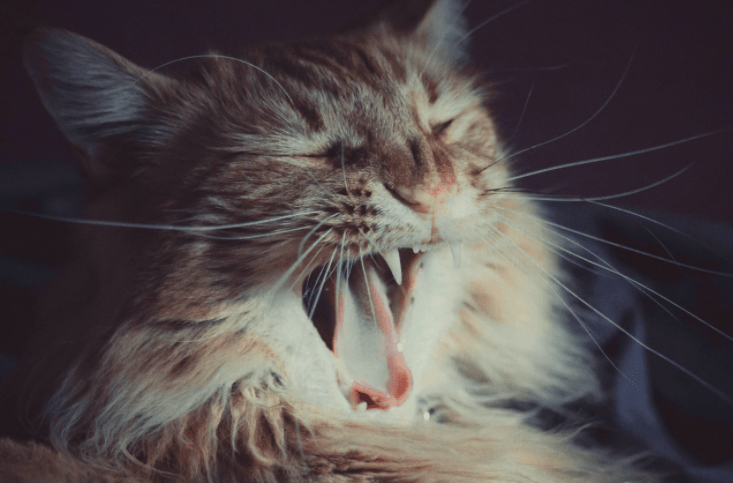 Just like humans, cat teeth can decay and have plaque formation. If you don't brush your cat's teeth and never go in for regular dental cleanings, then you're risking both your cat's dental and overall health.
Consequences of Poor Dental Health
If your cat's teeth are never cleaned, you'll have to expect some negative consequences. Regular brushing can prevent issues with plaque formation, decay, and other related issues. If cat teeth continue to decay, it can result in periodontal disease.
Periodontal disease can not only cause pain but also result in lost teeth. Losing teeth can greatly impact your cat's quality of life, leading to pain and a need for special diets. Not only that but as is with humans, poor dental health can lead to other health consequences.
Is Toothpaste Safe for Cats?
One reason why cat owners may hesitate to brush their cat's teeth is that they're worried about their cats swallowing toothpaste. For this, I have good news and bad news.
On one hand, human toothpaste is not only bad for cats; human toothpaste can actually make your cat quite ill. Most human toothpastes contain fluoride, which helps support enamel and prevents cavities for humans. But cats are likely to swallow this, and swallowed toothpaste can result in severe illness.
Because of this, as well as other ingredients not intended for cats, you should never use human toothpaste of any kind. Even if that toothpaste is fluoride-free, I recommend only toothpaste intended for cats.
The good news is that there are many excellent kinds of toothpaste that are entirely safe to use for cats.
Can I Really Clean my Cat's Teeth Myself?
Another reason why I suspect that so few cat owners clean their cat's teeth? If you've ever tried to clean your cat's teeth, you are likely aware it's a challenge. If you try to brush your cat's teeth right away, they will likely be resistant. They may run away or even try to bite.
There are some steps you can take to brush your cat's teeth, though. The first step is to get your cat used to you touching their mouth. You can do so by feeding treats and gentle petting. Do this for a period of time until they seem comfortable. Also, try to gently massage their gums.
Introduce your cat to the toothpaste you'll use by placing a little on your finger. Experiment to see what flavors they prefer. Once you find the right toothpaste, select a soft toothbrush designed for cats. Apply just a dab and brush gently.
If the process takes a long while, don't get discouraged. It can take a few weeks for the cat and owner to get used to brushing their teeth brushing.
Are There Any Alternatives to Cleaning my Cat's Teeth?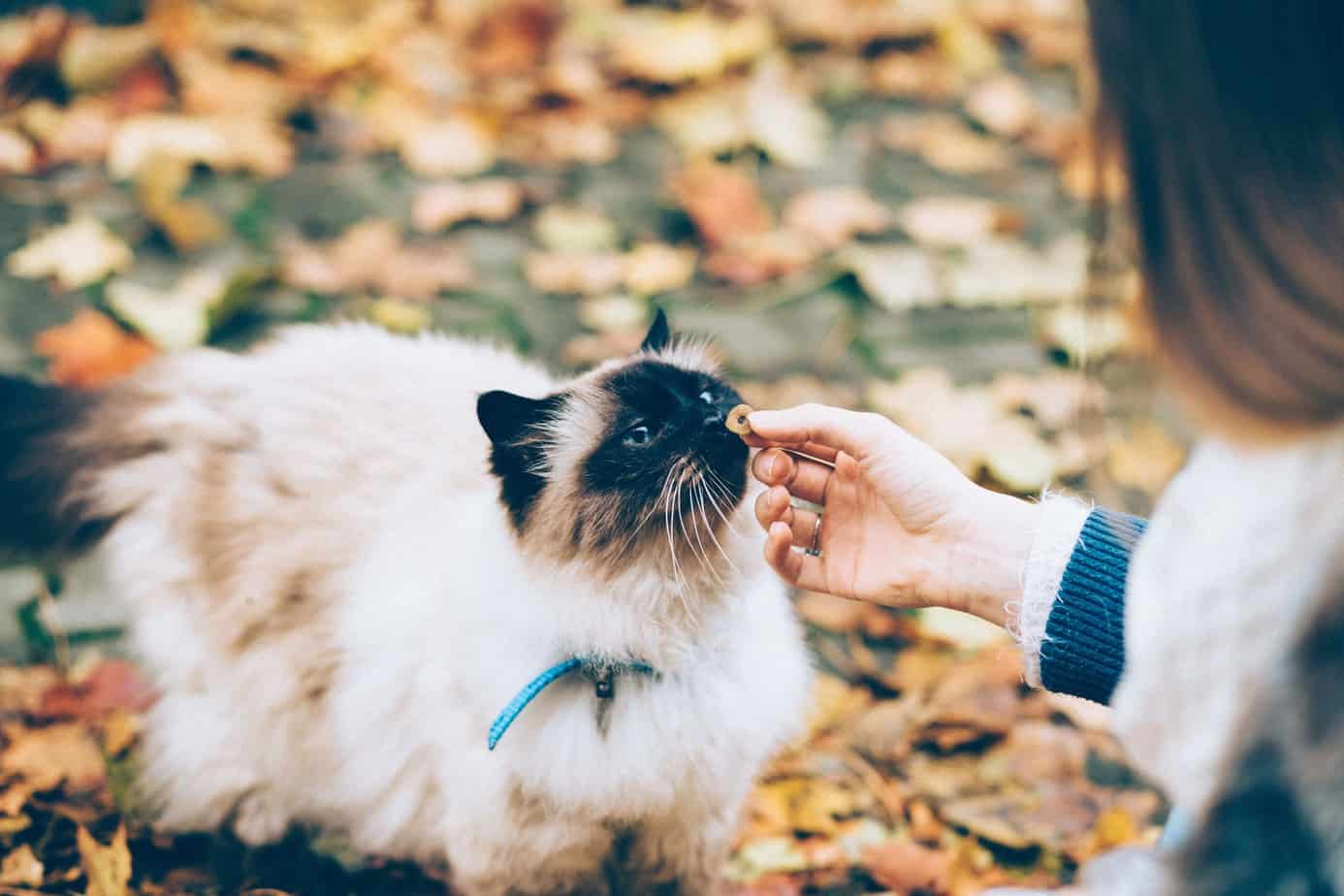 If you absolutely do not feel comfortable cleaning your cat's teeth yourself, there are some worse, and better alternatives. That said, I do recommend trying to clean your cat's teeth. Cleaning your cat's teeth does not replace dental visits with the vet or professional cleaning, but it can supplement them.
Do Greenies Really Work for Cats?
Greenies are one way to improve your cat's dental health that doesn't involve brushing their teeth. Greenies are cat treats that are meant to clean and improve your cat's dental health. While there is some suggestion that these can be a little helpful, they are not a good replacement.
For one, they can't fully remove plaque or prevent disease. For another, too many treats, even the best cat treats, don't make for a balanced diet. In other words, I think you should feel free to add greenies into your cat's diet, but I wouldn't recommend going for the best toothpaste.
How Much is it to Clean a Cat's Teeth?
Of course, getting your cat's teeth professionally cleaned is more expensive than brushing them yourself–another reason why daily brushing is a great idea, to cut back on those costs.
It's an investment: a professional cleaning and dental exam averages around several hundred dollars. The good news is, if you keep your cat's teeth clean with regular brushing and a healthy diet, it shouldn't be regularly necessary.
How do I Find the Best Cat Toothpaste?
Now that you know all the benefits of brushing your teeth, it's just as important to know how to find the best toothpaste for your cat.
The problem is that there are so many different options, it can be overwhelming. Just like when you're shopping for the best cat food, the best toothpaste for your cat may be somewhat based upon special needs or preferences.
That said, here are a few things I look for when searching for the best toothpaste.
Where to Buy
You can purchase cat toothpaste from a pet store or from your veterinarian clinic. However, you can actually find cat toothpaste on online retailers as well, such as Chewy.com. Just make you're buying from a secure site, and that the toothpaste brand is one that is recognized within the pet care industry.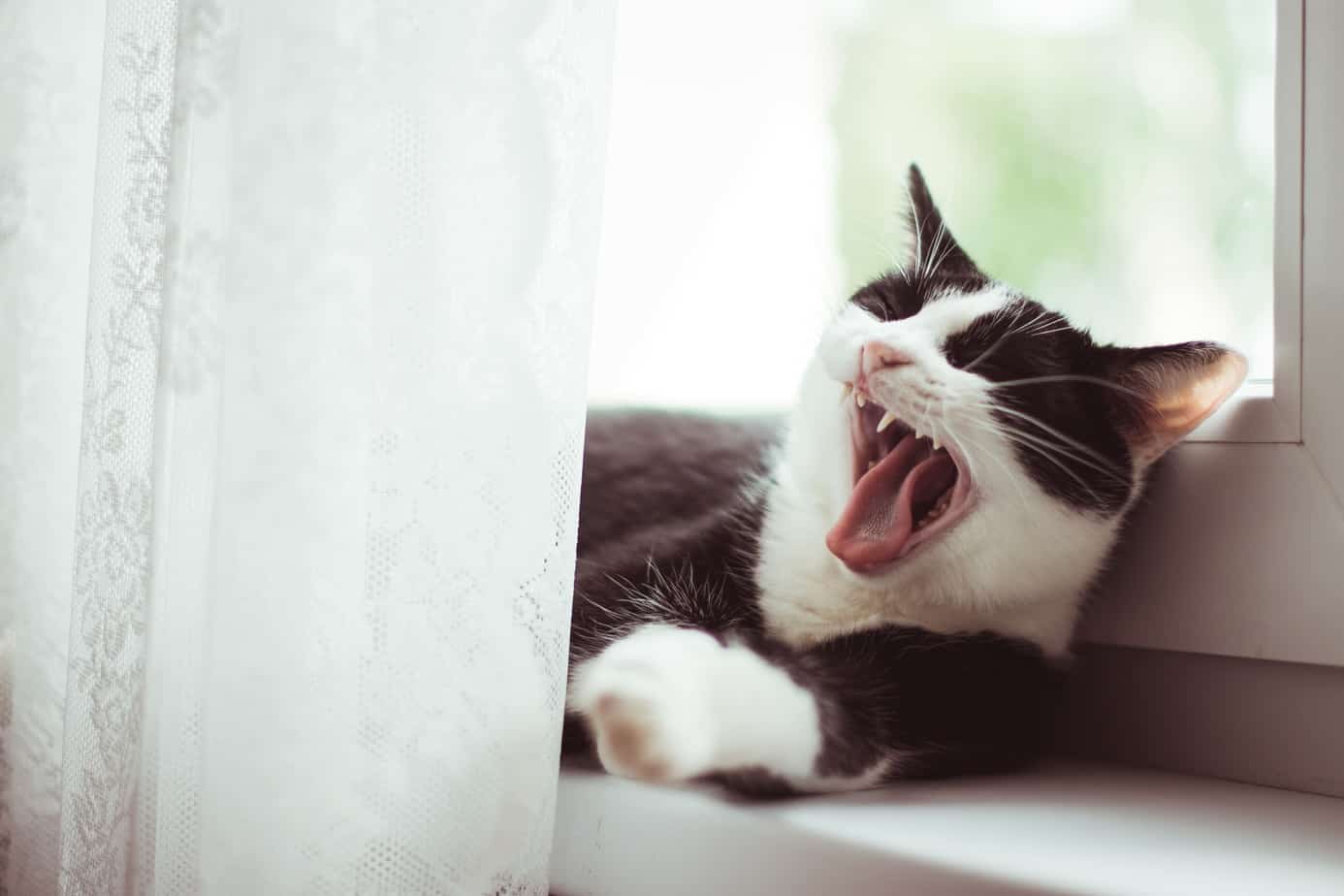 Ingredients to Look For
The best cat toothpaste has ingredients that are specifically formulated to fight cavities and prevent decay. One of those ingredients is enzadent and lactoperoxidase. Both lactoperoxidase and enzadent are enzymes that help fight bacteria and prevent infection.
For food build-up, other natural enzymes and both silica and calcium carbonate are helpful. An added bonus is Denta-C, which is meant to target plaque.
Ingredients to Avoid
There are also ingredients that I either try to avoid or limit as much as possible. These are any ingredients that can be harmful if swallowed too much by your cat and include: fluoride, foaming agents, and chlorhexidine.
I also try to limit additives, like dyes though it is not always possible to do so entirely, especially if you are looking for an affordable cat toothpaste. While sweeteners are common, try to avoid xylitol, which is known to be harmful. It's also best to avoid harsh fragrances and alcohol.
A natural alternative is also Oxygene. Oxygene helps improve bad breath and protects against periodontal disease, without other agents that can be harsher for sensitive teeth.
A downside is that it may be harder to find or more expensive. Research has shown oxidizing agents like this to be effective in reducing plaque and improving bacterial composition.
Other Considerations
My cat's needs are different from yours, so it is also important to keep your cat with specific needs and preferences. Look for cat toothpaste that targets their specific dental needs, such as gingivitis, or sensitive teeth.
You may have to shop around for flavors: cat toothpaste comes in flavors you'd see typical of cat food, such as chicken and fish flavors. Finally, you'll need to check the ingredients list for any potential food allergies.
Best Toothpaste for Your Cat
Below are my recommendations for the best toothpaste for your cat, based upon need, lifestyle, and preference. You'll also find a direct link as to where to buy this toothpaste, and why it's been nominated for my list.
Best Conventional Cat Toothpastes
These cat toothpastes are conventional in that they are not entirely made of natural ingredients. They tend to be a little more widely available than natural toothpastes and run a little more affordable.
These manage to provide powerful plaque and tooth decay fighting agents while avoiding harmful or harsh agents like foams and alcohol. Overall, these are smart choices for a tighter budget, or if you want more selection.
Virbac C.E.T. Enzymatic Dog & Cat Poultry Flavor Toothpaste
My number one best conventional toothpaste for cats is Virbac C.E.T. Enzymatic toothpaste, and I love that it comes in cat-friendly flavors like poultry. C.E.T. is a well-known brand in the pet industry and has invested in veterinary back formulas for their products.
The formula has no foaming agents and contains enzymatic compounds to fight plaque and dental decay. Rather than xylitol, it's sweetened more safely with glucose and supplemented with silica to fight harmful buildup, The ingredients list is fairly small, and appears to be a popular flavor for cats and kittens alike.
Best Overall
Vetoquinol Vet Solutions Enzadent Enzymatic Poultry-Flavored Toothpaste for Cats
My runner up best conventional cat toothpaste is Vetoquinol Vet Solutions. It has many benefits while staying at a great price point.
The unique triple enzyme system is formulated to remove plaque and polish teeth at the same time. The non-foaming formula also is easy to work with and has recognizable ingredients to combat decay. I especially like the added addition of calcium carbonate, cat-friendly flavors, and that enjoys solid reviews.
The gel is easy to squeeze out and use for fussy cats. As with my other pick, the star ingredient is Enzadent. The only reason this is the runner up is it is not as well known as Virbac, but it's still a great choice for most cats, and a solid option is a conventional toothpaste suit your needs.
Best Natural Cat Toothpastes
Natural cat toothpaste shies away from any additives, fillers, or fragrances. They tend to be a bit more expensive, and you may have a smaller selection of options. That said, I do love natural toothpaste, especially if you're just starting to brush your teeth; if your cat is especially sensitive or has special needs.
Most Affordable: Arm & Hammer Fresh Breath Dental Kit for Cats
Looking for a natural cat toothpaste that checks all of the boxes but is also affordable? The best bet is this great dental kit, with toothpaste, from Arm & Hammer. Arm & Hammer packs in its typical ingredients: calcium carbonate and sodium chloride, for powerful cleaning.
I love the gentle formula for removing food stains and fighting against plaque and tartar build-up. It also contains enzymes for brighter teeth and fresh breath. It may not be as powerful for combatting more serious periodontal issues.
Most Affordable
Best For Hesitant Brushers: Oxyfresh Pet Toothpaste For Cats– Professional formula – Fresh Breath & Healthy Teeth & Gums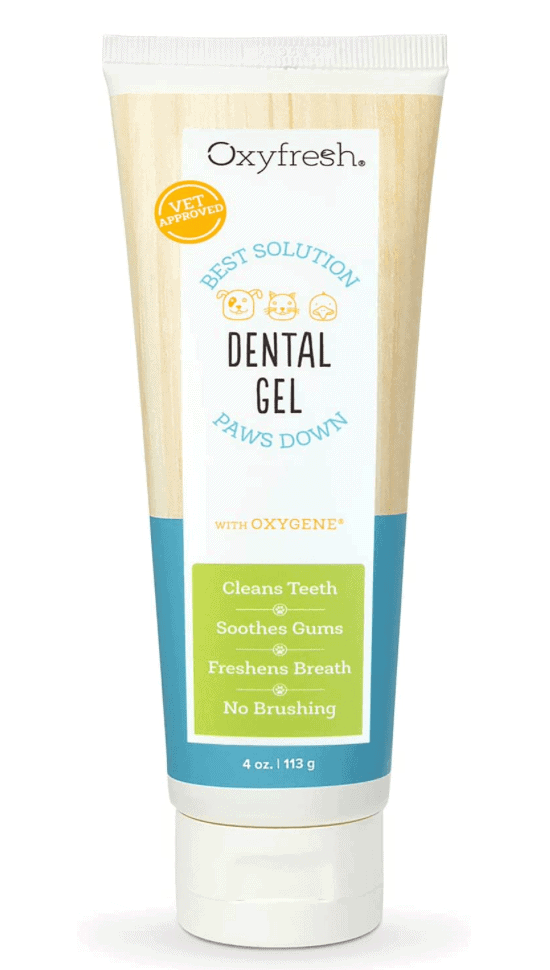 Oxyfresh is my best overall value natural cat toothpaste. It's a little more expensive, but exorbitantly so, and combines many elements I look for in the best natural cat toothpaste.
It's a dental gel technically, which means, so little to no actual brushing is needed. Expect fresher breath and less gum inflammation.
I love that it's free of additives and strengths overall oral health. It combines unique oxidizing technology that has been backed with limited studies to improve bacterial balance, too. This is flavorless, so your cat may be less eager to have it.
Best for Hesitant Brushers
Best for Kittens: Petrodex Dental Kit for Cats, Malt Flavor Toothpaste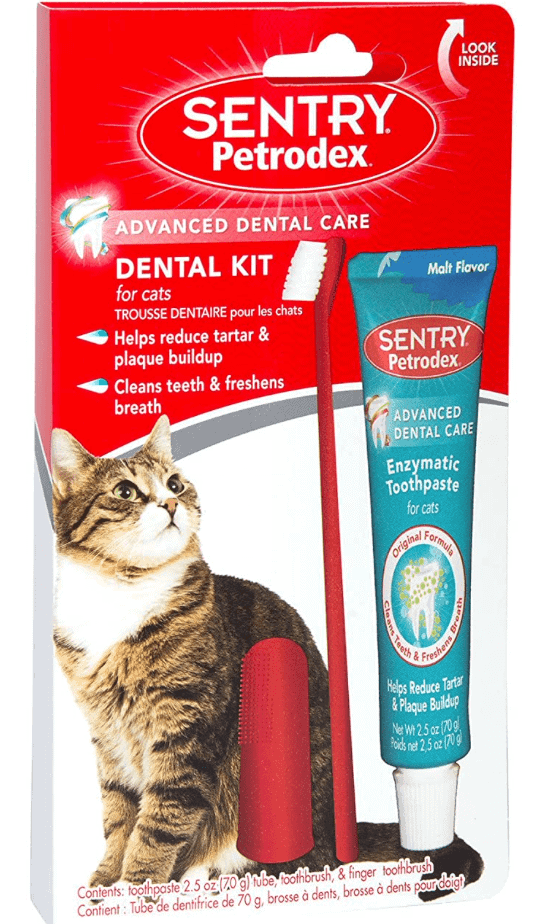 Petrodex rounds out my list for the best natural cat toothpaste. I especially like this soothing formula if your cat often gets food stuck between their teeth and is maybe a bit fussy. The gel formula contains hydrogen peroxide and natural enzymes to reduce plaque. It's a great option for more tender gums, and even can be used for kittens.
Best for Kittens
FAQs
Question: Is it good to brush your cat's teeth?
Answer: Brushing your cat's teeth is essential to your cat's health–or at least taking care of their oral health in some way. If you go out of your way to purchase cat health insurance but fail to pay attention to their oral health, you're missing a key way to keep them healthy.

Whether brushing their teeth, using gel, or taking them for dental cleanings, taking care of your cat's dental health is a way to improve their overall health, and keep them at a high quality of life.
Question: How can I keep my cat's teeth clean without brushing?
Answer: If you're not keen on the idea of brushing your cat's teeth, or if your cat has special needs in a way you feel brushing is not the best fit, then there are alternatives.

Cat tooth gels and greenie treats can be used. You should also take your cat to the vet for regular checkups, and feed them a diet that also includes the best dry cat food, which keeps their teeth strong.
Question: Why does my cat have a stinky breath?
Answer: Like humans, poor or stinky cat breath can indicate poor oral health. Stinky breath can stem from a plaque or food build-up, or even more serious concerns with oral health. If your cat has stinky breath, try brushing their teeth but also consider a checkup if that continues.

A natural remedy for bad cat breath is not only brushing their teeth but also using dental treats and making a point to have regular vet check-ups.
Final Thoughts
Taking care of your cat's teeth with the best toothpaste and gel is just one step to helping your feline friend live their best life possible.
Going away or just not around the home? Keep your cat healthy and happy with the best cat feeders.
Best Overall
Most Affordable
Best for Hesitant Brushers
Best for Kittens