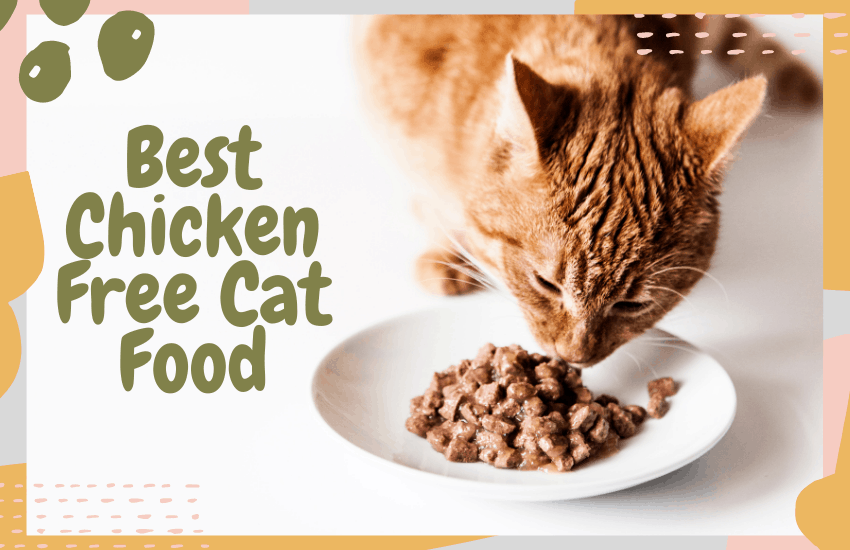 From the best cat gear to kitty litter that stays fresh, or you're like me, you want the best for your cat–but if your cat isn't responding well to their pet food, you may need to consider the possibility of a chicken-free diet. Allergies to cat food are not especially common: some estimates place food allergies at under 1 percent of cats– but the effects can be anything from a quality of life nuisance to life-threatening.
But there are also pet owners like myself, who have a cat that simply has a strong preference, or thrives, on certain proteins over others. Ever since I fed my cat salmon cat food, he has turned his nose up at chicken cat food. Finding the best cat food is often challenging– but spending some to research the best food for your cat can have a great impact on their health, well-being, and overall satisfaction.
In this article, I'll discuss reasons why you might want to consider chicken-free cat food, alternatives to chicken cat food, and how to select the best chicken-free cat food you can buy now.
I'll round out my review with my picks of the best chicken-free cat food that you can buy online, including both wet and dry cat food options.
Best Dry Chicken Free Cat Food 
Most Balanced: Natural Balance L.I.D. Green Pea & Duck
Check Price
Best For Sensitive Stomachs: Merrick L.I.D. Dry Cat Food
Check Price
Best For Unique Protein Source: Freely L.I.D. Dry Cat Food
Check Price
Best Wet Chicken Free Cat Food
Best Budget Choice: Blue Buffalo Basics L.I.D. Pate
Check Price
Best On-the-Go: Applaws Premium Wet Cat Food
Check Price
Most Balanced: Natural Balance L.I.D. Wet Cat Food
Check Price
Why Should I Consider Buying Chicken-free Cat Food?
There are three main reasons why you should consider buying chicken-free cat food for your cat– whether as a mainstay of their diet or as a way to shake up their feeding habits. These three reasons are all valid reasons why buying chicken-free cat food may just be the next best thing you can do for your feline friend.
Food Allergy
Cats can, in fact, be allergic to chicken. As is the case with most food allergies, a chicken allergy needs to be taken seriously and addressed quickly. While food allergies in and of themselves are not especially common, the most common allergies in cats include chicken, as well as fish, beef, lamb, eggs, and dairy products.
How can I Tell if my Cat is Allergic to Chicken?
Determining a food allergy takes a diagnosis, and process of elimination. Just because your cat reacts poorly to a chicken-based cat food does not mean they are allergic to chicken.
The food could contain other ingredients, especially if it's not a limited ingredient cat food. In addition, it is possible that your cat is reacting to something else in its environment.
General signs of a food allergy or intolerance include both skin and digestive issues. You may notice them scratching more, most commonly around their face or neck, as well as a rash or discoloration around their ears. Other symptoms include irritation around the ears, licking unusual amounts, and general irritation.
If you are noticing any severe symptoms, such as difficulty breathing, vomiting, or persistent diarrhea, you should seek the attention of a veterinarian immediately.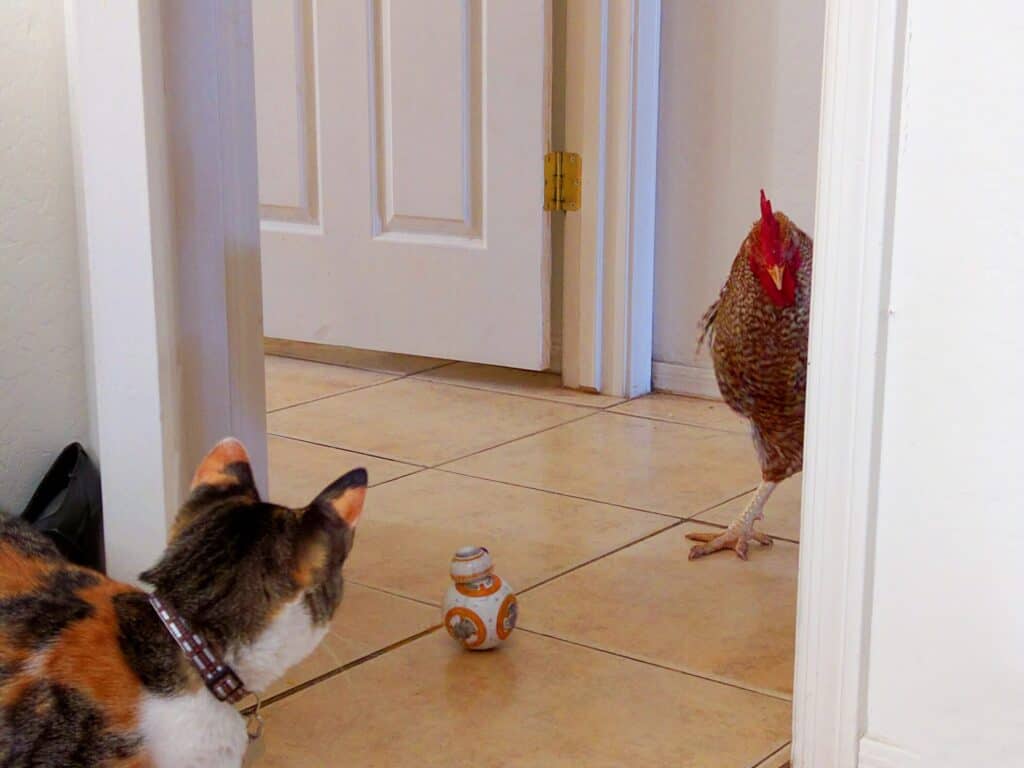 What are the Causes of a Chicken Allergy in Cats?
A chicken allergy in cats can be genetic or caused by a gastrointestinal disorder, such as leaky gut syndrome. Food that is not fully digested can cause an immune response and trigger allergic reactions. While much of the time it is unclear exactly why a cat is allergic to chicken, the important thing is diagnosing it and introducing a chicken-free diet.
What do you Feed a Cat With a Chicken Allergy?
The good news is that if your cat does have an allergy– or even dislike– to chicken, there are many healthy alternatives. The best alternatives include duck, rabbit, and seafood, though there are also other less common options. Of course, you'll want to make sure that the cat food is balanced and provides all the essential nutrients they need.
How is a Chicken Allergy Diagnosed in Cats?
Diagnosis of a chicken allergy, as with any food allergy, must begin with a visit to your vet. The vet will fully examine your cat, and you should be prepared to answer detailed questions about their diet, as well as when you first noticed the symptoms.
The next step is typically an elimination test, where you limit different known allergens for periods of time. This is one way, for instance, that cats with a true grain intolerance are placed eventually on grain-free cat food. The goal is to weed out all possible causes and find the true reason for your cat's distress.
Keep in mind, that for environmental allergies, there are options for allergy treatment for cats.
Dietary Preference and Variety
Your cat may simply prefer other protein sources as opposed to chicken. While cats tend to be fairly open to a variety of seafood and meat, just like people, some cats have their individual quirks.
Even if they do like chicken, it's also a great idea to have some other protein-based sources to add variety to their diet. Of course, keep in mind that if you're searching for chicken-free cat food for one of these reasons, you can be more lenient than if your cat has a true allergy or intolerance.
How do I Find the Best Chicken-free Cat Food?
Finding the best cat food for a limited diet is challenging– but finding the best chicken-free cat food is even more challenging than you might think.
Check the Ingredients Carefully for Any Chicken Products
The reason is that countless cat food products may not have chicken as the primary source of protein, but still use chicken products in their formula. Because whole chicken meat, common sources of chicken in cat food include chicken meal, chicken by-product, chicken broth, and even chicken fat. These are especially common in typical commercial brand cat food.
Check for Essential Nutrients
Look for healthy fats, including omega 3's and 6's; essential vitamins: A, D, Thiamine, Riboflavin, Niacin, and B6, and minerals such as iron, calcium, magnesium, and chloride. Cats with a history of urinary health conditions may do well with cranberries or cranberry extract (and cat food specifically for urinary health).
Check for Protein Sources and Percentages
Check for whole protein sources and avoid byproducts as much as possible. Single protein labels may make it easier, though more than one protein source is not inherently concerning. Your cat's protein needs will vary if they are a senior cat (read for the best senior cat food) or have a special health condition.
In general, though, you should aim for a crude protein percentage of 25 minimum for dry cat food (ideal for less active cats). I usually look for a crude percentage of 35 to 40 percent.
For wet cat food, aim for no less than 10 percent; I prefer 12 or even 15 percent crude protein. Of course, always check with a veterinarian to see what best suits your cat's unique needs.
What is the Best Chicken-free Cat Food?
Now that you know my tips for finding the best chicken-free cat food, here are some of my top picks for chicken-free dry and wet cat food. I've been sure to include only options that contain high-quality ingredients, no chicken as the main product or added product, and cat food with the necessary nutrients for your cat to stay strong and healthy. Without further ado, here are my favorite options that you can buy right now.
Best Dry Chicken Free Cat Food
Dry cat food is a convenient option, protein-rich, and stores well. It also helps support dental health. Many cat owners opt to feed a mix of wet and dry cat food, but if you do mostly dry cat food, just make sure that your cat properly hydrates. (Read for the difference between dry vs wet and cat food here).
Best Balanced: Natural Balance L.I.D. Limited Ingredient Diets Dry Cat Food Green Pea & Duck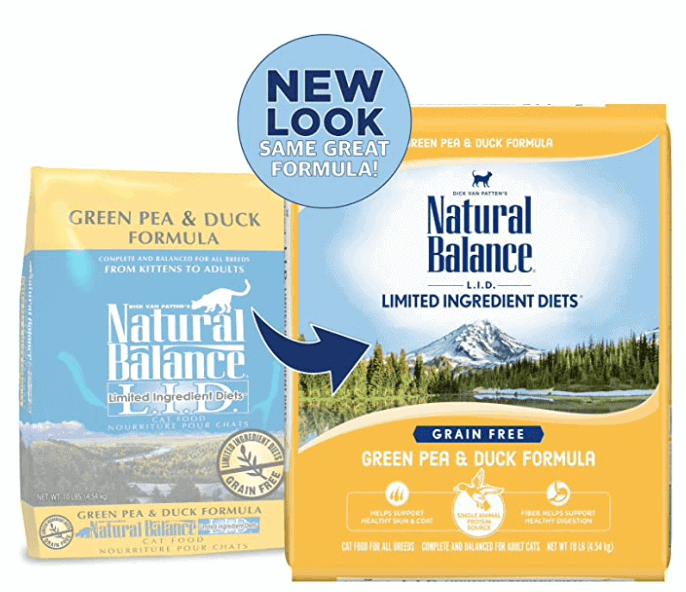 With duck as the main source of protein, this unique limited diet dry cat food is perfect for a cat that not only may be sensitive to chicken but other ingredients as well.
A single animal protein source, the formula is supportive of healthy skin and provides just under 30 percent crude protein with flax seeds and a bit of salmon oil for healthy omega 3's and 6's.
You'll find essential vitamins and minerals, and a straightforward ingredients list. 77 percent of buyers gave it the highest 5-star rating possible. It's available in 2 and 10 lb bags. Buy Here.
Best High Protein: This Cat Person Duck and Turkey Recipe Dry Cat Food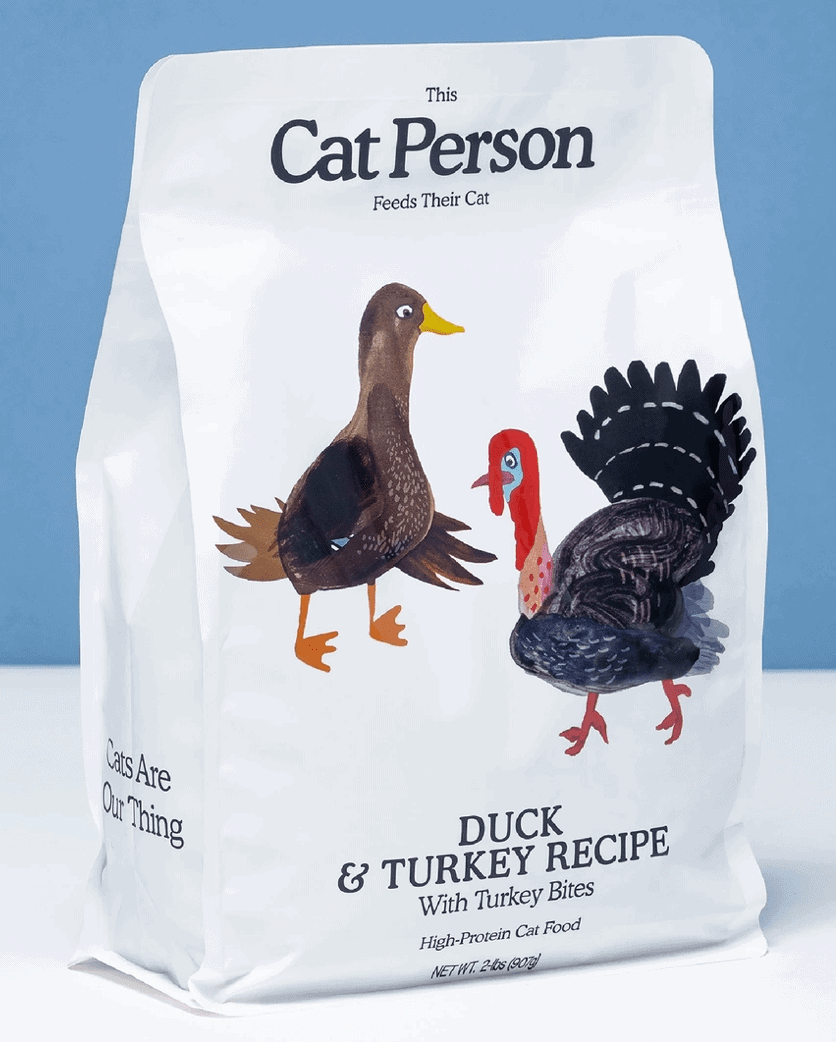 This cat food brand may be less known, but it's an excellent choice for chicken-free cat food with a higher crude protein at 40 percent. Grain-free and naturally low in carbohydrates, real dehydrated turkey bites are added for quality protein and a tasty formula to please more finicky cats.
I also like the use of peas and pea protein for added protein and fiber, the essential vitamins and minerals, and the handy resealable bag for better storage. Rosemary extract is added to ensure freshness for longer. Buy Here.
Best For Sensitive Stomachs: Merrick Limited Ingredient Diet Salmon Dry Cat Food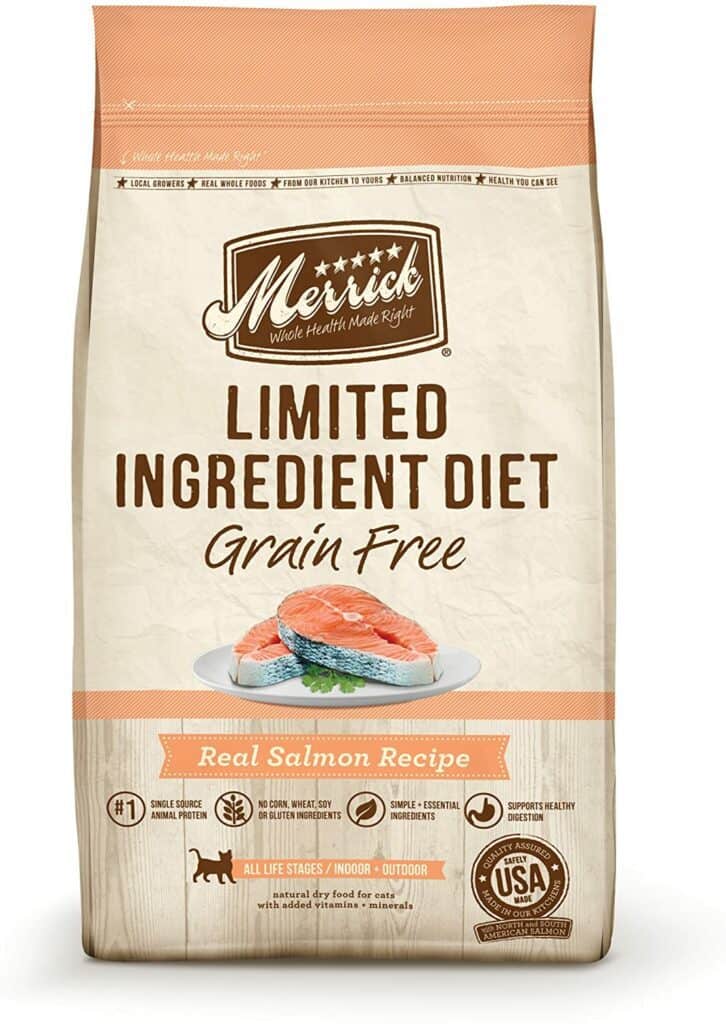 If your cat loves salmon as much as my cat, Asher does, then this chicken-free cat food may be the right choice for your cat.
Cooked and prepared in the United States, this single-source protein formula is free of grains, corn, and wheat and is especially good for cats with stomach or digestive problems. I love the healthy supply of Omega 3's and 6's, and the combination of flaxseed and pea fiber. The crude protein sits at a respectful 32 percent. Buy Here.
Best For Unique Protein Source: FREELY Rabbit Recipe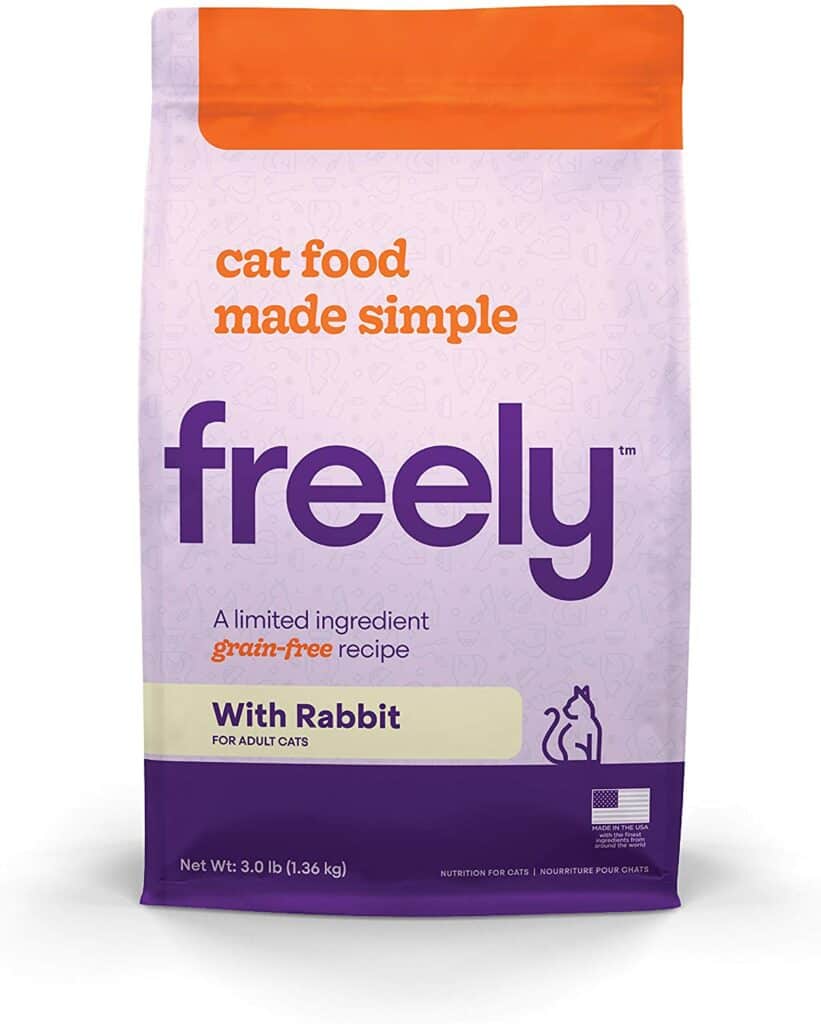 If your cat has unique taste buds or wants something especially flavorful, consider this chicken-free cat food option from FREELY.
With rabbit as the central source of protein, the formula has a very easy-to-read ingredients list, focused on ingredients like sweet potatoes and peas, with rabbit as the first ingredient. It also adds in prebiotics for healthy digestion and taurine for healthy skin. The crude protein is at 31 percent, and rosemary extract is also included to keep this food fresh for longer. Buy Here.
Best Chicken Free Wet Cat Food
If you're searching for wet cat food, or need variety, there's no need to worry. There are also some excellent wet cat food options that are 100 percent free of chicken or chicken products. All of these, as with the best dry cat food without chicken, are high-quality options.
Best Affordable: Blue Buffalo Basics Limited Ingredient Diet, Grain Free Natural Adult Pate Wet Cat Food, Indoor Duck

Blue Buffalo is a familiar cat food brand, and while widely available, it's a brand that places a great name on readily available commercial cat food. This cat food is perfect for indoor cats wanting a smooth, simple formula.
The grain-free formula showcases duck in a pate style, with essential vitamins and minerals, and is free of common allergens such as corn, soy, eggs, and dairy.
While a little lower protein (at 7.5 percent) it's still a great option when supplementing with dry cat food, or for cats that may do well with a lower protein diet. I like this as an accessible option that is easy to find and buy, and a bit less expensive than many other chicken-free cat foods on this list. Buy Here.
Best On-the-Go: Applaws Tuna Flakes with Shrimp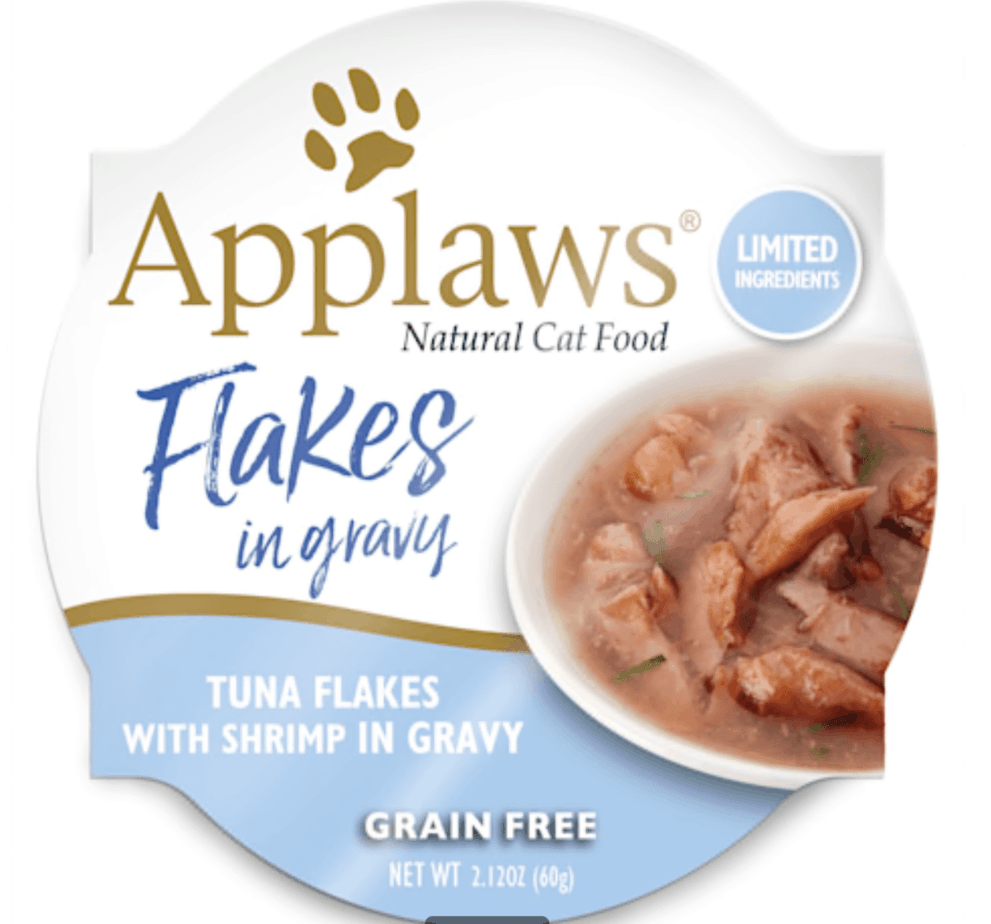 Traveling? Sometimes lugging along dry cat food or wet cat food requiring a can opener simply isn't practical. For a fun and quick change of feeding options, I like this option from Applaws. This comes in a case of 18 and features the shortest ingredients list of any cat food on this list.
A gravy-like fish broth carries tuna flakes and shrimp for real nutrition and flavorful formula, with dill for added flavor. While it may not have all the nutrients your cat needs, it's a great option for adding a bit of variety to your cat's diet– and convenient, too. Buy Here.
Best Balanced: Natural Balance L.I.D. Limited Ingredient Diets Salmon & Green Pea Formula Grain-Free Canned Cat Food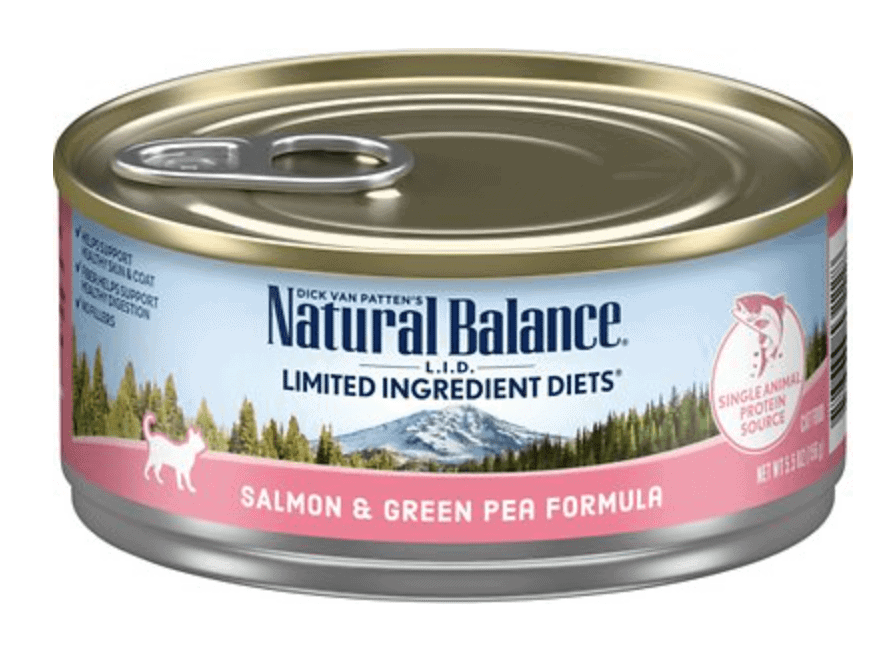 Look familiar? The same pick for the best chicken-free cat food is also a safe bet for wet cat food. Following the same balanced formula as its dry counterpart, and is sensitive enough for kittens with digestive issues. Salmon and green peas are the stars of the show, packed with essential nutrients and omega 3's and 6's.
The included fiber and careful selection of carbohydrates make for a winning combination. Of course, it's also a safe pick if your cat likes the dry cat food version and you need to supplement with some wet cat food but aren't sure where to start. Buy Here.
Frequently Asked Questions
Question: Is Chicken bad for cats to eat?
Answer: Unless your cat has a chicken allergy or insensitivity, chicken can be a healthy protein source for your cat. The key is to look at the quality of ingredients– avoid animal byproducts and learn more about the ingredients as a whole. For cats with sensitive stomachs, rule out other possible allergens, and consider asking your vet about the best-limited diet cat food for your cat.
Question: What is the best cat food for cats with skin allergies?
Answer: Cats that exhibit skin sensitivities, from inflammation to rashes or even discoloration, will do well with cat food specifically formulated to address certain issues. First of all, healthy fats, as well as taurine, are both important for healthy skin and coats.

Omega 3's are especially important. Be sure to ask your vet for your cat's needs. They may recommend special diet cat food in some circumstances, while some cats may need something as specific as low ash cat food.
Question: What can I feed my cat if I run out of cat food?
Answer: Ideally, your cat's diet should consist of high-quality cat food. However, if you are out of cat food, there are a few options until you run out to get some more. Lean, cooked meat with no added flavors or ingredients, such as chicken and lean beef as well as fish are options.

Try to avoid canned tuna in large quantities. And if you find yourself often out of food, consider a cat feeder, which may help you keep better track, and also allow your cat proper mealtimes if you're out of your house or apartment often.
Final Thoughts
Whether your cat has an allergy or simply could benefit from a change in diet, finding the best chicken-free cat food can take some extra work, but there are options for both wet and dry cat food.
Interested in exploring the natural side of things for a kitten? Here's how to find the best organic kitten food.
Continue reading:
Best Fish Free Cat Food On The Market Today
Whole Earth Farms Grain-Free Real Salmon Recipe Dry Cat Food Review
Taste of the Wild Canyon River Grain-Free Dry Cat Food