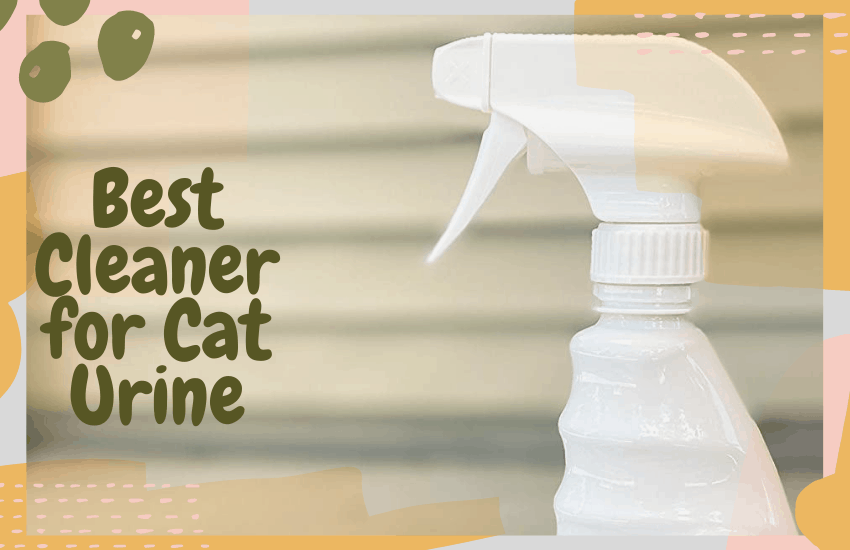 Our cats are cute, but their litter boxes are not. Urine, especially, is no fun to deal with. Cat urine has a very strong, unique, and awful smell. Let's be thankful that the litter box does its job to cover up and mask the scent!
Sometimes, however, our cats don't properly use the litter box. Some might miss the box by the edge and some might decide to ignore the box completely and urinate somewhere unpleasant like on our clothes, carpets or beds.
Brand
Features
Price


Eliminates Stains, Odors and Residue
Enzyme Activated
Safe to Use
Versatile
Usable on any surface

$49.97 for 1 Gallon
Children and Pet Safe
Made for multi-surface use
Made in USA
Money back GUARANTEE
$49.97 for 1 Gallon
Will get rid of any odor
Non-toxic and Safe To Use
Can be used outdoors
Great price
100% Money back guarantee
$22.97 for 8 fl. oz.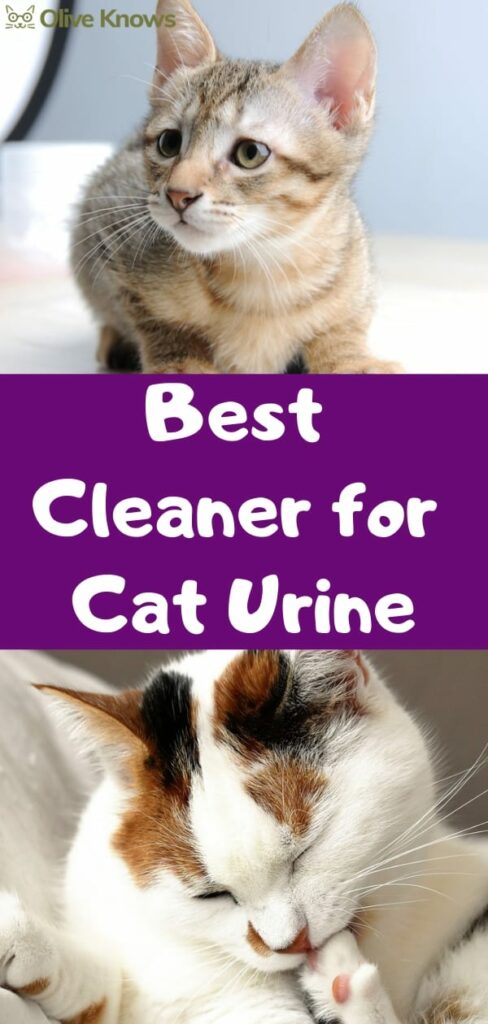 Why Do Cats Urinate Outside the Litter Box?
Our little furballs can urinate outside the litter box for a couple of reasons. They might have accidents– this is more common in older cats and young kittens who are learning.
They might have intended to use the litter box but sat too far to the edge. They may be marking their territory. Finally, they may be sick. If you suspect an illness, take your cat to the vet for a checkup.
What Can We Do About It?
If your cat has urinated outside the litter and cleaning up has not helped the urine smell, here are some ways to efficiently clean and deodorize the area:
Sprays
The most common cleaning cat urine solutions are spray bottles. They're the most convenient because you can spray and wipe, so you don't have to worry about pouring from a bottle or mixing with water. Here are some products that will clean and sanitize areas where your cat has urinated.
Be sure to test these products on a small area of the material you will be spraying to ensure that the product won't discolor the material or have any other undesirable effects.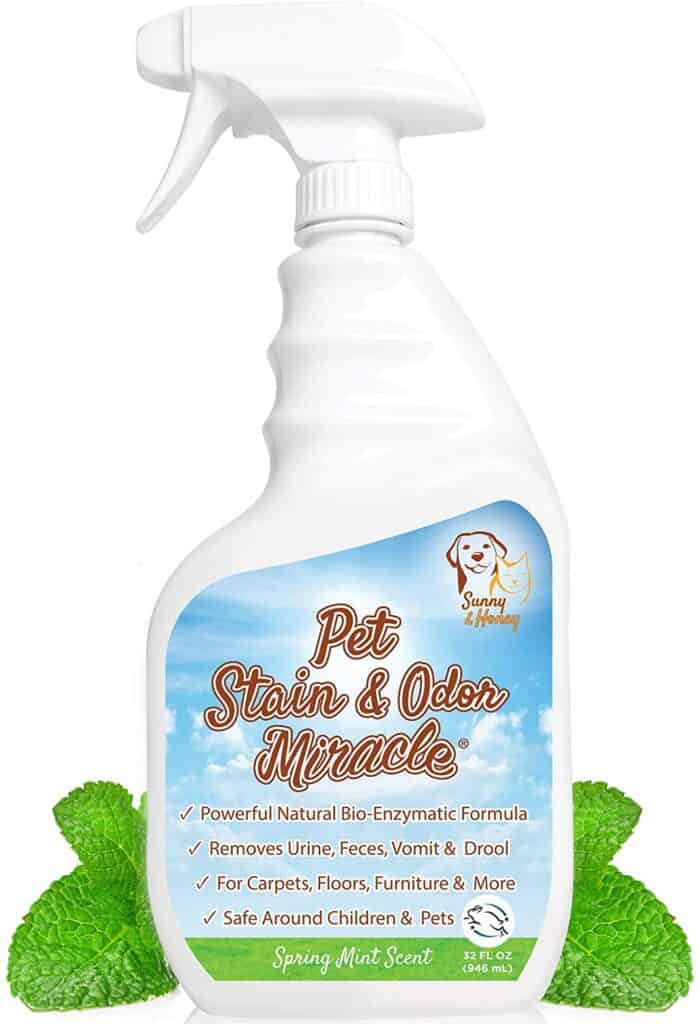 This spray can be used on wood floors, carpet, furniture, leather, rugs, pet beds, etc. The spray can also remove pet stains from feces, drool and vomit along with urine stains.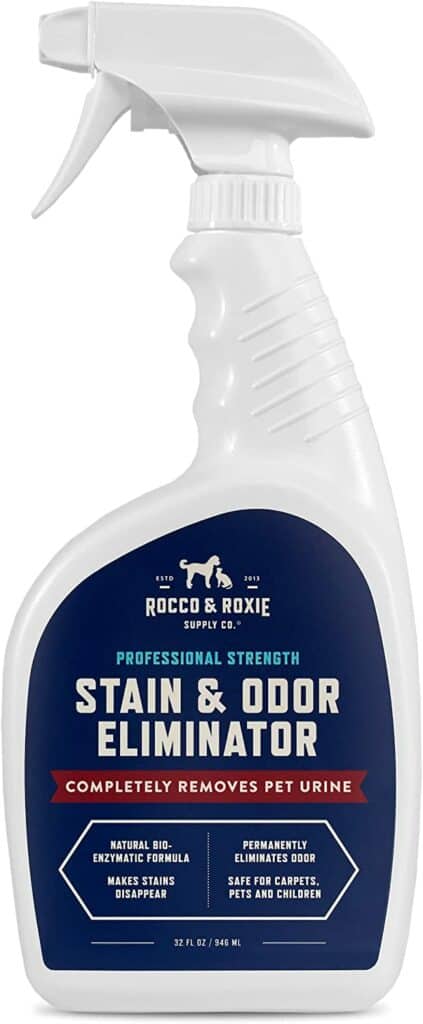 This spray can be used on multiple surfaces as well and it fights to eliminate odors. This is the best cat urine carpet cleaner as it has been certified by the Carpet and Rug Institute to be safe on all carpets.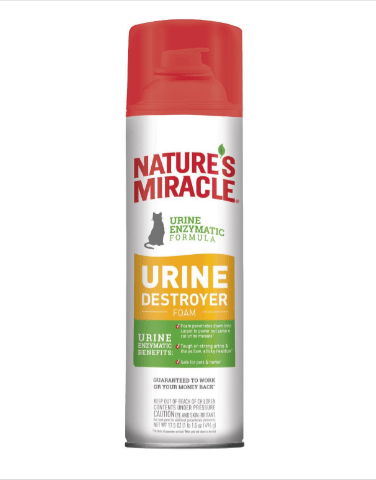 This spray uses foam power to clean urine and any urine spot residue. The foam does all the work so you don't have to scrub just spray, wait, and blot.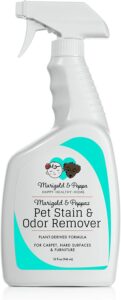 This spray not only eliminates cat pee and combats odor, but it is environmentally friendly. It is non-pathogenic and non-toxic and it works on most surfaces.
Bottled Formulas
Bottled solutions are effective in cleaning cat pee and eliminating the odor. If you don't like pouring solution, a neat DIY is to pour the solution into an empty spray bottle, then spray and wipe. Make sure to test these solutions to ensure the material won't get damaged. Here are some products that will help clean and get rid of the cat pee smellg.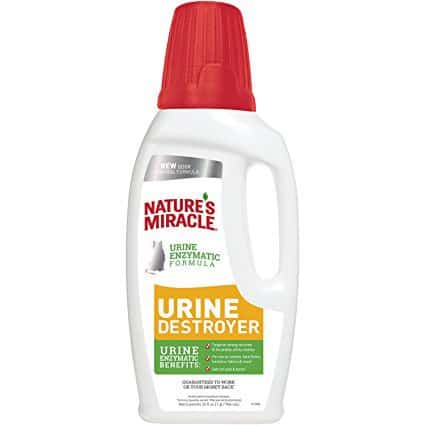 This formula works best on carpet, tiles, and linoleum to clean the urine and urine residue. Do not use it on untreated hardwood, leather, silk, suede, and wool.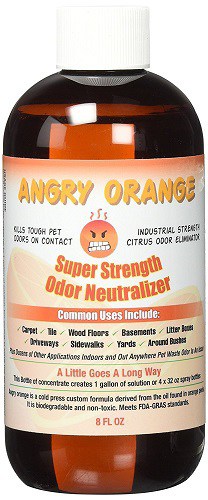 This industrial strength pet odor remover formula was made for big farms, waste plants and boarding kennels to deal with odors. Now it is available for home use.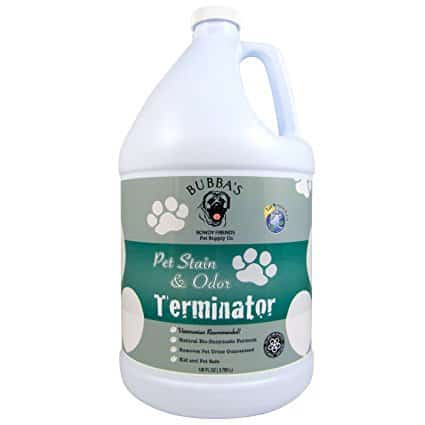 This formula specializes in removing the stains left by cat pee. It can be used on multiple surfaces, including carpet, as it is certified by the Carpet and Rug Institute.
This non-toxic, powerful formula fights to eliminate urine odors fast. All you have to do is apply to the urine. You don't have to scrub or blot; just apply.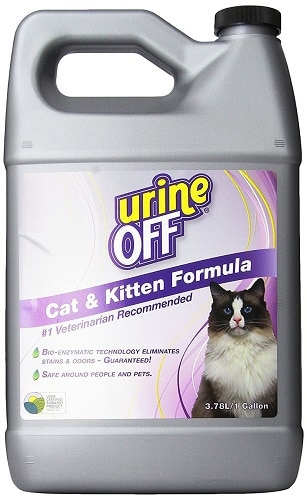 This formula is used by groomers, trainers, kennels, and veterinarians. It can be used on many surfaces.
Deodorizers
After cleaning and sanitizing, you may want some extra power to make the area smell better. These products are designed to combat the odor that cat urine leaves.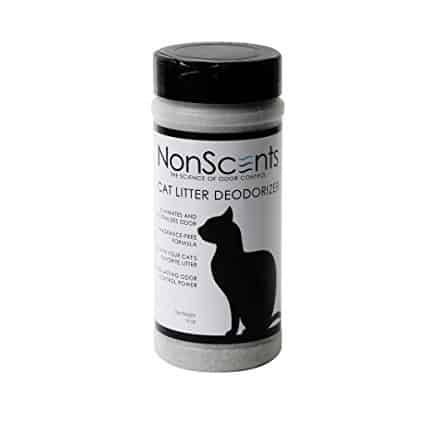 This deodorizer doesn't mask odors; it neutralizes odors. This leaves the area scent-free as the deodorizer is scent-free itself. It is also free of chemical additives.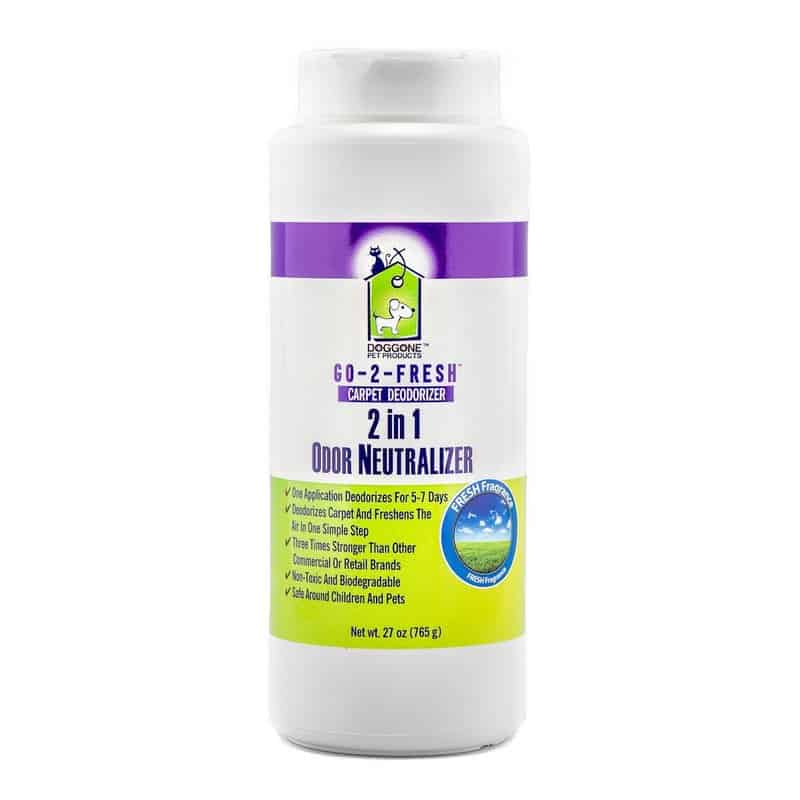 This is a multi-purpose deodorizer that not only combats cat urine but combats the odors of smoke, mold, mildew, and food.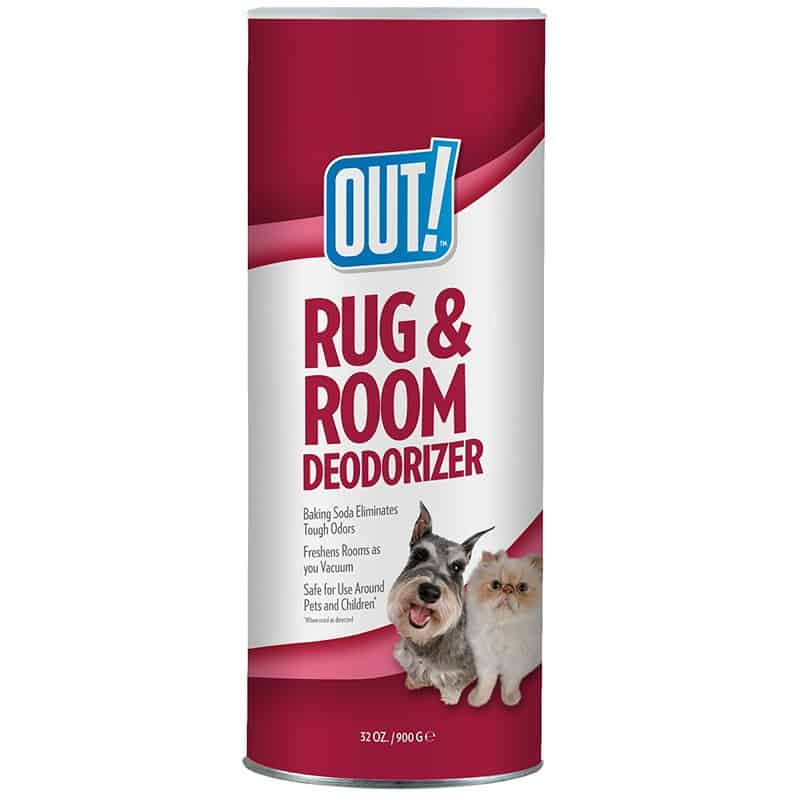 Use this deodorizer to sprinkle over the carpet and freshen the area as you vacuum. Made primarily out of baking soda, so it's safe to use around pets.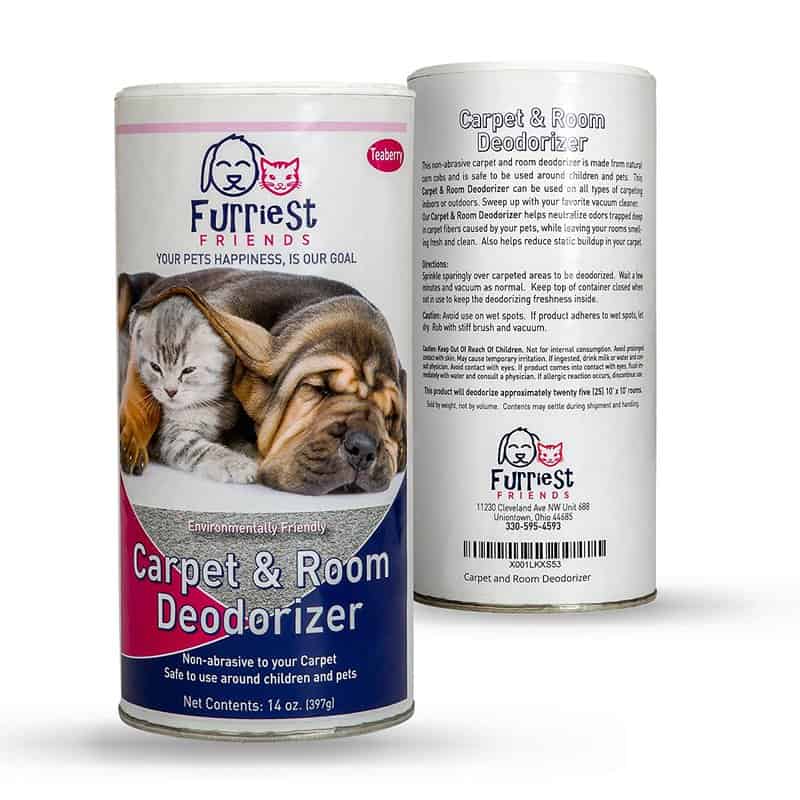 This environmentally-friendly deodorizer works to neutralize odors with natural ingredients. Just sprinkle over a carpet and vacuum.
DIY Solutions
Do-it-yourself solutions are effective and cheap. You may even have all the ingredients needed in your house already. As always, please test these creations on a small piece of material in case of damage.
Baking Soda and Vinegar Solution
A natural, all-purpose cleaner is baking soda mixed with vinegar. Clean the area with cat urine by sprinkling baking soda over the area then pouring vinegar until it fizzes. Then scrub and wipe with paper towels. Quick, easy and cheap.
Peroxide and Dish Soap
After using a DIY to clean the area, it's time to DIY to remove the leftover odor. Try mixing 2 tablespoons of peroxide with 2 drops of dish soap. Scrub the mixture into the area and blot it out.
Prevention
The methods above are all great ways to get rid of cat urine and to deodorize to take away the smell of cat urine. Cats are a little funny on where they go to the bathroom. The best method for dealing with unwanted cat urine is to prevent it in the first place, so here are some quick tips on preventing our cats from urinating outside the litter box.
The first step to dealing with cat urine is to prevent it from getting in unwanted places in the first place. Please keep the following in mind to keep the urine where it belongs: the litter box.
Keep the Litter Clean
An unclean litter box gives cats an unpleasant bathroom experience. Just like us, cats like a clean place to do business. If the litter box is constantly not scooped, your cat may not use it. So keep the litter scooped to keep your cat coming back to it.
Keep Your Cat Happy
Cats who are stressed or injured tend to retaliate by urinating in unwanted places. Be sure to know and understand if something could be a stress factor then deal with removing the stress if possible.
Neuter the Males
Male cats love to mark their territory especially when they are unneutered. They view your home as theirs and they want all other animals to know that they own it. So neutering is a good idea to help keep males from spraying everywhere.
Vet Check-Up
Urinating and misbehaving may be caused by an illness you may not see. Take your cat to the vet if they frequently urinate outside the litter box as it is a sign that something may be wrong.
There will be some times where your cat misses the litter box. Take steps to prevent it and if they fail, there are products and DIY tricks available to help you out.