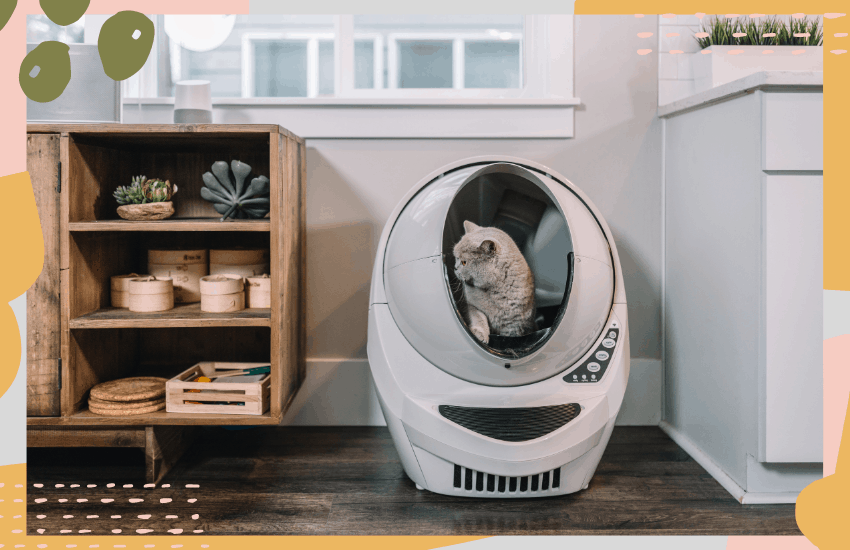 If you are like me, you've likely seen your social media channels and the advertisements on your TV bombarded with ads for the brand new cat litter, PrettyLitter. 
Or, if you're not like me, you probably haven't heard of PrettyLitter. Pretty litter is one of the newest, and in my opinion, coolest, cat litter to hit the market as of recent. Basically, when your cat pees in the cat litter, the litter will change color.
The color that litter changes will help you to get a better idea of your cat's health. For example, if your cat litter turns a Certain Shade of orange, it'll identify if your cat has acidic urine. 
So, I've grown tired of seeing my social media blown up with PrettyLitter advertisements. That's why I decided to make the purchase and try this cat litter out. However, I'm also going to let you know my thoughts about this cat litter, so you can decide whether this is a great purchase for you to bring into your family or not. 
That's why today, we're going to delve into a comprehensive review of my full experience with PrettyLitter. Keep reading to learn whether you should invest in this cat litter or not.
What is PrettyLitter?
Pretty litter is known as the world's smartest cat litter. It's a type of cat litter that allows you to monitor your cat's health without you having to dish out a lot of money. Also, PrettyLitter says that you won't have to worry about the smell of their traditional cat box with their subscription.
PrettyLitter offers an instant odor trapper. PrettyLitter insists that their cat litter eliminates moisture, so you don't ever have to worry about the smell of your cat box floating around your house again.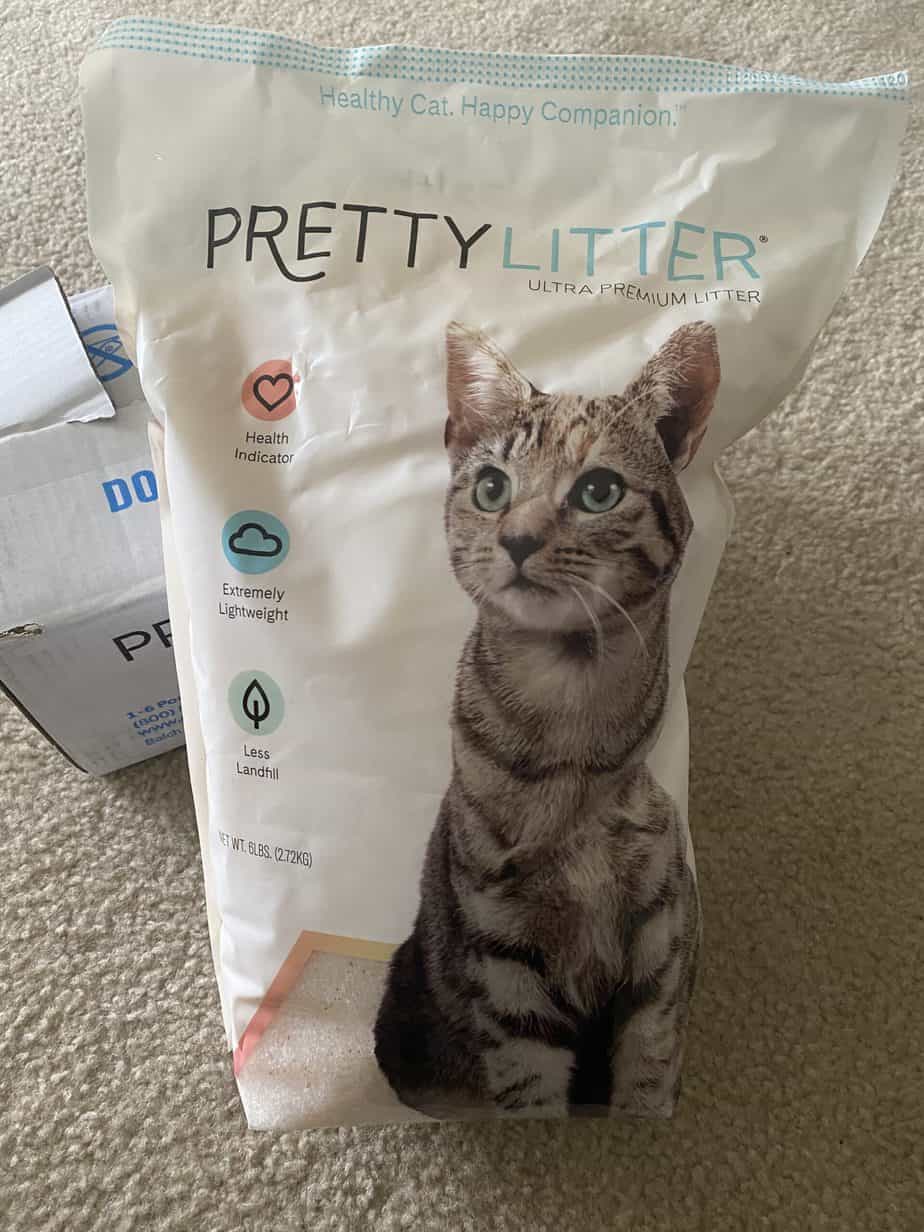 My Ordering Experience
The entire ordering experience of PrettyLitter was very easy. After I went on their website, it was easy to find the cat litter. However, it should be pretty easy to find their cat litter, considering this is the product if I'd known for. So take or leave this point.
After I clicked that and clicked the "get started" option, I was taken to a menu that allowed me to choose the quantity of cat litter that I wanted to receive. PrettyLitter asked how many cats I had, which will allow them to figure out how many bags of cat litter they need to send. At one cat, a bag of cat litter will cost $22 a month. With two cats, the cat litter will cost $40 a month free with three cats, the cat litter will cost $60 a month. 
I only have one cat, so I chose the one cat option. Next, I was taken to an option to choose the plan that I wanted. There were only two different options for me to select from; there was a one-month supply, that adds one bag of cat litter sent out every 4 weeks.
This option came with free shipping. The other option is a three-month Supply. But with this option, you'll also get two free toys and free expedited shipping. However, you'll be getting three bags of cat litter every 12 weeks. 
In this section, PrettyLitter highlights the ability to cancel or change the order frequency anytime you want. Plus, they highlight bed if you're not completely satisfied with the purchase; you just have to call them up within 30 days of your purchase.
After that, they'll issue a full refund. However, you will have to return any of the unopened products that you haven't used within 7 days after making this phone call. Plus, They said that they'll ship products we're free to the contiguous United States. 
My Shipping Experience
I really don't have a lot to say about the shipping experience. The shipping took less than 5 business days to get to me. This is very surprising, as I've had nothing but problems with the shipping as a result of all of the problems that covid-19 it's causing.
My package arrived in a large box, and it was neatly packaged. The box didn't have any damage to it and was very sturdy. I do wish that there may be some type of handle added to the package. If I had gotten several bags of cat litter, this would have been very awkward and heavy to carry up the stairs. 
Unboxing PrettyLitter
Inside of my box, there's an information card that was at the bottom. This information card included facts about PrettyLitter and information about the different colors that's a cat litter might change. 
The first thing that I pulled out of the box from PrettyLitter was a card. They highlighted the correct usage on a card, a section about getting your cat's approval, and How to maximize the Odor Control capabilities of this cat litter.
First, PrettyLitter explained how to properly use their cat litter to pour the cat litter inside a clean box. Then, they recommend using a ruler into the cat box's side to make sure that there were at least 2 in of depth of cat litter.
Also, they explain that having cat litter in the box will ensure that the PrettyLitter can work the way that it's supposed to and absorb the liquid that your cat leaves behind, but without leaving any odor. I do wish that they had let us know this before purchasing, as I have a huge cat box. However, I was able to get by with just enough cat litter to make it work.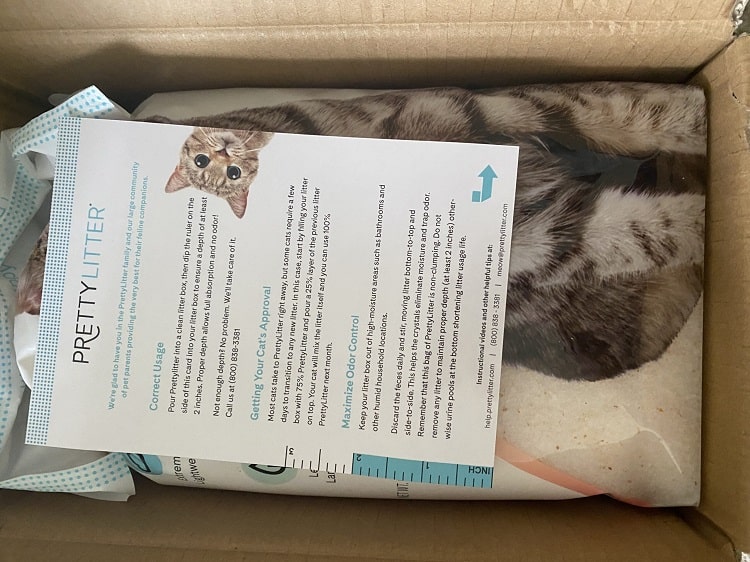 Then, PrettyLitter highlighted how to get my cat to start using their cat litter. They said that it can take some cats a few days to transition to using a new litter on the record. So, they recommended killing my cat box with 75% PrettyLitter.
They then told me to pour 25% of the litter that I was previously using in the box on top. As the cat uses the litter box, it'll mix the litter, allowing your cat to get used to the new PrettyLitter. Also, PrettyLitter says that you'll be able to use 100% of their cat litter in the next months.
Lastly, they gave a few tips on how to maximize the odor control capabilities of this cat litter. They recommended keeping the cat litter out of locations that have a lot of moisture in the air. They said bathrooms and other locations across the house that have lettuce moisture in the air should be avoided.
Next, they recommended removing the cat poop from the litter box on a daily basis. They then stir the litter in the cat box by moving the litter bottom to top and side to side. Doing this will allow the crystals in the PrettyLitter to trap odors and eliminate moisture. 
PrettyLitter also recommended that uses remember that their cat litter doesn't Clump up. Also, they said not to remove any litter from the cat box as it's important to maintain the proper 2-inch depth that they recommend. If you don't do this, there will be pools of urine that collect in the litter, causing the PrettyLitter to not last as long as it should.
Before we get too far into this view, please meet Blaze. Blaze is a cat that my husband and I recently adopted from the Delaware SPCA. She was a cat that grew up with my husband, but she belongs to another member and his family.
After another member of his family gave her up for adoption, we went in and adopted her. She's the most playful cat I've ever had but also very picky. She doesn't like any Seafood flavors and only enjoys chicken-flavored cat food. Thankfully, she isn't as picky with her cat litter options.
First Impressions
After I pulled out of the card out of the box, I have the cat litter bag in the box. There was a lot of information on the PrettyLitter bag. On the bag, it highlighted how I can track the health of my cat.
It says that PrettyLitter changes color when they're certain abnormalities that are detected in my cat's pee. Pretty litter recommended that I check the cat litter every 48 Hours. Also, if I notice any other color rather than yellow to olive green, I should be sure to check the cat litter.
Then, how it is an orange cat litter indicates a high level of acidity. Red indicates that there's a presence of blood in the urine. Next, PrettyLitter said that if there is any abnormal color in the kitty litter for more than 48 hours or if my cat seems to be too stressed, I should contact my pet's veterinarian. Also, they included a chart of all of the different colors that the cat litter can turn on the back of the bag. 
Testing it Out
So, I got a brand new cat box to go with my new kitty litter. I wanted to make sure everything was brand new, fresh, and clean for this PrettyLitter review. Thankfully, I already knew that Blaze isn't picky about the cat litter that she uses.
So I didn't worry about mixing in the cat litter that she was previously using with this PrettyLitter. After I poured the PrettyLitter into my litter box, I put Blaze inside the box and dug her paws in.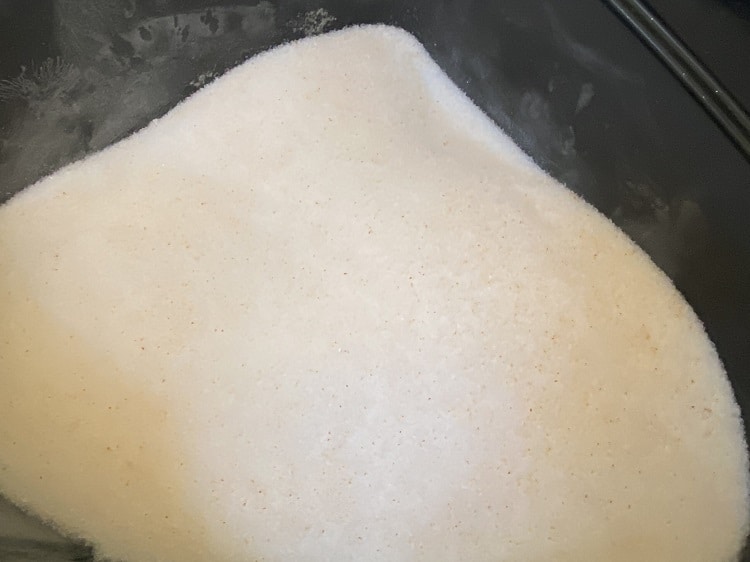 She stepped around for a few seconds and hopped out of the box. She didn't have any business to do, so I was off to wait to see how the new litter worked. When I was pouring it, I really did enjoy that it wasn't very dusty.
I normally used Tidy Cats Glade cat litter because it's really lightweight, easy to carry upstairs, and I really enjoy the scent of it. I find it whenever Blaze uses this cat litter, my home will smell like air freshener instead of cat pee. So this is what I normally gravitate towards.
However, the biggest downside to that cat litter is that there's a lot of dust that kicks up from it. If you aren't staying on top of doing the cat box, I find that it's easy for dust from the calendar to be tracked around on your cat paws.
Read our full guide on how to find the best cat litter that doesn't track.
The next morning, I went into our second bathroom to check how the cat box is doing. Now, I know the PrettyLitter said not to put the cat box in a bathroom or An area of the home that has a lot of humidity.
However, only my husband and I live in our two-bedroom, two-bathroom, 1560 square feet apartment. So, we don't ever use the second bathroom. that's why I ended up putting the cat box in the second bathroom.
After going into the bathroom, I check the cat box to see if Blaze had used it. Good news, she did. However, I was glad that I did have to check a box to make sure that she used it because there wasn't any smell that hit me right off the bat.
When I went in and got a closer look at the litter, I saw that she did poop in the cat box. However, I was more interested in seeing what was up with her cat pee. She had just been to the vet because we literally had just recently adopted her not even a week prior, so I knew that she was healthy. And thankfully, PrettyLitter agreed. Her kitty litter was a light yellow color.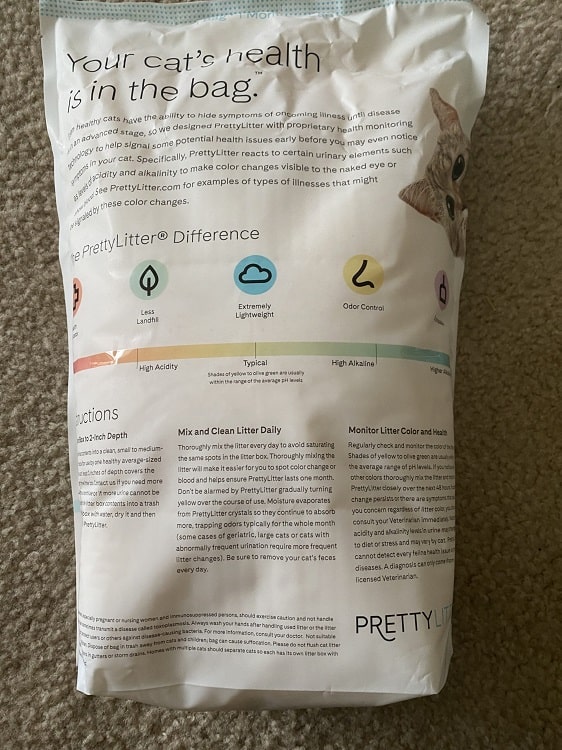 However, what I was expecting to happen with the PrettyLitter isn't actually what happened. Because I'm so used to thinking about and seeing letters that Clump up, I was expecting to see a clump of cat litter in the litter box that was yellow.
Instead, there were a few crystals in an area that turned yellow. The color of the PrettyLitter itself is a light pink, so I really had to look hard to see where the yellow was. I'm sure that if your cat is sick and a strange color came up, it would be a lot easier to see. However, the color that came up was really light, like a sunset yellow. And the color of the PrettyLitter is very soft blush pink.
After I scooped out the cat litter's solids, I shook the cat litter around in the box. It was really easy to scoop, there wasn't any dust, and I found that Blaze wasn't tracking the cat litter around the house.
Normally, with the cat litter that I use, she'll get some stuck to her paws, and I'll find it on the carpet in the bedroom where we keep her cat box next. However, I wasn't finding this to be a problem with PrettyLitter.
Check out our full guide on how to find the best dust-free cat litter.
Pros and Cons of PrettyLitter
Now, let's take a closer look to get a better idea of the pros and cons that PrettyLitter has to offer. At first, I'm going to start with the pros:
Affordable

Easy to clean up

Not a lot of dust

Really helpful and identifying your cat's overall wellness level

Fast shipping

 

Great breakdown of how to properly use the cat litter to help protect your cat's health

Easy to use website with a great subscription option
I forgot to mention in my rearview that I also test out a portion of the cat litter with plain water. I pour the plain water into the cat box and there wasn't any change in the color of the litter. So, that was my little wave trying to figure out whether or not this cat litter was a scam or not.
Now, I'd like to break down some of the negatives I noticed about PrettyLitter:
If you got a small cat box, a resealable bag would be awesome

If your elderly or aren't very strong, having a pour spout would also be a great addition

The smell from the cat box was no school at around two weeks
Alternatives to Consider
Don't feel like PrettyLitter is the best option available on the market for you? We are here to break down some other alternatives for you to consider. 
Fresh Step Odor Shield Scented Clumping Clay Cat Litter
If you want to avoid sprinkling baking soda in your cat's litter box, you'll want to consider using the Fresh Step Odor Shield Cat Litter. While it doesn't have the same telling effects that PrettyLitters color-changing effects provide, it will help you to keep your odors under control.
Plus, it comes with activated charcoal that helps to keep the smell from your cat box under control. I would recommend this cat litter if you're looking for something that does clump up, which isn't something that PrettyLitter does
PetSafe Scoop Free Premium Crystal Non-Clumping Cat Litter
This cat litter by PetSafe is unique because it comes in two bags. That means you only have to worry about opening half of the litter bag at once, as you don't want it and destroy all of the litter's freshness in the other bag.
You will have to worry about this if you don't use the litter fast enough. But this is a common problem that's often run into with Crystal litter. However, you will notice with this letter that you don't have to worry about tracking or a lot of dust coming from it.
Also, there is a mild sense that this letter has, which may make it more appealing to your cat if they're very picky about their litter. Keep in mind that this is a very absorbent cat litter because it's made with Crystal.
Plus, the brand says that it will help to absorb urine five times better than any other clay cat litter on the market. The biggest downside is that it can stick to your cat's fur, so make sure that you're keeping up with grooming your cat.
FAQs
Do you still have some questions about PrettyLitter but you aren't sure about the answer to? We're here to break down The Epic you so you can not get a better idea of whether or not PrettyLitter is the right cat litter for you.
Question: Why is PrettyLitter a lot later than other cat litters on the market?
Answer: Pretty litter explains that their cat litter is clump-free. They use a lightweight and super absorbent silica gel in the litter. By using silica gel crystals, there are lot more absorption capabilities in this cat litter than other options on the market. This means that you'll have to have a lot less cat litter to use with other brands. 

With the traditional calendar that you can buy at the grocery store, it clumps the litter in two large. This means that all will leave you with large and heavy clumps for you to scoop out of the box. By using PrettyLitter, you don't have to worry about finding these large clumps in the litter box. The only thing that you'll have to worry about is keeping out of the cat box and getting rid of your cat's poop. This is what law allows you to have a bag that lasts you an entire month. 
Question: What do the different colors indicate in the cat litter?
Answer: Pretty litter allows you to become alert about potential health problems developing your cat before they get sick. This will help you to save on expensive vet bills by getting ahead of a problem. Some of the health conditions that PrettyLitter can help do to identify include kidney tubular acidosis, Airy tract infections, metabolic acidosis, bladder inflammation, bladder stones, and calcium oxalate problems. 

A yellow or olive green color indicates that your cat is healthy. A blue color identifies that is abnormal alkalinity. A dark green color also indicates abnormal alkalinity. Red indicates there's a detection of blood in the urine. Also, orange indicates that there's abnormal acidity in the urine.
Question: Is Pretty litter safe?
Answer: A team of scientists and veterinarians work together to develop PrettyLitter. This means that there's been a lot of science and research has gone into developing this cat litter specifically for cats. Since it's made with a silica gel at super absorbent, it's safe for your cat to use. Also, the indicator sits in the formula that helps you identify your cat's health isn't absorbed into the bowl of your kitty. Also, you don't have to worry how about the presence of humidity causing any health problems with your cat. 

Silica gels have millions of tiny for and each green of crystal. Since PrettyLitter absorbs really well, you won't have to worry about using as much litter as you normally do. That's why you'll notice the PrettyLitter box with so much smaller and lighter than other cat litters. Also, PrettyLitter says that their litters are 80% lighter than Trishna letters you'll find on the market. 
Final Thoughts
I ended up using PrettyLitter for the entire month that was recommended. Throughout the whole month, I didn't notice any problems with my cat's urine showing any signs of them being sick. Towards the second half of the month, I noticed that the cattle are starting to smell a little bit.
This was after I mixed the cat litter like PrettyLitter recommended me to do yourself after every time I clean the cat box, which is daily. While the smell didn't take over my entire house, it certainly was noticeable when I went into the bedroom that's attached to the bathroom where I kept the cat box.
As somebody who works from home, like a lot of people are right now, it wasn't something that I wanted to smell all day. So, I ended up sprinkling and some baking soda to help push through this the end. It definitely smelled more like dirty litter than anything else, but I wish that some sort of send agent would keep this from happening.
A few years ago, I had a very sick cat and would often meow when he was going to pee. That's couldn't figure out what was wrong with him, but it made me wish that PrettyLitter was around before my cat passed away.
It would have helped make diagnostics a little bit easier, and it definitely would have helped me better take care of him during his final few months. It made me miss my cat a lot, but I also think about all of the sick cats and how much potential this cat litter has to help save lives.
Continue reading:
5 Best Dust Free Cat Litter Options You'll Really Appreciate
Is Your Cat Allergic to Its Litter?
Luuup Litter Box Review: Worth the Extra Cost?