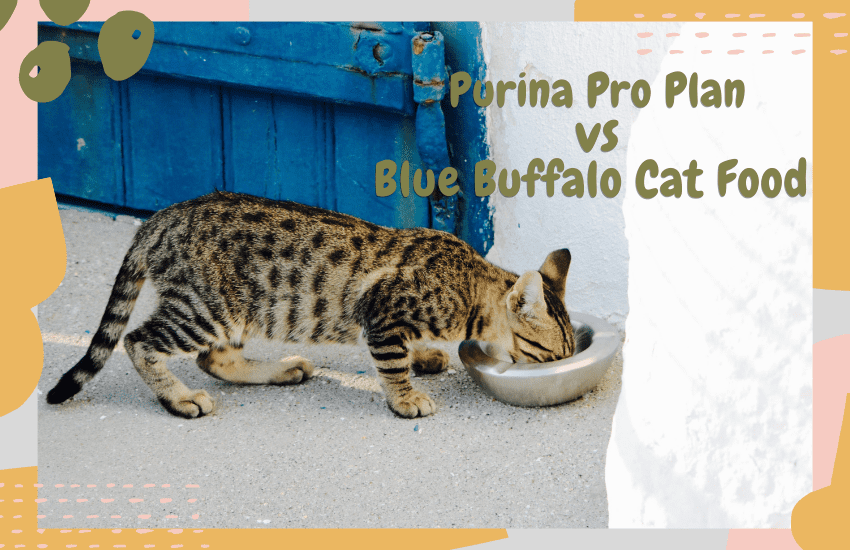 Main Differences Between Purina Pro Plan vs Blue Buffalo
The main differences between Purina Pro Plan vs Blue Buffalo are:
Blue Buffalo is more versatile and it offers a bigger collection of products including wet food, dry food, treats, etc., whereas Purina Pro Plan is more limited with their products.
Blue Buffalo offers less controversial ingredients, whereas Purina Pro Plan uses questionable ingredients for some of their products.
Blue Buffalo is generally the more expensive option of the two, whereas Purina Pro Plan is more economical
Blue Buffalo Company | Chewy
Blue Buffalo believes that "Dogs and Cats are family members who should be fed with the same care and concern as any loved one". Find everything from dry, canned to wet Cat Food on Chewy.com or Amazon.
Check Price
Buy at Amazon.com
We earn a commission if you click this link and make a purchase at no additional cost to you.
Blue Buffalo has risen from the ranks to become one of the most prominent pet food manufacturers in the world today.
The brand has endeared itself to the hearts of cat and dog lovers because of how genuine they are when it comes to the welfare of pets.
Blue Buffalo decrees that "pets are not owned, but are valuable members of the family," and of course, should be treated as such.
With such a slogan in mind, one can always expect that the formulation of both cat and adult dog foods churned out from the brand's kitchens is like meals that are well-planned for high-valued members of the family.
The Blue Buffalo brand has become adept at using the choicest ingredients for the formulation of special foods and diets needed by healthy and sick pets.
They have defied the odds and grown from a family-owned pet food establishment to one that is ranking on the top 5 best pet food companies of the world.
Blue Buffalo always boasts that their pet foods or canine diet formulations are artificial flavors ingredient-free, grain- free and filler-free.
This outstanding company also has treats for cats and dogs as well as dental chews all geared towards completing the overall care of household pets.
They are considered one of the best – and most caring – cat food brands – out there since their primary emphasis is on what is right and good for your pet.
Key Features of The Blue Buffalo Brand
Gluten-free and grain-free formula
Extremely limited ingredient diet formulation
Wholesome, finest-quality, natural ingredients
Animal protein is used as the main ingredient
Purina Pro Plan pet foods come in four different variants:
The Purina Pro Plan Savor – This is the brand's optimum canine nutrition on a day-to-day basis
The Purina Pro Plan Focus – this is geared primarily for pooches with unique needs such as those with diabetes, arthritis, etc.
The Purina Pro Plan Sport – this variant supports the lifestyle of a highly active sporting dog by furnishing them with the required nutrients for strength and endurance.
The Pro Plan Bright Mind – this is the perfect puppy food plan as it is geared toward optimum development of puppy's brains.
The Purina Pro Plan brand is also unique in the sense that they use high-quality, animal-based proteins in all their formulations or diets along with antioxidant-rich fruits, wholesome carbs, healthy fatty acids, vegetables, etc.
The Purina Pro Plan brand believes in customizing a dog' diet so that they can meet its nutritional requirements at all times. This is why they have become the go-to brand for any kind of balanced nutrition that your canine friend needs.
Key Features of the Purina Pro Plan Brand
Optimum-quality ingredients with meat-based proteins
No artificial flavors
No wheat, soy, corn or fillers
Antioxidant-rich and easily digestible carbs
There is presently an unofficial battle for supremacy in the pet food industry. Two pet food brands are squaring off each other in a war of words, prosecution, and counter-prosecution, claims, and counterclaims.
In this pet food-brand comparison article for Purina Pro versus Blue Buffalo, we will take a look at the significant differences between them by making use of the latest price and nutritional information.
There are several factors that you must take into consideration when it comes to selecting the best pet food brand for your beloved canine or feline friend. These factors include:
Cost
Quality of ingredients
Product safety
Brand history
Guaranteed analysis, etc.
General comparisons will be made throughout this Purina Pro Plan vs Blue Buffalo comparison article but based on average data.
Without much ado, let us dive into the meat of the matter, shall we?
Purina Pro Plan vs Blue Buffalo: Guaranteed Analysis
All pet food labels are expected to showcase guaranteed analyses of nutrient content. These analyses must provide information such as the guaranteed maximum percentages of moisture and crude fiber as well as the minimum percentages of crude fat and crude protein.
All guaranteed percentages that will be presented in this comparison write-up are averages that are reported on a dry matter source.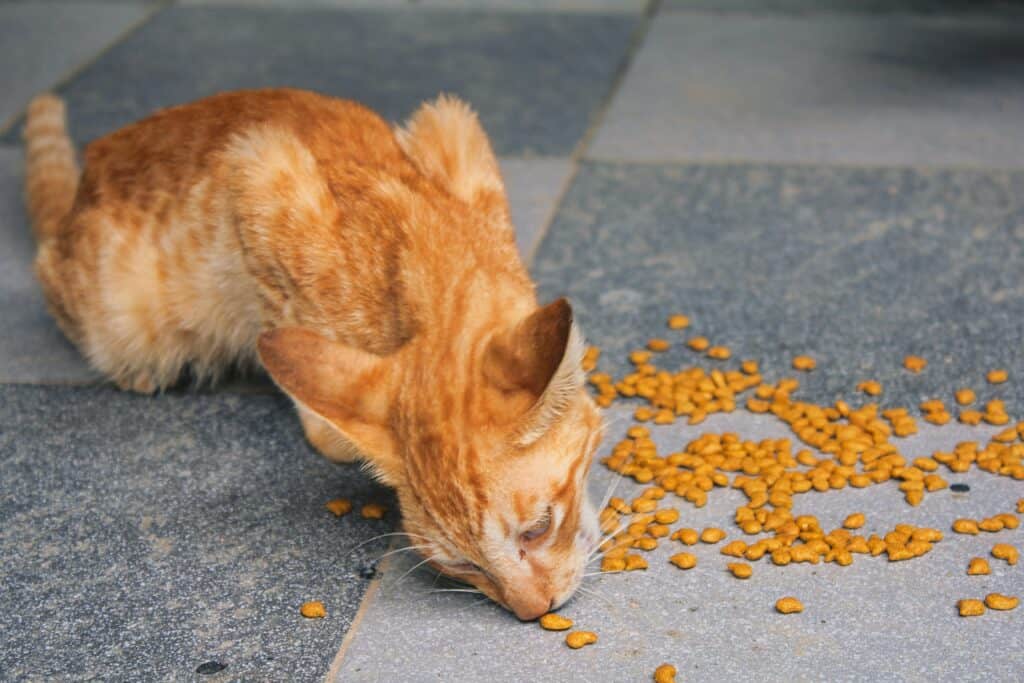 Blue Buffalo Dog Food vs Purina Pro Plan Dog Food
Crude Fat Comparison for Dog Food
Fats are essential and needed for proper function and development of the canine body. According to the data showcased in the table below, Blue Buffalo has 2.84% less fat content compared with Purina Pro Plan. This difference may seem too small and probably negligible to many; it is still relatively significant.
Alternatively, Blue Buffalo wet adult dog food options have more fat content than Purina Pro Plan wet foods.
Moreover, there is a minute difference in the fiber content of Blue Buffalo and Purina Pro Plan. The former guarantees approximately 2.81% more fiber than the latter. But for wet dog foods, each pet food brands contained – more or less – the same amount of fiber.
Crude Protein Comparison for Dog Food
Do you know that your canine companion requires nothing less than 22 amino acids to for sustenance? Twelve amino acids are naturally synthesized while the remaining ten have to be consumed. A high quality protein is the perfect nutrient that contains a majority – if not all – of the remaining ten essential amino acids.
Now, take a look at the table below: you will notice that Purina Pro Plan has more protein content – up to 3.28% than its counterpart, Blue Buffalo. This difference is relatively small but notable.
Additionally, Purina Pro Plan wet dog foods also have more protein content than Blue Buffalo wet foods.
| | | |
| --- | --- | --- |
| Wet/Canned Dog Food | Blue Buffalo | Purina Pro Plan |
| Crude Fat | 25.2% | 16.4% |
| Crude Protein | 40.4% | 47.3% |
| Crude Fiber | 7.5% | 7.2% |
| | | |
| --- | --- | --- |
| Dry Dog Food | Blue Buffalo | Purina Pro Plan |
| Crude Fat | 15.0% | 17.9% |
| Crude Protein | 28.5% | 31.8% |
| Crude Fiber | 7.1% | 4.3% |
Blue Buffalo Cat Food vs Purina Pro Plan Cat Food
Crude Fat Comparison for Cat Food
Dietary fat contributes to the overall well-being of our feline companions. Here is a non-exhaustive but a brief overview of the benefits that fats provide:
Hinders the development of yeast infections
Sustains healthy blood pressure
Enhances the production of metabolite which assists in controlling inflammation
It improves the texture or taste of cat food.
It aids the transportation of nutrients across every cell membrane
The table illustrates below shows that both Purina Pro Plan and Blue Buffalo guarantee similar amounts of crude fat content. But for wet cat food, Purina Pro Plan lacks some points there while Blue Buffalo picks up points by having more fat – up to 7.535 – than its counterpart.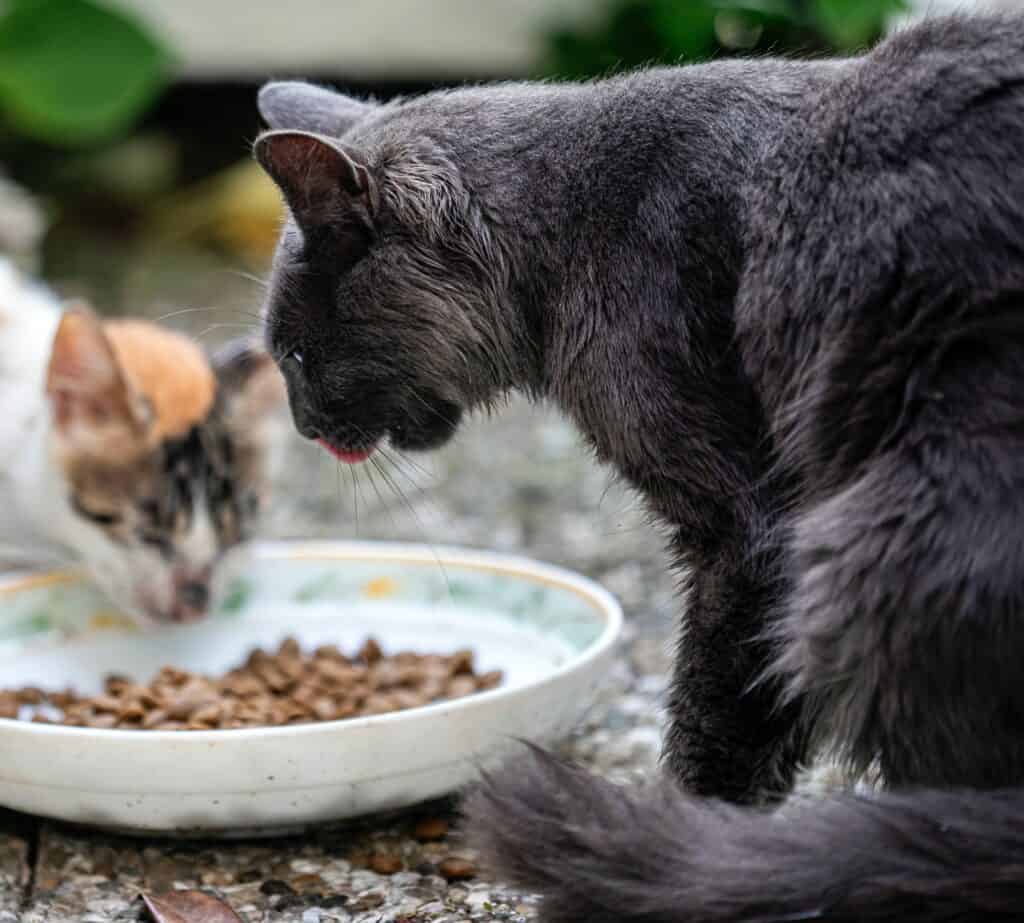 Average data indicates that Blue Buffalo has considerably more fiber content than Purina Pro Plan, though the difference is so small that it is assumed to be negligible. But for wet cat foods, both brands provide almost the same amount of fiber.
Crude Protein comparison for Cat Food
Cats also require at least 22 amino acids for sustenance; eleven amino acids are naturally synthesized while the remaining eleven are consumed. The source of all these amino acids is protein.
Purina Pro Plan dry cat food recipe shows that it contains 8.64% more protein than Blue Buffalo recipes. The same goes for wet cat foods: Purina Pro Plan has more protein – up to 6.06% more – than its counterpart, Blue Buffalo.
You can see the significant difference in protein content in both pet food brands
| | | |
| --- | --- | --- |
| Wet/Canned Cat Food | Blue Buffalo | Purina Pro Plan |
| Crude Fat | 24.7% | 17.1% |
| Crude Protein | 45.4% | 51.5% |
| Crude Fiber | 8.2% | 6.9% |
| | | |
| --- | --- | --- |
| Dry Cat Food | Blue Buffalo | Purina Pro Plan |
| Crude Fat | 16.3% | 17.4% |
| Crude Protein | 37.0% | 45.6% |
| Crude Fiber | 6.4% | 3.6% |
Blue Buffalo Ingredients vs Purina Pro Plan Ingredients
Both Blue Buffalo and Purina Pro Plan use some ingredients that are considered "controversial" such as:
Pea Protein – Pea protein is produced when the starchy parts of peas are eliminated. It is considered controversial since it is primarily a considerable plant-based protein enhancement. This boost is not desirable because plant-based protein has lower biological value when compared to protein obtained from meat.
Caramel Color – Caramel color is a natural ingredients food colorant, a concentrated variety of caramel. It has been linked in the past to cancer in lab animals. Our animals don't care about food color; so it doesn't make any sense to expose them to danger by the unnecessary addition of caramel color.
Powdered Cellulose – Powdered cellulose is produced from the minute pieces of plant fibers and wood pulp. It does not contribute nutritionally to the overall diet of pets, other than its fiber content.
Canola Oil – Canola Oil is derived from the seeds of the canola plant. Even though it is an essential nutrient of any diet, using canola oil in pet food is somewhat unacceptable and provoke controversy. Some advocates believe that canola oil has and provides a much better fat profile compared to other plant-derived oils. But opponents disagree by claiming that canola oil – in most cases – is produced with genetically-engineered rapeseed. Rapeseed oil has several adverse effects which may affect the overall health of pets.
The following controversial ingredient was found to be used only by Purina Pro Plan. They include:
Animal digest – Animal digest is the result of a chemical reaction known as hydrolysis. It is undecomposed animal tissue which is used as a form of flavor to enhance the taste. Animal digest is considered a poor choice for flavor since it is a low-quality ingredient. Moreover, the source animal is not specified anywhere on the label, meaning that the undecomposed animal tissue could be that of any animal including cats and dogs.
Soybean Protein Concentrate – Soybean protein concentrate is formed when water-soluble carbohydrates are removed from soybeans. If non-meat proteins are included in any pet recipe, it degrades the overall quality of protein in such a recipe. The degradation is brought about as a result of inferior amino acid profiles of plant-based proteins.
Meat By-Products – AAFCO has defined "By-products" as the "non-rendered, clean parts, excluding meat, derived from slaughtered mammals." This implies that meat by-products contain almost all parts of an animal that cannot be consumed by humans. These parts include:
Liver

Kidney

Blood

Bone

Intestine

Stomach, etc.
The source of this ingredient is never specified, hence the controversy. Furthermore, ingredients that are typically anonymous are usually of low quality. Another disagreeable possibility is that the animal source can be obtained from any animal including cats and dogs.
Soybean Hulls – Soybean hulls are by-products of meal processing and soybean oil. They are regarded as inexpensive fillers of low nutritional value and quality.
Poultry Giblets – Poultry giblets include the gizzards, liver, heart, as well as other internal organs obtained from poultry. Organs are usually nutritiously dense ingredients which provide high-quality fat and protein. But this particular ingredient is considered inappropriate and anonymous since the type of poultry is not stated. "Turkey giblets" or "chicken giblets" are more preferred over poultry giblets.

Chicken By-Product Meal – Chicken Meal by-products are produced when chicken by-products are cooked via a process called "rendering." Since by-products are those parts that are unsuitable for human consumption, it is safe to assume that chicken meal by-products are those parts of a chicken that is unsafe for human consumption. They include the stomach, blood, bone, etc.
Chicken by-products are also considered controversial – just like other meat by-products – since they are inexpensive ingredients that most people associate with slaughterhouses. But many experts and manufacturers claim that animal by-products are not criticized justly. Some proponents even stipulate that named by-products – such as chicken by-products, turkey by-products, etc. – supply a lot of nutrients which pets require on a daily basis.
Brewers Rice – Brewers rice is that small fragments of rice kernel which is separated from the larger kernels of milled rice. These fragments, however, don't share the same nutritional profile of the entire kernel. This implies that brewer's rice has a significantly low-quality grain. It is usually regarded as inexpensive filler.
Ground Yellow Corn – Ground yellow corn is the same cereal grain that has moderate amounts of minerals, vitamins, and plant-based protein. Somehow, it has got itself on the controversial list of ingredients used by Purina Pro Plan.
Advocates of corn proclaim that corn is an excellent – and easily digestible source of energy, protein, minerals, essential fatty acids, and protein. But opponents believe state that the majority of positive claims about corn are either entirely false or half-truths.
For instance, the highly digestible attribute of yellow corn holds true if it is processed into flour or a meal and then cooked.  As regards the contribution of protein by yellow corn, recall that it is a plant-based protein which is considered unsuitable since it doesn't contain all the essential amino acids that our pets need for sustenance.
Therefore, substituting corn for meat is inappropriate as it can significantly cut down the overall quality of protein in the product.
It is true that corn provides decent amounts of minerals and vitamins, but they are not too significant in this regard. There are several other ingredients that can provide richer amounts of minerals and vitamins. So, the use of corn in pet food is highly questionable.
Liver – Liver is also on the list of controversial ingredients used by Purina Pro Plan for pet food primarily because the source animal is not spelled out. In most cases, anonymous animal ingredients are very low in terms of quality and may even contain almost any animal including cats and dogs.
Other Controversial Ingredients Used by Purina Pro Plan Include:
Vegetable Oil – Some vegetable oils are positive ingredients that do a lot of good to our pets' bodies. However, it is important to state the particular vegetable that was used in the production of the oil. No specific statements can be made if the vegetable used to create this ingredient remains unknown.
It is important – with any fat source – to know certain things such as the omega-3 to omega-3 fatty acid ratio, etc. This property cannot be determined with this particular ingredient from an unknown source. This is the primary reason why vegetable oil got on this list.
Garlic Powder – Garlic power is good as an additive in pet foods. But they must be present in very small quantities because garlic can be toxic. If you are a cat or a dog owner you are at liberty to avoid any pet food with garlic in them.
Poultry – Poultry is another controversial ingredient since the source animal is unknown. It is assumed that anonymous animal ingredients are typically low in quality compared to protein sources that are specified such as turkey, chicken, duck, etc.
Poultry By-Product Meal – Poultry by-product meal has no specified source.
Corn Gluten Meal – Corn gluten meal is a by-product derived from the production of multiple corn products such as corn syrup, corn starch, etc. Granted, this ingredient has extremely high protein content – nearly 60% protein – which is believed to have boosted the overall protein content of the product.
However, the protein derived from corn gluten meal is plant-based, and plant-based protein is always considered inferior to protein obtained from meat sources. This is corn gluten meal is not a worthy substitute of meat-based protein.
Ground Wheat – Ground wheat is another low-quality and inexpensive filler used in pet food. Although wheat has a high plant-based protein content, thus making pet food more affordable for pet owners, it does not provide the same amino acid profile as its meat-based cousin.

Animal Fat (preserved with varied Tocopherols) – Animal fat is derived from tissue tendering, and without the source animal specified, no one knows for sure whether or not the animal is diseased or euthanized cats and dogs.
Whole Grain Corn – Whole grain corn encompasses the entire kernel family i.e. the germ, bran as well as the endosperm. Corn belongs to the cereal family and produces a modest amount of minerals, vitamins, and plant-based protein as well.
Pet food from the Purina Pro Plan brand still has several other controversial ingredients such as:
Soybean Protein Isolate – Soybean protein isolate is a highly purified variety of soybean protein, with about 90% protein. Since it is a non-meat-based protein, its inclusion as part of the ingredients that make up pet food cuts down the overall quality of the protein in the recipe. This is as a result of the substandard amino acid profile of plant-based proteins.
Whole Grain Wheat – Whole grain wheat comprises the entire grain of wheat family viz. the germ, bran, and endosperm. Corn is the first most-produced cereal grain in the world while wheat takes second place.
Wheat – even though it's classified in the controversial category in pet food – still provides many other nutrients as well as dietary fiber. It also contains plant-based protein, which is considered inferior to its meat-based counterpart.
Wheat is also known as one of the common ingredients – i.e. allergen – that triggers allergic reactions and intolerance. But then, wheat is not as notorious as beef when it comes to triggering allergies.
Wheat Gluten – Wheat gluten is the main protein part of wheat, yet it is on the controversial list because it boosts up the protein content of the product.
Corn Germ Meal – Corn germ meal is another high plant-based protein by-product which is derived during the extraction of oil from maize (corn). Its plant-based nature makes it unsuitable to provide enough amino acids for pets to sustain life. Its presence in the product degrades its overall quality.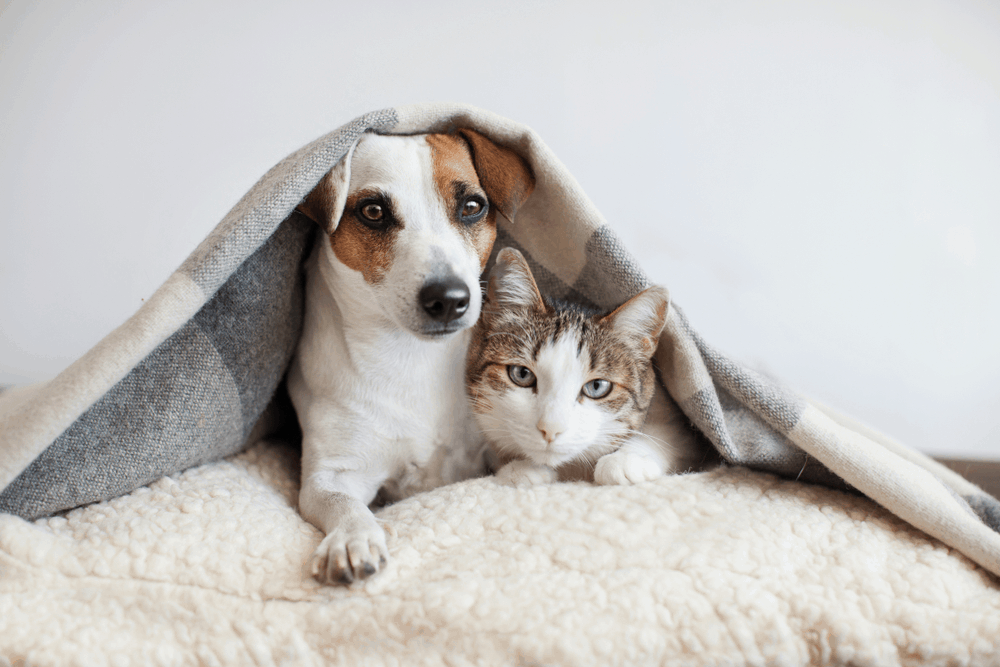 Dried Corn Syrup – Corn syrup originates from corn starch and is usually utilized as a sweetener, humectants (i.e. a substance that helps to retain moisture), and a thickener. It is on this list of controversial ingredients because it increases a pet's blood sugar dramatically to unhealthy levels.
The only way to nullify this concern is if the corn syrup is used in minute quantities.
Soybean Flour – Soybean flour is an ingredient that contains over 50% protein, and this can lead to unfair boosting of the protein content of the recipe or product.
Canola Meal – Canola meal is another high plant-based protein by-product obtained during canola oil production. It is believed to be derived via rapeseed that has been modified genetically, and this is linked to numerous adverse health effects.
Harmful ingredients used by the Purina Pro Plan brand
Some food ingredients are instrumental to the development of adverse health effect in animals. These ingredients were identified on products created by the Purina Pro Plan brand. Here they are in no particular order:
Corn oil – Corn oil is obtained from the germ of corn kernels and has omega-6 to omega-3 fatty acid ratio 49:1 which is quite unfavorable and undesirable. Consumption of foods rich with such this ingredient can result in health problems in both humans and animals.
BHT – BHT i.e. Butylated hydroxytoluene is an artificial preservative with carcinogenic properties. This ingredient has been banned in more than a few countries around the world, but somehow, the FDA still classifies "BHT" as "generally safe."
Red 3 – Red 3 is another chemical or artificial dye with cancer-causing properties in the lab. Animals.
BHA – Butylated hydroxyanisole (BHA) is another artificial preservative with cancer-causing attributes. Several studies have been done and BHA has been linked to a variety of tumors in lab animals.
Menadione Sodium Bisulfite Complex – Menadione Sodium Bisulfite is a synthetic version of vitamin K and associated with several health concerns such as lethal reactions in the red blood cells and in liver cells as well. One major supplier gave out the following warning: "The substance is toxic to lungs, kidneys, liver, mucous membrane, etc. Prolonged or repeated exposure to this compound can lead to the severe damage of your organs."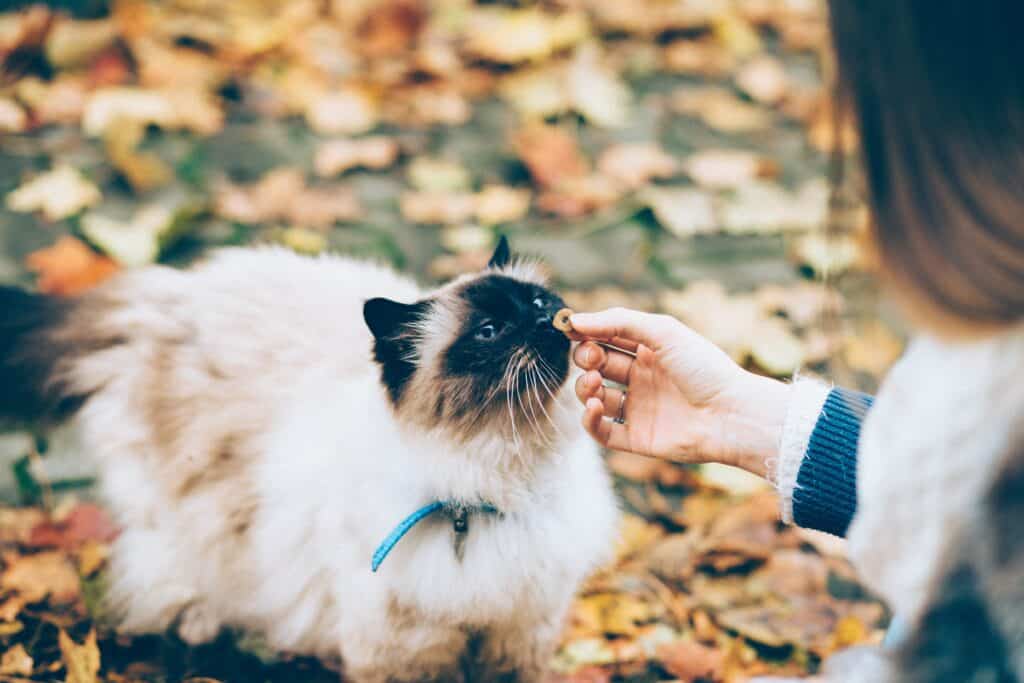 Yellow 5 – Yellow 5 is another artificial dye which also has several cancer-causing properties. It has no nutritional value.
Added Color – Added color is an ingredient that is assumed to be one of the numerous dyes that women use. Most of these artificial dyes have been associated with several chronic diseases.
Controversial Ingredients Used Only by the Blue Buffalo Brand
The following ingredients were found only in the Blue Buffalo brand
Garlic – Garlic, present in minute quantities, is an acceptable addition to any pet product. However, this strong-tasting ingredient can also be toxic.
Pea Protein Concentrate – Pea protein concentrate originated from the removal of start from peas. It is on this list because of its plant-based protein content.
Tomato Pomace – Tomato pomace is a by-product of the manufacturing of tomato. Many people believe it is nothing more than a low-quality, inexpensive filler.
But tomato pomace is known to provide substantial amounts of B vitamins, dietary fiber, vitamin A, and Lycopene.  Though it may be inexpensive filler, it is not devoid of nutrients in any way.
Caramel – This widely-used natural food coolant is a concentrated variety of caramel, and is usually listed as "caramel color" which has been associated with cancer in lab animals.
Dried tomato pomace – This is another tomato-manufacturing by-product which is also a low-quality filler, according to experts.
Product Safety: Recall History of Blue Buffalo and Purina Pro Plan
Purina Pro Plan has only been recalled once since inception and that event occurred on March 9, 2016: Incorrect vitamins and minerals. But Blue Buffalo has been recalled at least nine times over the past few years. Here is a breakdown of the dates Blue Buffalo was recalled since inception:
April 19, 2007: Melamine
April 26, 2007: Melamine
October 8, 2010: toxic levels of vitamin D
November 6, 2015: Presence of Propylene Glycol
November 25, 2015: Salmonella
May 31, 2016: Mold
February 14, 2017: Presence of aluminum
March 3, 2017: Foil seal Packaging problem
March 18, 2017: elevated beef thyroid hormone
Price Comparison: Which Brand is More Expensive?
The average cost per pound is influenced by the variable amounts of moisture that is present in both these brand's pet food products – i.e. dry vs freeze-dried food, dry vs wet food, etc. But then, the average cost-per-kcal disregards the influence that moisture has on the pet food products.
Average price data identifies whether or not there is an existing price difference between the two competing pet food brands. But then, the actual price that you will pay for Blue Buffalo or Purina Pro Plan depends significantly on your shopping routine.
Here is a breakdown of the price comparison between Blue Buffalo and Purina Pro Plan:
| | | |
| --- | --- | --- |
| Wet Dog Food | Blue Buffalo | Purina Pro Plan |
| Per Pound | $4.29 | $2.84 |
| Per Calorie | $0.0088 | $0.0063 |
| | | |
| --- | --- | --- |
| Dry Dog Food | Blue Buffalo | Purina Pro Plan |
| Per Pound | $2.61 | $2.01 |
| Per Calorie | $0.0016 | $0.0011 |
| | | |
| --- | --- | --- |
| Wet Cat Food | Blue Buffalo | Purina Pro Plan |
| Per Pound | $5.54 | $4.94 |
| Per Calorie | $0.0112 | 0.0116 |
| | | |
| --- | --- | --- |
| Dry Cat Food | Blue Buffalo | Purina Pro Plan |
| Per Pound | $3.88 | $2.90 |
| Per Calorie | $0.0023 | $0.0016 |
 Types of Pet Food Available
| | | |
| --- | --- | --- |
| Blue Buffalo | Purina Pro Plan | Product |
| 85 Recipes | 42 Recipes | Dry Dog Food |
| 101 Recipes | 29 Recipes | Wet Dog Food |
| 51 Treats | 2 Treats | Dog Treats |
| 40 Recipes | 22 Recipes | Dry Cat Food |
| 47 Recipes | 66 Recipes | Wet Cat Food |
| 15 Treats | 4 Treats | Cat Treats |
Where to buy Blue Buffalo Pet Foods
The following retailers sell Blue Buffalo pet food products:
Chewy – 337 Recipes In-Stock Today
Amazon.coom – 295 Recipes In-Stock Today
PetFlow – 276 Recipes In-Stock Today
EntirelyPets – 103 Recipes In-Stock Today
Jet.com – 245 Recipes In-Stock Today
Petco – 304 Recipes In-Stock Today
Only Natural Pet – 18 Recipes In-Stock Today
Where to Buy Purina Pro Plan Pet Foods
You can purchase Purina Pro Plan pet foods from any of the following retailers:
Amazon.com – 135 Recipes In-Stock today
Petco – 113 Recipes In-Stock today
Chewy – 154 Recipes In-Stock today
EntirelyPets – 6 Recipes In-Stock today
Jet.com – 123 Recipes In-Stock today
So, there you have it: however, despite their apparent grouse with one another, each pet food brand continues to serve their respective clients exceptionally every single day. We can confidently recommend either one of these brands, as they deliver high-quality ingredients with every scoop.
What type of food do you feed your pet? We would love to know!
Frequently Asked Questions
Can Blue Buffalo damage my cat's liver?
There have been reports from customers that held Blue Buffalo responsible for their cats illnesses because vets found an increase in liver enzymes in some pets that were consuming a blue buffalo diet but it was certainly not proven that that is correct.
Why did Blue Buffalo pet food leave Mexico?
Blue Buffalo's departure from Mexico was just a matter of bad promotion and marketing which lead to not grasping a firm hand with further customers.
Who manufactures Purina pro plan cat food?
The Purina Pro Plan cat food is manufactured by the Nestle Purina Petcare Company which is a subsidiary of Nestle. Their headquarters are in St. Louis, Missouri.
Is Purina Pro Plan good for my kitten?
The Purina Pro Plan Focus formula the most popular option for your kitten. It is formulated with DHA, Omega-3 Fatty Acid and it's rich with antioxidant which makes it great for nourishing as well as building a strong immune system for your little one.
Recommended Reads