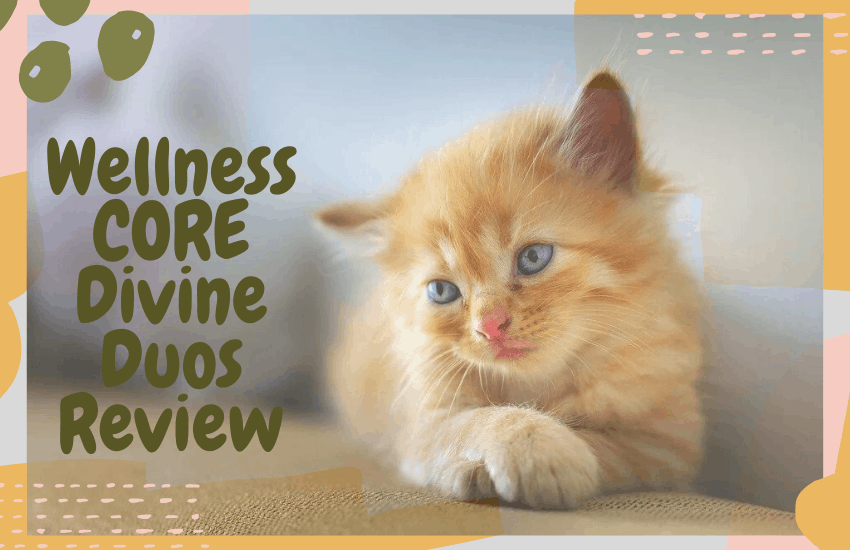 Our Recommendation
Wellness Pet Food began over 84 years ago. At that time, they were called Old Mother Hubbard and made Mother Hubbard Oven-baked dog biscuits.  Fast forward to the 1990's.
The company team formed a working relationship with animal nutrition experts, scientists and veterinarians to create a sweeping change in pet food. In 1997 they launched their dog foods under the Wellness brand, adding cat food in 2000.
This is a moisture-laden wet food. If you ever had any worries that your family feline not drinking enough, this very tasty food includes 85% moisture and would add a beneficial amount of hydration.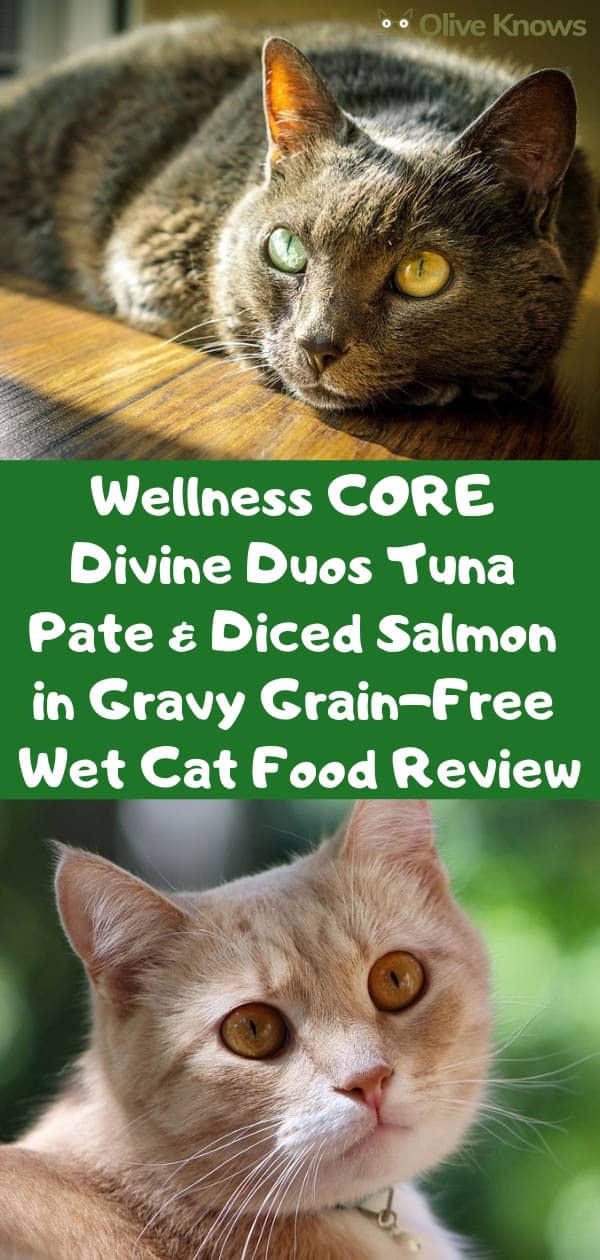 One of the reasons for its outstanding tastiness is the two layers this formula comes in. The company website instructs you to open the lid of the food and put it on their pet bowl upside down. The bottom layer is the soft tuna layer and the top layer of salmon is cut into cubes.
Wellness is dedicated to creating extraordinary food with great nutrition. Their website states that their company mission is to provide pet owners with wholesome, natural pet food that is the best they can make it. The Wellness company has extensive quality assurance programs to maintain the health benefits of its pet food.
All of the pet food made by Wellness is grain-free and has no artificial colors, no meat by-products, and no artificial flavors or preservatives.
Ingredients
Chicken Broth, Water Sufficient for Processing, Chicken, Potato Starch, Tuna, Salmon, Carrots, Chicken Liver, Eggs, Natural Flavor, Broccoli, Salt, Potassium Chloride, Tricalcium Phosphate, Guar Gum, Taurine, Xanthan Gum, Locust Bean Gum, Sodium Carbonate, Magnesium Sulfate, Vitamins [Vitamin E Supplement, Thiamine Hydrochloride, Niacin, Vitamin A Supplement, Pyridoxine Hydrochloride, d-Calcium Pantothenate, Riboflavin Supplement, Folic Acid, Vitamin D3 Supplement, Biotin, Vitamin B12 Supplement], Choline Chloride, Minerals [Zinc Amino Acid Chelate, Iron Amino Acid Chelate, Manganese Amino Acid Chelate, Copper Amino Acid Chelate], Potassium Iodide, Sodium Selenite
Read More: How To Find The Best Cat Food
Nutritional Analysis
Pet food ingredients, nutritional values, and the way they are labeled for consumers are monitored by several organizations in the United States including the Food and Drug Administration (FDA) and the NGO, Association of American Feed Control Officials (AAFCO).
Crude Protein (min.) – 5.50%
Crude Fat (min.) – 5.00%
Crude Fiber (max.) – 0.50%
Moisture (max.) – 85.00%
Ash (max.) – 2.50%
Taurine (min.) – 0.10%
Caloric Content
885 kcal/kg or 70 kcal/container
Feeding Amounts
This particular Wellness Core food is recommended for adult cats only and best served at room temperature.
Feeding Alone: About 3 containers per 6 – 8 lbs body weight daily.
Feeding with Wellness Dry: Reduce dry by ? cup for every 1 container wet.
Every cat is a little different and you know your family feline best. Keep this in mind as optimal feeding amounts may vary with age, size, activity level, breed, and environment. Please use feeding guidelines as an initial recommendation and adjust as needed. Always refrigerate unused portion.
Transitioning Instructions
Any time you are going to transition your cat from one food to another make sure you do it gradually. Mix the new food in slowly with the older food and increase the amount of the new food each day. It should take about seven days to make the change, but if your cat is a bit picky, older or has any health problems it can take up to ten days.
Please check with your vet before attempting to change their food, in case they recognize that due to your family feline's health needs, their diet should not be changed.
Always have clean water available for your cat during this transition time and every day of their lives.
The Bottom Line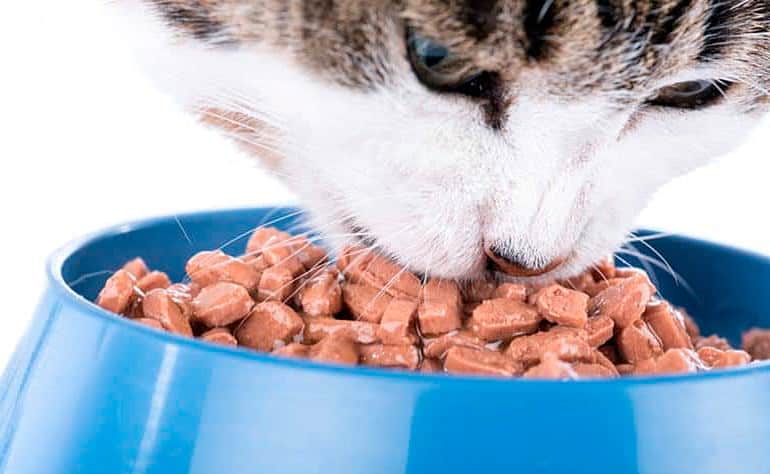 The nutritional analysis of this food shows a low percentage of protein, but many of its first ingredients are protein powerhouses: chicken broth, chicken, tuna, salmon, chicken liver, and eggs.
This food has a reasonable price for the quality it works to create. Divine Duos looks like a rather fattening food but is actually not high in calories compared to other cat foods. This could help a picky feline add some extra calories to their diet as it is considered very tasty, but not overeat.
The reviews for this food are good. A large group of reviewers, 78% gave it five out of five stars and only 11% gave it a low score of one out of five stars. You and your feline friend will have to make your own decision about two paws up, or down when you try it.
Continue reading: