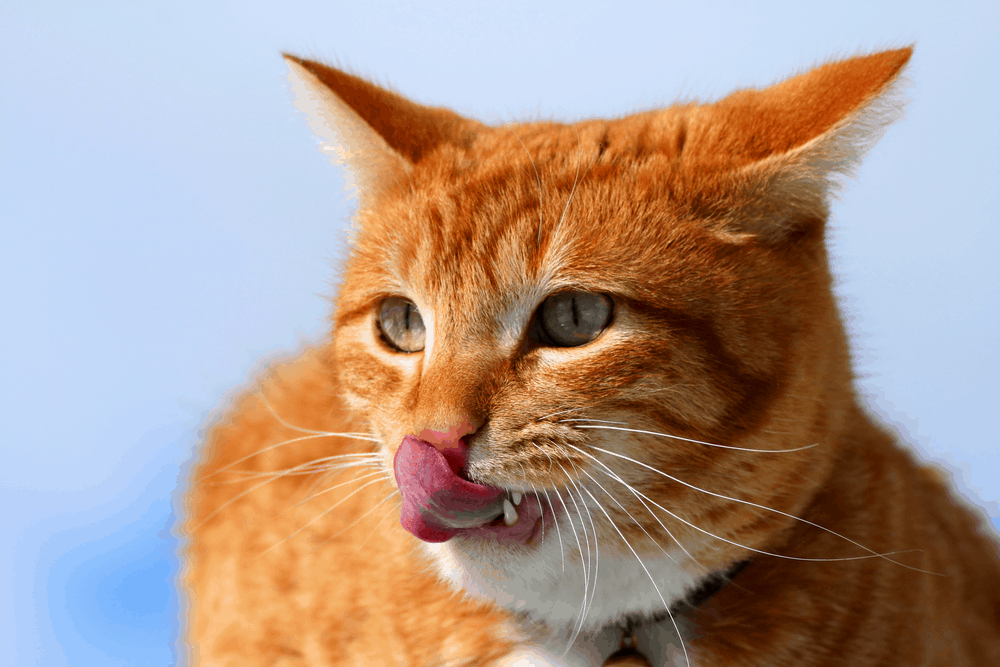 Many people living in the United States have never heard of the ZiwiPeak brand. So don't feel left out if you haven't heard of this unique cat food. It is probably because the company isn't based in the United States, even though they have gradually taken over the landscape and niche there as well.
ZiwiPeak is one of the leading pet food producing companies based in New Zealand. They are renowned for making premium-quality canned foods as well as air-dried raw foods for pets. This pet food company has taken it upon itself to create and deliver nothing but health-giving meals for pets using only top-quality ingredients. This is to ensure every pet has and enjoys a long, healthy, and happy life while they are still with us.
"Born of love, crafted with goodness" is the favorite tagline that ZiwiPeak swears by and follow resolutely. Open up a fresh bag of ZiwiPeak cat food, and you will be met with an unsullied, naturally-flavored cat food smell that you will fall in love with. You can be sure that your feline companion will eat only the best
ZiwiPeak takes its business seriously by air-drying their products to ensure that nutritional integrity is adequately preserved. The raw ingredients they employ in the production of healthful and wholesome cat food are carefully handpicked to retain quality and handled with care.
This implies that none of the ingredients used in the production of cat food loses its nutritional content in any way and are as fresh as they come. ZiwiPeak cat food is always biologically valuable for any cat and purportedly one of the best in the cat universe today.
Before we go on, it is very crucial to point out that ZiwiPeak has not, does not, and will never take on any form of invasive or caged animal feeding or testing. Natural nutrition is the passion of this leading cat food brand, and that involves animal welfare.
If feeding trials were to happen at all, it takes place in a free-feeding and joyful environment, and this usually takes place often and only among the ZiwiPeak pets of friends and family of pets.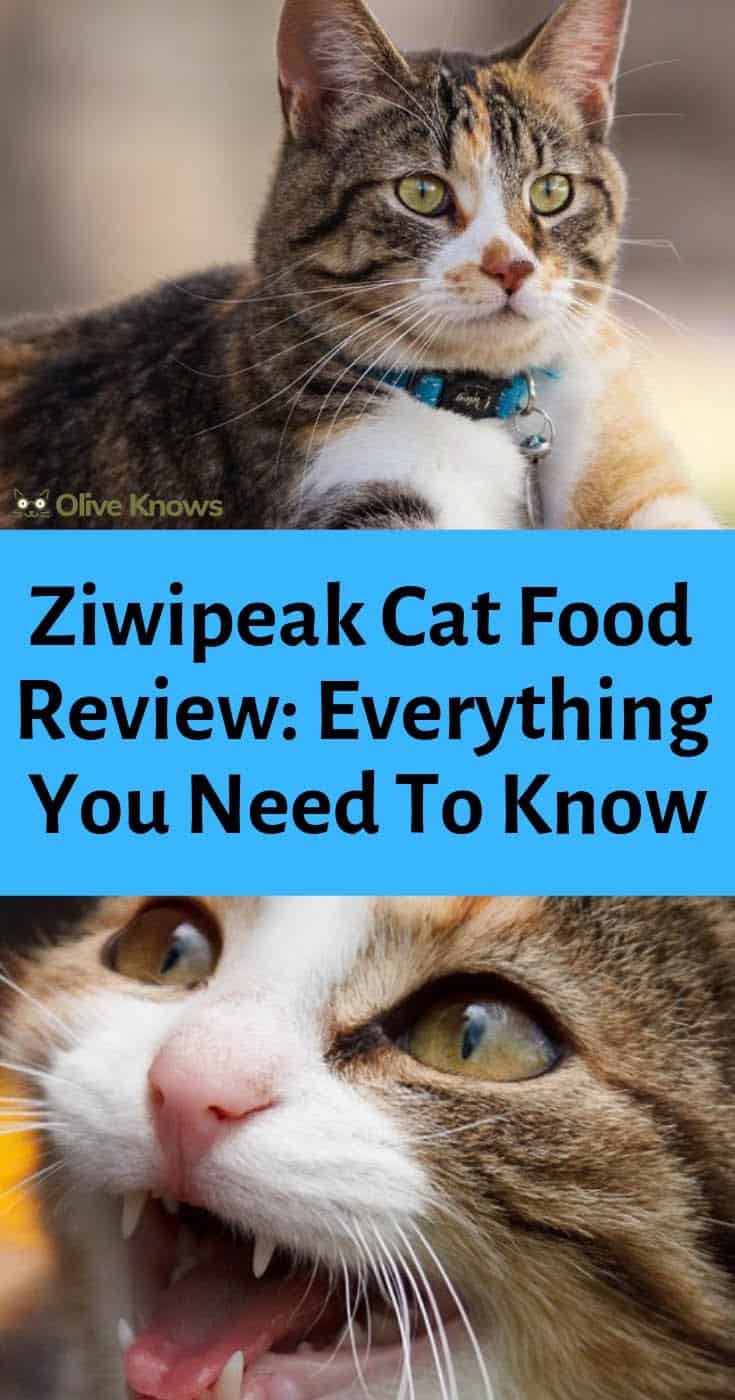 ZiwiPeak Cat Food: Where Is It Made?
It was mentioned earlier in the previous paragraph that ZiwiPeak is a pet food-producing company with its headquarters in New Zealand. The brand sources most of its ingredients locally and produces their pet food in New Zealand.
When you visit the official website of this illustrious pet food company, you will learn why they chose not to use imported ingredients in any of the pet food products they make.
New Zealand is a country situated in the southwestern Pacific Ocean and has a moderately warm, mountainous climate. This allows ZiwiPeak to raise their meat-protein sources in a natural or sustainable environment. The company uses only free-range, grass-fed meat from local farms that are managed humanely.
It should also be mentioned at this juncture that New Zealand is a country that does not joke with bio-security, meaning that there are no infectious or contagious animal diseases that you should worry about. All of ZiwiPeak's seafood and meat ingredients are human-grade.
ZiwiPeak's air-dried pet products are created in New Zealand as well, though a few of their canned foods are manufactured in Canada or the United States. In other words, you can be assured that your feline companion will feed well on good, hygienic, and highly nutritious pet food with absolutely no side effects, courtesy of ZiwiPeak.
What ZiwiPeak Cat Food does NOT contain
All pet food products from the ZiwiPeak brand are composed of natural and fresh venison, beef, lamb, shellfish as well as seafood. The only additives are essential minerals and vitamins; ZiwiPeak takes the time to formulate them with care for your beloved feline companion.
There are no hormones, sugars, BH or BHA, glycerine, preservatives, fillers, colorings, potatoes, salt or grains in any of the pet food product from the ZiwiPeak brand. You will never find ingredients such as:
Propylene glycol
Ethoxyquin
Genetically modified organisms (GMO)
TSPP
Guar Gum
Agar Agar
BPA
Carrageenan
Rendered meals (they can promote mold growth and bacteria)
You should also avoid buying or feeding your feline with pet food products that contain these ingredients:
Yellow 5
Blue 3
Caramel coloring
Red 40
Artificial flavors and colors
Synthetic preservatives
Vague or nondescript meat from unverified sources
Each can that is used in packaging pet food products in the ZiwiPeak brand has BPA-free food lining.
The Ziwipeak Difference
i. The ZiwiPeak brand's only source is from the free range, green farms as well as the blue oceans of New Zealand. The brand also follows all regulatory standards strictly without any prejudice.
ii. One scoop of ZiwiPeak air-dried cuisine provides nothing less than 263k calories which is equal to the serving of premium kibble that provides 195k Cal. This recipe contains essential ingredients that help felines to metabolize energy at a slow rate. This means you will not always be on the lookout to feed your cat as he will almost always be full.
iii. No products or fillers from China
Has There Ever Been Recalls For Ziwipeak Cat Food Or Any Looming In 2019?
ZiwiPeak is a company – that is 100% family-owned – that manufactures its pet food products in a small factory located in Mount Maunganui on the North Island of New Zealand. New Zealand is also renowned as one of the safest and cleanest places in the world where pet food can be produced without any fear of contamination or development of infectious diseases.
Despite this, ZiwiPeak still goes ahead to enforce and put in place some strict quality control measures and regulations just to be extra sure. ZiwiPeak as a company positions themselves on a very high pedestal when it comes to their standards as well as the standard of all the top-quality ingredients they use in the manufacturing of pet foods.
These strict measures and enforcement of bio-security leads to the production of high-quality, unsullied pet food that any cat can consume anywhere in the world. This is why it isn't all that surprising to note that since inception to this present moment, there has never been a single recall of ZiwiPeak's pet food products.
What Kind Of Products Does The Ziwipeak Brand Offer?
The ZiwiPeak brand offers two, major – and different – kinds of pet food products for cats: moist and air-dried. ZiwiPeak offers its numerous customers what is referred to as the "ZiwiPeak Difference" when it comes to their top-quality pet food products. The "ZiwiPeak Difference" gives 100% guarantees of pure nutrition and premium quality.
The ZiwiPeak brand does not make use of wheat, corn, or rice ingredients in any of the pet food products. This means that all of their high-quality products are entirely devoid of meat by-products, rendered meats as well as animal meals. The company does not use any artificial additives or cheap fillers in any of its pet food products. Every recipe starts with nothing less than 95% fresh organs, meat, seafood, and bone.
ZiwiPeak Moist Cat Food Products
The ZiwiPeak brand produces their canned foods in small batches to minimize the chances of spoilage in case they were not shipped out or sold on time. Each recipe used in the production of the Moist Cat Food Products contains 95% meat, raw bone, and organs along with New Zealand's green-lipped mussels as a natural source of essential nutrients such as chondroitin, glucosamine as well as other highly essential minerals and vitamins for extra balance.
There are primarily five Moist Cat Food recipes that customers can choose from, and each one comes in three-ounce and six-ounce cans. The following is a list of ZiwiPeak Moist Cat Food recipes:
Moist Beef Cat Cuisine
Moist Lamb Cat Cuisine
Moist Venison & Fish Cat Cuisine
Moist Rabbit & Lamb Cat Cuisine
Moist Venison Cat Cuisine
ZiwiPeak Air-Dried Cat Food Products
ZiwiPeak uses an air-drying method – for their air-dried Cat food products – that has been in existence for centuries as one of the best ways of preserving food naturally.
After mixing the ingredients in appreciable and appropriate quantities, the resulting mixture undergoes a slow, twin-stage air-drying process that gradually eliminates the moisture without sacrificing or compromising the nutritional wholeness of the raw ingredients.
Each Air-Dried Cat Food recipe starts with 92% premium-quality, New Zealand-sourced meat, bone, and organs along with 3% green-lipped mussels as well as 5% essential minerals, vitamins, and botanicals.
The following is the list of ZiwiPeak Air-Dried Cat Food recipes:
Air-Dried Beef Cat Cuisine
Air-Dried Venison & Cat Cuisine
Air-Dried Venison Cat Cuisine
Air-Dried Lamb Cat Cuisine
Wet Cat Food Recipe Review
ZiwiPeak Moist Lamb Cat Cuisine
The ZiwiPeak Moist Lamb Cat Cuisine was formulated to correspond to the whole prey diet which has been part of wild cats' lives and which they have followed for several centuries. It comes loaded with healthy fats, rich in protein, and supplemented with natural sources for essential nutrients that cats need.
The Moist Lamb Cat Cuisine is cooked slowly in small batches so that the nutritional integrity of the raw materials – as well as their natural flavor – is not compromised but preserved significantly.
This formula, according to the ZiwiPeak brand, is ideal for kittens and growing cats as well as for those who need to add some weight. The formulation can also alleviate a variety of renal and digestive issues. But don't make sudden and unplanned changes to your cat's diet without – first of all – consulting your veterinarian for advice.

The first ingredient that is part of the ZiwiPeak Moist Lamb Cat Cuisine recipe is lamb broth. The latter is required for the preservation of the moisture of the raw ingredients during the cooking process. Next, other components such as lamb liver, lamb meat, tripe, kidney, heart, and lung are added to the mix.
All these ingredients work collaboratively to meet your beloved cat's nutritional needs for healthy animal-based fats and protein. In goes the green-lipped mussel which is a supplementary source of protein as well as the natural source for chondroitin and glucosamine for enhanced joint support.
The other ingredients used in the ZiwiPeak Moist Lamb Cat Cuisine consist primarily of supplements and thickeners. Dried kelp is believed to provide additional fiber while agar acts as both a thickener and a supplementary source of protein.
The ZiwiPeak Moist Lamb Cuisine also has chelated minerals as one of the ingredients. Chelated minerals have been bound chemically bound to protein molecules, thus making them easier for your cat's body to digest and then absorb. Other ingredients in the recipe include a few vitamin supplements with the primary purpose of working in conjunction with the chelated minerals to ensure balanced and complete nutrition for cats in all stages of life.
The ZiwiPeak Moist Lamb Cuisine recipe comes with the following guaranteed analysis
Crude Protein (Min) – 9%
Crude Fiber (Max) – 2%
Calorie Content – 186 kcal/ 170g can (1.097 kcal/kg)
Crude Fat (Min) – 7%
Moisture (Max) – 78%
The ZiwiPeak Moist Lamb Cat Cuisine recipe is specially formulated to conform to the nutritional levels that were established by AAFCO Food Nutrient Profiles for all life stages. To feed your feline companion this recipe, you should start by offering 13-ounce can per 2.2 pounds of body weight every day. You may have to divide it into two separate meals.
Growing kittens may require at least twice this amount while lactating or pregnant cats may require anything from two to four times this particular amount. You may have to follow the feeding recommendations for adult cats for some weeks while watching your cat's bodyweight and general closely.
If your cat starts gaining weight unhealthily, you should scale back her daily portion a little bit. For cats that are lethargic or have lost a lot of weight due to a previous health condition, you should endeavor to increase the daily portion.

This pet food product should be fed only at room temperature while leftovers should be refrigerated within a short time.
ZiwiPeak Canned (Moist) Cat Food Recipe Rating: 4.5/5 stars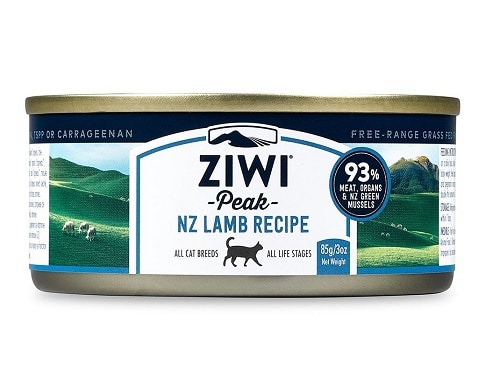 On the whole, the ZiwiPeak Moist Lamb Cat Cuisine provides exceptional nutritional quality via the use of premium ingredients. It is a recipe that starts with a savory broth – which is a fairly common staple of wet pet foods. Fresh lamb meat is the major source of protein in this recipe as well as the primary ingredient.
The primary source of protein is supplemented by several lamb organ types of meat as well as green mussels which also act as a natural source for chondroitin and glucosamine. The recipe is further enhanced by chelated minerals, though pundits assert that the entire recipe could be improved with the addition of some natural sources of key vitamins and some probiotics to boot.
Dry Cat Food Recipe Review
ZiwiPeak Air-Dried Venison Cat Cuisine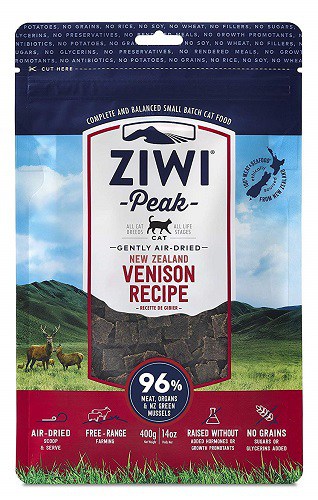 The ZiwiPeak Air-Dried Venison Cat Cuisine recipe is a protein-rich formula that is designed to match the whole prey diet that wild cats have developed – and gotten used to – for centuries. The air-dried formula is also prepared in small batches to ensure proper maintenance of nutritional quality and integrity.
It starts with 92% first-rate New Zealand venison meat, organs, and bones. The recipe is further supplemented by the inclusion of 3% green-lipped mussels that are native to New Zealand and act as a natural source for chondroitin and glucosamine, renowned joint-supporting minerals. The recipe also contains essential minerals and vitamins that your feline friend needs for a balanced and complete diet.
The ZiwiPeak Air-Dried Venison Cat Cuisine starts with genuine venison meat and then followed closely by venison lung, tripe, liver, kidney, and heart. Each of these ingredients is necessary to ensure high-fat and high-protein ratios for this particular recipe while – at the same time – providing natural sources for vital nutrients.
The native green-lipped mussel follows afterward; this is another natural source of protein and an excellent source of prominent joint supporters such as chondroitin and glucosamine. The other ingredients that make up the entire ZiwiPeak Air-Dried Venison Cat Cuisine formula are mineral and vitamin supplements as well as additional sources of fiber such as dried kelp and inulin. This is a reliable and complete recipe for cats at all stages of life.
Since this ZiwiPeak Air-Dried Venison Cat Cuisine recipe is well-balanced and extremely rich in protein, it is an excellent option as an indispensable diet for kittens and cats of all sizes or ages. According to ZiwiPeak, this recipe is an excellent choice for cats with either sensitive stomachs or severe skin allergies. This is because the ZiwiPeak Air-Dried Venison Cat Cuisine recipe comprises a limited number of ingredients as well as one animal source of protein.
Moreover, the recipe can be digested quickly and ideal for cats with gastrointestinal issues. ZiwiPeak Air-Dried Venison Cat Cuisine also contains a healthy balance of fatty acids for the sustenance of your cat's coat and healthy skin. There are only a few pet food companies that can produce recipes that are as loaded with all the essentials and quality of ingredients as the ZiwiPeak Air-Dried Venison Cat Cuisine recipe.
Indeed, there is no doubt that the ZiwiPeak Air-Dried Venison Cuisine recipe is the go-to option for your cat and many others as well.
The ZiwiPeak Air-Dried Venison Cat Cuisine recipe has the following guaranteed analysis:
Crude Protein (Min) – 34%
Crude Fiber (Max) – 1.5%
Calorie Content – 264 calories/cup
Crude Fat (Min) – 25%
Moisture (Max) – 15%
The ZiwiPeak Air-Dried Venison Cat Cuisine recipe is a special formulation for meeting the nutritional levels set by AAFCO Cat Food Nutrient Profiles for all life stages.
Feeding your cat with this formula or recipe requires some calculation on your part. For instance, if your cat weighs about 6.6 pounds (3kg), you will need to feed him with 1.6 ounces of the recipe per day. You may have to divide it into two separate meals.
For cats that weigh about 11 pounds (5 kg), they need to consume nothing less than 2.3 ounces of the ZiwiPeak Air-Dried Venison Cat Cuisine recipe per day. Growing kittens will usually require twice as much of this amount or quantity. Lactating or pregnant cats typically need up to four times this amount.
If your cat is an adult, you may have to follow the feeding recommendations for more than a few weeks while observing your cat's condition and body weight.
If your cat starts gaining unnecessary weight, you may have to scale back his ration for a short period. For lethargic cats or those that have lost a lot of weight, you should start considering how to increase their daily portions.
The ZiwiPeak Air-Dried Venison Cat Cuisine recipe should be fed at room temperature. Leftovers should be refrigerated promptly after storing it in an air-tight container and stashed in a cool, dry spot.
ZiwiPeak Dry Cat Food Recipe Rating: 4.5/5 stars
The ZiwiPeak Air-Dried Venison Cat Cuisine is genuinely an exceptional source of top-quality nutrition for cats across all stages of life. This recipe begins strongly with venison as the first ingredient, and then followed closely by five organ meals.
The ZiwiPeak Air-Dried Venison Cat Cuisine does not contain carbohydrates – if at all – and this is perfect for cats since they are severely constrained in their ability to digest and then process plant products. However, the recipe contains different amounts of kelp and inulin as high-quality sources of dietary fiber.
The ZiwiPeak Air-Dried Venison Cat Cuisine recipe isn't only balanced –with all the essential nutrients that a cat requires – but also complete. Pundits have stated that this recipe could be improved with the inclusion of probiotics and some chelating minerals. The recipe contains zero harmful ingredients and the best choice for cats.
How You Should Read A Cat Food Label
Do you know that it is your job to make sure you purchase the best quality pet food that is suitable for your feline companion and your budget as well? This is the primary reason why you should always be comfortable when it comes to reading the list of ingredients on any canned or packaged cat food you buy.
It isn't only what is part of the ingredients that make up the pet food product that matters; what is NOT in the ingredients or part of the ingredients of the cat food product also matters a ton.
And you can only get this information by taking the time to read through the entire nutrition label on the canned or packaged pet food. Reading the labels will also help to answer the following questions:
What Are The First Few Ingredients?
Ingredients are, in most cases, listed in order of weight, i.e., from highest to lowest. The first few ingredients that you should come across when you read the nutrition list are animal meat, organ or boneless meat. If you come across anything or name that screams "By-Product" at you, avoid them at all costs and move on to the next pet food product.
Any pet food product that lists by-products as part of their nutrition constituents is poor in quality. The ZiwiPeak brand is always transparent when it comes to the list of ingredients they use for the pet food products so consumers can be aware of them and make good buying decisions.
What Is The Source Of These Ingredients? Where Do They Come From?
Many pet food companies in business today are not forthcoming when it comes to revealing where or how they source for the ingredients they use in making food products for pets.
You should look only for brands that have credible sources, i.e., they source their ingredients from sustainable suppliers and farmers. The ZiwiPeak source all their ingredients locally in New Zealand and deal only with sustainable farmers.
Asia is renowned for producing pet food products that are inferior in quality. That isn't so surprising since they tend to treat most of their pets inhumanely.
What Is The Purpose Of The Food?
Every pet food product out there in the market today was created to fulfill a purpose. So, what is the purpose of the cat food product you are staring at on the shelf or holding in your hand? Is it intended for kittens, adult cats or pregnant cats?
You need to be sure you are getting or buying the right pet food product for your feline to ensure he gets the proper nutrients.
Is corn, soy or grain part of the ingredients on that cat food product you're holding?
Avoid any cat food product that lists anything that remotely looks like carbohydrates. This is because these ingredients don't only promote inflammation, weight gain as well as poor blood sugar control, but also most cats find it difficult to process and digest carbohydrates remarkably well.
However, you can still go for a pet food product that lists sweet potatoes and chickpeas as carbohydrates. This is because these have low-calorie content and can also be digested easily by cats. Moreover, they also possess more nutrients compared to rice, corn, wheat, and soy.
What Is The Net Weight Of The Cat Food Product?
It is imperative for authentic pet food products to carefully list the recommended serving sizes based on the needs of specific cats per time.
If you know the net weight, you will be able to accurately determine how many servings you can obtain out of each product. Thus, you will be able to decide on the best brand that is cost-effective, yet rich enough to provide your cat with the essential nutrients he needs to live a healthy life.
What is a Guaranteed Analysis?
Guaranteed Analysis is a chart that itemizes specific percentages of the different ingredients present in a can or pack of a pet food product. This includes the exact proportions of protein, fiber, phosphorus, fat as well as other essential nutrients.
If you have no idea how to determine the best or ideal percentage of each of these ingredients for your pet, you can ask your vet to help you out. For example, most felines require nothing less than 30% crude protein as well as little amounts of phosphorus which is vital for promoting healthy kidney.
Final Takeaway
The ZiwiPeak brand offers premium quality with all their pet food products. Pet food products from the brand are free of the junks that are commonly found in cat foods of other brands which may not be ideal for cats. All pet food products from ZiwiPeak are free of additives, artificial-free, and grain-free.
The brand uses only fresh, pasture-raised, and grass-fed meats in all their products, thereby providing food that is nutritiously packed with some of the best nutrients in the world today. All the ingredients used in producing ZiwiPeak pet food products are clean, pure, natural, and can be consumed by humans; however, that isn't recommended at all!
Since ZiwiPeak spends so much time and cares in producing premium quality cat food, it shouldn't come as a surprise if their products are on the expensive side of the scale. This is justifiable and well worth it because if you feed your feline with inferior quality foods, you will end up spending much more money and time at the vet's offices.
But when you feed your pet with top quality nutrition, you will increase his lifespan, keep diseases or infections at bay while enhancing his energy levels profoundly. Now, who would not want that for his furry, little companion?
Take note that premium quality nutrition isn't all about what goes into the pet food products; it also has everything to do with what stays out forever as well. So don't feed your furry friend with products that contain low-quality ingredients as they can not only cause but also worsen the health problems of cats.
This includes:
Kidney disease
Diabetes
Obesity
Cancer
Cats are what they eat, just like humans, so, take heed and don't feed them with pet foods that contain inferior ingredients.
What cat food do you feed your furry friend? Let us know in the comment section below. We would love to hear from you.
Further Read