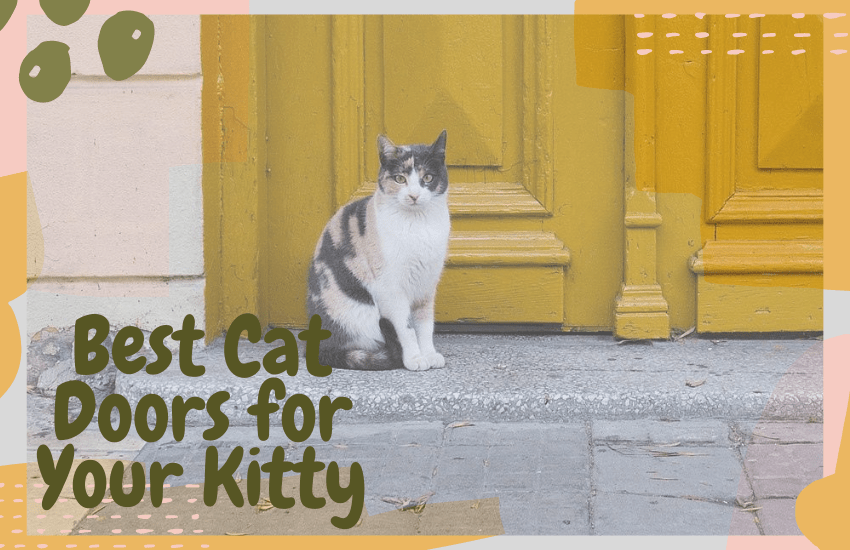 Cats are independent creatures and love to have the freedom to roam or retreat from the weather and other felines. Cat doors, also called cat flaps, offer the perfect solution to allow your furball some independence without you having to open doors every five minutes.
When choosing a door there are plenty of things to think about. Where can you put a door? Do you need to limit the time your pet can use it? Will other cats enter your home? So, we've compiled this handy guide to tell you about the features you should look for and recommended a few of our favorite doors such as the PetSafe Pet Door.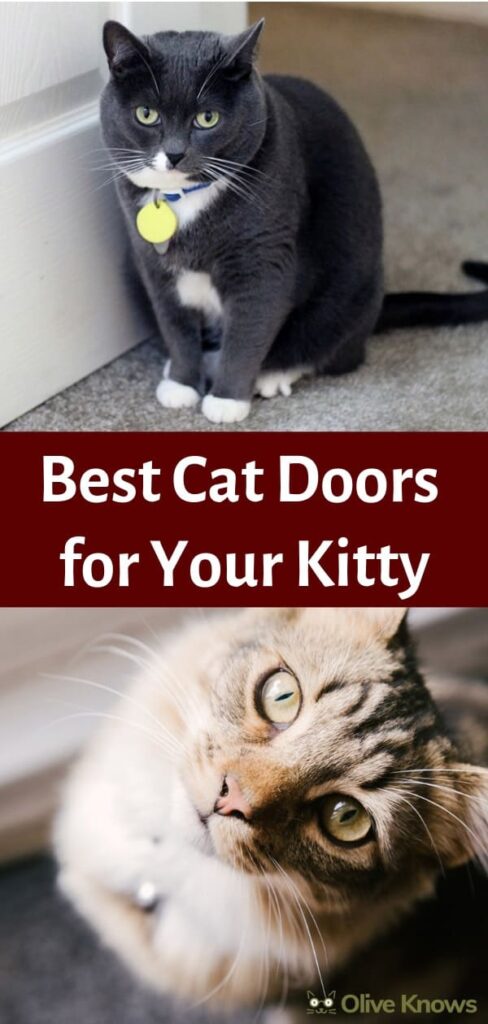 How to Choose  Pet Door
Choosing a pet door isn't just as simple as picking up the first one in the store and taking it home. You need to think about a few different factors before you buy, such as:
Size
Pet doors come in a range of sizes. If you also have a dog that you want to use the door as well then you will obviously need to choose a larger size door. Cats can fit through surprisingly small gaps, so even if your cat is on the larger size, you may not need as big a door as you might think.
One way to check for size is to measure out a square that size on a piece of cardboard (or on the side of a box). Cut it out and encourage your cat to walk through it using treats or other motivation. If you cat can get through the gap easily, they'll be able to use the flap.
Location
You will need to think about where you put the cat flap before you buy. The usual place for them is in a door, where a hole is cut in the door itself or the glass of the lower panel and the flap fitted to either side. These doors have a smaller 'tunnel', the part the cat moves through between entrance and exit, than for cat flaps which are put into a hole in the wall.
Although many cat flaps are for exterior doors, you can also fit them on the interior. If you want to keep your dog out of your bedroom, but don't mind kitty snuggles in the night, there's your answer.
We love this one for it's look. Not only does it have smooth curves and cute kitty ears, it also has no unsightly screw holes.
It's great when things we buy can do more than one job, and that's the case with the cathole. It has a built-in brush, to groom your cat every time it passes by.
If you occasionally want some privacy from your feline friends, this pet door gives you the option to lock your fur baby out for a while.
Locking
When it comes to locking pet doors, there are three options; 2-way locking, 4-way locking and microchip locking. While the first two give you the flexibility of when a pet can come and go, the microchip option scans for a chip on your pet's collar and stops other cats from being able to get into your home without an invitation. A cheaper alternative is the magnetic lock.
2-way locking allows you to leave the cat flap either open or closed. 4-way gives you more flexibility, in, out, in only or out only. The latter two are useful if you like to keep your cat in, or out, at night but you don't want to go looking for the scamp before you go to bed.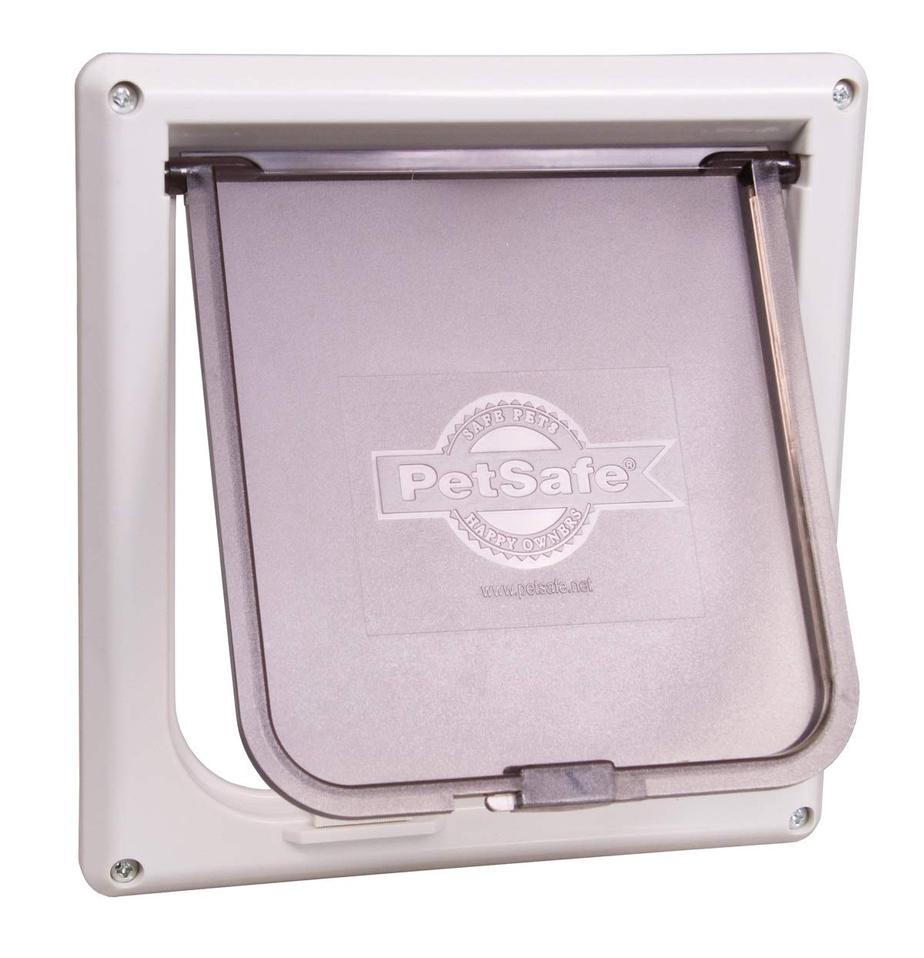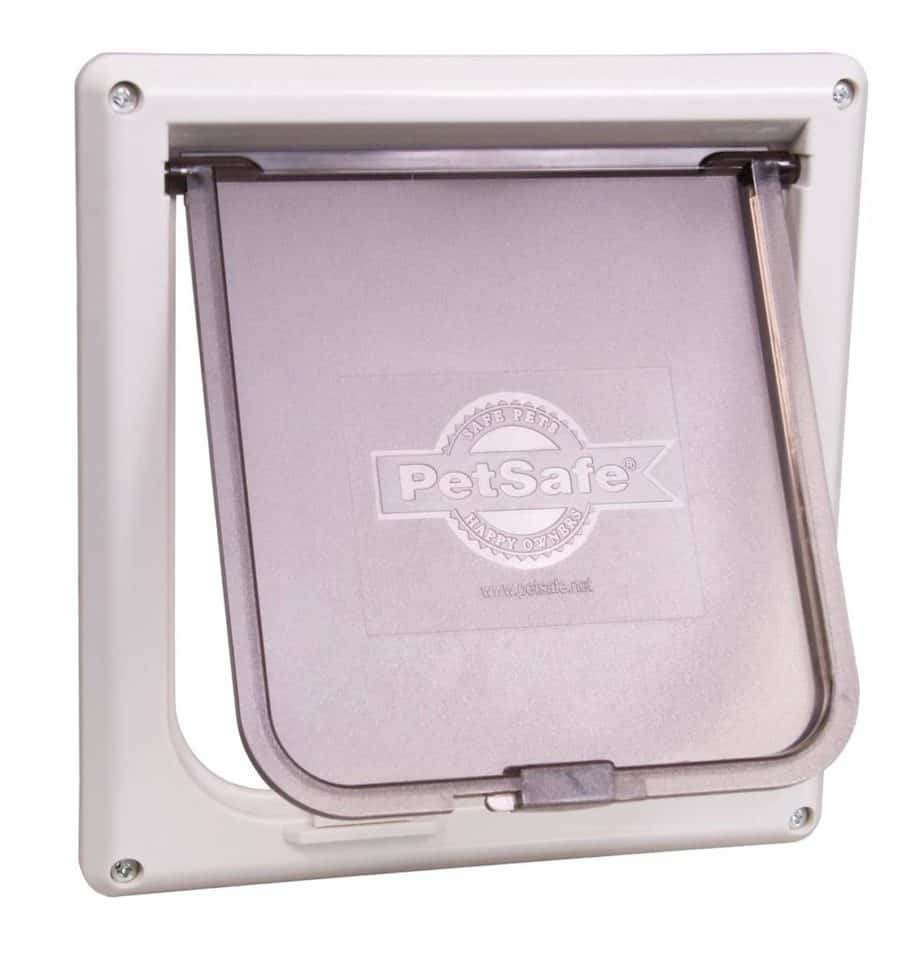 Do you want to give your pet access to a room that contains their litter tray, or food, but keep other pets (or children) out? Then a two-way lock is what you need. This model will work for interior doors up to 2 inches thick.
With a quiet action and draught proofing, this is a simple and effective exterior cat door. The transparent flap lets your cat look out to make sure there are no neighborhood cats looking to ambush them!
Made from durable plastic, this door is tough enough to stand up to all weathers. It has a quiet operation, so even night-time entrances shouldn't wake you up.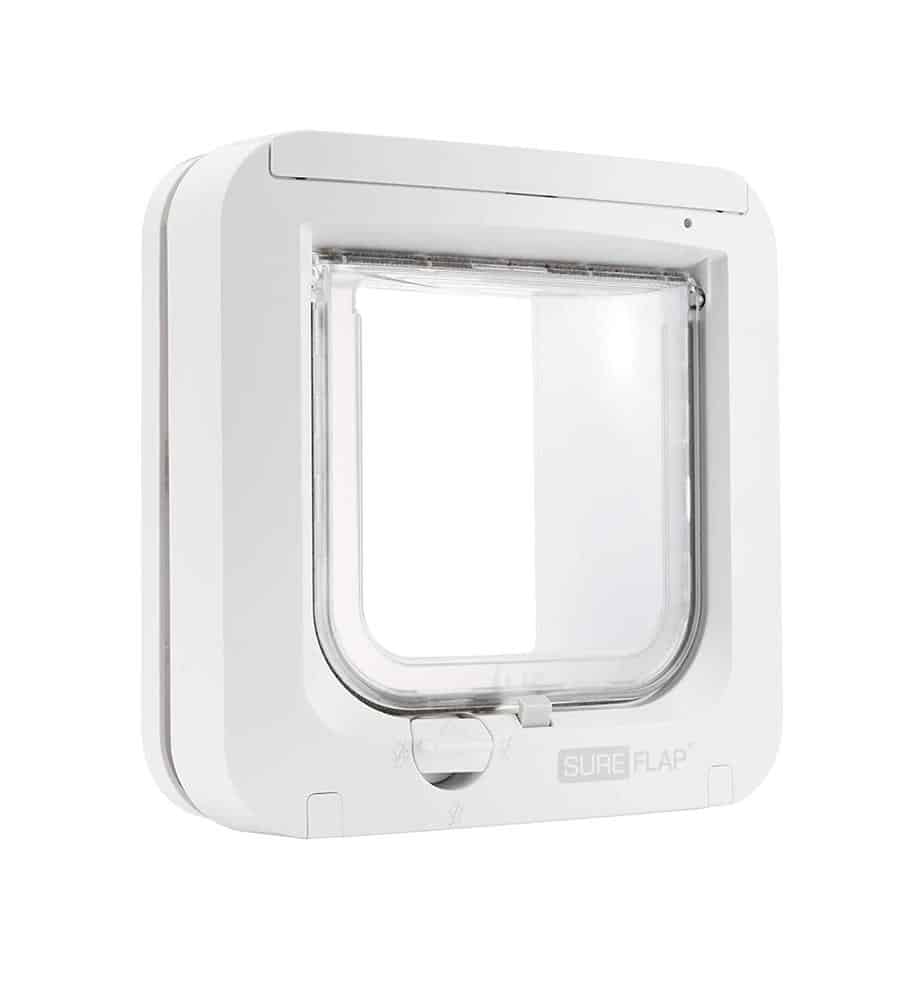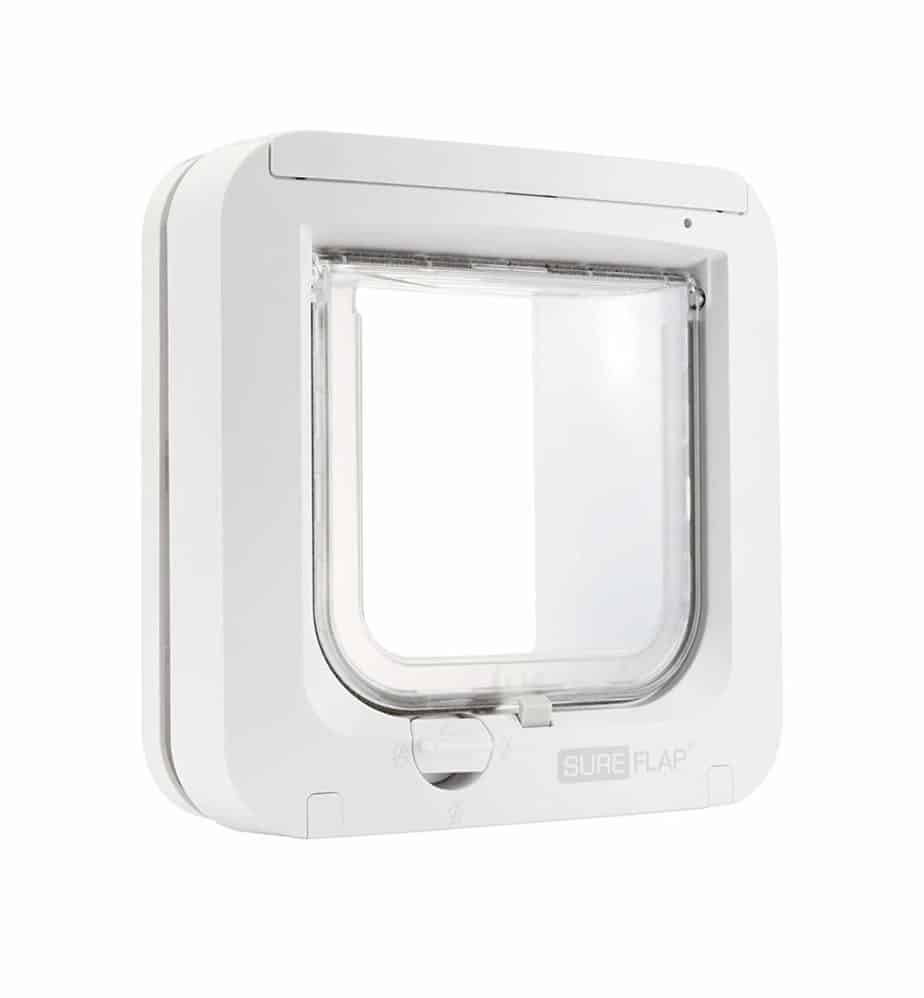 This cat flap uses your pets ID microchip to decide who can and cannot use this door. If you want to ensure you don't get any unwelcome visitors, this is the one for you. If your cat isn't chipped, then you can buy a collar tag to use in its place.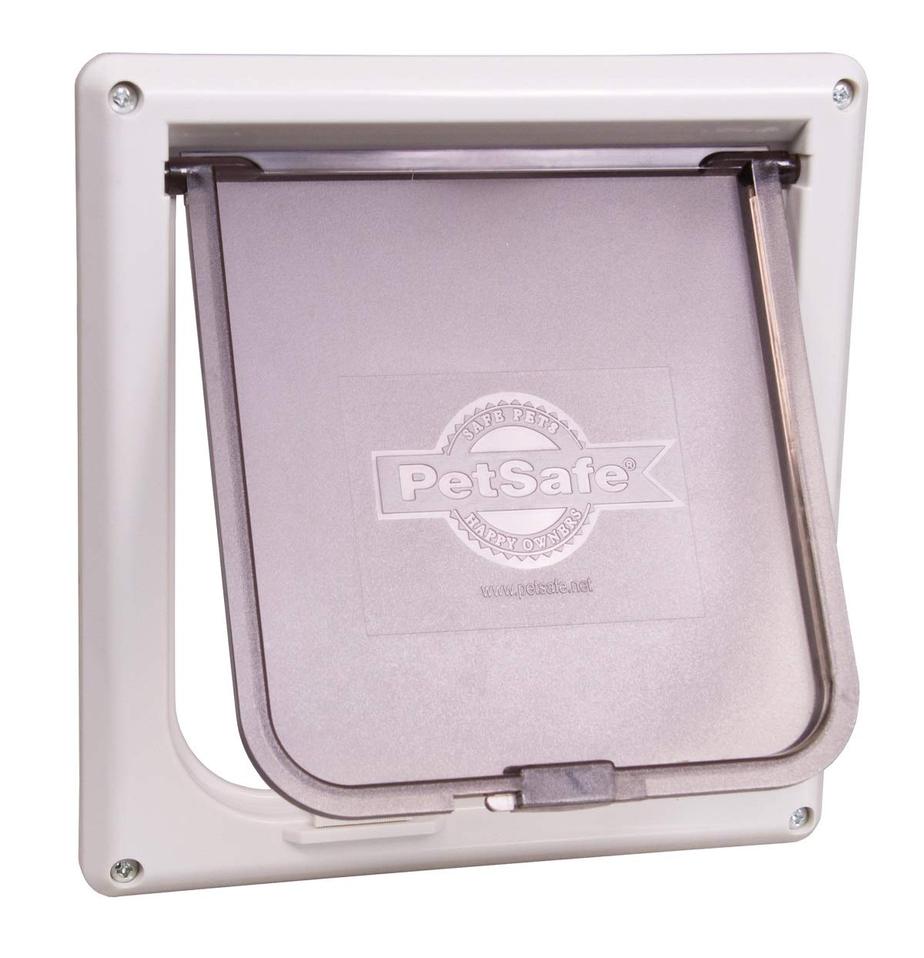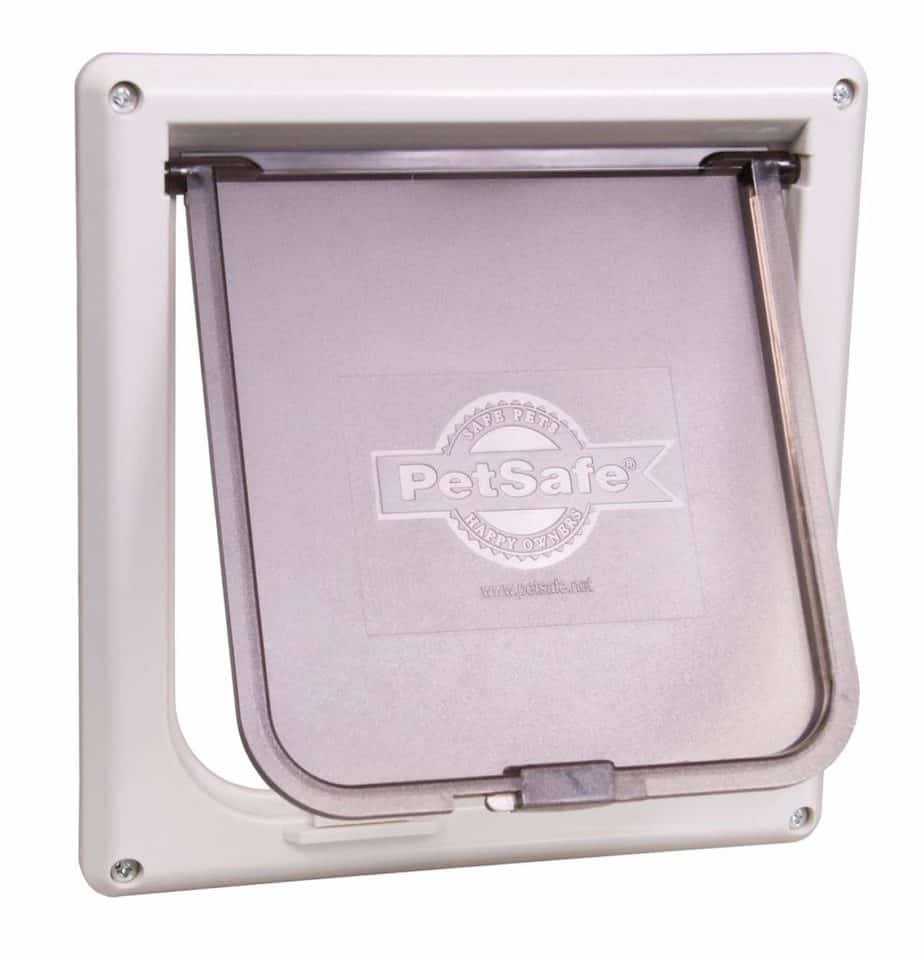 If you're looking for a lower-tech solution to managing which cats come into your home, then this is the answer. Only cats who have a magnetic tag on their collar (provided in the kit) will be able to open the door.
How to Fit a Pet Door
When it comes to fitting a pet door, preparation is key. Every model will have slightly different instructions, so make sure that you read them and that you have all the parts included in your box before you start.
Whether you are putting the cat door into a wooden or UPVC door, or through a wall, you will need to be able to make a hole. Many cat flaps include a template which you can use to cut. Although the simplest way to make the hole is with a jigsaw if you don't have one you don't necessarily need to buy one. You can also use a drill to make holes at the corners (or at intervals around a circle) that are big enough to put a saw blade through, and cut them manually. For a more complete guide to fitting a cat flap, there is an article from Plentific which covers all the main points.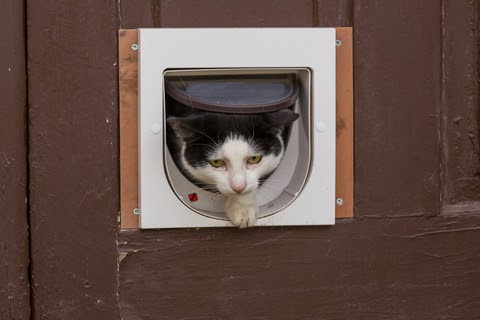 How to Train Your Cat to Use a Pet Door
Some cats take to cat doors like professionals, but others need a little trial and error before they get it right. For particularly timid cats, it could take a long time before they really understand that they are able to come and go as they please. If your cat doesn't take to the door immediately, don't despair! There are ways you can help.
Start with the door held open. Use tape or string to hold the door open, so your pet can master going through the hole first. The reason for this is that butting the door open with their head can take some effort, so get them used to going in and out first and they will be more prepared to give it a go.
Rewards such as a trail of treats leading to the cat flap can help to introduce your cat to the idea. A nice pile of them on the other side will give positive reinforcement when they've stepped through.
Play can encourage a cat to give a cat door a try. Letting them chase a catnip mouse or dangle toy through the opening and reward them for their bravery.
Introduce the flap. Not all cats use a cat flap in the same way. Some use a paw-first, head later technique while others are all about head-butting. Either way is fine. If your cat is tentative, then holding the door open a little for them can help.
Make a noise. For timid cats, the noise of a cat flap can be off-putting. Some models are quieter than others, so if you have a timid puss then buy a quieter brand. You can also help your cat get used to the noise by making it yourself; give the cat flap a nudge as you pass to help them get used to the noise.
These tiny fishy treats are pure minnow, they boost your cat's nutrition as well as giving them plenty of motivation to try and get through that door.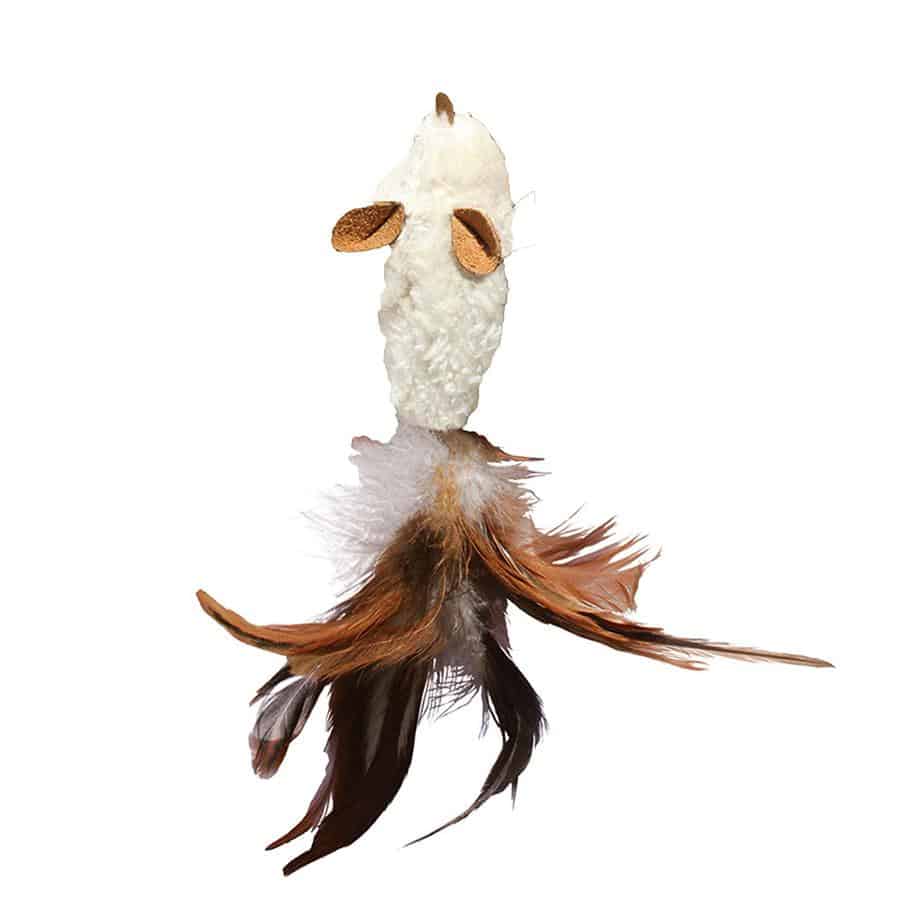 There's nothing like catnip to get your kitty interested in what you're doing. Will this mouse be motivation enough to get your cat to go through the door?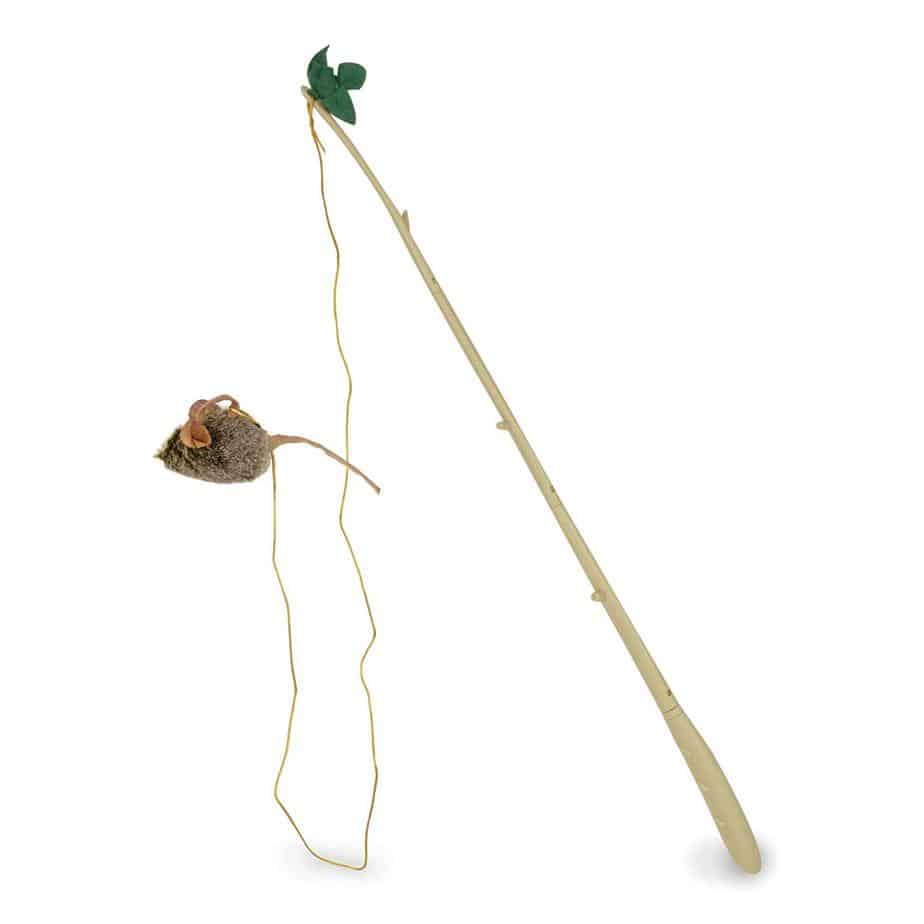 If you have a bouncer, this toy is just what you need to motivate them. Let the mouse dangle on one side of the door while you wait on the other to yank at the right moment!
As you can see, there are a number of solutions available for when you choose a pet door– interior or exterior, 2-way, 4-way or selective locking. They're easy to fit yourself, but a local handyman will also be able to do the job for you if you need a hand. Once you have a cat flap, and you've helped your fur baby get over any reluctance to use it, you'll never again have to jump up in the middle of your favorite TV show because Tiddles is scratching at the front door!
Continue reading:
What You Need To Know About Cat Furniture
The Best Kitten Toys for Your Furball