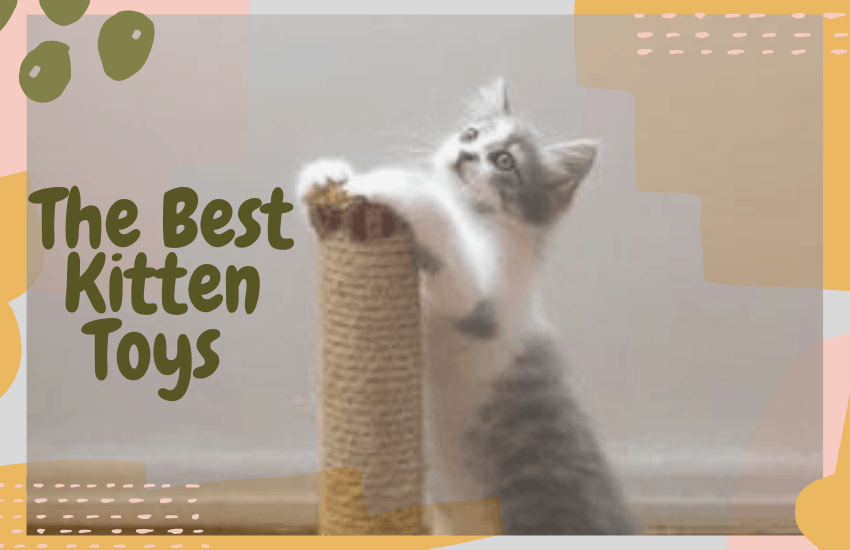 First, congratulations on your new kitty! Your bundle of joy will surely bring more warmth and fun into your home, as well as hours of entertainment and amusement.
Just like the rest of the indoor cat owners, you might be wondering which is the best kitten toy that you can start with? There are multitudes available, which ones should you go for? Well, worry not, cat parent! Below are the best kitten toys that you can easily purchase online and get delivered to your doorstep.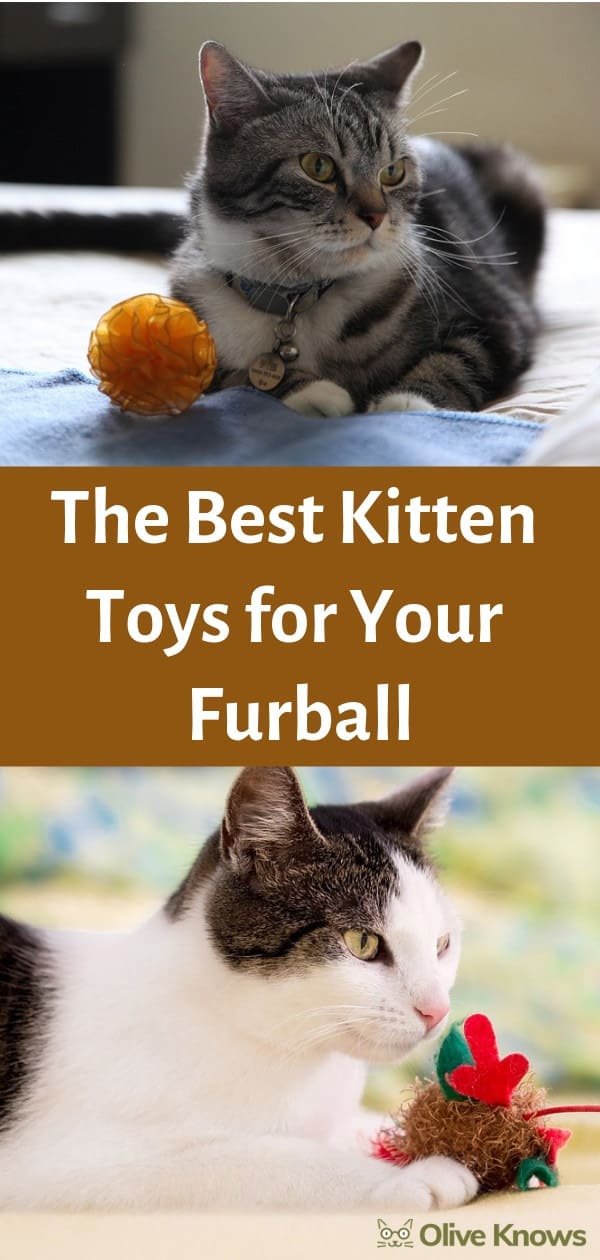 Best Toys for Kittens
Smart Pet Love Snuggle Kitty Behavioral Aid Toy for Pets, Tan Tiger
A snuggle buddy perfect for young kittens, especially those that are separated from their mama cat – this plush is also a behavioral aid toy. It is equipped with a "real feel heart" that imitates the pulsing heartbeat and the warmth of the mother cat.
The heart runs on a set of AAA batteries and lasts up to two weeks when left running 24/7, while the disposable heat source lasts for a full day and is safe both for kitties and humans.
The toy comes with an optional feeding bottle. This snuggle kitty is commonly used for rescue cats and kittens that are going through separation anxiety, fear, and loneliness from being separated from their mother and siblings.
Petstages Tower of Tracks Cat Toy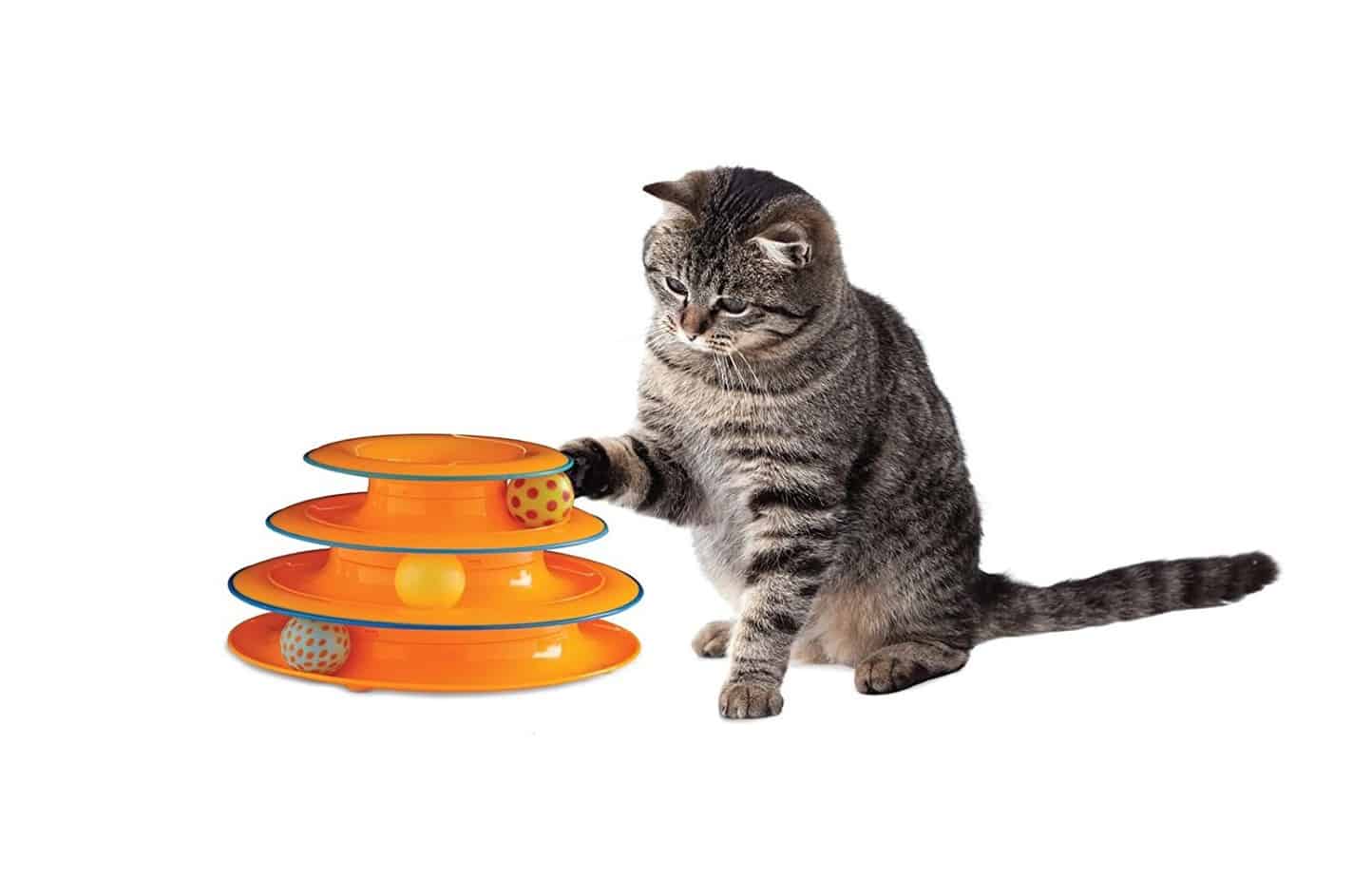 Good things come in threes, and this triple layer of fun might just be what your kitty is missing. Providing hours of fun for a curious cat, this toy encourages the hunt and play instincts of kittens as they chase the rolling balls along tracks.
This type of toy doesn't require any external power source or batteries and the design includes non-slip base pads and a secured close top. This is also great for multi-kitten households as the young ones can play together and they won't have to fight over one ball.
Petstages Cat Tracks Cat Toy | Amazon
With three exciting levels, this interactive toy encourages extended playtime as the colorful balls spin and roll around and around. It's great for multiple-cat households and independent play because it lets cats enjoy an action-packed afternoon even when you're not at home. 
Check Price
Buy at Amazon.com
We earn a commission if you click this link and make a purchase at no additional cost to you.
Petstages Purring Cuddle Pillow for Cats
An equally adorable toy for the latest addition to your kitty brood, this cuddle pillow features a built-in purring mechanism that promotes mental stimulation and provides calm and comfort for young felines who are experiencing fear from the change of environment, separation anxiety, and loneliness. 
The purring sound is touch activated and lasts for two minutes, as your new kitty cuddle with it. This is especially helpful when a kitten is adjusting to its new home.
Homedeco Cat Pet Play Mat Activity Pet Kitten Padded Bed Cat Play Center
An interactive cat toy that also encourages active play and exercise, this is more than just a cozy cat bed. It is padded for the ultimate comfort of your kitty and features ball toys that are hanging and mice for hours of fun.
A great space saver, this cat bed is a play mat and bed combined. It is portable and comes with a zippered storage bag, making it easy to bring along whenever you travel with your furry friend.
Categories Knitty Kitty 2 Pack – Yarn Ball Cat Toy With Rattle
A modern take on the classic kitty toy of yarn ball, this Knitty Kitty toy comes with a rattle that makes it extra irresistible for your kitten.
Colorful and safe for kittens of all ages, these balls are lightweight and the yarns are securely attached, even after hours of playing. Watch as your youngest feline buddy toss, chase, roll, and pounce on these yarn balls.
Yofun Interactive Cat Pet Toy, Multi-Function Automatic Spinning Cat Toy Ball Tumbler with Chaser Light And Cat Food Dispenser
The toy that will surely keep your kitty occupied, this interactive multi-function cat toy is a cat food dispenser, an automatic spinning toy ball, and a laser light, all in one.
are basically everything that a kitty would ever need! The toy even comes with feather-like string ears that your kitty can chase – that is if he is not busy chasing the laser light and chomping on the treats the toy dispenses.
This highly interactive toy also has an automatic shut off feature, ideal for busy cat parents; after ten minutes of intense fun, the toy will shut off by itself.
To ensure the safety of kittens, this toy was made with non-toxic and environmentally-friendly ABS material, making it safe both for you and your kitty. The laser light is less than 5 milliwatts, following the safety standards implemented by the U.S. Food and Drug Administration (FDA).
Catit Design Senses Super Roller Circuit Toy for Cats
A cat toy that will be loved by cats of all ages, the Catit Design Senses Super Roller Circuit Toy offers a large play area for hours of interactive fun. The circuit is motion-activated and the ball inside lights up as the kitties chase it inside the track.
The toy is composed of eight individual pieces and when put together, creates a fun circuit loop of alternating high and low, propelling the ball to move inside the track in full-speed. Now, that is something that just brings out the hunter out of your little feline.
Pets Pillow Simulation Interactive Fish Shape Toy
It is no secret that indoor cats adore fish and for kittens, these vividly-designed plush chew toys will provide them hours of endless fun. Each pack comes with three different fish designs, often including grass carp, carp, and salmon.
These fish are 3D printed, making it very realistic both in shape and design. It looks so real your guests might even wonder why you have fish lying around the house!
Catnip Toy Presidential Parody Mini Corn Shape Plush Squeak Chew Toy
Bring more fun into your home with this presidential parody plush toy for your kitten. The toy features a unique design inspired by Donald Trump, a squeaky sound each time your feline friend bites into it and a dash of catnip for added fun. The feathers-like hair of the toy makes it more engaging for your kitty to play with.
Cat Teaser Wand Toy in Cartoon Snake Shape with Bell Inside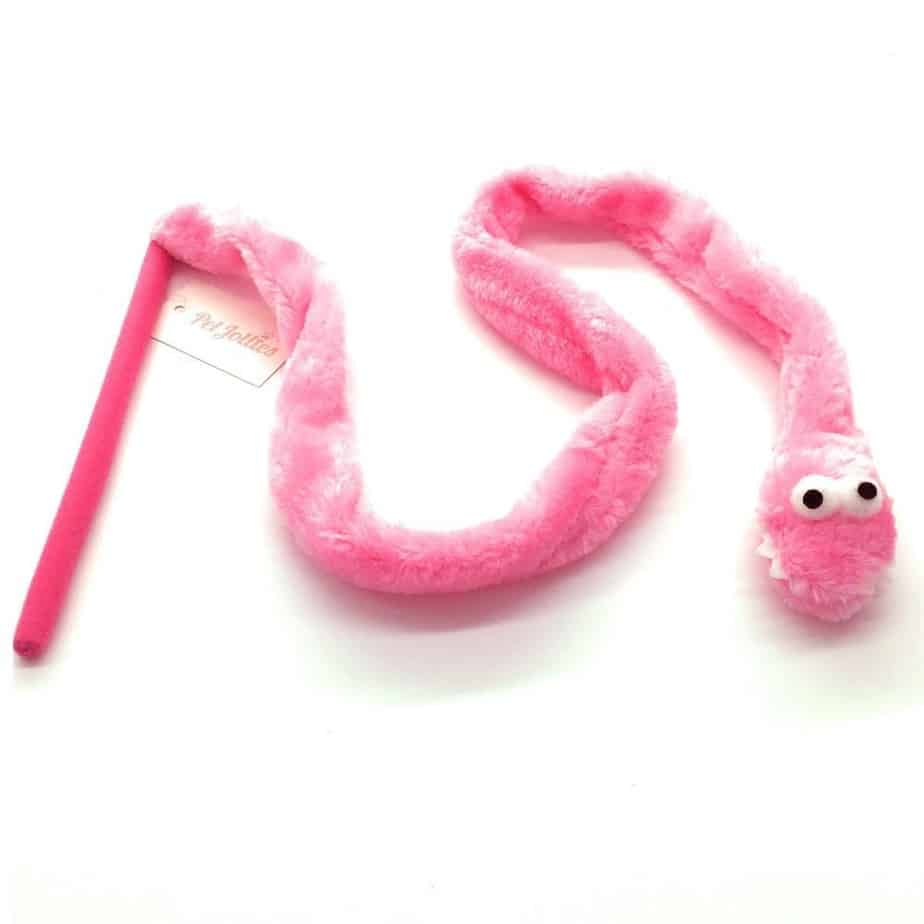 Perfect for a playtime session for you and your kitty, this friendly snake can slither or dart around for your furry friend to catch and chase. The toy is also stuffed with catnip to make it extra interesting for your kitten.
The head of this toy snake also makes a crinkle sound when bit, sparking the curiosity of your little feline. By nature, cats have the instinct to hunt and by dangling this in front of them, they will find themselves pouncing and chasing after the toy.
Mogoko Smarter Interactive IQ Treat Ball Cat Toy, Food Dispenser
Another great addition to interactive cat toys, this IQ Treat Ball also functions as a food dispenser and slow feeder. The transparent top part of the ball makes it extra attractive for your curious kitties and the treats inside just make it irresistible.
The ball is designed to move around by itself and inside is a bell that will arouse the curiosity of your cat. The slow feeding function of this toy also helps your feline friend avoid indigestion and overeating, while at the same time preventing the food from getting crushed. This Shaking Pet Ball is made of 100% safe, non-toxic, and no odor material.
Animal Planet Automatic Peek-a-Boo Mouse & Cheese Interactive Toy for Cats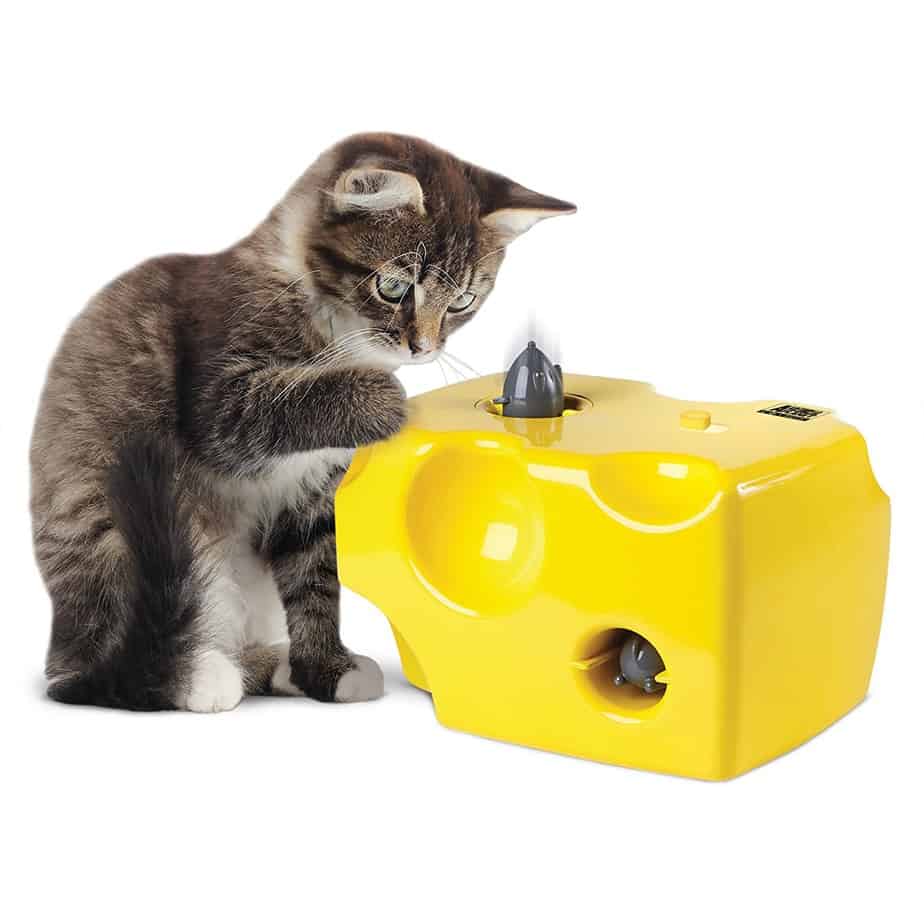 An amazing cat toy from Animal Planet, this interactive cheese toy is a treat your young kitten will definitely love you for. The toy is designed with a Peek-A-Boo functionality that will keep your little hunter amused for hours.
The design is stable and sturdy, so it will complement any home and it comes with a vibrant color that cats will find attractive. Once you set it on, the game of hide-and-seek (or better yet, cat and mouse) begins and lasts for 15 minutes.
The toy also comes with built-in automatic shut off function, so you don't have to keep an eye on it the whole time. When left on its own, the toy will automatically turn on again after three hours for another surprise round of kitty fun.
This hunting game may seem like a fun play for your kitty, but at the same time, this also helps him improve eye coordination while enjoying a daily exercise.
AMOMI PET Multi-Use Cat Scratching and Groom Pad with Self Grooming Brush
Introduce your new kitten to the joy of multifunctional cat toys with this self-grooming station with hanging toys and a built-in cat scratcher pad.
This comes with a hanging feather toy and two balls for immediate fun, as well as a scratch pad and an arched self-grooming brush for minimized risks of hairball and control shedding.
Cat Toys, Age, and Personality
As cats are basically bigger kittens, most of the toys mentioned here can be used on cats of all ages. Even as a cat has aged, most of them still retain that playful and curious personality, just like a young kitten.
It is important to note though that this is not always the case and there are certain cats that would prefer a quiet, more relaxed home as they get older. With cat toys, the best way to choose which ones are best for your cats is to asses their age and personality, as well as your home set-up and budget.
In terms of age, a cat is considered a kitten up until six months. After this time, a kitten transitions into an adult cat, especially during the 9th to 12th months. Once your cat turns a year old, he is officially an adult cat – even though he still acts like a total baby!
Some cats outgrow their toys while others still find their old cat toys fun and lovable. What is the favorite toy of your current kitty? Let us know!
Recommended Reads
FAQs About Kitten Toys
Do kittens really need toys?
Yes. The best way to start your kitten to socialize and be comfortable around people is around 4 weeks, and toys are the best way for them to start feeling playful and comfortable around others.
Do I need to exclusively buy toys for my kitten?
Not at all. While there are plenty of toys that you can purchase online and in pet stores, you can also create your own which require basic materials that you have at home.
Do kittens get bored of toys?
Kittens are like babies, they want to have lots of toys and play with them, but they easily get bored of playing with the same one all the time, so it's best if every cat owner purchases a few of them and rotate them, so they always feel stimulated to play.
If you want to read more purrfect guides check the links below: