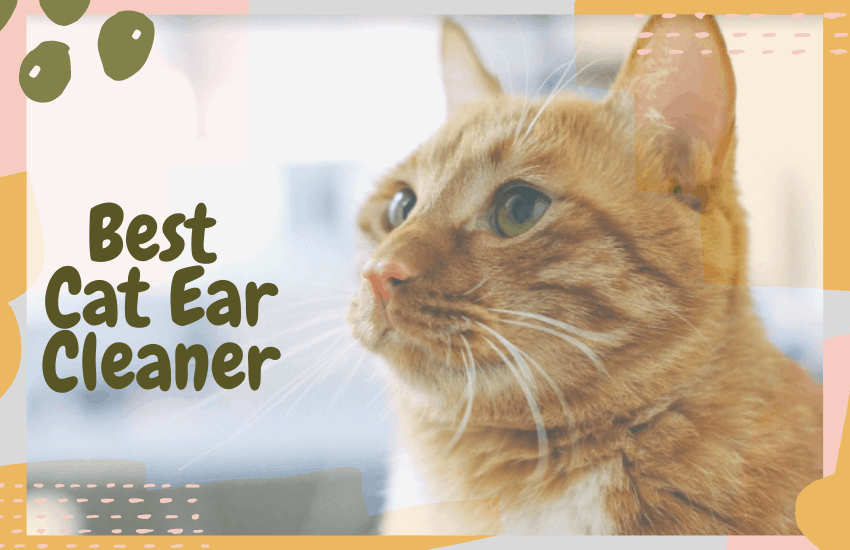 Cat's ears are powerful sensory organs. Felines can hear both lower and higher frequencies than humans, and listening is among the main ways that cats orient themselves.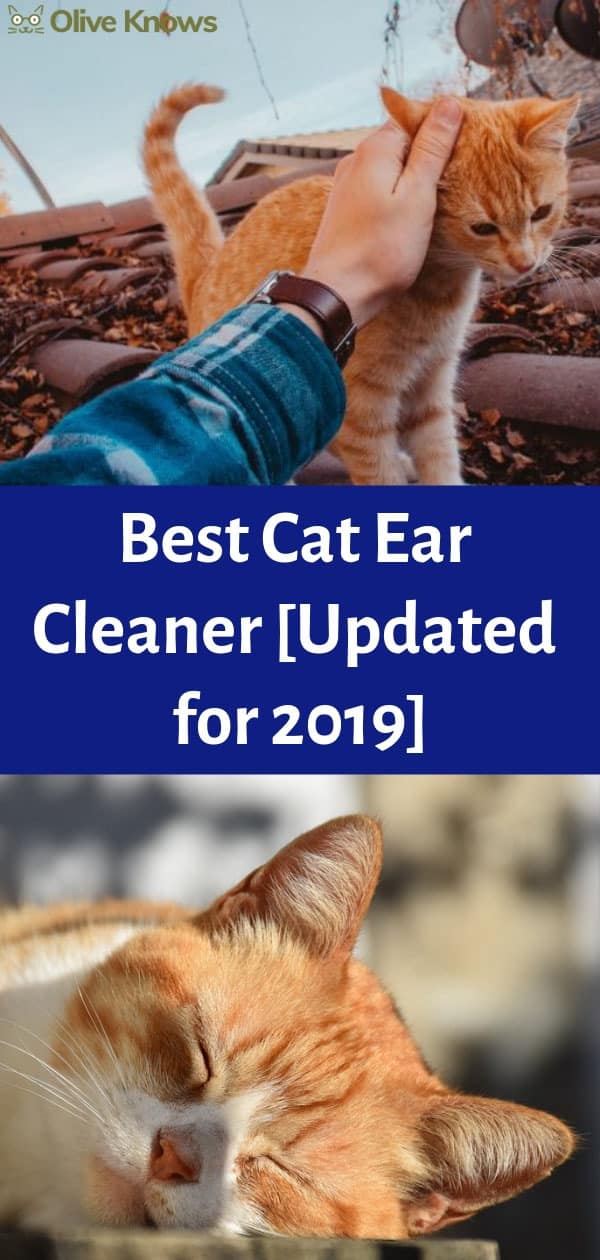 Also, ears help cats to keep balance. Due to the location of the ears, maintaining their hygiene is challenging even despite cats' flexibility. Thus, if you notice that your cat is building up dirt and wax in his ears, you might need to help with ear cleaning.
Bottom Line up Front: Our recommendation is to to use Virbac Epi-Otic available here because of its more natural ingredients and proven cleansing capabilities.
Anatomy of Cat Ears
To appreciate the complexity of cat ears and the need to take care of them, you'll benefit from a simple breakdown of their anatomy.
Before that, a gentle reminder to never rough handle your cat's ears. As soft and squishy as they might be, twisting, pinching or in any way messing with them can cause serious injuries.
Outer Ear
The outer ear is what we usually refer to when we say "ear." It consists of the triangle flap of skin that sticks above the cat's head and the ear canal which carries the sound further down the ear.
Cat's outer ears are thin and prone to injuries. If your feline friend has ear problems, she'll likely keep scratching them in excess which can lead to nasty wounds and infection. This is only one of the reasons why on-time treatment of ear problems can save you and your cat lots of suffering.
Middle Ear
The middle ear has a more complex structure than the outer part. It consists of the eardrum, three bones, and two muscles. Their role is to protect the inner ear from damage and to pass the incoming sound down the line for processing.
This part of the ear is susceptible to infections and inflammation, but since its well hidden, such issues usually remain invisible to the naked eye.
When cleaning the ear of your cat, never use a swab as they can penetrate the eardrum and cause irreparable damage.
Inner Ear
The inner ear resides within the cat's skull and handles hearing and balance. This is the proxy between the outer and middle ear and the brain. It is the part of the ear that helps in making sense of sounds and reacting to them.
The inner ear also hosts the vestibular system – the part that helps your cat with orientation and balance. The vestibular system contains spheres filled with fluid that act as levels by sending information to the brain about the alignment of the body.
Common Cat Ear Problems
Now that you know the basic structure of your cat's ears, here are the most common problems that can originate there. This is by far not an exhaustive list, so if you notice something wrong with your cat's ears, get him to the vet for proper diagnosis and treatment.
Ear Mites
Cat ear mites are small parasitic creatures that put up tough battles and quickly procreate. Their presence is most noticeable by distinctive gunk on the outer part of the ears, though it can also go deep into the ear canal. Outdoor cats and ones that come in contact with outdoor pets are more susceptible to mites. Here's a post on how to treat this condition.
Otitis Externa/Media/Interna
These three names refer to inflammation in the outer, middle and inner ear, respectively. Inflammation usually occurs as a result of a bacterial or fungal infection which requires immediate care. Though any type of inflammation is dangerous, the deeper it is within the ear, the more dangerous it is and the harder it is to treat.
Solar Dermatitis and Squamous Cell Carcinoma
Both of these conditions usually result from too much sun exposure. Solar dermatitis results in scabs, redness, and itchiness over the ears, eyelids, and nose of cats that have been out too much in the sun.
The squamous cell carcinoma (SCC) is a tumorous condition also caused by overstaying under the sun. The symptoms are similar to those of solar dermatitis which if left untreated can turn into SCC. White cats are especially vulnerable to such diseases due to having a lower presence of melanin.
Best Cat Ear Cleaners
General Cleaners
The market is rich in cat ear cleaning solutions, though most of them are quite similar. The most common ingredients are salicylic acid, coconut oil, and palm oil. When looking for a good cat ear cleaning solution stay away from long ingredient lists and ones where most of the components are hard to pronounce. When it comes to general cat ear cleaners there's no need for fancy ingredients; organic ones are more than adequate.
When cleaning your cat's ears follow the instructions if the product has come with such or consult with a vet if you have any questions. Like any other sensory organ, cat's ears are sensitive and delicate, so overdoing it with the cleaning (rough movements or cleaning too often) will do more harm than good. Here is a post on how to clean your cat's ears.
Zymox Ear Cleanser is among the most popular products in its category. It contains three antibacterial ingredients: lysozyme, lactoferrin, and lactoperoxidase. The cleaner comes in liquid form so be careful not to squeeze the bottle so hard that you create a stream that will damage your cat's ears. After use, you can gently wipe your pal's ears with a cotton pad to remove all the gunk.
With these wipes cleaning your cat's ears is as easy as it gets. The cotton pads are ideal for cleaning your cat's ears on the go, for example, if you are traveling. They contain aloe vera extract which has antibacterial properties and coconut oil which can break through ear wax.
Note that these wipes contain phenoxyethanol which is a cleaning agent and a preservative. While it is a popular ingredient in the cosmetic industry, phenoxyethanol might cause sensitivity in your cat. If you notice any reactions in your pal after using the Petpost wipes stop using them and contact your vet to determine the cause of the problem and any treatment if needed.
The folks at Pet MD have come up with an everyday cleaning solution that works for both cats and dogs. It contains soothing aloe vera which is easy on the sensitive ears. The cleaner helps with wax and dirt and leaves a scent of sweet pea and vanilla.


Virbac's rich line of products also includes an ear cleaning solution. The Epi-Optic Advance is indicated for routine use. Its formula is alcohol-free, with lactic and salicylic acid serving as cleaning agents. It works for cats, dogs, kittens, and puppies.
This cleansing solution also uses salicylic acid to deal with bacteria, fungus, and microbes. It is also indicated for cleaning ear mite debris, ear wax, and yeast infections. The formula is alcohol-free and smells like apple & kiwi.
The RUBOLD Natural Ear Cleaner solution soothes ear itching and pain, cleans from debris and ear wax and deodorizes. This solution is free of alcohol, sulfates, and parabens. Its main ingredients come from coconut and palm tree.
This formula is alcohol-free and fragranced as apple and kiwi. The cleaner is self-drying which should prevent any leftover grime and make for a mess-free cleaning. The solution is fine for daily use and works for removing wax, dirt, and grime. The main active ingredient is salicylic acid.
Despite its name, the Paws of Kerry Dog Ear Cleaner also works for cats. Its main ingredients are coconut and palm oil which help in cleaning wax and debris and soothing inflammation. The formula is free of parabens, phosphates, sulfates, and alcohol.
Ear Inflammation
General cleaners are fine for basic ear hygiene, but if your cat is suffering from ear conditions, you'll need something stronger. Medicated ear cleaners help with cleaning away wax, dirt, and grime, but they also work for treating some forms of ear inflammations like otitis externa (inflammation of the outer ear).
Ear conditions warrant immediate care. Overlooking them can lead to unfortunate circumstances like this case of a cat that had his ears removed because the pet owners didn't take care of his ear inflammation.
Do not apply any medical solution as a self-prescribed treatment. If your cat is experiencing ear discomfort, inflammation or signs of infections or any other ear trouble the first step is a diagnosis by a vet. Ear problems that show on the outside can be a symptom of complications in the inner ear which are not visible to the naked eye.
This solution comes with hydrocortisone, and it is indicated for acute and chronic inflammations of the outer part of the ears. Hydrocortisone is a drug form of the hormone cortisol. While hydrocortisone is common in anti-inflammatory medicines, you should be cautious with its use. Only use such solutions if your vet has suggested it.
The company also produces a hydrocortisone-free solution indicated for a variety of ear infections. If your cat is sensitive to hydrocortisone or his condition doesn't require its use, you can opt for the hydrocortisone-free solution to treat bacterial and yeast infections.
Sometimes infections are so persistent that they warrant a more potent solution. The Zymox Plus Otic medicine contains hydrocortisone and several other ingredients that help the solution to penetrate the tough biofilm that some infections create. Like the other Zymox otic solutions, this one also contains enzymes that act for both bacterial, viral and fungal infections.
Due to its high potency, you shouldn't use the Zymox Plus Otic for superficial conditions or as a prophylactic solution.
Ear Mites
You must apply topical ear solutions for ear mites with due diligence as to not harm your cat's tender listening instruments.
If you have trouble applying the topical solution better get your cat to the vet instead of risking damaging her ears and getting your face shredded in the meantime.
Eradimite is a topical remedy that kills ear mites and ear ticks. The active ingredients are pyrethrins and technical piperonyl butoxide, and it also contains aloe vera. If these two ingredients read like a chemistry textbook, it's enough to know that pyrethrin is an organic component that kills parasites, while piperonyl butoxide is also an organic ingredient whose purpose is to increase the potency of the pyrethrins.
Otomite is another popular topical solution for ear mites. It too contains pyrethrins and piperonyl butoxide and also N-Octyl bicycloheptene dicarboximide (another synergist). Otomite contains mineral and vegetable oils which help with the penetration of the medicine. Pre-clean your cat's ears before applying the solution.
Takeaway
Cats' ears are susceptible to problems. If you notice anything unusual in them, bring your cat to the vet. It might be just a wax buildup but when it comes to ear problems, it's better to be safe than sorry. When cleaning your cat's ears or applying for medicine always be gentle and do not make any sudden moves.
Startling your cat while tending to her ears can have dire consequences for both her and you.
Recommended Reads