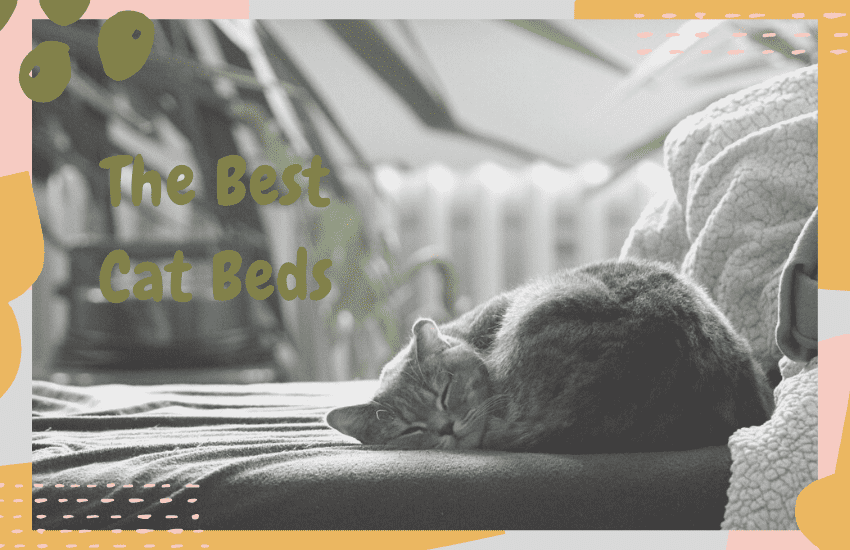 Your cat spends approximately 110% of its time sleeping, which means their napping spot should be considered sacred. And sure, you could let them pour themselves into your empty Amazon boxes, take over your side of your mattress, or dangle from a windowsill they almost fit, but a straightforward way to show your feline pal a lot of love is to buy them a cat bed. You may be hesitant based on how comfy your cat already looks on the arm of the sofa, but trust us, they're just waiting for you to give them their own dedicated cushion of dreams.
Our Top Choices
Brand
Type
Features
Price
Cat Tree
Creates Your Cats Own Home
Promotes Exercise
Covered in natural sisal rope
Extra Fun (Will Keep Your Cat Busy)
$69.99
Comfort Curler
Cozy and Simple Cat Bed
Fluffy, Plush Material
Faux Suede Outer Fabric
Convenient Round Shape
$15.99
Cat Condo
Contains Two Stores - Appartments
Soft and Plush Material
Extra Convenience
Fits All Cat Sizes
$32.39
The Importance of a Cat Bed
Cats need their own cozy bed, so they have somewhere to sleep that is comfortable and that gives their bodies support while resting. Pet cat beds can give cats a sense of structure and a place to have somewhere they can retreat to.
Beds for cats also help cats from sleeping in other places that may be unwanted or that may be bad for them. Cold, hard floors can give your kitty a cold and leave them sore. The same would happen to us if we slept on a hard floor with no padding.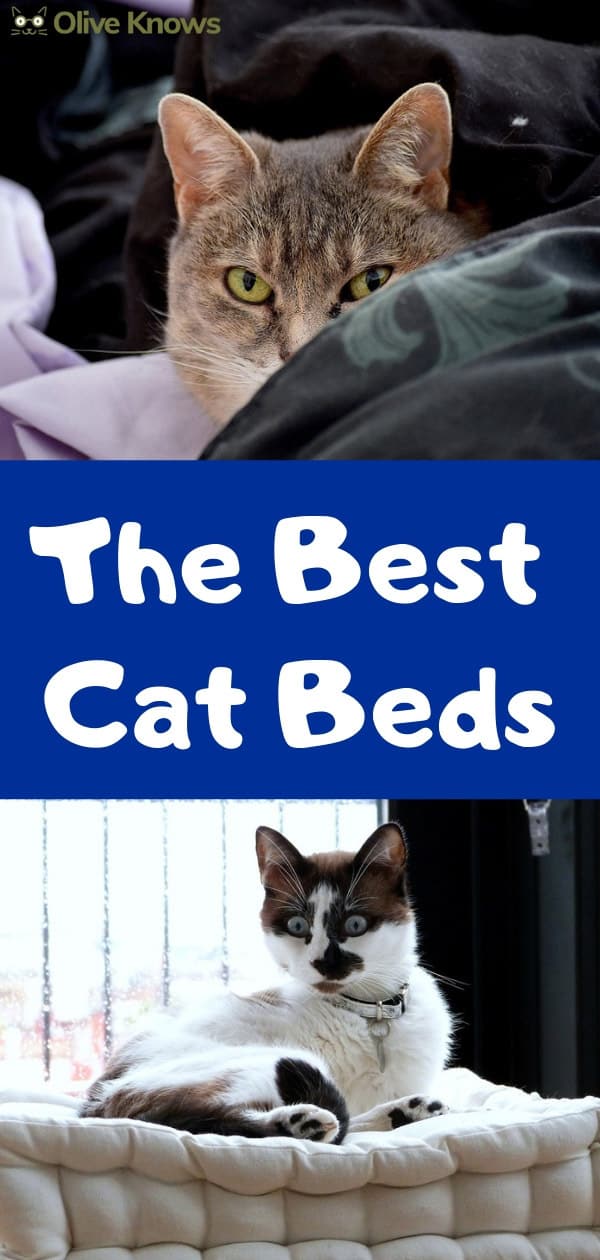 What to Look for in a Cat Bed
There are lots of different cat beds out there. When deciding on a cat bed, make sure that the bed is big enough for your cat. Cats do love small, enclosed spaces like boxes, but they do need to have room to stretch and roll over.
Other things to look for would be material and if the bed is enclosed. You will want the bed to be made out of high-quality material that will hold up to scratches, bites, and jumps.
What Materials Are Best for Cat Beds?
You want the bed to last a long time so you don't have to keep spending money, so look for high-quality material and durability. Other things to look out for is material that is easy to clean and that is hard to chew. Look for materials that are machine washable and that removes fur easily. It's also great to note that having additional pet products like cat scratcher lounge, or any cat scratcher, in fact,  will prolong the lifetime of your bed.
Should I Get an Enclosed Bed?
Some beds are fully or partially enclosed. This could double as a hideaway or make your curious cat feel cozier since they love small areas. If you notice your cat sleeps in corners or under the bed, an enclosed bed for cats may be a good option.
What Kinds of Cat Beds are There?
Much like humans, kitties all have their special preferences for when, where, and how they catch their zzzzs. There are a variety of cat beds you'll encounter while shopping for one, so here is how to tell the difference between them to see which one will match your pet's preferences.
Cat trees. These are your luxury boxes for the furry folks in your home. They're a series of connected small housings, each about the size and shape of a travel crate – although if you want, you can go as fancy as MC Hammer's mansion before he went bankrupt. They are covered in carpet and stacked on different levels, interspersed with built-in play areas and shapes attached and meant for leaping, clawing, and general fun times. Your cat can tire themselves out on the playground-esque additions, then pop into one of the houses and snooze until they're ready to go again.
Comfort curlers. Although your cat definitely appreciates the added fancies of life, this type of cat bed is a great example of less being more. They're cushions shaped like donuts and your cat's favorite position to curl up into the perfect nap. That's it. If you're looking for a way to introduce your favorite animal to the concept of their own bed, these are a great and inexpensive way to do that without feeling like you have to force them to like it to get your money's worth.
Kitty Condos. If you're thinking you'll have to take out a mortgage to house your cat, think again. You can find more room without spending as much money or needed as much space as cat trees require – the solution is a kitty condo. These are basically two carpeted, non-mobile carriers stacked on top of each other and merged into one piece of furniture, with two parallel hidey holes for your precious babies to choose for their best sleep ever. Kitty condos are great if for pet owners of multiple cats to corral, of course, but it's also an affordable way to give your single pet cat a choice if they're the type to crave variety.
Window, wall, and desk perches. Want to give your kitty a way to stay vigilant while lounging? Invest in a perch bed and they'll get to keep their eyes on whatever they want until they can't keep them open anymore. A cat window bed is a cat-sized hammock that has attachments specifically meant for glass and a support system to keep the bed shape and make sure your baby doesn't take a tumble. These provide hours of entertainment, from birdwatching to tracking the suspicious movements of the neighborhood dogs, and your cat will love the view even when they're not sleepy. Computer perches are the same general design but modified to hang off your computer desk or other non-window furniture so your furball can stay close to you while you're working without taking over your keyboard.
Traditional pet beds. These are not as specialized to cats' specific needs, but they come in a huge variety of super warm and cozy rectangular pillows with small walls and infinite colors, finishes, and cushion material, so if you don't know where to start, see what your cat thinks about one of these. You might never have to buy another!
What do I Need to Consider When Buying a Cat Bed?
It's not rocket science, but you do have to keep a few things in mind when buying a cat bed. Kitties are finicky creatures, and you know better than anyone else what the preferences of yours will be. Here's what you need to look out for.
Bedding material. If your cat currently sleeps like a log on, well, a log, you don't have to worry about finding the softest fluff available for their bed. But for all cats, no matter what their mattress firmness preferences, benefit from sleeping on natural materials like cotton, wool, or feathers. (Be careful of that last one if your cat likes to dig and pick at whatever they're sitting on.) These non-man made surfaces keep their allergies and other skin and sinus irritations at a minimum. Also, make sure you find a bed made of washing machine fabrics. Even the best behaved kitty piles up fur, dirt, and bacteria where they curl up regularly, but if you can wash it regularly without worrying about it coming apart, you can give your best furry friend their ideal nap spot.
Bedding placement. Where does your cat like to sleep? That's the best and easiest place to start. If you have older cats or one with limited mobility, you may want to put a cat bed on each level of your home. If you have a fur baby who always crawls into the quietest corner to snooze, stash their bed there so they won't get sensory overload. Whatever your cat's overt preferences, it's always good to keep the cat bed out of the way of regular foot traffic, especially if there are other pets or people who will be moving around when the cat is trying to sleep. (For a creature that sleeps up to 20 hours a day, that's going to happen!) It's also a good idea to put the cat's bed in sunlight since that's a very popular spot for them to soak up the warmth and enjoy it all over.
Bedding size. You will need to measure your cat to make sure you get the right size. Trust us, we realize that's way easier said than done, but it's a crucial step in the process, especially if your cat sleeps sprawled out like a starfish and takes up more room while dreaming than physics say should be possible. Get yourself a soft measuring tape like sewers and tailors use and see how far your kitty can bend space and time. If you can't get an exact number, round up and your baby will always have plenty of room to stay comfy. You may have to repeat this step if you're starting with a kitten, and it won't work to buy huge now. Cats like to feel secure when they're sleeping, and that means fitting their bed to their best current sleeping life.
Bedding heating capability. Some cat beds have the ability to keep your kitty warm with self-contained heating pad systems in the bed itself. Those can range the spectrum from luxury cat beds to necessity based on several factors. We go into depth about heated cat beds here, so check out that article for more specifics about what cat situations make for the best excuses to get your cat their own heat to sleep upon.
What Are Some Good Examples of Cat Beds in Each Category?
Cat Trees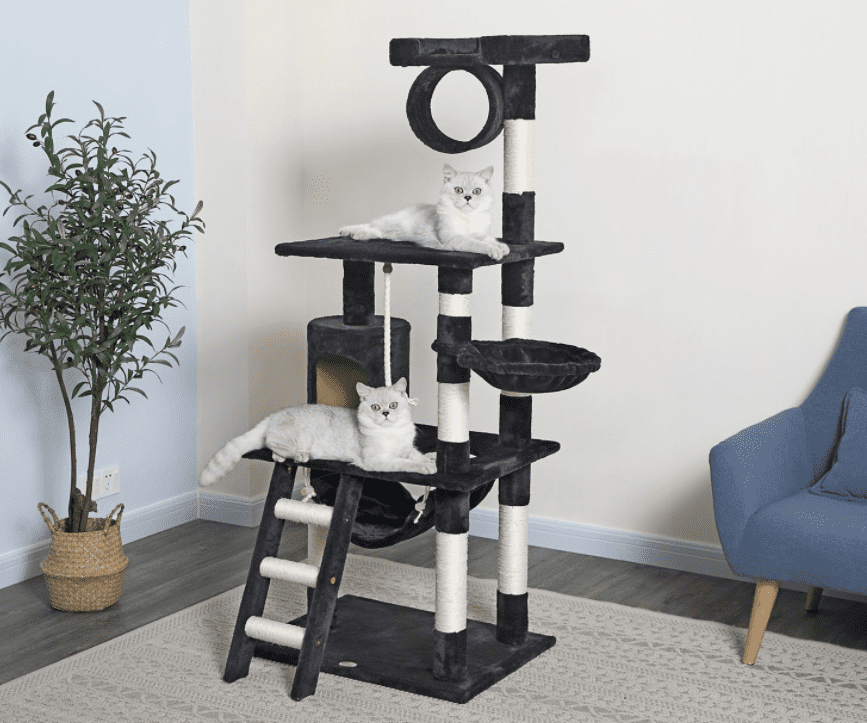 GoPetClub 62-inch cat tree. Go big or go home, we always say – this tree gives your kitty an extensive playground and several different options for relaxing when they tire themselves out. It is easy to assemble – job, which is why GoPetClub has it for such a deal, but it will be worth it for your cat's enjoyment.
FurHaven 59.8-inch Tiger Tough Platform cat tree. If your cat is a destroyer of worlds, FurHaven has you covered. This tree is designed for extensive scratching, de-stressing, and napping privacy.
EliteField Cat Tree and Scratching Post. We love the simple yet unique layers of this tree. They're perfect for the cat who loves to climb up high before settling down. If you don't have any stairs in your house, get this tree to create some. Even if your cat doesn't use them for scratching sessions, they'll get a quick workout without even realizing it when they go down or wake up from their snoozes.
Comfort Curlers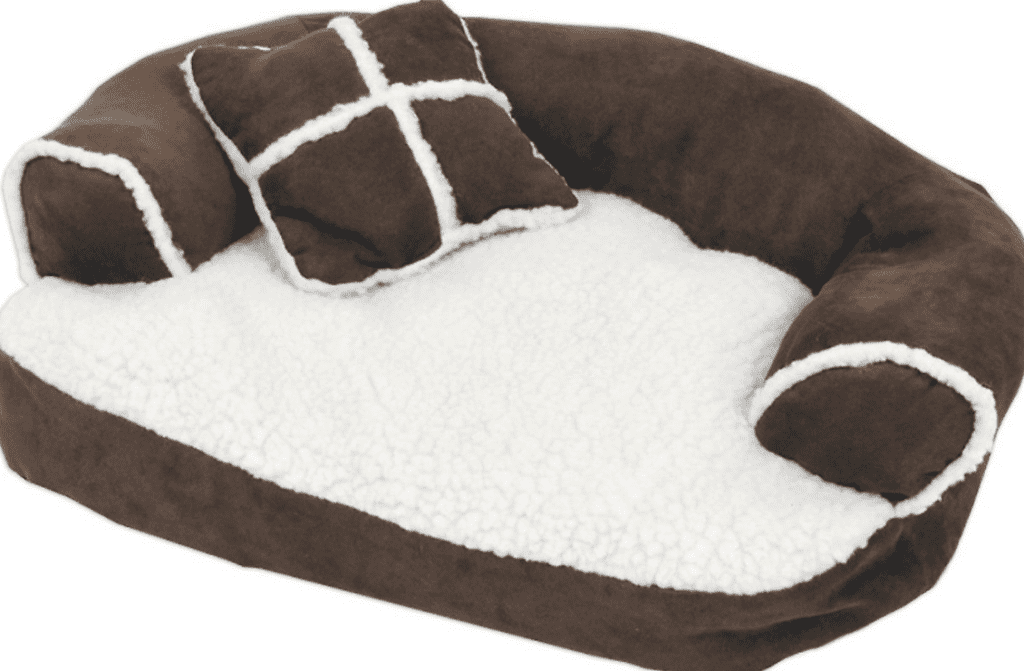 Frisco Round Bolster Pet Bed. This is the epitome of how a simple cushion can do all the work of a fancy sleeping space without the expense or assembly. The round shape curves with your cat's cuddle shape and the small walls keep it feeling secure without making it feel trapped. They can come and go easy as they please, and the fleece finish is a win-win for any animal who uses it.
Aspen Pet Sofa Bed. We love the shape of this bed for its ability to cater to all sides of our cats' preferences. Like a human-sized sofa, this has a higher back and a low-to-no wall on its other side. If your cat switches between needing to smush up against something and needing their space, they'll love the options this bed gives them.
Frisco Sherpa Cuddler Bed. This feels like a faux-fur hug from you, and although your cat may never admit it, they will totally love feeling safe in its octagonal embrace.
Kitty Condos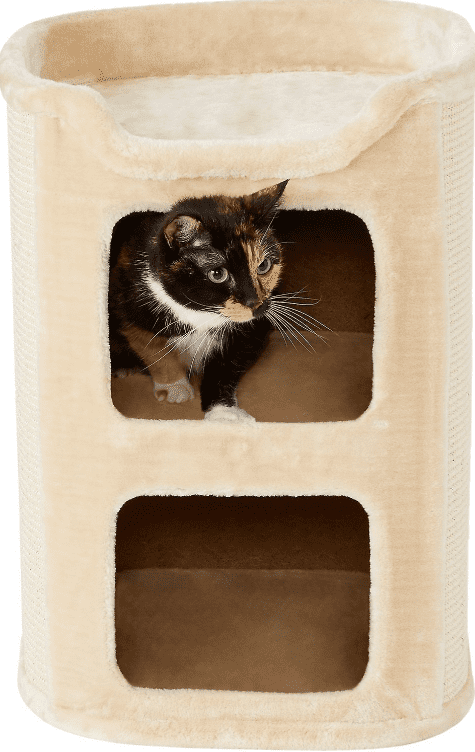 Frisco 24-inch 2-Story. We're giving this bed our stamp of approval for a simple but effective change it makes: its roof is also a bed. It's that open-air detail that elevates this from a standard kitty condo to a great option if you have more than two cats or any number that loves the option to sleep al fresco or all tucked in.
Perches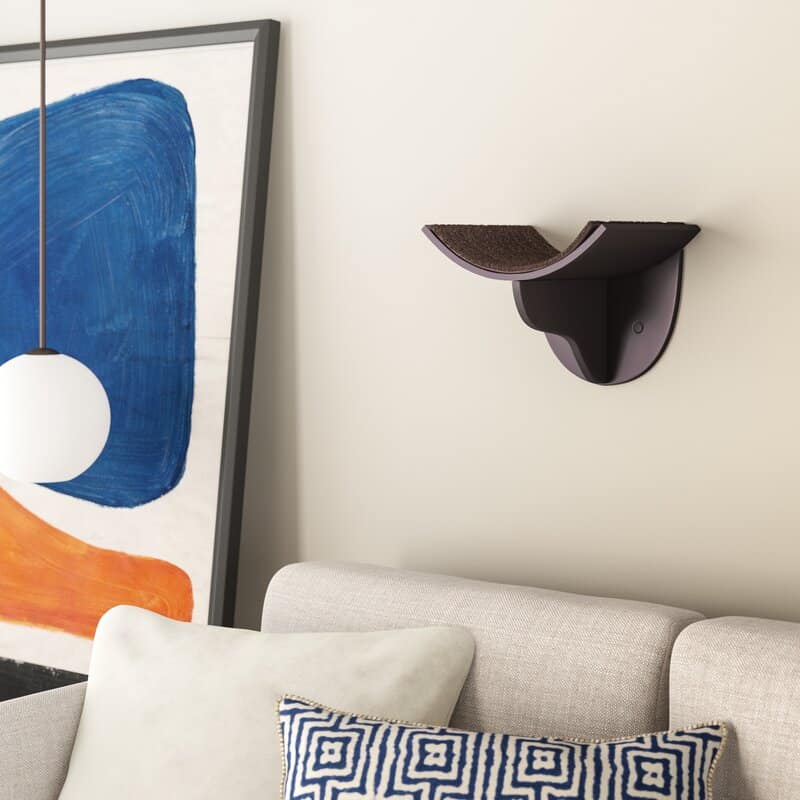 9 Inch Haight Wall Mount Cat Perch. You can hang this on any wall and people will compliment you on your taste in modern art. Its swoop shape is covered in a material that's friendly to both cat claws and butts, so your cat will love it for both work and play.
24 Inch Kitty Sill Couch Perch. Your cat will lord their gaze over all who dare enter its realm, including those annoying squirrels who think they own the backyard. Its cover is removable and washable, and it's base supports are much sturdier than standard fiber straps.
Foxy 2 Piece Cat Perch Set. If your cat is enamored of the outdoors but you aren't, compromise with this set of perches disguised to look like an afternoon snooze in the jungle. The fake leaves that make up the walls give your cat the ideal combination of privacy and visibility so they can snooze in peace but you can always know where they end up.
The Best Cat Beds
Here is a list of the best cat beds. Below are some great options for cat beds that range from regular cushions to enclosed hideouts.
Donuts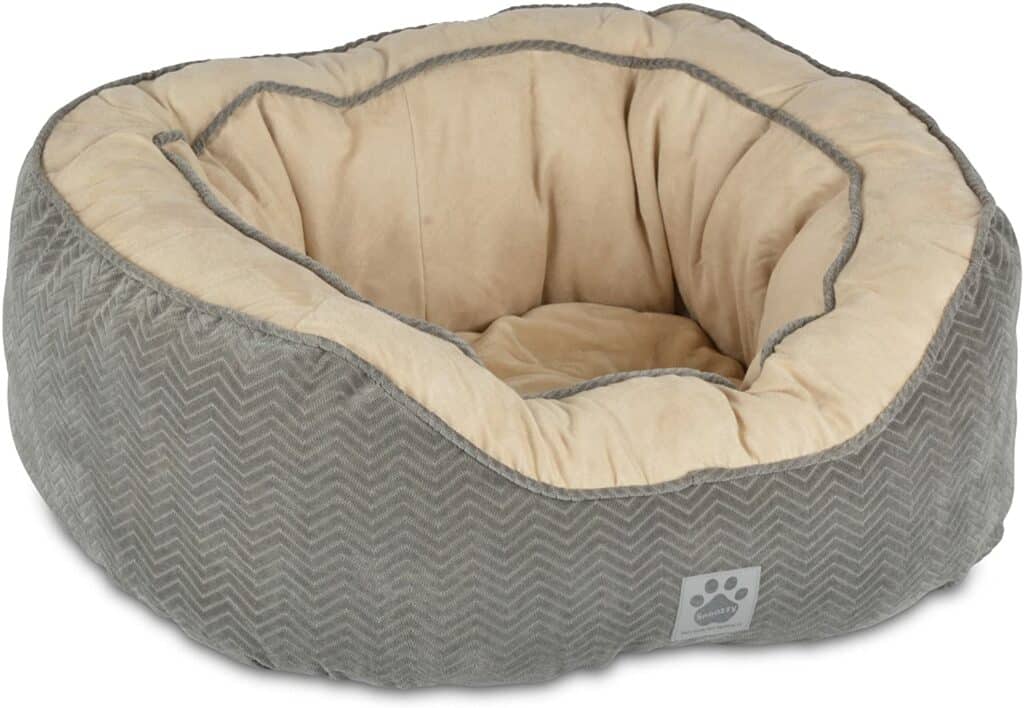 Donut beds are circular beds with or without raised edges. Here are some great options if you're looking to get a basic cat bed.
Luxury Pet Bed This washable bed is perfect for kittens and cats up to 10 pounds in weight. It is partially enclosed with a wall wrapped around the bed so your cat can cuddle up to the edges. The bed cushion is orthopedic so senior cats can have a soft spot for their achy bones.
Daydreamer Gusset Bed This plush bed has raised edges so kitties can feel like they're in a box. It is eco-friendly because the filling is made of recycled plastic bottles. The bed is super soft and cozy, but be careful washing it. It is not machine-washable with many comments stating the fabric rips apart.
Frankshine Pet Bed This cute, collapsible bed has a waterproof bottom and is machine-washable. It has two modes: a collapsed, plush bed and a drawn-out kitty cave. The bed also has a cat toy attached to the roof, so bedtime can be entertaining.
Kuddle Kup Kuddle Lounge Bed  This washable bed comes with a removable, zippered cover that makes cleaning it easy. The microfiber material gives your kitty a soft area to curl up in. It comes in different sizes and can be used for dogs, so heavier cats can enjoy this bed, too.
Luxury Cat Pod This cute, sac-like bed is made out of Felt material and has a machine-washable cushion. Felt material retains body heat, so this pod gives your cat much wanted warmth. The felt will make your kitty want to rub up against it, but it may not hold up to excessive scratching.
Pads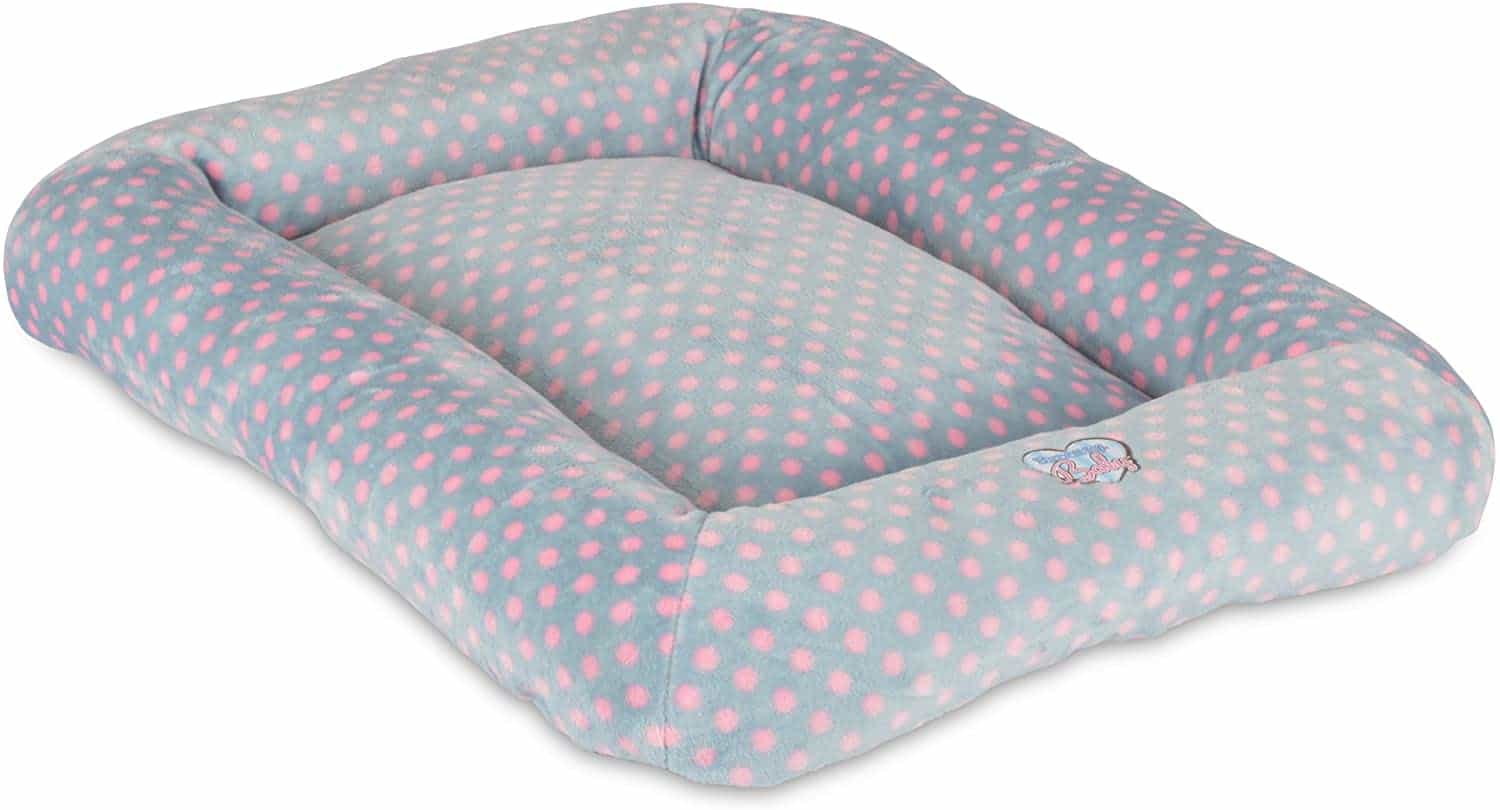 Pads are flat mats that are cushioned and soft. Here are some options of padded mats that are great to use as a bed.
Soft Foam BedThis bed is made out of a soft, synthetic material that is reversible. It has a rubber bottom so the bed won't slide all over the place. And it comes in different sizes and colors. It cannot be washed by a machine and it does not have a removable cover.
Polka Dot Baby Bumper BedThis cute, polka-dot cat bed is eco-friendly as it's fill is made out of recycled plastic bottles. This bed is machine-washable and flexible enough to fold and store for travel. The plush allows the bed to be self-warming with your cat's body heat.
Pet Bed MatThis mat can be placed anywhere from the floor to the couch to the bed. It is light enough to be machine-washable and it is durable enough to be cleaned with a vacuum. This bed is great if you don't mind your cat sleeping on the couch but want something that will catch their fur.
Soft Fleece PadPerfect for crates, chairs or just the floor, this bed is made out of plush fleece material and orthopedic enough for senior cats with aching bones. It has a non-slip bottom that keeps it in place and it is machine-washable.
Furry Cat MatThis cute, fluffy cat mat can convert from a mat into a bed. So, you can have the best of both worlds! The bed makes a partial enclosure that cats will love to cuddle up to. And, it's machine-washable. However, the fluffy material may get damaged in the dryer.
Houses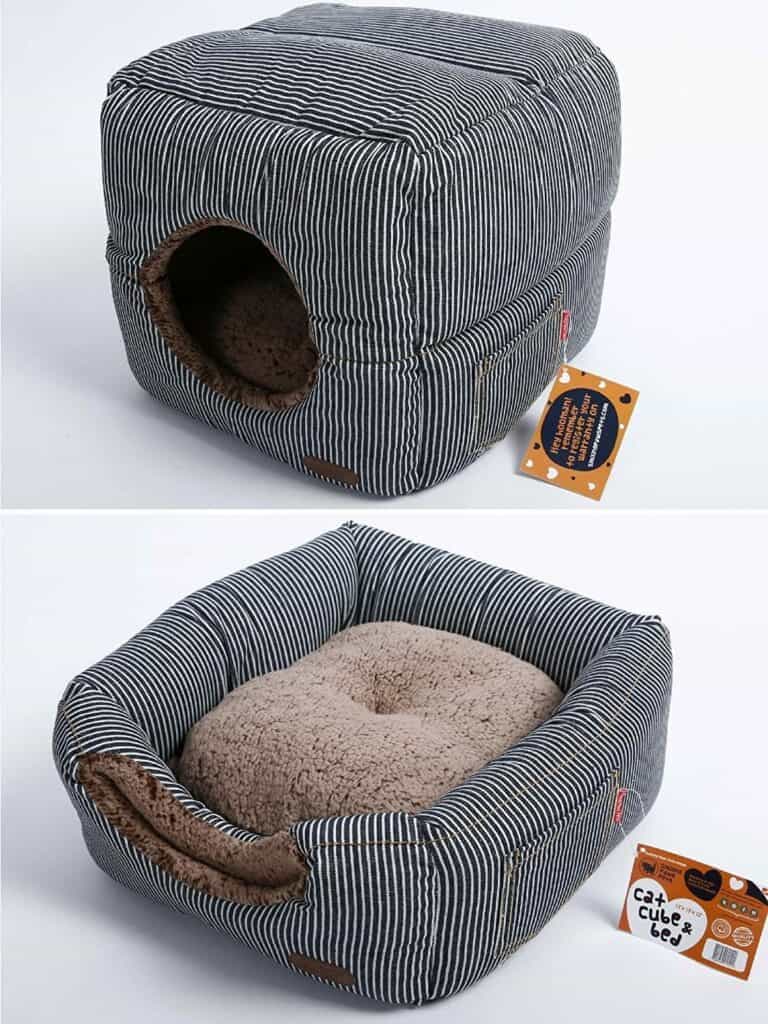 Cat houses give structure and privacy to cats. Houses are more durable and can also be used for play time. Here are some great houses with beds.
2-in-1 Cat Bed and House This cute, cube gives your cat an enclosed area to retreat to when they want their nap. Or, you can push the roof down and create just a nice, soft bed. It is machine washable, but if your washer doesn't have a hand-wash setting, you will have to hand wash it.
Cat TentThis unique bed gives your space some fun flair while giving your cat a soft place to rest. It is made out of cotton material and can be machine washed. Some assembly is required, but it can easily be taken down to travel with or to store away.
Cat Condo with Hide-Away Bed Who said bedtime couldn't be fun? This cat condo has an enclosed box at the bottom perfect enough to store a bed. Cat condos are durable and made with heavy-duty materials, so it can withstand larger cats and rough playtime. All you need is a cushion.
Carpet House The carpet house is made out of solid wood and carpet that will entice your cat to use it as a scratching post and a nice, comfy resting spot. This house is very durable and can withstand bigger cats and rough playtime. The nice cave gives your cat a private place to relax.
Caves
Caves are fully enclosed structures and they create an environment that makes cats feel safe. Here are some awesome caves to consider as your cat's bed.
Hooded Pet Bed This cute, hooded bed is great for cats who like to hide under covers or pillows. It's super soft and the hood acts as a blanket to keep your cat warm as well. It also has a non-slip bottom so it won't slide on hard surfaces.
Waterproof Cat Cave This cave bed is made out of soft velvet material and claims to be waterproof. This bed is machine-washable, but only if your washer is a front loading machine since the bed may not fit in a top loader.
Tent Bed This tent is a fully-enclosed cave that is soft and comfy inside. It is machine-washable and has a slip-resistant bottom to keep them in place on hard surfaces. This bed comes in different shapes and sizes so you can choose based on the size of your cat or your taste.
Privacy Cave This sphere of coziness is the perfect privacy cave for cats. Featuring just a tiny opening to get in and out, your cat can have the luxury of a private, dark, comfy resting spot. This ball is made out of durable materials meant to last!
Heated
Cats love warmth. They love basking in the sun and standing right in front of the heater when you're freezing. You may want to look into getting them a nice, heated bed. This article shows you how to choose the best-heated cat bed.
DIY
You can also makeshift your own cat bed out of materials you may already have on hand. Here are a few examples of what you can throw together:
Putting a fleece blanket or a comfy pillow inside a basket.
Getting use out of your cat crate by putting a blanket inside to create an instant cave.
Putting a nice soft blanket on the floor sometimes does the trick!
Repurposing an old drawer and bin.
A Great Catnap
There you have it! A list of the best cat beds in a variety of categories. Your cat will love to have their very own bed that they won't have to share.
Best Locations to Store The Bed
There are plenty of places to put your cat's bed. Ultimately, you should put it wherever you want your cat to sleep. But it is recommended to put it in a place where your cat will feel comfortable enough to go there and sleep.
Good places to put the bed include areas away from the excessive noise. A dark, cool corner or closet makes a great little hideaway for the bed. Even an area where your cat already sleeps can be ideal like under the bed.
Getting Your Cat to Sleep in the Bed
After getting the bed and finding the perfect location, you might find that your kitty is not using it. It may be helpful to place some treats in the bed to introduce them to the area or add catnip. Then give them some space to explore the new object.
Further Reads