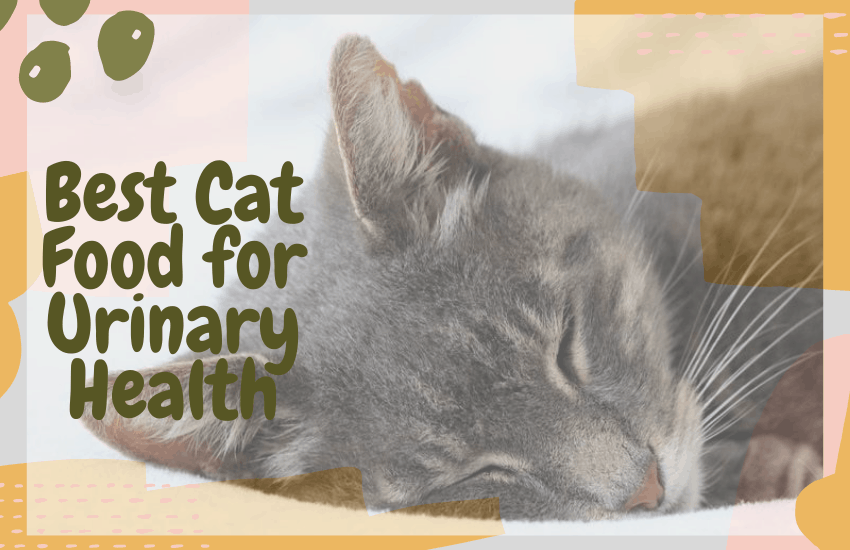 As much as we wish for our little tigers to have happy illness-free lives, the reality is that cats are prone to conditions that affect their well-being. Apart from suffering from sensitive stomachs, felines can also experience urinary problems. They can occur in any part of the urinary system and are painful and distressing for your furry friend.
While there is no guarantee that your cat will ever suffer from a urinary problem, you should work on prevention. Staying alert for symptoms and feeding your cat a diet that promotes urinary wellness are important factors for keeping your pet healthy. In this post, we'll go over basic urinary troubles in cats and show the best food for urinary health.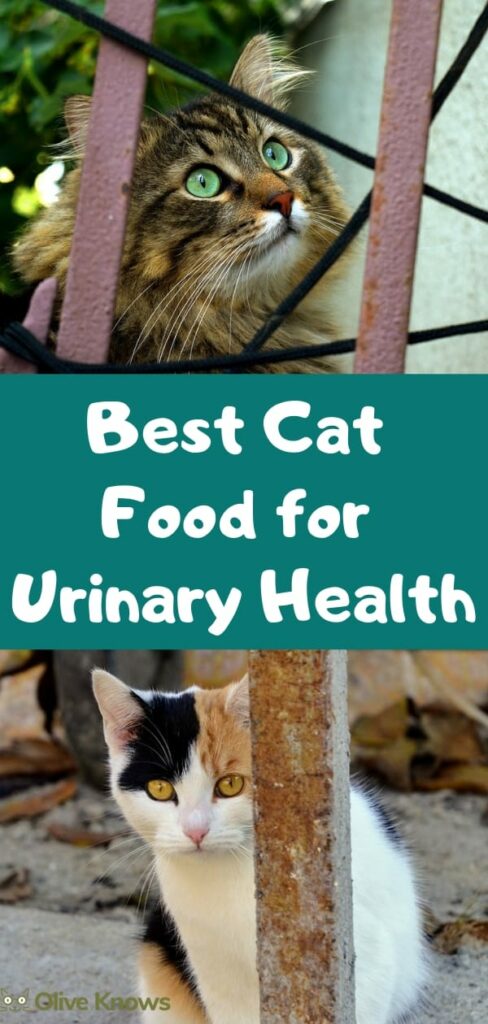 Spoiler alert: After careful research, Olive's Pick is Wysong Uretic Canned formula (you can see why below).
Symptoms
The symptoms of urinary problems in cats vary depending on the cause and location of the trouble. For example, kidney conditions might lead to different symptoms than a blocked urinary canal.
Cats are skilled at hiding their pain, so it is possible that your cat will show signs of illness only after an advanced stage of the problem. Beware of warning signs and bring your pal to the vet as soon as you notice anything unusual.
It is also possible that your cat might have several different illnesses. No matter what, problems with the urinary system are critical and require immediate medical attention or your furry friend will suffer and might even die. Since the urinary system, including the kidneys, is responsible for clearing out toxins, death from complications can occur quickly.
Here are some symptoms to look for:
Frequent Urination
If your cat has a blocked urinary tract, it's urine will not flow free, which might lead to frequent urination of small volumes. Even if your cat pees the normal amount of urine, more frequent trips than the usual might indicate other issues that require veterinary attention.
Painful Urination
Cats try not to show pain as a defensive mechanism that they've developed, so they don't appear weak in front of their natural enemies. If your cat does show that it's in pain, you know things are serious. For example, if your cat meows in distress while peeing, then something's wrong.
Weak or Non-existent Urination
Contrary to frequent urination, nonexistent urination is also a sign of trouble. If your cat stopped peeing this might indicate blockage of the urinal tract, failing kidneys or your pal might be in so much pain when peeing that it refuses to do it. Not urinating means that your cat doesn't eliminate toxins. This is can lead to an agonizing death.
Urination Out of the Litterbox
Often cat owners think that their cat is urinating out of the litterbox out of spite. Stubborn as cats are, their "inappropriate" behavior might be a sign that they're in trouble. If your furry friend urinates out of its litterbox, the best thing you can do is to rule out any medical conditions before you assume that your cat is a spoiled brat.
Just like cats associate the fridge with food, if urinating is painful to them, they might associate the litterbox with pain. Another reason for "out of the box" urination might be urinal incontinence.
Bloody Urine
If you notice that your cat is bleeding from somewhere (save for menstruating cats), then something's amiss. This includes bloody urine. A stone might've ruptured the urinary tract or something even more serious might be causing the bleeding. Go to the vet immediately.
Frequent Licking of the Urethra
Cats lick themselves not only as a grooming ritual but also when they are in pain. If you notice that your pal is frequently licking its peeing area, it might be a way to manage pain.
Vomiting
Just like with humans, vomiting is a symptom of different health issues. It's a telltale sign that your cat is suffering and needs attention. If, for example, your cat's kidneys are not working properly, vomiting might act as a cleansing mechanism to get rid of the toxins that the kidneys fail to process.
Diarrhea
Like vomiting, diarrhea is a symptom of various illnesses. A runny stool is another way for the body to cleanse itself. While diarrhea can happen quite often to cats with sensitive stomachs, this shouldn't be a reason to neglect the issue, especially if the runs have come along with other symptoms.
Weight Loss
People are probably the only species that lose weight on purpose. Most mammals know instinctively how to maintain optimum weight and avoid obesity. Thus, if your cat has started losing weight, you should bring it to your vet for a checkup. Weight loss might be caused by many illnesses including worms, stomach diseases or problems in the urinary system.
Lethargy
Cats do tend to spend a large chunk of their time sleeping or relaxing. However, if your pal has become unusually lethargic or shows signs of distress, it's possible that your cat is suffering from something.
Unusual Behavior
"Unusual behavior" is an umbrella term that unites any extraordinary changes in your cat's behavior or habits. Cats are not only good at hiding their pain, but they also can't tell us when something's wrong. They can, however, show it and when they do it's usually because their coping mechanisms aren't working anymore. If you notice something troubling don't wait for it to pass.
Causes

Urinary problems are nasty, life-threatening conditions that require immediate medical attention. There is no guarantee that your cat will never develop a urinary illness (or any other form of illness), and knowing what might cause such issues will give you a higher chance of preventing them.
Bacteria, Infection, and Inflammation
Your cat is always in contact with bacteria infested surfaces, and despite felines' notable hygiene habits, their bodies are not completely bacteria-proof. Even if you keep your place spot-clean, there is no guarantee that bacteria won't come from somewhere and get into your cat's system. These bacteria, in turn, can cause a variety of issues, including inflammation and malfunction of the urinary system.
Crystals and Stones From Poor Diet
Cats are prone to developing crystals and stones in their urinary systems. These develop due to two main factors – not drinking enough water and overfeeding minerals. Cats, known for not being avid water drinkers, cannot dilute minerals properly if they don't drink enough.
These minerals, useful as they are in moderation, build up like sediment in a pipe. The crystals and stones block the urinary canal which either makes it quite painful for your cat to urinate or even blocks the flow of urine.
Diabetes, High BP, and Kidney Issues
Urinary complications can occur as a result of other underlying diseases. Cat diabetes is a serious condition which affects the whole functioning of the body. Diabetes, especially if left untreated, puts a strain on all vital body systems, including the cardiac, respiratory, and urinary systems.
If diabetes is left unmanaged, these systems fail, leading to the death of your furry friend. A major part of diabetes prevention is the management of environmental and nutritional stress, meaning that your pet should live a comfortable life and eat a balanced and nutritious diet.
Toxins
Cats get everywhere! They sneak up into cracks and crevices that you weren't aware even existed in your house. This means that your furry rascal can get its paws on stuff that are not meant to be consumed. You might even not know that something around your home is toxic to your cat.
In some cases, your cat's body cannot cope with the level of toxicity. The body overloads, the kidneys cannot keep up with clearing out the toxins, and as a result, the poison spreads out leaving your cat sick. If you suspect that your cat is poisoned get to the vet ASAP.
Trauma
Apart from the danger of getting poisoned, the playful behavior of cats tends to leave them bruised up quite often, especially if your pal is a free roamer. Jumping from high levels, getting into fights or playing too rough can cause trauma to the urinary organs of your cat. This can result in all sorts of complications including inflammation and organ failure. Such trauma requires immediate medical attention.
Treatment and Prevention
So far, we've established that urinary problems are common in cats, that they come from environmental or nutritional stress and that there are quite a few symptoms that will warn you about a present problem. How about treatment? Well, it comes in two forms – responding to the illness and working on preventing it.
Vet
You might be tired of reading it, but any sign that your cat is experiencing an illness must result in you bringing your furry friend to the vet. Often, cats exhibit symptoms only when the illness is in its advanced stage, which means that waiting out might be the difference between getting your cat treated or letting it die.
If a light problem is present, your cat might get away with only having to take some medication. If things are really bad, the vet might have to perform procedures. For example, if the urinary tract is blocked due to crystals or stones, the vet will flush the tract so the urine can pass freely.
In any case, whatever procedure the vet does, however uncomfortable it might sound, will help to relieve your cat's suffering. Your vet might also prescribe a special prescription cat food that is formulated for urinary illnesses. Note that you should only feed your cat prescription food if appointed by a vet.
Water
Treating the illness is only one part of the story. While there is no guarantee that your cat will never suffer from urinary issues, you can address any nutritional stress that might lead to such a condition. Keep your cat on a healthy and balanced diet to avoid deficiencies or excessiveness of nutrients and always keep a bowl of fresh water.
The latter is a key aspect of keeping your furry friend healthy. When your cat consumes enough water, their minerals get diluted, and there is a smaller chance of them blocking the urethra. Also, water helps the kidneys in doing their job of cleaning out the body from toxins.
Diet
Water is not the only component that you need to pay attention to. Like with humans, the key to a healthy diet is the moderate intake of macro and micronutrients. Just as any deficiency is dangerous, so is an excess of macros, vitamins, and minerals. It's the latter that often cause bladder crystals and stones as discussed before.
When your cat consumes more nutrients than it's system can absorb the excess gets out through urine, poop, and sweat. When this excess is significant, the body cannot get rid of it all, and it stays in the organs.
As we already went over the importance of water for cats, turning to a wet food diet might be a solution for a feline that doesn't drink enough. Wet cat food is water rich with about 70-80% of its weight coming from moisture in contrast with kibble which typically contains about 15%.
Food
We checked over 50 different formulas that are widely available on the market, but in the end, only one satisfied our strict requirements. And the winner is:
The Wysong Uretic Canned diet took the edge to its competitors on several fields. First, unlike the other formulas, Wysong contains meat as the first ingredient. Second, it includes DL-Methionine which is a urine acidifier that helps with bladder stones. Third, when converted to dry matter basis (DMB), the Wysong Uretic canned food contains 40% protein and 37% fat, which gets closer to felines' natural diet than the other diets that we reviewed.
The downside is that there is no variety of flavors and given that cats can be picky eaters it might be a challenge to get your cat to eat it. Alternatively, you can also check out the Wysong Uretic's dry option.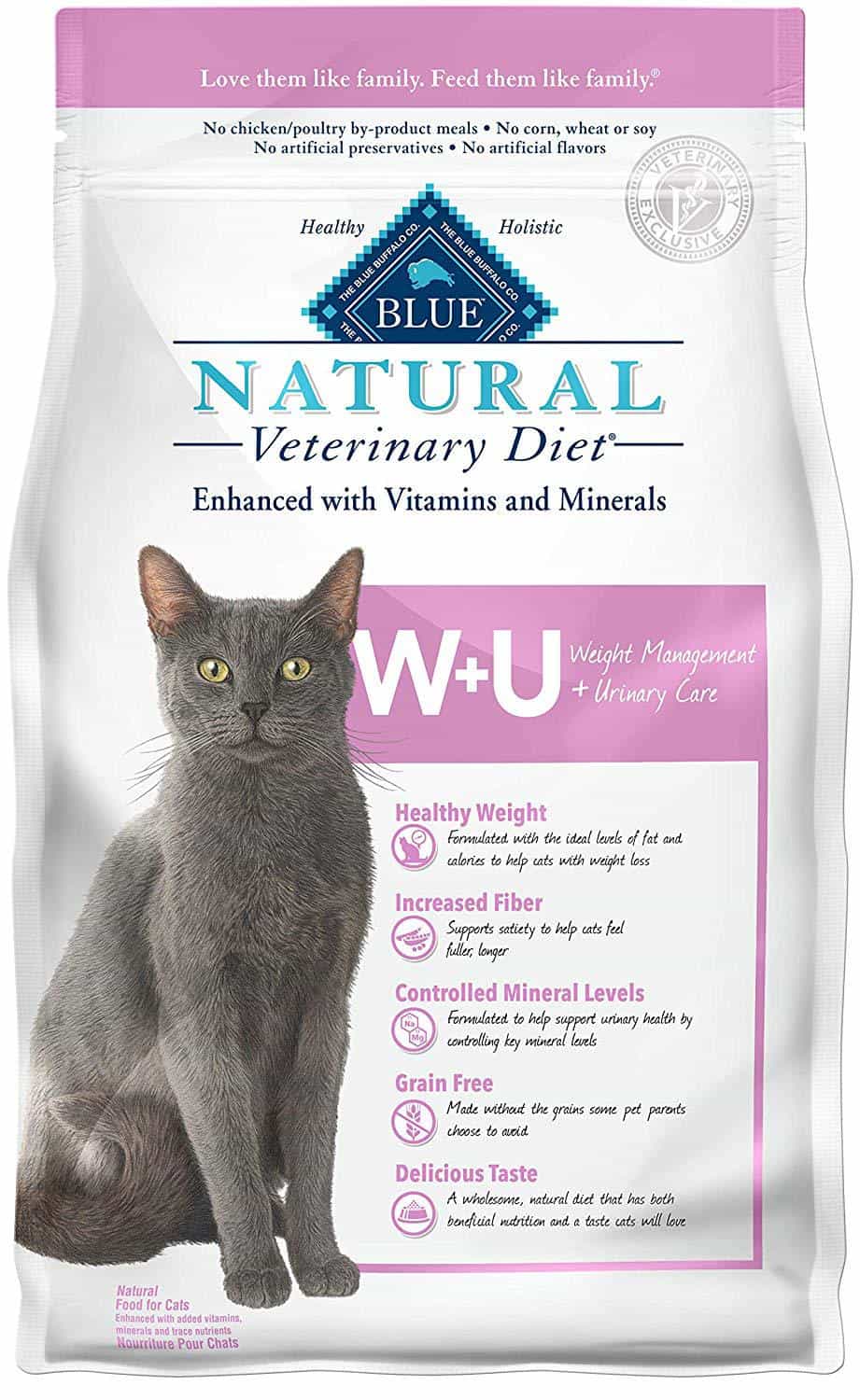 The runner-up to Wysong is Blue Natural. The urinary health formulas come from the Natural Veterinary Diet line. The two sublines are WU Weight Management + Urinary Care and KM Kidney + Mobility Support; both of them come in wet and dry options.
The reason why these diets came before the other brands are their ingredient lists. In both the wet and dry options meat is the first ingredient. Blue's formulas do not contain corn or cornstarch and are wheat-free. All formulas, save for the canned KM Kidney + Mobility Support, also contain DL-Methionine like the Wysong ones do. However, Blue's canned options contain guar gum.
Purina's premium brand PRO Plan hits the shelves with four formulas for urinary health.
The Focus line, which focuses on health management, comes with the Urinary Tract Health Formula. It comes in five flavors – Classic Entree with Salmon, Turkey and Giblets Entree Classic, Chicken Entree in Gravy, Beef and Chicken Entree Classic and Ocean Whitefish Entree Classic.
Unfortunately, save for the ocean whitefish diet, the others list by-products as first ingredients and have added colors. While it's true that protein intake should be closely monitored in cats with kidney problems, quantity shouldn't come at the expense of quality. A cat diet should have a protein level that does not put additional strain on already damaged kidneys, but this doesn't mean that the protein source can't be real meat.
Then there are the three prescription formulas – NF Kidney Function Early Care, NF Kidney Function Advance Car,e and UR Urinary St/Ox. In these formulas, the situations aren't any different. The wet options list by-products as the first ingredient and contain artificial flavors and guar gum – big no-nos.
How About Hill's and Royal Canin?
We could go on about the other widely available brands that offer formulas tailored to urinary health, but that would be a waste of your time. None of them impressed us enough to recommend them. Here's an overview of why this is the case:
Hill's comes with quite the variety of formulas for kidney and urinary care. Most of them are under their Hill's Prescription Diet line. The majority of the diets list meat or pork liver as the second ingredient (water is first for the wet options). We can swallow pork liver as the first ingredient but what's offputting is the presence of wheat flour, brewers rice, wheat gluten, rice starch, titanium dioxide color, guar gum, and cornstarch.
Royal Canin comes with the Feline Renal Support Starter Kit which contains three wet and three dry options. Unfortunately, they are also far from being shining stars. The dry options list rice and corn as the first two (in some case even three) ingredients.
Unfortunately, even after that, the list continues not with meat but with by-products or meat meals. With wet options, things don't get much better. After water, the second ingredients are either livers or by-products. Gluten and starch also find a place in the ingredients list, and so does guar gum. Unfortunately, even the prescription formulas do not differ much.
In Summation
Urinary problems happen quite often to cats.
They are serious conditions that require immediate care.
You can work on preventing urinary issues in your cat by supplying your pet with the right diet and sufficient water.
There are special food formulas on the market that tend to cat urinary health; some of them can only be obtained with a prescription.
Always consult with your vet about a diet change for your cat especially if you wish to feed it a special diet.