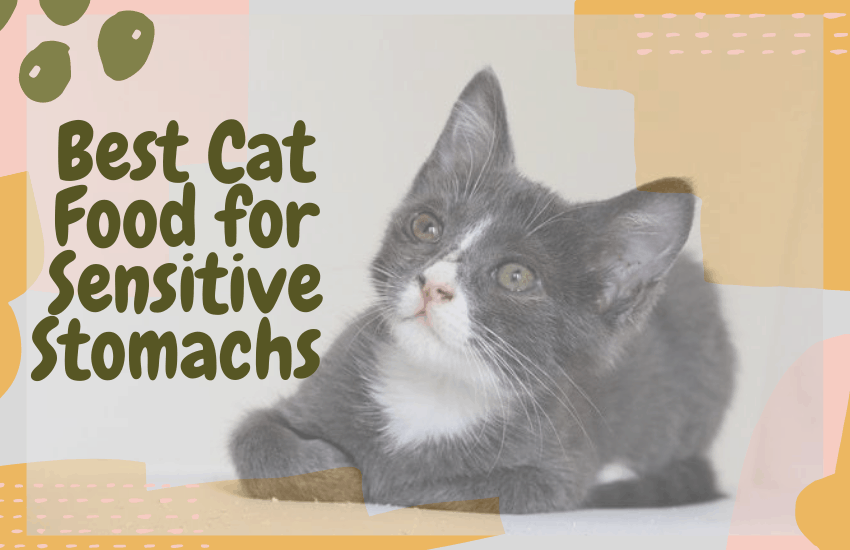 Is your poor cat suffering from a sensitive stomach? The food you feed your cat has a direct impact on your cat's health. Your cat may have a sensitivity to a certain ingredient or need more of a particular nutrient.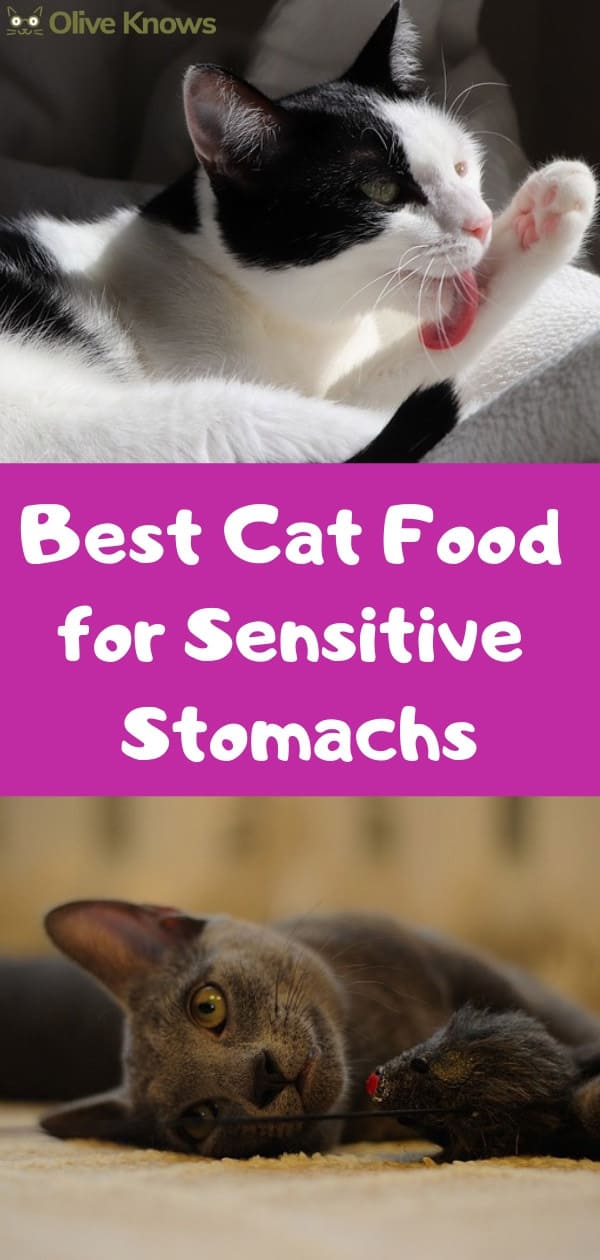 Not all cats are created equal and some cats have very sensitive dietary needs, when these needs are not met it can spell serious disaster for your feline and you as a pet owner.
In the wild cats are conditioned to a strict diet of fish and raw meat protein, most cat foods are produced in large factories which add various chemicals and other artificial substances that can interact with your cat's digestive system in a very negative way.
When these artificial substances and chemicals interact with the lining of your cat's stomach, negative reactions can occur which may impact the overall health of your cat.
There are a lot of products that cats digestive systems are vulnerable to including large grain cat food products. If you're unaware of your cat's digestive problems but notice that they generally get sick after eating a particular brand or type of cat food, you may want to check the labeling to see which ingredients may be causing the problems.
Tips for Cats with Sensitive Stomach
If you want to avoid digestive issues with your cat before they become a serious issue, you should try speaking with your veterinarian about potential food options which are most suitable for cat's sensitive stomachs.
This is one of the best ways to ensure that you're feeding your cat a healthy diet of a protein-rich food that benefits their digestive system while avoiding the risk of infection or worse due to harmful chemicals in their food.
Cats can also have allergic reactions to foods that will result in visible changes to their appearance. When you notice symptoms this like it can be easier to find the source of the issue because certain chemicals are known to cause visible allergic reactions.
If no foods seem to subdue your cat's sensitive digestive system, you may want to consider having them checked to see if they have a disease which is causing the adverse reaction to food instead of the food itself.
Common Causes of Stomach Problems
Cats already have a reputation for being finicky eaters. A change in diet can relieve your cat's stomach issues. Remember a cat that either refuses to eat or exhibits symptoms of illness needs to be evaluated by a veterinarian to eliminate causes that can't be treated by diet.
Hairballs
Hairballs are common. As long as your cat shows no other symptoms, there's not a lot of need for medical concern. A diet high in fiber can help your cat pass the hairballs instead of hacking them up on your carpet. "Hairball formula" cat food is designed just for this purpose.
Constipation
The first thing to consider if your cat is constipated is dehydration. Some cats don't get enough water drinking from a bowl. Wet cat food can help your cat get the water they need. A high fiber diet can also assist constipation.
Food Allergy and Intolerance
Some cats have an allergy or intolerance to certain ingredients in cat food and the most common ingredients to cause your cat problems are:
Beef
Lamb
Seafood
Corn
Gluten
Soy
Dairy
Irritable Bowel Disease
IBD is a group of disorders that may be treated with a diet that is hypoallergenic. Your cat's veterinarian should diagnose your cat and recommend a diet for your cat to follow.
This direction may involve feeding your cat a diet with uncommon protein and carbohydrate sources instead of the usual chicken or seafood.
Best Foods for Your Cat's Sensitive Stomach
We've compiled a list of the cat foods for sensitive stomachs that impressed us most.
Dry Cat Foods
Dry cat food is usually less expensive than wet food. And it's easier to leave out for your cat to eat throughout the day. Make sure that your cat always has access to clean, fresh water, so she doesn't get dehydrated.
Read More: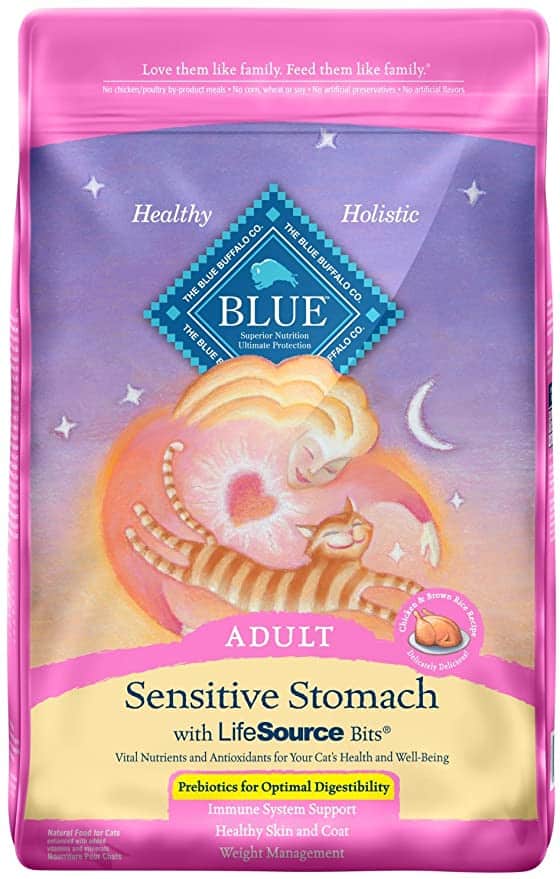 Crude Protein: 32%
Crude Fat: 16%
Crude Fiber: 3.5%
The Blue cat food is made with deboned chicken, not a chicken by-product. BLUE also uses no corn, wheat, or soy ingredients, and no artificial preservatives or flavors. This product is our #1 recommendation your cat with food sensitivity.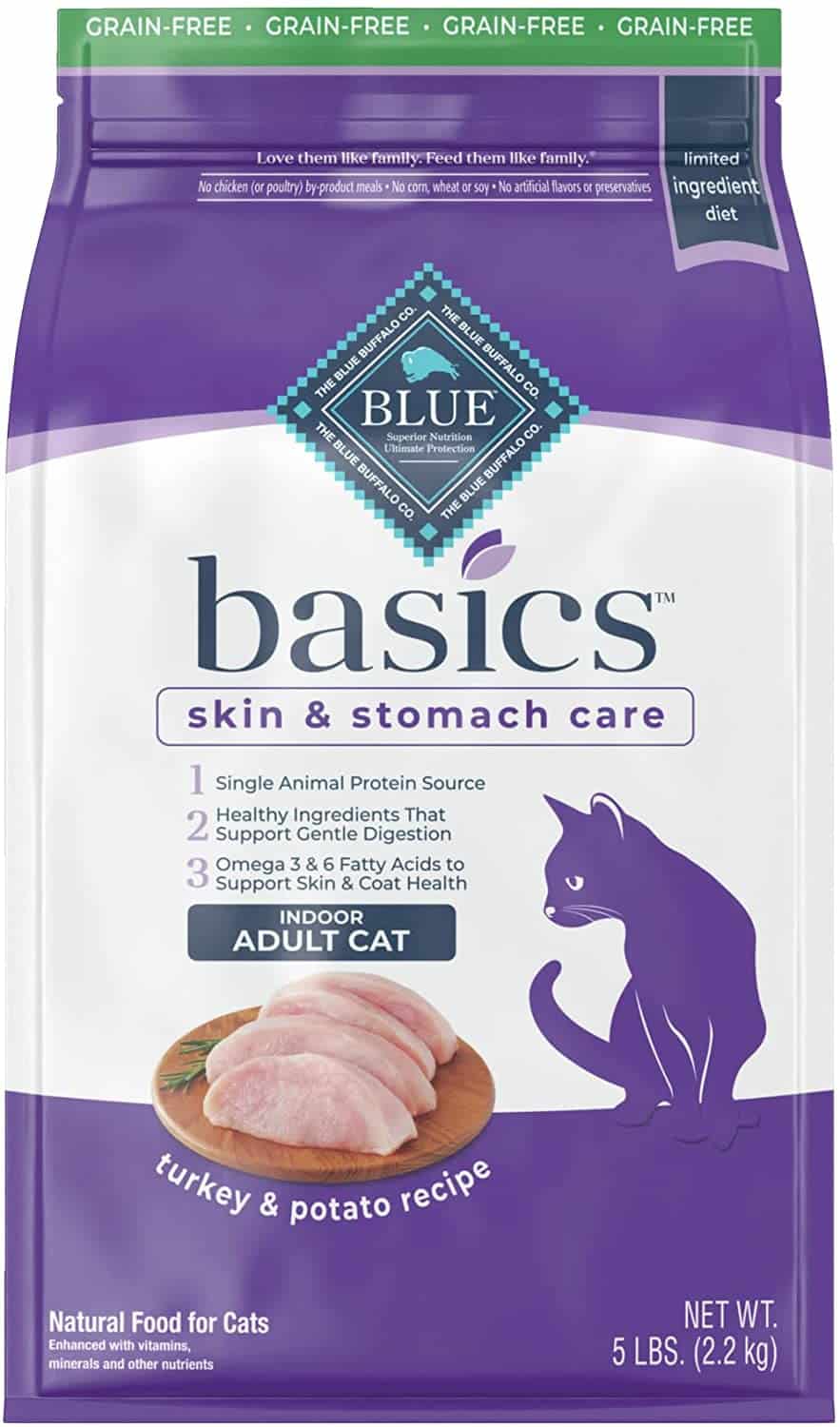 This is another BLUE product that impressed us. If you're looking for a high fiber cat food to help with hairballs or constipation, the Blue Basics Limited Ingredient Cat Food is our best pick. It's a good choice for cats with sensitivities. It's also a good product to try for IBD issues.
Duck and peas are both uncommon ingredients, an important factor for treating your cat with IBD. It's grain-free and has no artificial flavors or colors. This is our top pick for cats with IBD.
If you want to feed your cat raw food, this is a good choice for a cat with IBD. It's made with rabbit, which is another novel protein source. But be aware of the safety issues involved with raw cat food and take precautions.
Another good choice from BLUE for dealing with cats with food sensitivities. It has the highest percentage of crude protein of all the brands we evaluated.
The seafood medley is made with whitefish and salmon. The addition of oatmeal makes it a great choice for a high fiber diet. Try this for IBD issues, constipation, or hairball control, especially if your cat turns her nose up at other meat flavors.
This is a high protein, lower fat option nicely balanced with fiber. It's a decent option to try if your cat doesn't do well with other brands.
This is another nicely balanced option. It may be suitable for your cat dealing with food sensitivities.
Hills Science Diet Sensitive is formulated using very special blends of proven antioxidants such as vitamin E and C to promote a healthy digestive system for cats of all types. Hills Science Diet Sensitive has been known to promote efficient digestion and has been proven to reduce the symptoms associated with an upset stomach. Hills Science Diet Sensitive cat food contains omega-6 fatty acid which is great for healthy skin and fur growth in cats.
Halo Natural Dry Cat Food Chicken and Chicken Liver Recipe is an all-natural cat food product that is formulated with superior ingredients which help to promote lasting digestive health. Halo Natural Dry Cat Food Chicken and Chicken Liver Recipe does not contain any antibiotics or artificial flavors which makes it a very clean feeding solution for cats of all types and age groups. Halo Natural Dry Cat Food Chicken and Chicken Liver Recipe contains bioavailable nutrients which are naturally sourced to provide efficient digestion, this recipe also does not contain any GMO products to ensure maximum safety for your cat.
Wet Cat Foods
Wet cat foods will help your cat get enough liquid in her diet. This will help with hairballs and constipation. Some cats simply refuse to eat dry cat food, so it's good to know the best alternative options in wet food.
The Instinct Limited Ingredient Turkey Wet Cat Food is the best we found for cats with food sensitivities. The no-grain formula cat food has only one protein source. It's great for cats needing to avoid the most common food allergens.
Halo offers a good grain-free alternative, though it lacks the single protein source. It's a good option for cats with food sensitivities or IBD.
There's a lot of variety or protein sources in this Wellness Grain Free Turkey and Salmon Wet food. It's still a good choice for cats with food sensitivities.
The Basics Grain Free Turkey and Potato Entrée is another good option if your cat has food sensitivities or IBD. BLUE promises no corn, wheat, or soy and no artificial flavors or preservatives.
Another good grain-free option from Instinct. This one has more flavor options instead of being a single protein source. It's still a good choice for cats with sensitivities or IBD.
Royal Canin Digest Sensitive Gravy is specially formulated with sensitive digestive systems in mind. Royal Canin Digest Sensitive Gravy is a wet cat food product that contains an optimized macro-nutrient protein system which balances all forms of carbohydrates and fats to create the optimal feeding solution for cats with sensitive digestive systems. These soft yet protein-packed nutrients contained with Royal Canin Digest Sensitive Gravy cat food have been proven to reduce symptoms of vomiting in cats with sensitive stomachs.
Royal Canin Digest Sensitive Loaf is another wet cat food product that was uniquely designed with sensitive feline digestive systems in mind. Royal Canin Digest Sensitive Loaf contains a very unique texture which in fact slows down the rate at which cats consume the product. This allows their digestive systems to naturally adjust to the intake of nutrients without stuffing their stomachs to the brim.
Royal Canin Digest Sensitive Loaf contains a very low-calorie count which also helps in managing the weight of your feline without too much effort required. Royal Canin Digest Sensitive Loaf is also good to feed your cat so that they can have a variety of meals to indulge in.
Choosing Food
It's important to make an informed choice of food for your cat's needs. Work with your cat's veterinarian to know what kind of diet will help your cat live a happy life. Hairballs, constipation, food sensitivities, and IBD can all benefit from a change in your cat's diet.
You may need to try a few different foods before finding one that suits your cat and your cat's sensitive stomach. Luckily, there are plenty of options to help you find just the right one!
Medicines for Upset Stomach
Inflammation can also be another reason why your cat is having a hard time keeping their food down. Inflammation can occur within multiple parts of the body including the intestine and stomach. If no cat food seems to relieve symptoms associated with upset stomach, then you may want to consider using medications to treat the condition. There are several great medications available on the market which are specially formulated with an upset stomach in mind. Keep reading in order to find out more about these different medication options.
Hairball Plus Chews contain chicken flavoring to make them easier for your cat to digest. These easily digestible Hairball Plus Chews contain Omega 3 & 6 fatty acids which aid in relaxing your cat's gastrointestinal system to make them less prone to hairball formation.
Hairball Plus Chews for cats also contain zinc which is great for maintaining healthy skin for your cat. Hairball Plus Chews for cats also contains biotin which supports proper hair and reduces the odds of shedding in felines of all types, Hairball Plus Chews are also formulated with Psyllium seed husk powder which allows ingested hair to move more freely throughout the digestive system of your cat.
Laxatone is a lubricant that is used to help eliminate and totally get rid of hair ingestion. Laxatone contains white petrolatum which helps to easily eliminate hair that may be taken in through your cat's digestive tract. Laxatone does not require a prescription which makes it very easy to purchase and highly effective at eliminating digestion issues with your cat.
TOMLYN Laxatone Lubricant | Chewy
Regular use of Laxatone coats the swallowed hair and allows it to easily pass through the intestinal tract. Laxatone is a safe, gentle, easy-to-use gel used worldwide for over 25 years.
Check Price
Buy at Amazon.com
We earn a commission if you click this link and make a purchase at no additional cost to you.
Famotidine is a medication used to significantly reduce the amount of stomach acid that is produced in your cat's digestive system. Famotidine does not require a prescription and is usually given without the aid of food. Famotidine works by disabling the H-2 receptors in your cat's system which is responsible for ulcer formation. Famotidine is also used to help treat gastritis, GERD, and esophagitis which are forms of intestinal and digestive conditions within cats.
Famotidine 10mg | Amazon
Prevents and relieves heartburn due to acid indigestion. 
Buy at Amazon.com
We earn a commission if you click this link and make a purchase at no additional cost to you.
12/05/2023 10:18 am GMT
Diarrhea is also a common gastrointestinal issue that many cats face, when diarrhea appears in your cat then it could be a sign of more severe issues besides intestinal problems. Diarrhea is often caused by parasites which reside inside of the intestines of your cat.
These parasites can include things such as hookworms, roundworms, and giardia just to name a few. Diarrhea is can also be a side effect of a sensitive stomach in your cat, below you'll find a list of medications which can help with this condition.
NaturVet Digestive Enzymes Plus Probiotic Powder contains a specially formulated blend of beneficial enzymes which help maintain a healthy digestive tract in your feline. NaturVet Digestive Enzymes Plus Probiotic Powder is a very safe medication for cats who deal with sensitive stomachs as it comes with no known side effects and is very easy to administer.
NaturVet Digestive Enzymes Plus Probiotic Powder is also a source of alpha-Amylase which is great for neutralizing starch content within various food products, heavy amounts of starch have been known to irritate feline digestive tracts which makes NaturVet Digestive Enzymes Plus Probiotic Powder a very effective medication. NaturVet Digestive Enzymes Plus Probiotic Powder contains live microorganisms which help to support healthy digestion in your pet feline.
Purina FortiFlora is one of the leading probiotic formulas that many veterinarians use in order to help relieve stomach issues in cats. Purina FortiFlora is formulated using a very special strain of probiotics which have been verifiable proven to reduce symptoms associated with digestion issues in addition to promoting overall health for cats. Purina FortiFlora helps to prevent diarrhea in cats and can also be used in combination with food to make the medication process much easier. Purina FortiFlora contains very unique forms of nutrients and live bacteria cultures which are beneficial for optimal digestive health and immune function.
With all of the readily available medications and specially formulated food options available on the market, there should be no reason why your cat has to suffer from digestion issues. We've covered a wide array of proven medications and specially formulated cat feed options which will allow you to avoid intestinal issues in your cat. Depending on the size and age of your cat these various medications and food choices may have differing recommendations in terms of the amount of product needed to solve their health issues.
Before giving your cat any of these foods or medications, consult with a doctor who will be able to give you information on the best dosage amounts. Cats, in particular, have very unique digestive systems and taking the time to ensure that they are receiving the right amount of nutrients can potentially mean the difference between a healthy cat and one who is suffering from a debilitating disease.
Final Words
We hope that with this article we have cleared some doubts you had about your cat and its issues. All the foods listed here are a great choice to go with in case your cat has an upset stomach. They all provide enough nutrition and are positively reviewed by many cat owners. Please do note that if you are not sure what is going on with your cat, it would be best if you check with your vet, who will best know what to advise you.