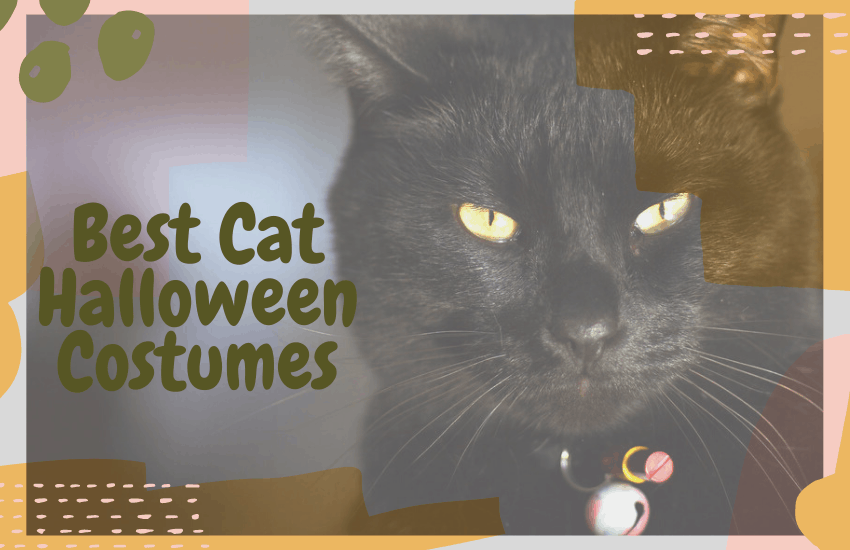 It's October! The leaves are falling, the nights are drawing in and the smell of pumpkin spice is everywhere. As the Pagan year comes to a close at Samhain, the world gets its spooky on and celebrates Halloween. It can be fun to dress up and pretend to be someone else for a night – and your fur baby might like to get in on the fun too!
There is a wide range of ideas for cats, not just for Halloween but for all the year round. It's important to note that not all kittens like to be dressed up. If your cat isn't a fan, then you're better off leaving them to their dignity and just wearing a costume yourself. If your cat likes to maintain an air of mystery at Halloween, then they might enjoy wearing a costume such as the Mikayoo Cat Cowboy Costume. Yeeha!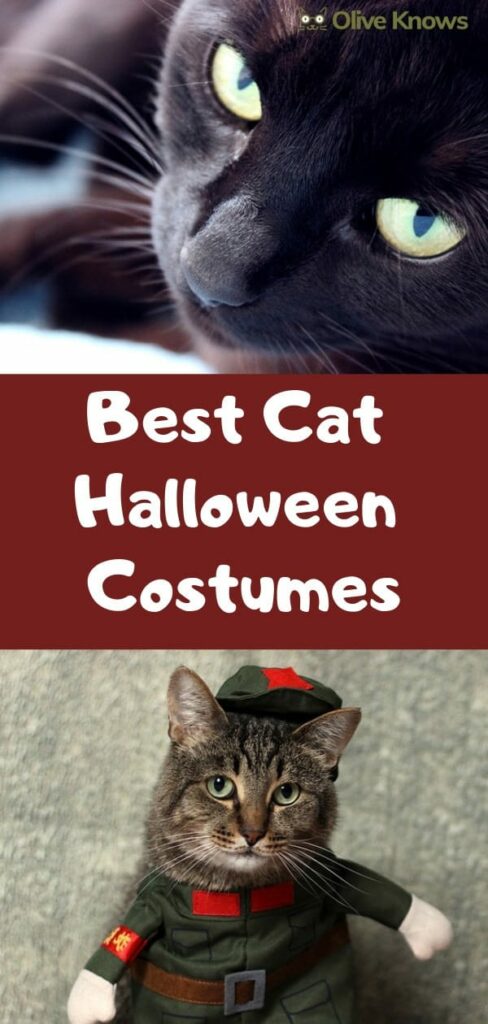 Cats & Costume Ideas
Cats aren't always big fans of playing dress up. The ASPCA suggests that you only put your cat in a costume if you know they love it. Why? Because cats rely on their whiskers to tell them whether they can get into small spaces, and if you add on a few inches of costume they will suddenly get stuck. If you do put your cat in a costume then keep them indoors, there is a risk of strangulation if their costume gets caught while they are out and about.
Make sure that any costume doesn't restrict your pet's movement, and that they can still see and breathe just fine. Don't leave it until the big day before letting your cat try it on. Have a trial or two in advance, and if your pet doesn't enjoy it? Just let them be their usual self or choose something low-key like a collar or bandana.
You might also notice that your cat isn't a big fan of you when you're wearing a costume. Cats have no way of understanding why you're in costume, and you probably smell strange too. Just reassure your cat that it's you and let them approach you when they feel safe to do so.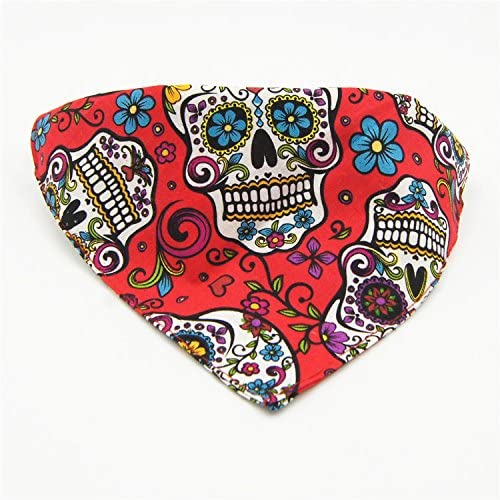 Let your cat celebrate Dia de Los Muertos is style with this sugar skull bandana. The bright colors look great against a dark coat.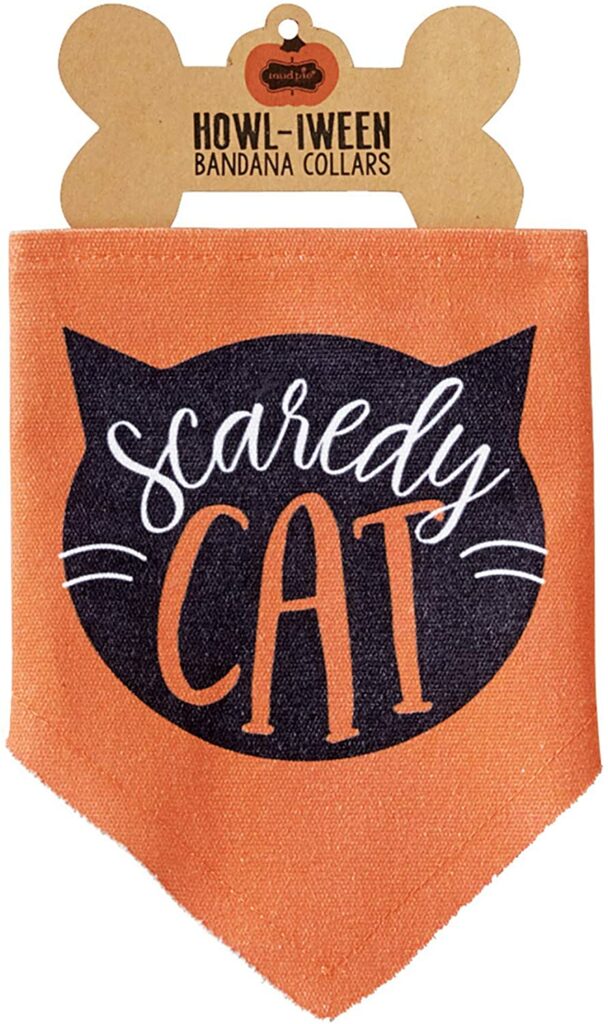 Is there anything more appropriate to celebrating Halloween feline style than this bandana? No matter if your cat is on the timid side or not, they will rock this bandana.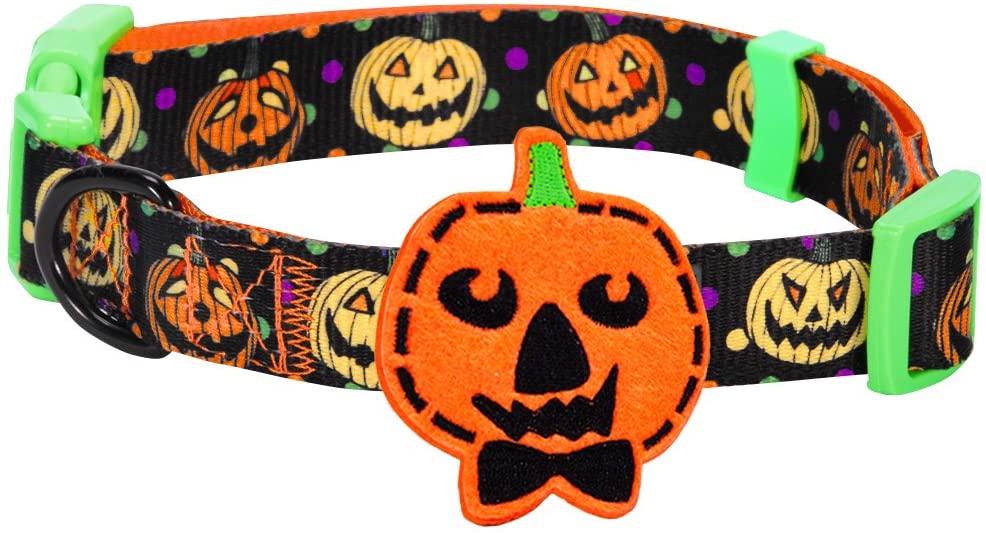 This adjustable collar is made from designer fabrics. With a funky felt pumpkin, it helps your cat get into the spirit of the season without too much trauma.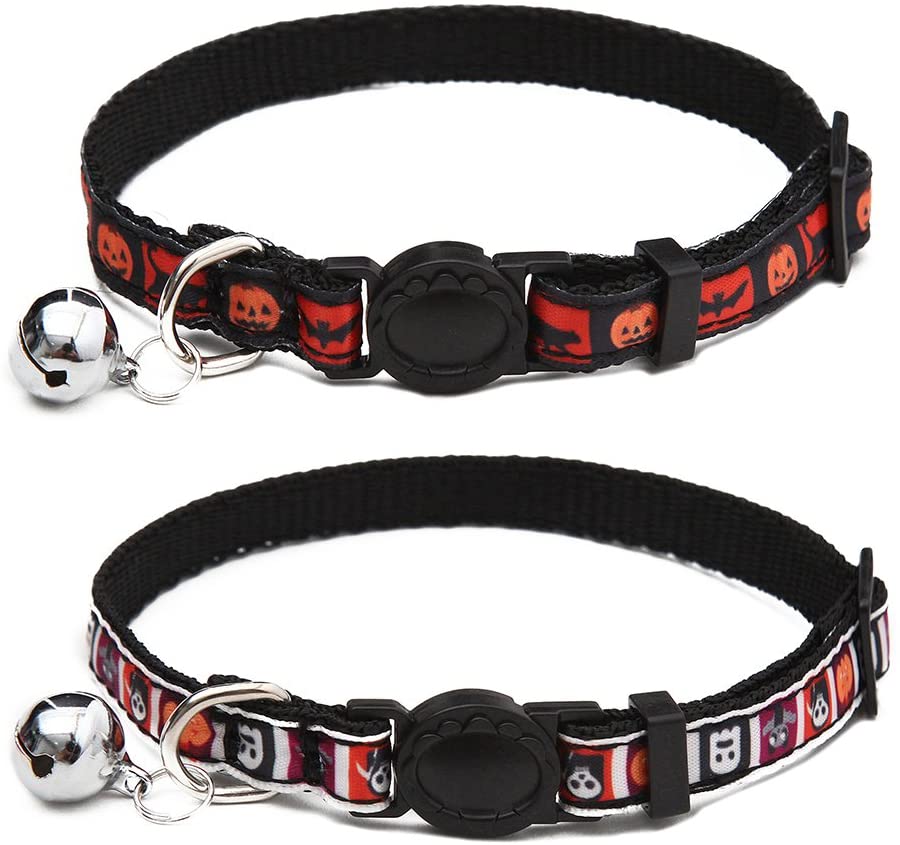 If your cat often loses its collar, then this two-pack might come in handy. With classic Halloween monsters in the design, and a jingle bell to let the autumn birds know who's boss, these collars are the perfect costume for the reluctant dresser.
Halloween Safety Tips
Before we take a look at the costumes in more detail, here are a few safety tips to keep your feline friends safe and happy through parties and visits from Trick or Treaters.
Stash the treats. Some of our favorite edibles are poisonous to pets. Chocolate is bad for both cats and dogs, so make sure that the treat bowl is out of reach.
Consider your pet when decorating. Cats have a higher temperature than us, so can remain oblivious that they are too close to a candle even when they've started smoking! Wires, strings and other hazards should be kept in mind, too. Remember, cats are curious, if they spot a new space they will want to go and investigate.
If your fur baby doesn't like too much company, then keep them safe and quiet in another room during the festivities.
Be aware that your indoor cat could easily escape when you have the door open for trick or treaters. Ideally, your cat should be microchipped, but if they aren't put on a collar with a contact number for the night, just in case.
Best Cat Halloween Costumes (Minimal)
Costumes for cats come in a few different varieties. We've already looked at collars and bandanas, which most cats will tolerate once they've got used to them. The next step up from that are minimal costumes, those which consist of a collar or bandana type accessory along with a hat or similar. Here is our favorite from that category: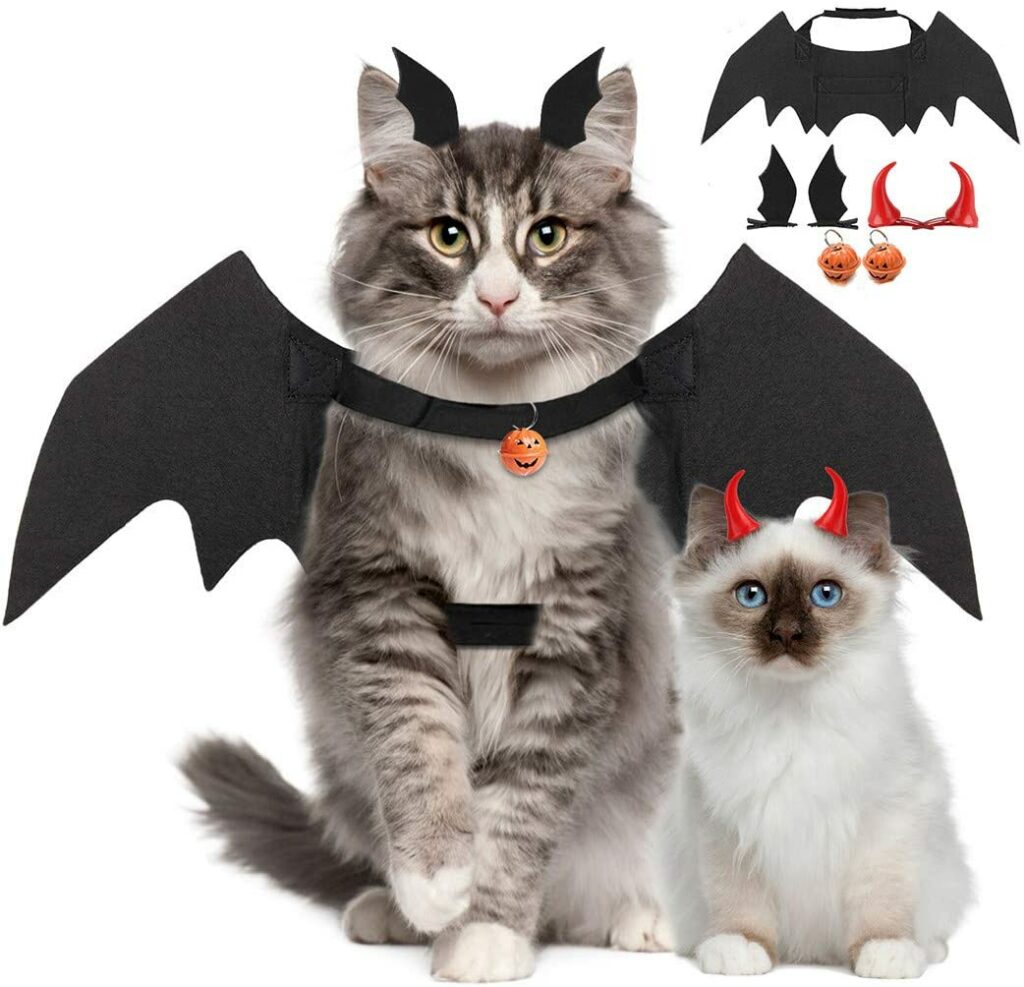 Attaching via an adjustable collar, these bat wings will give any cat the look of Count Dracula. Perfect for a black or tuxedo cat, but fun for fur babies of any color.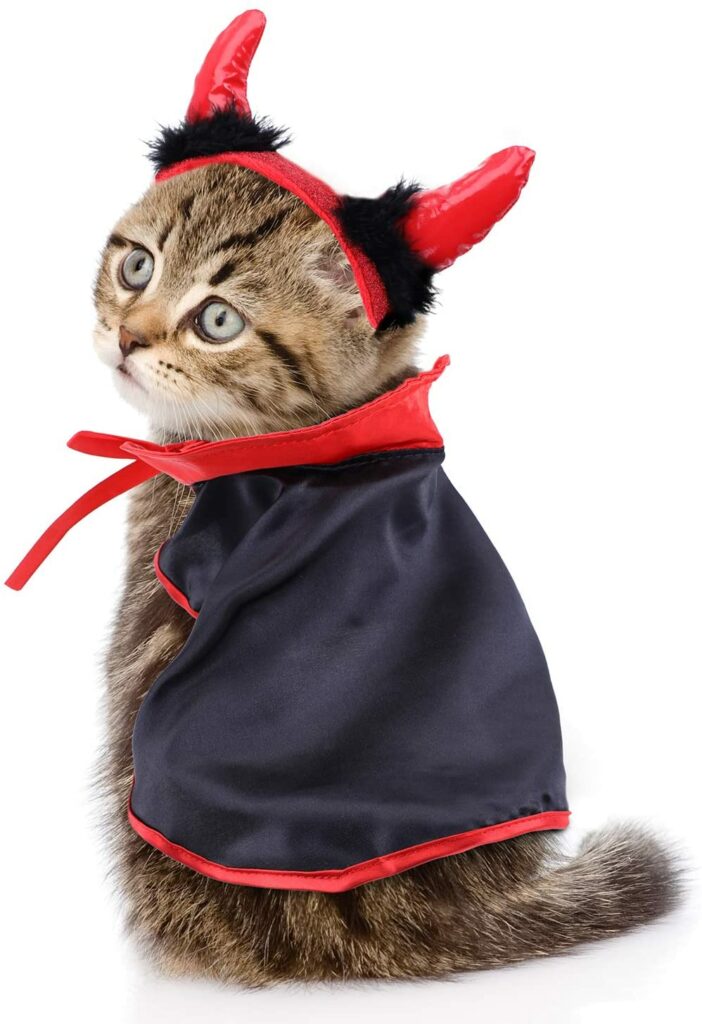 Ever wondered if there was something just a little bit evil about your cat? If you have. This could be the costume for you! The cape ties around the neck like a bandana and are absolutely adorable. The cap is attached to a band which you can secure under the jaw.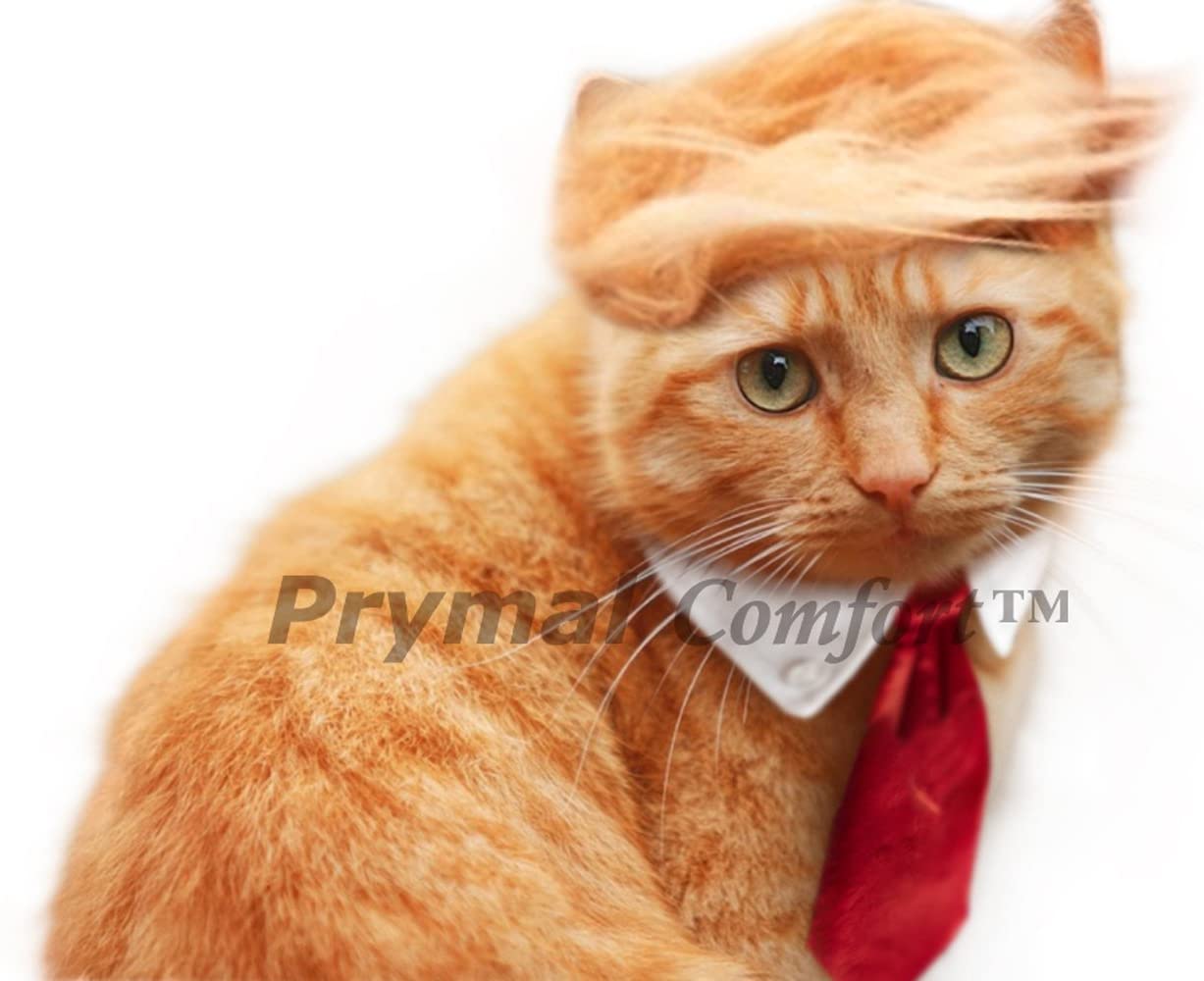 Is your cat fond of cheeseburgers and posting on Twitter in the middle of the night? Well, how about showing their inner Trump? The tie attaches around the neck with a collar while a band of elastic will keep the Catmander in Chief's wig on straight.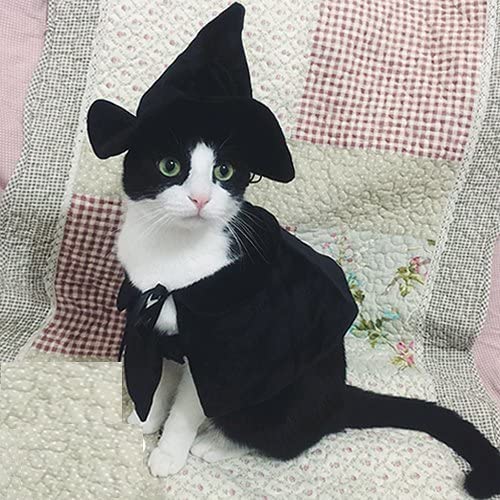 Cats are more usually thought of as familiar than a witch, but they are exceptions. Perhaps the most famous is Salem Saberhagen from Sabrina the Teenage Witch! If your cat is happy with a bandana and a headband, this could be the outfit for them.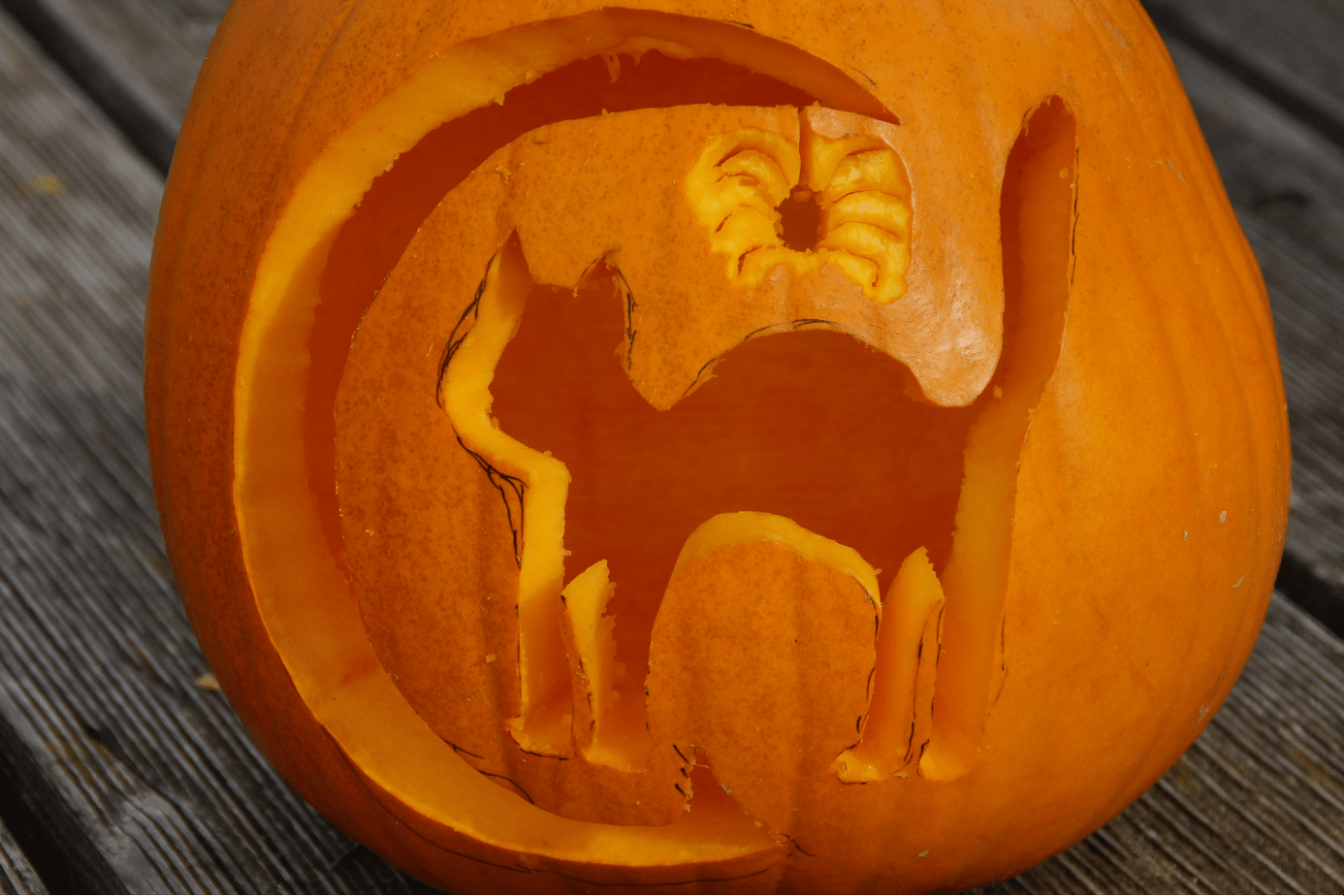 Best Halloween Costumes – Full On
If your cat has something of the dandy about them, and they're quite happy to get dressed up and strut their stuff then this is the section for you. These are the costumes that go the extra mile to let your cat show their perfect Halloween spirit. Prepare to be amazed!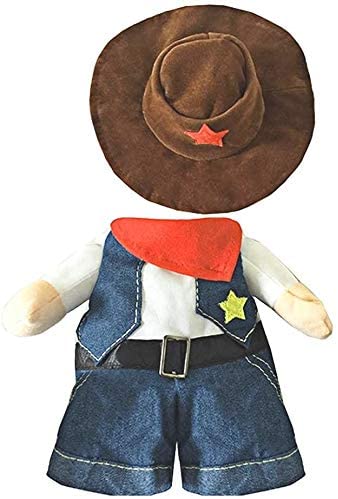 OK, so the expression of the cat in this photograph does a lot to sell this costume. Have you ever seen a meaner gun-slinger? This two-part head to toe costume slips onto the front paws and secures around the neck. The cat is held in place by a band of elastic. Look at this costume head on, and it's brilliant!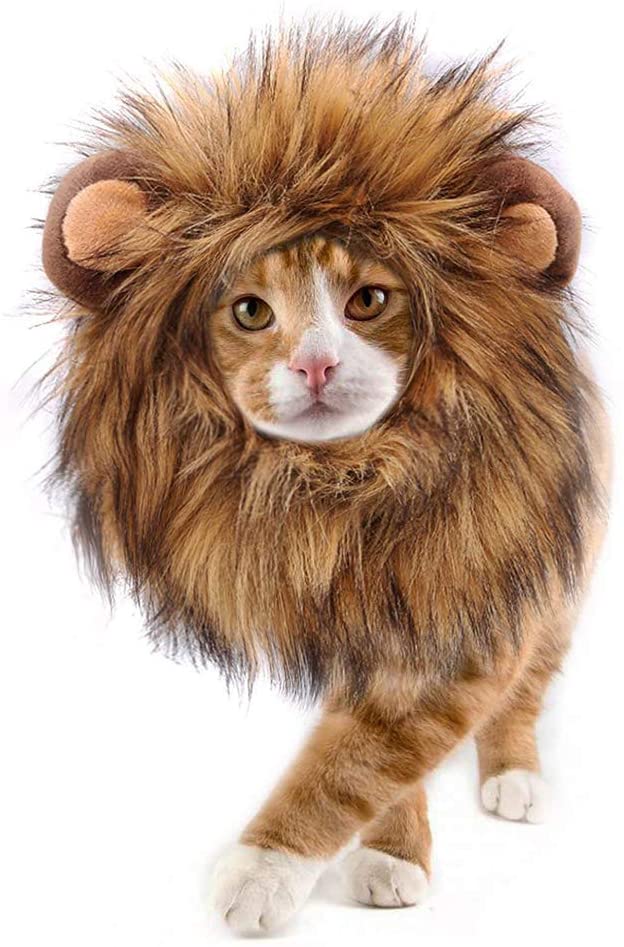 Does your cat have a King of the Beasts attitude? Then this lion costume/ wig might win them over. The inside is comfortable plush fabric, and it secures with velcro. With a magnificent mane, your kitty can decide if they're more Simba or Mufasa.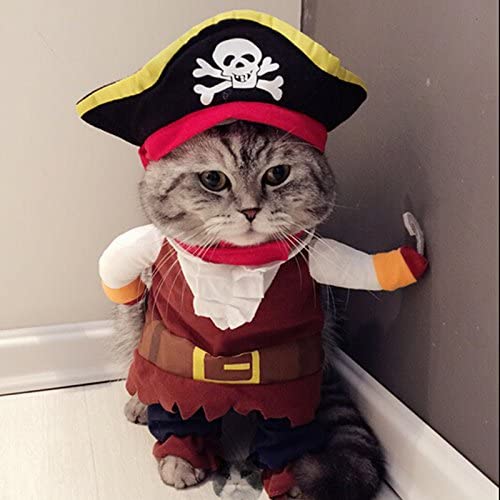 Arrr, matey! If your cat has a bit of the swashbuckler about them, this is the costume for you. It fits like the gunslinger costume above and transforms the front view of your kitten into a furry corsair. Avast, ye scurvy dogs!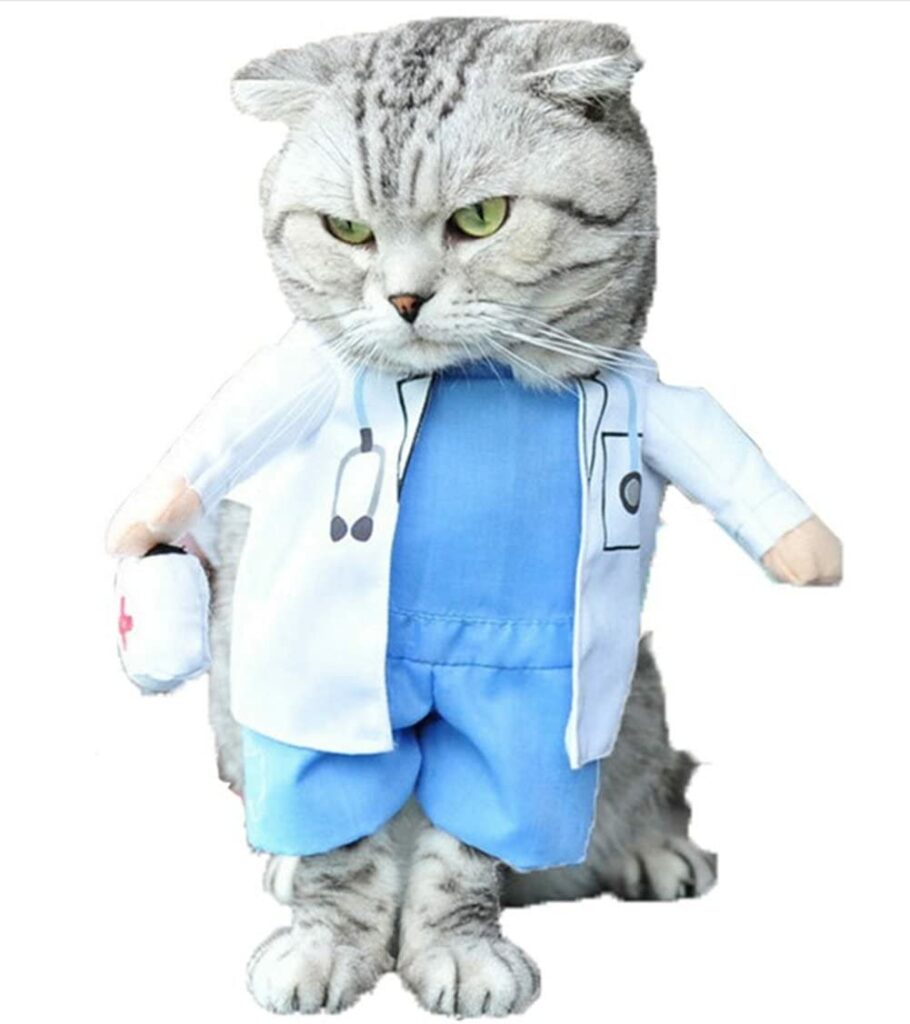 Made by the same company as the gunslinger, this costume will suit a cat who doesn't like things on their head. With just the front part of their body enclosed in the costume, your cat can do their cutest Dr. Doug Ross impression.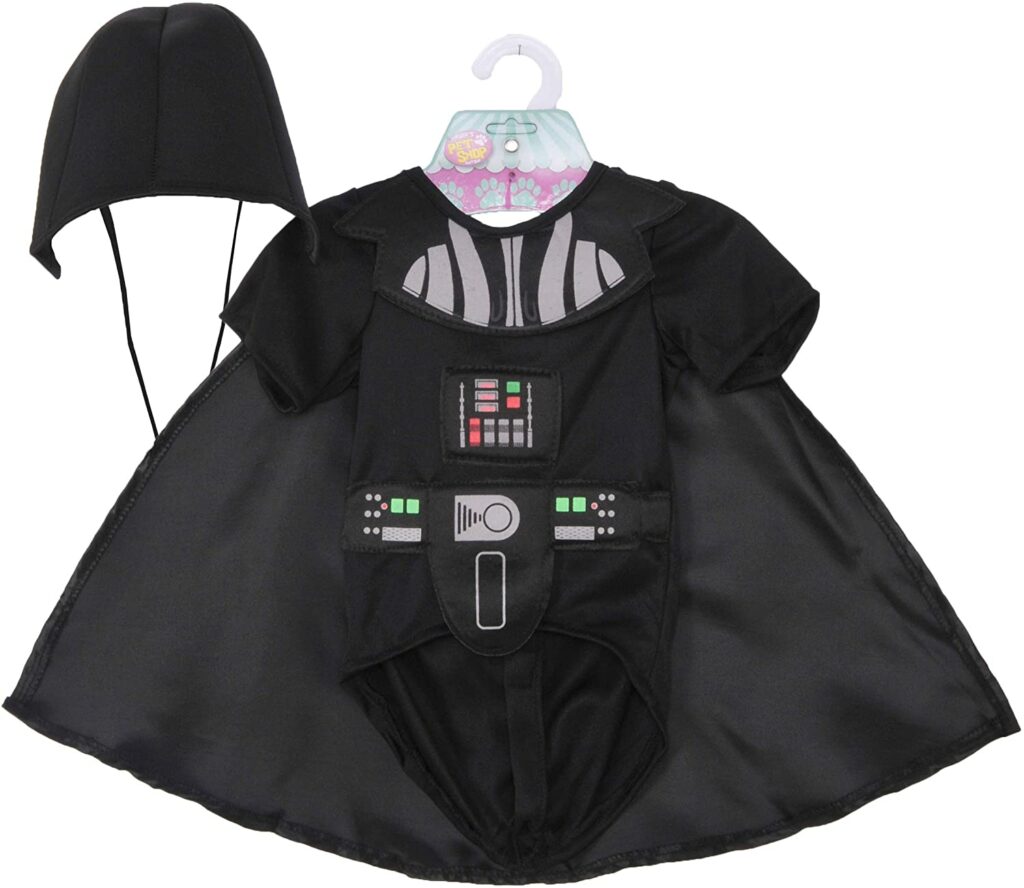 Let's be honest, most cats have more than a hint of the dark side in them. Let your kitty go full Sith with this awesome Darth Vader get up. This is a little more of a costume than the ones above, as well as going over the front paws, the cape and body of the costume extend towards the tail. The helmet is kept in place with an elastic strip.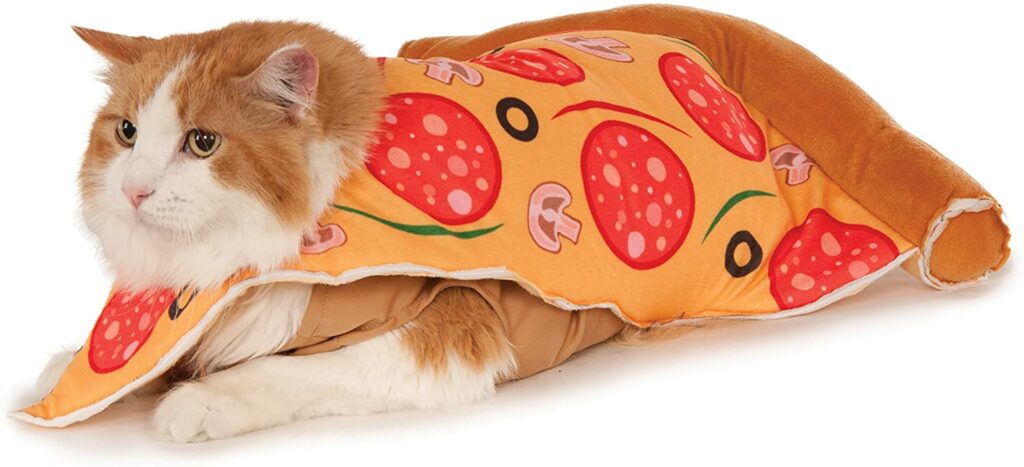 Slipping easily over the head and front paws, this costume is one for the cat who likes to lie down.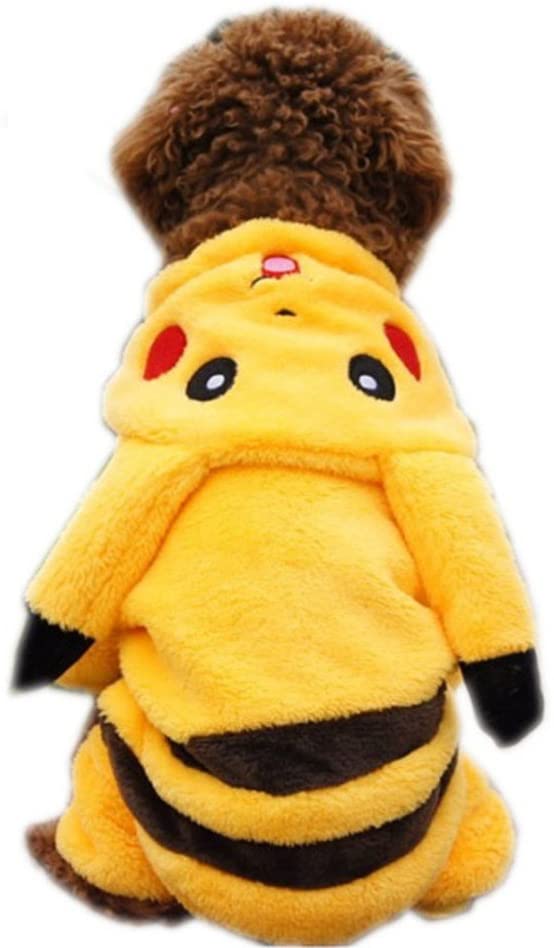 Gotta catch 'em all! Think of this costume as a onesie for your cat. Not only is their whole body inside this plush costume, but it also comes with a hood. Only for cats who really love to dress up!
Trick or Treat!
There are clever costume designers out there! It's wonderful to see such a range of costumes that have been made to fit comfortably on cats and small dogs. We hope you'll agree that there really is something for everyone.
But please, don't force your cat into a costume if they really don't want to wear one. Try something simple like the Mud Pie Pet Bandana for reluctant pets. Don't forget the safety advice; if you have an outdoor cat then costumes aren't appropriate. If you are dressing them up, keep them indoors until they've removed their costume.
If you have a dramatic cat who enjoys a bit of attention? Then they will love to strut their stuff in any of these amazing costumes. Choosing a favorite was tough from this selection but the Mikayoo Cat Cowboy Costume is the winner.
Whatever you or your cat wear for the big night, have a wonderful time! May your pumpkins burn bright, your treats are plentiful and may nothing too terrifying turn up on your doorstep. Happy Halloween!
Continue reading:
The Best Cat Names for Your New Kitty