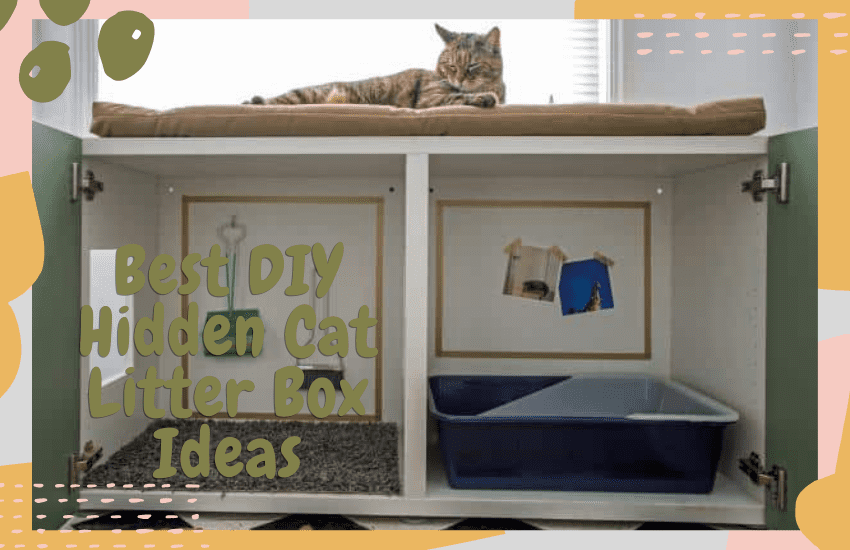 Anyone who has lived with a cat (or two or more) knows that it's the best thing ever. They are sweet and unpredictable and whenever they give you affection, you just feel extra special. One thing that comes along with living with cats though is being strategic with where to put their litter box. 
As much as cats and all the best things go together, cats also come with their litter boxes. Now, litter boxes might not be your favorite thing in your house. For some, the look of their cat's litter boxes might not blend in with the aesthetic you are aiming for in your home.
Sometimes, the issue is with limited space and how to have the litter box, while still being able to move at ease and not having the litter all exposed. 
To address this, a lot of pet supplies manufacturers have created products to help hide litter boxes, disguise them as regular home furniture, or even create litter boxes that perfectly match your home's interiors. As expected with custom pet supplies though, these can get pretty expensive as well. 
The great news is that we can always DIY it! If you enjoy building and crafting things, or just basically not spending so much on things you can DIY, this post is surely for you.
Whether you are a hobbyist who is into arts and crafts or a fully experienced builder, we've got you and your cat covered! To start, below are some of the best DIY hidden cat litter box ideas that you can try. 
DIY Hidden Cat Litter Boxes from Repurposed Cabinets/Wood
Starting strong, here are some DIY projects that you can do at home to hide your cat's litter boxes or to make them blend in your home a bit better. Some of these would require materials like old cabinets and wooden planks that you can repurpose into enclosures for cat litter boxes.
These are exciting projects for the ultimate DIY-er and if you're not experienced with tools, bring in some help from family and friends who are comfortable with DIY tools and equipment – just don't forget to order pizza!
Whether you have some wooden crates lying unused or some plywood that are waiting for your next project, the next DIY ideas might be perfect for you – and your cat too!
Stunning Wood Litter Box Cover
This looks like something you can see on a pet furniture catalog, but this is a legit beautiful DIY project from A Beautiful Mess. Check out to get the measurements and instructions on how to create your own equally stunning litter box cover. 
Upcycle an Old Cabinet to a Lovely Hidden Cat Litter Box
This cabinet looks so good you wouldn't think the cat litter box is inside. It's also so spacious there is enough room for the kitty to move around. Also loving how it doubles as a storage space. Check this post for more details and photos about the project.
Transforming a Thrifted Cabinet into a Chic Litter Box Space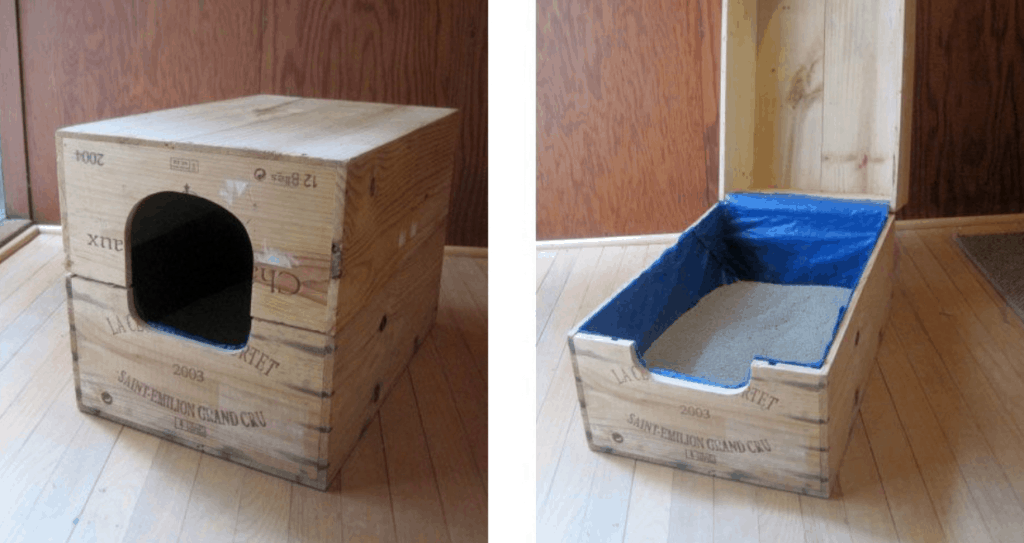 With talent and skill, Amanda from Domestically Creative transformed this thrift cabinet into a litter box enclosure that looks modern and chic. Click here to see how she did the entire thing.
Converting an Old Dresser to a Kitty Litter 'Dresser'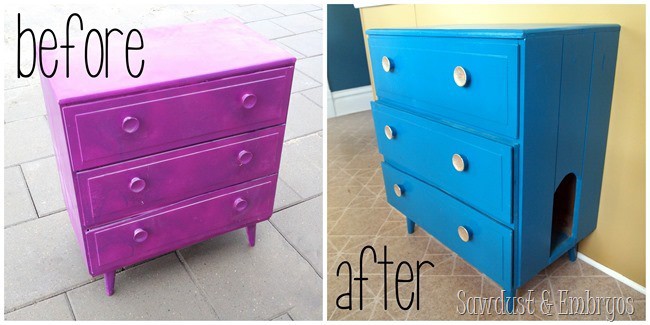 Another thrifted cabinet with a nice back story! In this post, see how Bethany converts an old dresser into a multi-functional hidden litter cabinet, with storage space too.
Repurposed Wine Crate Cat Litter Box Box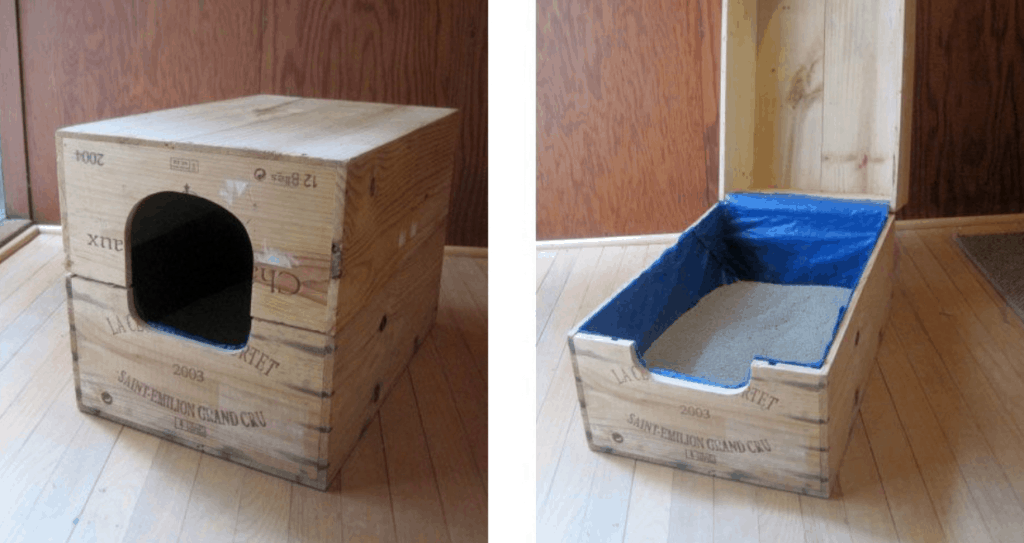 Simply grab two identical wine crates, add a hinge, put plastic lining at the bottom part, add in the litter pan, and kitty is good to go! Check out the original post from Apartment Therapy. 
Rustic Pallet Hidden Cat Litter Box Cover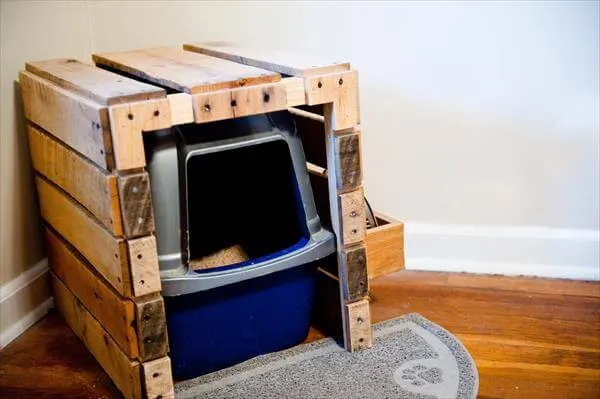 Now that's a clever and creative way to reuse those pallets! Check out the original post for more photos and information about this project. Also, the scoop holster on the side makes it extra convenient! 
DIY Hidden Cat Litter Box IKEA Hacks
Website ikeahackers.net along with some internet geniuses have some of the most creative and beautiful ways of hiding cat litter boxes. If you have some of this IKEA furniture at home or similarly-looking furniture, you're good to go! Just grab some fabrics, strings, tapes, and scissors. Check them out below. 
The Faktum Hidden Kitty Loo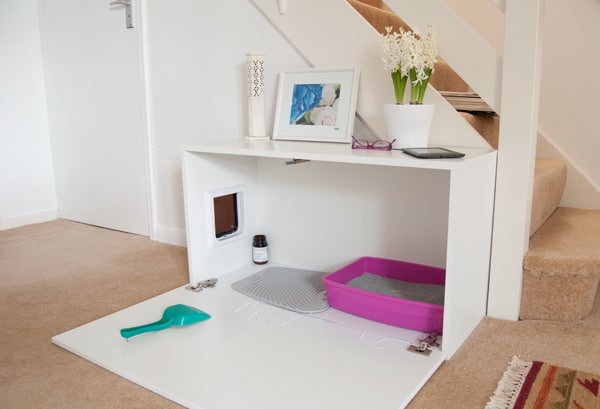 This Faktum Kitty Loo project fits the home interiors perfectly and also provides lots of space for kitty to do their business. We're also loving how easy it is to close and open the main door to access the litter box and clean the cabinet. 
Brusali Cabinet into a Stunning Hidden Cat Litter Box
In this IKEA hack, thehomebudyhouse simply added a door to the side and immediately converted this cabinet into one of the best-hidden cat litter boxes ever!
Kallax Shelf Unit and a Very Beautiful Hidden Cat Litter Box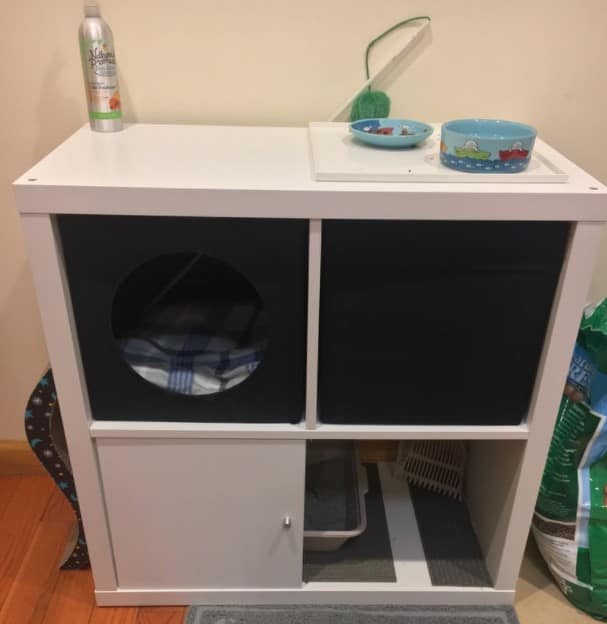 To achieve this cool DIY trick, simply remove the divider at the bottom row and install the door for one side. Learn more about how to do it in this post. 
Lack Table and a Nice Hidden Cat Litter Box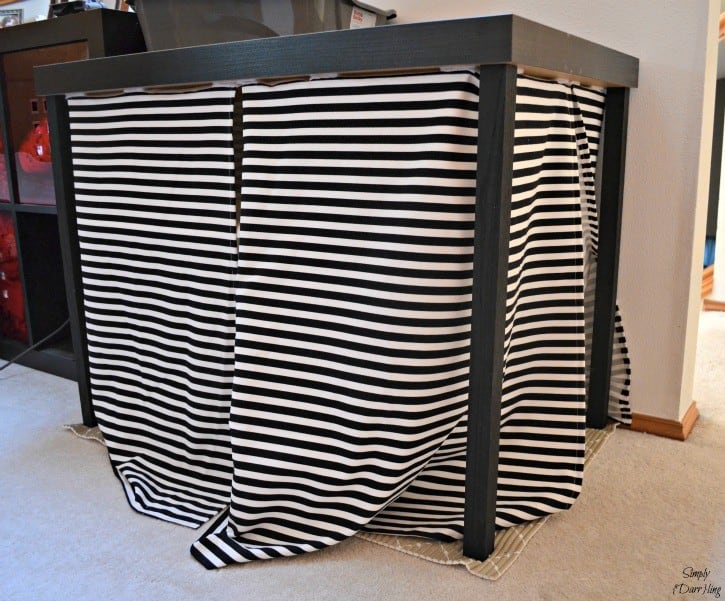 We're totally loving this DIY idea from Simply Darrling! It looks great, it's quick and easy to do (just the IKEA Lack table, some fabrics, and velcro) and the different entry and exit points make it more accessible for the kitties. 
Hol Side Table to Neat Cat Litter Box
This project used the Hol side table and turned it into a cat litter box by making a hole on the side, sanding it, and adding some hinges to make cleaning easier. 
Hol Storage Cubes Hidden Cat Litter Box and a Sliding Door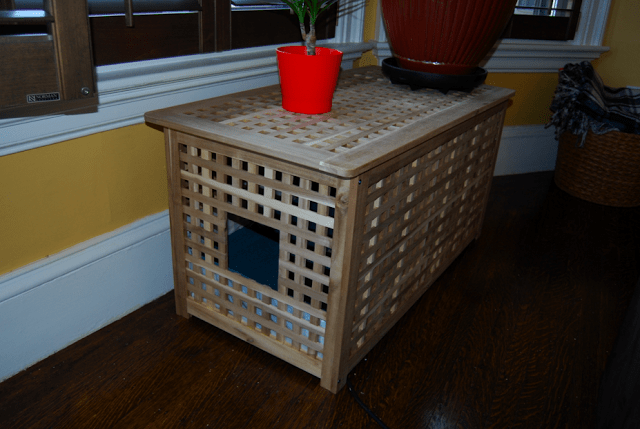 The Hol boxes are just extra popular for this project. For this DIY hidden cat litter box, a Hol Storage Cube in large was used, along with a sliding top/cover feature thanks to plastic furniture sliders. More details about this project in the original post. 
Gabbig/Byholma Basket Box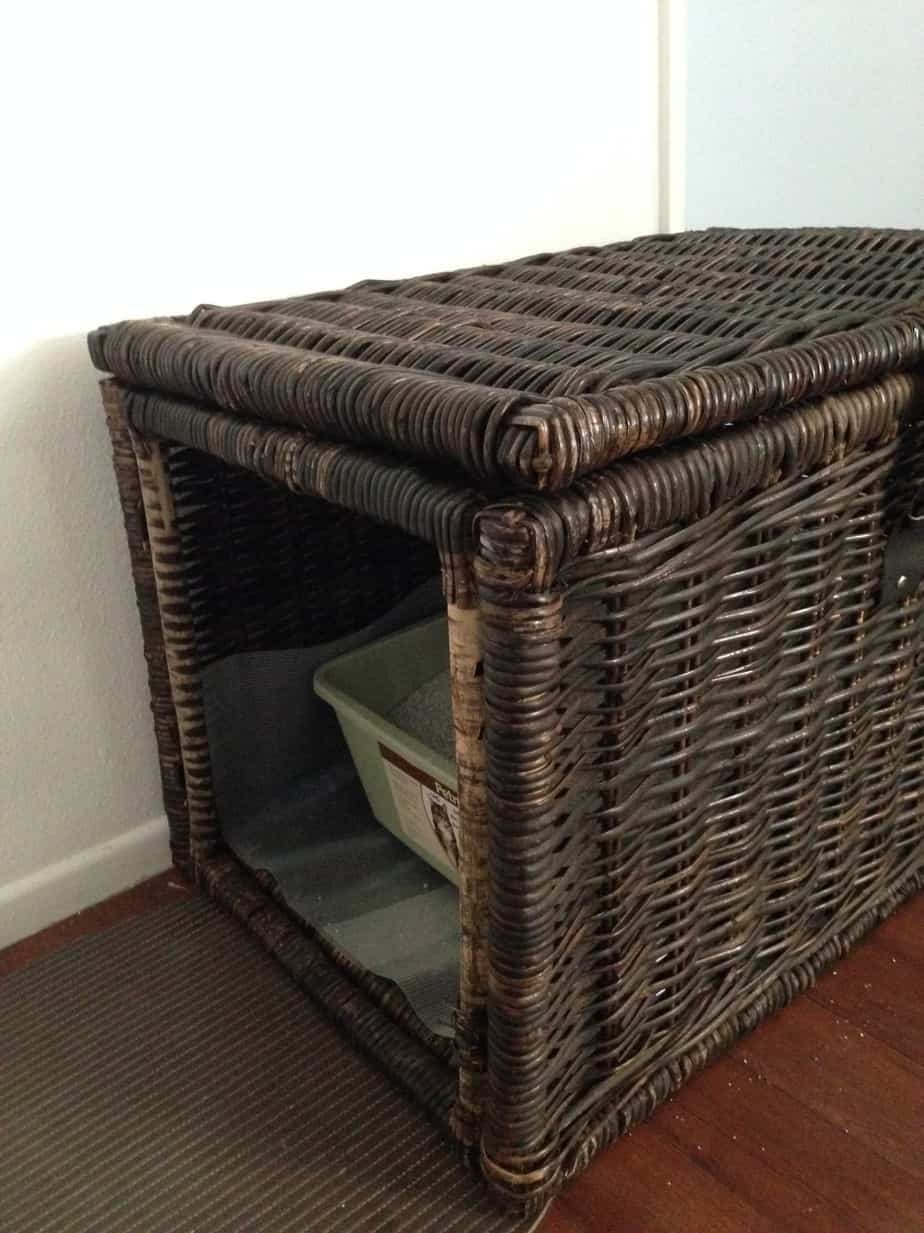 Who would think this is a cat litter box? This storage basket box just hides it perfectly. Learn more about this project by checking this post. 
Expedit Shelves and a Hidden Cat Litter Box
These projects are not just limited to the Hol tables! In this post, the IKEA Expedit shelving unit was used, leaving the bottom row open for the cat litter box. 
Extra Easy DIY Hidden Cat Litter Box
If you have no experience working with tools, nothing to worry about! With these ideas below, the most you might need would be the actual litter box, some big scissors or a utility knife, tapes or hot glue gun, cardboard, strings, and some fabric. 
Repurposed Old Table to a Hidden Kitty Litter Box just with Fabrics

This DIY idea from Towne & Main is quick and simple, but look how stunning the result is! The repaint makes the table look sleeker and the curtains at the bottom give the kitty its privacy and also hides the litter box! 
Foam/Cardboard Privacy Screen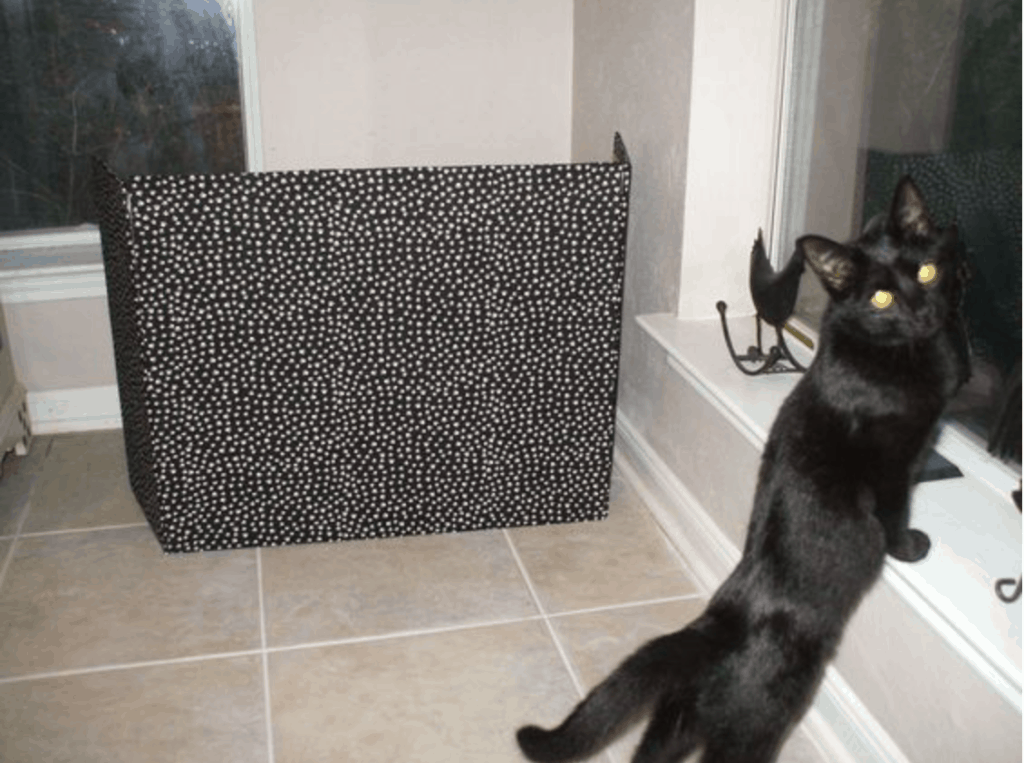 Want to keep your cat's litter box open, but just looking to add some privacy? This DIY privacy screen will do the trick! It's so easy to do as well. Pinterest user Janis Douglas used a foam board covered in fabric to create this litter box screen for this beautiful fellow! You can also recycle a cardboard box if that's what is available. 
Recycled Boxes and Cardboards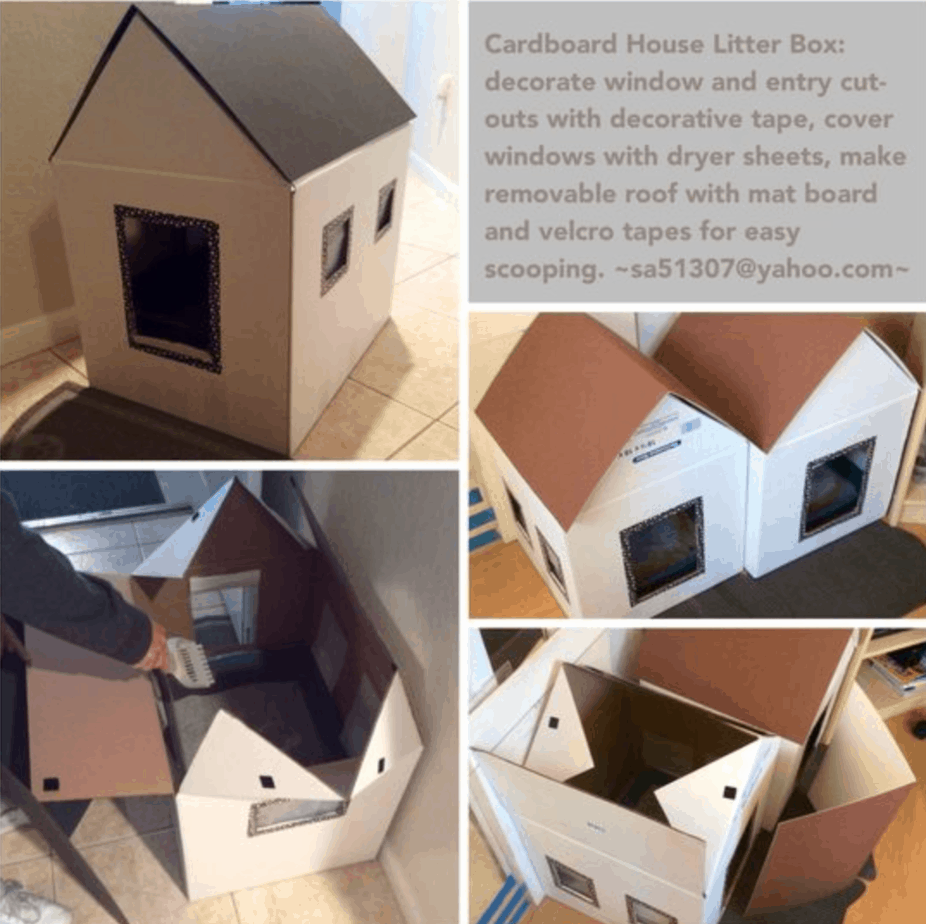 Lots of unused boxes and cardboard? Here is a nice idea from internet user sa51307 in covering up your cat's litter box with something that is just extra cute! The best part – you can even design the house as detailed as you want.
Cat Litter Curtain Nook Under the Sink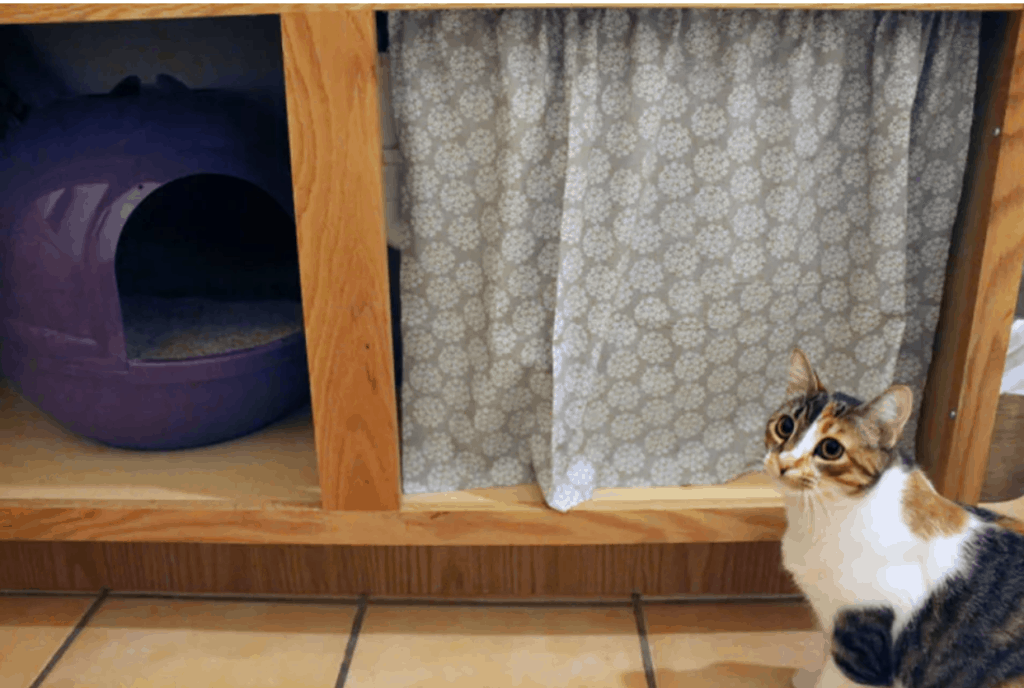 Another quick tip is to use some strings to create a curtained nook for your kitty and place its litter box there. This makes it easily available for your cat while also hiding the litter box from plain view.
If you are not using the space beneath the sink, it's a great place to hide the cat litter box like this DIY idea from Hannah of Letters from the Kennel. 
Cat Litter Box Stall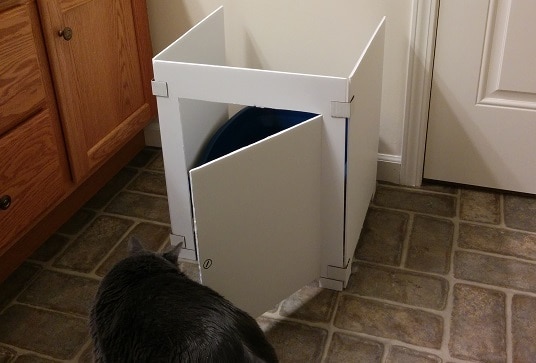 Create a cute personal toilet cubicle for your cat with this idea from Christine O'Brien, using foam and cardboards, a utility knife, glue, and a marker. 
Outdoor Cat Enclosures
If you're looking at hiding your cat litter box, why not go all out and consider an outdoor cat enclosure? This is a great way for your cat to safely explore the outdoors while also providing lots of ventilation for their litter box.
Keep in mind though that depending on where you live, an outdoor cat litter box is only ideal during warmer months. It's still highly recommended to have an indoor litter box for your favorite feline. 
DIY Catio with Litter Box 
This DIY Catio is perfect not just as a space for the litter box but even for the cats to just chill and relax in the fresh air. Since it's well ventilated, you can say forever goodbye to odor too! Learn more about this cool DIY project here. 
Budget DIY Cat Fence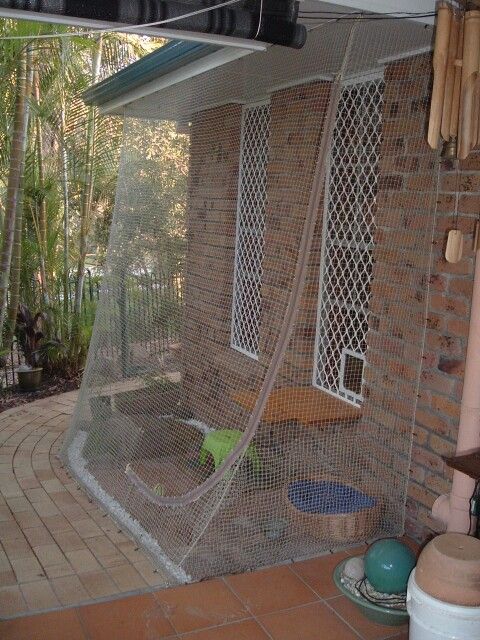 This very practical and very creative DIY cat fence is just made of wildlife nettings, some wire stakes, and zip ties! Nothing too complicated and it's pretty nice too! Learn more about this neat DIY trick in this blog.
DIY Outdoor Cat Enclosure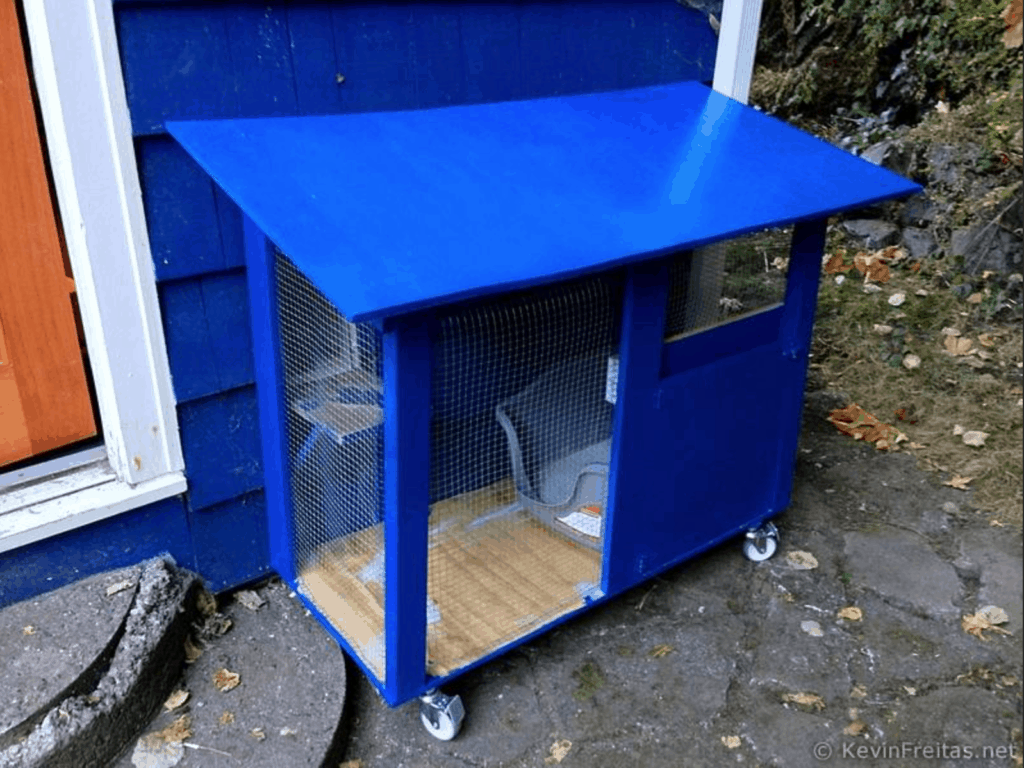 We're loving how straightforward this DIY cat enclosure is and how it perfectly matches the overall house. There is lots of space for the kitties and since it's outdoors, there is no issue with odor too. The wooden door for easy cleaning blends well too! Check this post for more details and instructions.
Litter Box and Cats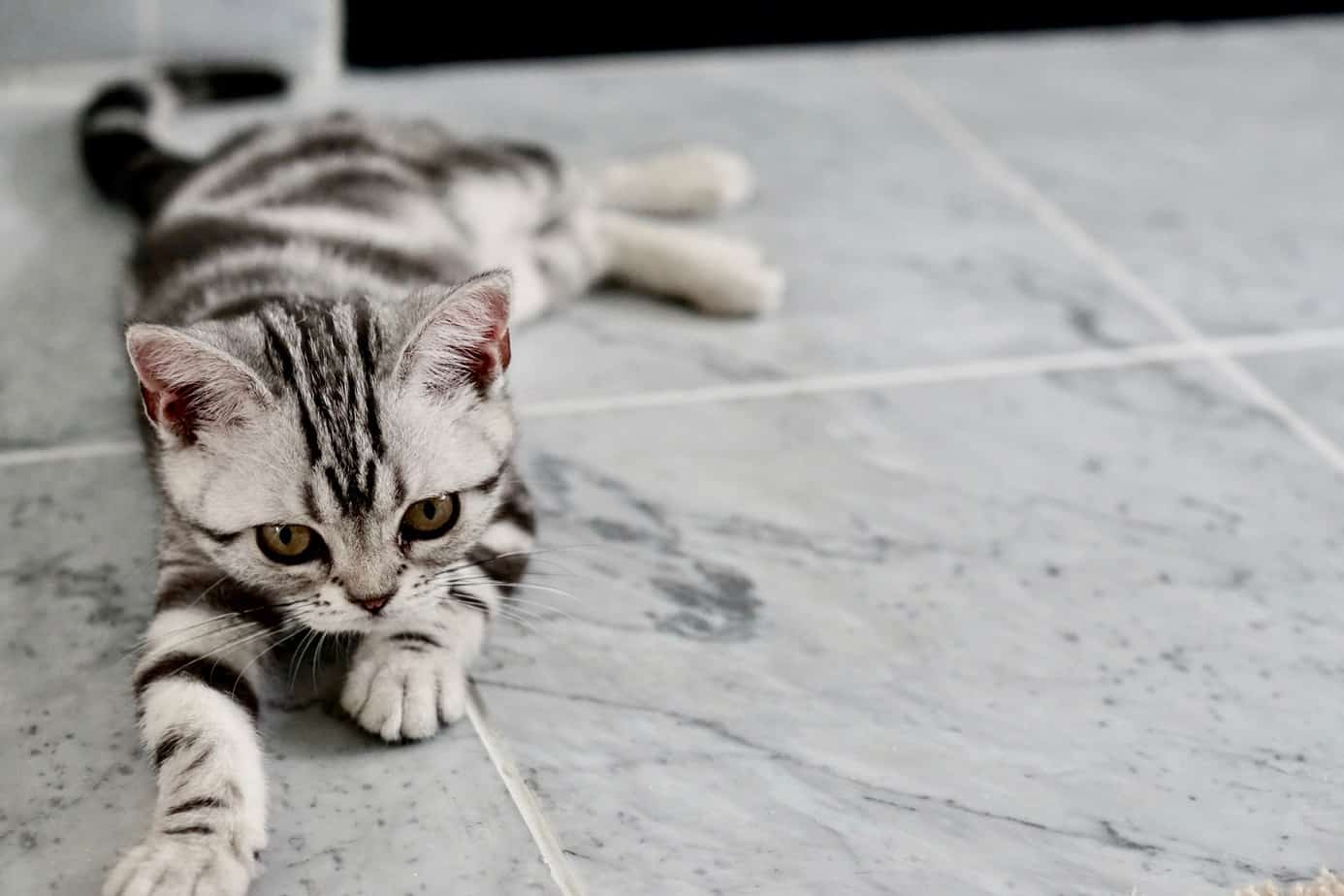 Aside from providing cats with a space for their basic needs, their litter box behavior is a way to check if all is well with your cat. Sometimes cats suddenly deciding to stop using their litter box could mean stress or negative associations with the litter box.
Cleaning the litter box might also be a way to discover some health problems that your cat may be having. These can range from a change of consistency in a cat's stool, maybe the presence of blood or parasites, and even the emptiness of the litter box means that your cat is not urinating and defecating which means a trip to the vet is necessary. 
Some might consider the litter box to be an unpleasant view within the household, but as fur-parents, it's important to know its value in the overall well-being of your kitties. 
Multiple Cats in a Household 
The standard rule with litter boxes is one box for each cat and an extra. For households with multiple cats, it's very important to provide multiple litter boxes.
Depending on the personality of your cats, some cats do not like sharing a litter box at all. Some don't mind, but it's still best to provide extra boxes, in case they needed to go all at the same time. As a guide, below is a quick list of why multiple cats need multiple litter boxes. 
Cats need their own space. Even with their siblings, cats would still need their personal space. Unlike dogs who are pack animals and prefer to do things together, cats pretty much prefer keeping to their own. This includes their toilet space and time.

Cats are very territorial. Some cats might even totally refuse to use the litter box if it has been used by another cat. There are even instances that cats would 'guard' their litter box and not let another feline use it. Multiple litter boxes, one for each and an extra, solve this. 

It's cleaner with multiple litter boxes. Even if your cats don't mind sharing their litter box, imagine three adult cats using the same litter box. It will get crowded in there probably every few hours. 
Best Places to Put the Litter Box
It is also important for cats to have a litter box where they can feel safe and have some privacy as they do their business. Tracking of the litter all around the house is an issue for some as well, sometimes the litter getting stuck in between their cat's paws.
Ventilation and the space to move around are very important too. Below are some things to consider in choosing the location of your cat's litter box:
Calm and Quiet Place
A calm and quiet space away from loud or surprising noises such as the washing machine or the dryer. A lot of people might consider storing their cat's litter box in the laundry area, but the noisy appliances can cause discomfort for cats and add to that feeling of the place is unsafe.
Pitch Dark Places
Contrary to popular belief, cats do not see perfectly in the dark. It's best to keep the litter box in a space where it gets a decent amount of light so your cat can see where it's going, as they do their business. 
Well Ventilated Space
A well-ventilated space is important when deciding where to place the litter box. This is because, at times, the odor of the litter causes discomfort for the people living in the house. The kind of litter you are using is very important here as well as making sure to regularly clean the litter box. Ventilation or an exhaust allows air to circulate better, helping you avoid odor issues.
Consistent Place
A consistent place. Decide on where to put the litter box and keep it there for a while, especially if your cat is just starting to use it. Constantly moving around the litter box will confuse your cat and might discourage them more from using it. Remember, they are creatures of habit. 
Away From Their Food and Water
It might be tempting to create a corner for your cat and just have all their supplies there, but really, it's best to separate their spaces for eating and pooping. Your cat will love you for it and you can also avoid health issues that may arise, with some soiled litter mixing in with your cat's food or water.
In a Safe Space Not Accessible by Other Pets
If you're living in a multi-pet household, your cat's litter box mustn't be accessible to your other pets, like the dog. Apart from possibly causing a big mess, cats just really prefer their own space and will not appreciate the dog running around them as they attend to their business. 
Not Near the Ventilation
Ventilation is important but does not place the litter box literally right next to an air vent or a big window with sudden drafts. The surprise wind might not be a good experience for your cat and might consider not using that litter box again. 
Away From the Bed, Both Yours and Your Cat
It's best to keep the litter box at a safe distance or preferably even in a separate room, rather than keeping it in the bedroom. 
Accessible Space
A fully accessible space where cats will not accidentally lock themselves in.
How to Set Up a Litter Box for Cats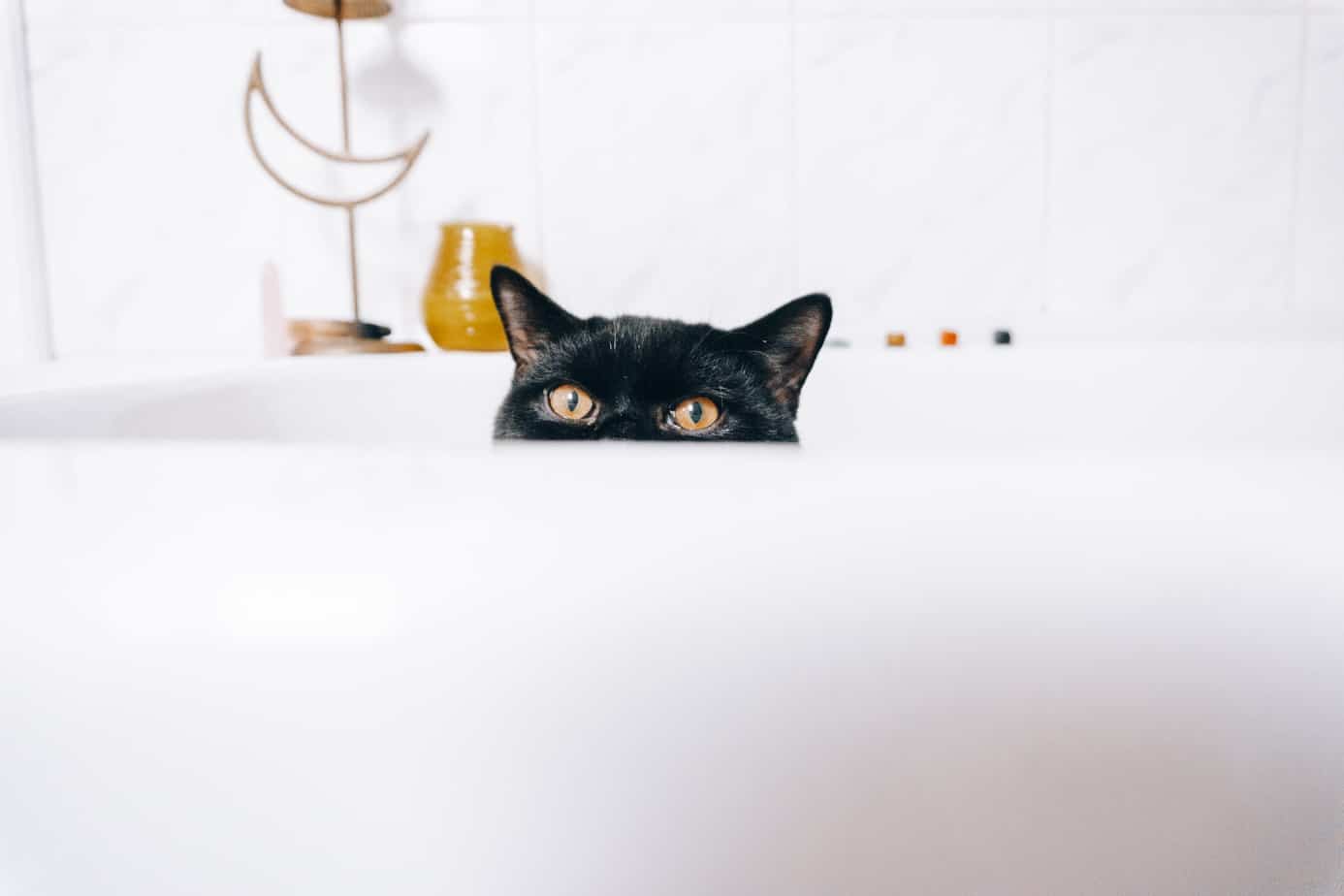 Now that we have covered the importance of litter boxes and the best DIY ideas on how to hide them from plain sight, we're ready to start setting these up. If you are a first-time cat owner, here are some of the basic things you will need in setting up your cat's litter box. 
A properly-sized litter box, depending on the size of your cat. More about cat litter boxes

here

.

Cat litter – there are so many variations of cat litter to choose from, some cats have their preferences as well.

Check this post for more details about cat litter

.

A litter box scoop for cleaning the litter box and removing the clumped-up litter. 

Optional: A litter box liner is useful in keeping the litter box cleaner and it makes cleaning up easier too. 

Optional: Litter box mat placed outside the box to help further clean your cat's paws after using their litter box and avoid tracking. 

Optional: Litter box deodorizer. These are available online and in most pet supply stores and can be used to eliminate litter box odor. 
Cat litter boxes are essential for your cats, but it doesn't mean you need to compromise your home interiors. With these clever DIY hidden cat litter box ideas, you can now easily keep your kitty's litter box out of view, but also making it still accessible for their needs. It's a win-win situation for you and your kitty with these DIY hidden cat litter boxes projects!
FAQs
Question: How can I hide my cat litter box?
Answer: Check out the ideas we've featured here! The choices are endless when it comes to being creative in hiding litter boxes. Feel free to use the DIY ideas here as starting points and customize them according to your preferences.
Question: Do cats like hidden litter boxes?
Answer: This depends on the cat. Some cats prefer open litter boxes while others don't mind or might even like hidden litter boxes.
Question: Do cats prefer open or closed litter boxes?
Answer: Same as above, this depends on your cat's preferences.
Question: Can you put litter boxes next to each other?
Answer: This is not recommended, as cats prefer having their own personal space.
Question: Where should I put my cat's litter box?
Answer: A space at home that is easily accessible for your cat, with good ventilation. Check out more things to consider in deciding where to put your cat's litter box in the post above.