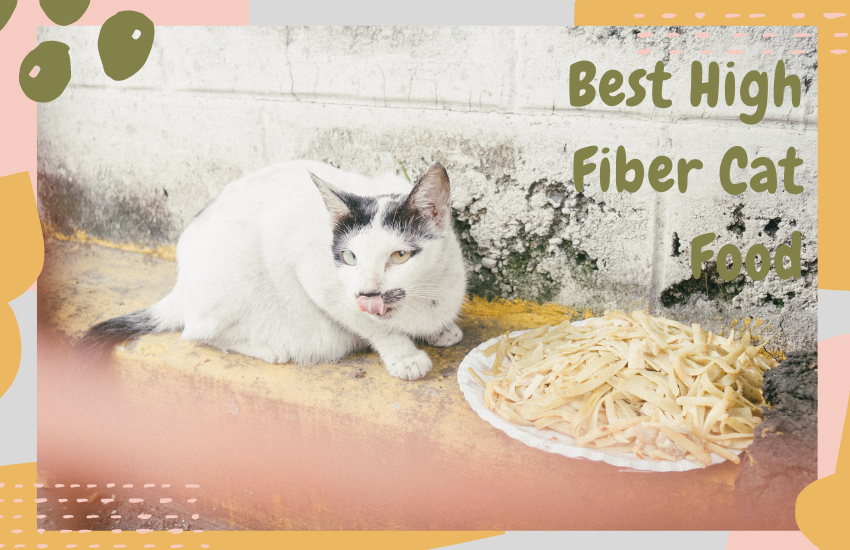 Is your cat having tummy troubles lately? Has she suddenly lost her appetite even if you lure her with her favorite food? Are you scooping out little to no poop from her litter box? Just like humans, our beloved feline friends are also prone to have common digestive and gastrointestinal problems like diarrhea and constipation. 
Veterinarians often recommend different nutritional diets depending on the symptoms and diagnosis in order to alleviate these disorders and provide relief to our pets. In a lot of cases, incorporating fiber into the food of our felines does wonders in aiding their digestive functions and improving their stool quality. 
However, choosing an ideal diet for our furry pals can be tricky because their daily dietary requirements are different from that of humans. We must remember that cats are obligate carnivores.
They are strict meat-eaters that thrive on consuming animal protein. Also, cats have shorter intestinal tracts than most animals which may not be able to utilize dietary fibers from plants. Some studies also suggest that since their wild ancestors did not eat plant-derived fiber, domestic cats won't have it too. 
But we have to take note that fiber does not only come from plants. There are other sources of this type of indigestible carbohydrate. Their prey's bones, fur, collagen, cartilage, tendons and ligaments are also forms of intestinal fiber consumed by cats in the wild.
Plus, they also take in the stomach contents of their prey such as grains and plants. Research shows that even the undigested hair from cat grooming also gives off dietary fiber. 
True carnivores like cats may actually get nutritional benefits from animal fiber. According to a study published by the Journal of Animal Science, captive cheetahs (also strict carnivores) that ate the whole prey had a more favorable fatty acid profile in their feces than those that were fed a meat-only diet.
Nowadays, a lot of pet owners feed their four-legged pals commercially produced cat food that contains plant-derived dietary fiber because of its positive effects in their nutrition, digestion and appetite. Is it really a good alternative for their natural diet in the wild?
Let's explore some of the best options for a high-fiber food that you can give to your furry friend. Remember to consult first with your vet before changing your cat's diet as you wouldn't want to jump into something that may be counterproductive to their health. 
What Is Fiber?
Fiber is a type of carbohydrate that the body cannot digest or absorb. It cannot be broken down into sugar molecules unlike the other carbs. Dietary fiber also adds bulk or roughage to the digestive tract that helps relieve constipation. It is a plant-based nutrient that usually comes from vegetables, fruits, berries, whole grains, legumes, beans and seeds. 
For wild cats, fiber is sourced from the bones, fur, cartilage and feathers of animals that serve as their prey. Dietary fiber is said to have a desirable effect for the overall gastrointestinal health of felines. There are two common classifications of fiber: soluble and insoluble. 
Types Of Fiber
Soluble Fiber

dissolves in water and turns into a gel-like substance, slowing down the digestive process. It promotes weight loss because it satisfies hunger and makes one feel full for a longer time. It also helps lower blood sugar levels and blood cholesterol. Sources of soluble fiber include oats, barley, peas, beans, lentils, apples, carrots and psyllium.

Insoluble Fiber

does not dissolve in water and remains intact as it moves through the digestive system. It

adds bulk to the stool to prevent or ease constipation and speeds up the passage of food through the stomach and intestines. It is usually found in bran, wheat, seeds, potatoes, cauliflower and cucumbers.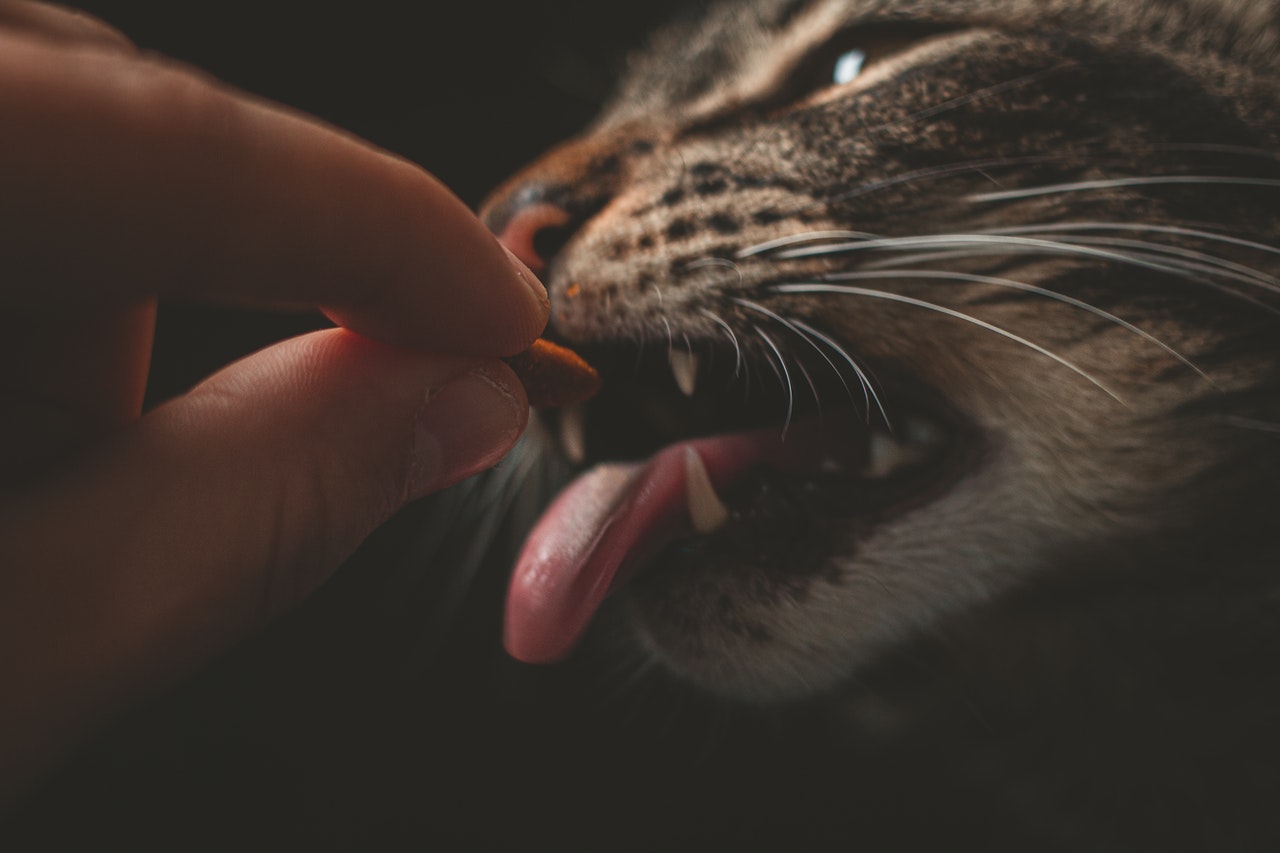 Choosing A High-fiber Cat Food
In picking the right high-fiber cat food, one should consider its fermentability. This refers to how fast fibers produce short-chain fatty acids (the primary source of energy for cells lining the colon) with the help of the gut bacteria.
The fiber should be fermentable if you want your pet to get the best benefits from it. Some sources of fermentable fibers are rice, wheat and vegetables. Pectins and gums are considered highly fermentable; beet pulp is moderately fermentable; and cellulose is poorly fermentable. 
Some experts believe that cats need a variety of fermentable and non-fermentable fiber.
Others think moderately fermentable fiber (which has the components of both soluble and insoluble fibers) is best to get the most out of its nutritional benefits for our feline because pet food that is high on poorly fermentable fiber may dilute calories and rob the essential nutrients from our cats.
Fibers from beet pulp, pectin, apple pomace and fructans are also said to be good for our cats if given with the right dosage. Always read the label and go for high-quality fiber sources when choosing cat food.
Since fibers have different composition and health benefits, it is better to understand first what your feline really needs before picking a formula from the shelf. Changing a cat's diet always works best with veterinary supervision. 
https://unsplash.com/photos/MPtCv8q3x88
Best High-fiber Dry Cat Food
Blue Buffalo Wilderness Indoor Hairball And Weight Control Dry Cat Food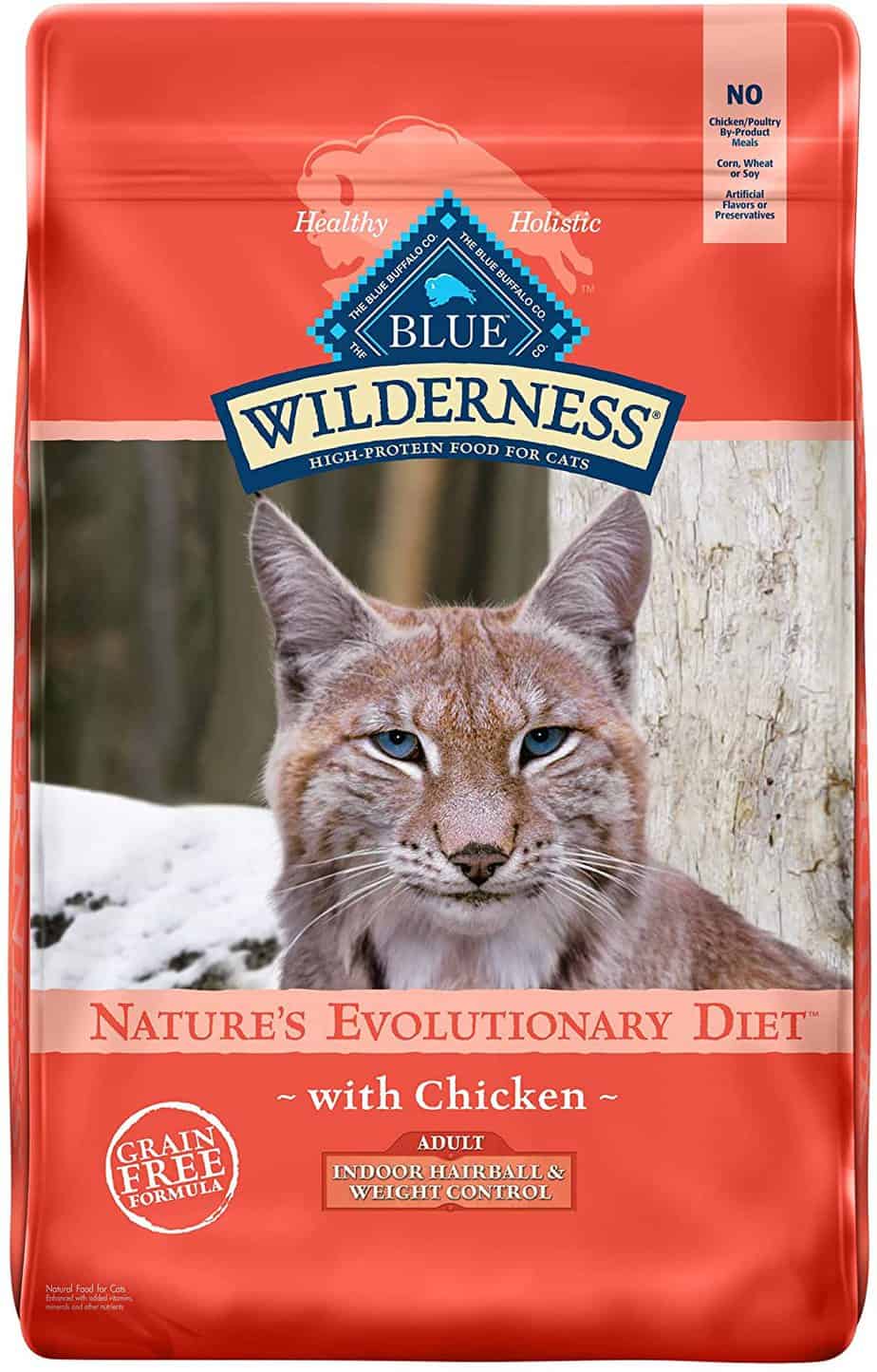 This protein-rich, grain-free recipe is designed to help address both the hairball and weight problems of your feline with its all-natural fibers, balanced calories and fats. It is patterned after a lynx's (wild cat) diet as it is packed with real chicken meat as its first ingredient to maintain a lean muscle mass.
The formula has a high-protein content of 36% that comes from deboned chicken, chicken meal and menhaden fish meal. Its maximum fiber content is 7.4% from ingredients such as sweet potatoes, peas, psyllium seed husks, blueberries, cranberries, and alfalfa meal. 
LifeSource Bits, an exclusive blend of antioxidants, vitamins, and minerals, are also added to help boost your cat's immune system.
The recipe also has essential omega 3&6 fatty acids for healthy skin and coat as well as taurine, an essential amino acid to maintain our pet's eye and heart health. It doesn't contain chicken (or poultry) by-product meals, corn, wheat, soy, artificial flavors, or preservatives. 
Wellness Core Natural Grain-free Dry Cat Food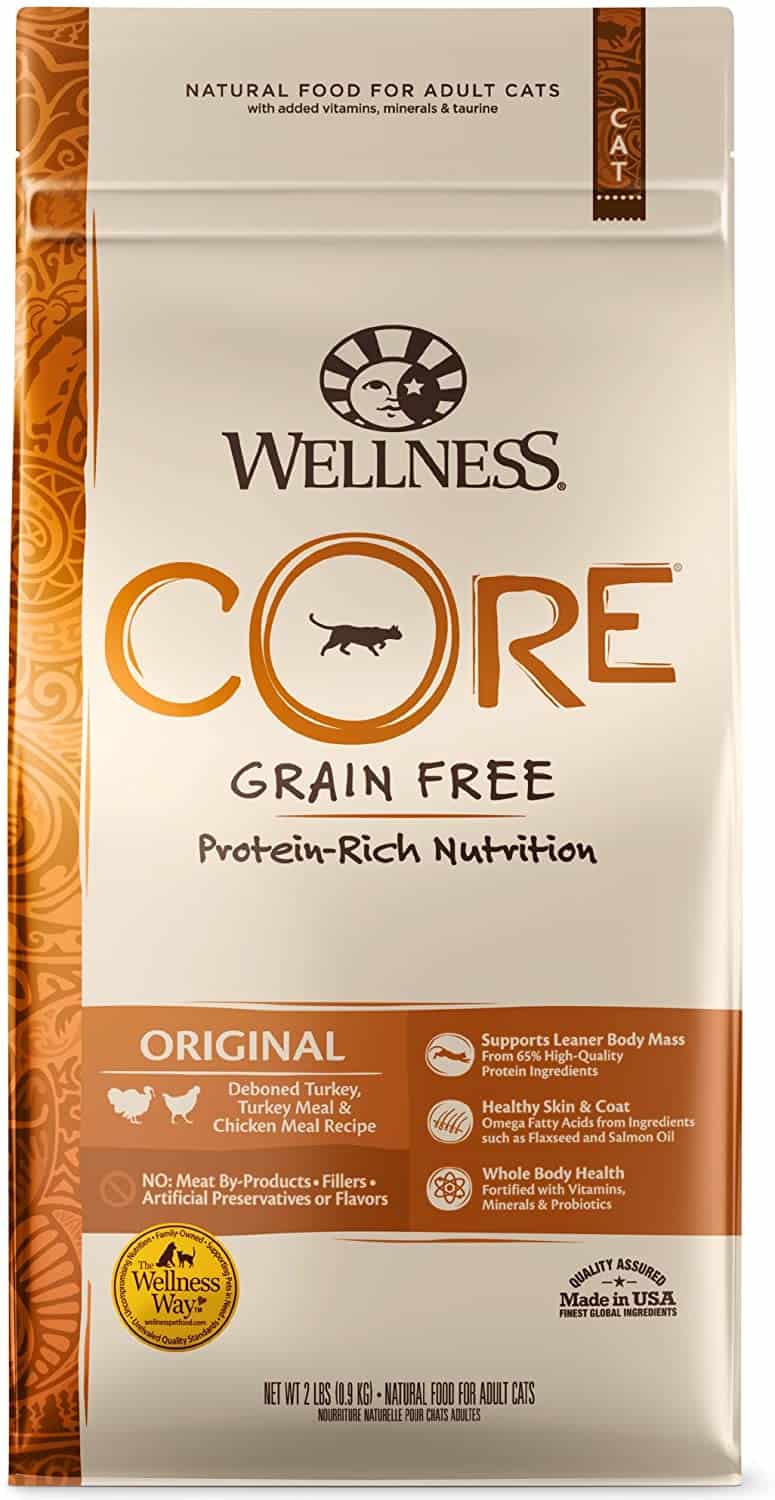 With a delicious blend of turkey and chicken, this recipe features top-quality animal meat that your feline friend craves for. The grain-free, protein-rich formula is based on deboned turkey, deboned chicken, turkey meal and chicken meal.
Its protein content of 45% is complemented by its 3% fiber from natural sources like potatoes, cranberries, chicory root and dried kelp. Just make sure that your cat is not allergic to tomatoes as the recipe includes tomato pomace on its list of ingredients. 
This filler-free cat food has no meat by-products, artificial preservatives, or flavors and is fortified with vitamins, minerals, taurine and probiotics for the overall health of your pets. It also contains omega fatty acids from salmon oil and flaxseed that will provide healthy skin and coat for your felines. 
Hill's Science Diet Hairball Control Cat Food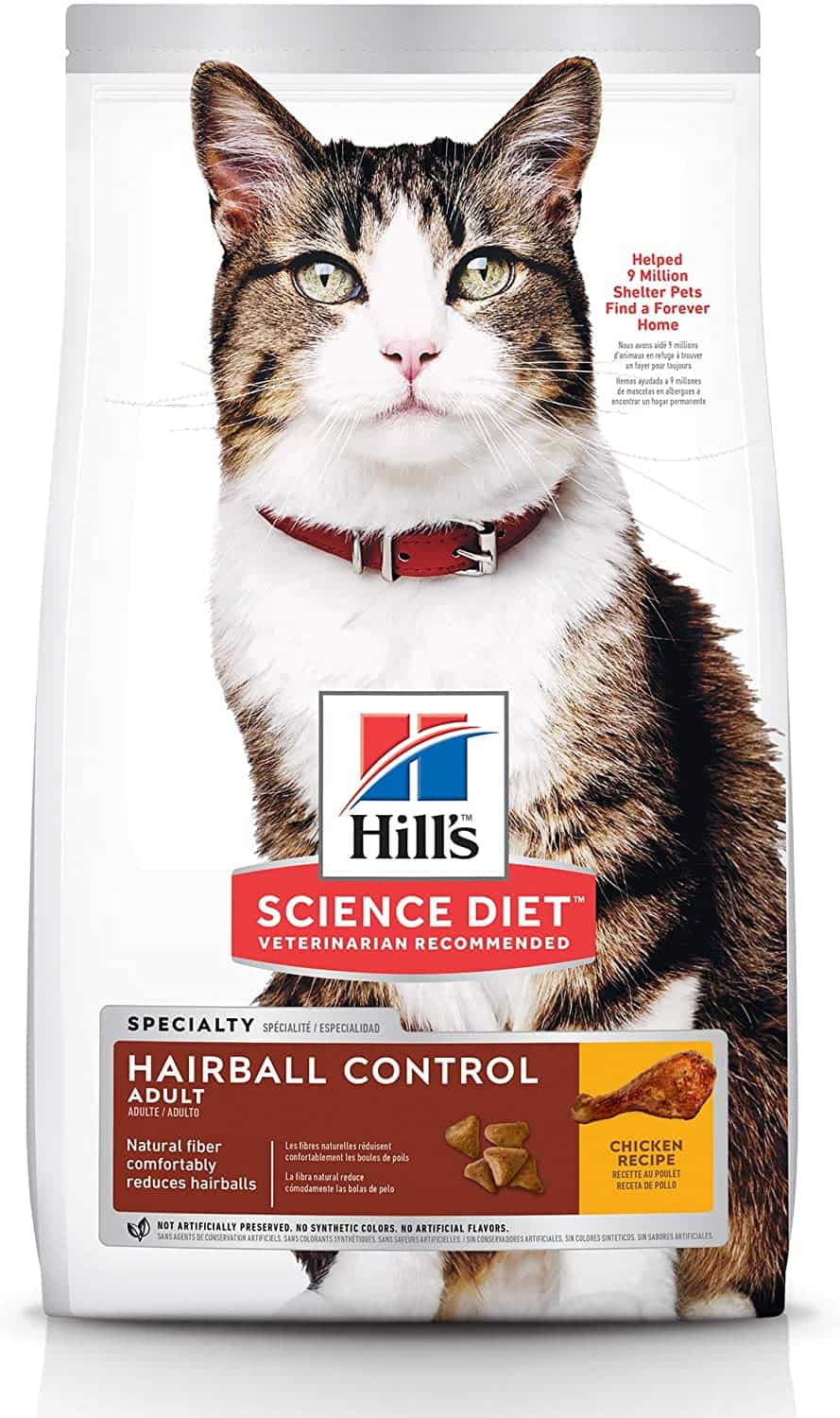 This vet-recommended dry kibble is formulated with natural fiber to reduce hairballs in adult cats (7+). With real chicken as its main ingredient, this scientifically blended recipe's protein content is 28.5% that helps maintain your cat's lean muscles.
It also has 6.5% fiber from ingredients like dried beet pulp, carrots, cranberries, and broccoli. These sources of natural fiber do not only eliminate hairballs but also aid in your cat's digestion. 
This cat food also contains vitamin E and omega 3&6 fatty acids to give your pet healthy skin and fur, taurine for your cat's heart health, antioxidants to support the immune system, and minerals that are good for the bladder and kidneys.
Be sure your cat does not have an allergic reaction to wheat gluten and corn as these are listed in the ingredients. It has no artificial flavors, colors, and preservatives.
Best High-fiber Wet Cat Food
Merrick Limited Ingredient Diet Grain-free Cat Food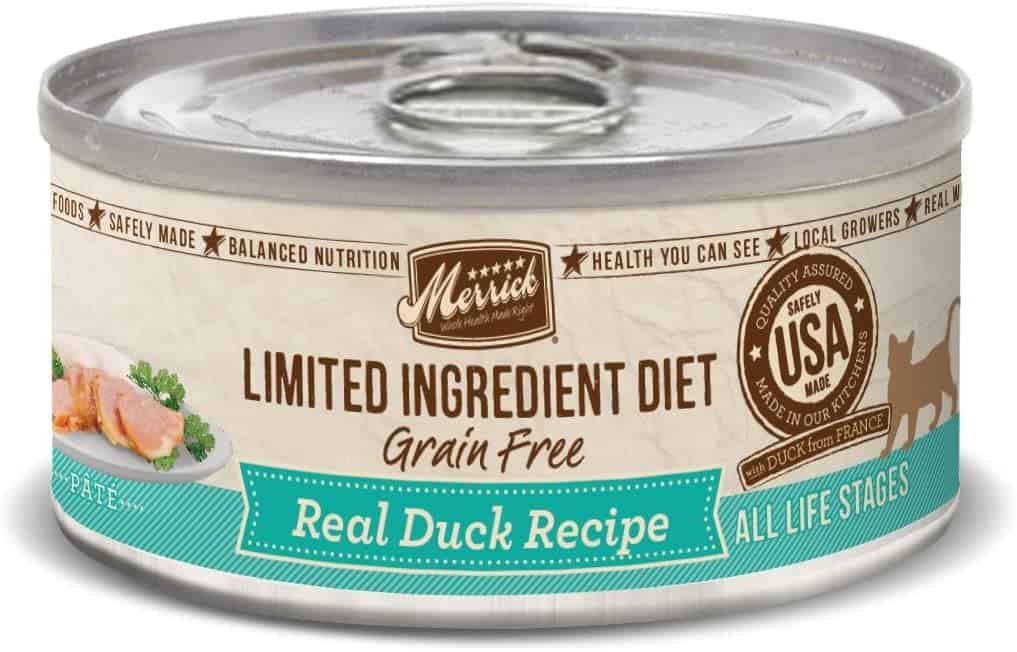 If your feline has food intolerances or allergies, this limited ingredient recipe is well-recommended for her. Real deboned duck is the primary ingredient of this high-fiber formula and it does not contain wheat, corn, soy, fish, gluten, grain, egg, fruits, and vegetables, making it ideal for cats with sensitive stomachs and digestion issues.
No artificial colors, flavors, or preservatives were used as well. It has 8% protein to support healthy muscles and 1.4% fiber coming from sources like organic alfalfa meal. 
This moist meal also has omega 3&6 fatty acids for healthy skin and fur and is infused with taurine, vitamins, minerals, and antioxidants for a complete and balanced diet. Finicky felines will also love its variety of flavors such as chicken, salmon, turkey, and tuna.
Instinct Limited Ingredient Diet Grain-free Cat Food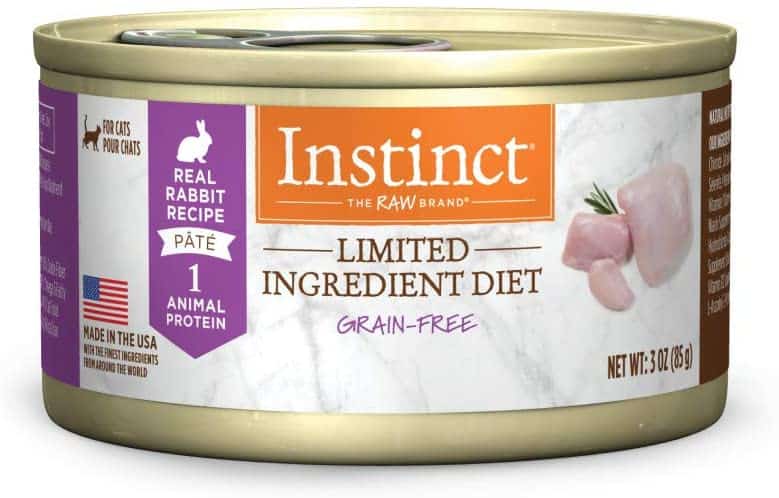 This simple and delicious formula made by Instinct is another option for a limited ingredient diet formulated for cats with food sensitivities. Its main ingredient is a farm-raised rabbit, a flavorful source of protein that is easily digestible. This canned wet cat food has 10% protein and 1.5% fiber.
Although it contains one vegetable which is peas, it is made without ingredients that can trigger allergies such as grain, eggs, dairies, wheat, corn, soy, and carrageenan. 
It also does not contain chicken, beef, fish, and potato. No fillers, artificial colors, or preservatives were used in this tasty product that can be served as a meal or topper. It is made with real meat, natural omegas, vitamins, minerals, and taurine for your cat's complete nutrition.
Weruva Cats In The Kitchen Funk In The Trunk Cat Food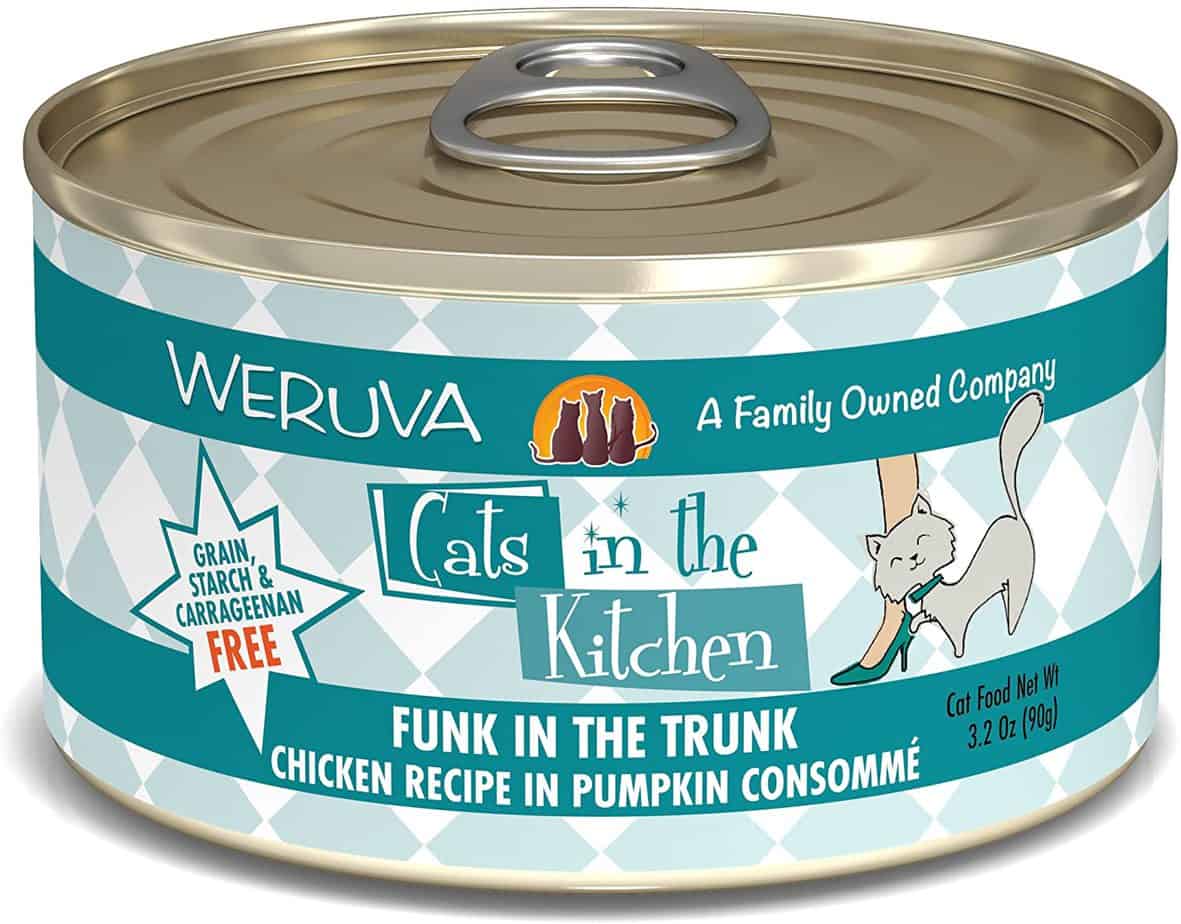 Funk in the Trunk is loaded with whole meat chicken breast and savory pumpkin consommé that your kitties will surely love. Rich in animal protein suitable for carnivores, this yummy recipe is also low in carbohydrates and contains fiber from sources like pumpkin and xanthan gum.
This grain-free wet cat food is fortified with antioxidants, vitamins, minerals, amino acids, and taurine for a healthy heart and vision. Minimally processed, this formula is also free from gluten, carrageenan, starches, GMO, and MSG. 
There are no corn, soy, wheat, artificial colors, and preservatives included. It is also high in moisture to keep your cats hydrated and healthy. Weruva also uses sustainable raw materials in its products such as cage-free chicken, grass-fed beef and lamb as well as wild-caught fish. 
Why Feed Cats With A High-fiber Diet?
There are conflicting views on whether or not cats need fiber in their diet. Vets and pet owners used to believe that cats only depend on proteins and fats to survive – after all, they are obligate carnivores. 
However, there are some circumstances when your feline friends may use extra fiber in their meal especially for indoor cats who live a sedentary lifestyle. Here are some of the reasons why fiber can be good for your cat:
It Promotes Weight Loss
Obesity is rather common among domestic cats that spend the entire day eating, sleeping, and lounging around the food bowl. If your furry feline is obese or overweight, a high-fiber diet is said to help them slim down and increase intestinal motility.
Fiber may also give your pets the feeling of a full stomach with fewer calories, which can make them eat less than they usually do. 
In some pet food, poorly fermentable fiber is used to help cut down calories and increase the volume of their stools. A high-fiber diet that is low in fat content is believed to aid the weight loss of obese cats that suffer from diabetes. 
Nonetheless, pet owners should be cautious in giving cats too much fiber as it could make it hard for them to digest other nutrients and reduce the nutritional quality of your feline's diet. Veterinary supervision is essential before putting obese cats under a weight loss program.
It Eases Diarrhea And Constipation
Fiber is one of the possible remedies if your feline is suffering from diarrhea or constipation. Diarrhea happens when the food passes swiftly through the intestines and the stool becomes too mushy. Fiber can help solidify the poop by slowing down the movement of the food.
On the other hand, if the passage of food is too slow, the stools can get harder, making it difficult for the matter to move through. Since fiber absorbs moisture, it can soften the stools so the poop can move easily. 
For other pet owners, adding canned pumpkin or bran to feline food can sometimes work to relieve constipation.
Although you can tell a lot from the poop of your cat, it is important to call your vet to find out the cause of the digestive problem and determine the right treatment as switching to a high-fiber diet right away may only worsen the situation of your cat. 
It Manages Diabetes
Feline diabetes – or their inability to produce enough insulin to balance blood sugar levels—can be life-threatening without proper treatment. Obesity is a known risk factor for diabetes that's why pet owners should ensure that their cats have enough physical activity and that their ideal weight is maintained. 
Research shows cats usually suffer from type 2 diabetes which is common to cats that have insulin resistance. Thankfully, some diabetic cats show a positive response when given a high-fiber diet to control their blood sugar.
It is said that increasing their dietary fiber can slow down the gastric emptying time, reduce the speed of the absorption of glucose and increase insulin sensitivity. Call your vet immediately if you see symptoms of diabetes in your feline.
It Controls Hairballs
Cleaning up your cat's hairballs can cause inconvenience to pet owners but it can be a lot more distressing for your furry feline that will typically vomit that messy tube-like stuff.
Hairballs are often caused by too much ingestion of hair from grooming or gastrointestinal dysfunction. A high-fiber diet may help prevent or control your cat's hairball problems. 
Experts say that sources of insoluble fiber like cellulose may aid in the smooth movement of hair through your cat's intestinal tract while soluble fiber from oats or beet pulp can help sustain your cat's overall gut health.
These cat food formulas that are rich in fiber may also help maintain normal gastrointestinal motility. There are times when hairballs lead to serious gastrointestinal obstruction so it's best to talk to your vet about it.
Dangers/Risks Of A High-fiber Diet For Cats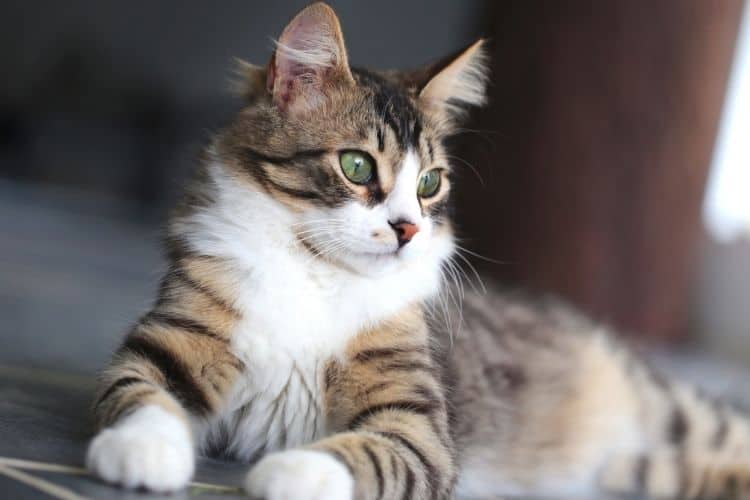 Many pet food manufacturers include dietary fiber in their ingredients list because even if it is not a nutritional requirement, it can supply many health benefits for your cats, just as it has plenty of advantages to the human body. 
However, cats have much shorter digestive tracts (they have a small colon and nonfunctional cecum) than humans or other animals so their bodies may not be able to tolerate too much fiber in their food.
Increasing your pet's fiber intake can also decrease the absorption or digestibility of protein and nutrients in their food. You wouldn't want your cat to be deficient in these areas. 
According to research, high-fiber diets can lessen the secretion of pancreatic enzymes that are needed for the digestion of protein. It can also be linked to impaired absorption of taurine, an essential amino acid for your feline as well as dehydration and other gastrointestinal issues.
While cat food that's rich in fiber is used in prescriptions for some diseases, other experts claim that a low-fiber diet works better for cats. So before you decide to make any changes to their diet, consult your vet or go-to pet nutritionist first to determine the right amount of fiber tailored for their unique condition to achieve optimal health. 
FAQs
Question: How Can I Add Fiber To My Cats Diet?
Answer: Not all pets have the same gastrointestinal condition or response to certain food. That's why we have to be really careful when choosing among those commercial high fiber pet food in the market.
There are some fur parents who opt to go natural, adding pumpkin to their cat's diet for an extra boost of fiber, a practice that is debunked by some experts. 
You need to know the right type (soluble, insoluble, or a mixture of both) as well as the sufficient amount of fiber that your feline friend needs to address her unique needs whether she's suffering from digestive problems such as constipation, diarrhea, obesity, diabetes, etc. These different types of fibers have diverse roles in our cat's digestive health. 
According to some experts, insoluble fibers are better for issues of the large intestine while soluble fibers are more beneficial for those who have problems with their small intestine. Research also shows that fiber content in your cat's food must not exceed 10 percent so it won't be difficult for them to digest other nutrients.
Fiber can help ease digestive problems but it can also worsen them if it isn't used properly. So before adding fiber to your cat's diet, you need to consult your veterinarian to know the underlying causes of her gastrointestinal issue for a proper therapeutic diet prescription.
Question: Is High Fiber Good For Cats?
Answer: Unlike in humans, too much fiber may not be beneficial for cats because these carnivores have shorter digestive tracts and they thrive on a meat-based diet.
However, a high-fiber diet can be beneficial for your cat's nutrition if provided in the right amount and type because it provides bulk or roughage for the food to move through. 
There are also fibers that are broken down by bacteria to make short-chain fatty acids, the main source of energy for cells lining the colon.
High-fiber diets are used to address the gastrointestinal issues of cats and improve their stool quality. Just keep in mind that the fiber found in their food must not be greater than 10 percent, according to studies.
Question: What is the best food for a cat with loose stools?
Answer: Feline diarrhea is often associated with our pets having loose or watery stool during their bowel movements inside or sometimes outside their litter box. Diarrhea is not a disease in itself but a symptom of other different diseases.
Observe if your feline is having mild diarrhea or if she is showing other dangerous signs like vomiting, being depressed or in pain, having blood on the stool as well as explosive and frequent diarrhea.
Call your vet immediately if this happens for better assessment and prescription. Otherwise, a low-fiber, highly digestible cat food recommended for cats with sensitive stomachs may be used to feed your feline. 
Other pet owners give their cats fiber supplements like unflavored psyllium and canned pumpkin or home-prepared food. Others give probiotic supplements. But the best diets are usually the ones supplied by vets with a good balance of fibers. Don't forget to fill your cat's water bowl with clean water to prevent dehydration.
Final Thoughts
Cats are obligate carnivores that need animal protein to survive. They have a shorter digestive tract than other animals and a limited capacity to ferment plant-based ingredients.
In the wild, however, they get their fiber from the bones, cartilage, feathers, and fur of their prey. Since these indigestible materials are not present in a domestic cat's diet, incorporating fiber in their food may have certain benefits for their digestive health. 
Indoor cats also have a different lifestyle and meals from their wild ancestors that's why they are more prone to obesity and hairball issues which fiber can help address.
In choosing high-fiber food, look for the ones with high protein and low carbohydrate content. Also, check the fiber's source and make sure that it is of the right quantity and quality. Avoid foods with wheat and corn. 
Also, remember that too much fiber may be counterproductive to the health of your beloved felines. That's why veterinary supervision is essential if you're planning to change your cat's nutritional diet based on your pet's unique condition, individual needs, and dietary sensitivities.
Continue reading:
Wild Calling Inland Waters Duck Recipe Grain-Free Adult Canned Cat Food Review
Whole Earth Farms Grain-Free Real Salmon Recipe Dry Cat Food Review
Nature's Logic Feline Rabbit Meal Feast Dry Cat Food Review