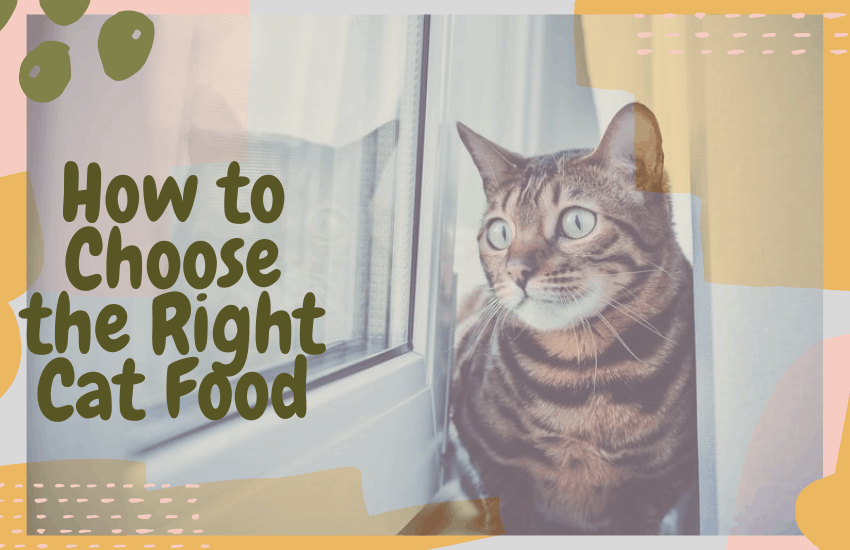 Choosing the right cat food is frustrating, isn't it? You want the best for your furry friend but when you don't know what to look for picking the right formula seems like a gamble. Do you feel overwhelmed by all the available choices? No worries, OliveKnows is here to help you.
In this post, you'll learn the basics of cat nutrition, including how much to feed your cat and how to read the labels on cat food. By the end of the post, you should feel confident in picking up a nutritious, balanced and complete diet for your cat.

Nutritional Requirements for Cats
Felines' nutritional requirements are less flexible than ours. Cats cannot survive on plant-based diets as they lack essential nutrients. Plus, plants have a high count of carbs which are unnecessary for cats. To thrive, cats need to get their energy from animal-sourced proteins and fats. Regarding energy value, indoor cats need about 25-30 Cal per 1 lbs. of weight, so the average 10 lbs cat would require 250-300 Cal/day. Now, on to the macros.
Macros
Have you ever seen an obese non-domesticated animal? You haven't because they have a much better sense than us for what to eat in order to maintain a healthy lifestyle. Hence, the right approach to getting the best macro ratio for cats is to pay attention to their preferences.
A comprehensive study on the topic found that, if offered a choice, domestic cats would pick a daily menu that consists of around 50% proteins, 40% fats, and 10% carbs. For a diet of 275 Cal, this converts to 1.2 oz of protein, 0.4 oz of fat and 0.3 of carbs per day. The findings of the study are consistent with another examination that concluded that to maintain lean body mass cats need at least 0.09 oz of protein per 1 lbs of body weight. But cats need more than macros.
Micronutrients

The other class of nutrients that your feline pet needs is micronutrients – vitamins and minerals. Altogether there are 11 vitamins and 12 minerals that are essential to your cat. While they are not a source of energy, they are vital for your cat's functioning, just like they are vital to yours. Their presence, however, needs to be balanced.
For example, any deficiency of vitamin A will lead to serious sight problems. On the other hand, oversaturation of this vitamin will give your cat bone issues such as osteoporosis. Calcium is another mineral that also needs to be balanced. Calcium deficiency leads to serious bone problems, while too much of it can compromise your cat's skeletal structure. Taurine and arginine are other nutrients that are essential to cats. Several decades ago the inadequate supply of taurine in commercial cat food led to an outbreak of heart-related problems and deaths among cats.
While your cat's organism does produce some micronutrients, internal secretion is not enough to meet your cat's needs for some of them. Thus, it needs to ingest the remaining quantity from food. If you are feeding your cat a quality diet, you shouldn't give dietary supplements, unless your vet prescribed them. Exceeding the required levels of micronutrients can be as harmful as not meeting them. So, if you want to keep your cat healthy, choose food that meets your cat's macro needs and provides the right amount of micronutrients.
Water
Cats nutritional needs do not end with their food. Like other mammals, to survive, cats also need water. Cat food does have some water in it, with dry food containing around 10% and wet food containing 60%-80%. However, these quantities are not enough to meet your pet's needs, so you need to keep a separate bowl of fresh water.
But how much does a cat need? Dr. Coates from PetMd provides an easy to follow formula on how to calculate how much water your cat should drink based on the type of its diet – dry or wet food. But, the formula is only a basic guideline – always keep a bowl of fresh water for your feline friend.
What to Consider When Choosing Cat Food
Now that we've covered the basics of cat nutrition let's find out how you can choose the right food for your pet. If you feel lost, fear not because if you know what to look for, many brands will get disqualified from your list, making the choice much easier.
Nutritional Value in Cat Food
In cat food, the nutritional value goes by "guaranteed analysis", i. e. how much or how little nutrients the food contains. In some cases (ex.: macros) the guaranteed analysis presents the minimum amount, while in others (ex.: fibers) it shows the maximum. Because manufacturers rarely list the carb ratio, you can approximate it with the following formula: carb ratio = 100% – (protein% + fat% + ash% + water%). The label will also provide the calorie count and guidelines on portion sizes. Use the indicated percentages to determine the number of macros that your cat will get with each serving and adjust the portions if needed.
Cat Food Ingredients
What's equally important to nutritional value is its source. Cats need whole proteins from meat since they contain all the essential amino acids. Thus, when you choose food for your cat, it's important not only to look at the guaranteed analysis but also at the ingredients. They appear in descending order in terms of their weight. This means that the first ingredient makes up the majority of the product, while the last one has the least presence in the formula.
So, what ingredients to look for? Well, any quality cat food will have meat as its first ingredient, and preferably in as many other places as possible. Meat meals and by-products are not acceptable first ingredients, and any non-animal based product is a definite no-no as a primary component. Ideally, the next ingredients will also be some type of meat or at least a meat derivative like a by-product or a meat meal.
As of by-products, there is a widespread scare of them caused by a common misconception that they include feathers, hooves, and nails. In reality, by-products are organs and bones both of which contain valuable vitamins and minerals. Yet, by-products, helpful as they are, should supplement the main ingredients (meat), not take their place.
When you read the ingredients label, you'll likely notice that the food also contains "meat meal" and/or plant-based meal. While you might associate "meal" with a warm, home-cooked dish, in cat food it means leftover products that were cooked, dried and ground into powder. For more info on how to read the ingredients list on cat food refer to the AAFCO's guidelines.
How about plants? In the wild, cats only consume plants that have already been digested by their prey. So why are they present in commercial cat food? Because plants, especially grains and starchy ones, are a cheap source of carbs which spike up the calorie count. Keep in mind that "grain-free" food doesn't always mean carb-free. Some manufacturers substitute grains with other high-carb plants such as peas and soy. This is not to say that all plants are bad for cats. Some fruits and veggies appear in cat food because they are a source of essential micronutrients and fiber. Stay with us, we are almost done.
Wet or Dry Cat Food
If you wonder whether wet food is better than dry food, the simple answer is: yes, it is.
The wet option often includes higher quality and quantity of meat and fewer plants than kibble. It also contains much more water so if your cat doesn't drink enough from its water bowl, feeding it a wet-based diet is a potential remedy. In addition, canned cat food is tastier and has a longer shelf-life than dry food. This, however, only applies to food that's unopened. Any opened wet cat food that hasn't been consumed needs to stay in the fridge, otherwise, it'll spoil very fast. Due to its superior qualities, wet food is also more expensive than the dry variant.
Kibble is much cheaper, but it also tends to contain more plant-based products at the expense of meat. Also, dry food contains less water (about 10%) so if your cat doesn't drink enough from its bowl, feeding it only dry food might lead to dehydration. On the other hand, kibble is more convenient because it can keep for longer making it appropriate for free-feeding your cat. This, however, doesn't mean that dry cat food doesn't go bad. Do not feed your cat food that's gone past its expiration date.
Regarding macros, the wet option usually comes with more protein and lower calories. Note, though, that when you compare the protein levels of dry and wet cat food, you should convert them to their dry matter weight. To do this, you can follow this simple chart provided by the FDA. Note also that the nutritional value of canned or pouched cat food is for a single unit and not for the whole serving which is usually 2-3 units.
Overall, wet food is of higher quality than most generic dry kibble diets, but it's also more expensive. If you still can't make up your mind, you can always test which one your cat prefers, or, ideally, feed it a mixed diet of wet food and kibble. If you opt for the latter make sure to not underfeed or overfeed your cat.
Special Dietary Requirements
So far we discussed the nutritional requirements for healthy adult cats. But not all cats are healthy and not all are adults. Some of our feline friends out there suffer from an illness or are in different life stages. Thus, they need special diets. A detailed breakdown of their needs is a subject for another post but here is the gist of it.
Kittens and nursing cats undergo very rapid processes so they need more calories, macros, and certain micronutrients. Senior cats, on the other hand, are less active, so their diets will consist of food that will keep them in as good of a shape as possible while providing the micronutrients that are essential in dealing with age-related issues.
Some cats also suffer from illnesses that, too, require special diets. Cats are susceptible to diabetes, heart and kidney problems and a variety of other issues which might get worse without a proper diet. To deal with kidney stones, for example, a cat will need different nutritional values than a healthy cat. While many brands produce formulas that cater to various life stages and diseases, it's vital that you consult with your vet so you can pick the right food your cat's condition. Now, let's wrap up.
Conclusion
Your cat requires the appropriate nutritional sources in terms of both quantity and quality. Any deficit or excess of nutrients or water will lead to health problems. Even if you don't notice them they'll be lingering there, only to show symptoms when your cat has already gotten really sick.
Additionally, the quality of your cat's food is equally important. Cats need meat as it includes all the necessary amino acids. Feeding your cat a plant-based diet (unless prescribed by a vet to treat a specific condition) will make your cat sick least or even kill it. This post only covers the basics of cat nutrition, so if you have any further questions do not hesitate to ask in the comments.
Continue reading: