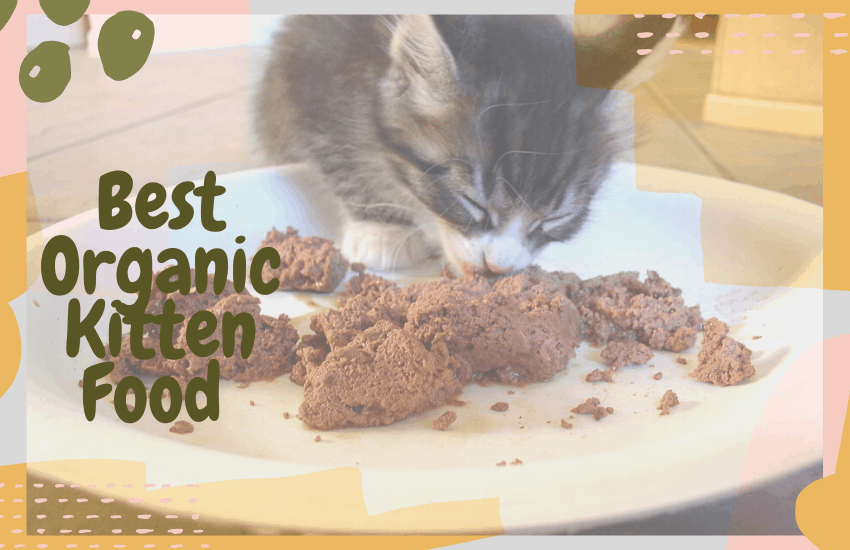 Kittens grow like a weed in the first several months. This is the time when the whole body grows rapidly, which requires food that is rich in nutrients and energy.
Because of that, kittens need to eat meals that come from whole meats and get enough micronutrients that support the development of vital systems such as the cardiovascular and respiratory systems and the brain.
Do you need to feed your kitten organic food? Before we answer this question, let's take a look at what a kitten needs in terms of nutrition and what the market has to offer regarding organic cat food.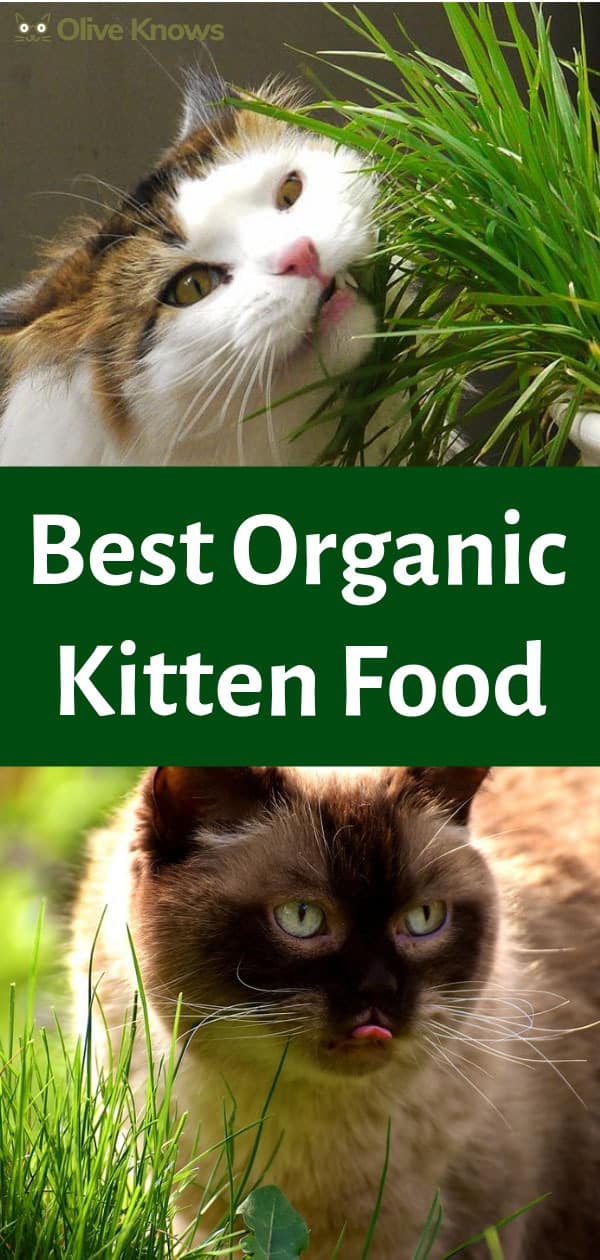 Kitten Nutrition
Macros
Kittens are tiny creatures undergoing rapid physiological development. Thus, it's vital for them to get the necessary macros as a kitten's nutrition can make or break its health as it matures.
While for the first month, the kitten will feed mostly on its mother's milk, about after four weeks after being born, your little pal will begin to wean – give up mother's milk and look for other sources of nutrition. Before this happens, you need to be ready to step in. If you are about to get a kitten, buy some high-quality, protein-rich food formulated for kittens.
While all macros matter, it is the protein content that is of utmost importance. Protein is a building component of muscles and bones and plays an important function in brain development.
Regarding food form, wet is better than dry. It provides more water and is easy on the kitten's tiny baby teeth. Nevertheless, you should also keep a bowl of dry food because your kitten will likely eat quite often. Do not forget to also keep a bowl of freshwater.
Ingredients
When it comes to ingredients in kitten food, it's paramount that the formula contains high-quality meat. Do not get formulas that list anything other than meat as the first ingredient. Avoid corn, wheat, and grains. They are hard on a cat's digestive system and especially so in kittens.
Kitten formulas will also include sources of calcium or have it as a supplement. If you can, purchase several high-quality formulas. Some cats get used to a particular one, and it's tough to switch them to a different formula down the road.
Note that kittens require much more energy than adult cats, so kitten formulas might contain more calorie-dense ingredients than adult food. In addition, you'll need to feed a kitten more food than an adult cat.
Whatever you do, don't feed your kitten "human" food. Some of it is allergenic and can cause upset stomach or worse, especially in a developing organism such as a kitten's.
How do I Know if I Should Feed my Kitten Organic Food?
To humans, "organic" has become synonymous with "better for you," but remember that is not always 100% the case. The same applies for kittens and what they eat. But there are a few instances when organic food turns from a luxury to a necessity to keep your tiny furry ones – or you! – happy.
Your kitten has allergies. If your pet tends to have negative physical reactions to regular cat food, you should find an organic alternative. Vomiting, diarrhea, excess itching, loss of appetite, all that fun stuff can indicate that your fuzzy baby's body is not happy with what it's ingesting. Organic kitten food can help because it contains fewer ingredients than regular cat food, and the ingredients it does use are inspected to higher quality standards. The lack of filler and additives may be just what your kitty needs to feel like their true self again.
You're worried about the environment. Agriculture is one of the major factors of global warming, partly due to harsh chemicals used to make plants and animals do what we want to make them taste better. With organic kitten food, you'll be able to breathe safely knowing that you're not feeding your best buddy any of this – organic kitten food does not contain any chemical pesticides, synthetic fertilizers, or genetically modified organisms. This has the nice double impact of making both your kitten and your world a better place.
Your kitten has a weight problem. We are not here to judge your precious ball of fluff on how big they're getting – kitten time is a time of growth as much as they can. But if your vet says your furry friend is getting too chubby, organic kitten food can help. It contains less fat content than regular cat food, especially since it contains fewer additives while still keeping the overall calorie count in the higher range that kittens need to grow. Plus, the simpler ingredients lists make it easier for you to know exactly what they're eating and track the general nutrition makeup without having to call your vet or trust the internet.
What Type of Organic Food Should I Feed my Kitten?
The "organic" label is an umbrella term that includes a few subtypes of food. It will be important to know the distinction of each when you're looking for new ways to feed your kitty, so you both have an idea of what you're getting into.
All-natural foods. This type of kitten food seems to be a synonym for organic, but beware that it does not have the same regulatory strictness attached to it. The technical definition of all-natural includes animal and plant byproducts that may not meet your own standard of what you want to feed your kitten, so be very careful here.
Holistic foods. Although it sounds like exactly the well-rounded nutrition you need for a growing kitten, holistic foods actually have no official nutritional designation. It's a label that doesn't mean anything, so as long as you buy food that is specifically labeled for kittens, it will have what you need, whether it calls itself holistic or not.
Raw foods. These types of food are exactly what they sound like; they're meats and other foods that aren't cooked. This may seem like a great idea from a naturalistic point of view. Throughout their history, cats in the wild have always hunted their prey and eaten it raw. If your kitty is allowed outside near the birdbath, you might see traces of that instinct in the lovely "gifts" they give you every now and then. And it's true your kitten will grow happy and strong without ever tasting something that's been cooked. But you will need to take a lot of precaution to keep out harmful bacteria such as salmonella and listeria since they love to take over improperly stored raw flesh.
Probiotics. You've definitely heard of probiotics before, at least for humans, and if you enjoy yogurt, you've eaten some yourself. These types of foods act on the same principle for kittens. They have added good bacteria that go into your kitty's gut and help them digest better for all sorts of leveling up, like a strengthened immune system and help with inflammation. They're microscopic, so your furball will not taste or feel the difference, which is great news for owners of choosy felines.
Wet Food vs Dry Food. You can get organic food in either iteration, whether in cans like tuna fish or in the same type of bags that house kibble. What you want to consider when choosing is your kitten's hydration needs. Cats are wired to get a good portion of their hydration from rats and mice, which are 60 – 70% water if you translate them to food composition. When a kitten eats only dry food, they will need extra water to compensate. And for some kittens, this works fine – just leave a couple of water bowls throughout their living space, and they're good. But if you notice your kitten is not drinking much or start exhibiting signs of dehydration, switching them to wet canned food can go a long way towards getting them to the right levels.
What are Other Factors to Consider When Choosing Organic Kitten Food?
Need for routine. You should be aware of how your daily activities affect your kitten's feeding. If you have a set schedule, fill their bowl at the same time each day, and they always eat immediately afterward. You'll be able to feed them fresh food that won't have a chance to go bad. If you don't know how your own day will go until it starts, however, you should consider investing in dry food so you can go ahead and put it out when you can, and then your kitten can eat it when they want to without worrying about it spoiling. This is especially important to consider if you're considering feeding your kitten raw food; do not leave raw food out all day, or it WILL make your kitten sick.
Type of preservatives. Any type of non-raw pet food will need preservatives to keep it fresh for however long it takes your kitten to finish it. But if you're looking for organic kitten food, look for the kind that uses vitamin C or E; those are naturally occurring preservatives that don't add anything questionable.
Origin of food. It's easy to forget that the logistics of food is a major factor in how fresh it can be when it gets to your kitten's bowl. When looking for organic kitten food, look for brands that are manufactured near you, or at least within your country. That cuts down on both travel emissions and the need to pump up your kitty's food with preservatives.
Ingredients. We've saved the most important factor for last because we're betting you've already thought of it. But we have to remind you that ingredients are the number one thing you should look at when searching for organic kitten food. Nothing else is going to be as simple and straightforward as when telling you what is actually going into your baby's tummy.
What is Organic Pet Food?
The use of organic products has boomed in the past decade. Everything from food to clothing and beauty products now has an "organic" niche. But what does it mean for food to be organic?
"Organic food" means that the crops were grown without the use of artificial fertilizers and pesticides, while the meat is sourced from animals that live freely and grow on organic feed. There are no lab-produced chemicals, genetic engineering, or antibiotics in organic food. For human-grade food to be labeled as organic, it must've passed specific guidelines regulated by the USDA.
How about organic food for cats? Oh my, it is a mess!
First, there is often confusion in pet owners between what is "organic," "holistic," and "natural" pet food. The last one means that the food contains only natural (not artificially produced) ingredients. Holistic means that the food provides complete and balanced nutrition, though this term is not regulated.
"Organic" is where the mess begins. When it comes to human food, the USDA is the authority that says what is organic and which products can carry this label. But the organization is yet to implement guidelines for pet food. Thus, the Association of American Feed Control Officials (AAFCO) has adopted the USDA's regulations for its human-grade organic food. However, the AAFCO only provides guidance; it does not have regulatory functions. It's the FDA that regulates pet food.
The bottom line is that it is unclear who says what "organic" pet food is or enforces such a regulation. The AAFCO says that pet food manufacturers must follow the USDA's regulations for human-grade organic food when labeling their food as organic.
If you feel like getting a headache, check out this resource that explains more fully how the USDA, the FDA, and the AAFCO relate to pet food.
Best Organic Kitten Food
Newman's Own wet formula comes in seven different flavors. On average, they contain 10% proteins, 5% fats, and 4% carbs. Converted on a dry matter basis (DMB) and accounting for ash content, this comes to 50% proteins, 25% fats, and 20% carbs.
In terms of calories, the formulas come at around 190 cal/5.5 oz. can. Thus, a kitten would need around 2-2 1/5 cans per day.
Ingredients
This cat food comes with a very limited ingredient list which we consider a plus. As we've discussed before, there is no need for fancy ingredients that are not-nutritious to cats. The Newman's Own organic wet formulas contain organic meats and plants, while some of the flavors also contain eggs. Eggs are easily digestible and a viable source of protein.
However, what concerns us is the presence of guar gum and carrageenan. Both ingredients are natural thickeners, but there is a continuous debate regarding their safety. Overall, our impression of Newman's Own's organic formula is mixed – we wouldn't feed it to a kitten because of the thickening agents, which might cause an upset stomach in such a young organism.
Tender and True's wet organic formula comes in two flavors – chicken & liver and turkey & liver. On average, they contain 9% proteins, 6% fats, and 5% carbs. On a DMB, this converts to 45% proteins, 30% fats, and 25% carbs.
The two flavors come at around 178 cal/5.5 oz. can. So, you'd need at least two cans/day for a kitten. Beware that the manufacturer suggests up to 5, which comes to 900 calories – it's way too much for a kitten.
Ingredients
This brand caught our attention because from all organic formulas that we checked, this one was one of the two to follow USDA's voluntary guidelines for organic meat. The two flavors contain USDA-certified poultry as a first ingredient. Another plus for these formulas is their limited ingredient list.
However, the diets also contain agar-agar, which we do not consider to have a place in an organic formula. While this ingredient does come from a plant, like a guar gum, its use is controversial and might cause digestive disturbance.

Evanger's wet organic line comes in two flavors – Braised Chicken Dinner and Turkey & Butternut Squash Dinner.
They come in 10% proteins, 5% fats, and 4% carbs. Converted to DMB: 53% protein, 26% fats, and 21% carbs.
A can of this formula contains around 256 cal, so two of these a day should do fine for a kitten.
Ingredients
These formulas come with a concise organic ingredients list – organic chicken, broth, liver and butternut squash. This is a plus, as too many ingredients can mess up your kitten's sensitive digestive system.
However, the label doesn't indicate how much calcium there is in the formula. Also, this diet, too, contains guar gum. Overall this formula is fine – it is rich in protein and doesn't use marketing gimmick "superfoods." However, the added guar gum makes us wary of approving it for kitten use.
Is your cat a picky eater and you're on a budget? This is a great organic cat food option to look into if you're looking for an organic wet food option that's affordable. In addition, if your cat has kidney disease, urinary disease, overweight, or struggling with diabetes, this may be another option you want to consider.
There are two different recipes you can choose from the wet cat food option. One option contains organic chicken and sweet potato pate. The other option contains organic chicken and carrot pate. However, it's important for you to know that both of these options contain organic free-range chicken as the first ingredient in the recipe.
In addition, all of the chicken included in these recipes are raised in the USA without the use of any growth hormones, preservatives, artificial colors, artificial flavors, or antibiotics. You'll also discover there aren't any poultry byproducts in here, which means the quality of this wet cat food is ultra-high quality!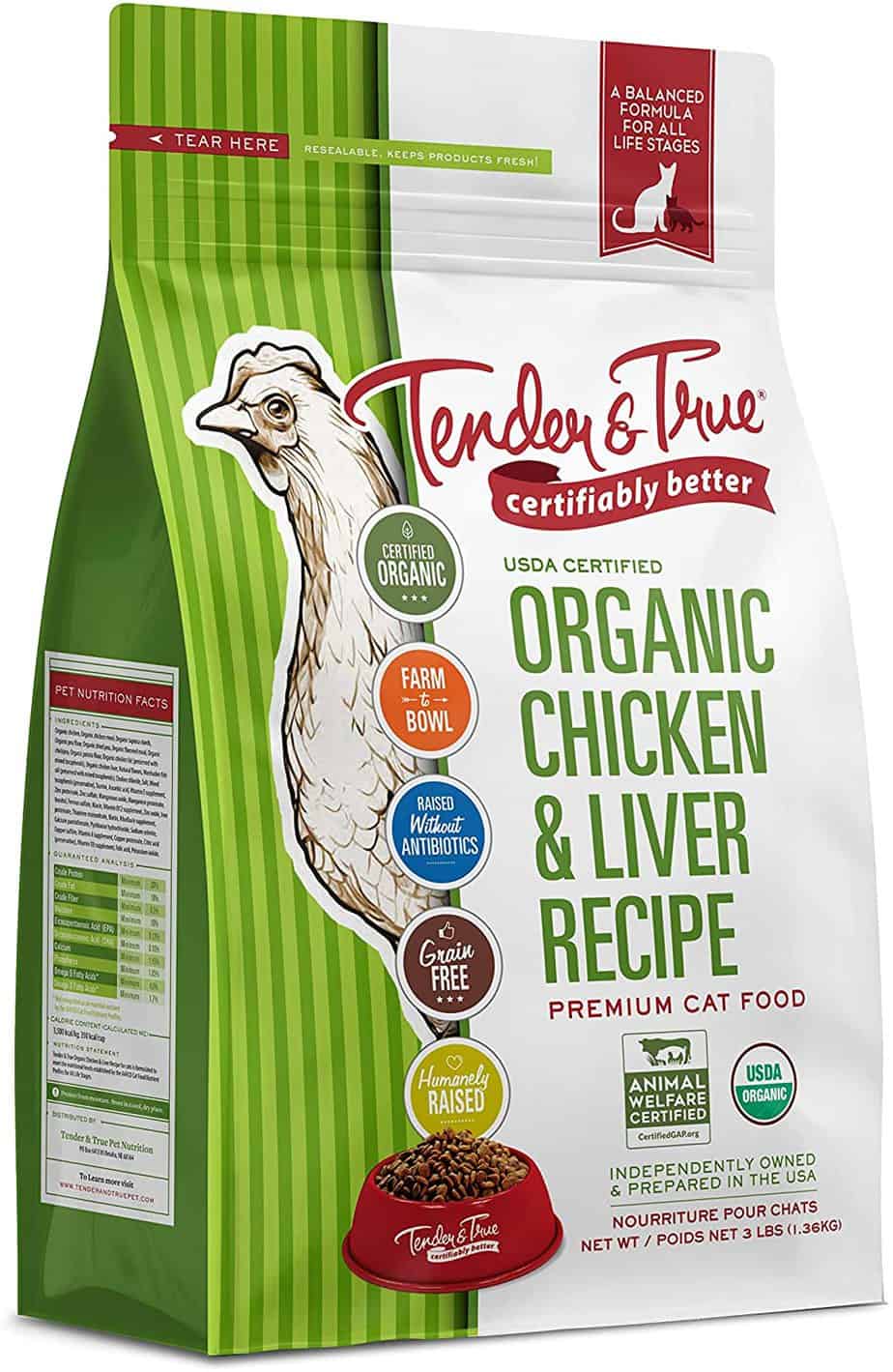 If your cat isn't a huge fan of wet food, your only other option is to feed them dry food. Plus, buying dry food is a lot cleaner, more affordable, and easier to feed your cat. However, it's important that you're aware of the caloric content that the dry food that you're feeding your cat has to offer.
This brand of cat food contains grain-free chicken, grain-free turkey, and 95% USDA Certified products. You'll also find there's chicken liver added into the recipes. All of the animals used in this cat food are raised on farms certified by the Global Animal Partnership. This basically means all of the animals on the farms are raised humanely.
To buy or Not to Buy?
Now, the big question – should you shell out for organic kitten food, or a "regular" one will do?
Pros
The big one – organic food does not contain GMO, chemical and artificial substances many of which are known to cause allergies and/or cancer.
As the ingredients are grown naturally, they require more care and thus are of higher quality without being force-fed or force-riped.
Most of the organic cat food formulas have limited ingredient lists. Cats don't need fancy non-nutritious food.
Some of the organic cat food formulas are USDA-approved. The USDA has stricter regulations than the FDA, though it's guidelines regarding pet food are on a voluntary basis.
Organic food is richer in nutrients.
Organic food can be easily traced back to the source, should a complaint need to be made.
Animals are grown in inhumane conditions and fed organic feed.
Many organic products are grown in small local farms. Buying organic food means that some of the revenue will go to support these SMEs.
Cons
The big one – it's not clear who regulates organic pet food or what exactly makes such a product organic.
There is no definitive conclusion that organic food is superior to "regular" one, though the GMO lobby is likely influencing the research.
Organic food is more expensive than non-organic.
There is almost no variety when it comes to ingredients and nutrients. This is especially so with organic food formulated especially for kittens.
Control over organic pet food is not as strict as over food intended for human consumption.
Even the USDA's influence over organic pet food is limited. The Department can regulate the meat sourced for production of pet food, but once the meat leaves the factory, the USDA has little control over the final product.
Labeling can be hard to decipher. Pet owners often don't know the difference between "organic," "contains organic," "holistic," and "natural."
Most of the formulas that we reviewed contained some form of a thickening agent which can be hard on a cat's stomach.
The Verdict
As you've probably noticed, only two out of all formulas were indicated to be specially formulated for kittens, though we didn't notice any significant differences from the all life stage formulas.
Also, none of the formulas stood out as something that is a "must-have" for a kitten owner. There are plenty of formulas on the market that have limited ingredients and provide a nutritious and balanced diet for a kitten.
Overall, our take is that organic kitten food is not something that's worth going out of the way for. Of course, having a USDA-approved label does speak quality, but at the same time, there is so much confusion around who controls what in pet food that we feel like we still need to wait out before we give a definitive "yes" to organic kitten food. In the meantime, the reviewed formulas seem to be adequate, with the warning that the gum agents might not agree with your kitten.
You might also like: