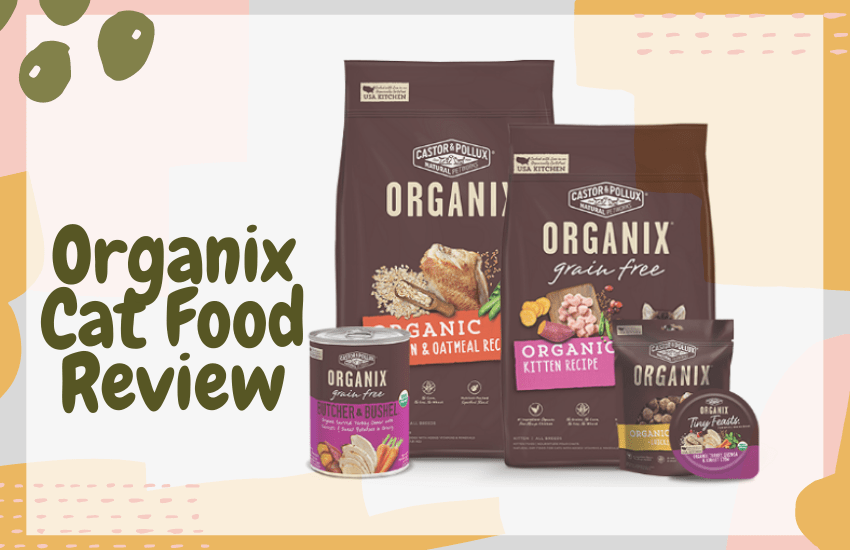 Even if you've never heard of Organix Cat Food, chances are you're aware of the trend towards more natural pet food options. In fact, of the popular trends sweeping the pet food market, both premium pet food and organic and natural food make the top five.
Organic food, of course, and its popularity is not new: organic food was first recognized in the 1940s, and has since become a staple in food markets. But with the trend now hitting cat food too, pet owners like myself wonder: is it worth it?
In this review, I'll discuss the pros and cons of organic cat food, what to look for, and review Organix in terms of ingredients, nutrition, and overall quality. Here's everything you need to know about Organix and whether or not I recommend this organic cat food–to help you find the best cat food possible.
Our Honest Opinion About Organix
If you have a cat with normal needs like most, Organix is definitely a good way to go. Organix is trustworthy and one of the best brands on the market today. Their foods are nutritionally balanced, packed with high protein and essential vitamins, and offer great value for what you've paid.
Check Price
We earn a commission if you click this link and make a purchase at no additional cost to you.
12/05/2023 07:47 am GMT
What is Organic and Natural Cat Food?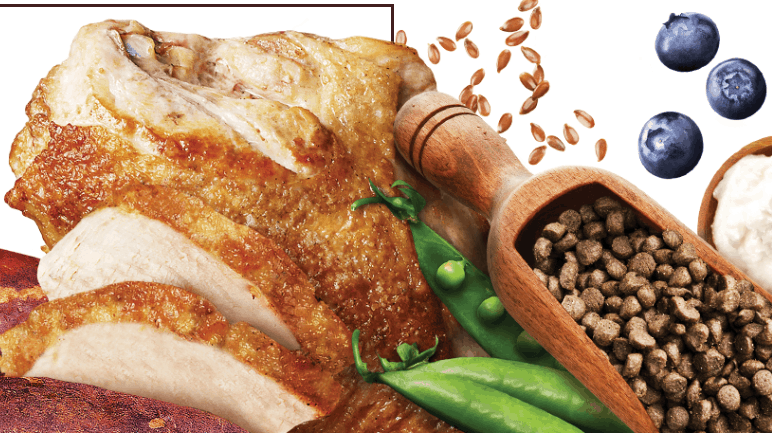 While lumped together, something that is natural is not guaranteed to be organic, though organic food is always natural.
Natural Cat Food
While the term natural in regular food can have a nebulous meaning, in pet food it's typically associated with what I would call cleaner or non-synthetic ingredients. The Pet Food Committee of the Association of American Feed Control Officials (AAFCO) officially defined natural cat food based upon the following criteria:
Criteria
"Derived solely from plant, animal or mined sources…. but not having been produced by or subject to a chemically synthetic process and not containing any additives or processing aids." In other words, natural food should not have any dyes, preservatives, or additives.
The Problem
The problem is this criterion is not strictly enforced. For one, there is some disagreement about what is natural and what is permissible. For another, some cat food is labeled as natural when it contains natural ingredients–omitting the fact that the entire formula isn't natural.
My Solution
For this reason, whenever I see "natural," I am careful to check the ingredients rather than relying on marketing. Just saying cat food has natural ingredients is meaningless because all cat food has at least some natural ingredients.
Organic Cat Food
Compared with natural, the term organic for cat food is a bit more specific. Remember, cat food can be labeled as natural and not be organic, but if cat food is organic, it will also be natural. But let's take a look at exactly what organic means.
The Criteria
Organic cat food, as defined by the USDA, is a cat food that contains no pesticides, hormones, or antibodies. It's important to note, then, that while natural pet food is free of dyes and preservatives, it may, for instance still contain protein from meat raised with hormones, or products produced with pesticides. In this way, organic has an even higher standard.
The Problem
The problem with organic cat food is similar to cat food labeled as natural–labels can be deeply misleading. Simply placing "organic" or especially "organic ingredients" doesn't mean the cat food will live up to those specific standards. Saying cat food has organic ingredients merely means some are organic, but that everything is.
My Solution
As is the case with natural cat food, you need to be careful and not take the label for its words. However, the solution is actually easier: if you truly want organic cat food, look for the certified organic USDA label. That ensures it's been tested and fully lives up to organic standards.
Is Organic Food Necessary for My Cat?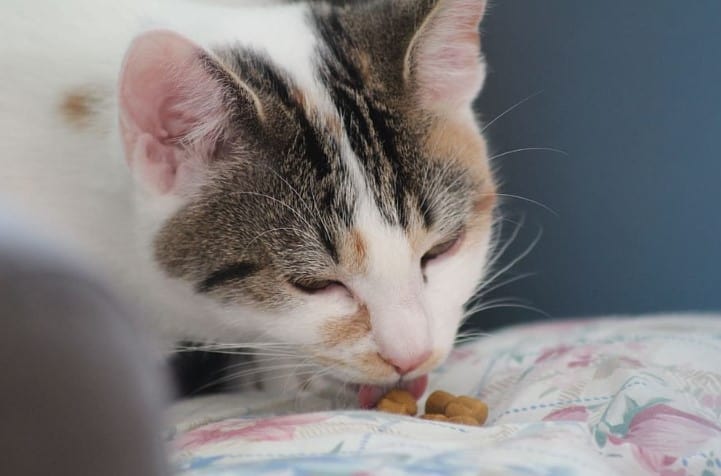 I want the best for my pet, and chances are you do too. But is cat food like Organix that positions itself as organic even necessary?
Preservatives Have Been Linked to Vitamin Deficiencies
Preservatives have been shown to be linked to vitamin deficiencies in both cats and dogs, especially thiamine deficiencies. A thiamin deficiency can cause neurological defects, serious enough that in Australia, pet food containing sulfur dioxide and potassium sulfates must contain a certain amount of thiamine to offset these effects.
In the United States, pet food is tested by the FDA to be considered "pet safe" for the dosage, but with less specific requirements, it's hard to say the impact of preservatives over time, if fed consistently and without proper thiamine in their diet.
The Science on Hormones in Meat is Mixed
It's a little less clear about whether or not hormones in meat are harmful to your cat. Not enough research has been done for cats; even for humans, it's ambiguous. Synthetic hormones do have to first be approved by the FDA, which determines a "safe level of exposure" based upon testing and based upon MRL, or Maximum Residue Level.
What is less clear is the long term effects of these hormones. In humans, some studies have shown that hormones in dairy may be linked to increased risks of certain cancers–but again, this needs further research and how hormones in meat and dairy may impact cats from the amount in cat food is unclear.
Organic and Natural Pet Food Have Been Subject to Many Recalls
Unfortunately, organic and natural pet food brands have shown up on recall lists. While any pet food can show up on a recall list, the number of instances for natural and organic brands has raised some concern.
This is especially true for premium dog food. Blue Buffalo, Nature's Variety, and Wellness Pets, which also make cat food and market natural and/or organic food, have been in the top ten of most frequent recalls.
Salmonella, foreign contamination, and mold have been issues; so too has been excessive amounts of Vitamin D. Within the past two years, Natural Balance and Vital Essentials have had recalls for natural and/ or organic cat food.
My Take
Just a note: I want to emphasize that all pet food can have recalls, and is also true of both conventional and limited ingredient cat food. The lesson here is that just because something is labeled as organic or natural doesn't mean it's 100 percent safe all the time.
Grain-Free Organic/ Natural Cat Food May Not Be Needed
For some cats, grain-free cat food can offer relief from allergies. But for those who are not allergic to grains–as is the case with most–keep in mind that grain-free food is not inherently low in carbohydrates. These foods also tend to contain some ingredients that, while more expensive, don't always offer clear health benefits
Organic and Natural Cat Food is More Expensive
I don't need to explain much here; without a doubt, organic and natural cat food tends to cost more than conventional cat food. Ultimately, it's a personal decision whether or not to buy organic or natural cat food.
My recommendation is, if your budget allows it and if your cat doesn't have a health condition requiring a specific formula, to go ahead and look for organic cat food.
Organix Cat Food: Is It Worth the Price?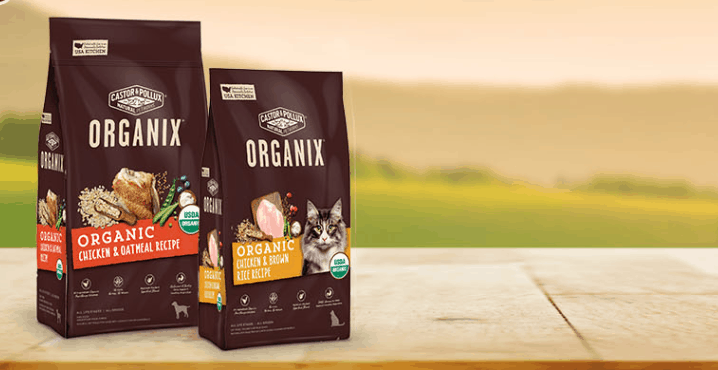 Let's take a look at Organix, and I'll tell you whether or not I recommend this brand for organic, natural cat food.
What is Organix?
One reason you may not have heard of Organix is because the cat food is under the parent brand name, Castor and Pollux. Castor and Pollux make organic cat food for both cats and dogs with two main lines: Pristine and Organix.
Castor and Pollux have been producing pet food for just under two decades with a focus on 'natural, organic ingredients' and providing 'healthy, safe innovative choices,' according to their site.
My Takeaway
I like that the company has been selling cat and dog food for two decades; I also appreciate the general focus, but it requires more investigation to see if the company's vision aligns with higher standards for its products.
What's the Difference Between Organix and Pristine?
Since Castor and Pollux sell both Organix and Pristine, you may be wondering what's the difference between the two lines.
Pristine
The Pristine line, available for both cats and dogs, is focused on responsibly sourced, or sustainable ingredients. I love that meat and poultry are hormone and antibiotic-free, while fish is wild-caught. The line is also free of preservatives, dyes, pesticides, and artificial flavors and colors. In addition, the Pristine line offers grain-free pet food.
Organix
Organix, as the name suggests, is focused on providing cat food with organic ingredients. While it's been sold since 2003, in 2017 the company implemented more rigorous standards–which I will discuss in the next section. It's GMO-free, and the formula also is free of soy, corn, and wheat.
My Takeaway
Both Organix and Pristine offer, on face value, cat food held up to higher standards than what is typical of cat food. While Pristine is packaged as complete natural pet food, my takeaway is that the biggest difference is the organic distinction.
What Varieties of Cat Food Does Organix Offer?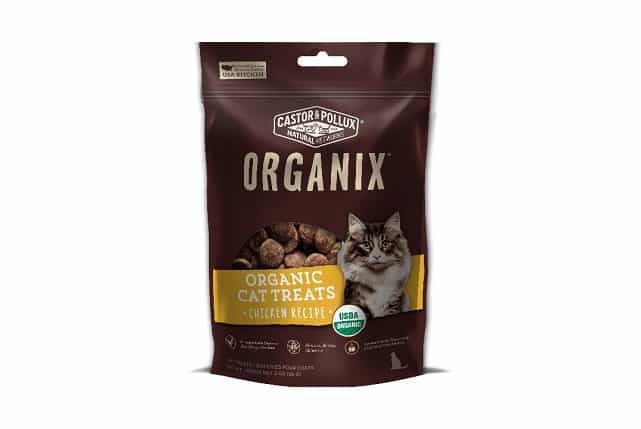 Organix carries twelve options of cat food, including both wet and dry food.
Dry Cat Food
You can select from three different dry cat food options, two of which are grain-free: chicken and sweet potato for adult cats; and kitten formula. The third option adds brown rice with chicken.
Wet/ Canned Cat Food
There are eight options for wet and canned cat food, including six grain-free options; two with brown rice; and options for both kittens and adult cats. Turkey, shredded chicken, and chicken and liver are the main protein sources.
Cat Treats
Finally, Organix also carries cat treats, available in chicken flavor. These are free of common allergens, like corn, soy, and wheat, but do include peas and brown rice. Bite size, single calorie treats are meant as a fun addition to your cat's diet. See our take on the best Treats for your Cat.
My Takeaway
Organix certainly doesn't have an extensive line of cat food–but I didn't exactly expect it to. I do appreciate the options for wet and dry cat food, formulas for kittens, and both grain-free and brown rice formulas.
I hope in the future that they'll add some fish protein sources, not only for variety and taste preferences but also for the healthy natural fats. I'd also love to see a formula for senior cats, or for weight management, but there's nothing overly negative about what's on offer.
Follow our guide for the best organic kitten food.
Is Organix Really Organic?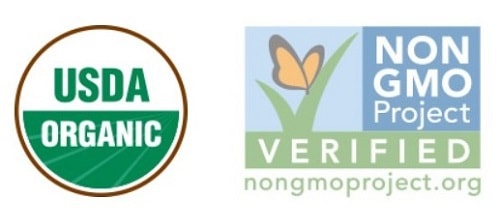 Organix doesn't just market as organic cat food, but is USDA certified. The organic certification ensures that all ingredients meet regulation standards to be free of pesticides, hormones and synthetics.
Not only is Organix certified organic, but they even provide a link explaining what standards ingredients are held up to. In addition, Organix is also certified non-GMO. There is no substantial evidence that genetically modified food is harmful to cats, though, so take with that what you will.
My Takeaway
Organix truly lives up to its name. I love not only that it's certified, but that the brand goes a step beyond, explaining ingredients and what standards they are being held to.
Reading Between the Lines: Ingredients List and Nutrition
While I was impressed by the organic certification, examining ingredients ensures that your cat is getting the nutrition he or she needs–just because cat food is organic or natural, it doesn't guarantee that it's providing adequate nutrition.
Top Products by Organic
1. Organix Grain Free Organic Chicken and Sweet Potato Recipe
Organix offers this grain-free chicken and sweet potato option for adult cats. The first ingredient is organic chicken, with peas and chickpeas. There's a balance of essential vitamins, including Thiamine, Calcium, and Zinc, as well as cranberries for urinary health.
The 32 crude protein and 14 percent fat are not considered high, but average to moderate protein, and reasonable fat. While I think this is a balanced formula for the average cat, what I don't love as much is the quiet addition of chicken meal and liver. There is nothing inherently wrong with chicken liver, but I prefer single, whole protein sources without a meal.
Our Honest Opinion About Organix
If you have a cat with normal needs like most, Organix is definitely a good way to go. Organix is trustworthy and one of the best brands on the market today. Their foods are nutritionally balanced, packed with high protein and essential vitamins, and offer great value for what you've paid.
Check Price
We earn a commission if you click this link and make a purchase at no additional cost to you.
12/05/2023 07:47 am GMT
2. Organix Grain-Free Organic Kitten Recipe
This organic kitten recipe is also grain-free, and, like the adult variety, adds a curious addition of flaxseed and sunflower oils, as well as tapioca. I suspect the tapioca is used as a natural thickening agent, while the addition of oil adds fats to make up for less natural protein fat.
In many ways, this formula is nearly identical to the cat version, with just a slight difference in the order of ingredients (both also add salmon oil for omega 3's and 6's). Even the protein to fat ratio is the same–which disappointed me, as kittens have higher protein and fats needs. While still adequate, I found this an odd decision.
3. ORGANIX® Organic Chicken & Brown Rice Recipe
There is not much I need to say about the brown rice version, as it follows the same ingredients, vitamins and minerals, and protein to fat ratio as the rest of Organix's dry cat food. The main difference is the addition of barley, brown rice, and oats, which are acceptable forms of carbohydrates for cats.
4. Organic Grain-Free Liver & Chicken Wet Food
I'm lumping together the chicken and liver; chicken; turkey; shredded chicken and kitten flavors, as they all more or less follow the same formula.
All provide omega 6 and 3 fatty acids, which are essential for skin and coat health, as well as fiber to reduce hairballs. In addition to the main protein source, these organic grain-free wet food options include dried egg products for added protein–the term dried egg product is a bit unclear.
You'll also find what Organix clams to be a 'superfood blend,' which includes cranberries, flaxseed, and coconut flour. At a crude protein at roughly 9 percent, it's slightly below average protein for canned food, though within reason. There's a nice balance of vitamins and minerals but some ingredients don't seem necessary.
5. Organix Organic Wet Food- (Organic Turkey & Spinach/ Organic Turkey, Brown Rice & Chicken)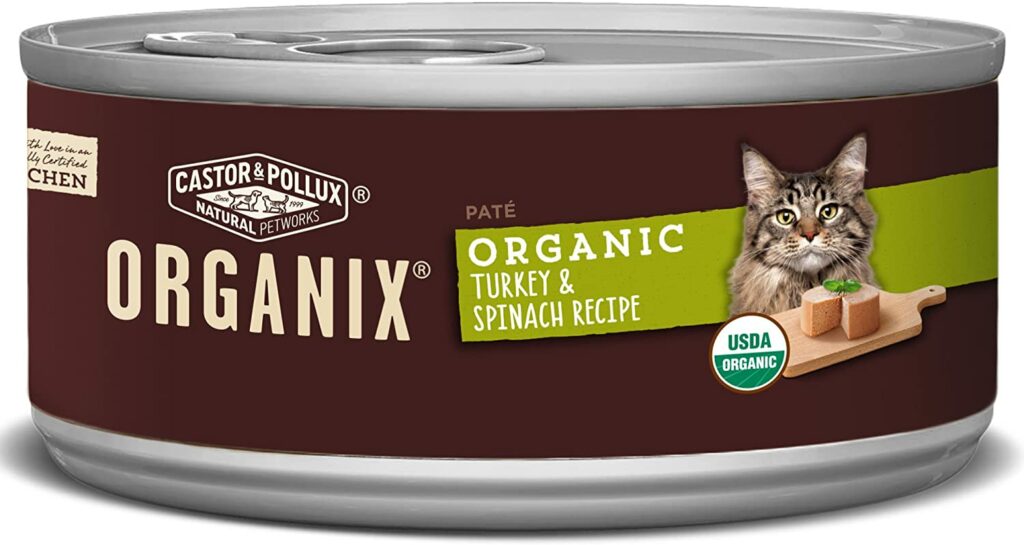 As is a pattern with Organix, I don't find anything exceptionally different from one wet cat food formula to another. The main difference is the addition of brown rice for both; otherwise, the ingredients and nutrients are quite similar. One thing to note is that the brown rice version dips a percent in protein analysis.
My Takeaway
Organix does offer some quality ingredients, and I love the holistic blend of vitamins and minerals, as well as essential nutrients like omega 3's and 6's; taurine; and thiamine.
Cranberries for urinary health and fiber for the canned food are also bonuses. I'm less fond of the low protein ratio, and I'm not convinced that some additions, like coconut flour, are needed.
FAQs
What is the best organic cat food?
The best organic cat food is not only USDA certified, but also provides ample protein (30 to 40 percent), healthy omega 3's and 6's; essential vitamins and minerals like thiamine, calcium, and taurine; and whole protein sources.
Who makes Organix pet food?
Organix pet food, which carries both cat and dog food, is made by Castor and Pollux. This line is USDA organic certified and also certified non-gmo.
What is the best natural cat food?
All-natural means that there are no synthetics, additives, fillers or dyes, so the best natural cat food follows these standards. Some examples of all-natural cat food include Organix, ZiwiPeak, and Blue Buffalo.
Final Decision
Organix has decently high standards for its ingredients, and I admire the transparency for non-gmo and certified organic ingredients. Neither high nor low protein, the dry cat food especially seems like a reasonable choice for most cats. I do also love healthy fats and cranberries for urinary health.
That said, I don't love that there are some (expensive) ingredients that don't add much value to your cat's diet. I also am less fond of the dry cat food adding meals in addition to whole meat. And if you're looking for formulas for seniors, weight control, or a kitten struggling to gain weight, I'd recommend another brand.
My Recommendation
If you have a cat with typical needs, Organix is trustworthy and better than many options. I recommend the ORGANIX Organic Chicken & Brown Rice Recipe most; it's the most nutritionally balanced, highest protein, and seems to be the best overall value. Buy Here.
Our Honest Opinion About Organix
If you have a cat with normal needs like most, Organix is definitely a good way to go. Organix is trustworthy and one of the best brands on the market today. Their foods are nutritionally balanced, packed with high protein and essential vitamins, and offer great value for what you've paid.
Check Price
We earn a commission if you click this link and make a purchase at no additional cost to you.
12/05/2023 07:47 am GMT
Smart Alternative
Tender & True is great organic cat food, especially if you're looking for a fish formula. I recommend their Salmon and Sweet Potato Recipe. Buy here.
Continue reading: