Our Recommendation
Hairballs are a problem for some cats. If your pet has long hair, dislikes being brushed or combed, or just tends to over-groom then they may suffer from hairballs. They can be distressing for pet and owner alike. The cat has to regurgitate the furball, which causes them to convulse and then vomit the ball out. For the owner, finding what can look like poo on the living room carpet is never a great option.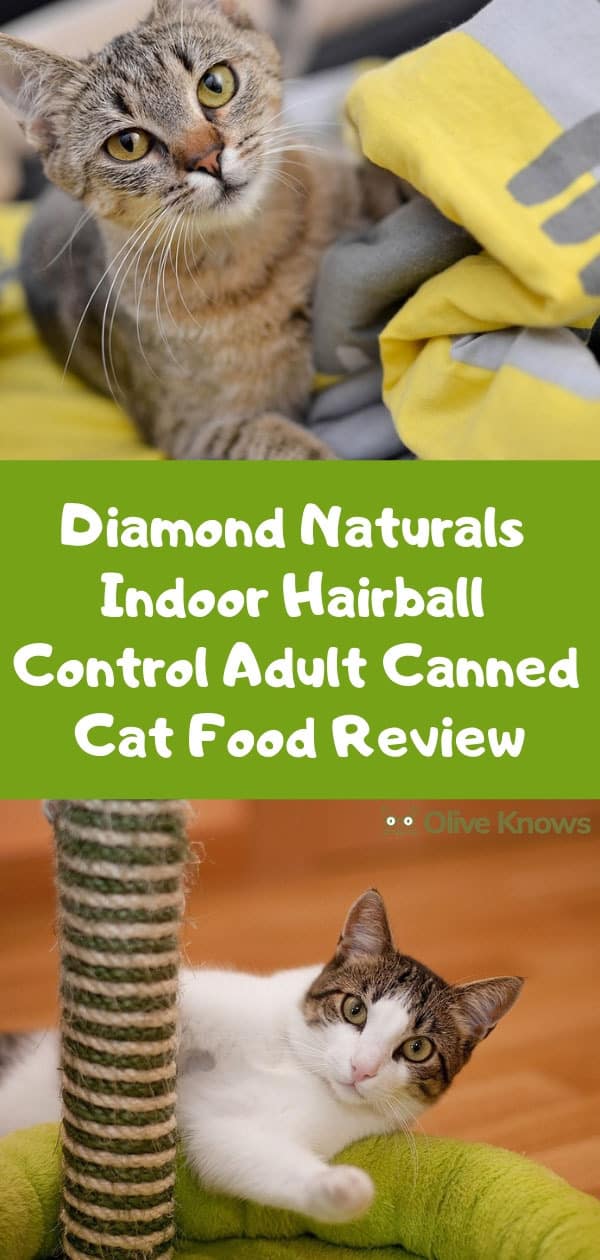 One way to help a cat who has a hairball problem is to add more insoluble fiber to their diet. Insoluble fiber is basically indigestible, so it will remain bulky all the way through your cats gut. That means it will help gather up any hair that your cat might have swallowed and helped it be eliminated naturally and without stress.
Diamond Naturals Indoor Hairball Control Adult Canned Cat Food is a wet food which contains this insoluble fiber. It's been specially designed for indoor cats, meeting their nutritional needs as well as helping eliminate unwanted hair.
The first ingredient of this food is chicken broth, followed by chicken. This means that the moist pate will help keep your pet hydrated as well as fed. It's suitable for use as a wet food on its own, or as a kibble topper.
Diamond Naturals Indoor Hairball Control food has a protein level of 10%, which is a reasonable percentage for wet food which is mostly made up of water. Where this food really does well is that it is a low carbohydrate option, it has not been packed with wheat or corn to make up the bulk. There is some rice included in the recipe, however.
It also includes a host of vitamins and minerals, including the all-important taurine that your cat needs. Made in the USA, the fiber comes from natural sources like pumpkin, cranberry, and blueberries.
This is a good, quality canned food and we would recommend it for your pet if hairballs are causing a problem.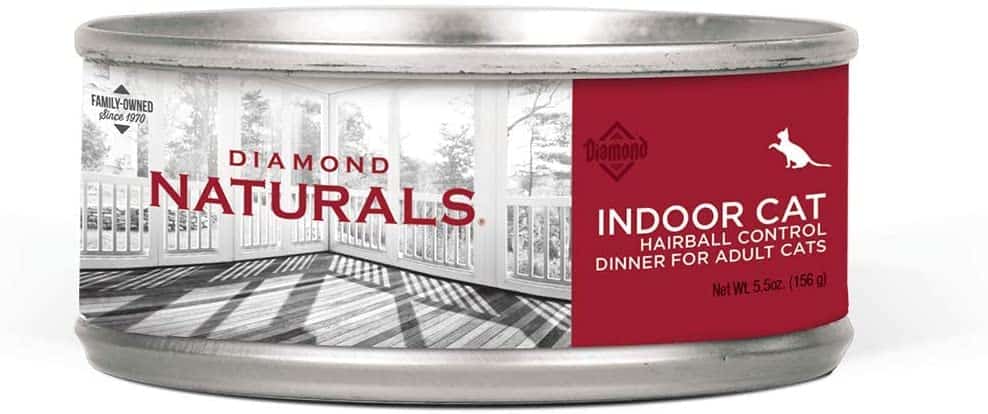 Ingredients
Chicken Broth, Chicken, Chicken Liver, Fish, Brewers Rice, Powdered Cellulose, Egg Product, Dried Beet Pulp, Guar Gum, Potassium Chloride, Brewers Dried Yeast, Choline Chloride, Salt, Taurine, Carrageenan, Thiamine Mononitrate, Ferrous Sulfate, Vitamin E Supplement, Zinc Oxide, Copper Proteinate, Potassium Iodide, Niacin Supplement, Manganese Sulfate, D-Calcium Pantothenate, Pyridoxine Hydrochloride, Riboflavin Supplement, Vitamin A Supplement, Biotin, Sodium Selenite, Vitamin D3 Supplement, Vitamin B12 Supplement, Folic Acid.
Nutritional Analysis
Pet food ingredients, nutritional values, and the way they are labeled for consumers are monitored by several organizations in the United States including the Food and Drug Administration (FDA) and the NGO, Association of American Feed Control Officials (AAFCO).
CRUDE PROTEIN 10.0% min
CRUDE FAT 6.0% min
CRUDE FIBER 2.0% max
MOISTURE 78.0% max
ASH 2.2% max
MAGNESIUM 0.025% max
TAURINE 0.05% min
OMEGA-6 FATTY ACIDS 0.75% min
OMEGA-3 FATTY ACIDS 0.10% min
Feeding Amounts
Making sudden changes in your pet's food can cause stomach upsets. To prevent this, slowly transition your pet from one food to another by mixing Diamond Naturals into their current food. Slowly increase the percentage of Diamond Naturals over the course of about two weeks for an easy transition.
| Weight (lbs) | 5 | 10 | 15 |
| --- | --- | --- | --- |
| Feeding Amount (Cups) | 1 | 2 | 2 3/4 |
Read More:
The Bottom Line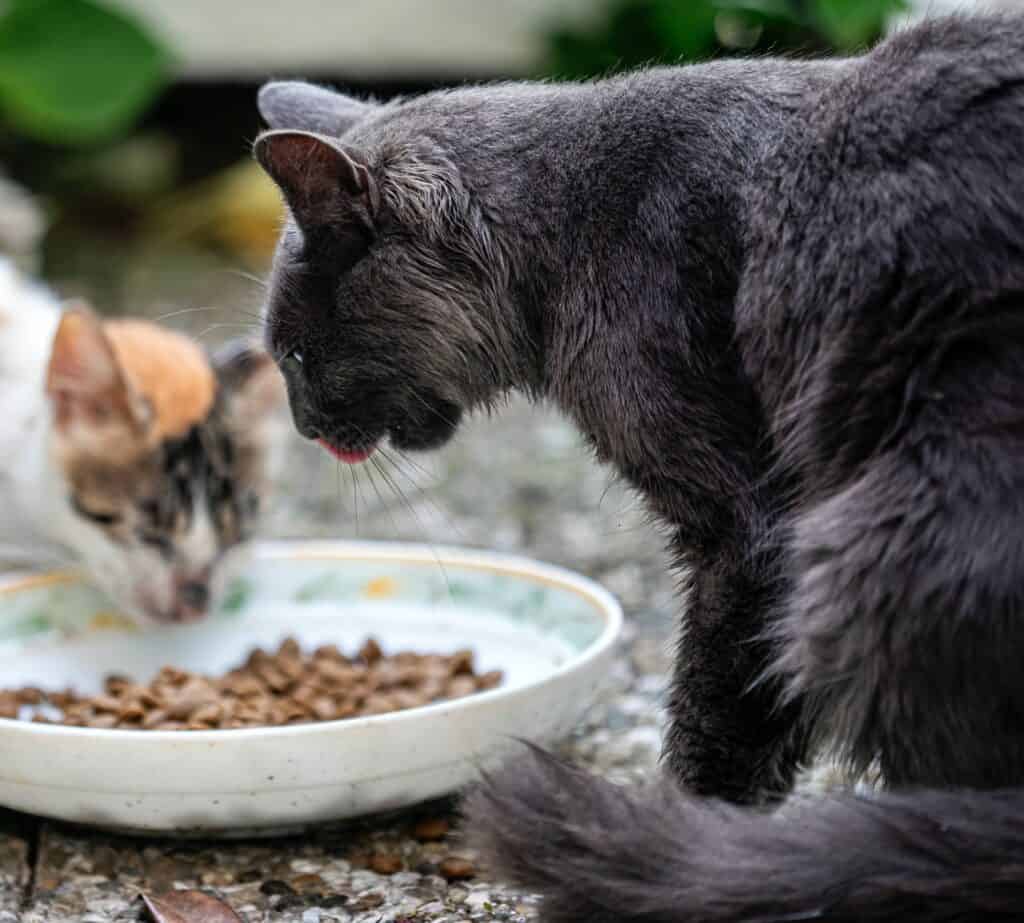 Diamond Naturals Indoor Hairball Control Adult Canned Cat food is a quality product which contains a good balance of nutrients for your pet. The addition of plant-based fiber, minerals, and vitamins make this a well-balanced product.
Made from chicken, it's primary ingredient is chicken broth which allows your cat to get the valuable moisture it needs. There are brands on the market with a higher protein content, however, Diamond Naturals do not use wheat or corn fillers to bulk up their product.
This product has been specifically made for cats who live indoors, and have issues with hairballs. Although regular grooming is essential to help prevent hairballs if your cat is still experiencing this problem, then choosing food with added fiber will help control it.
It can be fed as a wet food on its own, or used as a kibble topper if you prefer to feed your pets a primarily dry food diet. If that is the case, then choose a hairball control dried food recipe to complement this product.
We are happy to recommend Diamond Naturals, as a premium canned food which is made in the USA.