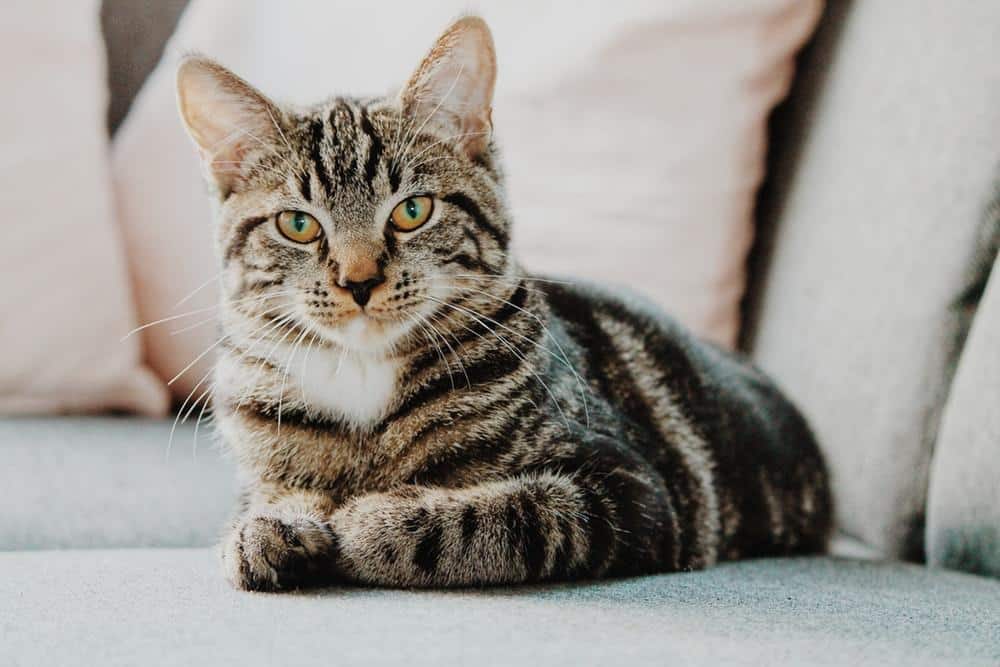 Picking out treats, toys, and different food options for your feline friend on a monthly basis can be quite challenging. There are so many unique cat-related food and toy products out on the market that it makes it hard for pet owners to decide on which products are best for their cat.
Luckily for pet owners who understand this problem, there are several great companies out there who also recognize the need for a convenient way that pet owners can spoil their little feline friends without it being too much of a headache. These companies are known as monthly cat box subscription services, and there is more than one subscription service available. The main goal of these monthly cat box subscription services is to provide pet owners with a convenient way to surprise and pamper their cats with new toys and treats each month at a discounted rate.
There is an array of various subscription-based monthly cat box services that allow pet owners to fully customize the experience that their feline receives. Most monthly cat box subscription services offer a variety of random toys, treats, and food options that surprise their cat every month when they arrive.
By constantly introducing a new toy item or food product to your cat each month, you allow them to stay motivated and live a positive lifestyle. Cats get tired of the same toys and food fairly quickly, which is what makes these monthly cat box subscription services so popular with feline owners. Many of the monthly cat box subscription services that are available allow you to customize the experience that your cat receives each month based on their age, weight, and activity levels.
This allows you to add even more personalized touches to your cat's monthly subscription box. A monthly cat subscription box can also be very beneficial to cat owners who own pets that have very sensitive dietary needs or other medical conditions.
A lot of premium monthly cat box subscription services give you the ability to choose which types of snacks and treats you want your cat to receive. For example, if your cat has a very sensitive digestive system you want to only add fish-based treats to their monthly subscription box.
On the other hand, if your cat is very open-minded and loves to try all sorts of new treats and food options, you can choose to include random treats each month which will surprise their taste buds and senses. Monthly cat subscription boxes really allow you to add personalized flare into your cat's everyday life, not many cat owners can afford to constantly purchase new toys or treat which is what makes these affordable monthly cat box subscription services so popular.
Most monthly cab box subscription services even allow you to modify the time interval at which each box is delivered. You can have it delivered once every month or once every two weeks for those cat owners who want to give their feline an array of toys and neat items to keep them busy and active. While there are plenty of monthly cat box subscription services out there, there are two main companies that dominate the market as a whole.
Brief Through
The two most popular monthly cat box subscription services available are KitNipBox & Meowbox. Both KitNipBox and Meowbox offer a wide array of monthly cat box subscription items such as essential hygiene tools, accessories, and surprises so that your cat has plenty of fun and innovative treats to keep them happy. Both of these monthly cat box subscription services give you as a pet owner detailed control over how treats get to your cat, what treats are allowed, and a lot more.
In this guide, we're going to give you a detailed comparison between the various features and items that come included with both KitNipBox monthly can box subscriptions and Meowbox monthly cat box subscriptions. We'll break down every aspect of both of these monthly cat box subscription services so that you can make the right decision on which subscription service is best for your cat.
Each of these monthly cat box subscription services offers their own individually curated cat boxes that come with their own unique perks. We'll also discuss pricing, availability, and health concerns so that you can be confident in the monthly cat box subscription service that you choose.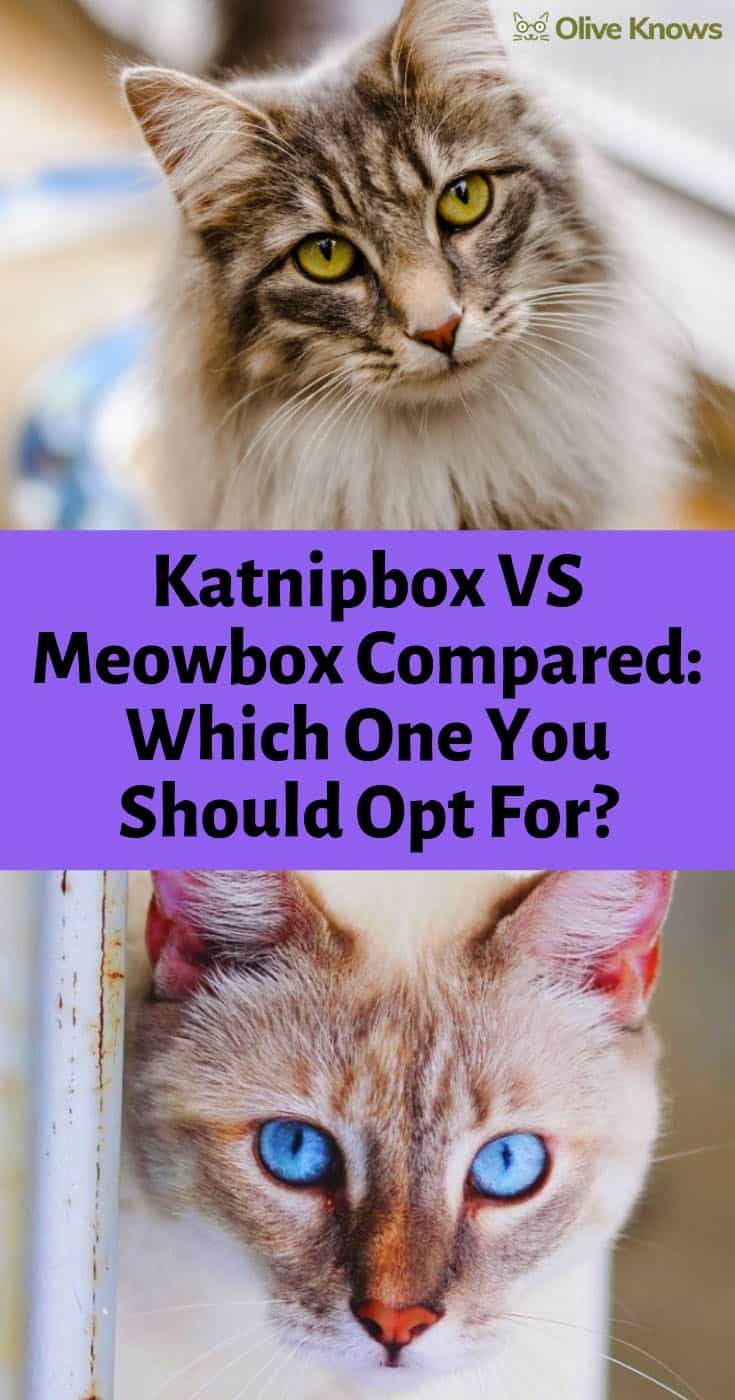 The winner of this comparison is Meowbox largely due to their intuitive order process, and a wide variety of specialist treats to choose from. Meowbox offers a variety of unique gadgets and accessories to help your cat stay healthy and happy. Meowbox sources high-quality items that provide emotional and physical support for cats of all ages and sizes. Meowbox puts an emphasis on stimulating your cat with visual and dietary interactions that allow them to live a complete and healthy life.
Below, we're going to go into detail about the main differences between KitNipBox and Meowbox so that you can provide your cat with an optimal stimulus, activity, and nutrition support effortlessly and on a monthly basis.
About the Company: KitNipBox

KitNipBox is a subscription-based service for cats that makes it easy for pet owners of all types to give their felines access to the latest and greatest toys. KitNipBox was founded on the premise that cat owners spend tons of money each month on new toys and other items for their pets. Many cat owners are familiar with how expensive and costly consistently buying new cat treats, toys, and gadgets can be. KitNipBox is designed to take the hassle of out finding individual toys, treats, accessories, and gadgets for your cat so that they can enjoy a long and productive lifestyle. KitNipBox offers an array of monthly cat box options for you to choose from so that you never run out of options to surprise your cat with.
KitNipBox takes pride in their thorough application process, which requires that all suppliers be screen prior to making their products available. This allows KitNipBox to deliver high-quality custom cat goods and treats that are made using non-harmful materials and substances. KitNipBox only ships products from reputable manufacturers who have established quality reputations with a lot of trusted customers.
KitNipBox items do not contain any potentially harmful chemicals or additives (for food products) so you don't have to worry about your cat having an adverse reaction. KitNipBox is a premium subscription-based monthly cat box service that provides you with plenty of options to choose from.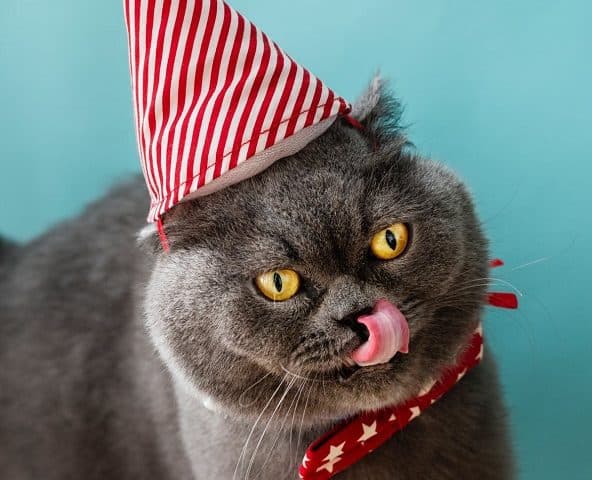 How Does KitNipBox Work?
Now that you're a little more familiar with KitNipBox, you're probably wondering about how the service exactly works. KitNipBox is very easy to sign up for and begin using the service, you simply visit the website and click on the subscribe button, once you've clicked the subscribe button, you will be redirected to a payment screen.
Once on the payment screen, you will be given to subscription plans to choose from. KitNipBox subscription plans consist of the following:
KitNipBox Subscription Plans
Monthly Single-Cat Box for $19.99/ comes with 5 specially selected items
Monthly Multi-cat KitNipBox Box $29.99/ comes with 7 specially selected items
Both of these subscription options give you the ability to choose in-depth products that are personally catered to the needs of your feline. Once you finish the sign-up process, your billing information will be processed and your first KitNipBox will be prepared for shipping immediately. It typically takes about 2 business days in order for you to receive your tracking information so just be patient. If you don't receive your newly ordered KitNipBox shipping number within two business days, contact KitNipBox customer support to receive further assistance.
When you KitNipBox ships, you will be notified via email about all of the various shipping details. Standard shipping times takes about 3-8 business days before your KitNipBox will arrive at your doorstep. KitNipBox monthly cat box subscription service allows you to edit and cancel your subscription anytime you'd like by simply visiting the website. If you want to avoid being charged for a box that you don't want, make sure that you cancel your KitNipBox subscription at minimum one week before the shipping date of your next box.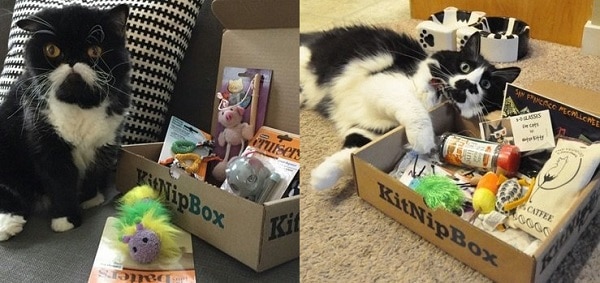 KitNipBox is able to achieve such great product selections due to their team's ability to sift through thousands of products. The KitNipBox is only filled with high-quality treats, toys, accessories, and more that come from U.S. or Europe based suppliers strictly. This allows KitNipBox to maintain a consistent level of quality throughout all of the items included in their monthly boxes. KitNipBox also offers and participates in a wide range of charity events and organizations.
When it comes to the cycle at which your payment method is charged, you will typically receive a charge 1-7 days before your next box ships. Standard subscribers will receive their monthly KitNipBox every 1st and 15th of the month which makes it easy for you to keep track of your KitNipBox and when the next one arrives. KitNipBox is a really great way to provide your pet with new toys and treats every month without too much work required.
Let's take a deeper look into some of the items that you'll find inside of a KitNipBox when you sign up for the service.
What Items and Treats Come in a KitNipBox?
KitNipBox monthly subscription service comes with an array of really cool toys, gadgets, and food product designed to help your cat stay active and happy. KitNipBox offers an option to selected no food or consumable products when you sign up for the service to avoid triggering your cat's allergies or worse. KitNipBox offers two main varieties of their monthly cat boxes, the first one is known as the Happy Cat Box and the second is known as the Multi-cat Box.
The Happy Cat Box was designed to treat only one cat per month with an array of high-quality accessories, food, health and hygiene products, and much more. The Multi-Cat Box offered by KitNipBox is made to provide multiple cats with unique new gadgets and surprises so that your cat is always entertained and occupied.
By providing your cat with a fresh monthly supply of new toys and gadgets to play with, you can help them manage behavior like tearing your couches or causing damage to other areas of your home. Monthly cat box subscription services like KitNipBox allow you to easily and conveniently pamper your cat with high-quality toys and accessories, in addition, all organic and grain-free food items.
KitNipBox only offers food-based products and treats to U.S. residents for quality control purposes. KitNipBox uses a very intricate process to filter and select which products make it into the final boxes that are shipped out. KitNipBox claims that they offer less than 1% of the total items that are submitted to them for consideration.
Examples of products you'll find inside a KitNipBox includes:
Refillable catnip heart toy
Caterpillar kicker
Zuke's G-Zees Tender Grain-Free Treats
Handmade catnip bell
Festive Fun-filled Felt Toy
Play-N-Squeak Mouse
Twinkle Tweet
And more!
These are just some examples of items that you'll find inside of a KitNipBox, the items your cat receives will differ greatly from month to month. If you receive a box that contains an item that you don't want to receive any more, simply visit the KitNipBox website and deselect that particular item option. Instead of spending insane amounts of time researching new and innovative cat toys for your pet, let KitNipBox help you keep your feline active, safe, and healthy.
Cats enjoy receiving monthly boxes of new items to play with and treats to consume as it allows them to maintain a level of balanced activity and creativity. For the number of items that you receive as part of the standard KitNipBox package, the monthly subscription-based service is a pretty good deal that allows you to stay up to date with all of the latest cat toys and gadgets without spending tons of money.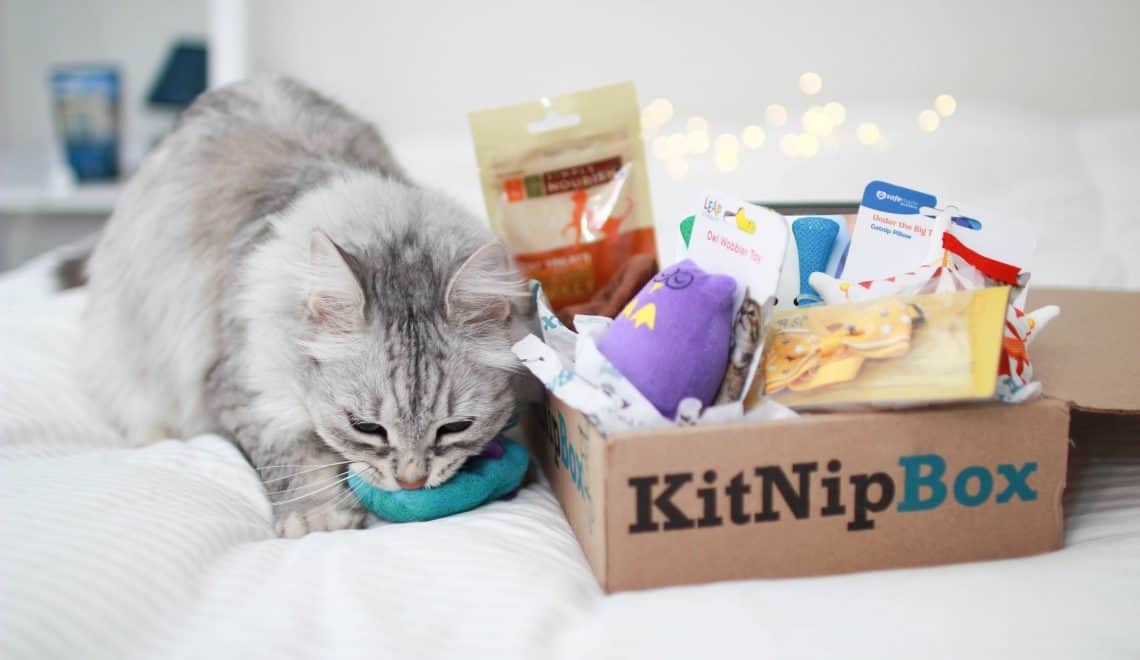 The Benefits of Using KitNipBox
If you're interested in learning more about KitNipBox and why it may be perfect for you, this section is going to list some of the key benefits of KitNipBox so that you can see what all you receive for the monthly service cost. We're also going to go over some of the negative aspects of KitNipBox and how you can go about balancing both the good and the bad to make the decision on which monthly cat box service is best for your needs.
KitNipBox Benefits
Monthly subscription-based cat box that comes with 5+ toys, gadgets, accessories, and other valuable cat items.
Easy sign-up and billing process to take the hassle out of receiving your new box each month.
Wide selection of toys, treats, and cat products to choose from so you never know what you're going to get.
Quality assured products which are rigorously tested before ever making it into a KitNipBox.
Affordable pricing options that make it easy to pamper your cat without spending a fortune on toys.
Free and easy cancellation if you are not satisfied with the service
Quicky account activation and shipping for first-time users and subscribers of the KitNipBox.
Ability to get a KitNipBox each month that is catered to any volume of cats which you own.
Allergy and health quality screening for all food products to ensure that your pet is safe when interacting with a KitNipBox of any kind.
KitNipBox Disadvantages
No outside of U.S. treat options, only U.S. residents are allowed to order food for their cat which is then included in the monthly box.
Limited customization and cat profile options to fully personalize the items your cat receives each month.
All in all, KatNipBox offers some very interesting monthly cat box subscription choices which will allow you to receive customized product recommendations based on the specific interests of your cat. KatNipBox is a comprehensive monthly subscription-based cat box service that gives you the ability to completely spoil your feline in an affordable way.
KatNipBox comes with an array of top-quality cat food products, toys, gadgets, accessories, and more that will help your cat remain active and have fun while doing it. Never underestimate the power of simply adding some new toys and accessories to your cat's collection, they will love and appreciate you in ways that you can't imagine after receiving their monthly subscription treat box.
About the Company: Meowbox

Meowbox is a fun monthly subscription-based service that allows cat owners to pamper their feline friends with premium toys, accessories, and treats at a fraction of the cost. Meowbox is ran by a group of passionate individuals who share a mutual love for cats which is why they're able to curate quality items for cats of all ages and size on a regular basis.
Meowbox offers pet owners the ability to sign-up for monthly cat boxes that are automatically chosen or you can completely customize what items your cat is and isn't allowed to receive in their box. Meowbox even gives you the option to purchase treats and other cat related gadgets individually if you happen to have received an item in a particular month and really enjoy using it. Meowbox takes personalization to the next level by adding your cat's name on the unique box of goodies that they receive each month.
Meowbox offers an array of monthly subscription plan options which allow you to customize the frequency at which your cat's monthly treat boxes are delivered. Meowbox takes pride in offering high-quality treats, accessories, and toys that have been sourced from trusted vendors in the industry. Before any product makes its way into your cat's monthly box, they undergo intense inspection and testing to ensure that they meet all safety and health standards.
Meowbox makes it simple to use and easy to sign up for, everything from the way that the company is ran to its sleek presentation makes Meowbox an absolute favorite among cat owners of all types.
How does Meowbox work?
Meowbox is very easy and convenient to subscribe to, before you begin, visit the website to learn about specific pricing options and shipping details. Once you're ready to sign up, simply visit the site and click on the tab that says subscribe. Once you've clicked the subscribe button, you will be presented with two distinctive payment options which allow you to control how often your monthly cat boxes come and what comes in them.
Once you finish signing up, you'll be redirected to a page which allows you to select certain indicators about your cat to ensure that their Meowbox is compatible with their diet and health needs. After your complete choosing the monthly subscription plan that is right for you, you can begin customizing your cat's monthly box items by marking down any potential allergies that they might have or other health conditions.
Once you successfully complete the sign-up process, your first Meowbox will be shipped the next business day from your original date of subscription. After you receive your initial Meowbox, you will receive a new box each month on the 1st and 15th of each month. It typically takes about 1-5 business days to receive your Mewobox however you will receive an email confirmation with a tracking number every time a new box is sent out.
Meowbox plans come in two different categories: Monthly and Bi-Monthly. The only major difference between both monthly subscription plans is that one is paid each month while the other is paid every other month. Both subscription plans give you access to premium treats, accessories, toys, and gadgets for your cat so the quality is never sacrificed between plans.
Meowbox Subscription Plans
Meowbox Monthly Plan- $22.95/month includes 4-6 items in each box
Meowbox Bi-Monthly Plan- $22.95/every 2 months includes 4-6 items in each box
Meowbox bills you for subsequent Meowboxes on the first of each month for boxes shipped out on the 15th and vice versa. All Meowbox subscriptions automatically renew on the 1st of each month to make is easy for pet owners to keep receiving toys without having to process a new payment for each box. Meowbox only includes locally-made and grain-free food products in their monthly boxes to ensure that every cat who uses their service is protected from the threat of having an adverse reaction.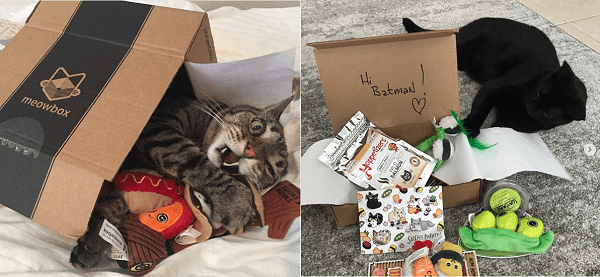 Meowbox even gives you the ability to gift someone you love or know a monthly cat box for the feline friend at no-cost. Meowbox is truly a company that is based on principles of caring, love, quality, and health. These principles are visible in every aspect of the company from their intense dedication to sourcing quality products to their dedication to providing exceptional customer support.
What Items and Treats Come in A Meowbox?
Meowbox offers a lot of premium cat treats, accessories, gadgets, toys, and more which are all hand selected by a team of dedicated quality control specialists. Mewobox put an insane amount of time into making sure that each of their monthly subscription boxes comes with nothing but the best surprises for your cat.
Meowbox likes to get creative with their monthly subscription box service which is why they typically designate them for each month's box being shipped out. Here are some of the items contained in boxes that have already been shipped out to loyal Meowbox subscribers:
Pearl Hunter by R2P Pet
Freeze Dried Chicken Treats by Nutrients
Crazy Crab by Ellie Baba Designs
Jiggling Jellyfish by R2P Pet
Sassy Starfish by R2P pet
Catnip Whale by The Emporium
Freeze Dried Shrimp by So Bright Natural Pet Products
And more!
These are just a few of the items that have been included in previously shipped Meowbox monthly subscriptions. Meowbox is constantly changing their product selection and monthly themes to promote a fresh take each time your cat receives one of the boxes. Monthly cat box subscription services such as Meowbox have been praised by pet owners for allowing them to revitalize their cat with new toys, treats, and accessories each month all while saving money in the process.
Each Meowbox will come with different products and items based on a particular theme which makes them extremely versatile and customizable. By filling out the profile questionnaire given during sign-up, you'll be able to optimize the type and quality of products that your feline receives each month with simplicity and ease.
Meowbox is only available to residents of Canada and the United States as they have experienced a complication in the past which forced them to stop shipping to the United Kingdom. The only thing that is required to begin using Mewobox is your cat's name and age, this will provide Meowbox with more than enough information to properly select the right products and treats that fit your cat's needs.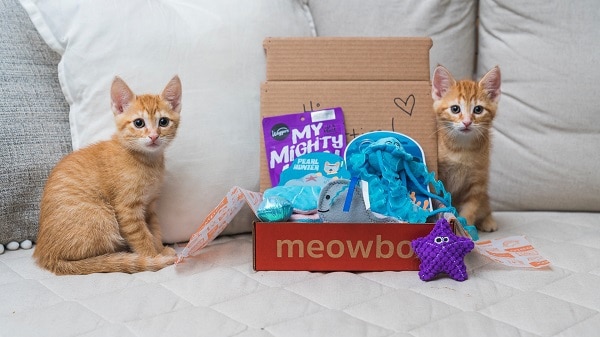 The Benefits of Using Meowbox
Meowbox makes it easy for cat lovers to pamper their feline friends on a constant basis with very little effort involved. Using Meowbox to provide your cat with an endless supply of quality sourced treats, accessories, and gadgets is a great way to help improve their overall mood and activity levels. There are several great benefits to using Meowbox, some of them are listed below:
Meowbox Benefits
Monthly subscription-based cat treats and other gadgets at a very affordable rate.
Flexible pricing options which allow you to cater your pocketbook to your cat's experience.
The simple and easy sign-up process that takes the hassle out of finding the right treats for your cat.
Carefully selected products that pass all quality testing and safety standards before making it into any Meowbox.
Easy cancellation process if you don't want to use the service anymore.
Free shipping on every monthly Meowbox that you receive.
Products are free of any grains or potentially allergy-triggering ingredients.
Hand-made monthly Mewoboxes that are crafted using real love and passion for cats.
Meowbox lets you individually purchase items which your cat may have missed out on or really loved.
Meowbox Disadvantages
Does not ship outside of the United States and Canada which makes its availability fairly limited
There is no check payment option so you must pay with a debit or credit card
Limited options to choose custom products
Meowbox offers a very intuitive payment, shipping, and product selection process that makes it easy for cat owners of all types to treat their pets to the pampering that they deserve. Meowbox lets you customize your cat's monthly box so that they receive items which are exclusively tailored to their needs and interests.
Meowbox is one of the most comprehensive subscription-based monthly cat box services available. For those pet owners who want to give their cat's access to the latest and most innovative treats and gadgets without spending a fortune, Meowbox is the perfect option for you.
FAQs
You probably still have a few more questions regarding Meowbox and exactly how the service works. This section will go over some of the most frequently asked questions pertaining to Meowbox and give you an answer to all of them. Not all questions will be listed in this section if you know your cat needs special attention or requires tailored products, feel free to visit the Meowbox website and contact them directly.
Question: How do I contact KitNipBox if I have a problem with my order or subscription?
Answer: KitNipBox makes it easy for customers to contact them with any potential questions or concerns. KitNipbox offers both phone and email assistance so that you have reliable access to their team who can help you find the right solution to any problem you may be facing.
Question: I'm familiar with the standard KitNipBox rates however are there any hidden fees that I need to know about?
Answer: KitNipBox is pretty simple and straightforward when it comes to their service prices, $19.99/month gets you enough treats to satisfy that one special cat in your life. $29.99/month gives you access to enough treats and items to satisfy multiple cats. Aside from those two pricing tier options, KitNipBox does not charge any additional fees.
Question: What countries does KitNipBox ship to besides the U.S.?
Answer: This is a really great question because we all know that there are plenty of cat lovers around the world besides just the U.S. KitNipBox understands this need which is why they offer shipping to Australia, Canada, and the U.S. Potential customers who like outside of the regions mentioned previously will have to contact KitNipBox in order to see if they will be able to accommodate your request.
Question: Besides the monthly fee, does KitNipBox charge shipping for each box?
Answer: KitNipBox does not charge any extra fees besides the standard monthly subscription price. Every box that is shipped out each month comes at a free shipping cost to every member.
Question: Can I cancel my KitNipBox subscription if I no longer want the service?
Answer: Yes, KitNipBox makes it easy for you to cancel your membership anytime at no extra cost or service charge.
Question: How can I pay for my Meowbox subscription?
Answer: Currently, the only way to sign up for a Mewobox is by using either a Visa, Mastercard, Discover, American Express, or JCB credit/debit card. These are the only payment options available to those interested in Meowbox services.
Question: How do I cancel my Meowbox subscription without getting charges for the following month?
Answer: in order to cancel your Meowbox subscription without getting charged for the upcoming month is to contact Meowbox before 5:00 PM PT time by the end of the month you want to cancel the subscription in.
Question: Does Meowbox accept returns?
Answer: Meowbox does not accept returns or damaged items if you receive a Meowbox with damaged items contact customer support within 30 days to review your options.
Final Word
Both KitNipBox and Meowbox provide hassle-free and convenient ways for cat lovers to spoil their furry little feline friends. While both services may appear similar, Meowbox won this comparison due to their quality-based operational and safety procedure.
Meowbox puts a lot of time and effort into making sure that your cat only receives items that are beneficial to their health and quality of life overall. Being ran by cat enthusiasts and owners, Meowbox translates their passion and dedication into the monthly boxes like no other company.
If you're a cat owner who is looking for a way to boost your cat's health, mood, and energy all at an affordable price, Meowbox is the solution that you've been looking for all this time. Meowbox makes it easy to give your cat access to fresh, new, and exciting accessories each month so that they never get bored and cranky again.
Recommended Reads