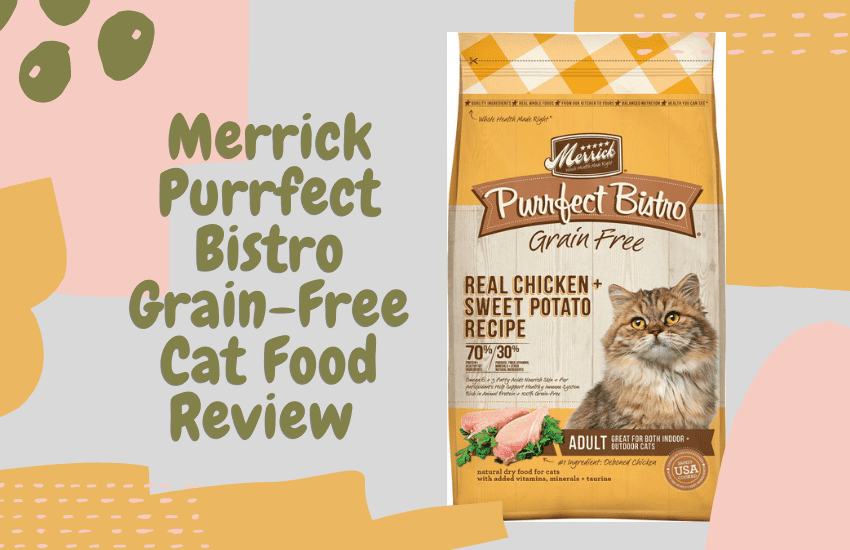 Our Recommendation
When you're looking for the ideal dry cat food, you want one that has your cat's dietary needs in mind; not one that has been formulated to maximize profits for the manufacturer. That's why, if you want to be a responsible pet parent, you really need to learn to read the labels.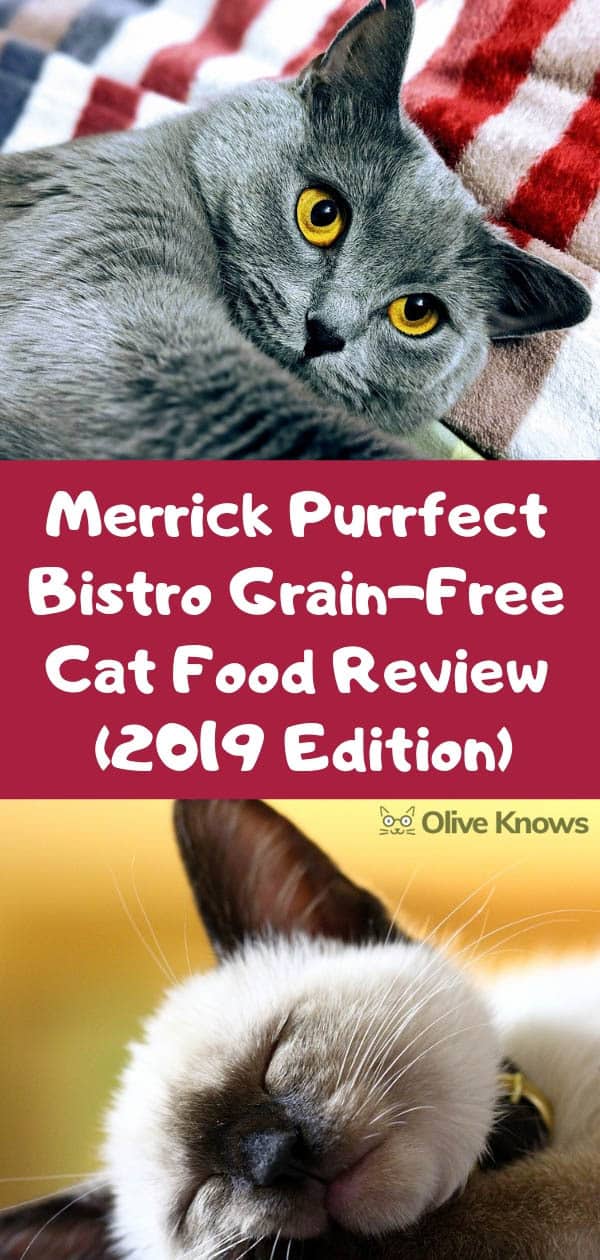 If you take a look at the ingredients for Merrick Purrfect Bistro, you'll get a lesson in what a high-quality cat food looks like. The ingredient that there is most of appears first on the list, with each subsequent ingredient having less; so the last in the list makes up the smallest percentage of Merrick's foods.
The first ingredient in Merrick Purrfect Bistro Cat Food is deboned chicken, ensuring that your cat gets the animal protein that they need.
The next ingredients are real chicken and turkey meal. Now, when it comes to pet food, meat sourced ingredients sometimes gets a bad name. It's made up of all the non-meat parts of an animal, things like offal, skin, bones, etc.
But if you think about it, when you cat catches a bird or a mouse in the wild, does it spend time filleting it? Of course not. So meat meals come with high protein and minerals that are vital to a cat's diet.
Poor quality pet foods will bulk out the protein with cereals. You would see ingredients as wheat, corn or rice added. Not only are some of these hard on a cat with a sensitive stomach, but they are also causing concern amongst vets for contributing to feline obesity and diabetes. If you choose Purrfect Bistro Merrick Recipe? There are no grains at all to worry about.
Rather than combine the meat and meal with grain, Merrick's foods chose to add sweet potato, Alfalfa, peas, and potatoes to add variety to the food. They've also included vitamins and minerals, including the all-important taurine, and probiotics to help with digestion.
All this, and it's made in the USA! With a 40% hit of protein in each bite, this is a dry cat food that will meet all your cat's needs in one tasty bowlful.
Merrick Purrfect Bistro Grain-Free Real Chicken
Key Benefits
High protein amounts – 70% and fats which are essentials for establishing healthy muscles and energy;
Natural balance: Specially created to provide a complete and naturally balanced diet for an adult cat;
Rich in fiber – Contains a high amount of fiber and antioxidants that will maintain a healthy immune system;
Omega 3 and 6 essential fatty acids which support the healthy feline skin and lustrous fur;
Ideal for outdoor and indoor cats – made with local rancher and farmer ingredients from trusted farms;
Ingredients
Merrick guarantees that they use the finest, freshest ingredients included in their flavorful blends that assure for a natural balance pet care. Their ingredients are harvested from local ranchers and farmers for excellence and sustainability assurance. Purrfect Bistro Merrick Recipe contains the perfect balanced nutrition of:
74% Protein and Fat and
26% Carbohydrates, Fiber, Vitamins, and Minerals
The Purrfect Bistro Grain-Free Real Chicken + Sweet Potato Recipe has natural non artificial flavors and it includes no meat poultry by-product meal or artificial colors, artificial preservatives or aditives.
Deboned Chicken, Chicken Meal, Turkey Meal, Dried Potatoes, Peas, Natural Pork Flavor, Potato Protein, Powdered Cellulose, Chicken Fat(Preserved with Mixed Tocopherols), Natural Chicken Flavor, Sweet Potatoes, Ground Flaxseed, Dried Egg Product, Chicken Liver, Dried Whey Protein Concentrate, Organic Alfalfa, Cranberries, Phosphoric Acid, Flaxseed Oil (Source of Omega 3 Fatty Acids), Salt, Minerals (Zinc Sulfate, Iron Amino Acid Complex, Zinc Amino Acid Complex, Manganese Amino Acid Complex, Copper Amino Acid Complex, Potassium Iodide, Cobalt Amino Acid Complex, Sodium Selenite), Vitamins (Vitamin E Supplement, Vitamin A Acetate, Vitamin B12 Supplement, D-Calcium Pantothenate, Vitamin D3 Supplement, Niacin, Riboflavin Supplement, Biotin, Pyridoxine Hydrochloride, Folic Acids, Thiamine Mononitrate), Choline Chloride, Taurine, Yucca Schidigera Extract, Dried Bacillus Coagulans Fermentation Product, Rosemary Extract, Dried Lactobacillus Plantarum Fermentation Product, Dried Lactobacillus Casei Fermentation Product, Dried Enterococcus Faecium Fermentation Product, Dried Lactobacillus Acidophilus Fermentation Product.
Nutritional Analysis
Pet food ingredients, nutritional values, and the way they are labeled for consumers are monitored by several organizations in the United States including the Food and Drug Administration (FDA) and the NGO, Association of American Feed Control Officials (AAFCO).
CRUDE PROTEIN 40.0% min
CRUDE FAT 14.0% min
CRUDE FIBER 7.5% max
MOISTURE 11.0% max
CALCIUM 1.0% min
PHOSPHORUS 0.8% min
TAURINE 0.2% min
OMEGA-6 FATTY ACIDs 3.0% min
OMEGA-3 FATTY ACIDs 0.4% min
BACILLUS COAGULANTS 90,000,000 CFU/lb
Read More
Calorie Content
3,731 kcal/kg, 410 kcal/cup
Feeding Amounts
Weight Daily Feeding (cup)
4 – 7 LBS 1/4 – 1/2
7 – 10 LBS 1/2 – 2/3
10 – 15 LBS 2/3 – 3/4
To transition your cat to Merrick Purrfect Bistro from another cat food brand, start by mixing ¼ of Merrick Purrfect Bistro with ¾ of their usual fold. Increase the amount over the next two weeks until your pet is eating only Merrick Purrfect Bistro.
Reviews
"I have purchased many brands of dry cat food. This is one of the better brands. Cats love it. The dry kibble size is tiny which my cats love. Merrick has been around for a while. To my knowledge never any problems with this cat food brand as far as recalls." by K.N. on Amazon.
"My two cats LOVE. LOVE, LOVE this food, and it has eliminated digestive problems one of them had. I previously fed them Blue Buffalo Wilderness, so another high quality grain-free food, but after I switched to this food a year ago my one sluggish cat started playing and jumping (there has been a visible increase in activity that has persisted) and his poops are better. What ever is in the formula has a lot of digestive "goodness". Both cats like Merrick Perfect Bistro better than any other grain-free food I've fed them and it's cheaper. Whenever they leave dry kibble in the bowl, I just add water to it to freshen it up and they gobble it down." by Claudia J on MerrickPetCare.
"In addition to grain allergies, our 8 year old cat developed severe "fish" allergies in the past year. Most "non-fish" foods use "fish oil" in their formulas so its been very challenging in to find something she can eat safely. This blend is the only one that specifically states "fish free" in addition to grain-free. This is a high quality product and our cat LOVES IT – she's getting better everyday after just one week, and she walks away from any other wet cat food or dry food we put down – so this is a 100% winner. If your cat is a picky eater and/or reacting to other foods, try this one." by Mimi on Chewy.
More From Merrick Purrfect Bistro
Merrick Purrfect Bistro Grain Free Deboned Beef Canned Cat Food
Merrick Purrfect Bistro Grain Free Deboned Tuna Canned Food
Merrick Purrfect Grain Free Cat Food Review Review – The Bottom Line
Merrick has a reputation for making quality cat food, and their Purrfect Bistro line is no exception. With no fillers or cheap ingredients, the recipe makes a good balance of pure animal protein with meat meal to give additional nutrients.
There's nothing in this food that would upset sensitive stomachs or contribute to obesity, but there are plenty of nice additives that will help maintain your pet's health. That's why Merrick Purrfect Bistro gets consistently good reviews and has a thumbs up from us.
FAQs
Is Merrick a Good Food Brand?
Yes. Merrick is considered to be a high quality cat and dog food brand that is packed with healthy ingredients suited for most of the pets.
Has Merrick cat food ever been recalled?
No, Merrick's cat food has never  been recalled even though there were reports about their canned cat food containing mold back in 2013.
Is Merrick cat food grain free?
Merrick Purrfect Bistro Cat Food, much like most of Merrick's cat food options is gluten, soy, wheat, and grain free and it doesn't use any artificial preservatives, flavors, or colors.
Is Merrick owned by Purina?
Yes. In 2015, Merrick Pet Care was sold to Nestle Purina.
What do customers think of Merrick food?
Merrick food choices have very solid reviews in all of the popular retailers like Amazon, Petco, Chewy, Walmart, etc.
Further Reads