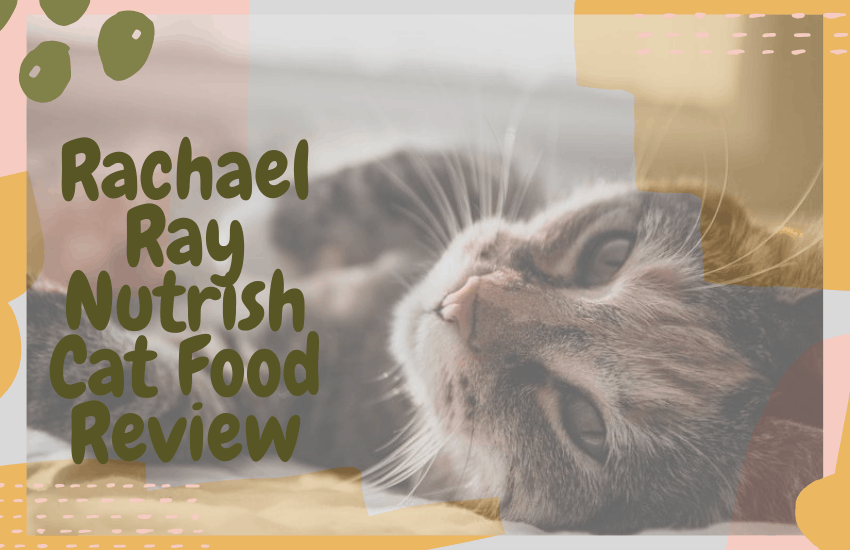 As a cat parent, it is normal to want the best things for your cat. This includes going for brands that are created or endorsed by high-profile celebrities, one of the options being Rachael Ray Nutrish Super Premium Cat Food.
Created by popular celebrity and cooking show host Rachael Ray, the Nutrish Pet Food is available in different flavors and this post will focus on Real Chicken and Brown Rice Recipe.
Our Recommendation
Rachael Ray worked with pet nutrition experts to create gourmet food that uses high-quality real ingredients for healthy cats and dogs.
To ensure the quality of this dry cat food, the poultry used is 100% quality chicken.
The chickens are US farm-raised chickens for high-quality protein content that promotes healthy organs, strong bones, and an energy-filled body.
Additional ingredients include quality brown rice, and wholesome fruits and vegetables.
The food is packed with Vitamins and Minerals, and essential amino acids in Rachael Ray Nutrish Super Premium Cat Food feature natural ingredients, that help cats prevent shedding and dry skin while promoting a healthy coat.
This cat food is packed with Omega 6 for a soft and shiny fur and Taurine for healthy cat vision.
Dried beet is also present, a great source of protein and prebiotics, great for digestion.
Cats parents are also assured that all these are prepared within American facilities guaranteeing high-quality production that it is made close to home.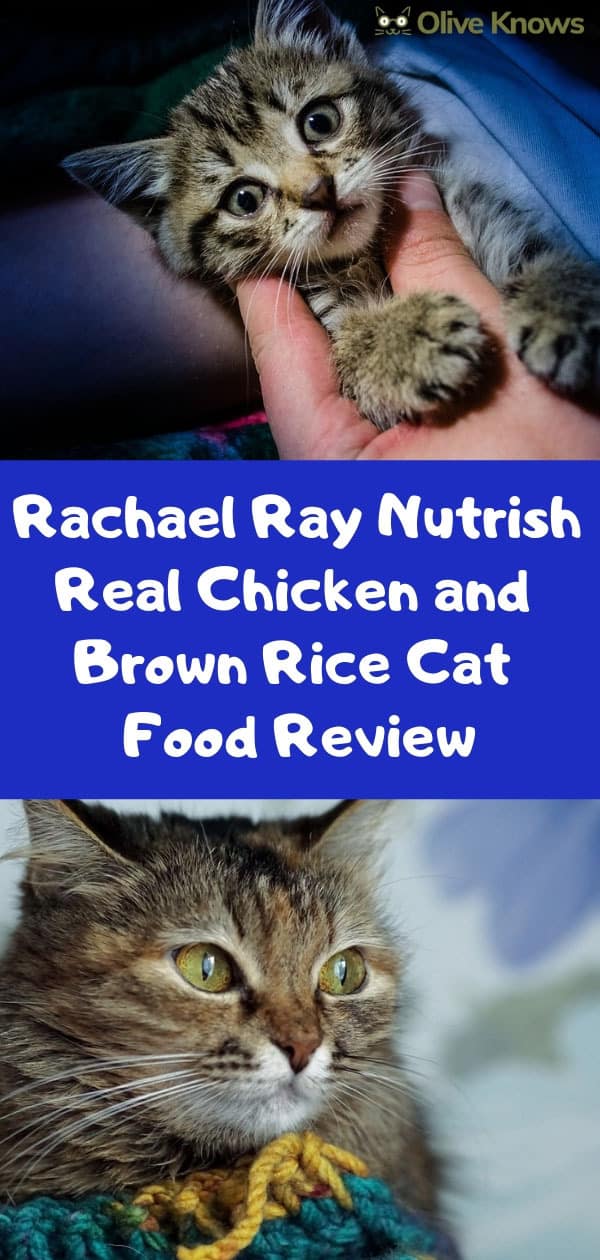 In terms of ingredients that are rather questionable, one thing to consider in Rachael Ray Nutrish cat food is corn gluten meal, which is usually a filler ingredient. There are also reports that corn gluten meal is not easily digestible for cats and must never be used as an alternative for the essential protein in a cat's diet. Cats that are also allergic to corn might experience some problems when consuming cat food with corn gluten meal.
There is also the mention of poultry fat that might cause worry for some cat parents. While there are certain kinds of fat that are good for cats, it is still best to get the recommendation of a vet. Some cats that are suffering from pancreatitis will benefit better with cat food that has a lower fat content.
Discuss with your vet and determine whether poultry fat is something that is beneficial for your kitty. On the good side, fats are known to enhance the well-being of cats by providing energy and by enhancing nerve signal transmissions. In comparison with protein and carbohydrates, fats are known to provide twice the concentrated energy, making it great for cats that are highly active throughout the day. Fat is a great boost also to the feline defense system, protecting them from viral and bacterial infections.
In Rachael Ray Nutrish Cat Food, poultry fat is preserved with tocopherols, which is a natural antioxidant and a Vitamin E source. The high content of carbohydrates in the brown rice may also lead to obesity and diabetes if the cat is not able to burn it well and break them down into energy.
Ingredients
Before we go into specific details, it's worth to mention that the food doesn't contain any ground corn, poultry by-product meal, artificial flavors, nor artificial preservatives. Instead, this natural dry food is packed with vitamins, minerals, and taurine.
Chicken, Chicken Meal, Corn Gluten Meal, Ground Rice, Brown Rice, Poultry Fat (Preserved with Mixed Tocopherols), Brewers Dried Yeast, Natural Flavor, Dried Plain Beet Pulp, Potassium Chloride, Choline Chloride, Iron Oxide (color), Dried Ground Peas, Dried Carrots, Olive Oil, Taurine, Vitamin E Supplement, Zinc Sulfate, Salt, Ferrous Sulfate, Calcium Carbonate, Niacin, L-Ascorbyl-2-Polyphosphate (Source of Vitamin C), Manganese Sulfate, Copper Sulfate, Vitamin A Supplement, Thiamine Mononitrate, d-Calcium Pantothenate, Sodium Selenite, Riboflavin Supplement, Pyridoxine Hydrochloride (Source of Vitamin B6), Biotin, Menadione Sodium Bisulfite Complex (Source of Vitamin K Activity), Vitamin B12 Supplement, Folic Acid, Vitamin D3 Supplement, Cobalt Sulfate, Potassium Iodide.
Nutritional Analysis
Pet food ingredients, nutritional values, and the way they are labeled for consumers are monitored by several organizations in the United States including the Food and Drug Administration (FDA) and the NGO, Association of American Feed Control Officials (AAFCO).
Guaranteed Analysis Crude Protein 34.0% min Crude Fat 14.0% min Crude Fiber 4.0% max Moisture Content 9.0% max Linoleic Acid (Omega-6 Fatty Acid) 2.0% min Calcium 1.0% min Phosphorus 0.8% min Zinc 100 mg/kg min Vitamin E 225 IU/kg min Niacin 150 mg/kg min Biotin 0.24 mg/kg min Taurine 0.15% min Alpha-Linolenic Acid (Omega-3 Fatty Acid) 0.15% min
Calorie Content
3,646 Calories/kg, 359 Calories/Cup
Feeding Amounts
When providing Nutrish for cats the recommended feeding is twice a day, half of the full course for breakfast and the other half for dinner. The general rule for adult cats are the following, with the measurements being based on the standard 8 oz dry measuring cup:
5 lbs – ½ cup of Nutrish cat food
10 lbs – ¾ cup of Nutrish cat food
15 lbs – 1 cup of Nutrish cat food
The amount varies depending on the age, size, and activity level of the cat. If your feline buddy is more on the active side and has a much athletic build, they might need more food compared to smaller ones that are that lead a less active lifestyle. Note that big cats are different from obese cats, as the latter actually needs a vet visit and guidance regarding their food intake.
If there are pregnant or lactating cats with kittens within the household, there should be food available for them throughout the day. This can be done by splitting a whole day's meal and providing a reasonable amount of cat food in the bowl, refilling every few hours. For lactating females, the amount of the additional food is dependent on how many kittens are – usually 1 to 3 1/2 of the day the amount.
Introducing a new cat food into the diet of your cat might be challenging as well. For cats that are enjoying Nutrish for the first time, it is recommended to slowly mix the old cat food with Nutrish, adding more and more as the day passes by. Within five to ten days, the cat should ideally be more comfortable in enjoying Nutrish alone. In the first three days, simply add 25% of Nutrish while keeping the remaining 75% of the old cat food. For the fourth to sixth day, the food should be 50% Nutrish and 50% old food, on the 7th to 9th day, there should be more Nutrish than the old food and your cat must already feel comfortable enjoying their meal. On the 10th day, the food can already by 100% Nutrish.
The Bottom Line – Rachel Ray Cat Food Review
One of the best things about Rachael Ray Dry Cat Food is that by using real ingredients, she is able to highlight the real flavor of each dish. This is also applicable to the Rachael Ray Nutrish Super Premium Food for Cats. Each of the complete formulae includes the highest quality poultry or seafood ingredients, with additional ingredients varying depending on the flavor. The highlight of this post, Real Chicken and Brown Rice Recipe, features real US farm-raised chicken for lean muscle and healthy organs for your feline friends.
The chicken meal is also a great source of Omega 6 fatty acid for a nice shiny coat and healthy skin. Another addition is brown rice for carbohydrates and vitamin B, for a healthy happy cat. This mix also has quality brown rice and beet pulp for added fiber as well as natural prebiotics that aid in digestion. Yeast, known for being rich in zinc, protein, and biotic is present in each Nutrish kibble, reduces shedding and helps prevent dry skin.
There is also Rachael Ray Real Salmon and Brown Rice Recipe, the grain free Rachael Ray Nutrish Zero Grain Chicken and Potato Recipe, as well as Rachael Ray Indoor Cats Complete Chicken with Lentils and Salmon Recipe, mixed with fresh fruits and vegetables that include cranberries, pumpkins, and blueberries to ensure proper digestion, good metabolism, and a boost in immunity of the kitties. While we're at it, if you also own a dog, it's also worth to mention the Real Beef Rachel Ray Dog Food.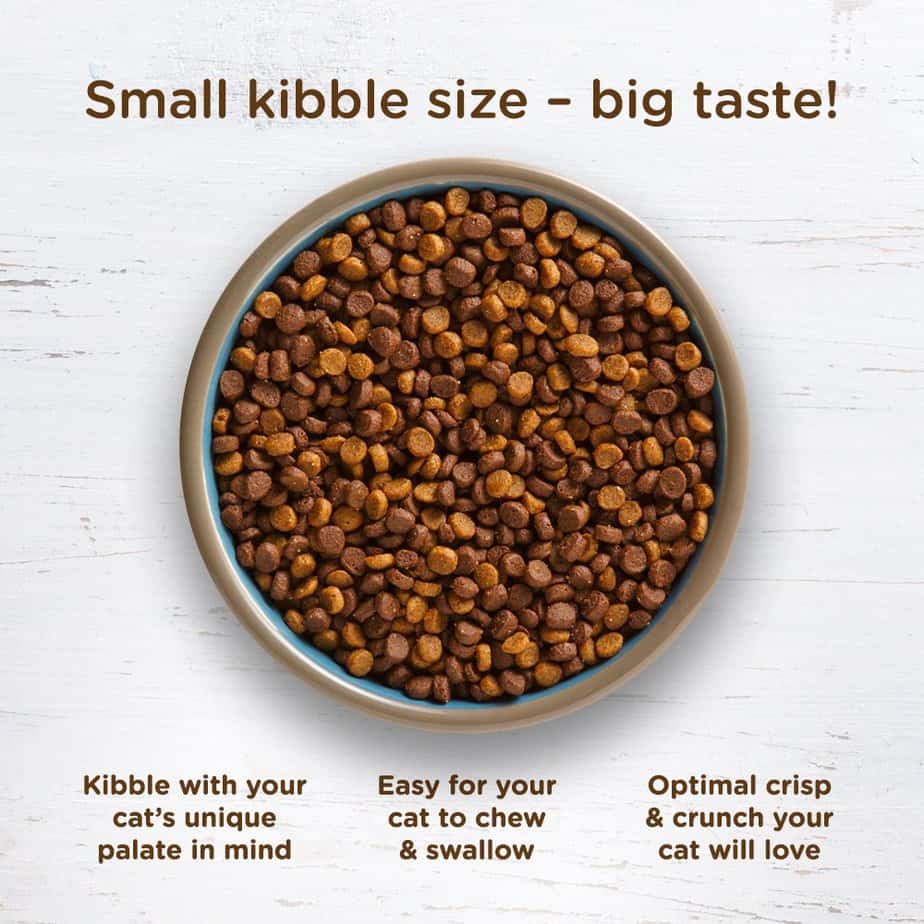 Each bag of Rachael Ray Nutrish Food Products is a delicious and healthy treat with numerous benefits for your cats. The kibbles are small enough that even young cats are comfortable in chewing and swallowing them, while the flavors are packed in each bite. Health and safety of the cats are prioritized as well, with each Nutrish food being free from wheat, soy, or grain. Essential amino acid for cats of all ages, taurine supports the growth of cats and ensures a bright and healthy vision for growing cats.
Wholesome wet food entrees are also available as treats for your beloved felines. These include Chicken Purrcata, Tuna Purrfection, and Chicken and Salmon Catterole. With interesting names that are nothing short of creative, cats are surely assured that each bite will be a unique treat. These wet cat food entrees are available as chunks of ocean fish, whole shrimps, liver morsels, flaked salmon, and tuna, as well as shredded white meat.
On top of these, Nutrish has also been constantly donating to animal rescue foundations since 2008 and a part of its earnings go to medical and financial needs of rescue animals. Rachael Ray established the Rachael's Rescue Foundation that supports the rescue of cats and dogs.
Overall, the recipe of Rachael Ray Nutrish is highly recommended. Felines of all ages will also find the kibble comfortable to eat, with a crunch that is tasty and crisp – a super premium food that only a celebrity chef such as Rachael Ray can prepare. For cats that just can't get enough of Rachael Ray Nutrish, there are also wet food entrees that they can enjoy.
Order a bag of this today and let us know in the comments below how Rachael Ray Nutrish fared with your cats. We're excited to find out!
Recommended Reads