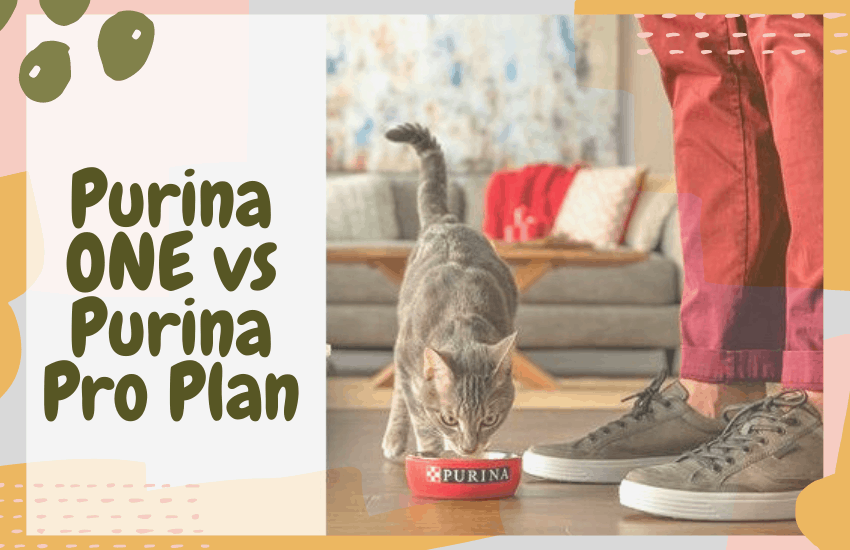 Like many other household brands in the pet food industry, Purina has its passionate fans and enemies. The internet is abundant in reviews and opinions on the brand, ranging from very positive to very negative.
In this post, we've presented the premium Purina lines – Purina ONE and Purina Pro Plan. We have also picked our winner for the best Purina cat food – Purina ONE True Instinct Natural Real Chicken Plus Vitamins and Minerals Grain-Free Dry Cat Food.
You can find why we chose this particular formula under the How We Made Our Pick section. First, let's see what Pro Plan vs Purina One have to offer.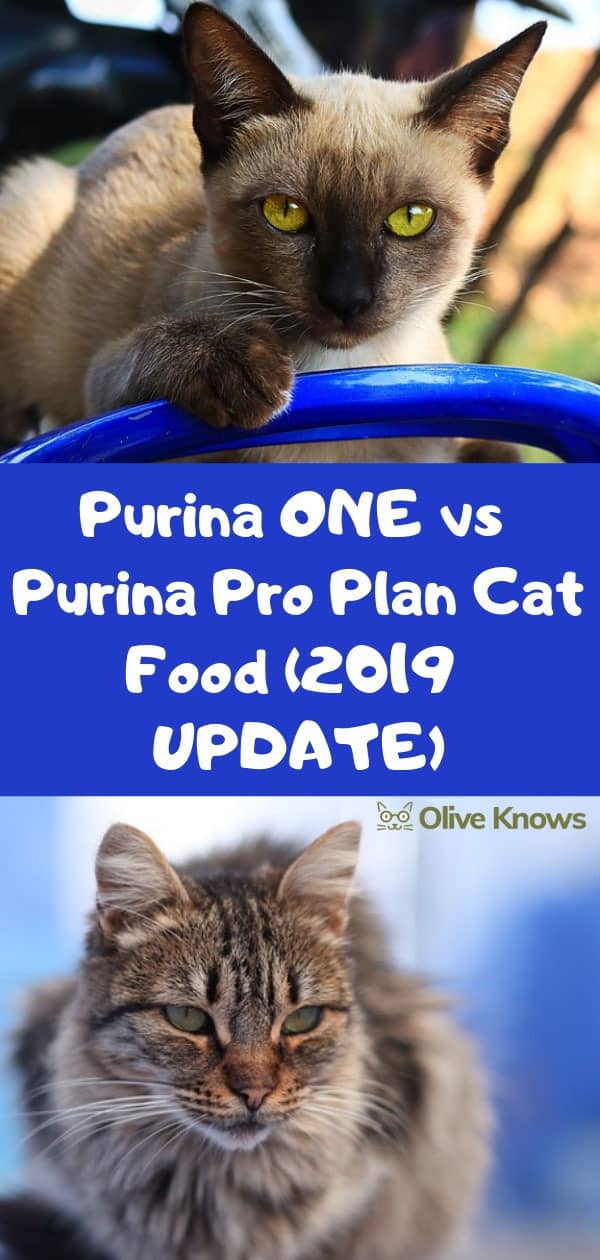 Purina ONE Cat Food
Purina ONE is among the higher-end lines of pet food products that makes cat food as well as dog food under the Purina brand. According to the product line's website, Purina ONE is "the first brand in grocery and mass retail stores to offer healthy pet foods with real meat […] as #1 ingredient."
Currently, Purina ONE offer pet food in 12 formulas which cater to the needs of kittens, adult, and senior cats, as well as to special dietary requirements for certain conditions.
Kitten Food
Kittens have special dietary needs in comparison to adult cats. During their first year, cats are developing very rapidly so they require more energy. On top of that, when kittens stop feeding on their mothers, they might not get essential nutrients.
Purina ONE offers the Healthy Kitten dry food formula which caters to these specifics. It contains min 40% protein, min 18% fat and more calories, so your kitten can get the energy that it needs to grow.
In addition, Healthy Kitten contains DHA essential amino acids – omega fatty acids that are part of mother's milk. DHA aids in the development of the central nervous system and the brain.
If you are looking for a wet cat food formula for your kitten, Purina ONE offers the True Instinct and Grain-Free options. From the six True Instinct recipes, four are kitten-appropriate:
Salmon & Trout
Turkey in Gravy
Chicken in Gravy
Tuna
Both of the Grain-free recipes – Ocean Whitefish and Classic Chicken Meal – are appropriate for kittens. The wet cat food options, however, do not come with DHA.
Adult Cat Food
The largest variety of Purina ONE formulas is for adult cats. It comes not only in dry and wet foods but also caters to special dietary requirements.
The True Instinct Natural Grain Free Chicken Dry Cat Food and Tender Selects Blend With Real Chicken Meal/ Real Salmon Cat Food are the all-purpose dry options. They come with min 35%-34% protein and min 14%-13% fats, respectively. The True Instinct recipe, however, is free of grains (cats can't digest them) and artificial colorants, flavors and preservatives.
Purina ONE also offers five dry formulas for adult cats with special dietary requirements. They all come with various ratios of proteins, fats, and fiber content, and also contain additional supplements that help in managing your cat's condition.
Here are the Purina ONE Dry Food Formulas
Healthy Metabolism – for spayed/neutered cats.
Sensitive Systems – for easy digestion.
Indoor Cat Advantage – for hairball management and weight control of indoor cats.
Hairball Formula – for hairball management.
Urinary Tract Health – for lowering urinary tract pH level.
The Wet Option for Adult Cat Food Comes in Three Formulas and 12 Recipes
The True Instinct formula comes in Chicken & Turkey, Salmon & Trout, Chicken & Salmon, Turkey in Gravy, Chicken in Gravy or Tuna.
The Grain Free options come in Ocean Whitefish, Classic Chicken, Classic Turkey or Classic Beef.
The Ideal Weight formula comes in White Meat Chicken in Sauce or Tender Salmon in Sauce.
They all come with similar nutritional value, however, there are differences in the pet food ingredients.
Like kittens, senior cats also require a special balanced diet as they get on in years. Due to their aging organism and slower body functions, they might need additional macro and micronutrients. Purina ONE offers two senior-appropriate kibble formulas and six wet options.
The dry food formulas that are senior-appropriate are the Healthy Metabolism and the Vibrant Maturity 7+. The latter contains min 36% protein and is supplemented with antioxidants and omega-6.
Purina Pro Plan Cat Food
The Pro Plan line is Purina's premium pet food. It is slightly higher priced than Purina ONE, the packaging looks more luxurious, and it too caters to the needs of cats at different ages and with various dietary requirements.
It comes in four lines – Savor, Focus, True Nature and Prime Plus. In terms of nutritional value and ingredients, Purina Pro Plan offers slightly higher meat based protein percentage (avg.: 40%) and supposedly high quality ingredients.
The savor line focuses on providing superior taste and gourmet-like recipes. It is appropriate for healthy adult cats and comes in four options – shredded blend, dry food, wet food, and treats.
The shredded blend formula is dry kibble mixed with tender morsels and comes in two recipes – Salmon & Rice and Chicken & Rice. It contains min 40% protein, min 16% fat and meat as the first ingredient. Unfortunately, the second and third ingredients for the salmon recipe are brewers rice (leftover product from breweries which can be a controversial ingredient) and corn gluten meal which is also the second ingredient in the chicken formula.
The regular dry formulas come in Tuna & Rice, Salmon & Rice and Chicken & Rice. They also come at min 40% protein, min 16% fat and contain meat as the first ingredient. The salmon and chicken formulas list brewers rice and corn gluten meal as second and third ingredients, except for the tuna recipe which lists poultry by-product meal in third place.
The wet food option comes at 36 recipes like Sole & Vegetable Entree, Salmon, Shrimp & Rice Formula in Sauce and Beef & Carrots Grain Free Entree. Most cans contain min 10% protein and min 2% fat (6% in the beef & carrots recipe). Some recipes, like the beef & carrots one, list meat or meat sourced products in the first three places. The manufacturer instructs to feed one can per 6.5 lbs of body weight, so 1.5 cans for a 10 lbs cat.
The treats come in three recipes – with tuna, salmon or chicken. They do not contain artificial colors, flavors or preservatives. Note that treats are just that and are not a substitute for cat and dog foods.
The Focus line caters to cats with special dietary requirements. This pet food comes in dry or wet form, and the nutritional requirements and ingredients vary based on the specific case. The Focus line provides the following formulas:
Kitten
Senior 7+
Weight Management
Sensitive Systems (dry only)
Hairball Management (dry only)
Urinary Tract Health Problems
Spayed or Neutered (wet cat food only)
Indoor
Dental Health (dry only)
The True Nature line has two types of formulas – high-protein and grain-free. The recipes are made from natural ingredients and come in dry and wet options. The high-protein one also offers a treat formula.
The Natural Trout & Rice Formula and the Natural Turkey & Rice Pet Food recipes contain min 45% protein, min 13.5% fat and do not contain corn or wheat. The grain-free Chicken & Egg and Salmon & Egg recipes contain min 40% protein, min 15% fats, and no grains. There is also a special grain-free Chicken & Egg kitten formula with min 42% protein and min 18% fat.
The wet options come in 15 recipes in high-protein or grain-free forms. There is one Chicken & Barley shredded blend recipe and three recipes for protein-rich treats.
The Prime Plus Pet Food line is appropriate for senior cats. It includes antioxidants and omega-3 and 6 fatty acids that help senior cats in their aging.
The dry formula comes in two recipes – Salmon & Rice and Chicken & Rice, both of which contain min 38% protein and min 17% fat. The wet options come in four recipes with min 9%-10% protein and 7% fat.
How We Made Our Cat Chow Pick
With so many choices offered by both Purina lines (probably over 200 various recipes), how did we pick the Purina ONE True Instinct Dry Cat Food? First, we established some criteria that our food of choice had to meet.
The optimal food (for a 10 lbs healthy adult cat) had to:
Provide 250-300 kcal per daily serving.
Provide min: 1.2 oz. protein, min: 0.4 oz fat and max: 0.3 oz carbs
List meat as the first ingredient in the ingredients list.
List meat/by-product/meat meal as the second ingredient.
Ideally, list meat or meat-sourced product as the third ingredient.
Not contain any artificial additives (colorants, flavors, preservatives, etc.).
Be grain-free and, if possible, with fewer plant-based carbs (potatoes, rice, etc.) and more plant-based protein.
Preferably, be a dry food so that it can serve pet owners with tight budgets.
Ideally not reliant on soybean protein sources
Since we were looking for food for a healthy adult cat, we disqualified all formulas that were made for special pet's diet. As we were also looking for dry food, we disregarded the wet cat food options. After doing so, it was reading and comparing time – reading labels and comparing guaranteed analysis and ingredients. This disqualified the foods that contained grain, artificial additives and didn't list meat and meat-sourced pet food products as first and second ingredients.
Unfortunately, we couldn't find a Purina ONE or Pro Plan dry cat food that also listed a meat-sourced product as a third ingredient. In the end, the one food that stuck around was the True Instinct kibble. As noted above, it does come with a higher calorie count than necessary, but the macro levels are pretty close to the ones that cats prefer.
Read More: How To Find The Best Cat Food
Nutritional Value
Let's break it down. The suggested serving for a 10 lbs cat is 1 cup (3.06 oz). It comes at 359 Cal, 35% protein, this equals to 1.1 oz, 14% fat equals to 0.4 oz, and after removing proteins, fats, ash, and water, we are left with around 31% carbs or around 1 oz. Let's reference the basic needs from our post on cat nutrition.
The True Instinct kibble exceeds the calorie limit with about 60 calories, and the carb needs with more than 330% and just meets the requirements for protein and fats. It is not ideal food, but it is the best offer from the kibble offered by Purina ONE and Purina Pro Plan.
Now, let's compare the wet version Purina ONE True Instinct Chicken Recipe in Gravy. With a suggested serving of 4 cans for a 10 lbs cat, the wet option comes at 284 Cal, 1.3 oz protein, 0.25 oz fat, and 0.5 oz carbs.
When we adjusted for dry matter basis we found that the kibble comes with proteins:fats: carbs ratio of 40%:16%:35%, while the wet option comes at 55%:10%:21.5%. Not only does the wet diet come at the right calories, but it also includes much more proteins and much fewer carbs. On the downside, the wet formula is not as budget-friendly as the dry one.
Frequently Asked Questions
Which is the Best Purina One product for Healthy Skin?
We suggest trying the Purina One's Sensitive Systems because it's easy to digest and promotes coat health and healthy teeth for your cat.
When should I use Purina One's hairball formula?
The Purina One Hairball formula is stacked with healthy dietary fiber that will flush unwanted intestinal contents through your cat's system. As the name suggests, this formula is specially formulated for to help prevent hairballs from forming in your cat's belly.
Conclusion: Purina Pro vs One
Before wrapping up, we should mention the global scare of Purina and the so-called "grocery store pet food brands."
There have been numerous complaints and warnings by pet owners and vets that Purina and other major brands are dangerous for pets. We cannot verify nor do we dispute the truthfulness of such claims. The burden of this task lies within the respective authorities.
As far as nutritional value and ingredients go, Purina seems like a sufficient choice, albeit not an ideal one. The lines do not differ much in their nutritional value or ingredients.
While there are superior cat and dog food brands on the market, Purina's products offer decent quality for slimmer wallets.
Your cat's health and well-being depend largely on the quality of food that they consume. Cats cannot speak and they are very good at hiding their pains, so the responsibility for their health lies within their owners.
If you have any concerns about your cat, including its diet, check with your vet. So, what's your take on Purina?
Related Reads on Cat Food