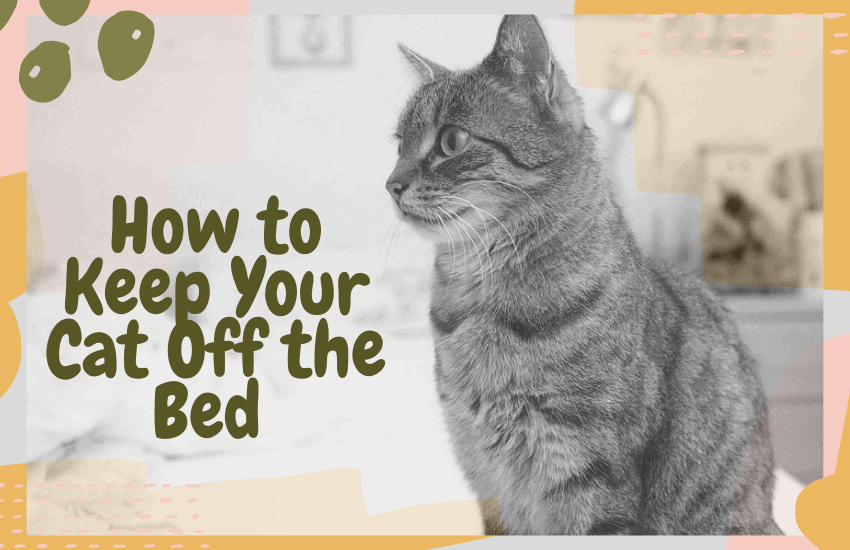 For a lot of cat parents, adding a furry friend to the family wasn't a decision that was made lightly.
There are many things to consider when deciding whether or not to bring a cat home, from what kind of cat food to get, where to put the litter box and what accessories to purchase.
Who will feed and water her?
Who will take her to visit the veterinarian?
It can seem like the details are endless and it's inevitable that something will get missed in the excitement.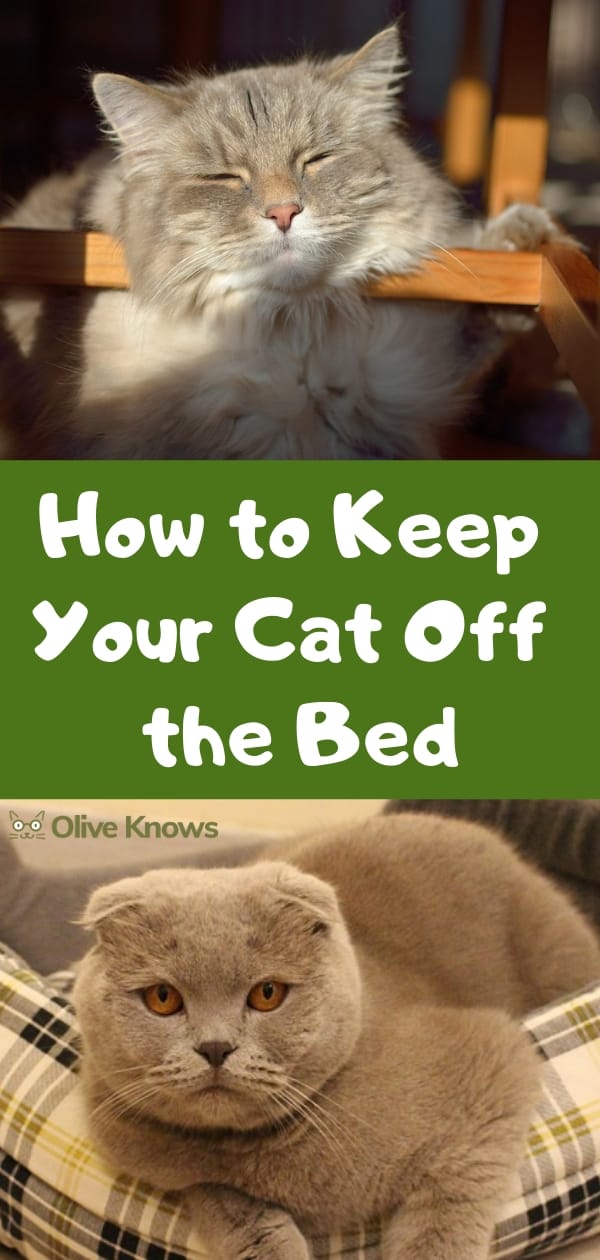 One thing that may not have come up in the decision making and planning process was where she will be sleeping. Many cat parents don't think twice about letting their cats sleep with them in their cat beds. More often than not, having a warm friend to curl up with at night is one of the things they were the most excited about.
Without giving much thought to where she will be sleeping, it's easy for her to make a home in your comfy bed with you at night or when she naps throughout the day. For some people, having their cat sleep in bed with them is a deal breaker for a few reasons, but once this habit gets established, it can be very difficult to break.
Before you bring your new kitty home it's a good idea to figure out the ground rules when it comes to having her in bed with you and come up with a game plan if you decide you don't want her there.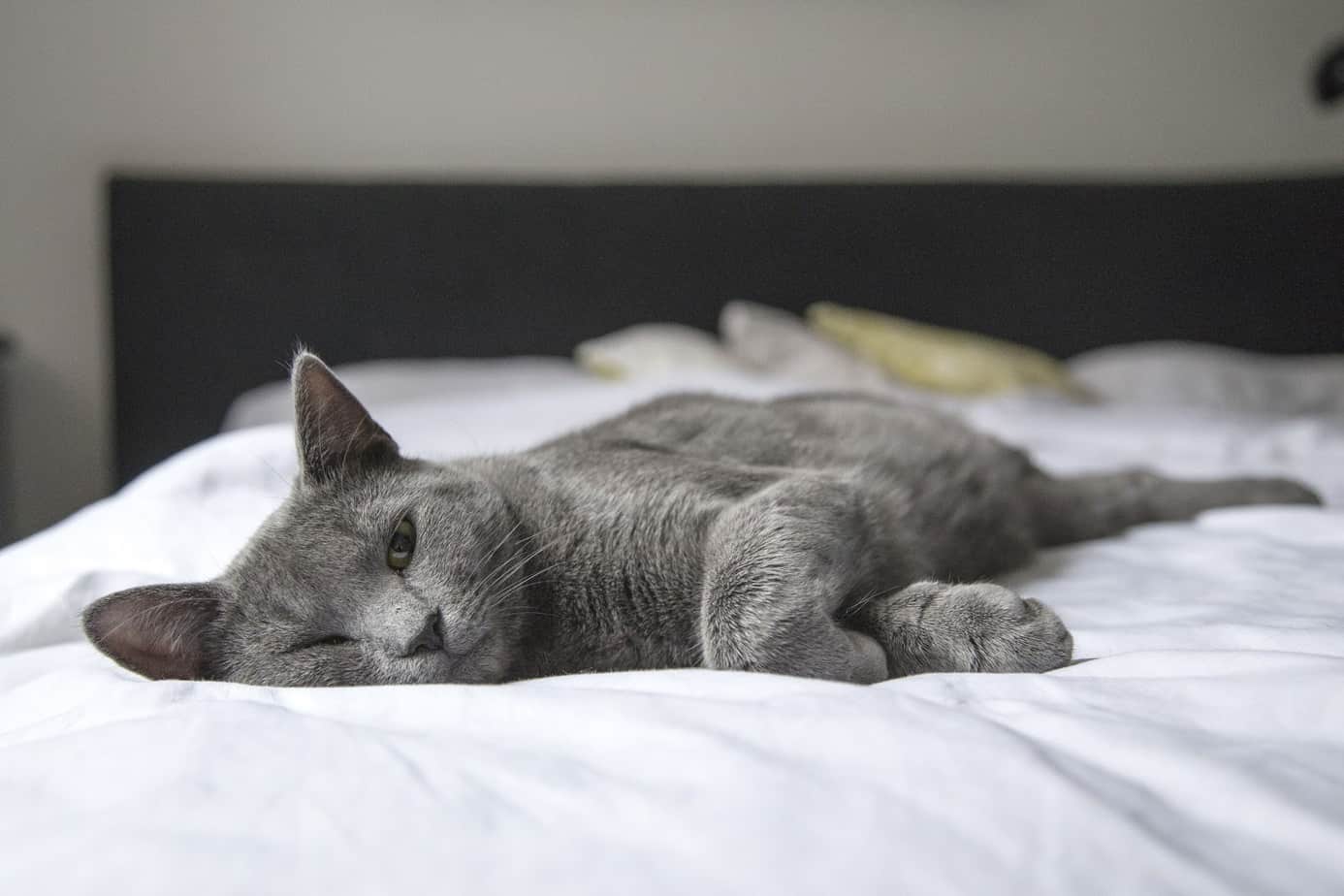 Reasons to Not Let Your Cat Sleep in Your Bed
Insufficient sleep is a huge problem for a lot of people and sometimes having your cat sleeping in your bed with you contributes to a lack of sleep (human variety). Kittens and younger cats tend to think of bedtime as play time and will attack your feet or hands whenever they move under the covers. To counteract this, it's suggested to have a play session to try to wear her out before bed.
Aside from turning bedtime into playtime, another behavior issue that tends to be a deal breaker when it comes to letting your cat sleep with you is using the cat's bed as her litter box. Nothing is more upsetting than having the haven of your bed contaminated with an unpleasant surprise (cat pee) from your kitty. Especially if you find her little gift with the lights off!
Health reasons also play a large part in some people refraining from letting their cat sleep in the bed with them, whether it be the cat's health problems such as vomiting or diarrhea, or their own cat health issues. Some people also worry about getting sick from letting their cat sleep in bed with them. Pets can carry parasites like ringworm on their fur and when they cuddle up next to you in bed, those parasites come with them.
Whether cat parents don't let their cat sleep with them for a health reason, behavioral reason or simply not wanting to share their space, it's a personal choice. The hard part comes when trying to figure out how to get your cat's attention and keep this strong-willed creature out of your bed!
How to Keep Your Cat Off the Bed
For those who don't want to sleep with their cat or are unable to let their lovely cats sleep with them in the same bed, finding a solution to keep her off the bed can be a little frustrating. As independent and sassy creatures it can be difficult to convince them to play by your rules, so finding something that works without costing a lot of time or money is going to make the process much easier for both of you.
Keep Your Bedroom Door Closed
This might seem like the most obvious solution, and sometimes that's true, but it's not always the right solution for everyone. Closing the bedroom door doesn't work for people who live in a studio apartment without a separate bedroom area because they have no door to close. It also might be a problem with people who have roommates and need to keep her out of common areas.
An alternative solution would be to make her a bed in a separate room with a door you are able to close. When it's time for bed, take her to her room and shut the door. Again, this isn't an option for everyone due to things like living space or feeling guilty for shutting her up in a room all alone, but there are plenty of bedding products available to test out until you find a solution that works for you.
Cat Repellent: Invest in Some Special Products
Try a spray such as Nature's Miracle Pet Blocker or Four Paws Keep Off to deter her from climbing on the bed. Both are said to repel cats because they don't like the scent of the spray. There are mixed reviews on whether or not the spray works, and it only lasts for 24-48 hours, so it might be worth it to explore some other options.
Keep Off! Repellent 16-Ounce Spray | Chewy
Four Paws Keep Off! Indoor & Outdoor Dog & Cat Repellent repels dogs and cats from any place it's sprayed for up to 24 hours. It won't stain furniture or fabric and is safe to use around plants.
Check Price
Buy at Amazon.com
We earn a commission if you click this link and make a purchase at no additional cost to you.
Cat owners swear by the Mosher cover to keep their cats from getting on the bed. It's essentially a blanket but one side of it is made with a foil-like material, which most cats don't like. The great thing about this cover aside from being easy to store is that it safe for pets. It's also simple to use because you can just throw it over the top cover of the bed to prevent your cat from jumping in bed with you!
Another product that can help cat parents train their cats to not get on the bed is a ScatMat. A ScatMat is also very simple to use and works by emitting a mild static pulse when your cat steps on the mat. It also has different strength options if you find your cat is persistent.
What's especially nice about the ScatMat is that it fits pretty much wherever you want to put it. You can either put it on a part of the bed your cat seems to favor when she jumps up, or you can put it on the floor of a doorway to teach her to stay out of that room.
For those feeling a bit wary about using a static pulse to deter their cat, another option is the PetSafe SSSCat Spray Pet Deterrent. The SSSCat Spray works using motion detectors. If you put the can in a doorway of a room and your cat gets near it, the motion detector will trigger which will cause a quick burst of an odorless spray to be released from the can.
PetSafe SSSCAT Spray Pet Deterrent | Chewy
This unique spray uses motion-activated infrared to monitor movement up to 3 feet away. When the SSSCAT detects your pet entering an off-limit area, it emits a harmless, odorless and stainless spray to deter your pet from continuing.
Check Price
Buy at Amazon.com
We earn a commission if you click this link and make a purchase at no additional cost to you.
It also has a three-foot radius so your cat doesn't need to be close to the can or doorway for it to work and it is a good solution for anyone that can't simply keep their cat out of the bedroom by shutting the door.
Give Your Cat Her Own Bed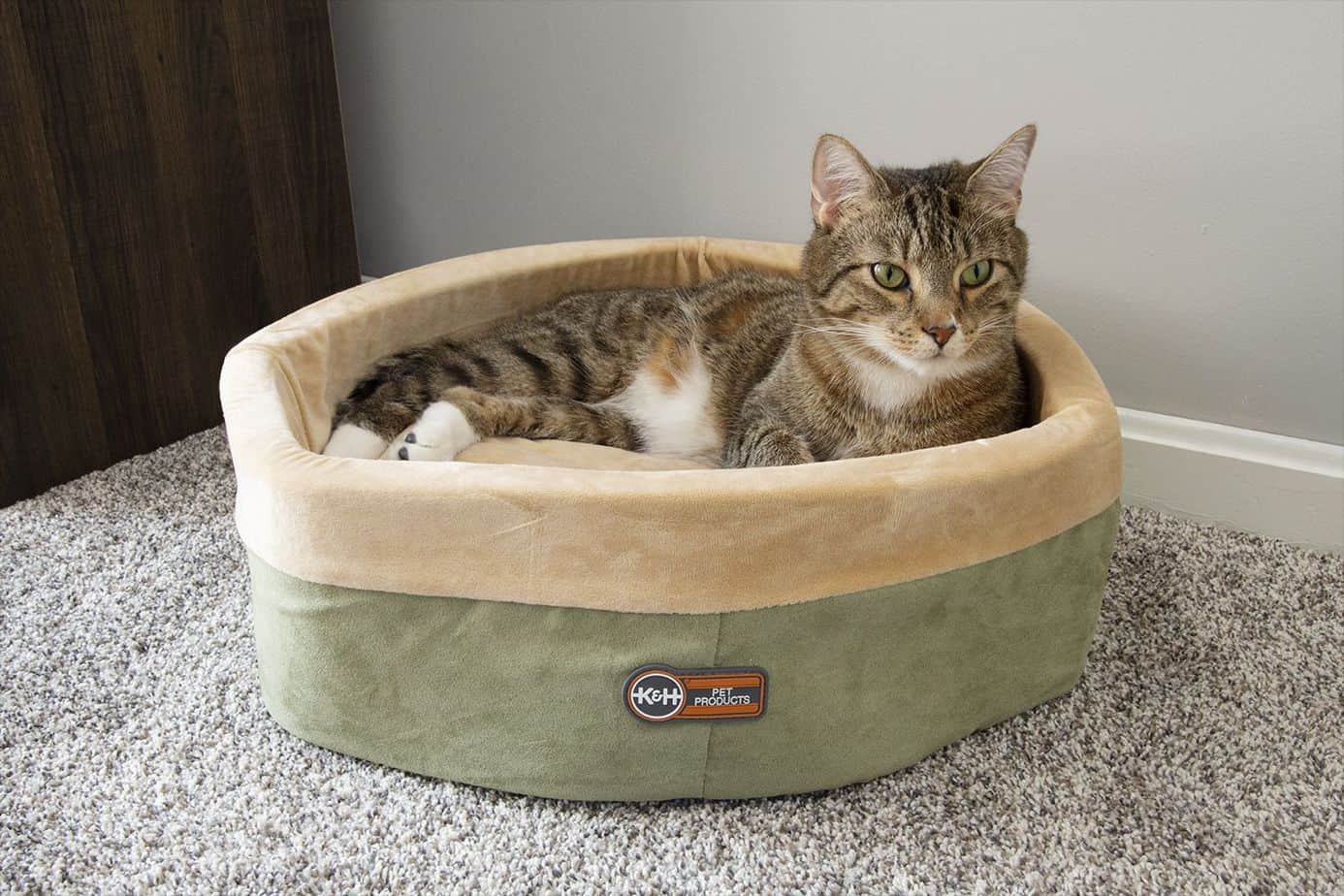 If you're a cat owner that doesn't want to share the bed with your cat for whatever reason, give her a bed to call her own bed so she has a comfortable place to go. Pick out a cat bed you think she would enjoy lounging in, such as this cute shark one. For those willing to spend a little extra money, a heated cat bed is also a great option. Once you have a cat bed you think she will like, put it in a quiet place where she can rest and put a small blanket or old t-shirt that smells like you inside.
FRISCO Novelty Shark Covered Cat & Dog Bed | Chewy
Soft material and padding on all sides provides support and comfort, plus a removable cushion. Take it on the go—just remove the cushion and flatten down for easy transport.
Check Price
We earn a commission if you click this link and make a purchase at no additional cost to you.
K&H Pet Products Thermo-Kitty Heated Cat Bed | Chewy
The K&H Thermo-Kitty Bed has a dual thermostat 4 watt heating unit buried deep within its thick, super soft, orthopedic foam base. It warms the surface 10?15 degrees above ambient air temperature to your cat's normal body temperature when in use.
Check Price
Buy at Amazon.com
We earn a commission if you click this link and make a purchase at no additional cost to you.
FRISCO Eyelash Cat & Dog Blanket | Amazon
Double-sided design with two materials—faux fur on one side and velvet on the other. Machine washable so it's easy to keep your bestie's nap spot clean and fresh.
Buy at Amazon.com
We earn a commission if you click this link and make a purchase at no additional cost to you.
It's unlikely she will gravitate to her bed all on her own right away, and it may take some time for her to adjust. If you find she still tries to climb into bed with you, pick her up and bring her to her bed. After a while, she should catch on. If she doesn't you can also try spraying a catnip spray or sprinkling some catnip on her bed to entice her to spend time there.
SmartyKat Organic Catnip | Amazon
Filled with pure ingredients and free from chemicals or pesticides. Cats typically develop a reaction to catnip at 9 months of age.
Buy at Amazon.com
We earn a commission if you click this link and make a purchase at no additional cost to you.
10/03/2023 12:19 am GMT
Use Double-Sided Tape as a Cat Deterrent
The double-sided tape trick works wonders when it comes to keeping cats off furniture, tables, and countertops, so modifying it as a method to keep your cat off the bed might just work too! Buy some double sided tape like this one from StickyPaws, which comes in a variety of sizes, and adhere it to the edges of an old blanket.
Sticky Paws X-Large | Amazon
Effectively and humanely deters inappropriate surface scratching. Harmless to cats and furniture when used as directed. 
Buy at Amazon.com
We earn a commission if you click this link and make a purchase at no additional cost to you.
10/03/2023 12:06 am GMT
When your cat jumps on the bed and comes into contact with the tape, she will more than likely get off the bed because she doesn't like the way it feels on her paws. After a few attempts, she will presumably get tired of finding the same result and stop trying to get on the bed.
Read everything you need to know about cat furniture here.
Keeping Your Cat Off the Bed Isn't Impossible
Finding a way to keep your cat off the bed may seem like an impossible task, but there are ways to establish an understanding with her and eliminate the possibility of finding her in your bed. As a cat parent, you just have to be patient while you find the right solution, whether it be as simple as shutting the bedroom door at night or purchasing some specially designed products. Keep in mind other cat parents are or have already tackled this issue, so you can too!
Further Reading on Cat Training