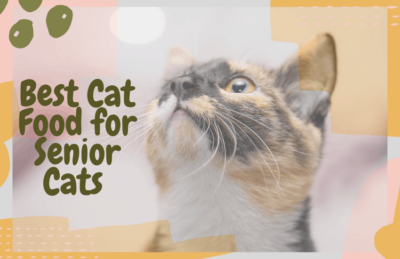 Getting a cat is a lifetime commitment, and that includes caring for aging and senior cats. While a huge majority – 82 percent of adoptions are for kittens. By the time cats are 18 months or older, a mere sixty percent are taken up for adoption.
But whether you're thinking of adopting a senior cat or you have a cat that's aged, having a senior cat can bring just as much joy. But with a senior cat also comes new dietary needs. If you are knowledgeable about what cat food is best for your cat, though, no reason caring for your senior cat should be overwhelming.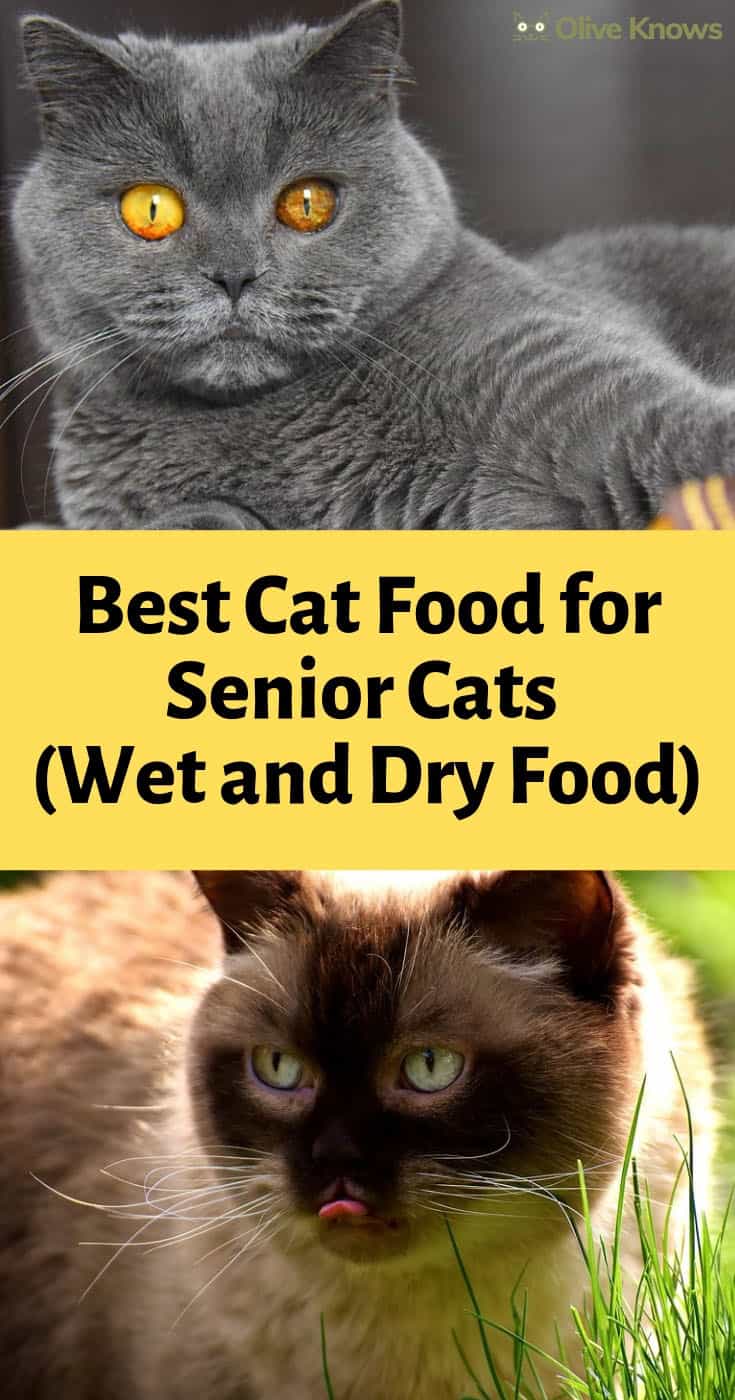 We'll discuss the unique needs of senior cats and the best cat food you can get.
When Is a Cat Considered a Senior?
While there's a certain gray area when it comes to when a cat is considered a senior, most veterinarians and other experts consider cats seniors when they reach somewhere between seven and ten years old. Because different breeds have different lifespans, some may act like seniors at slightly different ages.
Among other factors, when your cat is a senior is determined by:
Age
Species
Size
Breed
General Organ Health
Taking your cat in for regular checkups is, of course, important for your cat's health, but it can also help you know when it's time to change to a new type of food and be on the lookout for common health ailments senior cats are more susceptible to, compared with younger cats and kittens.
And you can't tell by behavior alone: some cats simply act older or younger than their physiological age. The best way to tell if your cat has reached senior status is to take him or her for regular appointments, ideally at least once a year, and more if there are signs of obvious health problems.
What Are Some Typical Health Conditions That Senior Cats Develop?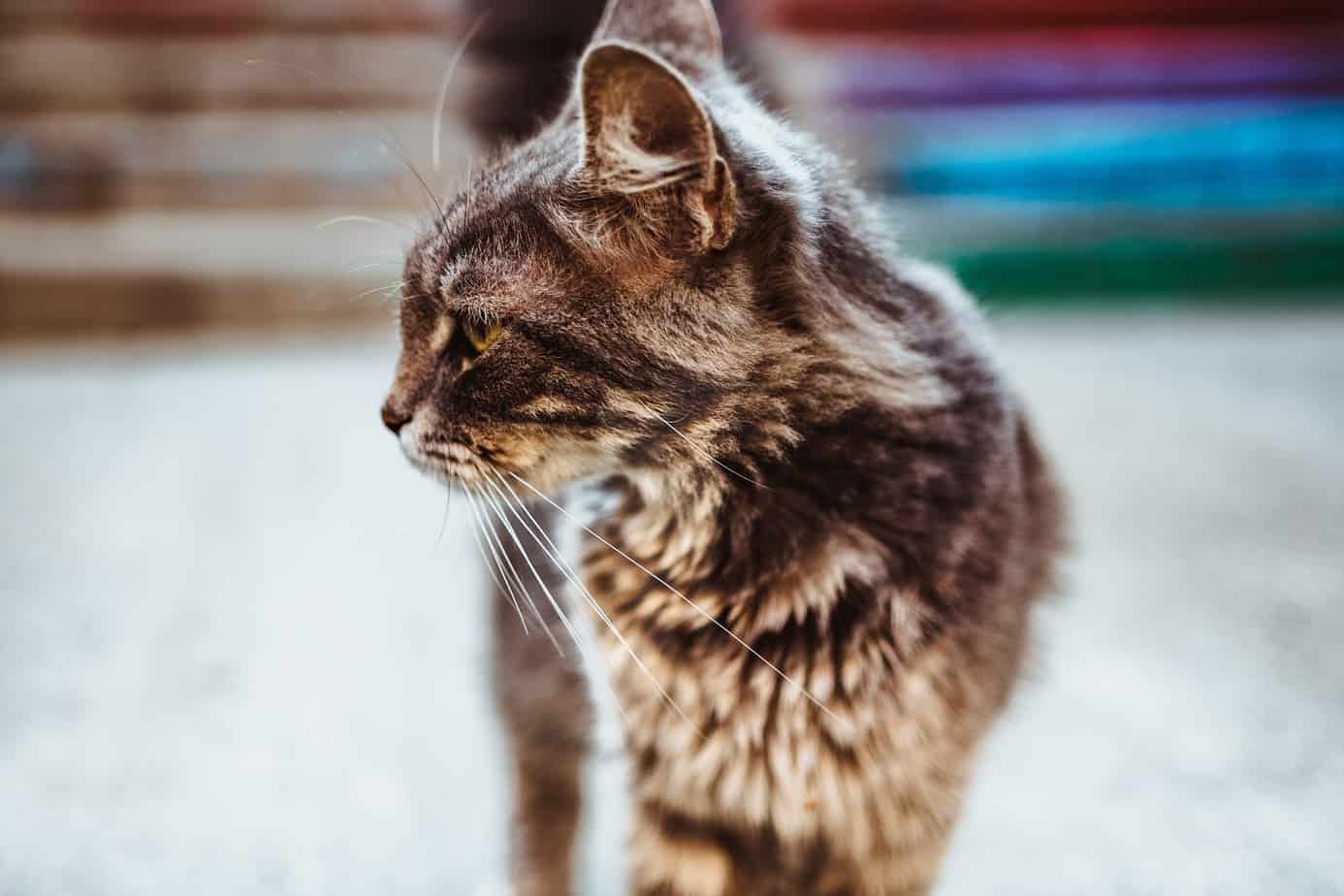 While health conditions vary from individual cats and certain breeds are more susceptible to different ailments, there are some conditions that senior cats, in general, are more predisposed towards.
All cats will eventually exhibit signs of aging, of course, and the degree and how quickly varies greatly, but in general, short of serious health conditions, aging comes on gradually. According to Cornell University College of Veterinary Medicine, the first signs usually simply being less active.
While cats are famous for their cat naps, senior cats tend to nap more and climb around less. Changes in weight occur–while the common assumption is that aging cats tend to gain weight, some are instead prone to weight loss.
Also, senior cats are more vulnerable to developing the following:
Fatty cysts
Appetite loss
Gastrointestinal disorders
Fatigue
Eyesight issues, including cloudy eyes
Muscle and joint aches or fatigue
Dental issues and infections
Many of these are minor and subtle, but can still impact your cat's quality of life. Your cat may overall want to sleep more and be less interactive, though it depends on his or her overall health.
What Serious Disorders Can Senior Cats Develop?
Some parts of aging, however, are not considered natural. While cats of any age can develop serious disorders or diseases. If your cat is more than just a little fatigued, or develops any of the above behaviors or conditions to a degree, he or she is in pain or not eating, of course, you need to consult with a vet. But aside from this, cats can also potentially be more prone to diseases and disorders as they hit their elderly years, including:
Chronic Kidney Disease: Chronic kidney disease is among the most severe conditions a senior cat can develop. When the kidneys malfunction, wastes build up in the bloodstream. Excessive thirst, vomiting, and increased urination are all symptoms.
Heart Disease: Heart Disease is common in cats and dogs alike, but symptoms are often hard to diagnose; the best way to know if your cat is suffering from heart disease is to get regular and proper checkups.
Diabetes Mellitus: Diabetes is an increase in blood sugar levels and is commonly associated with being overweight. Insulin rejections are often needed to maintain feline health.
Arthritis: Arthritis is, in a simply put way, pain in the joints, but can go undiagnosed as it can also be mistaken as a sign of normal aging.
Hyperthyroidism: Hyperthyroidism occurs when an excess of the thyroid hormone is produced. Weight loss and increased appetite are the most common symptoms.
Dental Disease: Dental issues get more common as cats age into seniors. But it even impacts adult cats: as much as two-thirds of cats experience some dental health issue within their lifetime.
Cancer
What Are The Main Causes of Diseases and Illnesses in Senior Cats?
The main causes of diseases and illnesses in senior cats are twofold. For one, some of the conditions are more or less natural and come with age. You can't do too much about a cat becoming more tired or having less energy. And some of the more serious illnesses can happen simply because the breed is more predisposed to those health issues.
There are, however, several things that can be done to either prevent or manage certain diseases or conditions.
Heart disease, diabetes, and even arthritis can be managed or even prevented through properly caring for your senior cat, and understanding his or her unique needs. This kind of conditions can be developed, or aggravated by poor dietary support and care on the part of the cats' owners.
How Can I Make Sure my Senior Cat is in as Good of Shape as Possible?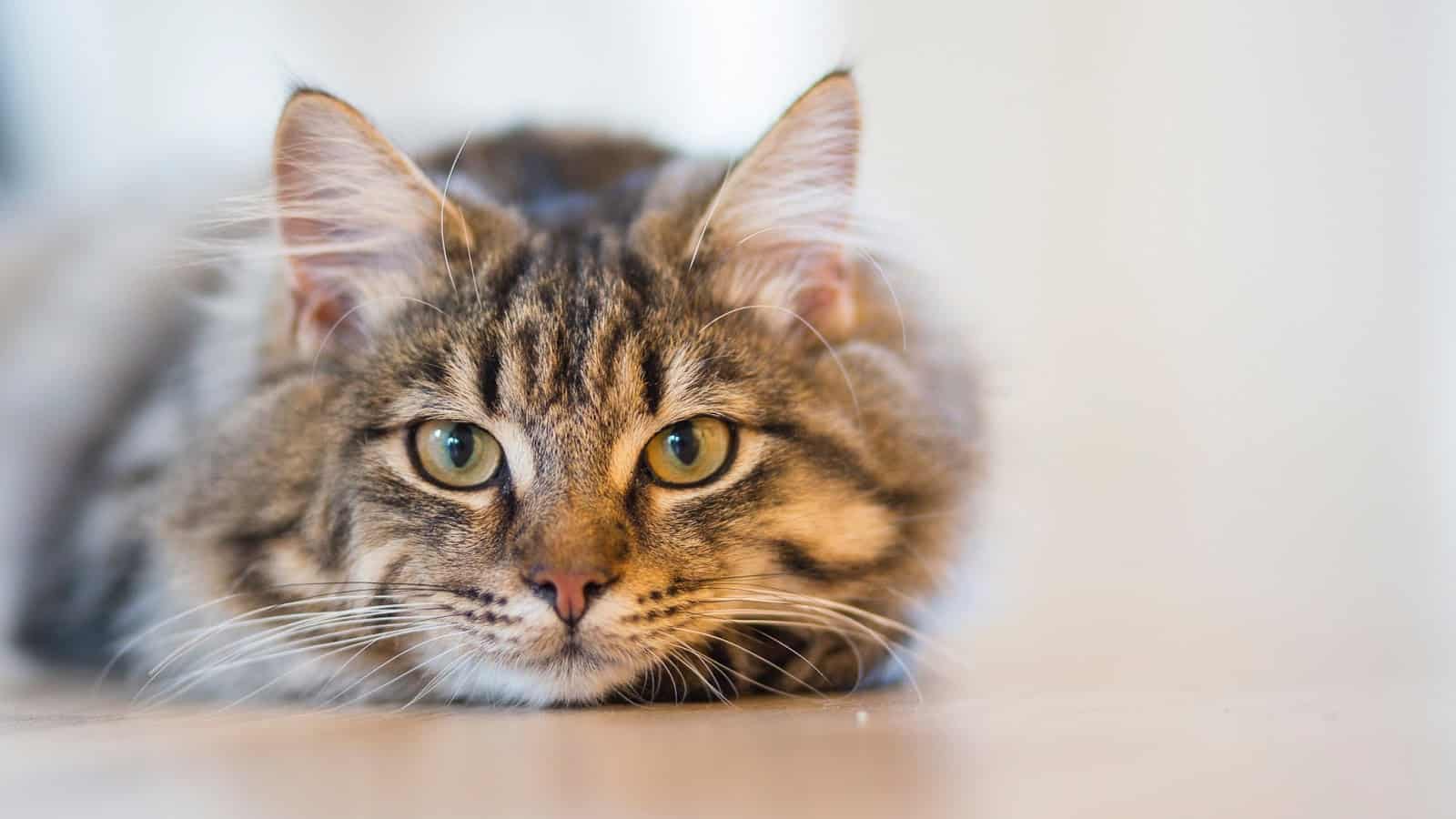 Taking care of a senior cat has challenges of its own, but that doesn't mean you can't take as good of care of your older cat than you can of a younger cat. For a senior cat, you should:
Visit the vet more frequently as needed. While a yearly checkup is a good rule of thumb for cats in general, you may have to go more often, depending on your cat's general health. That doesn't mean you have to go way more often–just listen to your vet's recommendations.
Pay more attention to your cat's weight. Take note of any major changes in weight, either loss or gain. Your vet can do this for you, but you should also be involved. While slight weight changes are not a cause for concern, more than a very slight change should be monitored.
Spend more time with your cat. Yes, really. Spending time with your cat will keep him or her more social and content–even if he or she does tend to be more independent-minded, it can help your senior cat to get more social time, exercise, and it can even help you keep better track of his or her health.
When in doubt, check. If your cat seems extra tired, moody, or otherwise is behaving differently, don't second guess your instinct. You know your cat, and it doesn't hurt to take him or her in for checkout.
Remember the importance of exercise. Let's face it: cats aren't like dogs. While you normally might take a dog for a walk, cats rarely opt for something like that. When a cat is younger, he or she gets exercise often in the form of play. You may have to make a larger effort, but purposefully playing with your cat, and even adding new toys and climbing and scratching posts can encourage him or her to stay more active.
Consider switching up your cat's food. You senior cat has different nutritional needs than an adult cat or a kitten. Making sure he or she gets the proper nutrients can go a long way in keeping them in the best health possible.
How Do Cat's Nutritional Needs Change as it Becomes a Senior?
As a cat becomes a senior, he or she has new nutritional needs. Except for cats with specific medical needs, most cats do best when they are placed on a formula specially catered towards seniors.
Unlike adult cat food, senior cat food tends to emphasize Vitamin E, which helps support the immune system and prevents red blood cells from clotting, among other things. Senior cat food has adequate protein to support muscle health, but it is also less calorically dense than adult cat food.
What Should I Look for to Find the Best Cat Food for my Senior Cat?
The best cat food for your senior cat is specially formulated with the nutritional needs of your aging cat in mind. There are several things you want to look for before deciding on cat food for your aging cat:
Smaller pieces: It may be harder to senior cats to chew, so smaller, bite-sized pieces are the best bet for your older cat.
More meat: As cat ages, his or her sense of smell and taste diminishes, so a meatier formula or one with more flavor can be more appealing.
Lower calorie: Compare the senior formula to its like adult cat food formula. It should be reduced in calories the help maintain a healthy weight.
Essential vitamins: All cat food should contain essential vitamins, but senior cat food should especially contain Vitamin E, Other important vitamins include water-soluble vitamins such as Vitamin C and B Complex and fat-soluble vitamins such as Vitamins D and K. Beta-Carotene and Omega 3 fatty acids also helpful.
Specific protein source: This goes for all cat food, but the best cat food will have a specific, identifiable protein source named, such as chicken, turkey, lamb, salmon, and tuna. The protein also should be listed at the first ingredient.
Be wary of filler ingredients: Filler ingredients include corn and wheat. While it may sound healthy to you, carbohydrates are not central to a cat's diet and can be used to fill in and cut back on more expensive protein cheaply. Your best bet? Find a grain free option.
Look at the fat source: Some fats, especially Omega 3's, are healthy for your cat. Natural fats include those derived from different forms of protein. However, vegetable oils, which are also used as filler ingredients in cat food, are not the best for your senior cat.
Don't go for the cheapest brand: While there is nothing wrong with wanting to save a little money, you shouldn't skimp completely when it comes to food for your senior cat. It's especially important that he or she gets the nutrition they need in their older years, and sometimes brands are marked down in part because they cut costs through adding filler ingredients–so always check the label.
Go more natural. While ideal for cats of any age, making sure your cat gets essential nutrition as it ages can help support its help and happiness. If you can, try to avoid senior cat food that contains preservatives such as BHT and BHA. Also be wary of by-products, and artificial dyes.
Check the ratio: Pay attention not to just the protein source, but that the ratio is good for senior cats. Dry food should be around ten percent fat to twenty-eight percent protein, or four percent fat and eight percent protein in wet food. For overweight cats, there are special weight reduction formulas, but this needs to be first approved by your vet.
What Are Some of The Best Senior Cat Food Formulas I Can Buy Now?
With all of these factors in mind, we've created a short list of the best cat food for your senior cat. While this list is by no means all inclusive, this cat food is formulated specifically to meet the nutritional needs of your cat and can promote well being.
Purina One offers a senior cat food blend that checks all of the boxes without being as expensive as luxury brands. Meat is the first ingredient, there are no fillers, artificial flavors, or preservatives, and the blend includes carrots and peas instead. The dry food earned four and a half out of five stars by Target customers. While Purina does have many highly recommended wet cat food varieties, they are not specifically indicated for seniors.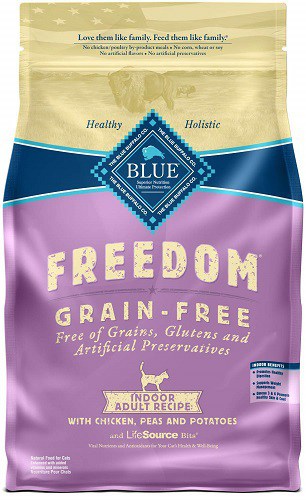 This blend by Blue Buffalo, offered in chicken, contains no chicken by-products or other fillers like corn or wheat. Carrots, sweet potatoes, and peas supply other nutrients. The bits are also specially formulated to include antioxidants to support immune health, and a 'healthy oxidative balance'. If you're looking for wet food, Blue Buffalo also makes a similar formula with its wet rendition of grain-free indoor food, with a focus on dietary fiber, caloric balance, and even cranberries for urinary tract health.
Another quality senior cat food comes from Nutro, which presents more of a pate kind of food. No grains, fillers, or preservatives are used to make this food, and the soft loaf is easy for cats who have more trouble chewing or digesting food. It's also soy and gluten free, about at the right protein to fat ratio and the can is BPA free.
Hill's Science Diet offers another excellent cat food for senior cats, scoring four and half out of five stars from over nine hundred and forty-two customer reviews. The nutritional profile is formulated specifically to support eye, heart, and kidney health and is free or artificial colors, flavors, and preservatives. The formula is also useful for any cats that have frequent problems with hairballs.
This dry cat food by Merrick contains both chicken and turkey and vegetables, including alfalfa sprouts, sweet potatoes, and peas. Omega's and antioxidants support skin and immune health, and there are no grains, artificial flavors or preservatives. Fiber and Yucca Cchidigera are also added to support healthy digestion.
Whether you cat prefers dry cat food, wet cat food, or a mix of both, there are healthy options free of fillers and preservatives that your cat doesn't need and loaded with healthy fats, proteins, and even antioxidants. Taking care of a senior cat has its challenges, but by providing your cat with the best cat food possible, you can keep them healthy for longer and help them enjoy their golden years.
Recommended Reads: