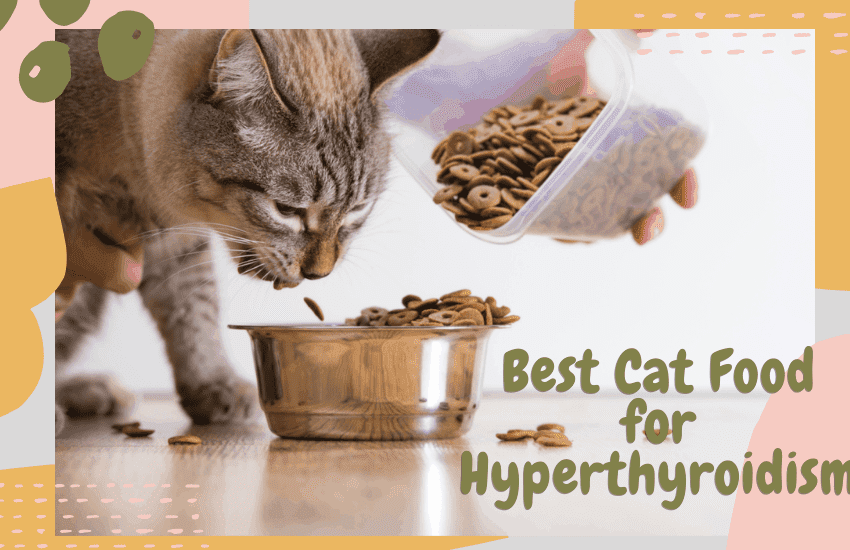 It can be worrying to find out that your cat has a long-term health condition. If your cat has hyperthyroidism, or you are worried that they might have, then this is the article for you. We're going to take a look at what this condition is, how to spot it, and how you can support your cat to live a healthy life.
Hyperthyroidism is the most common glandular condition in cats. That means that lots of other pet owners have already been through what you're experiencing now.
There's a wealth of research we can dive into, and products to support your pet's health including Hills Prescription Diet y/d Thyroid Support. We're also going to look at how you could minimize the risk of a healthy cat going on to develop hyperthyroidism.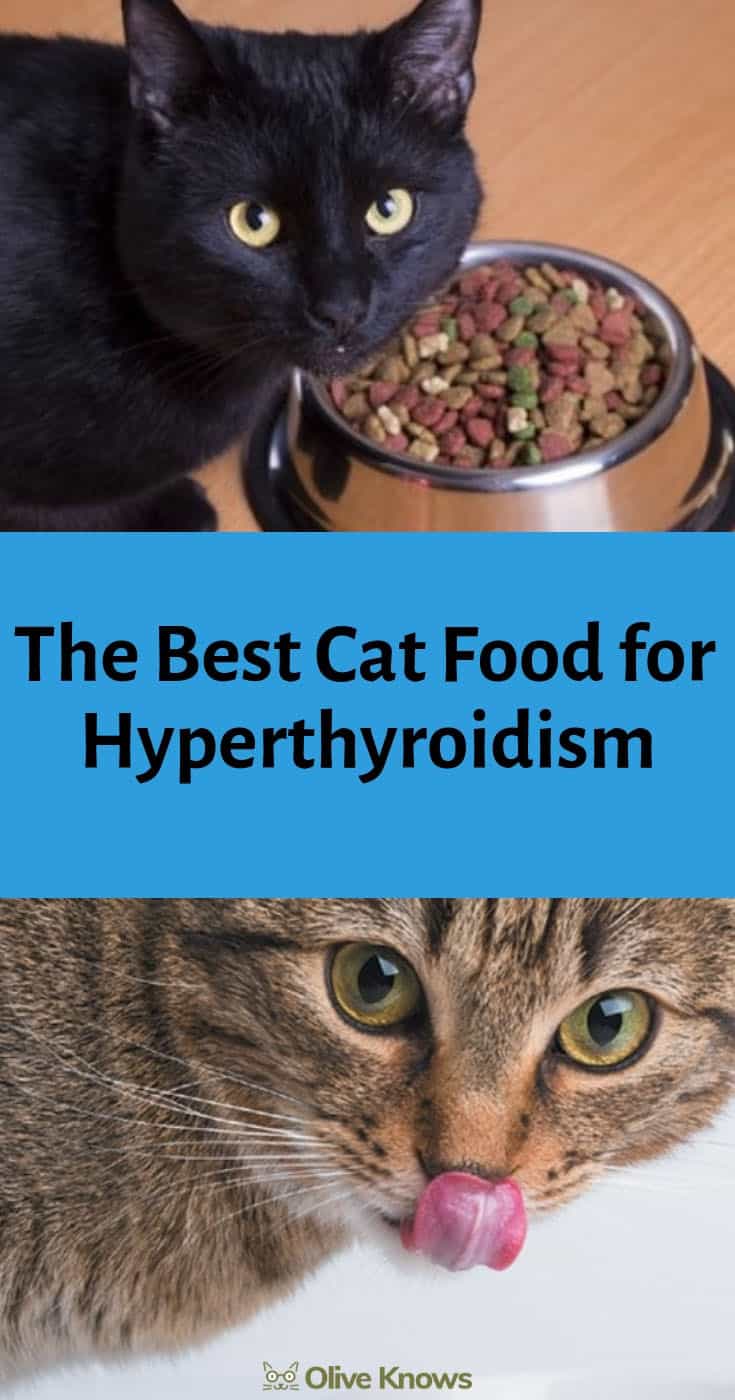 Changing your cat's diet up after your furry friend has been diagnosed with Hyperthyroidism can leave your head spinning, especially if you aren't sure about what foods your cat should and shouldn't be eating.
When looking to choose the best cat food for your cat with Hyperthyroidism, you should choose a food that's low in carbohydrates, loaded with easily digestible protein, and low in iodine.
Please keep in mind that food is not a cure for Hyperthyroidism, but the right type of diet can help to ease the symptoms and side-effects that come with the disease while being treated.
The list of cat foods that we recommend in this article is meant to inform you about the best ways to go about changing your cat's diet to maintain your cat's health while suffering from Hyperthyroidism. The advice listed in this article is not intended to substitute the professional advice, diagnosis, or treatment from a veterinary doctor.
What is Hyperthyroidism?
.Be careful! Did your vet say 'Hyperthyroidism' or 'Hypothyroidism'? These terms are two different medical differences, so make sure that you're absolutely clear about what your cat was diagnosed with before creating a diet to help treat your kitty.
If your veterinarian did diagnose your furry friend with Hyperthyroidism, your cat has been diagnosed with an endocrine disorder that is commonly found in elderly cats. Hyperthyroidism is caused by the body producing too many thyroid hormones caused by a tumor on the thyroid gland. The good news is that in the majority of cases, the tumor found on the thyroid gland isn't cancerous.
The higher levels of hormones in your cat's body cause an increase in their metabolic rate, which puts extra stress on the nervous system, heart, liver, and all of their other organs. If left untreated for a long period of time, Hyperthyroidism can be fatal to your cat.
Hyperthyroidism is the name given to a condition where the thyroid glands are overactive. In cats, this is more common in older cats. 94% of cats who are diagnosed are older than 10 years. Younger cats can also develop this condition, but it is much rarer.
The thyroid gland sits in your cat's throat. It has two lobes, which sit on either side of the windpipe. The gland is responsible for producing a substance called thyroxine, which the body uses to help control metabolism and the breakdown of fat. It's also involved in the production of red blood cells, and it can affect heart rate.
When a cat has hyperthyroidism, it produces much more thyroxine than normal. It's usually caused by a tumor in the thyroid gland itself. If your cat has hyperthyroidism, you might be able to feel the enlarged gland or even see it. Having too much thyroxine increases the rate of metabolism, which is why your cat will want to eat and drink more and will start losing weight.
While finding out that your furbaby has a tumor can be traumatic, in most cases, it isn't caused by cancer. These tumors are usually benign and can be successfully treated with medication or surgery. Many cats go on to live long and happy lives after getting diagnosed.
What are the Symptoms of Hyperthyroidism in Cats?
Hyperthyroidism isn't something that can be caught. It comes on slowly over time, so you may not notice that there is a problem at first. The first signs of this condition are often an increased appetite and thirst, and it's often not until the condition of the pet's coat starts to deteriorate that the owner realizes there is something wrong.
Hyperthyroidism affects every single aspect of the body, which is part of what makes it difficult to diagnose. A list of some of the most common symptoms include:
Increased appetite
Heavy breathing
Weight loss
Excessive shedding
Increased thirst
Restlessness
Using the litter box more frequently
Diarrhea
Panting
Vomiting
Pounding heart rate
Unkempt appearance (patches of fur missing)
Changes in behavior
Eating and drinking more
Hyperactivity
Unusually anxious or nervous behavior
A lump in the middle of the throat
If you believe that your pet may have hyperthyroidism, you should make an appointment for them to see the vet as soon as possible. There may be other conditions which explain the symptoms, or your pet may have more that one health issue to deal with.
If the vet feels that your cat may have hyperthyroidism, they will arrange for a blood test to be taken. If the levels of T4 are higher than normal, it will confirm that your cat does have this condition.
If you notice any of these symptoms in your cat, it's extremely important that you take them to the vet as soon as you possibly can. Make sure that you get a diagnosis before you start making any real changes in your cat's life!
What Should I Feed my Cat With Hyperthyroidism?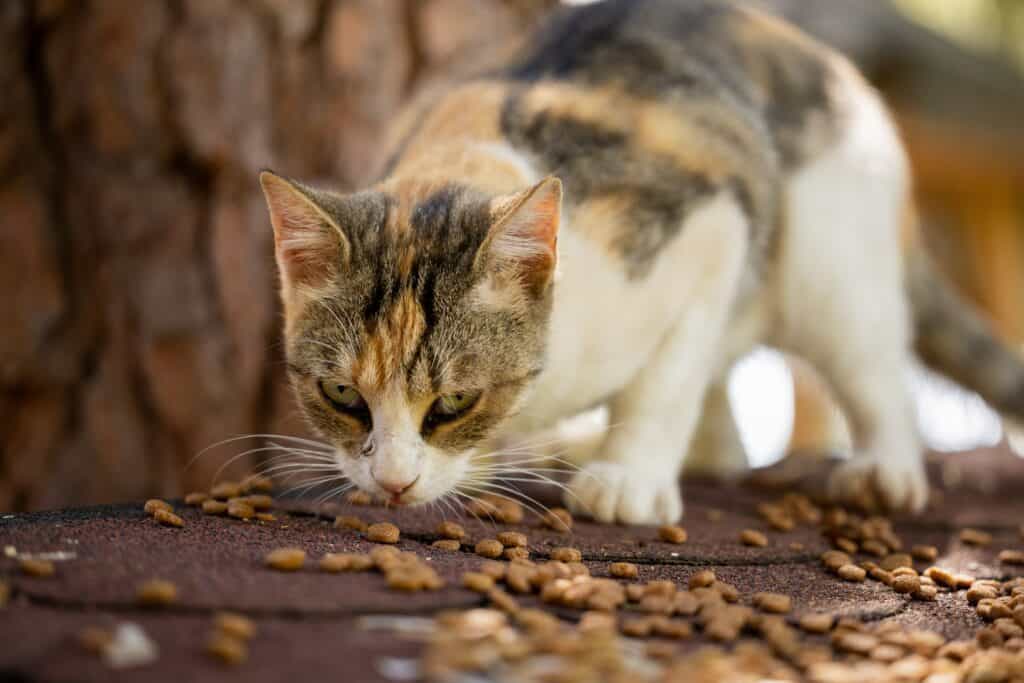 You should be feeding your cat with Hyperthyroidism a diet with highly-digestible protein.  Cats that have been diagnosed with Hyperthyroidism have a hard time maintaining muscle mass, which means that you should be choosing foods that have 50% of the calories from protein.
The best type of foods you should choose for your kitty are foods that are filled with high-quality, easily digestible sources of protein. You should also avoid feeding your cat foods that have high-protein fillers such as corn gluten meal, potato protein, pea protein, and wheat gluten.
What should I avoid feeding my cat with Hyperthyroidism?
You should avoid feeding your cat a diet that's high in carbohydrates, so try feeding your cat a diet that has less than 10% carbohydrates from dry food. This is important as Hyperthyroidism raises your cat's blood glucose levels, which leads to limited glucose tolerance and insulin resistance.
In other words, Hyperthyroidism can lead your kitty to be in a pre-diabetic state. Controlling your cat's carbohydrate intake can limit your kitty's chance for developing diabetes. In addition, you should also avoid feeding your cat soy products, a diet that is based on soy products can significantly impact your cat's hormone production.
My Vet Recommended a Low-iodine Diet, What is That?
Your vet may have recommended your cat to follow a low-iodine diet, as in cats with Hyperthyroidism, your cat's thyroid is producing too much thyroxine (the thyroid hormone). In order to slow the production of thyroxine, your cat's iodine intake must be limited.
So, for your cat to follow a low-iodine diet as recommended by your vet, your kitty cannot eat any supplements or teats that have iodine. Don't worry about your cat not eating enough iodine, as the only reason the body needs iodine is the produce thyroid hormones. Therefore, a diet that has a small amount or no iodine won't cause your cat to develop any other health problems!
Why Should I Feed my Cat With Hyperthyroidism Wet Food and Not Dry Food?
The biggest reason why a veterinarian recommends feeding your cat wet food and not dry food while being treated for Hyperthyroidism is that dry foods are extremely high in carbs. Also, dry foods aren't typically made with high protein contents, making them a poor dietary choice for cats with Hyperthyroidism.
Wet foods are not only lower in carbohydrates, but also offer your cats extra hydration because of the moisture used in the creation of the food. If you're having a hard time getting your cat to eat while being treated for Hyperthyroidism, wet foods also tend to be a lot more appetizing to cats, which is why your vet may suggest switching your cat over to wet food.
Treatment for Hyperthyroidism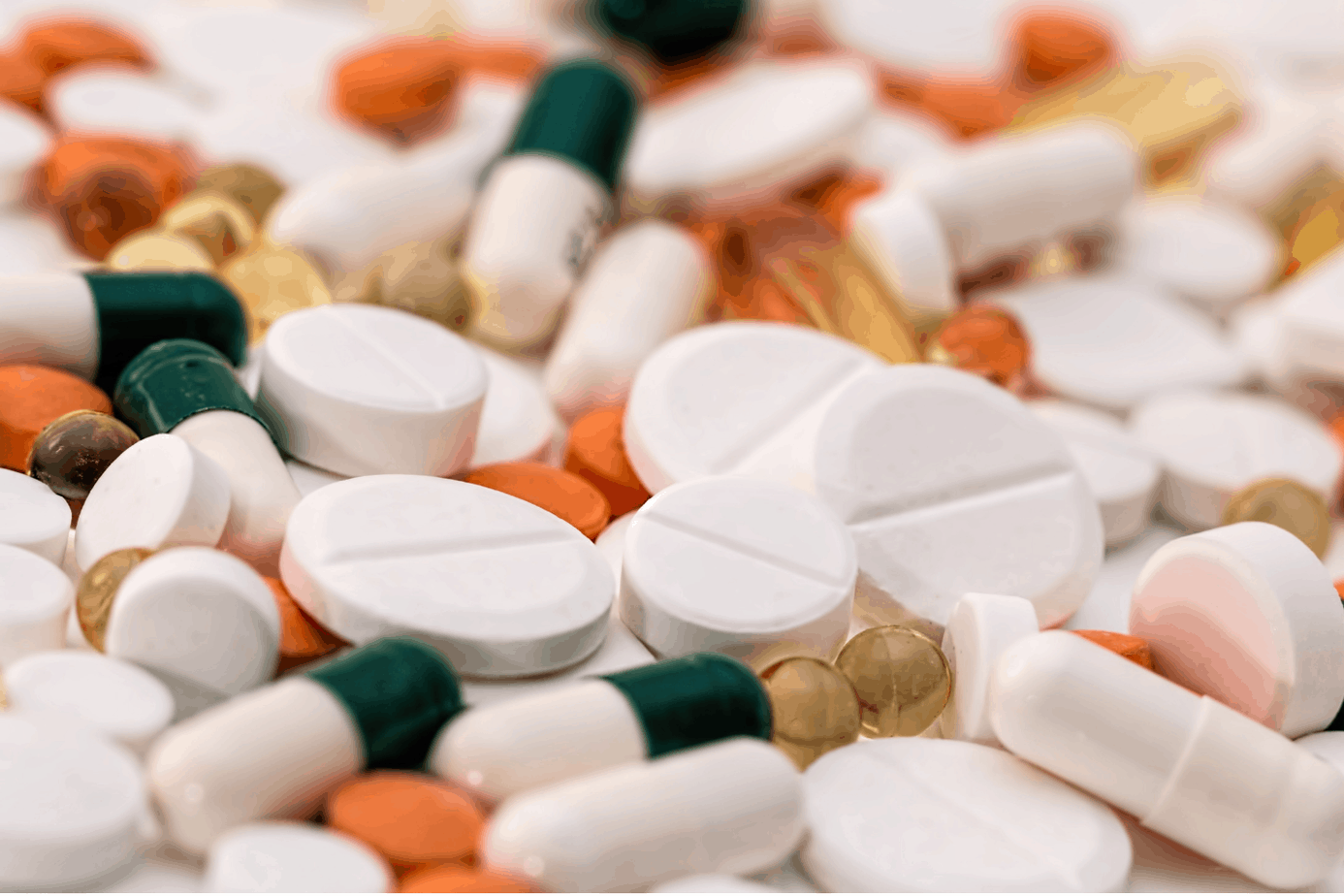 The most common treatment for hyperthyroidism is in tablet form. Methimazole (Tapazole) is given daily, and for the rest of your pet's life. Unfortunately, 10-15% of cats will experience side effects with this medication. And of course, getting cats to take pills is notoriously difficult. If your pet is given tablets, it may help to consider some of the following to help with administering medication.
JORVET Pet Pill Gun for Dogs & Cats | Chewy
The Jorvet Pet Pill Gun for Dogs and Cats is used to more easily administer pills to companion animals. The gun allows for a small bit of water to be used to help your pet swallow her pills more easily, which creates less stress for both of you.
Check Price
We earn a commission if you click this link and make a purchase at no additional cost to you.
My elder cat is a champion at hiding a tablet in her mouth, so you think she's swallowed it. Sometimes I only know she didn't know weeks later when I find where she stashed it! This device gets around that, by letting you deposit the tablet into the throat. Put the tablet in the rubber grip, open your cat's mouth and insert, and tap the top of the syringe to drop the payload.
These clever treats let you stash a tablet in the middle. They taste good (and come in a variety of flavors), so your cat will swallow them without complaint.
Vetoquinol Pill Wrap for Dogs & Cats | Chewy
A versatile wrap that can fit over any shape and size tablet, capsule or wafer. A great option that works for both dogs and cats.
Check Price
We earn a commission if you click this link and make a purchase at no additional cost to you.
This is a moldable paste which you can use to surround any shape or size of the tablet. Use as much or as little as is needed to convince your cat they're not taking medicine.
Another common treatment for hyperthyroidism in cats is radioactive iodine. The term radioactive might be alarming, but the iodine is taken into the thyroid and the radioactivity destroys the tumor. It doesn't affect any of your cat's other organs and has a really good success rate.
It's also possible that your vet will consider surgery. The removal of the thyroid gland will prevent hyperthyroidism from being a problem. However, it does require a general anesthetic. As most cats with hyperthyroidism are older, this is best avoided if possible; your vet will be able to advise which form of treatment is best for your cat.
The Thyroid gland needs iodine to make thyroxine. A new treatment idea is to feed cats with hyperthyroidism a diet that is very low in iodine. This essentially starves the thyroid so it can't produce as much T4.
Supporting a Healthy Thyroid
In addition to treatments recommended for your vet, there are also some herbal and homeopathic remedies which pet owners can use to help support their pet's health. You should speak to your vet if you are going to use these remedies, as they may interact with any medication that your cat has been prescribed.
This herbal treatment includes bugleweed herb, lemon balm, Rehmannia root, Bupleurum root, and motherwort amongst others. It was developed to help support the metabolism and promote the health action of the thyroid gland.
This is another herbal supplement, but with a slightly different ingredient list. Bugleweed and Lemon Balm are still on the list, but this time they are joined by Eleuthero and Guto Kola amongst others.
Pet Essences Thyroid Balance | Amazon
Pet Essences Thyroid Balance Dog Cat Flower Essences, at Only Natural Pet Store, designed to balance the emotional attitudes that may contribute to over or under-active thyroid.
Buy at Amazon.com
We earn a commission if you click this link and make a purchase at no additional cost to you.
12/05/2023 10:47 am GMT
This product is a flower remedy, blended to help address any emotional issues that might be underlying your cat's hyperthyroidism.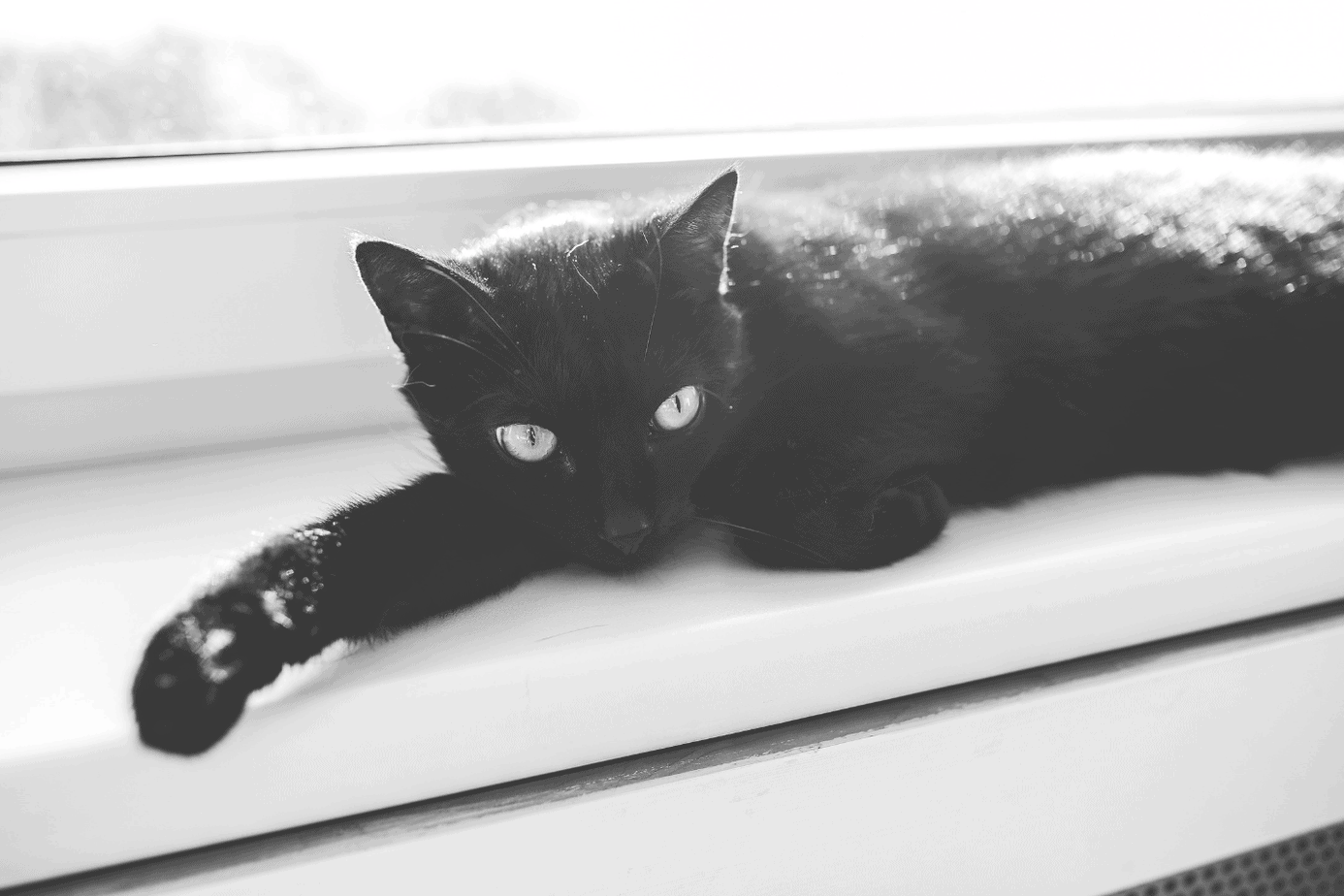 Although hyperthyroidism appears to be a condition that appears as cats get older, there is some evidence to suggest that exposure to certain foods or substances can make your pet more likely to develop hyperthyroidism.
In 2000, a study found that cats who ate canned food in the liver & giblets or fish varieties were more likely to go on to develop hyperthyroidism although the link isn't clear, its thought that these foods may contain higher levels of iodine. As iodine feeds the thyroid, having high levels in the diet may cause the thyroid to work harder than it needs to.
Another study that year determined that there could be a link with the substance BPA which is found in the lining of some cat food cans. Some other chemicals such as fire retardants used in carpets and furnishings could also be responsible.
In theory, choosing to feed your pet on a diet that is as close to their natural diet as possible seems to be the best way to minimize the risk of developing thyroid problems — choosing raw foods, or low-ingredient foods that only contain meat, not fish, for example.
Products that meet these criteria include:
Hound & Gatos Wet Cat Food | Chewy
Made in the USA with 98% duck and duck liver, using only the highest quality of wholesome pet food sources available. Contains no gluten, grain, or plant protein and is 100% free from chemicals and artificial flavors, colors and additives.
Check Price
Buy at Amazon.com
We earn a commission if you click this link and make a purchase at no additional cost to you.
This is a high-quality, grain-free cat food made from Duck. The company uses BPA free cans.
If you want to check whether the brand you currently use has BPA free cans, there is a comprehensive list available here.
What are the best cat foods for Hyperthyroidism?
The Hill's Prescription Diet Thyroid Care y/d Feline Canned Cat Food was built with a limited amount of iodine, which is the most important aspect of creating a diet that's healthy for a cat with Hyperthyroidism. This wet cat food is also high in omega-3 fatty acids and taurine and is commonly recommended cat food by pet health specialists.
As a side note, there is a dry food version of this food if your cat won't eat canned food. The dry food version is great for cats with Hyperthyroidism, but doesn't offer as fast of results as the canned food version does.
Pros to the Hill's Prescription Diet food:
Limits excessive thyroid hormone production
Cats seem to enjoy the taste of the good
A healthier alternative to the y/d dry food
Cons to the Hill's Prescription Diet food:
Has a high carbohydrate content
Has a low protein content, which means that it doesn't help to maintain muscle mass
Only an effective treatment if your cat refuses to eat anything else
Hound & Gatos Wet Cat Food | Chewy
Hound & Gatos gives cats the nutrition they need for a long, healthy life with ancestrally appropriate recipes that follow a Paleolithic diet. This means you'll find wholesome, pure meat in every can and no added carbohydrates or plant filler.  
Check price
Buy at Amazon.com
We earn a commission if you click this link and make a purchase at no additional cost to you.
The Hound and Gatos Rabbit Canned Cat Food is comprised of meat, vitamins, minerals, thickeners, and amino acids! Being filled with 98% meat, this canned cat food is a great choice to make if you're looking to give your cat a canned food that helps to support the maintenance of muscle mass.
Pros of the Hound and Gatos Rabbit Canned Cat Food:
Cans are BPA
Soy-free
Limited ingredient recipe
High protein content
Made from biologically appropriate animal protein (rabbit)
Cons of the Hound and Gatos Rabbit Canned Cat Food:
95% of the Instinct by Nature's Variety Original Grain-Free Real Lamb Cat Food is comprised of turkey liver, turkey, and lamb, making them biologically appropriate sources of protein for your cat to consume. However, the other 5% of this food is comprised of carrots, peas, flaxseed, and montmorillonite clay, none of which your cat with your Hyperthyroidism should be consuming excessive amounts of.
In addition, Instinct by Nature's Variety states that their large cans have a BPA lining, but their 5.5-ounce cans are BPA-free.
Pros for Instinct by Nature's Variety Original Grain-Free Real Lamb Cat Food:
High in moisture content
Low in carbohydrates
Soy-free
High in biologically appropriate protein content
Free from artificial ingredients and chemical preservatives
Cons for Instinct by Nature's Variety Original Grain-Free Real Lamb Cat Food:
Not all cans are BPA free
Contains some vegetable content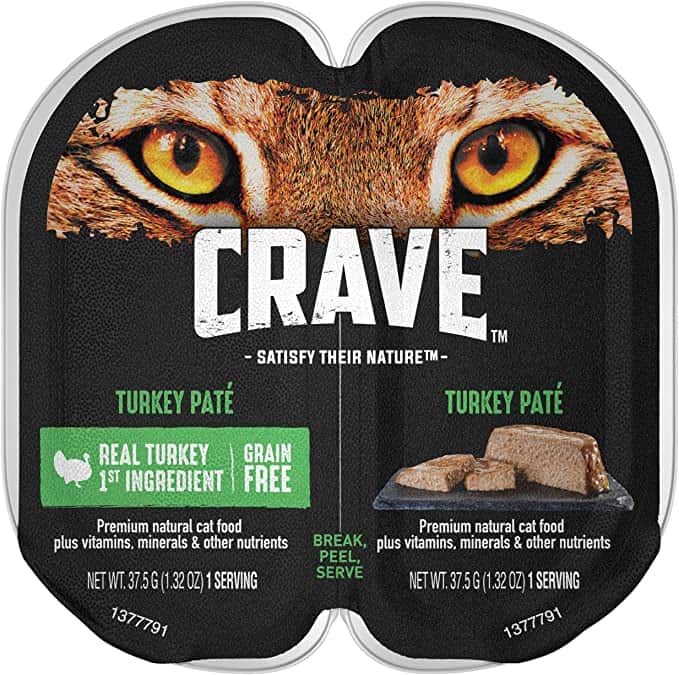 The Crave Grain-Free High Protein Wet Cat Food contains turkey broth, chicken, turkey, chicken liver, and pork plasma. With a high-moisture content, this wet cat food is comprised of 82% moisture, 9% protein, and 4.5% fat per serving.
Pros to Crave Grain-Free High Protein Wet Cat Food:
Uses real meats, making it great for supporting the maintenance of lean muscle mass
Has a low Glycemic Index (GI) for cats that have diabetes
50% of the calories in this cat food are derived from the protein content that this recipe offers
Cons to Crave Grain-Free High Protein Wet Cat Food:
Doesn't have a recipe that's high in Omega-3 and Omega-6 content, so you may need to add a fatty acid supplement in with your cat's diet
Crave Grain Free High Protein Wet Cat Food Trays | Chewy
Real turkey is the very first ingredient and the food contains no by-product meal, soy, corn or wheat and no artificial flavors, colors or preservatives. This savory pate is also formulated with added vitamins, minerals and nutrients to meet all his nutrition needs.
Check Price
Buy at Amazon.com
We earn a commission if you click this link and make a purchase at no additional cost to you.
Conclusion
Keep in mind that these cat foods aren't meant to be used as a treatment for your cat's Hyperthyroidism. You should feed your cat these foods to help manage your cat's Hyperthyroidism along with proper medical treatment. We wish your kitty a long and happy life!
If your cat has yet to develop hyperthyroidism, then you can minimize their risk by feeding them good quality food that has a lower iodine content. Choose chicken, beef or lamb varieties and feed fish less frequently.
If your cat is showing signs of having an overactive thyroid, then you should take them to the vet to have them checked. If they do have hyperthyroidism, there are several treatments available which are effective.
But without a doubt, the best food to feed a cat who has hyperthyroidism is Hills Prescription Diet y/d Thyroid Support. The very low iodine content of this food means that the thyroid doesn't have what it needs to function. It can't make thyroxine, which will naturally lower the levels that your cat can produce.
Further Reads