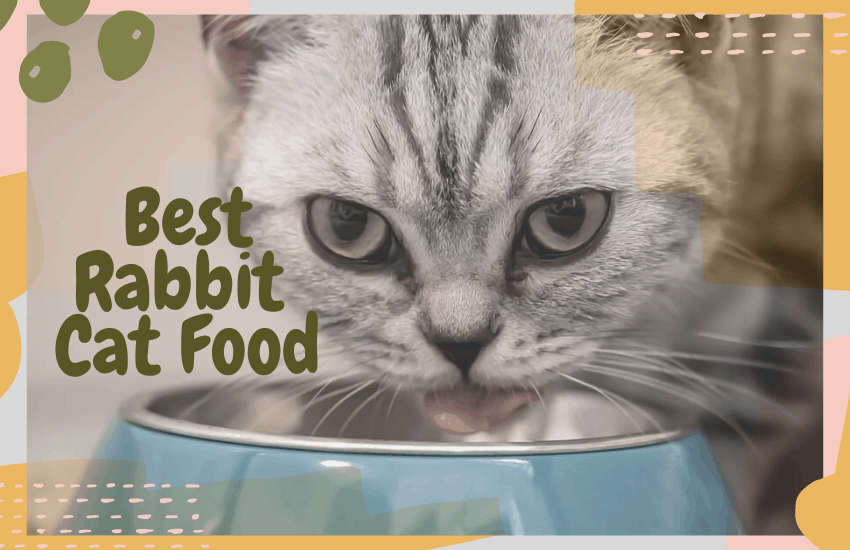 If you're looking for a new type of cat food, you may want to consider rabbit cat food.
As a pet owner for most of my life, I know too well how hard it can be to find the best pet food–not only the best food by age but also pet food that they'll eat. Cats can be finicky at times, and it's possible you've selected high quality cat food, even opting for grain free or low ash, and your cat still isn't eating as it should.
The most popular cat food contains meats and fish like chicken, salmon, and occasionally turkey, generally paired with starchy vegetables (most commonly peas and carrots) as well as fruits, and whole grains.
While these options are conventional, there's a possibility that your cat may not love them–or they might otherwise benefit from alternative meat like a rabbit. While there are fewer choices for rabbit cat food, you'd be surprised that they can come from some of the most respected brands formulated for age and nutritional needs.
Whether you're on the fence about wanting to try rabbit cat food or determined to find the best options, this cat food buying guide is for you.
I'll tell you why you should–or shouldn't–buy rabbit cat food, what to look for to find the best cat food, and my top recommendations for the best rabbit cat food you can buy now.
Why Should I Buy Rabbit Cat Food?
Rabbit cat food probably isn't your go to when you're shopping for your feline friend–so why should you consider buying it?
Rabbit cat food, as the name suggests, should have rabbit meat in some form as its first ingredient. Rabbit carries unique nutrition and also a distinct, stronger flavor and taste than chicken cat food. Because of this, you might consider buying rabbit food for:
You Have a Senior Cat that Isn't Eating Well
Senior cats are more likely to suffer from a loss of taste and smell, which can lead to lower interest in food. If you have a senior cat that's lost weight because of this, it's possible, though not universally true, that more gamey meat like a rabbit will be more appealing.
You Have a Picky Cat
If you have a cat that simply isn't interested in other meat, it's a reasonable alternative for chicken and turkey. Sometimes it just comes down to a matter of preference. In this case, opt for a smaller or sample sized bag to have your cat try first.
You're Looking for a Nutritious, Low Fat Alternative
Of all the reasons to opt for a rabbit cat food, this is what interests me most. Rabbit is lower in cholesterol, fat, and calories when compared to chicken, pork, and turkey. It's also the densest in protein, compared to lamb, chicken, fish, and pork.
In addition, rabbit meat in your cat's food adds natural nutrients like Vitamin B12, Omega 3 Fatty Acids, Potassium, Selenium, Calcium, and Iron, all of which help support your cat's skin, energy levels, bones, nerves, and muscles.
Your Cat has Digestive Problems
Even the healthiest cat will have digestive problems at some point in his or her life. The occasional hairball (hairball control cat food is an option) or upset stomach is nothing to worry about, but chronic issues are worth paying attention to.
Many cats don't have anything concerning but have more sensitive digestive tracts. If this is the case, rabbit cat food may be a good option: it's considered to be relatively easy to digest.
You Want a More Environmentally Friendly Cat Food
In environmental groups, vegan, vegetarian, and related diets are popular–but when it comes to your cat, most experts agree that your cat needs some form of meat or fish to meet their nutritional needs. Still, there's some suggestion that rabbit meat may be more environmentally friendly than other meat for your cat's food, for the following reasons:
Rabbits take up less resources. Since the age of maturation is typically only around three months, they naturally require less food and water. They also require less space than turkeys or chickens. Compared to cows, for example, rabbits provide 6 pounds of meat for the same amount of resources that produce a pound of beef.
They're less likely to contain hormones. Compared with chicken, turkey, and even fish, rabbit is less often treated with hormones and synthetics as a general rule. The benefit is even more so when rabbits are allowed to feed on a grass diet.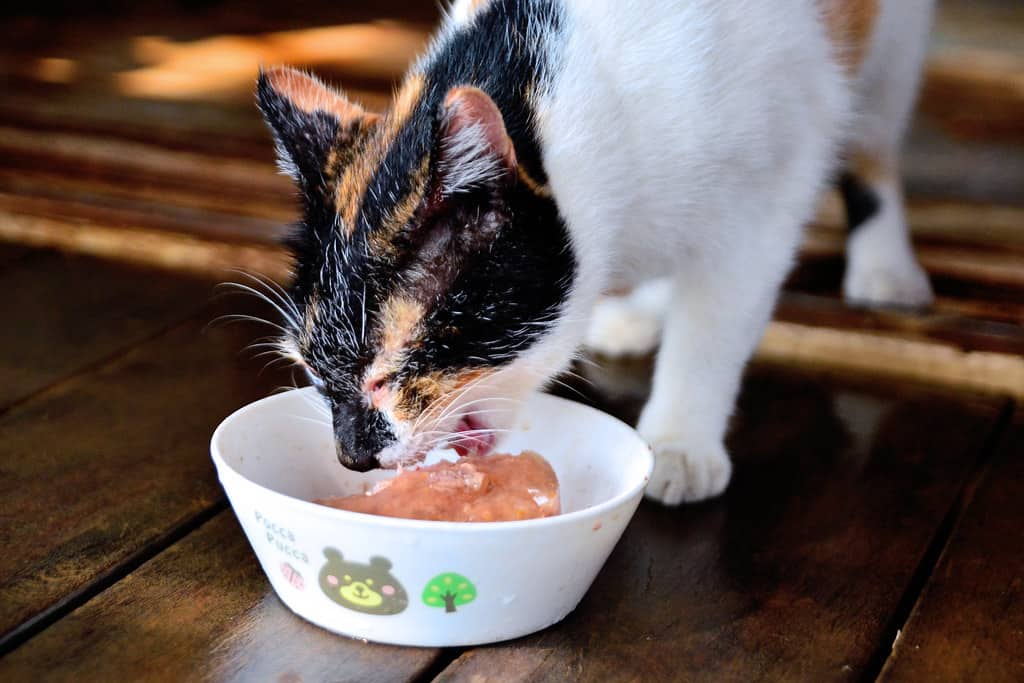 Is There a Reason I Shouldn't Buy Rabbit Cat Food?
Of course, I don't recommend rabbit cat food for every cat owner and their cat. Here are my top reasons you should consider a different type of cat food:
Your Cat May Not Like It
For one, rabbit is very much a particular taste, and while some cats will take to it, others may not.
You'll Have Fewer Choices
If you're shopping for rabbit cat food, you'll naturally have fewer options than you would for chicken, turkey, fish, and conventional choices.
It's Not the Best Option for High-Calorie Needs
If your cat needs to gain weight, rabbit may also not be the best meat for cat food, as it's naturally lower in both fat and calories. For this reason, I wouldn't select rabbit cat food for kittens or pregnant or nursing cats, at least not on a daily basis.
Other Concerns
For some, rabbit meat is also not considered as acceptable as chicken or turkey, as in American culture, rabbits are often kept as domestic pets.
Ultimately, it's up to your personal preference, and, of course, your cat's.
How Do I Find the Best Rabbit Cat Food?
Finding the best rabbit cat food, like searching for any cat food, takes a little work, but ultimately it's worth it for your cat. Before you switch to a new cat food, if your cat has specific health conditions or needs, it's always best to check with your medical provider. (If you have it, you should also check that your pet insurance is up to date before a visit.)
For most cats, trying out a new meat shouldn't cause many problems. But for rabbit cat food, I recommend looking for the following:
Rabbit as the First Ingredient
Take a look at the ingredients list: rabbit meat should show up as the number one ingredient. Make sure it's real rabbit meat and not fillers or byproducts, too. In some cases, you may find some rabbit meat and rabbit parts, but natural rabbit meat should be the first ingredient.
A Solid Protein and Fat Ratio
The protein and fat ratio will vary depending on if you're buying wet or dry cat food. Rabbit meat should naturally be rich in protein, so you'll want to look for protein that's closer to 30 percent to 40 percent crude ratio. Since rabbit is a lean meat you should be looking at cat food that's around 18 percent or lower; higher fat ratios indicate it may not be all rabbit meat.
Ingredients You Can Understand
The ingredients list shouldn't read like a flashback to high school chemistry. Make sure ingredients include whole foods, like starchy vegetables, fruit, and are free of synthetics, additives, hormones, preservatives, and dyes.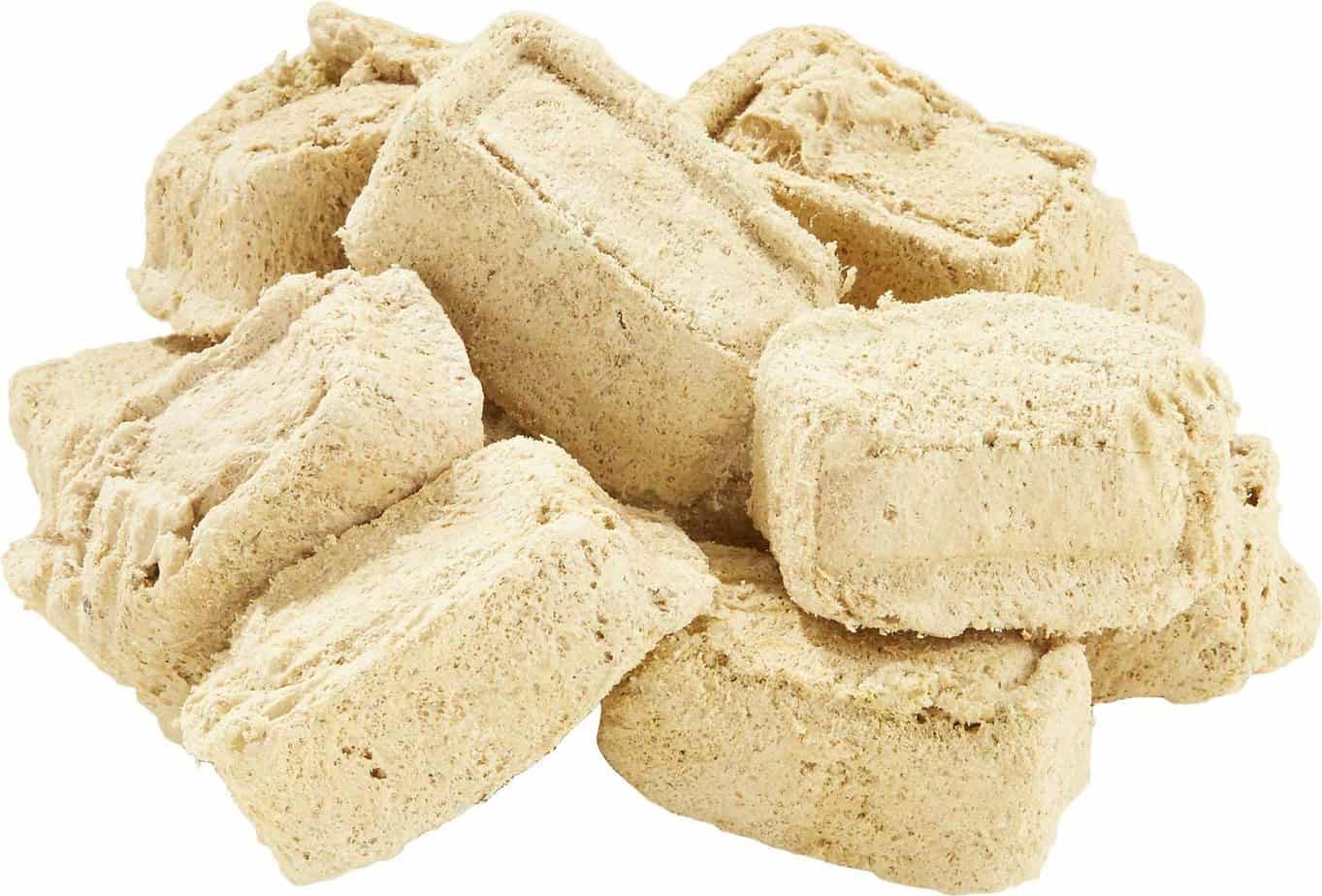 What is the Best Rabbit Cat Food?
Now that you understand the pros and cons of rabbit meat for your cat food, as well as how to find the best rabbit cat food, here are my top recommendations for the best rabbit cat food you can buy today, and why I recommend each.
Best Freeze Dried Rabbit Cat Food
Why I Love These
Freeze dried cat food has been linked to lower incidences of food allergies. Freeze dried food also supports oral health, digestion, and potentially a healthy immune system.
While still making a relatively small portion of the best cat food, it could be a great option for your cat. Plus, it lasts a long time. But for certain dietary needs, it may not be suitable; it also requires some preparation.
Admittedly, there aren't many rabbit cat foods available as a freeze dried formula, but even so this would be one of my top choices. Free of allergens like grain and gluten, you add water to the rabbit nuggets and can adjust moisture levels.
Rabbit meat is the first ingredient, followed by rabbit parts, organic greens, and Vitamin E. Do note that this is not a good pick if your cat needs a low ash cat food (the clay helps further aid digestion). 
Primal Freeze Dried Cat Food | Chewy
Made with antibiotic, hormone and steroid-free rabbit meat and organs, along with fresh ground bone for calcium supplementation. Incorporates certified organic produce, certified organic minerals and unrefined vitamins to fortify the complete and balanced nutrition for all life stages.
Check Price
Buy at Amazon.com
We earn a commission if you click this link and make a purchase at no additional cost to you.
This rabbit formula is gluten and grain free and ups the standards even more by adding only cage free rabbit meat. Probiotics aid digestion, while Taurine and antioxidants help support overall health, making this a mainstay.
I also love that it's sourced from organic farmers. The only reason this doesn't absolutely make my top choice for freeze dried rabbit cat food would be the price: it's a good deal more expensive than Primal's. 
Stella & Chewy's Freeze-Dried Raw Absolutely Rabbit | Chewy
This feline favorite delivers unparalleled high protein to your best pal's bowl without adding grains or preservatives that cats can't digest. Plus, Stella & Chewy's is all-natural and minimally processed with limited ingredient diets and added taurine to promote silky soft fur and healthy skin. 
Check Price
Buy at Amazon.com
We earn a commission if you click this link and make a purchase at no additional cost to you.
Best Limited Ingredient Rabbit Cat Food
Why I Love These
If your cat has allergies, limited ingredient cat food makes it less likely they'll suffer. Limited ingredient cat food also tends to be more natural, and you're less likely to find ingredients that aren't supportive for your cat's health, such as preservatives, fillers, and artificial dyes.
Almost always, they are also grain free, if that's a concern you have. A downside is that cat food marketed as a limited ingredient may not be needed for your cat, and it can be pricey.
Instinct offers up a limited ingredient rabbit cat food that contains no dairy, grains, eggs, colors, or preservatives. Because it's coated, the raw kibble is more flavorful than others, and the rabbit meat is farm raised; this also happens to be a freeze dried food, but it can also be stored frozen for added versatility.
Instinct Limited Ingredient with Real Rabbit | Chewy
Made with farm-raised rabbit, an easily digestible protein that provides all the essential amino acids your kitty needs. Does not contain any grain, dairy, eggs, chicken, beef, fish, sweet potato, potato, chickpeas, corn, wheat, soy, artificial colors or preservatives.
Check Price
Buy at Amazon.com
We earn a commission if you click this link and make a purchase at no additional cost to you.
Koha Limited Ingredient Rabbit Au Jus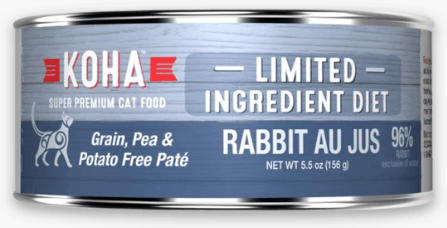 I like this pick in some ways because it feels unique; so many limited ingredient cat food options are freeze dried, but this wet canned food offers similar benefits and provides hydration for your cat.
Formulated to address sensitive digestive systems, as well as food allergies, I love that they thought to add cranberries for urinary health and nixed fillers that you might normally find in a pattee style cat food. Buy Here.
Best Prescription Diet Rabbit Cat Food
Why I Love These
These rabbit cat food options actually require an okay from your vet, but they're specially formulated to address a number of health concerns, and may be your best bet if your cat has chronic food allergies, sensitivities, or health conditions.
Going with this kind of rabbit cat food ensures your cat is getting what they need–but as always, these only make sense if your vet recommends a special diet.
For cats with persistent food sensitivities, this rabbit cat food includes key nutrients such as DHA, Omega 3 Fatty Acids, and fish oil. What I love about this rabbit cat food is that it provides balance overall, with ingredients meant to support skin, immune and digestive health, and it's acceptable for longer term use.
Rabbit meal is the second product, and while not as short of an ingredients list, the formula makes sense for cats with special digestive needs. 
For prescription diet cat food, there aren't too many options for rabbit meat, so luckily, the canned version from Royal Canin is also a sensible choice. With many of the same features and ingredients as its dry counterpart, this formula targets skin irritation and sensitivity, as well as itching and hair loss. 
Best High Protein Rabbit Cat Food
Why I Love These
While most of my selections supply adequate protein counts, I'm including these cat food options of high protein is especially important. If you have a young and growing cat, getting adequate protein is absolutely essential.
These are also great selections for cats that may be on the slighter side and need to develop healthy muscle. The cats I wouldn't recommend these options for are those that have, or have had a history of kidney disease, or repeat issues with bladder crystals.
While this cat food supplies both rabbit and chicken meat, I actually like this, especially if your cat is new to rabbit meat; plus, your cat can reap benefits from both chicken and rabbit meat.
With 40 percent crude protein, this cat food will certainly support muscle growth, with fruits and vegetables to replace grains. Zinc, Calcium, Iron, Vitamin B and other essential minerals and vitamins are included for holistic health.
This high protein rabbit cat food is free of fillers, preservatives, and dyes, with the clever addition of LisSource bits, morsels that add antioxidants and vitamins to support immune function. Fatty acids are helpful for maintaining skin and coat health, while rabbit is listed as the first ingredient, followed by fish meal for healthy fats. 
Frequently Asked Questions
Question: Is rabbit good for cats?
Both wild and domesticated cats have been known to occasionally hunt rabbits, though it's not as common as rodents. Rabbit meat in cat food can provide a natural source of lean protein; in fact, it's lower in fat and cholesterol than other meat, like chicken and turkey, and has a higher ratio of protein than fish. While lower in fat, rabbit in cat food can supply Omega 3's and Calcium. It's generally considered fair alternative meat for cats.
Question: Where can I buy rabbit cat food?
Rabbit cat food is more difficult to find that chicken, turkey, and fish cat food, but there are a number of options available through Chewy.com, as well as Amazon. Brands that carry rabbit cat food include Simply Nourish, Blue Wilderness, Royal Canin, Instinct, and Primal.
Question: Is there any cat food with rabbit protein?
Rabbit protein is becoming seen as an alternative in some cat food, but it is also sometimes paired with fish or chicken. Primal carries a freeze dried rabbit cat food that contains rabbit for its sole source of protein.
Final Thoughts
In the ever-changing world of pet nutrition, I understand that it can be challenging to know what to feed your cat. Rabbit cat food offers a promising alternative for many cats and shouldn't be overlooked, though it's not suited for every feline friend.
If you're not sure where to start, considering reading up on how to find the best cat food and make sure your cat is getting the care they need by learning more about finding the best pet health insurance.
Continue reading: