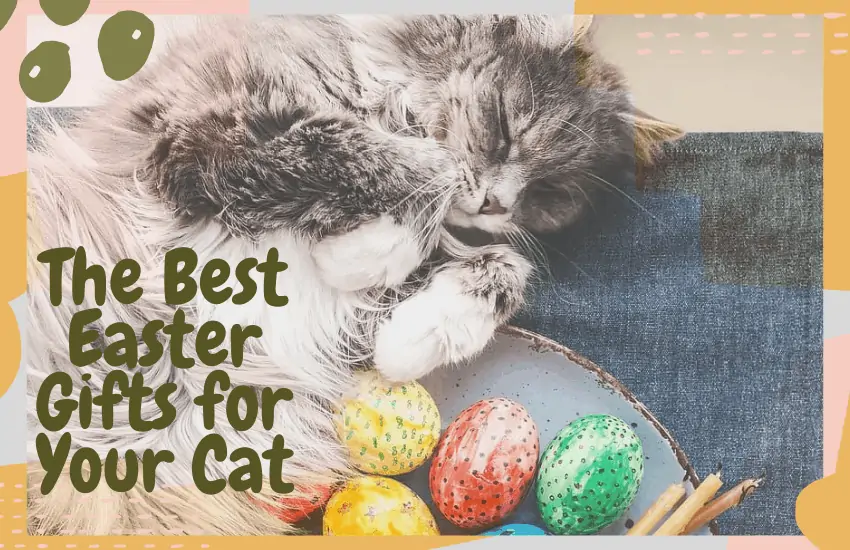 Our cats are part of the family, which means they celebrate with the family! Holidays are a fun and busy time for everyone due to traveling, celebrating, having the family over, and decorating. Who is to say our fur babies can't join in on the fun?
Cats are very curious and love trying to figure out what is inside boxes and bags. They get excited and happy over presents because not only do they get to solve a mystery of what's inside the box, there's actually a reward for them inside! Below are some Easter gift ideas for your kitty. Don't forget to wrap up some items before placing them in a basket, so the little one can discover what's inside.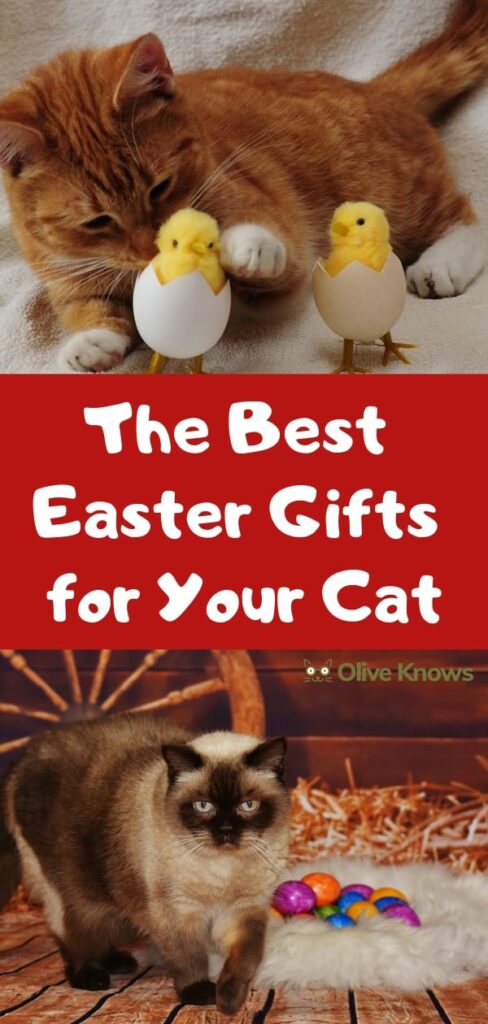 Treats
Your cat will always appreciate getting their favorite treats. Treats are great, inexpensive go-to presents that are a win-win situation for everyone. Give your cat some yummy treats this Easter or if you're feeling really creative, why not try to make some homemade cat treats for the holiday? Below is a recipe that your cat will enjoy and that is Easter themed. Please be sure that your cats are not allergic to any of the ingredients before making.
Homemade Tuna Treats
For these homemade treats, you will need some tuna-flavored cat food (3/4 cup), some flour (1 ¾ cups), some cornmeal (1 ¾ cups), an egg, and an Easter-themed cookie cutter. Preheat the oven to 350 degrees Fahrenheit. While the oven is heating, mix all your ingredients together until a soft dough is formed. Roll out the mixture, cut it up with the cookie cutter and bake them for 15 minutes. After they cool, it's time for your cat to get a yummy gift!
Original Recipe can be found here: https://www.animeddirect.co.uk/advice/treats-pet-easter/
Toys
Just like cats will always appreciate getting treats, they will love to get a brand new toy they can play with. Below are some Easter-themed cat toys for them to enjoy this holiday.
Cat n' Around Easter Jelly Bean Catnip ToysThese cute cat toys are in the shape of jelly beans, and they have catnip in them, so your cat will be extra interested in playing with them.
Peeps Feather Bell Cat ToysThese toys come with feathers and bells on strings. Feathers, bells, and, strings are three things that put cats in a playing mood!
Petlinks Hide & Peek Catnip Cat ToyThis cute toy features a bunny and a carrot. It also features crinkle noises and catnip that will keep your cat entertained.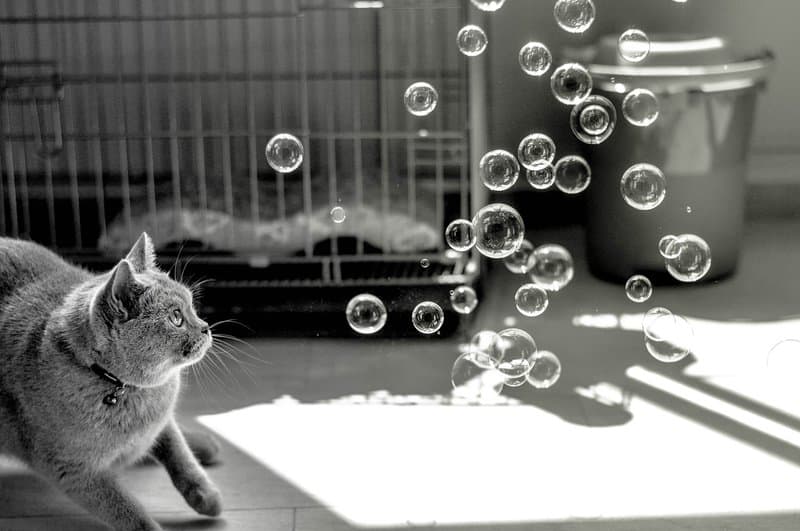 Games
Treats and toys are great on Easter, but what about games? Baskets can have fun games in them too! Below are some games you can get your cat.
Unique Fun
These are unique games that cats will appreciate.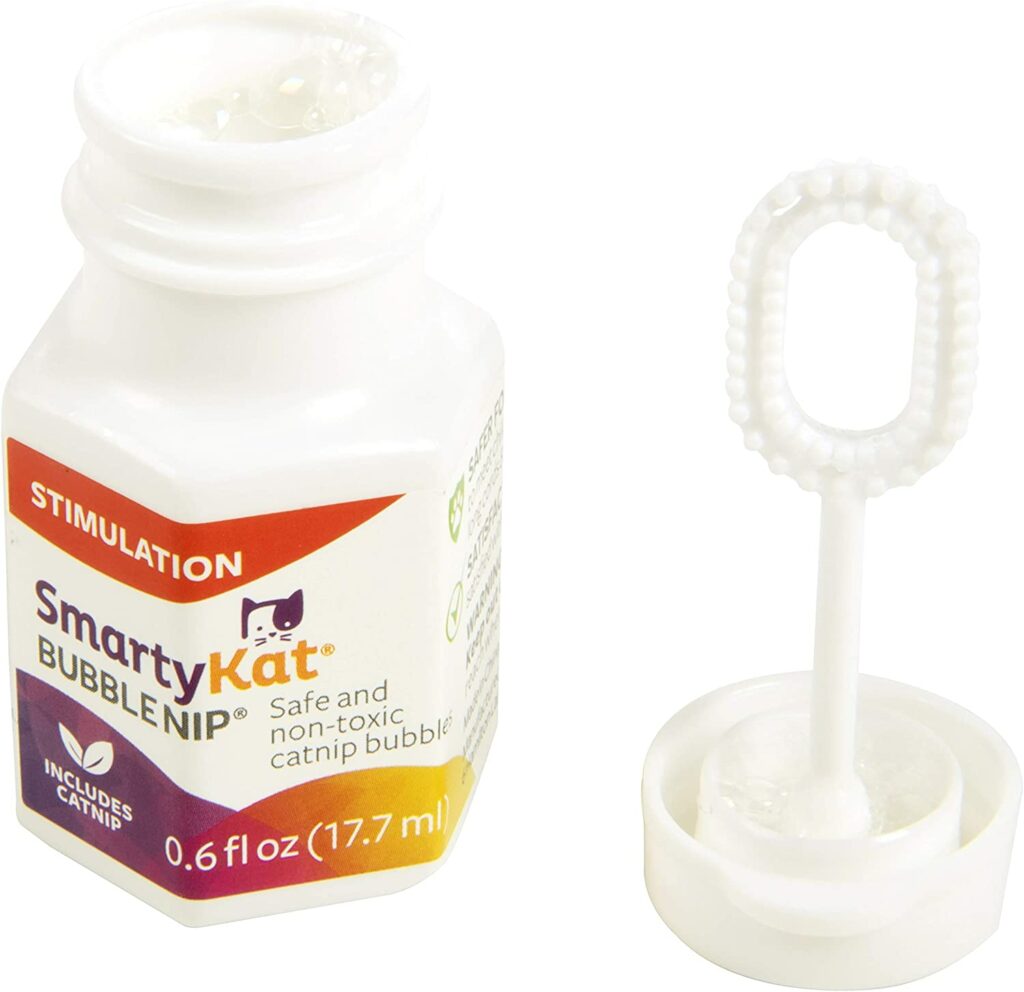 Bubbles are a classic Easter basket filler and now you're cat can enjoy them too. These bubbles are made out of catnip and are pet-friendly. Cats are fascinated with bubbles. They stare at them and bat at them until they pop. They will be entertained and so will you, because who doesn't like blowing bubbles?
Electric Tumbler Feather Spinning Teaser Toys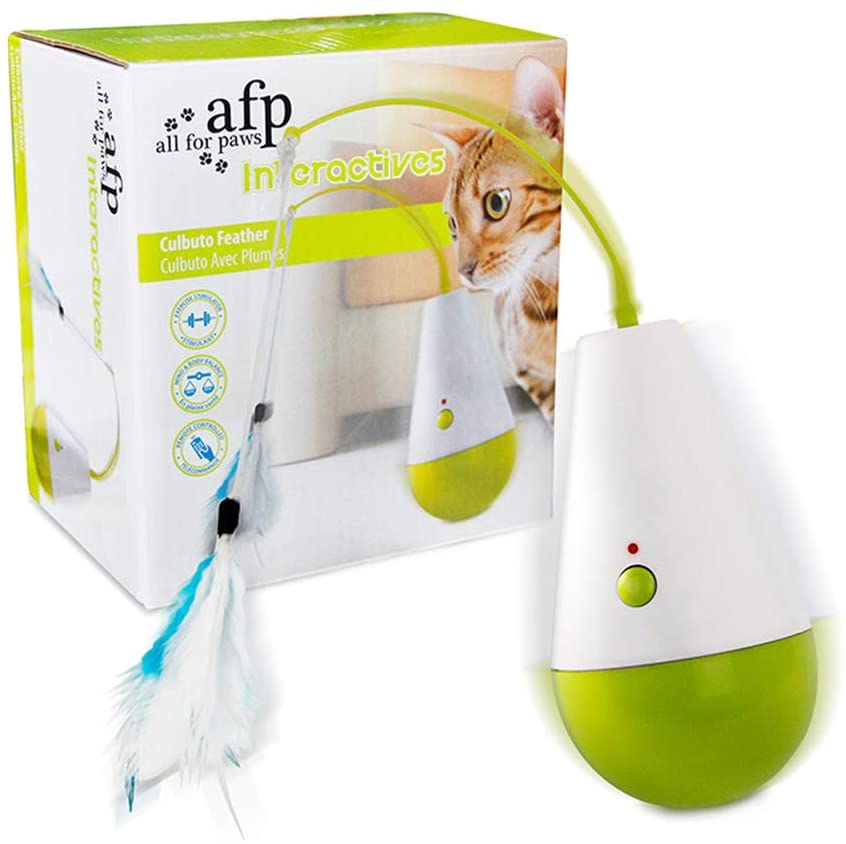 This toy is a game-filled adventure that includes spinning and feathers. Your cat will enjoy running around and catching the toy. The spinning toy goes around 360 degrees and has a very quiet motor.
Crinkle Sack Toy for Cats to Play, Sleep, and Hide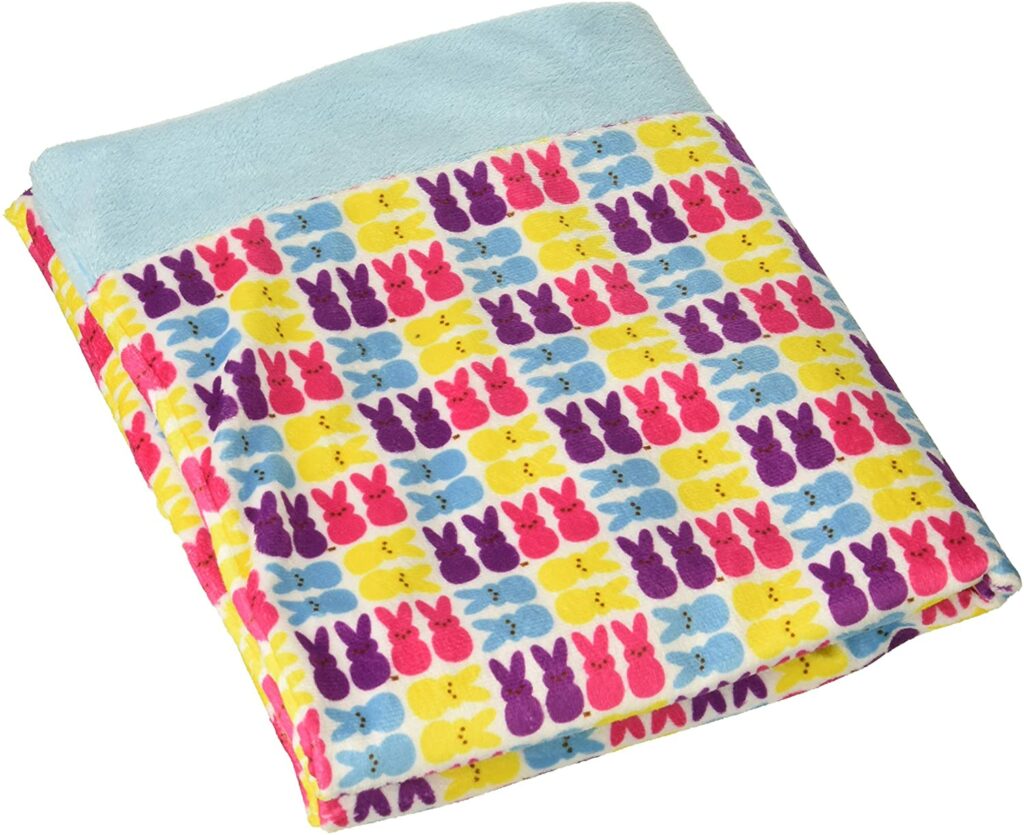 This sack has multiple uses and can be a perfect hideaway or a cozy nap spot. Cats will go crazy for the crinkle noises and have an all-around good time inside. The bag is brightly colored with Spring colors that are perfect for this time of year.
SmartyKat Fish 'n Play Catnip Activity Cat Mat 
This unique playmat features a comfy spot to roll around and play with the attached toys and strings. They will love the crinkle sounds and the catnip that comes with it as they tire themselves out.
Laser Lights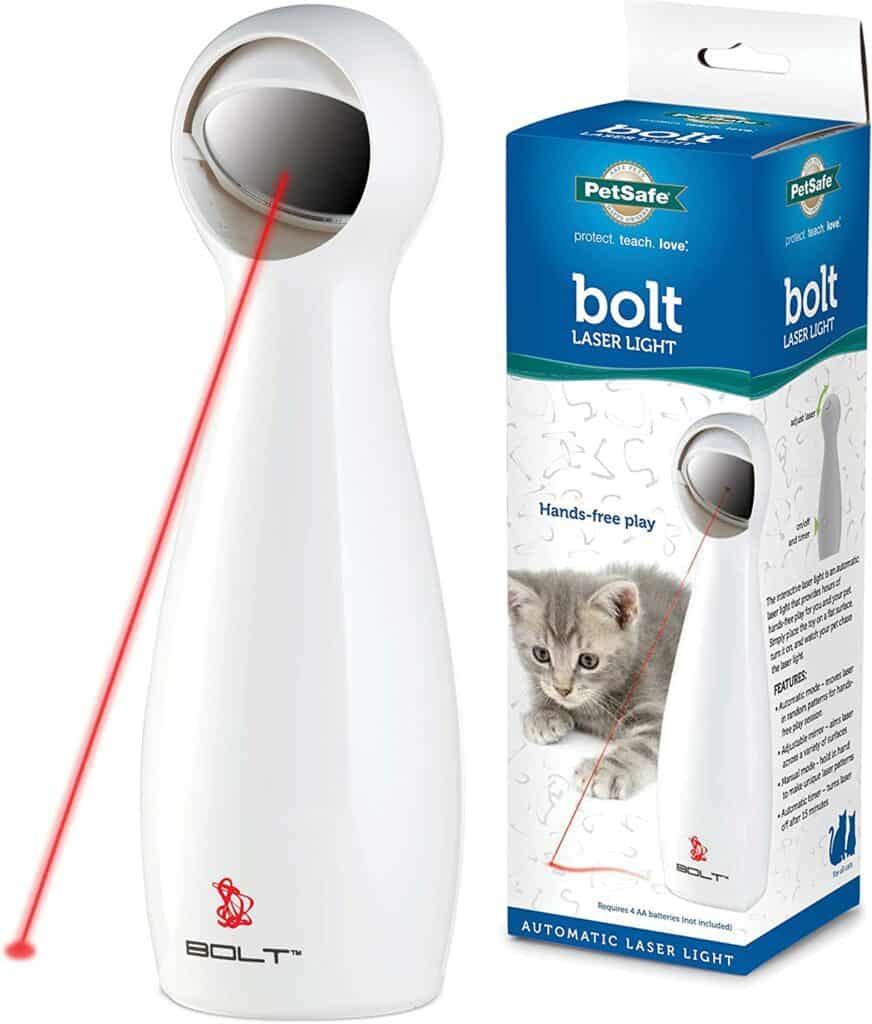 Laser lights are the ultimate cat game that they never get bored of playing.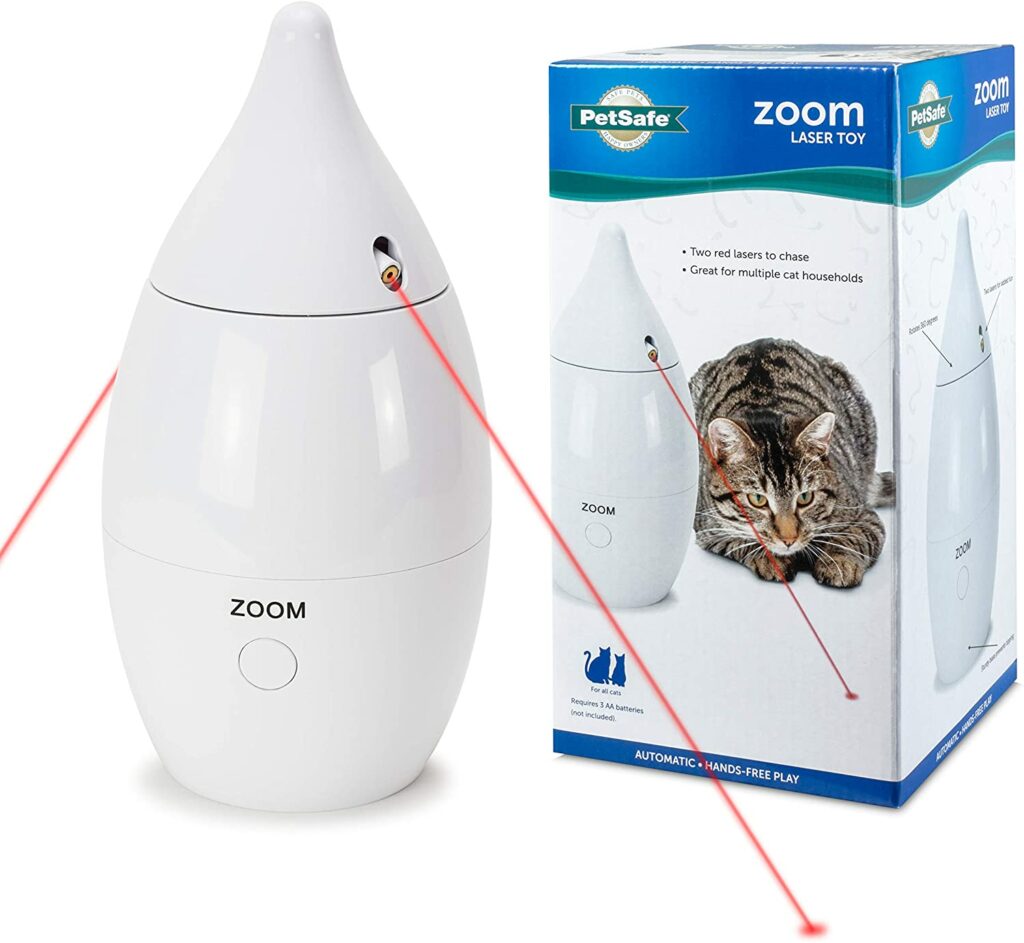 Laser lights are a perfect game for cats. Cats love chasing and pouncing at the little red dots. Above is a traditional, two-pack of laser lights.
PetSafe Bolt Interactive Laser Cat Toy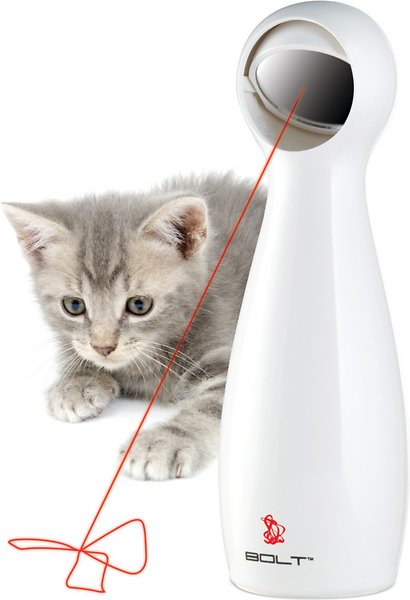 The Bolt Interactive Laser Cat Toy takes laser lights to a whole new level. You can just set it up and let the toy do all the work by shooting out a laser light of its own. You can adjust what angles the laser points by adjusting a mirror. Then the toy will take over and move lasers across the room, so your cat can chase them.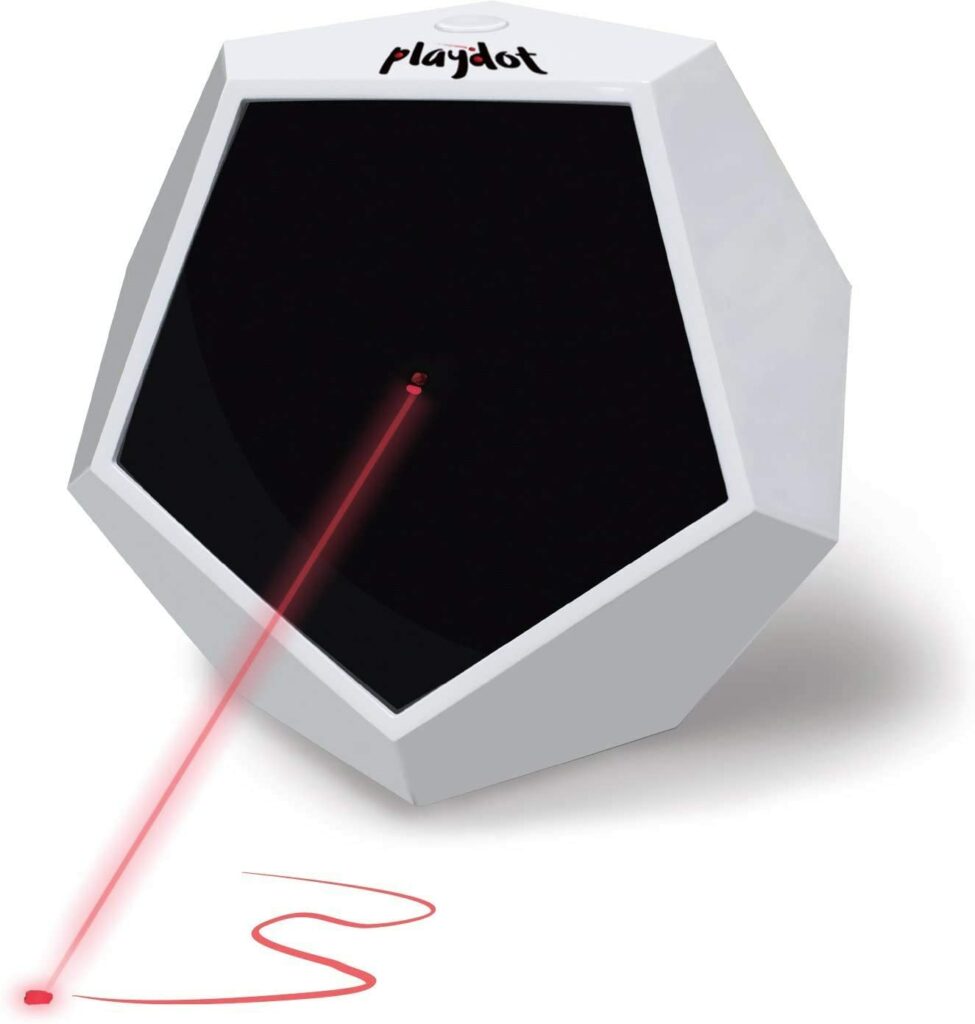 The Playdot! Cat Laser is just like the Bolt Interactive laser toy above, but this one has different laser modes to keep your cat on their toes. Different modes assure that your cat won't get bored of the same routine.
Easter Egg Hunt For Cats
Over at Clicker Training, they had an awesome idea about giving your little furball an Easter egg hunt of their very own. This game can be the perfect Easter gift for your cat that's interactive, fun and delicious. Here's how to play:
Gather up your favorite treats.
Get some Easter eggs that break in half.
Rub the outside of the eggs with the treats then put the treats inside the eggs.
Hide the eggs except for one.
Invite your cat out and place an egg in the middle of the floor.
After they sniff and paw at it, open it up to reveal the treat.
Follow them as they find the others and help them when needed.
This fun game is really easy to set up. Rubbing the outside of the egg gives off a smell so your cat can find them easily. They love the smell of treats, so they will start playing with the egg to try to get to it.
Essentials
Have you ever gotten socks on Easter or Christmas? As boring as that was, you probably needed them. You can use the holiday opportunity to replace broken items that your cat appreciates day-to-day.
Collars

If your cat wears a collar, we found some Easter-themed ones below that will look extra cute.
Breakaway Cat Collar in Easter Bunnies
This collar is handmade in the U.S.A and features Easter Bunnies.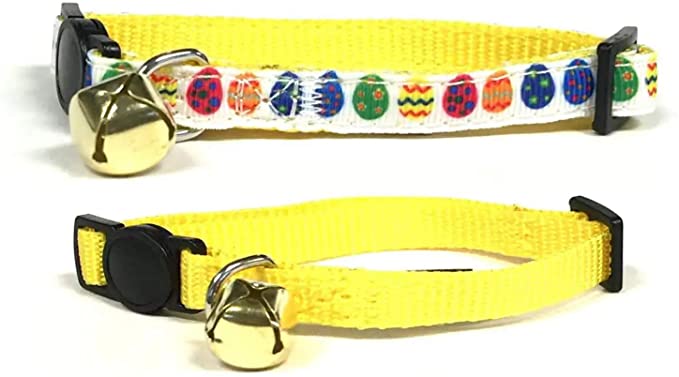 This collar has cute Easter eggs on it and comes with a bell.
Scratching Posts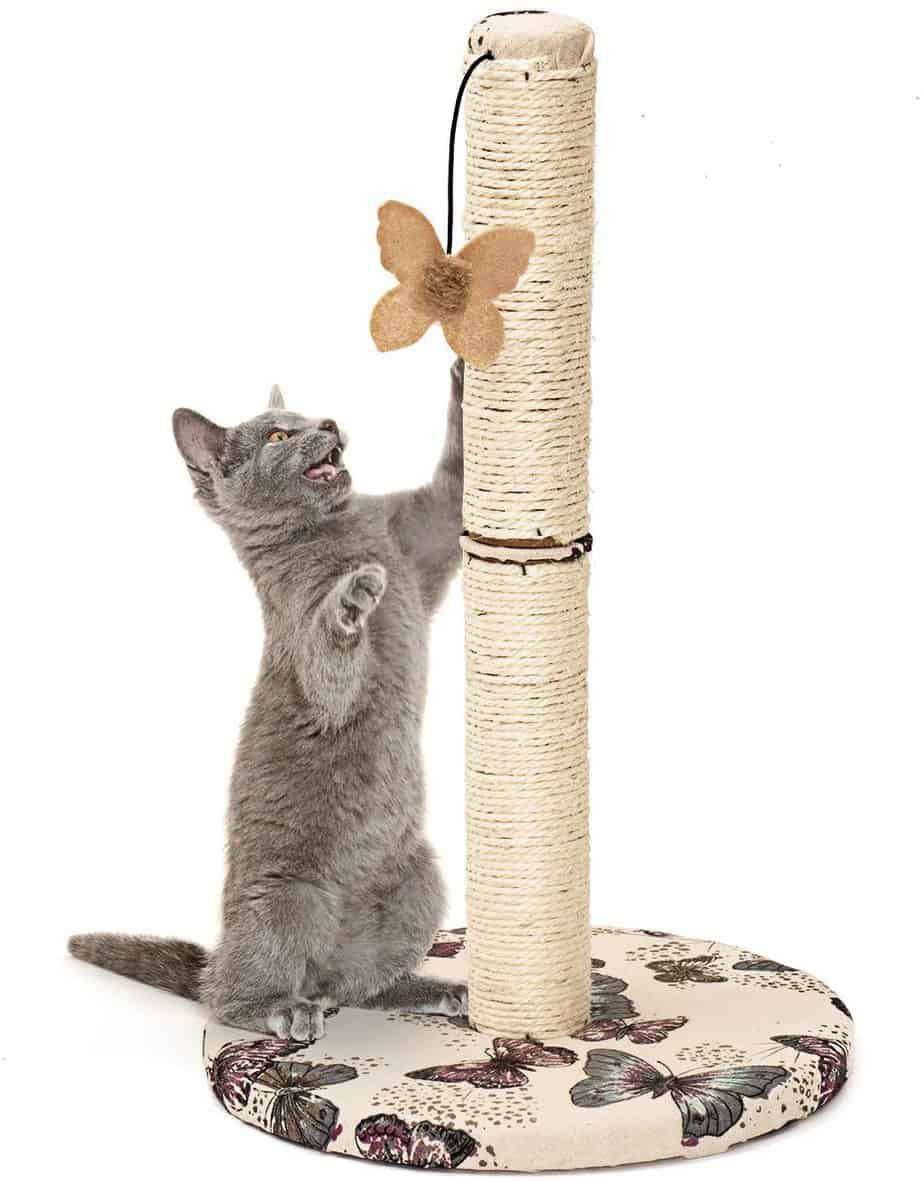 Scratching posts are an essential item that can get worn down after a while. If your scratching post looks like it needs an upgrade, try these below.
Cat Scratching Post with Hanging Butterfly Toy
A standard scratching post with a butterfly toy is perfect for Spring.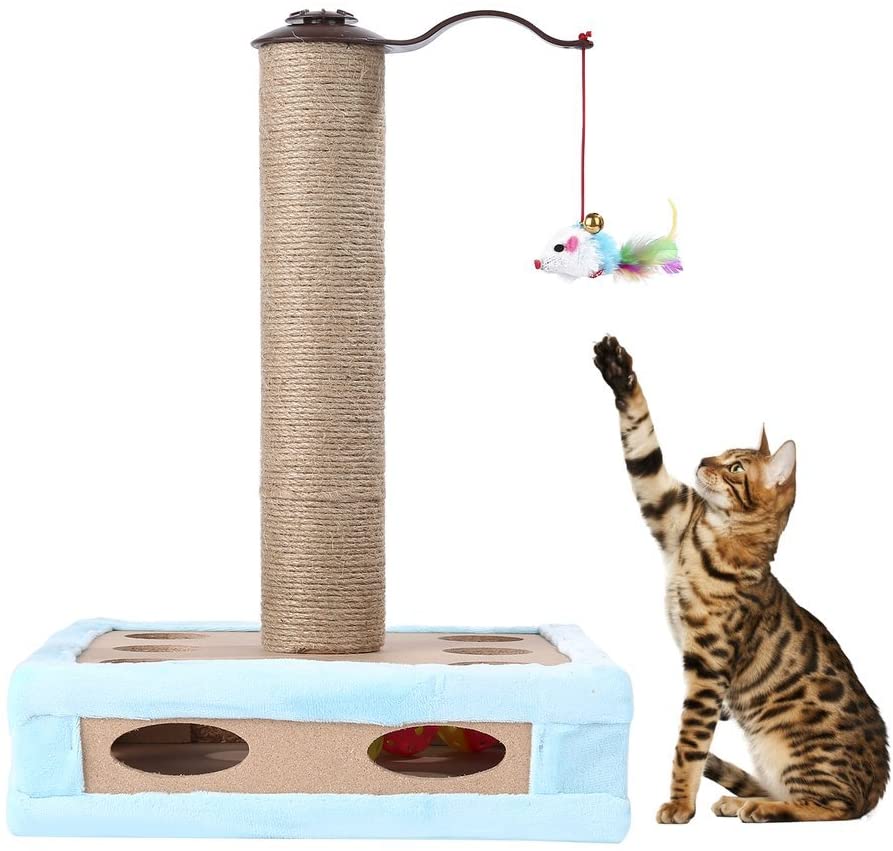 Pet Cat Climbing Holes Box Toy Tree
This scratching post gives your cat some extra fun with some cutouts they can investigate.
Litter Boxes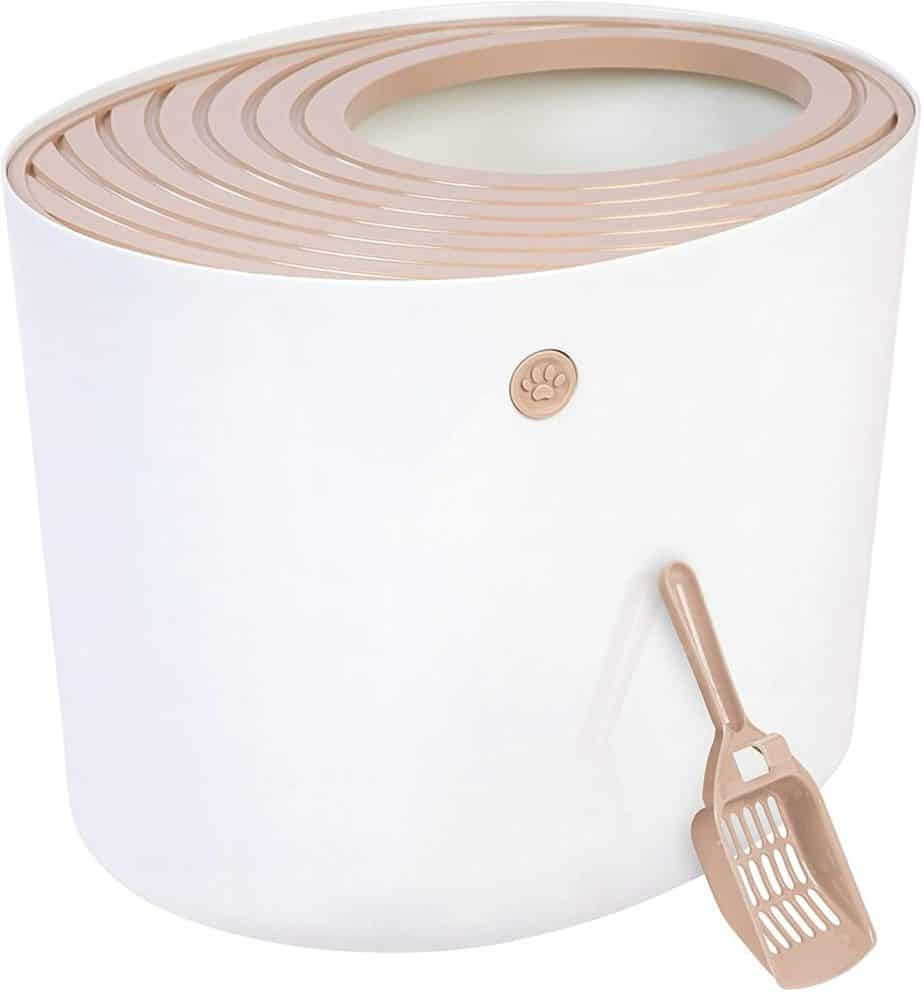 After a while, your cat will appreciate a new and fresh litter box. Below are some ones that give you the gift of making your life easier.
Arm & Hammer Large Sifting Litter Pan
This sifting litter box does most of the scooping for you and comes with two litter pans.
This unique litter box is worth a try with its stylish design. No one will know you have a litter box!
If the above doesn't strike your fancy, check out this article on the Best Cat Litter Boxes.
Cat Beds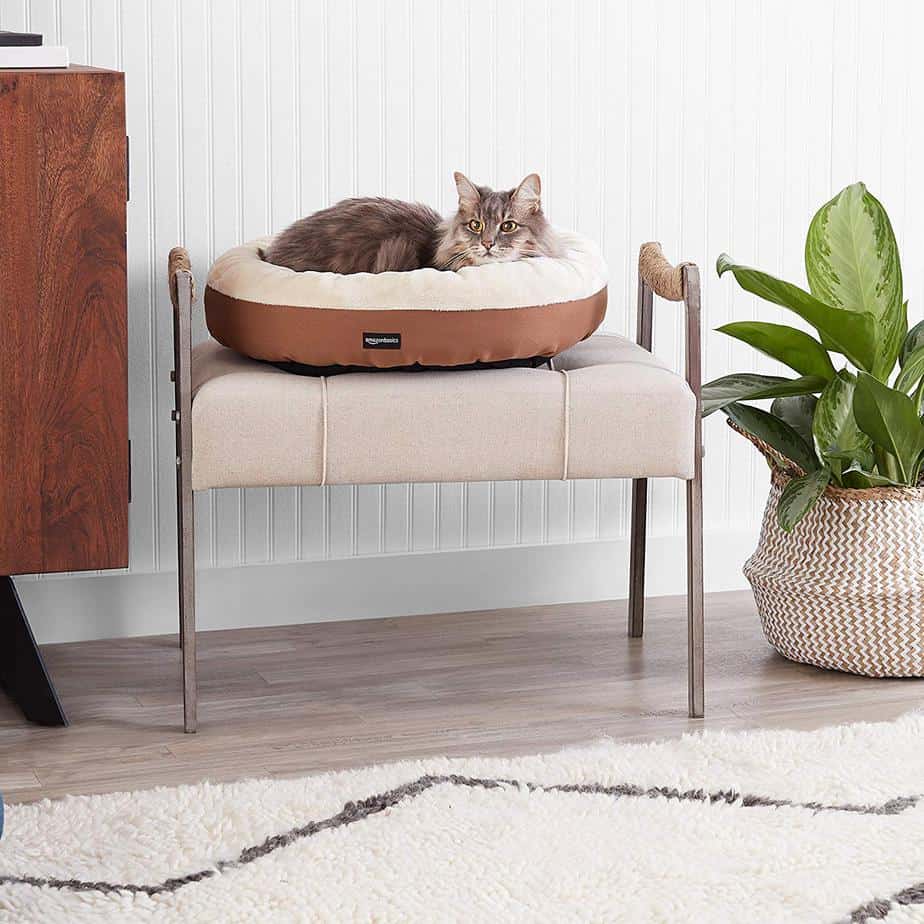 Is it nap time yet? After a long day of Easter fun, it's time for a cat nap. Below are some comfy bed to check out.
AmazonBasics 20in Pet Bed For Cats or Small Dogs
This bed is big enough for small dogs, so your cat will have extra room to stretch out.
Precision Pet Shearling Round Bed
This bed is made out of plush fabric and is great for burrowing and snuggling.
Conclusion
Above are some great Easter gift ideas for cats. Give them a little fun while you enjoy the holiday. And, don't forget to give them some nibbles of Easter dinner! If you're not sure if your Easter meal is safe to feed to your cats, look at this article to see what human foods harm cats.