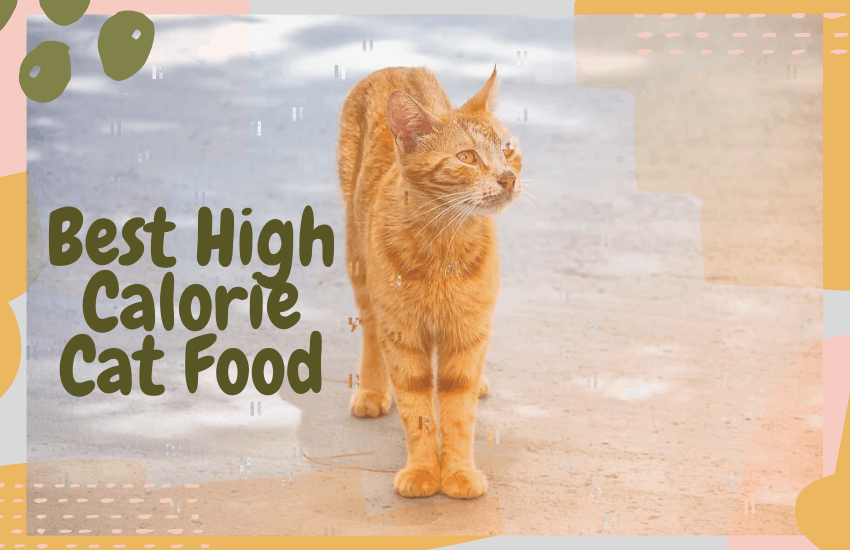 While obesity impacts over 50 percent of American cats, something that's equally worrying are pet owners whose cats are malnourished and need the best high-calorie cat food possible.
If you're a pet owner like me, you want the best for your pet, medical insurance, and other essentials like litter boxes, feeders and cat gear all are important. But if your cat has experienced weight loss, or is failing to gain weight, most conventional dry and wet cat food won't provide the nutrition he or she needs to thrive.
With plenty of information when it comes to managing your cat's weight, it can be difficult to find many resources for the nutrition a cat needs after they've lost weight.
For that reason, I've put together an essential guide explaining why, or if your cat needs to be placed on a high-calorie diet (including the reason for cat weight loss) and what to look for in selecting a nutrient-dense cat food.
Finally, I'll give you my top recommendations for the best high-calorie cat food you can buy now.
Why is My Cat Losing Weight or Underweight?
While I'll also include some additional information in the frequently asked questions, I want to start with the basics: why your cat is losing weight.
Whether your cat is actively losing weight or has become noticeably smaller over the past month or two, first of all it's important to keep an eye out. While small weight fluctuations can be normal, a trend of losing weight, or staying at a low weight is linked to possible health conditions and makes your cat more susceptible to others.
The first thing you need to do if you suspect your cat is losing weight is to set up an appointment with a qualified veterinarian. They can not only track your cat's weight but also check for underlying health conditions that may require medical treatment.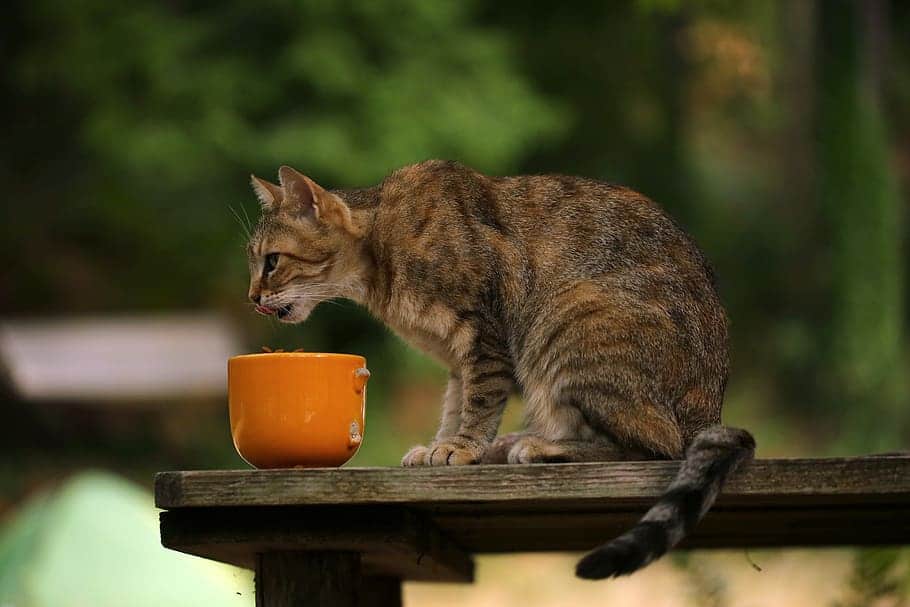 In the meantime, here are some possible reasons your cat is losing weight, or chronically underweight:
Digestive Illness
Unfortunately, digestive issues affect many cats, but the good news is that many can be either cured or managed reasonably. These include parasitic worms (which is why medical check-ups are important); constipation (resolved with hydration and prescription cat food); allergies, and irritable bowel disease. Excessive hairballs can also occasionally cause weight loss, and all of these conditions can be addressed by switching to prescribed cat food.
Chronic Health Problems
This is not to alarm you, but if your cat has unexplained weight loss, you'll want to ask to have them checked for diabetes, kidney disease or related urine problems, and cancers, if your vet deems this reasonable. While much of weight loss in cats is not necessarily linked to these, the sooner any of these cat health issues are addressed, the better.
Mental Health Issues
Yes: like humans, cats can be affected by stress, anxiety, and depression. With cats, this tends to be linked to environmental changes or uncleanliness. Regularly changing litter, having a litter box they feel comfortable with, and providing freshwater, food, and toys is essential.
Some cats react with anxiety to a new living environment, or if you've just adopted a cat, a change in caretakers can also cause this. While these issues can resolve themselves, consult a vet if your cat still isn't interested in eating like they used to be.
What Cats Need to be Placed on a High-calorie Diet?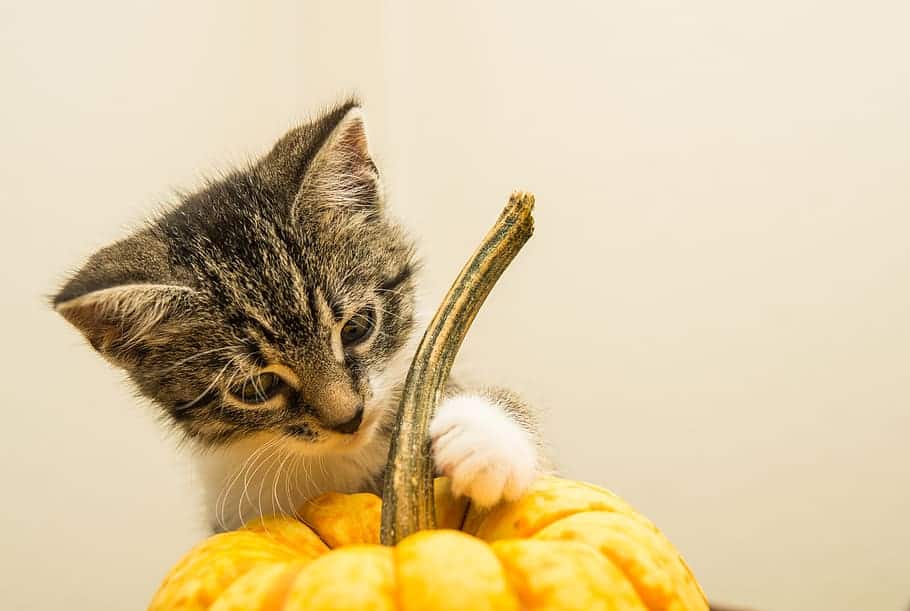 Before selecting the best high-calorie cat food, it's important to understand whether or not a high-calorie cat food is your best bet. If, for instance, your cat's weight loss is connected to urinary issues, a low ash cat food may be more applicable.
That said, there are many cases where I recommend you look into high-calorie cat food, which include:
Newly Adopted Strays
If you're taking in a stray, you need to make sure they get their shots and a health check but chances are they could also be underweight. If you can see protruding ribs or other worrying signs, a high calorie cat food for a short time may be a good option.
Aging, Malnourished Cats
A common reason cats may lose weight is simply with aging. While weight loss in older cats can be tied to any of those other health conditions, sometimes cats lose their acute sense of smell and taste, which can lead to eating less.
A high-calorie cat food allows a less nourished cat to get in important nutrients without eating as much. Note some older cats may actually require low-calorie food, so this only applies to underweight cats.
Pregnant Cats
Pregnant cats require extra calories and nutrients to support themselves and their future kittens. I'll go into detail about what nutrients to look for, but pregnant cats absolutely require a special cat food.
Kittens
Kittens are still growing and developing and need specially formulated food to support and nourish their activity and growth.
What Should I Look for in High-calorie Cat Food?
The exact nutrients in high-calorie cat food that's best for your cat will depend on their specific needs, but you'll want to pay attention to nutrient composition and quality ingredients.
You'll want to make sure calories come from a balance of carbohydrates, fats, and protein, select a reputable brand (ideally from a country with high testing standards) and always consult a professional if you're making a big change for your cat you aren't sure about.
What Are the Best High-calorie Cat Food Options That I Can Buy Now?
Here are my recommendations for the best high-calorie cat food you can buy right now. For each, I've divided by category based on your cat's needs so you can easily find the food that suits your cat. I'll also tell you why I selected each high-calorie cat food and how it can support your cat's overall health and well being.
Best High-Calorie Cat Food for Underweight Cats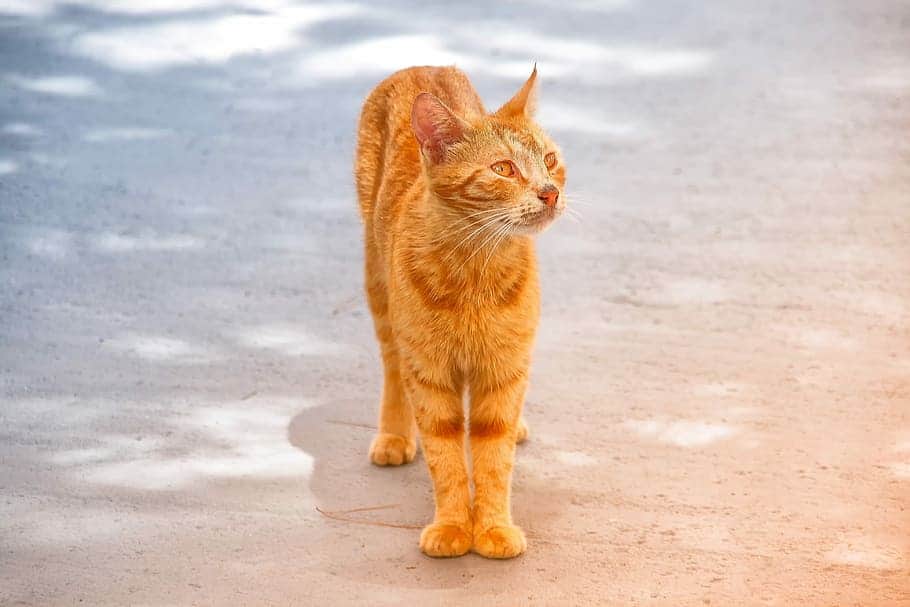 How to Select
Whether you've just adopted a stray or your cat just needs to put on a little weight following an illness, these are my best overall picks for nutritionally balanced, quality high-calorie cat food. Since cats under this category presumably don't have specific needs, I recommend you look for cat food that provides a balance of proteins, carbohydrates, and fats.
Based upon the Association of American Feed Control, cat food under this category should keep carbohydrates under 55 percent, with a minimum of 25% protein and 20% fat.
I recommend lowering that carbohydrate percentage and, so long as the cat doesn't have kidney problems, looking for protein levels at 30 to 40 percent for dry food. For wet food, stick to around 10 to 11 percent crude protein and steer clear of byproducts and fillers.
My Recommendations
Blue Buffalo Wilderness Chicken Recipe Grain-Free Dry Cat Food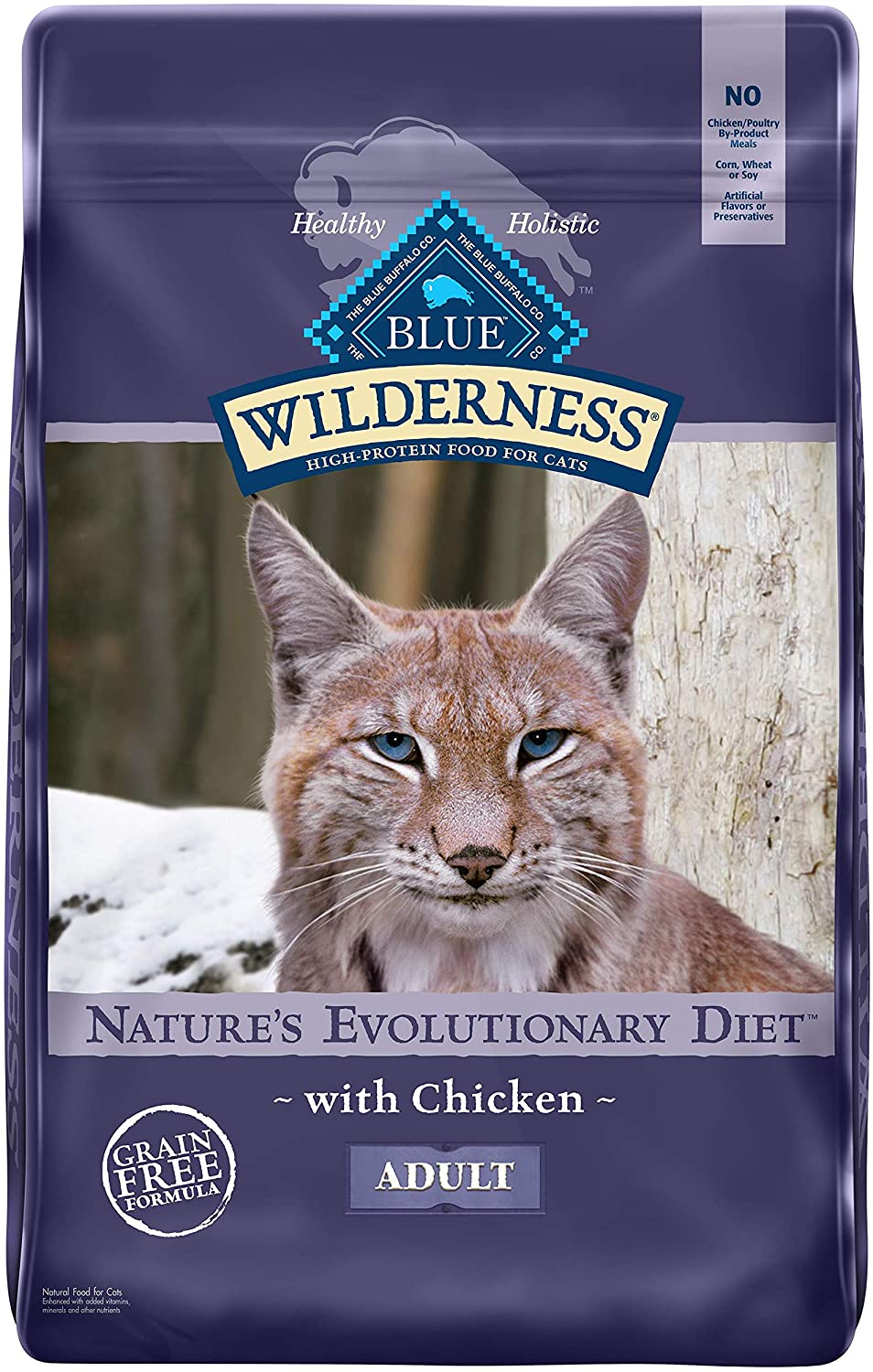 This cat food from Blue Buffalo will support a healthy weight for your skinny cat, chock full with omega 3 and 6 fatty acids, which are important for skin health. The grain-free formula is cleverly paired with LifeSource Bits, which provide vitamins, minerals, and antioxidants.
I especially am pleased with the 40 percent protein to 18 percent fat ratio to support healthy muscle, not artificial dyes, and relying on sweet potatoes, peas, and blueberries for a source of healthful carbohydrates. 
Instinct Original Grain-Free Pate Real Rabbit Recipe Wet Canned Cat Food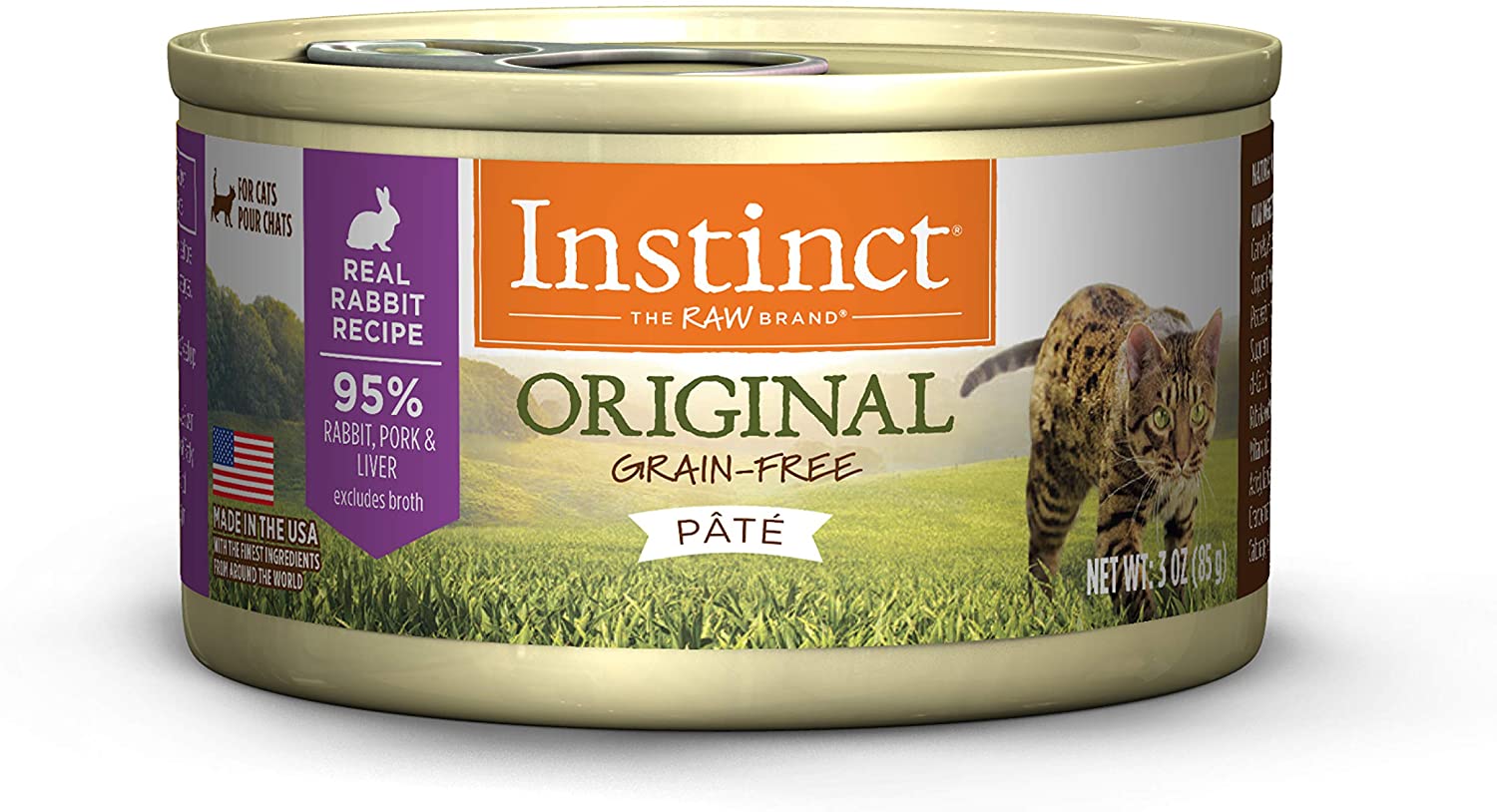 My pick for best overall high-calorie wet cat food goes to this version by Instinct (it's also available in chicken if you prefer). The high protein and grain-free recipe also includes essential omega fats for skin health and is free if by-products, colors, or preservatives. The protein is a respectable 11 percent.
Purina Fancy Feast Broths Adult Wet Cat Food Complement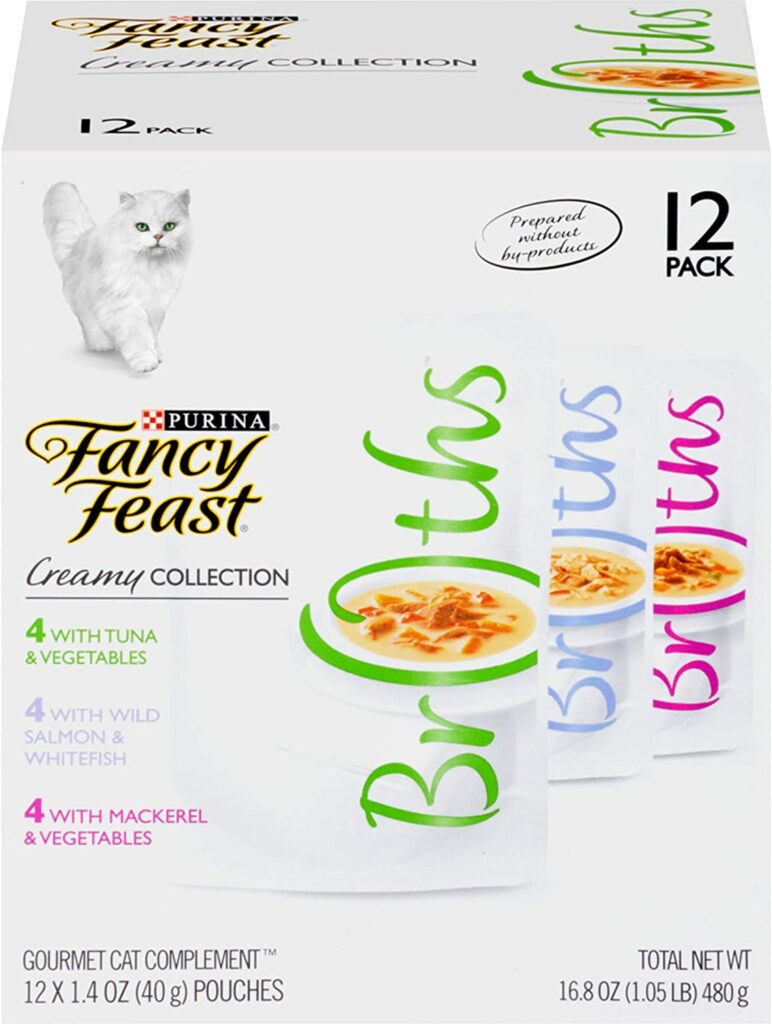 Consider this option my bonus pick. While I don't recommend it above my other options, Purina Fancy Feast essentially offers a high-calorie cat food supplement you can use with regular cat food. I like this option for pet owners who may have a cat who needs to be on a high-calorie diet for a short time, and another that doesn't.
Available in handy pouches, perfect for travel, these flavored broths are especially excellent for senior cats to add flavor and interest to their food, with Vitamin E and an added protein boost. 
Best High-Calorie Cat Food for Pregnant and Nursing Cats
How to Select
Pregnant cats may need high-calorie cat food, but not just any high-calorie cat food. During pregnancy, a cat needs high-quality protein and a higher than usual fat intake. In addition, calcium intake is important. And when a cat is nursing, their needs calorie and nutrient needs can be as high as four to six times than is typical for a cat.
Your increase to a high-calorie food should be gradual: some experts recommend mixing in 10 percent high-calorie cat food per day, up until when she's about to give birth. But I recommend going with high-calorie cat food that is catered towards the expecting cat, rather than simply adding general high-calorie cat food.
My Recommendations
Royal Canin Dry Cat Food for Pregnant and Nursing Cats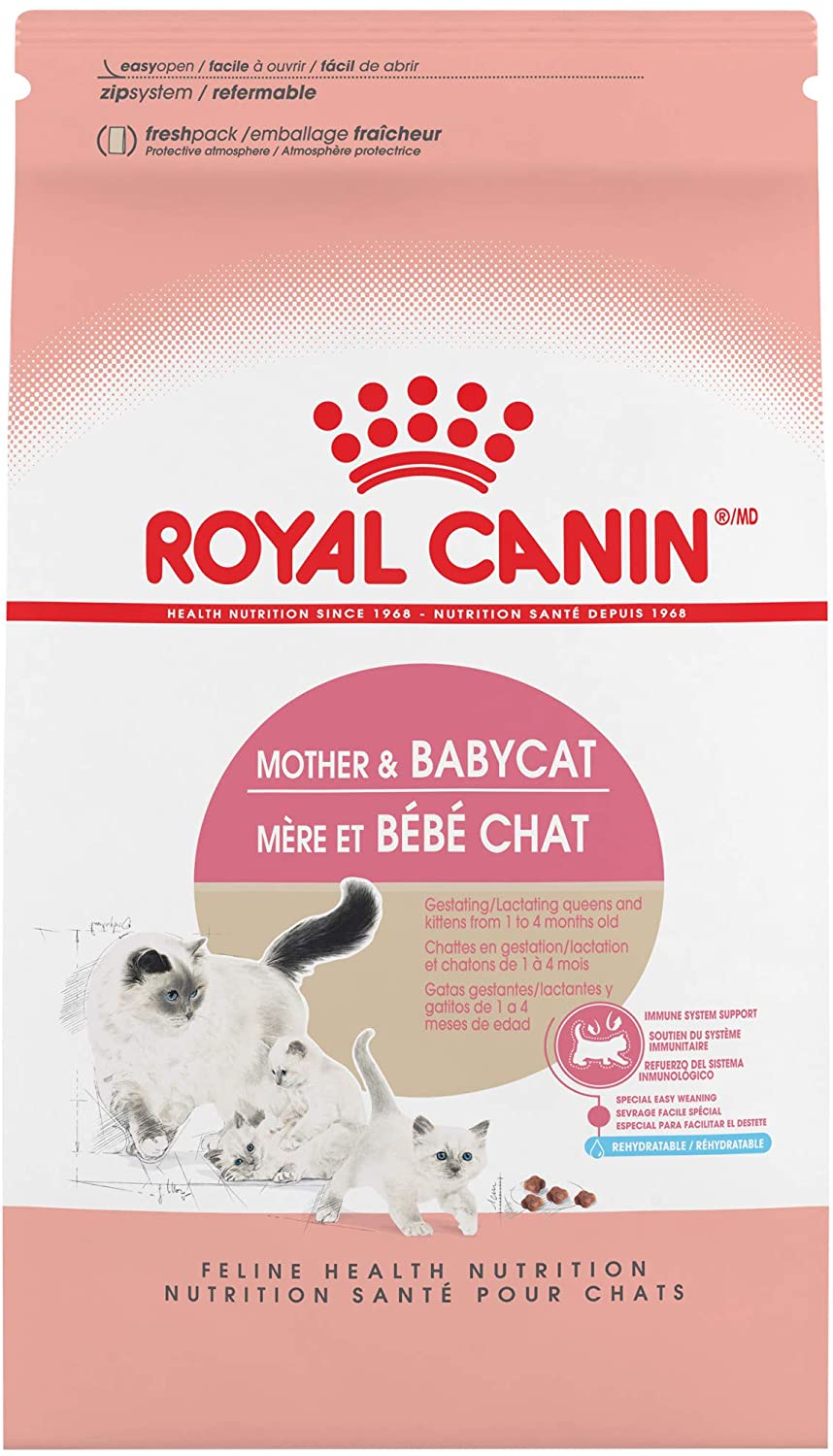 This dry cat food from Royal Canin is my top recommendation for high-calorie food for your pregnant or nursing cat. The grain-free formula stands out for me by including DHA, a nutrient that plays a role in immune function and brain development for your cat's kittens.
Prebiotics and a bite-sized formula aids digestion, plus it's filled with vitamins and minerals like calcium, magnesium, and zinc to support nursing and bone health. The 32 percent protein to 23 percent fat provides that higher fat ratio your cat needs, but enough quality protein. 
Nulo FreeStyle Chicken and Salmon Freeze-Dried Cat Food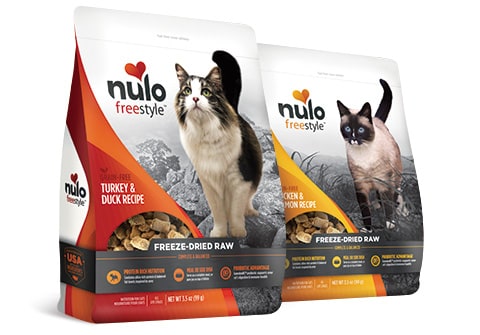 While it may at first seem unconventional, the Nulo Freestyle is one of your best options for a pregnant or nursing cat in need of high-calorie cat food. I love the ratio of high protein (43 percent) with a bit of extra fat (23 percent) made with a special probiotic blend to support digestive health.
My other main reasons for this pick include a blend of 98 percent chicken and salmon meat/organs/ bones, cranberries and spinach, an impressively short ingredients list, and added Vitamin D for nursing cats.
Best High-Calorie Cat Food for Kittens
Kittens, like underweight cats and nursing or pregnant cats, require high-calorie cat food to thrive. In fact, kittens have similar needs as a new mom cat, with slightly higher fat and protein intake, healthy fats, and calcium to support their growing bodies. There's no shortage of kitten food, but I looked for options that will provide the highest quality ingredients and nutritional support.
You'll also want to consider, especially for kittens, adding both wet and dry food to your feeding routine. Wet food provides needed moisture to make sure your growing kitten stays hydrated while still getting the high calorie and nutrient-dense nutrition they need.
My Recommendations
Hill's® Science Diet® Kitten Chicken Recipe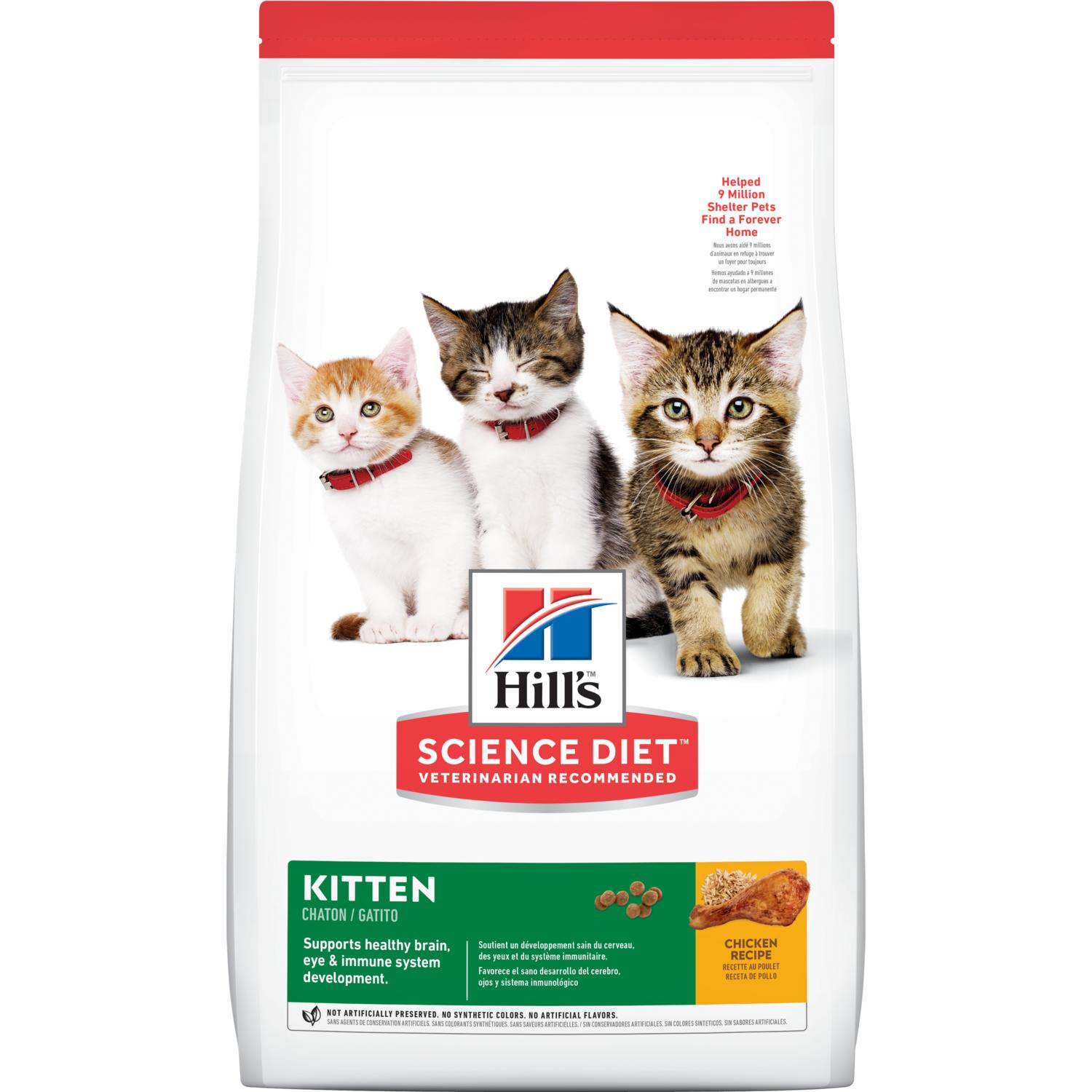 This dry food version also offers a wet food option, but I love the dry food formula for several reasons. The high-calorie cat food features essential nutrients, including DHA, Calcium, B and D Vitamins, and Zinc.
The first ingredient is chicken, and no evidence shows kittens benefit from grain-free, so a healthful amount of brown rice is balanced with peas and carrots. Plus, it boasts an impressive nearly 38 percent crude protein and supportive fat content, at just over 23 percent. 
Wellness Complete Health Natural Grain Free Wet Canned Cat Food Pate Recipe Kitten Chicken Pate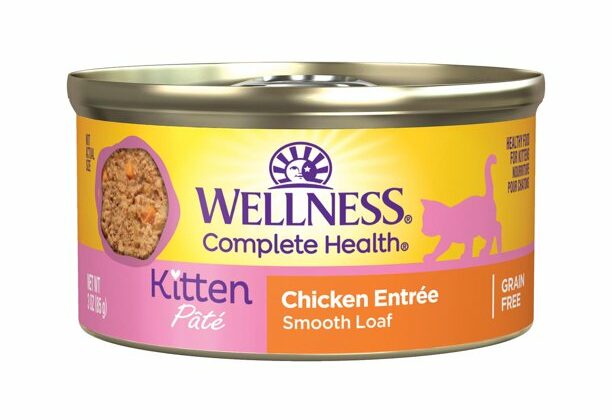 If you're looking for a wet canned food option with a higher calorie count and vital nutrients for your kitten, I like this option from Wellness Complete Health. One thing that stands out to me is the addition of Taurine, which promotes eye health.
Free of carrageenan, preservatives, and other fillers, this high-calorie cat/ kitten food has chicken and chicken liver for its first ingredients and is a good option to mix with your dry feeding schedule.
FAQs
What is the Highest Calorie Cat Food?
There is no one single highest calorie cat food, and if you're looking to help your cat gain weight, this may not even be the best approach. Instead, for most cats (without underlying health issues) you'll want to select a cat food that has around 35 percent to 40 percent protein, with fat around 18 to 24 percent.
How do you help a cat gain weight?
Helping your cat gain weight takes a few steps. First, you need to schedule your cat for a regular check-up to make sure they are not losing weight due to unresolved health conditions, including diabetes, gastrointestinal disorders, or cancer.

Next, you should invest in high quality, high-calorie cat food, making sure to monitor to make sure your cat responds. If your cat still isn't gaining weight, you may need to address environmental stressors that could be spooking or upsetting your cat.
What is the best cat food for weight management?
There are cat foods catered towards managing a healthy weight, all supplying a balance of healthful nutrients. Senior cats that are more prone to weight gain would do well with a senior cat food like one from Hill's Science Diet, with a focus on dry cat food. Royal Canin also offers a Weight Care formula for adult cats.
How do you help cats maintain a healthy weight?
Weight is important for the well being of your cat, and managing it is not as difficult as it might seem. Regular vet check-ups, playing with your cat or making sure they get proper levels of exercise and tracking their weight are all good steps. If your cat is underweight, mix in high-calorie cat food. For overweight cats, weight management cat food is your best bet.
Final Thoughts
Whether your cat is nursing, a kitten, or just needs to gain weight, there are many high-calorie cat foods out there. Always remember to focus on quality ingredients, nutrient profiles, and options that are best for your specific cat's needs. When in doubt, consult with your veterinarian.