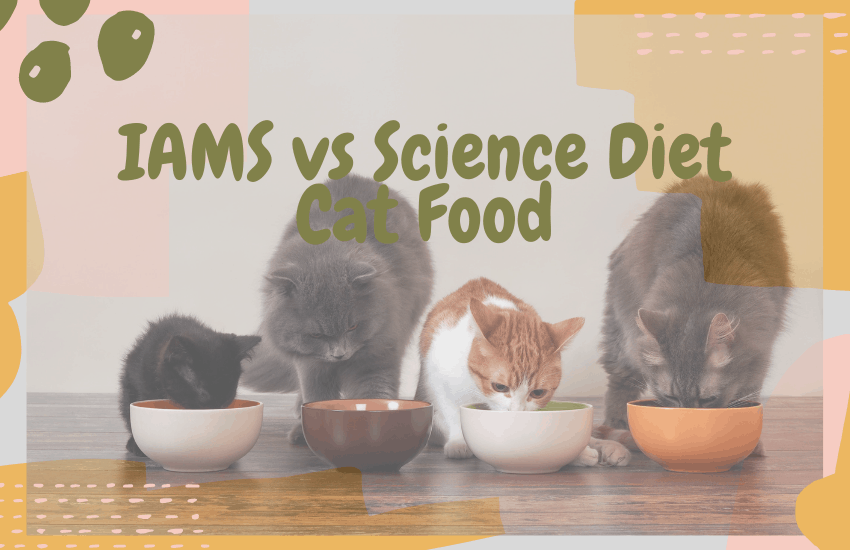 It may have been an unconventional year, but quality cat food is still in high demand, and leaders like IAMS vs Science Diet seem to offer a trusted name, with a lower price point than natural and organic cat food brands. And for cat owners like me, I'm always interested to see how I can find the best quality cat food for my cat at an affordable price.
Both IAMS and Science Diet cat foods have tried to step up their game by introducing new products to fit cat food trends.
In 2017, IAMS made headlines with the introduction of high protein cat food for adult cats. In addition, IAMS added options for food for cats with sensitive stomachs and for improved energy, all at competitive prices.
Not to be outdone, Hill's Science Diet has added weight management cat food for senior cats, and of course, a range of products to suit specific diets.
While it's great to enter 2021 with many options for cat food, with conventional, big name brands like IAMS and Science Diet offering so many options, it can be hard to decide which cat food is right for your cat.
In this review, I'll compare IAMS vs Hill's Science Diet and tell you which cat food is more worth your money.
Main Differences IAMS vs Science Diet
The main differences between IAMS vs Science Diet are:
IAMS has different formulas for dry and wet cat food, whereas Science Diet offers comparable options for both
IAMS has high protein cat foods, whereas Science Diet as options for oral and kidney health
IAMS has pate trays for wet cat food, whereas Science Diet has canned wet cat food
What is the Healthiest Cat food for Indoor Cats?
Both IAMS and Hill's Science Diet have formulas that can suit both indoor and outdoor cats, but it's important when deciding between these two cat food brands, or any cat food brands, to remember that there is a difference between food indoor and outdoor cats require.
Indoor Cats
Indoor cats are naturally a bit less active than outdoor cats, and, as such, burn fewer calories and may not need as calorically dense cat food. In addition, indoor cats may be more likely to develop hairballs or allergies from inside environments.
While not universally true, indoor cat food tends to have these special considerations in mind. Indoor cats may also be more likely to be placed on lower-calorie diets than outdoor cats. Indoor cats may also benefit from food that is higher in fiber, to aid digestion.
They still need adequate protein, but may not require the high protein formulas that are popular. Overall, indoor cats need quality protein, but a percentage of around 30 to 40 percent is adequate for most indoor cats for dry cat food.
Outdoor Cats
Of course, by default, outdoor cats burn more calories and may require more calorically dense cat food. Less likely to need cat food for issues such as hairballs, their food may need to be higher in protein and lower in carbohydrates.
While not needed for all outdoor cats, many cat owners opt for dry or freeze-dried cat food that focuses less on grains and vegetables. To be clear, however, grain-free cat food is not inherently an indoor vs outdoor cat food aspect, and more out of concern for grain allergies or sensitivities.
All Cats
Of course, whether you have an indoor or outdoor cat, there are certain nutrients your cat needs regardless.
Essential nutrients in the best cat food include essential amino acids; Omega 3's; Calcium, phosphorus, Vitamins A, B, C, D, E, K, Niacin, Biotin, Choline, and Taurine. Some cats may benefit from additions like probiotics and prebiotics to aid digestion or cranberry extract for urinary health.
And for both indoor and outdoor cats, you need to consider high quality ingredients. I look for a protein source to be the first ingredient. Acceptable sources include fish and whole meat.
Carbohydrates can supply healthy vitamins, minerals, and fiber. However, I prefer cat food that leans heavily on fruits and vegetables, as opposed to corn, which doesn't supply as much helpful nutrition.
IAMS vs Science Diet: Which is Better for Your Cat?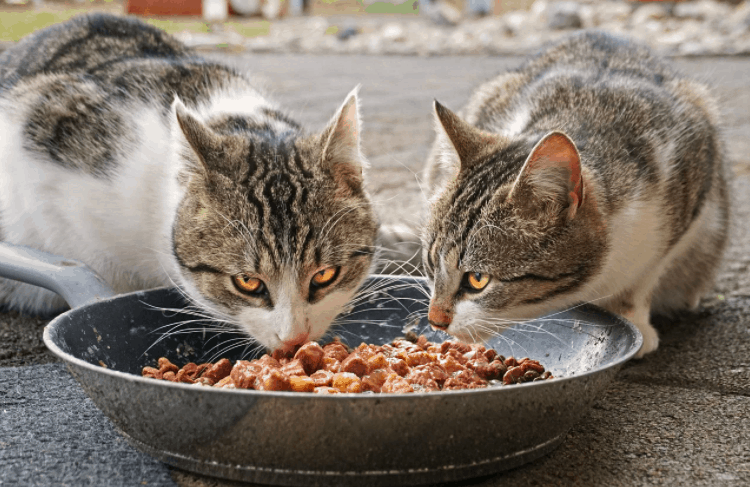 Now that I've told you about what you should consider for indoor cats, outdoor cats, and all cats, let's take a closer look at IAMS vs Hill's Science Diet.
Even new cat owners have likely heard about both brands, and even seen them lining shelves in pet supply stores, and even online for retailers like Chewy.com and Amazon.
IAMS: Cat Food | Chewy
Iams believes "the only way to provide the best food and pet care products is to know dogs and cats better than anyone else in the industry."
Check Price
Buy at Amazon.com
We earn a commission if you click this link and make a purchase at no additional cost to you.
Price and Availability
One of the best things about both IAMS and Hill's Science Diet for cat food is that they both are affordable and available widely in stores and online. That's one of many reasons why they can lay claim as two of the most popular American cat food brands.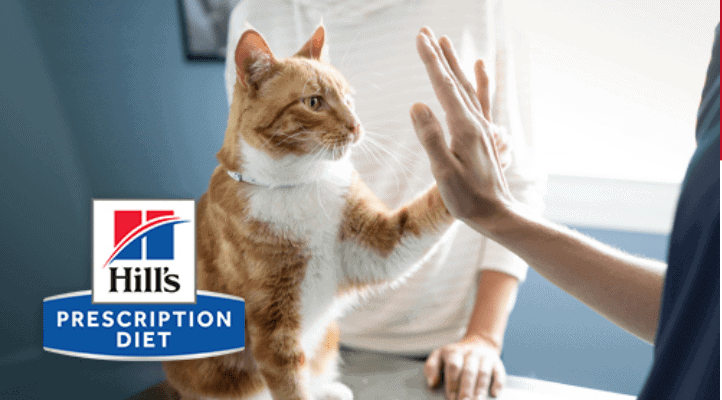 IAMS
IAMS is sold on Amazon, Chewy.com, and in pet supply stores nationwide. You can also order IAMS from their website. IAMS sells both cat and dog food, for an average of a little over $13 for a 7 lb bag of dry cat food.
Their wet food, averages around a dollar for 2 oz pack, which can also be bought in mega packs through certain bulk retailers, and Amazon or Chewy.com.
Hill's Science Diet
Hill's Science Diet can still be bought at pet stores across the country, as well as the same online retailers and IAMS, but you may have slightly fewer options. Prices vary but average around $16 for a 3.5 lb bag of dry cat food. For wet food, you'll be paying $30 to $40 for a 24 case of 2.5 oz cans or around $1.25 to $1.60 per can.
Winner: IAMS
If you're going on price and availability alone, IAMS just slightly edges out Science Diet. It's more affordable, though not extremely so, and is slightly easier to find. Both, however, are fairly competitive in this category.
Dry Cat Food Options
For dry cat food, my focus is for the variety they offer, as well as options for specific dietary needs. I'll be analyzing overall quality and nutrients separately. Above all, I want to see flexible options for different needs.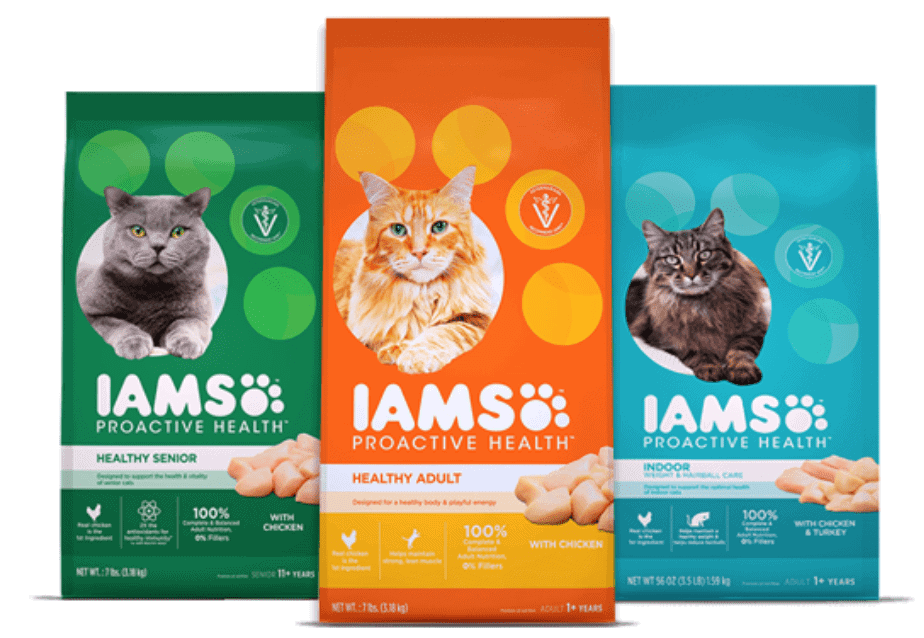 IAMS offers dry cat food by age and activity and also by specific dietary needs. Age-based formulas include Healthy Kitten, Healthy Senior, Healthy Adult, and Weight Care for indoor cats.
For special dietary concerns, IAMS offers Hairball Care, Urinary Tract Health, Sensitive Digestion/Skin, and High Protein.
IAMS Proactive Health Kitten Dry Cat Food | Chewy
This kibble is specially formulated to help your kitten grow into a strong, healthy adult cat. Real chicken is the first ingredient in this protein-packed kibble. Plus, it's chock-full of nutrients like vitamin E, omega-3 DHA to support brain development and prebiotics to support digestive health. 
Check Price
Buy at Amazon.com
We earn a commission if you click this link and make a purchase at no additional cost to you.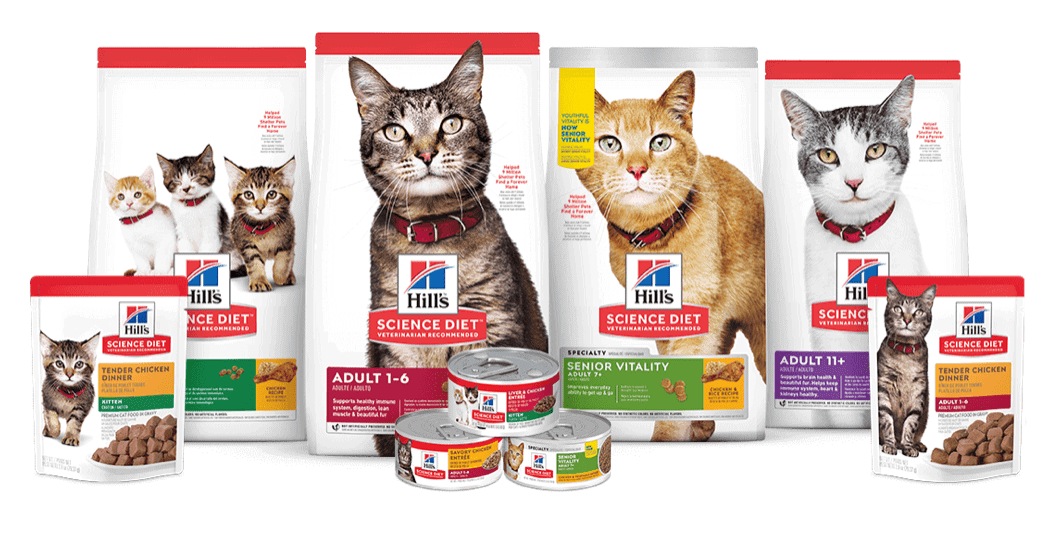 Science Diet also has a respectable number of options for different needs. For its dry cat food, it also has food-based upon age and lifestyle, as well as specific needs. Kittens, Young Adults, Adults, and Seniors all have their own formula.
For dietary needs, they have Weight Management, Digestive Health, Urinary and Hairball, Corn'/Wheat/Soy Free, and Oral Care.
Hill's Science Diet Dry Cat Food Sensitive Stomach & Skin | Chewy
Your kitty's stomach health is a very important part of her everyday life, that's why Hill's Science Diet Adult Sensitive Stomach & Skin Chicken & Rice Recipe is crafted with natural ingredients like prebiotic fiber, to help fuel your adult cat's beneficial gut bacteria and support a balanced microbiome. 
Check Price
Buy at Amazon.com
We earn a commission if you click this link and make a purchase at no additional cost to you.
Winner: Tie
Both IAMS and Hill's Science Diet offer formulas for all ages and a wide range of specific needs. However, IAMS has a high protein formula, while Science Diet offers Oral Health and an allergen-friendly formula, giving it the slightest edge.
Wet Cat Food Options
Wet cat food is a great idea to incorporate into your cat's diet, especially if they tend not to be as apt to hydrate properly. Adding wet cat food also provides some variety.

IAMS
IAMS wet food is not canned, but instead offered via trays, in pate form. These trays are called Perfect Portions, and bring to mind meals on the go. For this reason, they are handy, no can opener required. They come in Kitten, Adult, and Senior versions. There are also Indoor Cat recipes and a Healthy Metabolism option.
Science Diet
Science Diet, on the other hand, goes the more traditional route by supplying wet cat food in cans. Unlike IAMS, Science Diet offers wet food in the same categories as its dry food.
That means you'll be able to select by age (kittens through seniors), as well as dietary needs, such as weight concern, oral health, and more.
Winner: Science Diet
For sheer variety, Science Diet edges out IAMS for its wet cat food. I love that they have options for specific needs, which makes sense to me, especially to supplement if you're feeding dry cat food. IAMS is just fine for many cats, but if you have a cat who likes wet food and has needs for oral health or urinary health, the Science Diet makes more sense.
Quality of Ingredients and Nutrition
For the quality of ingredients, it was important to me to see if IAMS and Science Diet focused on whole sources of protein and carbohydrates, and avoided chemicals or fillers you sometimes see in cat food to drive the price down.
Dry Cat Food
IAMS
For its standard formulas, IAMS has some upsides and downsides. The good news is that IAMS does include all the essential nutrients and vitamins most healthy cats need, including fish oil for healthy fats, Taurine, Folic Acid, and critical Vitamins D, B's, E, and others.
In addition, their cat food does list a whole protein as their first ingredient. It's fiber-rich and has a respectable ratio of 32 percent protein to 15 percent fat. Plus, in their dry food formulas, I didn't notice any dyes or harmful additives, which is great, especially for a regular brand.
However, there are a number of things I don't love about IAMS dry cat food. My products are high up on the list, followed by corn, corn grits, and meals. Oddly, they also add chicken fat. In other words, the dry cat food contains a good deal of fillers that don't add to your cat's nutritional health.
Science Diet
For dry cat food, their standard adult cat food formulas also include meat as the first ingredient and contain all the essential nutrients your cat needs for vitamins and minerals. I also like that the protein ratio hovers around 33 percent, which is a decent percentage for indoor cats.
On the downside, like IAMS, Science Diet does rely more on typical grains than fruits and vegetables for fiber, with corn and gluten and wheat, along with rice making the first ingredients.
While suitable for some cats, I still would have liked to see some more products instead. I also noticed that meat meal made it into the list, as well as pork flavor, both of which point to filling up for whole meat. The rest of the ingredients list is innocuous. The good news is that at least the additions aren't under the general by-product label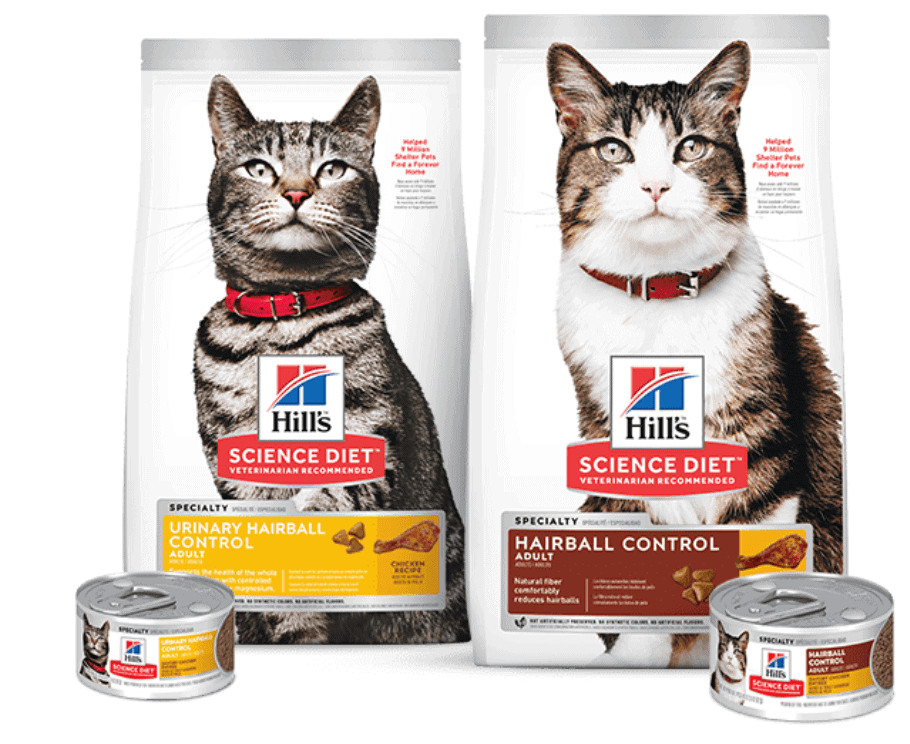 Wet Cat Food
IAMS
For IAMS wet cat food, the protein ratio is what I expect, though a little low, at 9 percent, and at 5 percent fat. Their wet food is grain-free, as is most wet cat food.
I do like that meat is the first ingredient, and it still supplies all the essential nutrients. These formulas do contain liver, and also guar gum, as a thickening agent, but I am more pleased with the list here than for their dry cat food.
Science Diet
For wet cat food, I was a little more disappointed. Water is listed as the first ingredient, followed by liver, by-products, and only then whole meat.
The next ingredients include corn flour and rice, as well as animal fat and flavors. Like IAMS, guar gum is also included. You'll find more or less the vitamins or minerals your cat needs, however, and they also offer more protein-rich formulas.
Winner: IAMS for Wet Food; Science Diet for Dry Food
This was an interesting category, with surprising results. Neuter IAMS not Science Diet is perfect, though they do luckily both provide adequate nutrition and no harmful ingredients. I also like that there are a wide variety of formulas to address different needs.
IAMS is my preferred wet food, as it has a better focus on whole meat nutrition and doesn't add in too much in the way of fillers. On the other hand, Science Diet edges out IAMS for dry food nutrition, in terms of fewer byproducts and fillers.
FAQs
Question: Do vets recommend IAMS cat food?
Answer: One of the biggest marketing campaigns behind IAMS cat food is that it's recommended by vets. It's not entirely true for all vets, but, as a popular brand of cat food that does supply the needed nutrients and protein, and at an affordable price, it is sometimes recommended.
One of the more commonly recommended formulas from IAMS is the Proactive Health Indoor Weight and Hairball formulas, for cats needing weight management support.
Question: Is Science Diet a good cat food?
Answer: Science Diet is a fairly decent cat food when it comes to nutrients and protein. It does supply healthy fats, vitamins, and minerals essential to your cat's health, and include real meat without harmful additives. However, it is not perfect, nor is it natural cat food. The protein sources are conventional, and it does supply some fillers too.
Final Decision: IAMS for Wet Food; Science Diet for Dry Food
My final buying decision is a split one. If you're looking for especially affordable and available cat food that provides adequate nutrients and vitamins, as well as protein, I recommend IAMS for wet food, but Science Diet for dry food.
By buying IAMS for wet food but Science Diet for dry food, you cut out some of the byproducts and fillers and get a better value for each. For healthy cats, they both will be adequate and are realistic for cat owners on a budget.
Buy IAMS Wet Cat Food Here or Buy Science Diet Dry Cat Food Here.
Have a bigger budget and want cat food without fillers and byproducts?
Here's how to find the best organic kitten food and a review on Organix, one of the best organic cat foods.