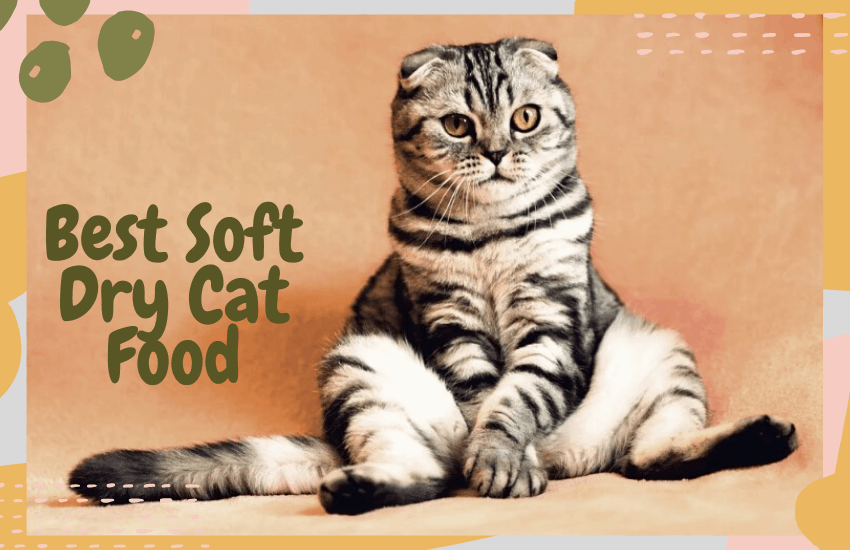 I've always loved buying soft dry cat food for my pets, but if you are a cat parent whose cat isn't taking to dry food, there's a chance switching to soft dry cat food could make all the difference. For anyone who has older cats, there's good news: they're living longer than ever. Thanks in part to better medical care and quality of like tweaks as simple as swapping out dry crunchy kibble with soft cat food.
According to the Journal of Feline Medicine and Surgery, nutrition, medical care, and better options for cat treatment means our feline friends are living far longer than a century ago, with roughly 20 percent of cats currently 11 years or older.
Of course, investing in litter boxes, feeders, and cat gear that makes your cat's living environment comfortable are all helpful–but if your cat is losing weight or turning down their food, there's a good chance it is time to reconsider the dry cat food you're buying.
While not right for every cat, soft dry food may be your best option for senior cats or cats who aren't eating well due to tooth sensitivity. As small as this swap may mean, it could make a big impact on your cat's health.
In this guide, I'll tell you exactly what soft dry cat food is, what cats soft dry food is a good option for, and my picks for the best dry cat food on the market.
Our Pick: The Blue Buffalo Wilderness
The Blue Buffalo Wilderness is ideal for the health of senior cats. It's a high quality premium soft dry cat food that is packed with a ton of proteins and essential vitamins for your cat for the ultimate support of healthy bones and muscles.
Check Price
We earn a commission if you click this link and make a purchase at no additional cost to you.
12/05/2023 04:43 am GMT
What is Soft Dry Cat Food?
As you can imagine, soft dry cat food is still dry but with a softer texture that makes it easier to chew. Dry kibble is formed with softer meaty morsel centers. Occasionally, there are soft dry cat food options that also include soft kibble mixed in.
Widely commercially available, think of soft dry cat food as an intermediate between dry cat food vs wet canned food in terms of texture. But when it comes to nutritional value and feeding schedules, soft food closely resembles dry cat food.
What Cats Should Eat Soft Dry Cat Food?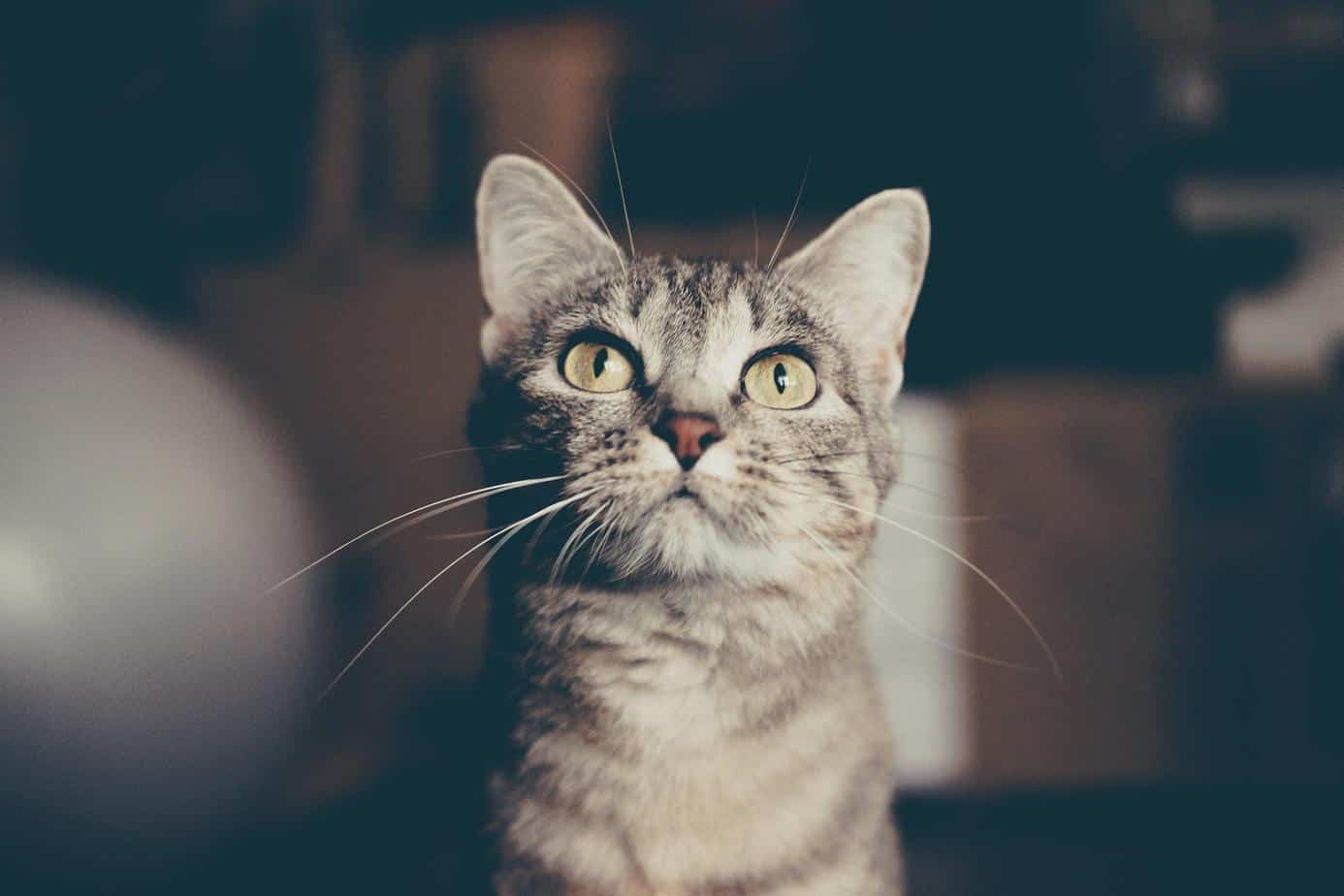 While any cat can eat soft, dry pet food, I recommend it for two cat types: those with dental issues and older cats.
Senior Cats
Watching a pet age means making adjustments, which I know can seem daunting at first, but it doesn't have to be. While not true for all senior cats, many cats have more trouble chewing kibble as they age.
Like humans, teeth may lose their enamel or strength, and chewing can become painful. The older your cat is, the more likely this is. Proper dental and medical care can prevent this to an extent. Still, it's not uncommon for elderly cats to struggle with hard, crunchy kibble.
Cats with Dental Issues
That said, your cat doesn't have to be a senior to have trouble eating dry cat food. Cats are prone to a wide variety of dental issues that can cause enough pain and discomfort that they may turn away from dry cat food.
Many of these conditions are treatable, especially if caught early on, meaning your cat may need to eat soft dry cat food for a temporary period. In some cases, enough damage is already present. It's up to your veterinarian to identify dental issues. Still, you can do your part by scheduling regular dental visits and looking for telltale signs like drooling, red gums, and sudden changes in eating habits.
The most common dental conditions include:
Abscesses
Abscesses are essentially pus build-up between teeth and gums. Relatively common, this often happens when there's tooth decay.
Gingivitis and Plaque Build Up
Gingivitis, one of the most common dental issues, means that your cat's gums are inflamed. Related conditions include Endodontic Disease (inflamed dental pulp) and Periodontal Disease, a substantial presence of plaque that accompanies bone loss.
Orthodontic Resorptive Lesions
Chances are you haven't heard of this. Still, this dental condition actually occurs in 20 to 75 percent of cats. It involves lesion forming near enamel loss and adult cat teeth roots being reabsorbed.
Why Not Just Feed My Cat All Wet Cat Food?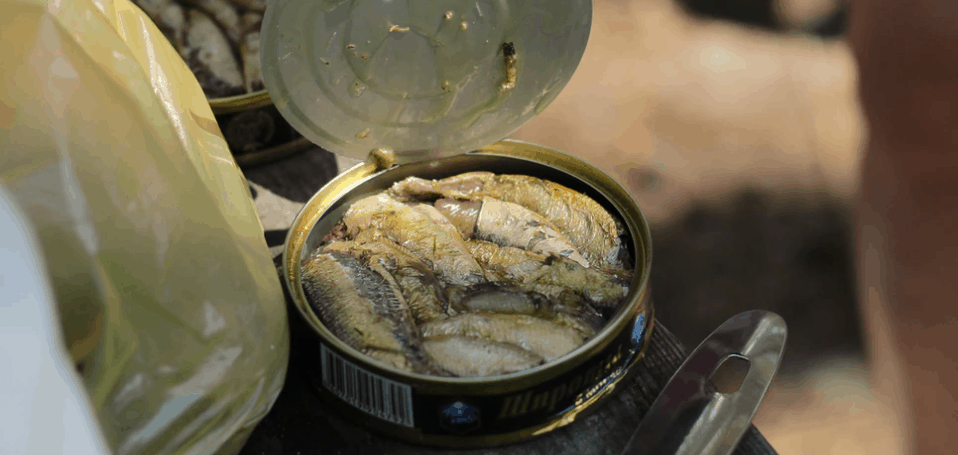 Make no mistake: canned wet cat foods are a necessary part of any cat's food diet. Compared with dry food, wet pet food provides far more moisture content, which helps your cat stay hydrated. Wild cats actually tend to stay hydrated through their prey; a domesticated indoor cat doesn't have those same opportunities.
But most health experts also recommend feeding your cat dry food. Mixed feeding provides the hydrating benefits of Wet food but also the nutritional benefits of dry food.
Read our full Dry Cat foods vs Wet Food comparison here.
What are the Benefits of Soft Dry Cat Food vs All Wet Cat Food?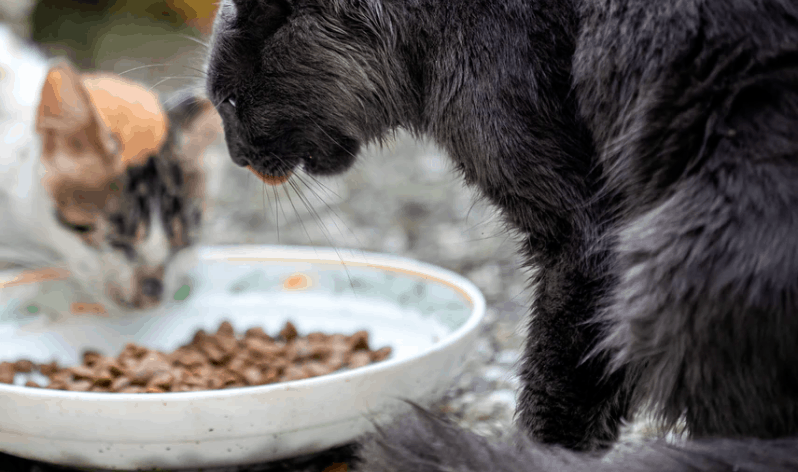 The benefits of both regular and soft dry cat food shouldn't be ignored. While wet food is an excellent source of moisture content for your cat, both soft dry and dry food is helpful for your cat's wellbeing:
Dental Health
While the evidence is mixed, the act of chewing may help strengthen your cat's teeth. But some studies also suggest that high carbohydrate cat food could reduce this benefit. Hence, a lower carbohydrate, high protein content formula is best.
Protein Ratio
Wet canned food, on average, has a significantly lower crude protein content percentage, with many servings hovering at 10 percent vs dry cat foods, which tends to average around 30 percent crude protein content.
Convenience
Dry cat food is more convenient for two reasons. For one, it's less messy and can be placed in a feeder, making it easier and, at times, more practical for a busy life or travel. For another, dry cat food tends to expire less quickly than wet cat food.
Variety
While certainly not the most important factor, there's still something to be said for adding variety to your cat's diet. Adding dry food to your wet canned cat food feeding may keep them interested and allow you more room to try out different sources of protein and flavors.
A good idea to strike a balance between wet and dry food for your cat is simply to select different times of day for each. For example, morning feedings could include wet food, and dry food could be a basis for afternoon feedings.
How do I find the Right Soft Dry Cat Foods?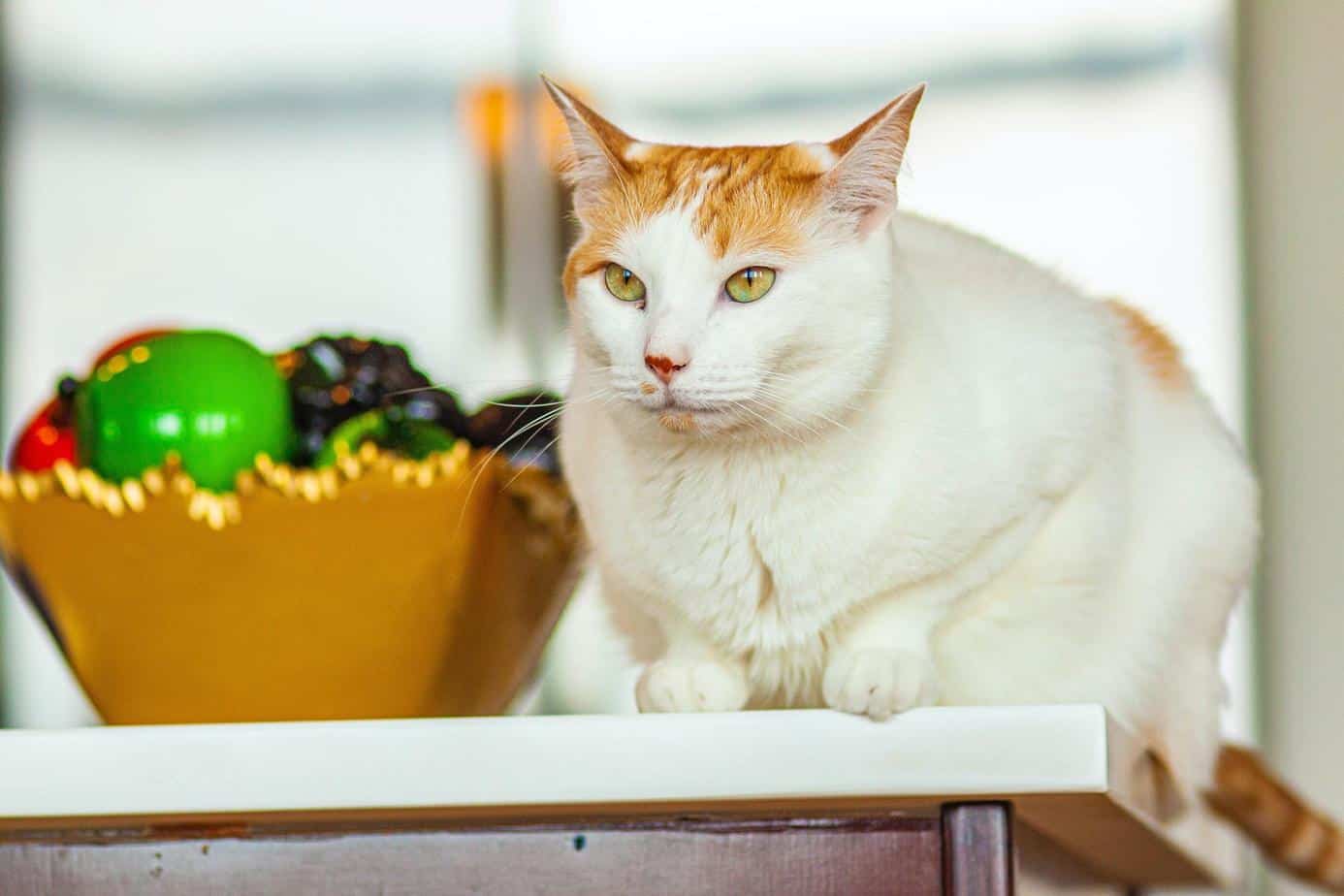 Before diving into the best soft dry cat foods, I'll explain my criteria for selecting each one. With a high demand for soft dry cat food both for senior cats and cats with dental issues, I find it important to distinguish between marketing and actual quality.
Here are my main criteria for the best soft dry cat food you can buy:
Texture
Obviously, it's important to find dry cat food that's easier for your cat to eat. That can come in one of two forms: either kibble that's specifically softened, or, for cats with mild dental issues, a formula that combines regular kibble with softer kibble. Softer kibble often comes in the form of little bits and may provide additional vitamins or minerals.
Crude Protein
I recommend a crude protein content of 30 to 40 percent for most cats to support muscular strength, kidney function, and other functions. My favorite soft dry cat food also includes animal proteins from real meat or fish as opposed to by-products, while sticking to two to three protein sources or less.
Bone and Joint Support
Especially important if you're looking into soft dry cat food for a senior, I recommend keeping an eye out for minerals and vitamins such as Vitamin D, Calcium, Magnesium, and B Vitamins.
If there is something labeled as a 'blend,' just make sure you understand what those blends include. These vitamins and minerals are also helpful for cats suffering from weakened teeth or tooth decay.
Healthful, Lower Carbohydrate Formula
Not all carbohydrates are harmful by any means. Still, it's important to keep the carbohydrate to protein and fat ratio low with soft dry cat food. That's because there's some evidence that higher carbohydrate dry cat food could accelerate tooth decay and related dental issues.
I also like to look at the concentration of carbohydrates and where they fall on the ingredient list. Generally speaking, soft dry cat food that is higher in protein will be lower in carbohydrates.
The Best Soft Dry Cat Food For 2021
Without further ado, let's jump into my top choice for soft dry cat food for 2021. Whether you're shopping for a senior cat or even just a cat with temporary tooth sensitivity, you'll be able to find a fit for you and your cat.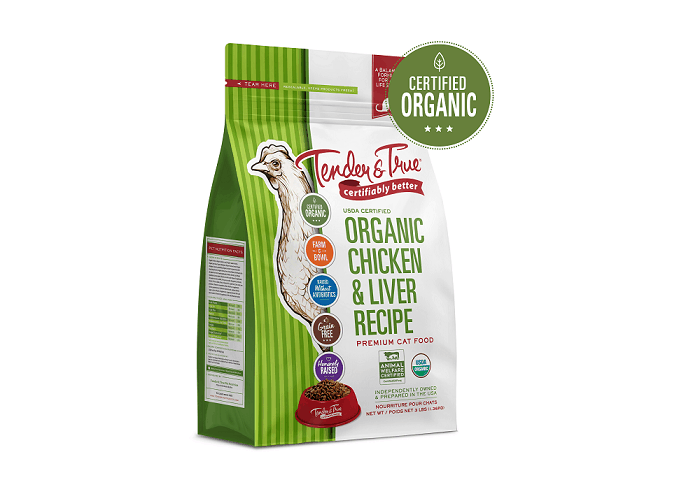 This option from Tender and True relies on organic chicken meat meal as the main protein source and the first ingredient. It has an impressively clean ingredients list, with organic vegetables and added vitamins and minerals.
Chicken liver and fish oil are a source of natural fats, and I like the addition of Taurine for brain and heart support. Meanwhile, B and D vitamins keep bones healthy and strong.
As a bonus, it's free of artificial flavors, dyes, and preservatives and priced reasonably. They also offer other varieties, including salmon. Still, I like that the chicken meat comes from chickens that are both cage-free and organic. Buy Here.
If you're looking for a brand you can pick up just about anywhere, and that's within your budget, I like what Purina One has to offer for its version of soft dry cat food. This is best for a cat with more moderate dental concerns, as it does mix tender bits with crunchier ones.
Chicken is the first ingredient, without the fillers you'll find in some competing cat food brands. The antioxidant blend-rich formula includes carrots and peas, no preservatives or artificial flavors, and Omega 3 (Omega Fatty Acids) to protect your cat's skin and coat. I also like that the crude protein is just under 35 percent, and 12 percent moisture content not only softens the tender bits but also helps with hydration. Buy Here.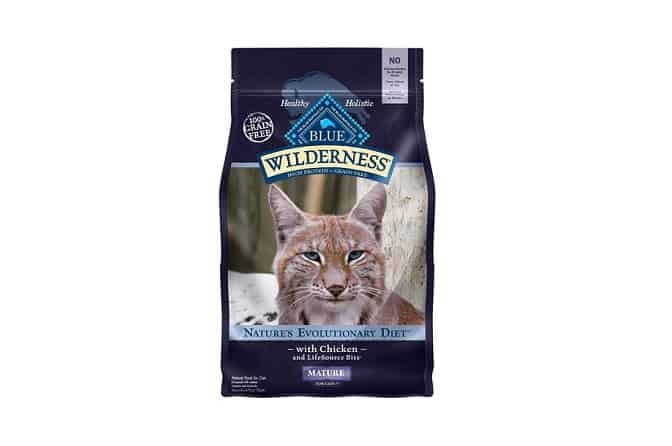 The Wilderness is a high-quality, premium soft dry cat food that's formulated as senior cat food for older cats. This is one of my favorite choices. Blue Buffalo offers a high protein and grain-free formula, which helps support healthy bones and muscles even as your cat is aging.
The soft LifeSource Bits in the Wilderness cat food provide antioxidants and vitamins catering towards the special needs of elderly cats while you're still getting healthy fats, cranberries for urinary health, and one higher protein counts with a crude analysis at 38 percent. Buy Here.
Where to Buy?
Our Pick: The Blue Buffalo Wilderness
The Blue Buffalo Wilderness is ideal for the health of senior cats. It's a high quality premium soft dry cat food that is packed with a ton of proteins and essential vitamins for your cat for the ultimate support of healthy bones and muscles.
Check Price
We earn a commission if you click this link and make a purchase at no additional cost to you.
12/05/2023 04:43 am GMT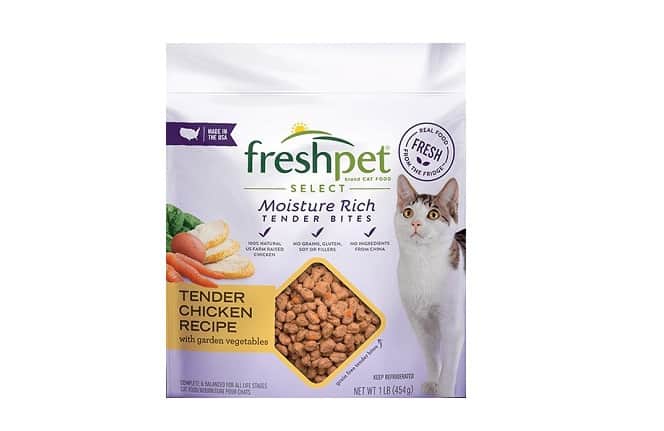 Technically this is semi-dry cat food, but it still makes my list for best soft dry cat food. The innovative formula combines the best of both with soft morsels of chicken, carrots, and spinach.
Whitefish and eggs add healthful fats to maintain your cat's skin, with Taurine, B and D Vitamins, and Folic Acid for nutritional support. At 18 percent crude protein analysis and 65 percent moisture, it's also a balance between wet and dry cat food; it's a resealable pouch food which is an added bonus for me. Buy Here.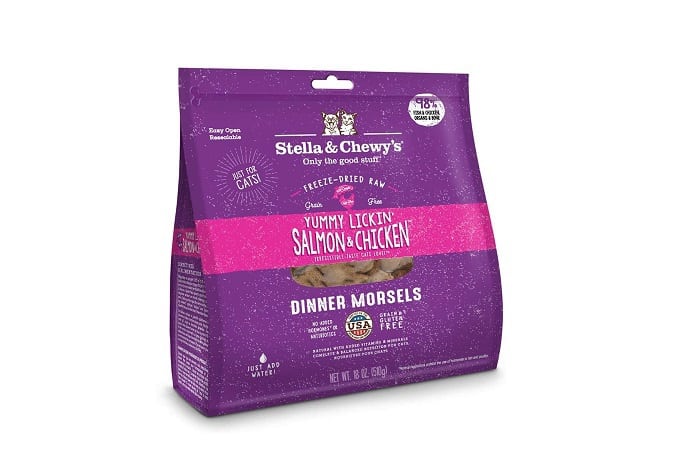 Freeze-dried cat food is another option for dry food with soft morsels. I like this option less conventional as you can add your own moisture content to soften, while the freeze-drying process means the cat food stays preserved for longer.
Stella and Chewy's offers one of the packages you can find, with these raw dinner morsels made from wild-caught fish and cage-free chicken.
I love the addition of probiotics to support digestive health and the fact that its hormone and preservative-free. Since it's also a limited cat food ingredient, it's also a nice choice if your cat suffers from food allergies. Buy Here.
Where to Buy?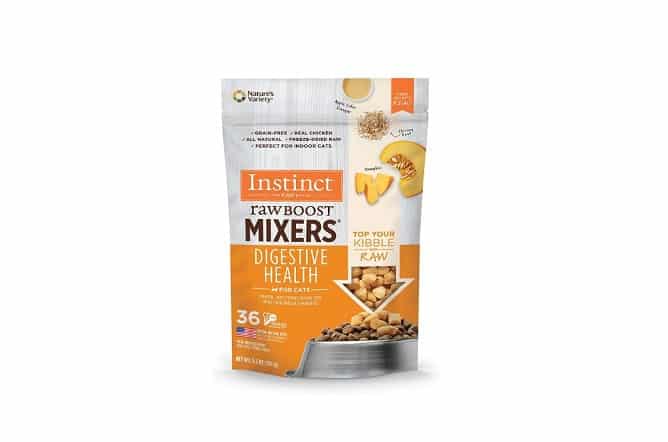 If you're looking for a soft complement to your dry cat food, I like the freeze-dried food toppers from Instinct. Cage-free chicken, pumpkin, and sweet potatoes are the main ingredients. Because there are limited ingredients, it's a more powerful concentration of both antioxidants and amino acids, important for keeping an adult cat and senior cats' strength up.
The food toppers contain no dyes or artificial preservatives and include chicory root and probiotics if your cat has a sensitive stomach. I also love this idea because it adds flavor and interest to cats who may have a reduced sense of smell or taste than when they were younger. Buy Here.
Where to Buy?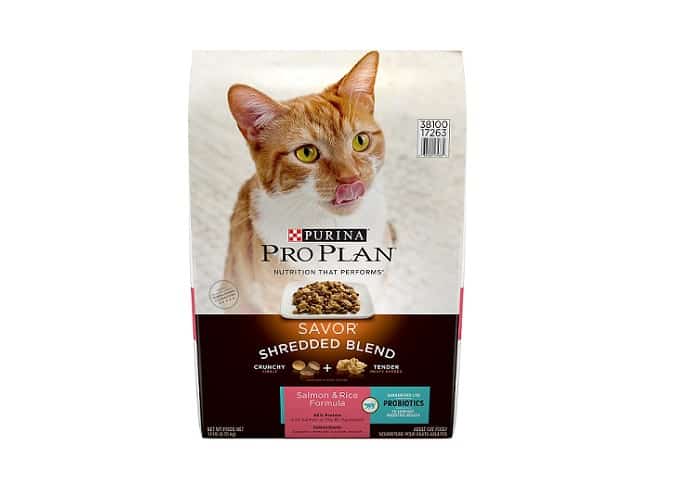 Purina Pro Plan offers an excellent affordable soft dry cat food with salmon and white rice as the first ingredient and an impressive 40 percent protein, tying it for the highest protein soft dry cat food on my top picks.
Tender meat is combined with traditional kibble for softer bites and the benefit of still having to chew, a good option for cats with moderate dental concerns.
With both pre- and probiotics, it's suited for cats who may have digestive issues with other formulas. The only reason why this isn't my favorite is that there is a little meat by-product.
However, the by-products are further down in the ingredients list. Combined with one of the best balances in terms of nutrition, it's a reasonable choice for those on a budget and for short-term use. Buy Here.
FAQs About Soft Dry Cat Food
What is soft, dry cat food?
Soft dry cat food is a cat food that's been formulated to be easier to chew, especially for senior cats and cats with dental issues. Sometimes tender morsels are added; for others, the formula is suited for you adding your own water or broth to soften.
Who makes soft dry cat food?
A number of both premium and pet store standard cat food brand make soft dry cat food. Examples include Purina, Instinct, Blue Buffalo, and Tender and True.
Is there any soft dry cat food that's grain-free?
Grain-free soft dry cat food is available both in freeze-dried and traditional kibble form. A good option for soft dry cat food that's grain-free is Stella & Chewy's Dinner Morsels, available in turkey, chicken meat, and salmon varieties.
Does Walmart sell soft dry cat food?
While the selection is limited, Walmart sells soft dry cat food, including popular cat food brands like Friskies Tender and Crunchy Combo. The formula contains crunchy kibbles with tender pieces for the benefit of harder and softer pieces.
Final Thoughts
In conclusion, there are a few great options for soft dry cat food in 2021. The ones I've selected are not only easier on your cat's teeth but also boast protein and vitamin-rich formulas while mostly eliminating preservatives, dyes, and fillers that your cat doesn't need.
Our Pick: The Blue Buffalo Wilderness
The Blue Buffalo Wilderness is ideal for the health of senior cats. It's a high quality premium soft dry cat food that is packed with a ton of proteins and essential vitamins for your cat for the ultimate support of healthy bones and muscles.
Check Price
We earn a commission if you click this link and make a purchase at no additional cost to you.
12/05/2023 04:43 am GMT
Check out more related cat food brands to search